5 Black Quartz Countertops Ideas For Kitchens
Kitchen countertops, also known as kitchen worktops, are flat surfaces in the kitchen, especially on top of a low kitchen cabinet or island, and are used to aid food preparation. Without countertops, no kitchen is complete. Countertops are multifunctional components of a kitchen and just like the functionality, the material and visual aesthetics of the countertop such also be taken into account when investing in one. Black quartz countertop has been growing in popularity over the past years.
They are used to add understated elegance to any kitchen. Are you wondering if this is the right choice for your home? Here is all you need to know about black quartz countertops and 5 black quartz countertops ideas that can add a stylish flair to your kitchen.
What are Quartz Countertops?
Quartz is a hard natural stone that crystallizes near hydrothermal vents or magma and is made up of oxygen atoms and silicon. The quartz kitchen countertop is made of quartz, although most times, not all of it is quartz.
Most quartz countertop is an engineered stone or compound stone as it contains other materials such as a cement-based binder, ceramic, or polymeric crushed up together. This type of countertop, most times, also contains other natural stones such as granite and marble crushed up together but gives the look and feel of quartz. They are mostly seen in kitchens and bathrooms but can be used in any area of the home.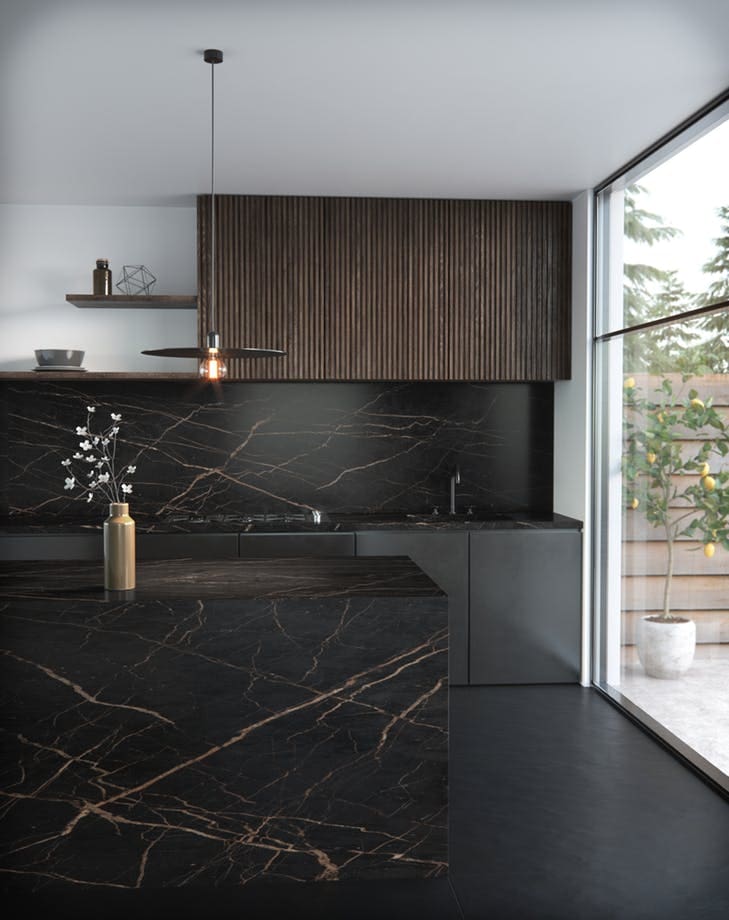 (Image credit: Thompson Remodelling)
How Black Quartz Countertops Can Transform Any Kitchen
The quartz kitchen countertops come in several colors such as black, white, beige, brown, and grey. But what makes the black quartz kitchen countertop stand out from the rest?
Black is a neutral color that adds timeless beauty to interior spaces. Black adds a touch of elegance and boldness that will keep your kitchen from looking basic and washed out.
Black quartz countertops can make a statement and add an aura of sophistication to any kitchen. This style of kitchen countertops isn't only suited to contemporary homes but they work great in traditional kitchens as well.
Black quartz countertops come in several finishes, polished black, matte black, and sparkle black. They may also feature veining to give the appearance of marble. No matter your preference, any variation of black quartz kitchen counter will give your kitchen an impactful edge.
5 Black Quartz Countertop Design Ideas
Looking for inspiration to get started? Here are 10 stunning black quartz countertops
1. Matt Black Quartz Countertops
Matte black quartz countertops are an appealing option for any kitchen as they have a slight texture and lack shine. It also evokes character and personality to the counter surface. In addition, it does not show smudges or fingerprints like the shiny quartz alternatives. Although, this engineered slab may not disguise debris and crumbs like its counterparts.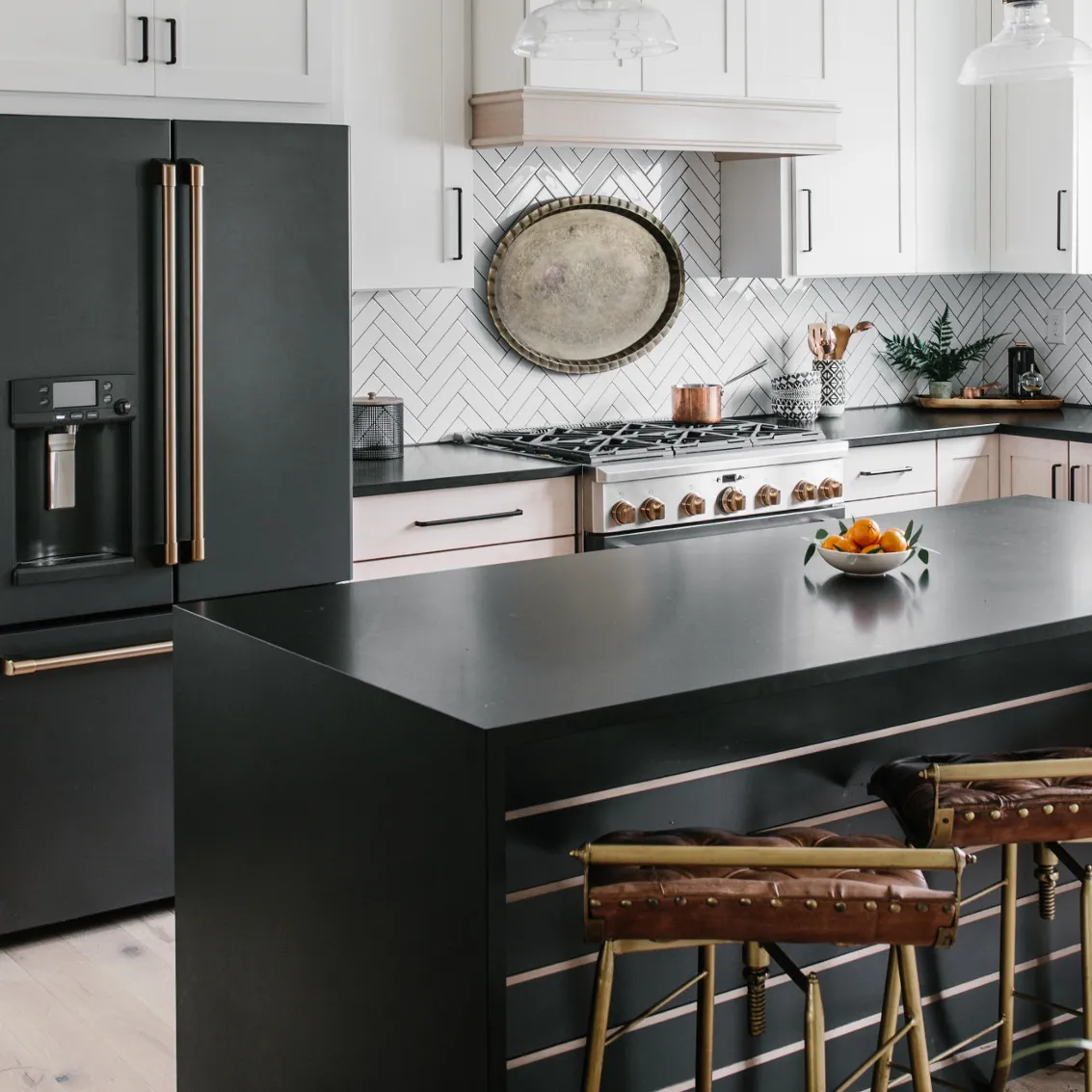 (Image source: Cambria USA)
2. Marble Effect Black Quartz Countertops
For modern styling personified in every way, opt for marble-looking black quartz countertops. A veiny cobra and superb stain quartz design add a stylish finish and detail that will elevate the aesthetics of your kitchen. You can opt for a black quartz that mimics marble designs such as carrara, statuario, and calacatta for a sleek contemporary look.
(Design By WK Quantum Quartz)
3.
Polished Black Quartz Countertops
A polished black quart gives a glossy sleek finish to your kitchen countertop. This type of quartz countertop is made by grinding down the surface of the quartz by using fine abrasives until a natural sheen appears. This process makes the slab reflect light, hence, giving it a glossy appearance.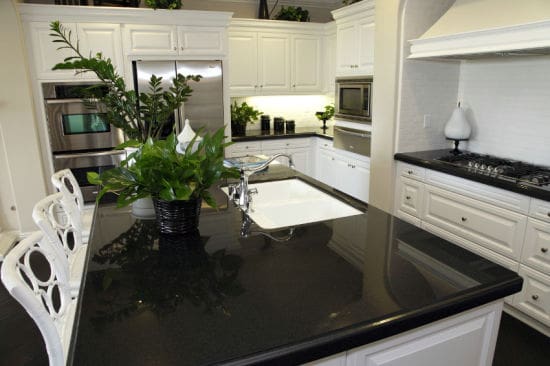 (Image source: Pinterest)
4. Concrete-Look Black
Quartz Countertop
Most homeowners choose to invest in engineered concrete-look quartz countertops than natural concrete for a number of reasons. They look similar but natural concrete absorbs moisture, grim, and dirt as opposed to concrete-look quartz countertops. Due to its non-porous nature, the concrete-look quartz will continue to look visually appealing for many years.
(Design By Algarvegranite)
5. Silestone
Black Quartz Countertops
Silestone is one of the most common quartz stone designs among homeowners and interior designers. But this doesn't come as a surprise. The Silestone quartz offers the darkest finish options in four varieties. These options are Stellar Night, Tebas Black, Marengo, and Iconic Black. They all possess a sleek clean finish that creates a comfortably modern feel in the kitchen.
(Stellar Night Quartz Kitchen Countertop from Silestone by Cosentino)
Pros of Quartz Countertops
Durability
Due to its non-porous nature, the quartz kitchen countertop doesn't crack or chip easily and is more durable than granite or marble countertops. It also doesn't get water marks or stain easily.
Low maintenance
It is easy to maintain a quartz countertop. Simply use a damp cloth or paper towel absorbed in a bit of detergent and wipe through gently. After cleaning, thoroughly rinse and dry the surface. Learn more on how to clean quartz countertops here.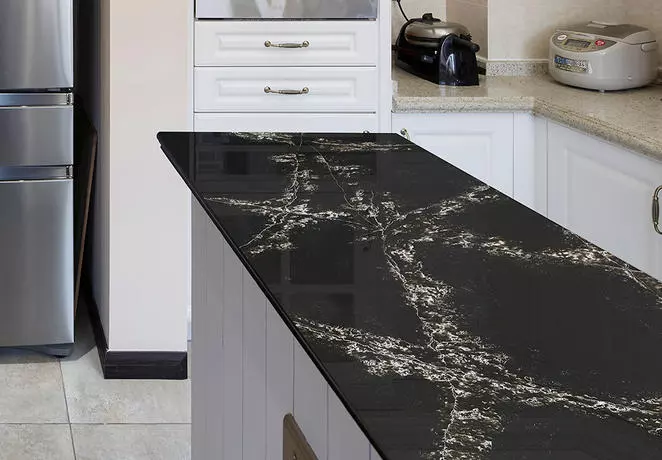 Affordability
Quartz is a more affordable countertop material compared to granite. Although it's not the cheapest countertop option in comparison with laminate or butcher block. Depending on the quality, supplier, and design, the cost of a high-quality quartz countertop might range from $75 to $200 per square foot. Learn how much quartz countertops cost here.
 Eco-Friendly
This is a sustainable option compared to fiberglass. It requires no tree-cutting and 90% of the stone materials used in manufacturing quartz countertops are made using waste byproducts of other manufacturing or mining activities. Hence, no natural stone is quarried just for the purpose of manufacturing quartz countertops.
Appearance
Arguably the quartz countertops stand out the most in terms of visual aesthetics. Its sleek look gives a polished and chic layer to the kitchen. Whether flecked or smooth, its beauty cannot go unnoticed.
Versatility
This kitchen countertop is very versatile in appearance compared to other natural stone countertops. It comes in various colors, styles, and finishes which makes it convenient to find the one that suits your home.
Cons of Quartz Countertops
Complex Installation
Installing a quartz countertop for your kitchen is not an easy DIY process, which makes it more expensive to install. This installation requires a skilled professional who has the ability to measure, level, and install the slabs on the kitchen island or kitchen cabinet.
Prone to Heat Damage
While quartz is a stone that can withstand heat, the polymer fillers and resin also used in making quartz countertops will succumb to heat. Essentially, what this means is that if hot cookware is placed on this countertop, it may result in discoloration and possible damage due to the resin melting.
The Takeaway On Black Quartz Countertops
There you have it!  These are black quartz countertop design ideas to inspire your next kitchen remodel, as well as the pros and cons to help you make an informed decision.
Black is the new cool. It can no doubt transform the look of your kitchen. We suggest you source high-quality quartz kitchen countertops from a reliable manufacturer and only use an experienced professional for the installation process.
Be sure to check out the kitchen category for more tips and design inspiration.