34 Pink and Green Bedroom Ideas
Are you looking for color ideas to give your bedroom a new life and character? Get inspired by these alluring pink and green bedrooms! 
When it comes to bedroom interior design, some colors are more practical and visually appealing than others. The bedroom is a space for relaxation and rejuvenation. The color choices you use for this place should be easy on the eyes and give the room calming feel.
Green is nature's most associated hue and it symbolizes growth, prosperity, and life. It is also one of the most versatile hues on the spectrum. What makes green so popular in the world of design is its versatility and the sense of tranquility it gives to a room. There are also a wide array of invigorating shades of green that can create different moods.
Pink is one of the best colors to go with green. Soft shades of pink can lend delicate beauty to a room while bold vibrant shades serve as an appealing accent color. Green and pink go brilliantly together like Tacos & Tuesdays. A pink and green two-color combination yields an easy contrast.
In this article, we have curated 34 pink and green bedroom ideas that will elevate the aesthetics of your bedroom. No matter your design style, you will find ideas here to complement it.
1. Use Various Shades of Green
Instead of one shade of green or pink, use various shades of the same hue to give the space a layered effect. The best way to approach this is to combine a dark shade and a light shade of a single color. The layering technique creates a seamless flow of color. Teal green and dusty green are examples of two shades that work well together.
PHOTO: ISTOCK
2. Inject Color with Bedding
There are a plethora of ways to bring color into your bedroom other than painting the walls or furniture. The color, texture, and pattern of your bedroom can either elevate the aesthetics of the room or throw your design vision off.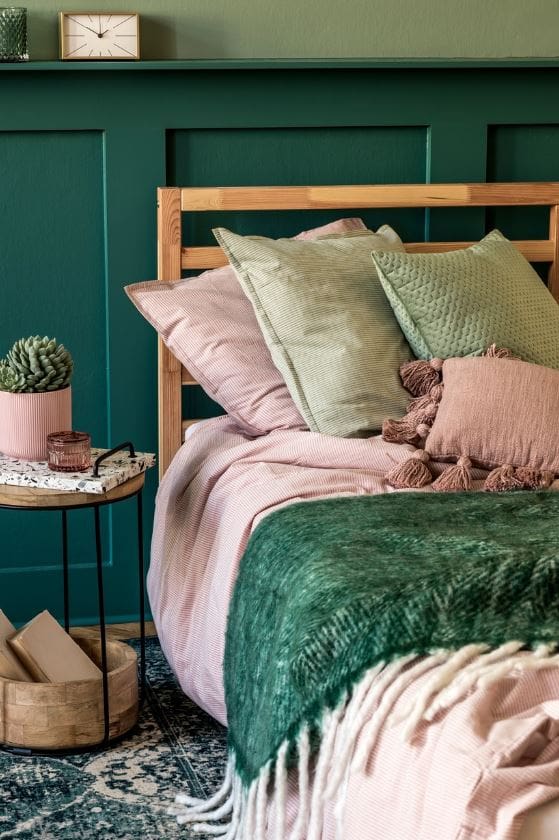 PHOTO: ISTOCK
3. Try a Soothing Baby Pink
A pink and green bedroom with soft shades tends to make the most impact. Delicate and muted pinks like baby pink and pale pink are great for introducing a soothing vibe and tranquility in the bedroom.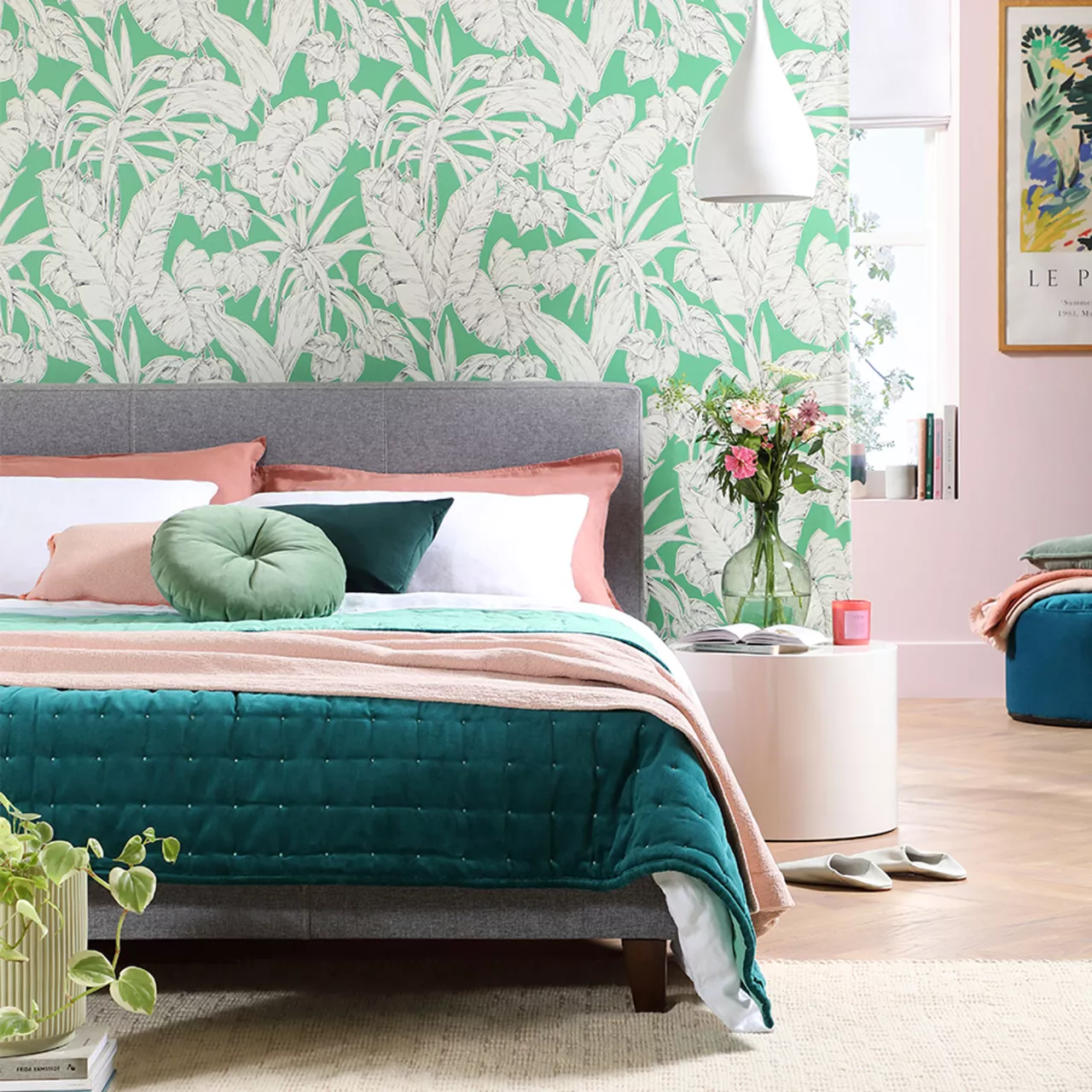 PHOTO: FURNITURE & STYLE
4. Energize the Scheme with Dark Blue
Dark blue is a rich and energetic color that can add a punch to your pink and green bedroom. Just like green, blue is also a calming and versatile hue. It works very well with most shades of green and pink. When used together in the bedroom, all three colors create a sense of cohesion.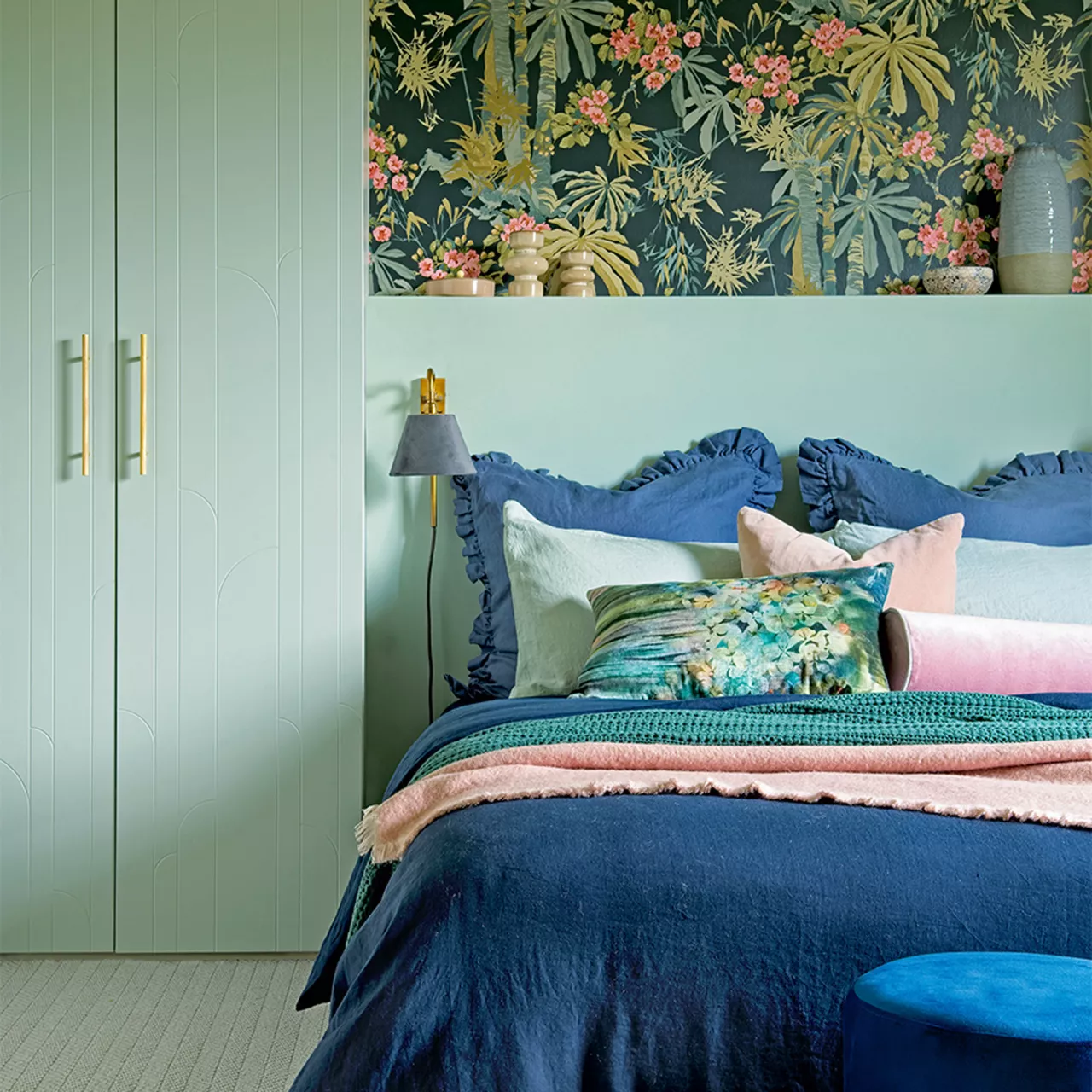 PHOTO: FUTURE PLC/DOMINIC BLACKMORE
5. Get Inspired by Nature
Use colors, materials, and patterns that are reminiscent of nature. These elements can make a bedroom feel tremendously soothing and relaxing. A nature-inspired interior design is proven to promote a sense of serenity and help to reduce anxiety.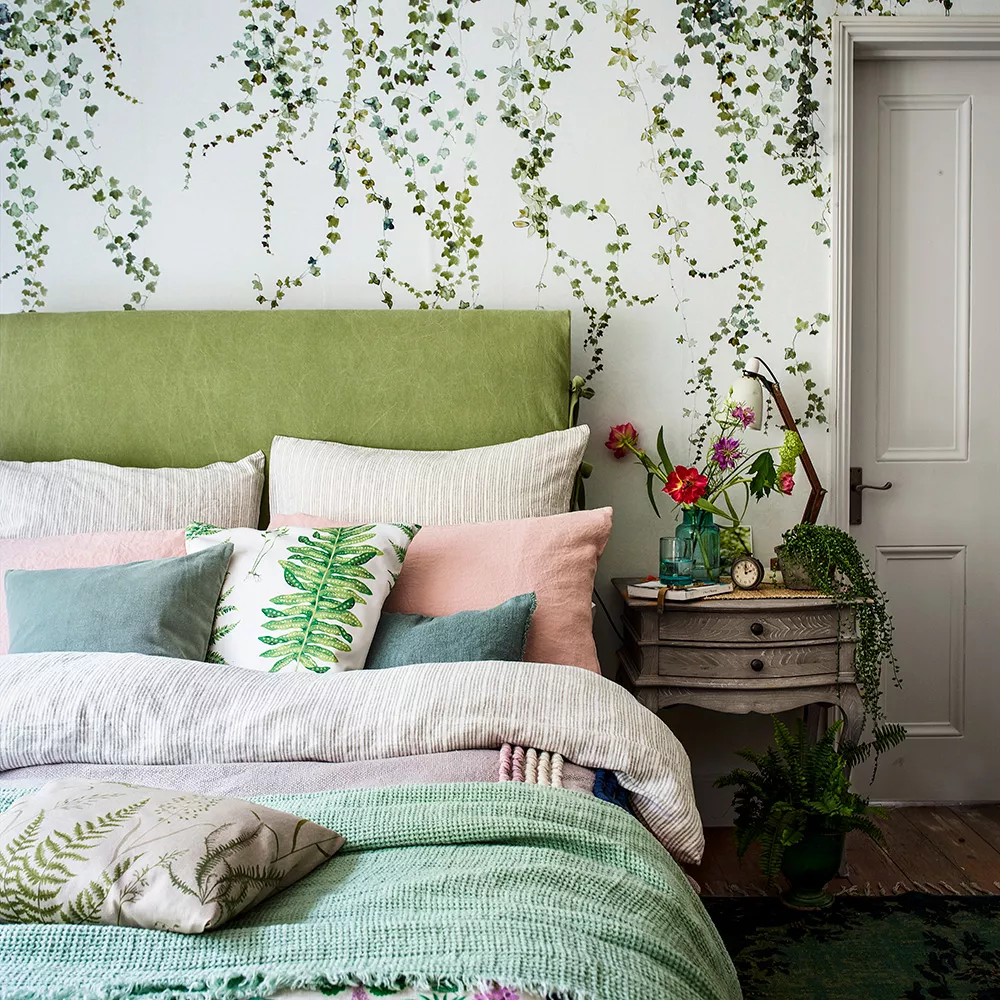 PHOTO: FUTURE PLC/ DAN DUCHARS
6. Add Character with a Bohemian Style
The bohemian interior style evokes character, spirit, and personality. It creates fun and eclectic aesthetics. It does not conform to the idea of "less is more" like a modern minimalistic interior style. This design style can bring a lot of personality to your pink and green bedroom.
PHOTO: KELLI COLLINS
7. Pair Sacramento Green with Blush Pink
Color has a significant influence on human emotions. The shade you choose can make or break the overall look of your design. Sacramento is a sophisticated older cousin of teal. It has a darker, bluer, and richer tone than teal.
There is an organic quality of Sacramento green that adds richness, elegance, and a natural feel to the space. It pairs beautifully with blush pink or pale pink.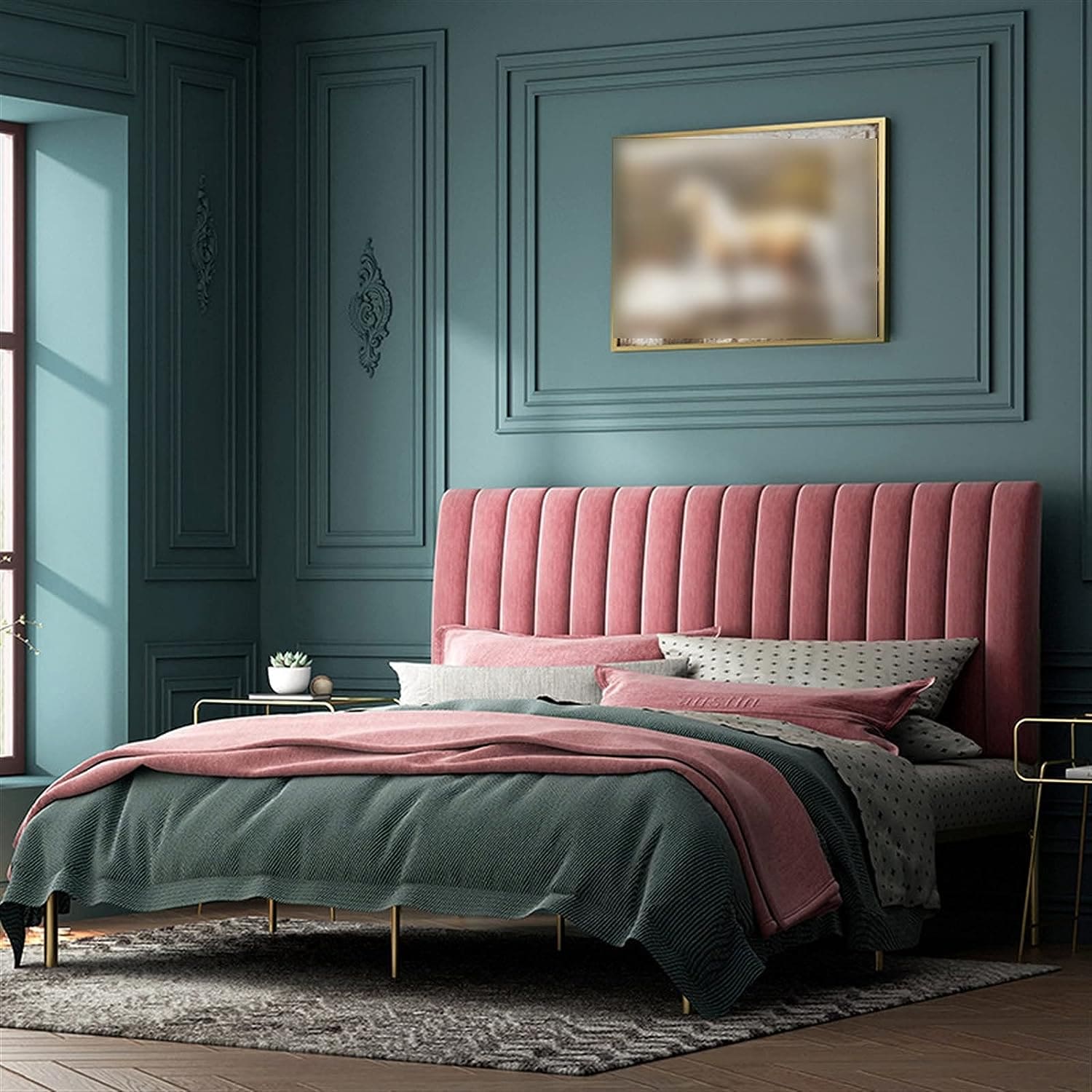 PHOTO: PINTEREST
8. Add Pops of Yellow
Yellow is a cheerful and vibrant color that is psychologically linked to happiness and positivity. It is commonly used as an accent color because large doses of yellow can overwhelm a space. Yellow infuses warmth and beauty into a space. A pop of yellow can add an extra pizzazz to a pink and green bedroom.
PHOTO: GRAHAM BROWN
9. Opt for Vibrant Shades
If minimalism isn't your thing, use mood-boosting vibrant colors to keep things interesting. The shades of green that can add subtle drama to your bedroom are emerald green, mint green, and as seafoam. A masterful way to approach this is to create an accent wall that will draw interest but not overwhelm the space.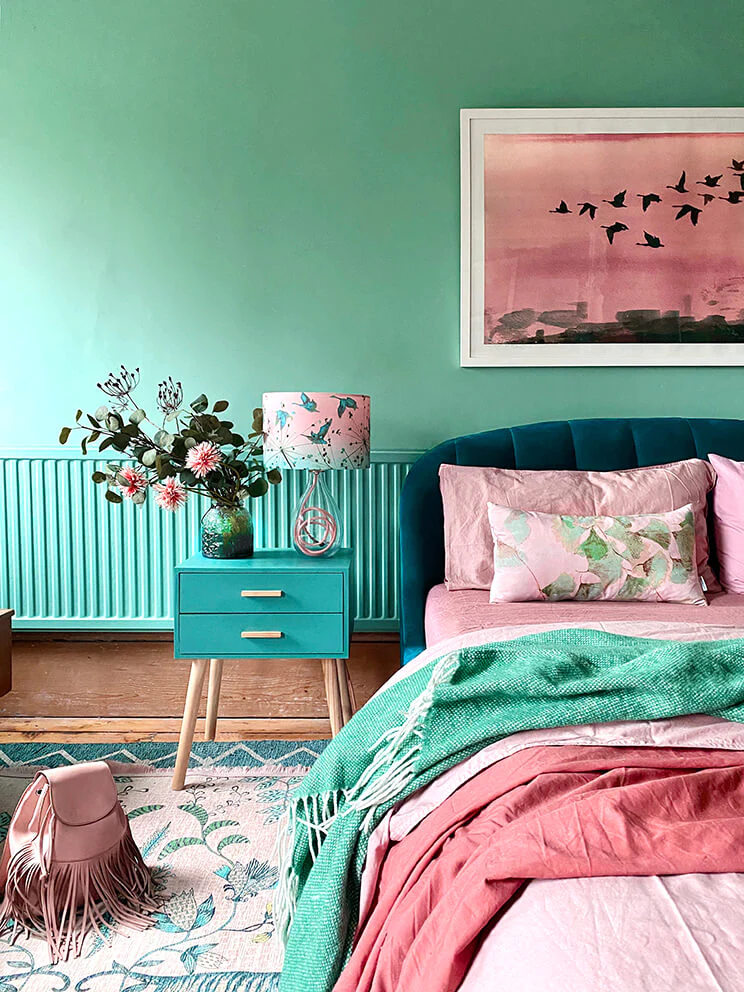 PHOTO: ANNAH JACOB
10. Elevate the Scheme with a Hint of Purple
A purple, pink, and green color scheme can create a real style statement. If you're looking for an accent color for your pink and green bedroom, purple should be on your radar. The combination that communicates simplicity to the eye is a dusty rose pink, teal green, and mid-tone purple.
PHOTO: PINTEREST
11. Use a Pink and Green Two Color Wall Combination
A green and pink two-color combination for bedroom walls is a great way to maximize interest. Painting interior walls with different colors is a clever way to add architectural interest and create a sense of more space.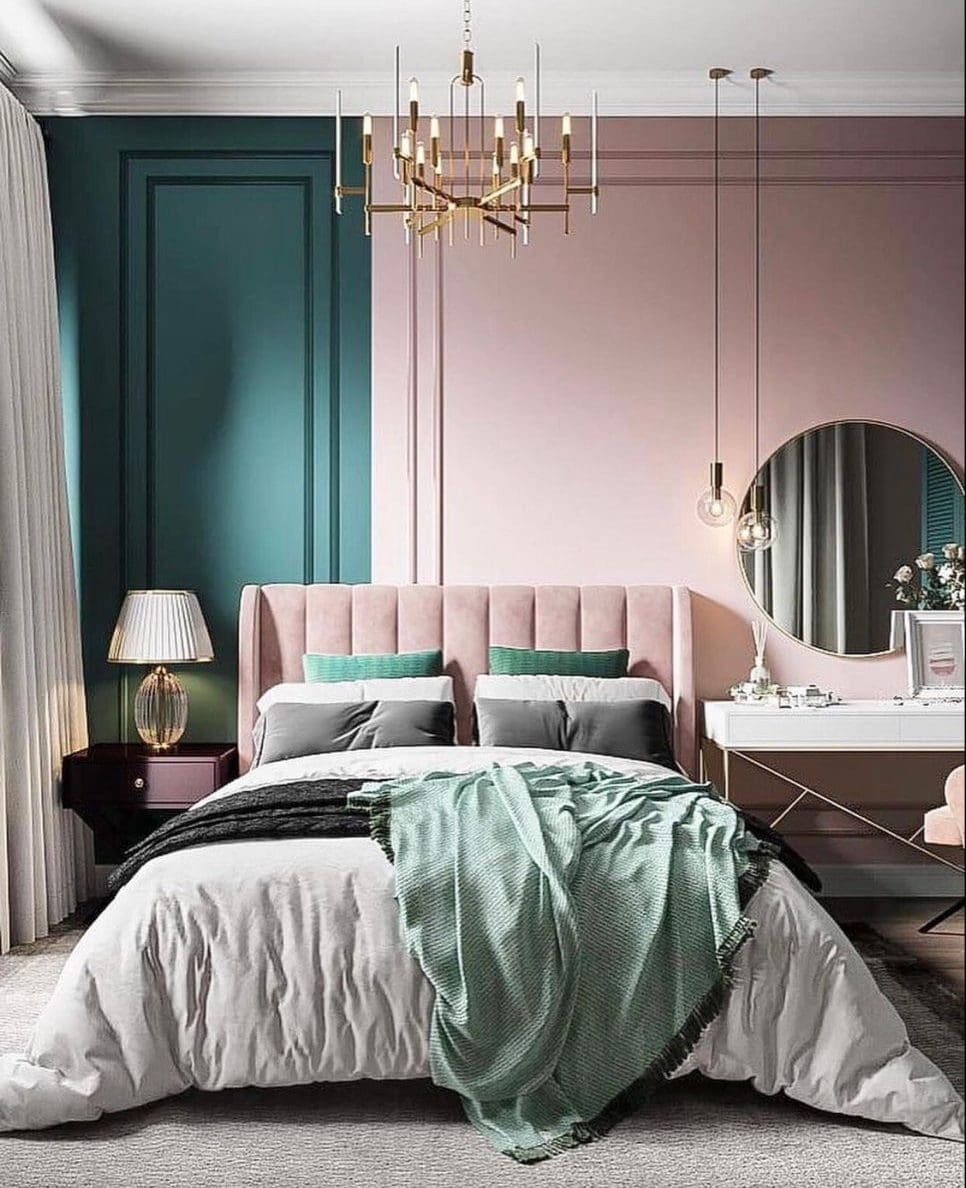 PHOTO: PINTEREST
12. Choose a Blue-Green Color
There is something quite invigorating about the blue-green, which is the color that sits in the middle of blue and green. This color creates a sense of visual calm and timelessness Blue-green is best paired with blush pink in the bedroom.
PHOTO: KATIE LEE
13. Consider Pastel Colors
Pastel colors give a fresh and convivial touch to the bedroom. They are neither neutral nor bold. Pastel color palettes are used to lend a feeling of softness and spring-like bloom to interior spaces.
PHOTO: INTERIORS BY COLORS
14. Mix Textures and Patterns
The mixture of textures and patterns can take your pink and green bedroom from drab to fab. This design technique can add visual interest and depth that can help to create a lively and enticing space.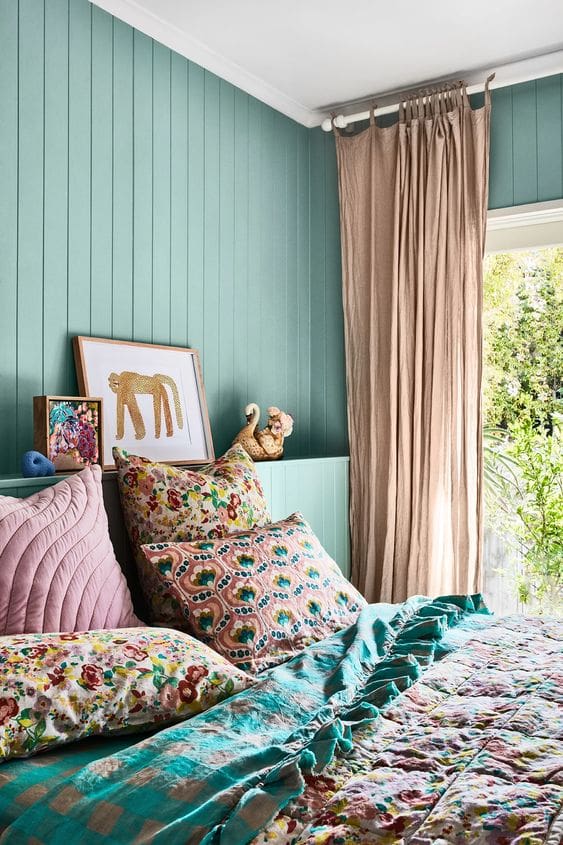 PHOTO: DULUX
15. Consider a Half Painted Wall
If you are color-shy or simply want to embrace simplicity, consider a half-painted wall. A board and batten half wall is particularly common in the bedroom. This technique also creates a sense of more height when the upper half is painted the same color as the ceiling.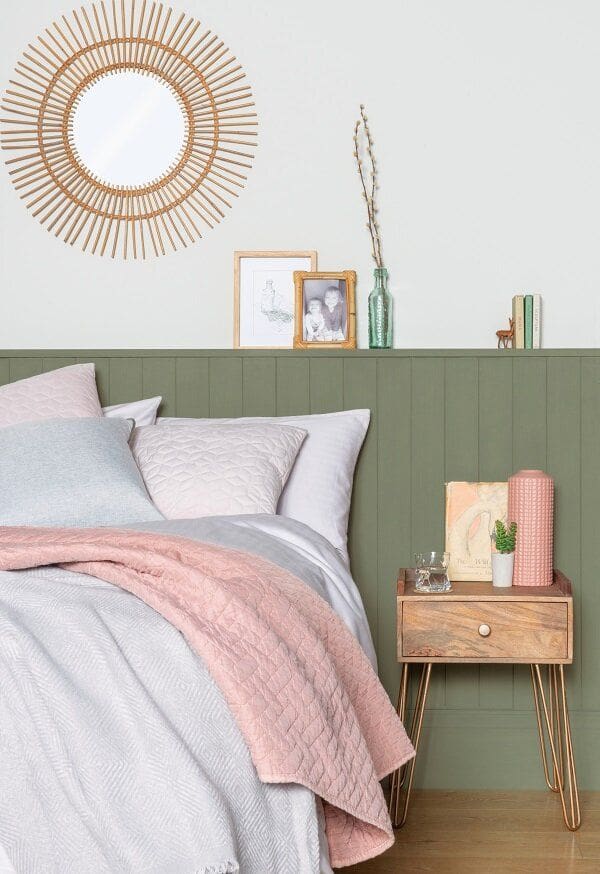 PHOTO: INTERIORS BY COLORS
16. Pair a Dusty Rose Pink and Olive Green
If you're looking for a pink and green bedroom idea that can add a refined sense of style to the space, consider the dusty rose pink and olive green. This two-color combination is extremely soothing and adds an understated elegance to the room.
PHOTO: ANGEL O'DONNELL
17. Make It Cozy
Give a cozy feel to your pink and green bedroom by combining a moody shade like dark green and a delicate hue like a dusty rose. You can create a cozy ambiance using elements such as rugs, faux furs, throws, candles, and warm lighting.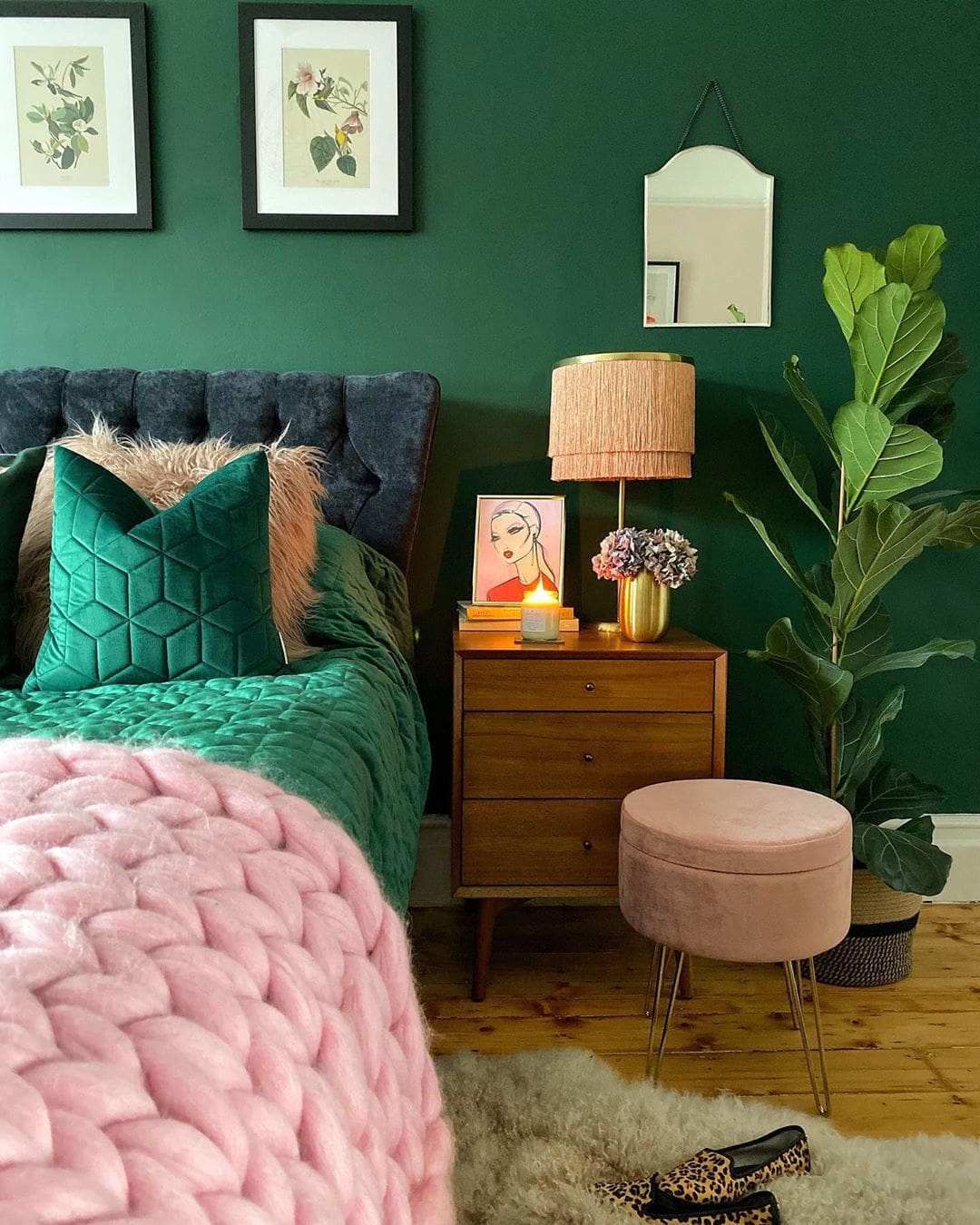 PHOTO: INSTAGRAM @HARRISON_NATE_AND_ME
18. Embrace Minimalism
Keeping things simple is often the easiest way to approach a pink and green bedroom design. Use a muted color palette throughout the space and keep clutters at bay. Consider incorporating natural elements and using uniform art.
PHOTO: MILLER GREY
19. Create a Moody Theme
The moody interior theme is quite common among modern luxury spaces. It places major emphasis on the use of rich and dark colors. This type of design style makes a room feel very cozy and restful.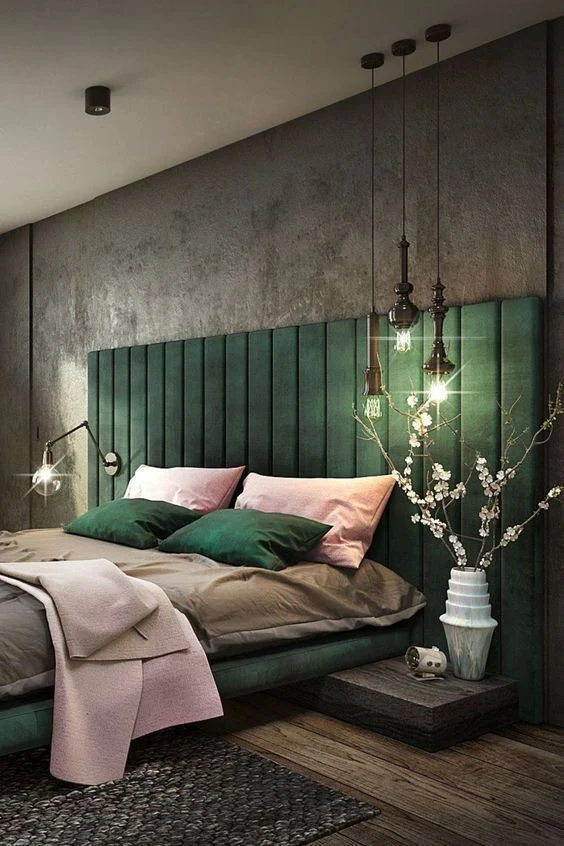 PHOTO: PINTEREST
20. Opt for a Beige Wall Paint
A pink and green bedroom does not necessarily need a boldly painted wall. A neutral backdrop can a chic layer of interest and depth. The main colors can be injected through furniture, textiles, and artwork.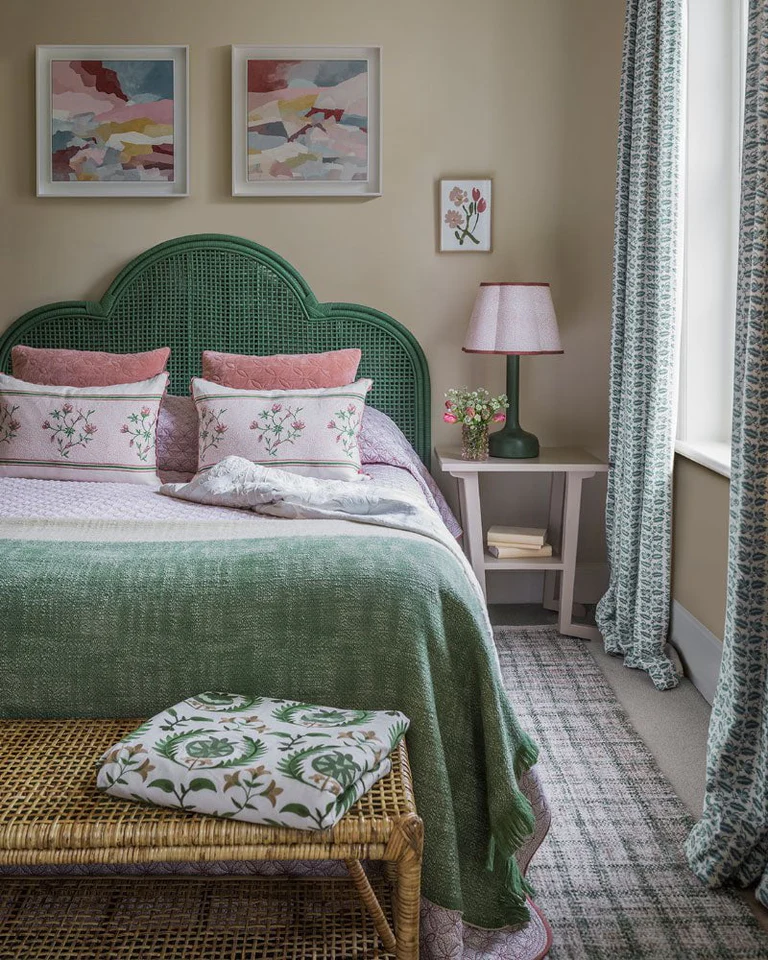 PHOTO: BIRDIE FORTESCUE
21.  Sage Green and Pink Bedroom
Sage green is one of the most popular colors for bedrooms at the moment. It is a soothing and calming shade of green with a gray undertone. It is best paired beautifully with dusty or pale pink.
Check out this article for 45 incredible sage green bedroom ideas to inspire you.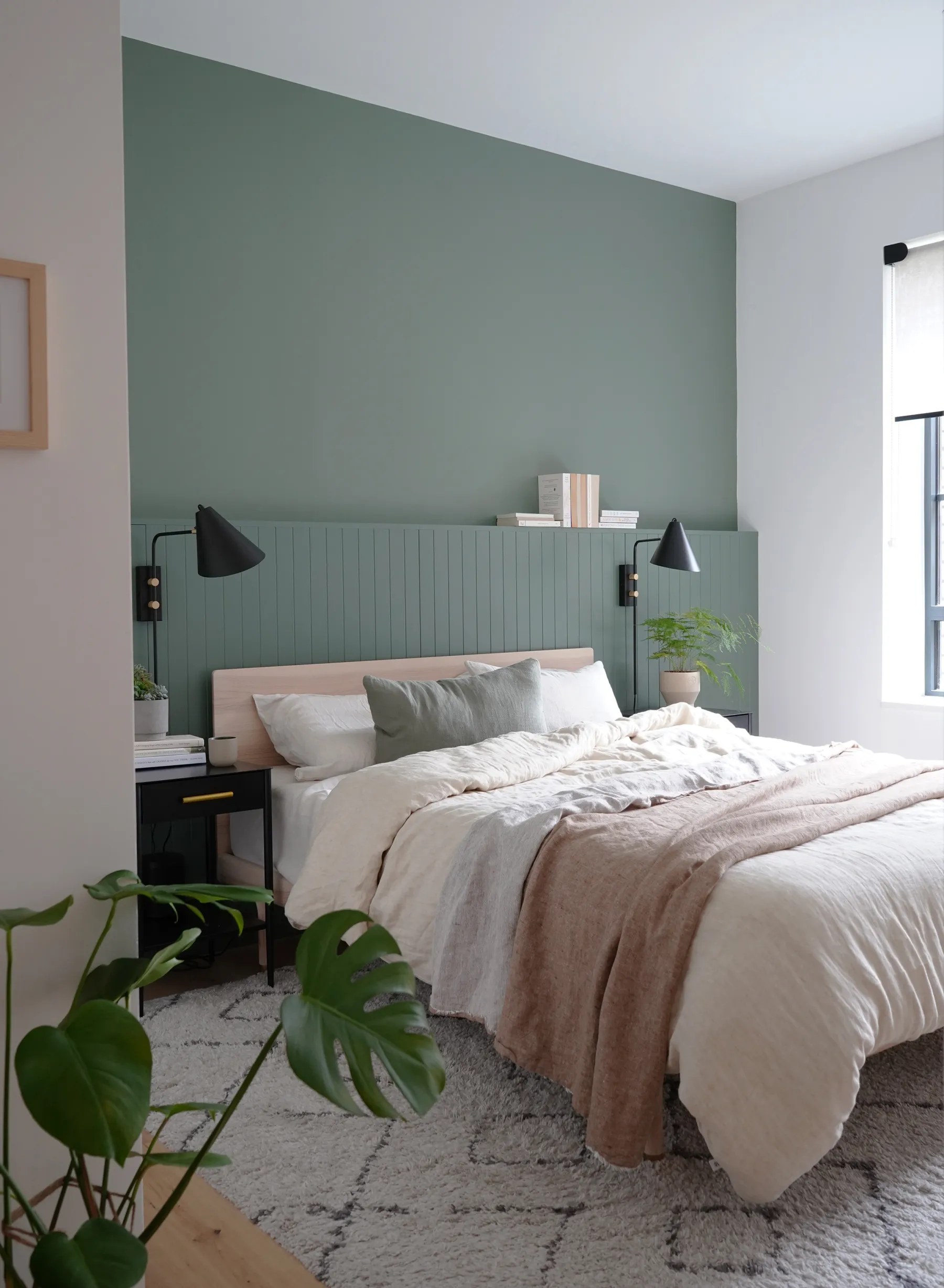 PHOTO: CATE ST HILL
22. Use Matching Green Curtains
Curtains are a great way to add a stylish flair to your pink and green bedroom. A green-colored curtain tends to be more soothing and stimulating than a neutral-colored one.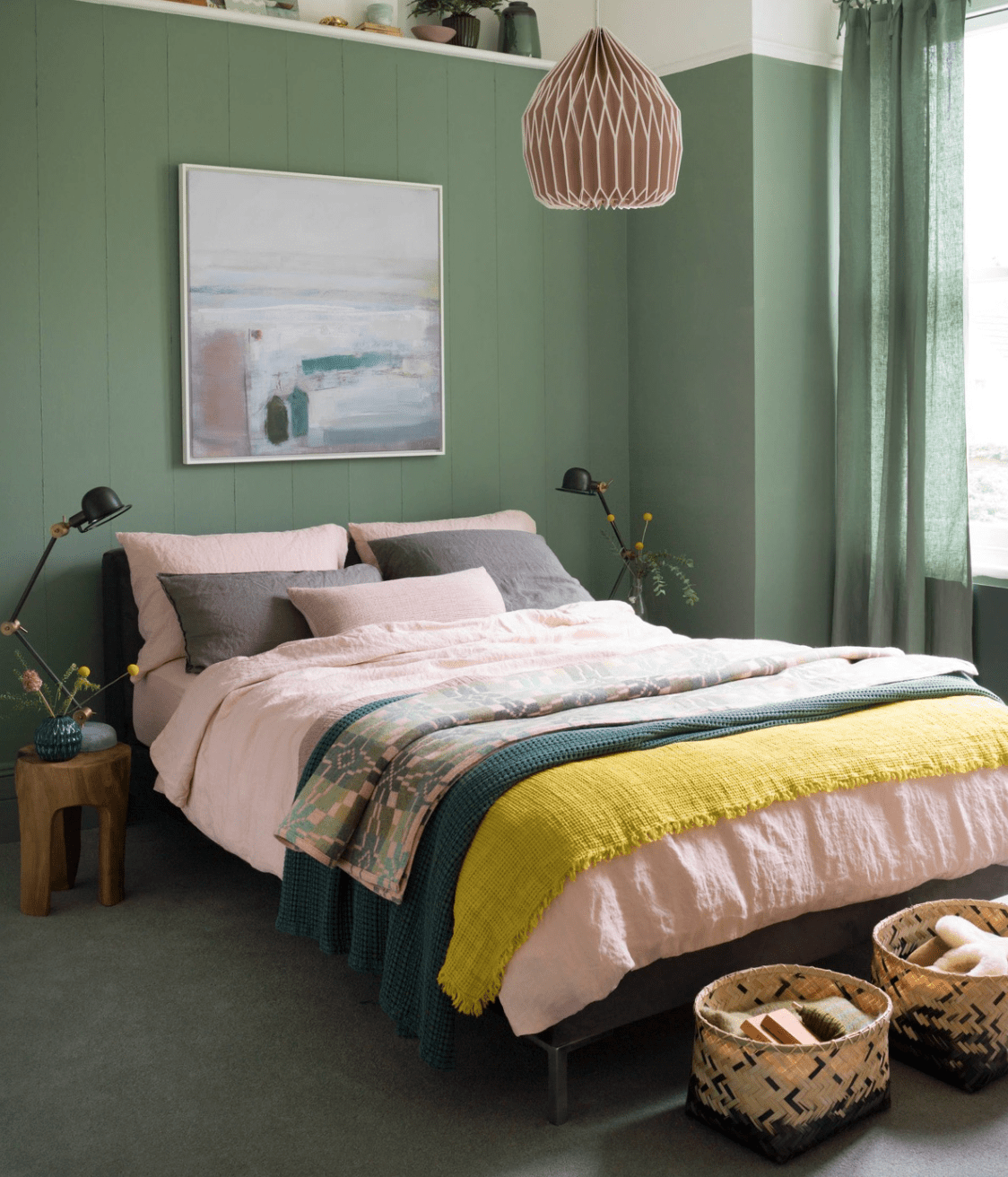 PHOTO: FUTURE PLC/ SIMON WHITMORE
23. Elegance is the Name of the Game!
Opt for a design style that makes your pink and green bedroom appear elegant and chic. Instead of following a fickle design trend that may lose its touch after a while, go for a classic style that exudes sophistication and style.
PHOTO: INSTAGRAM @HOME_RESTORATION_
24. Add a Luxurious Touch with Gold Accents
Incorporating gold accents are a surefire way to make a space feel luxurious and visually interesting. They can really bring a dynamic element to your pink and green bedroom.
PHOTO: PINTEREST
25. Add a Touch of Maroon
Use maroon accents to imbue your bedroom with color and personality. Maroon is a great accent color to add a punch to a pink and green bedroom. Plus, it can also create a warm and inviting ambiance.
PHOTO: LICK
26. Throw Cherry Red into the Mix
For a rich and dramatic design, consider adding cherry red to the color scheme. This color palette can create a bold style statement.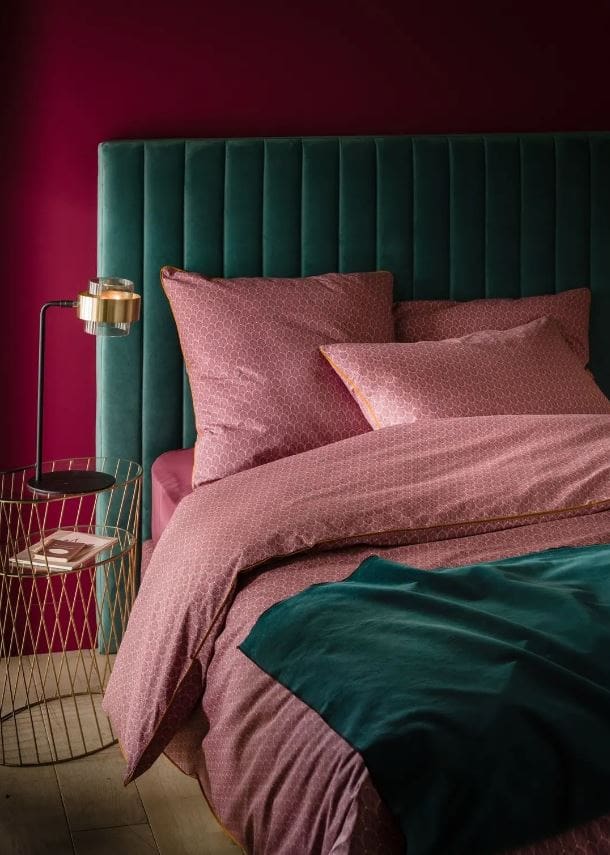 PHOTO: LA REDOUTE INTERIORS
27. More Pink, Less Green
Most pink and green bedroom designs use pink as an accent color but pink can serve as a main color too. The key to nailing this is using a soft and subtle shade of pink that will not overwhelm the space.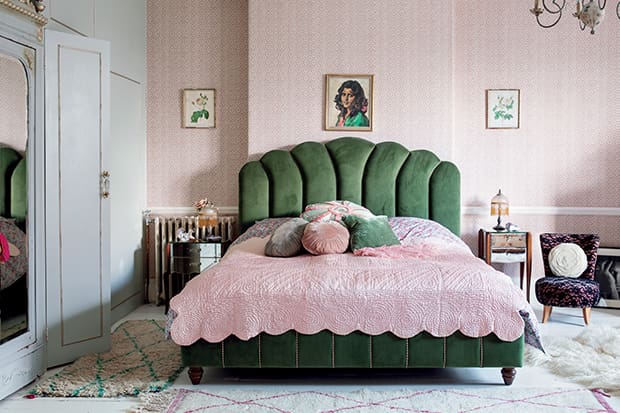 PHOTO: DEVOL KITCHEN
28. Emerald Green and Pink Bedroom
As far as green shades go, emerald green is one of the most chic and sophisticated. An emerald green and pink combination is a fusion of elegance and modernity.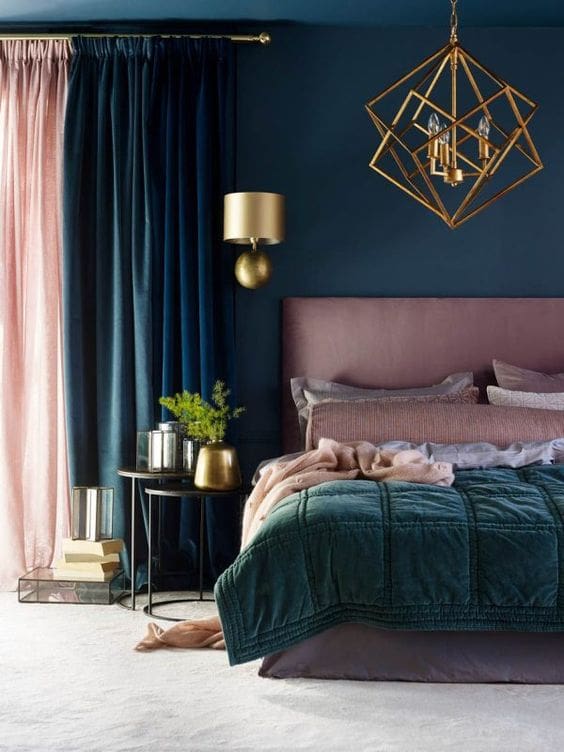 PHOTO: HUSTOPIA
29. Dusty Rose Pink and Moss Green Bedroom
Moss green can make a space feel closer to nature than any color. This earthy hue encourages relaxation and tranquility. Dusty rose pink contrasts moss green beautifully and can soften the overall look of the space.
PHOTO: HUSTOPIA
30. Add Visual Interest with a Mirror
Mirrors do not only serve a functional purpose, they can add a strong sense of style to a room. Mirrors also reflect light and make a room appear brighter and bigger.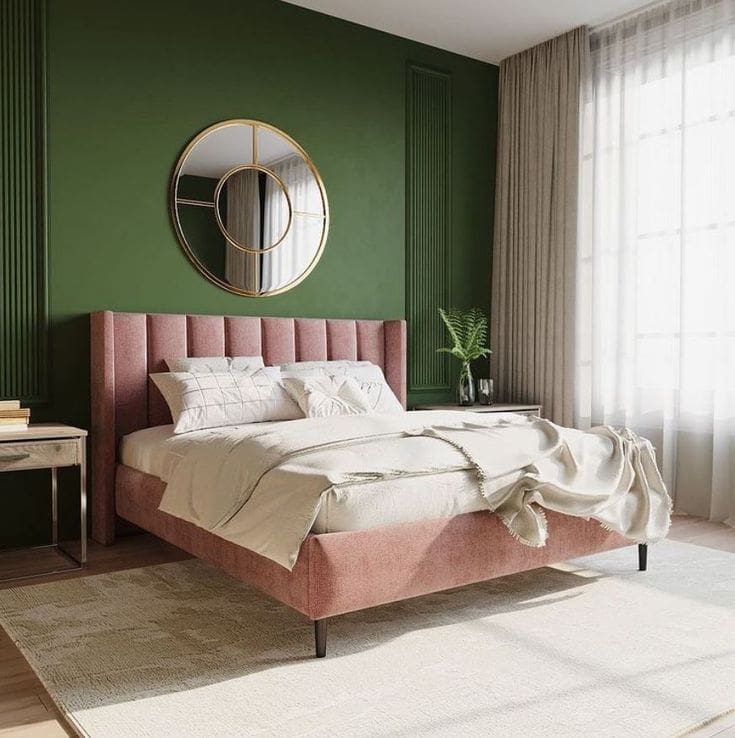 PHOTO: JULIA GRYOZA
31. Teal and Pink Bedroom
Striking a balance between calm and stimulating, teal is a shade of green to consider for the bedroom. This rich color can help to enliven and add character to any room space. The teal and pink color combination is a match made in interior design heaven.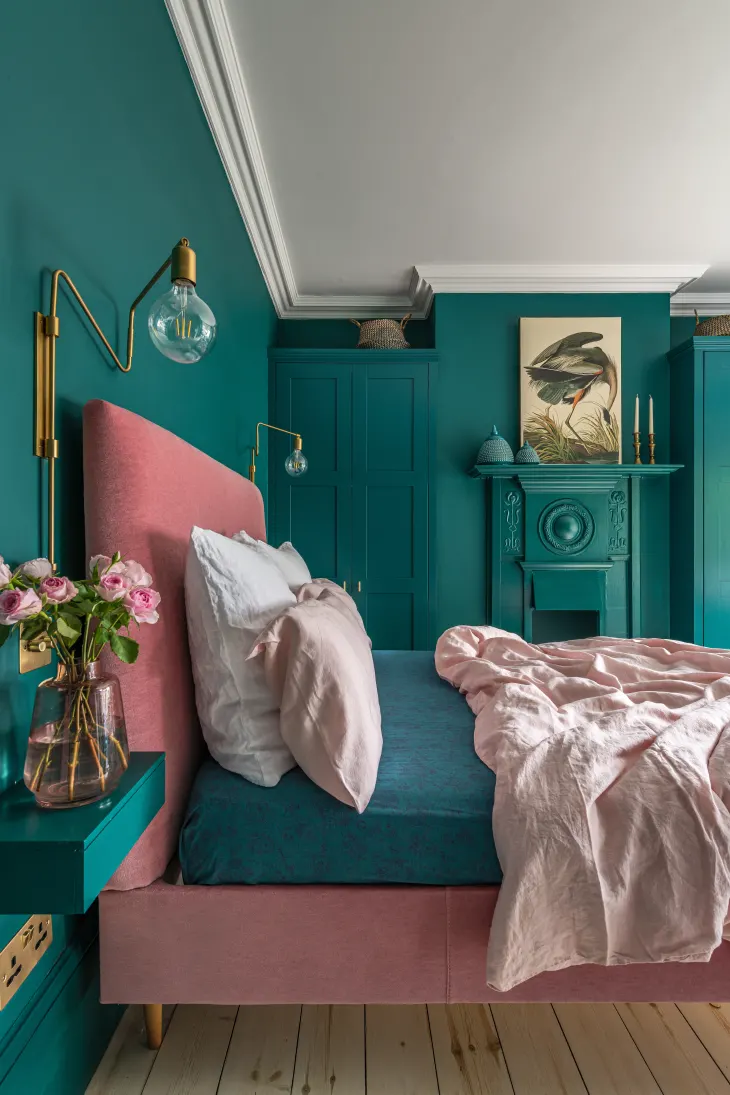 PHOTO: INSTAGRAM @THREEBOYSANDAPINKBATH
 32. Create Visual Balance with White
If pink and green seem like too much color for you, consider adding white to the color scheme. White is an enduring neutral and can help right and tone down than vibrancy of the hues. The white, pink, and green bedroom combination fosters a more tranquil environment.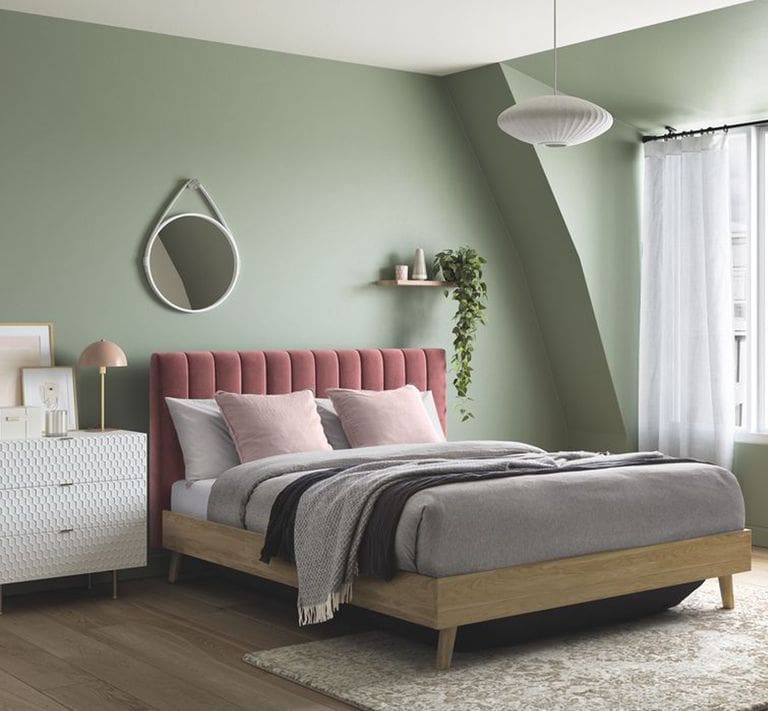 PHOTO: DREAM
33. Consider Painting the Door
Low saturated shades of pink can help to add organic softness to the scheme. Green can help to make a space more connected to nature. There are many ways to use these colors in your bedroom. One of the most attention-grabbing ways is to paint the door. This adds zings to the overall look of the room.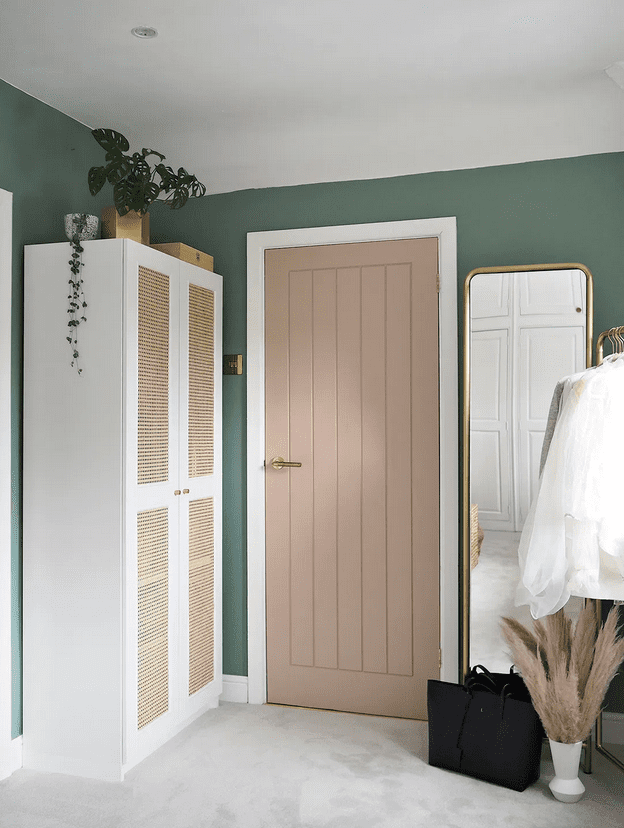 PHOTO: LUST LIVING
34. Use a Tropical Wallpaper
To make your bedroom feel more connected to nature, opt for tropical wallpaper. Wallpapers with botanical patterns can also help to create a retreat-like oasis in the bedroom and give it an exotic atmosphere.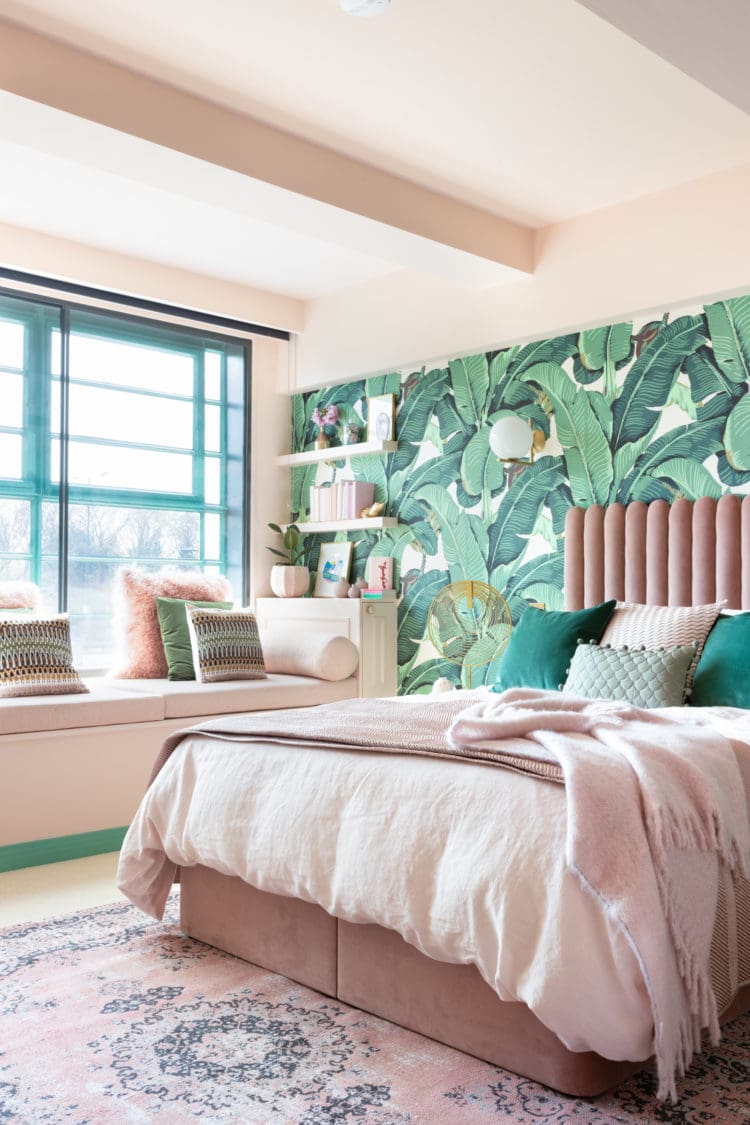 PHOTO: STUDIO DUGGAN
Save the Image to Pinterest