42 Pink Two Colour Combination For Bedroom Walls
Do you want the perfect soothing and mood-boosting colour for your bedroom? Get inspired by these pink two colour combination for bedroom walls that will take your space from drab to fab!
A colour scheme plays an important role in any design project. Colour has the ability to influence human emotions, brighten up poorly-lit spaces, add a refined sense of style and warmth, and even make a small space appear bigger.
How we decorate our home can impact our mood, self-perception, productivity, and ability to unwind. For decades, pink has been being a go-to for interior designers and it seems like it here to stay for the foreseeable future.
The versatility, timelessness, and delicacy of pink are what make it desirable. There are a plethora of colours that can be combined with pink to instill a sense of style, freshness, and tranquility in a bedroom.
In this article, we have taken the pleasure to curate the best ideas for matching pink two colour combination for bedroom walls. 
Enjoy the read!
1. Pink and Deep Green Bedroom Wall
Pink and green is one of the strongest two colour combination in interior design. However, the secret to nailing this combo is to choose the shade of each hue that complements each other harmoniously.
For a visually appealing design that promotes relaxation, use a lighter shade of pink and deep green paint on the bedroom wall. Embrace gold-coloured accents to give the space a polished and sophisticated finish.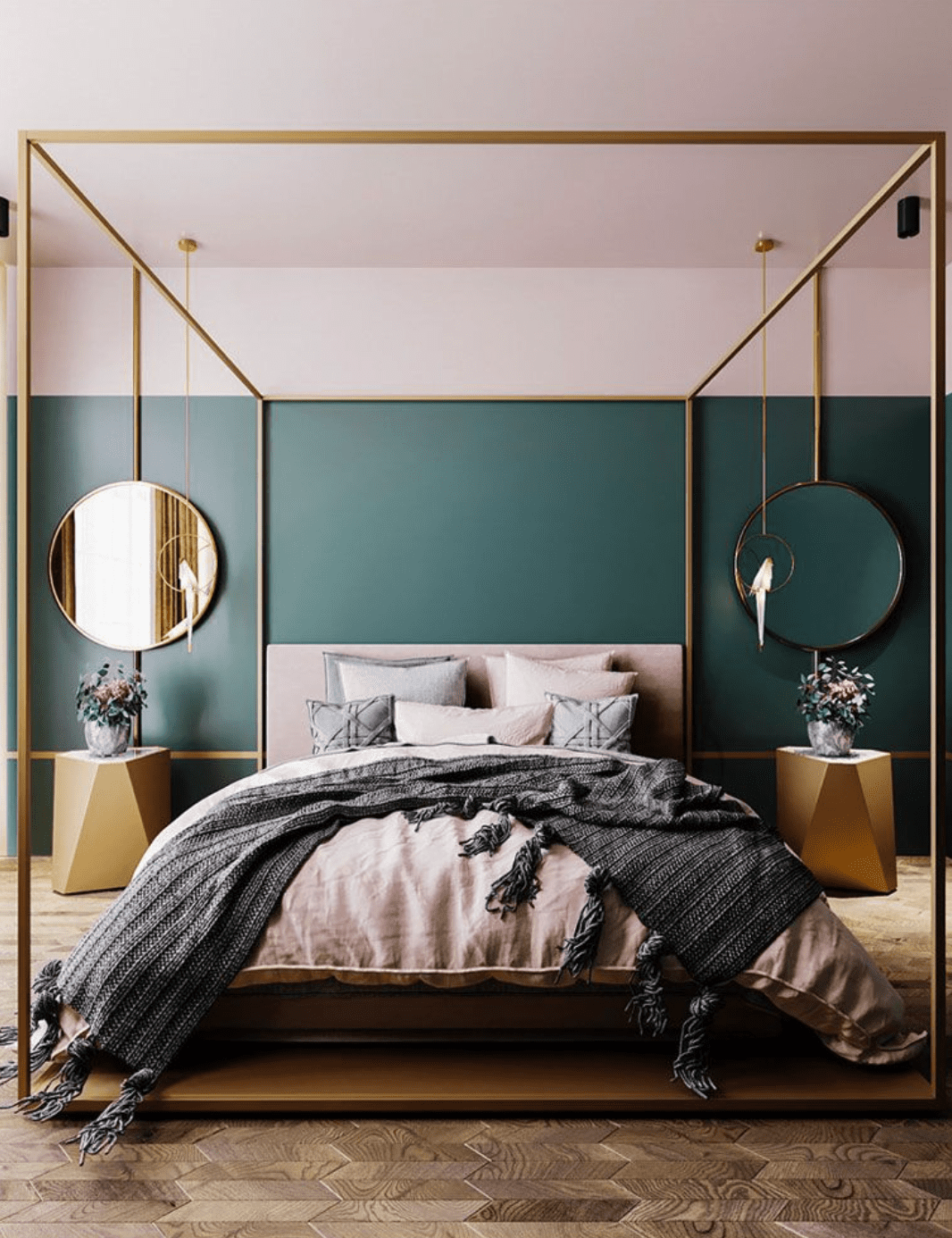 PHOTO: LITTLE GREENE
2. Pink and Crisp White Bedroom Wall
White is the most popular paint in interior design for good reasons. It is a timeless hue that makes a space feel clean, brighter, and more spacious. Plus, it is the most versatile colour under the sun.
This is an ideal dual colour pink two colour combination for bedroom walls for those who want an easy-to-execute and minimalist design. Consider a pop of yellow or bold blue accent to add a punch to the colour scheme.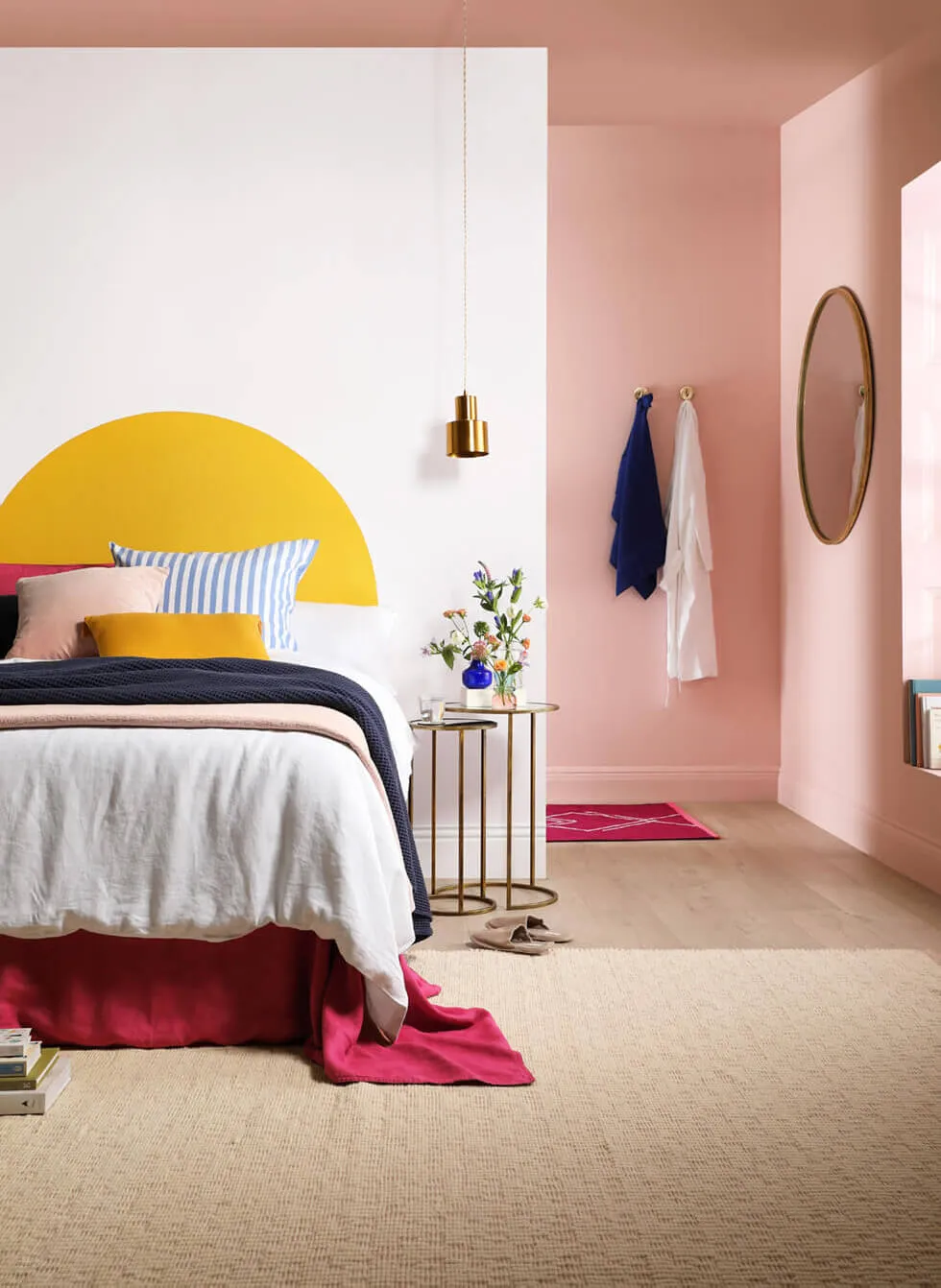 PHOTO: FURNITURE AND CHOICE
3. Pink and Steel Blue Bedroom Wall
Steel blue and pink is another two combination that goes brilliantly well together. Contrary to popular belief, pink isn't just for a girl's bedroom. It really depends on how you use it and the shade you use.
Introduce a masculine hue like steel blue to balance the feminine energy of pink. This will help to create sweet calming contrast in the bedroom.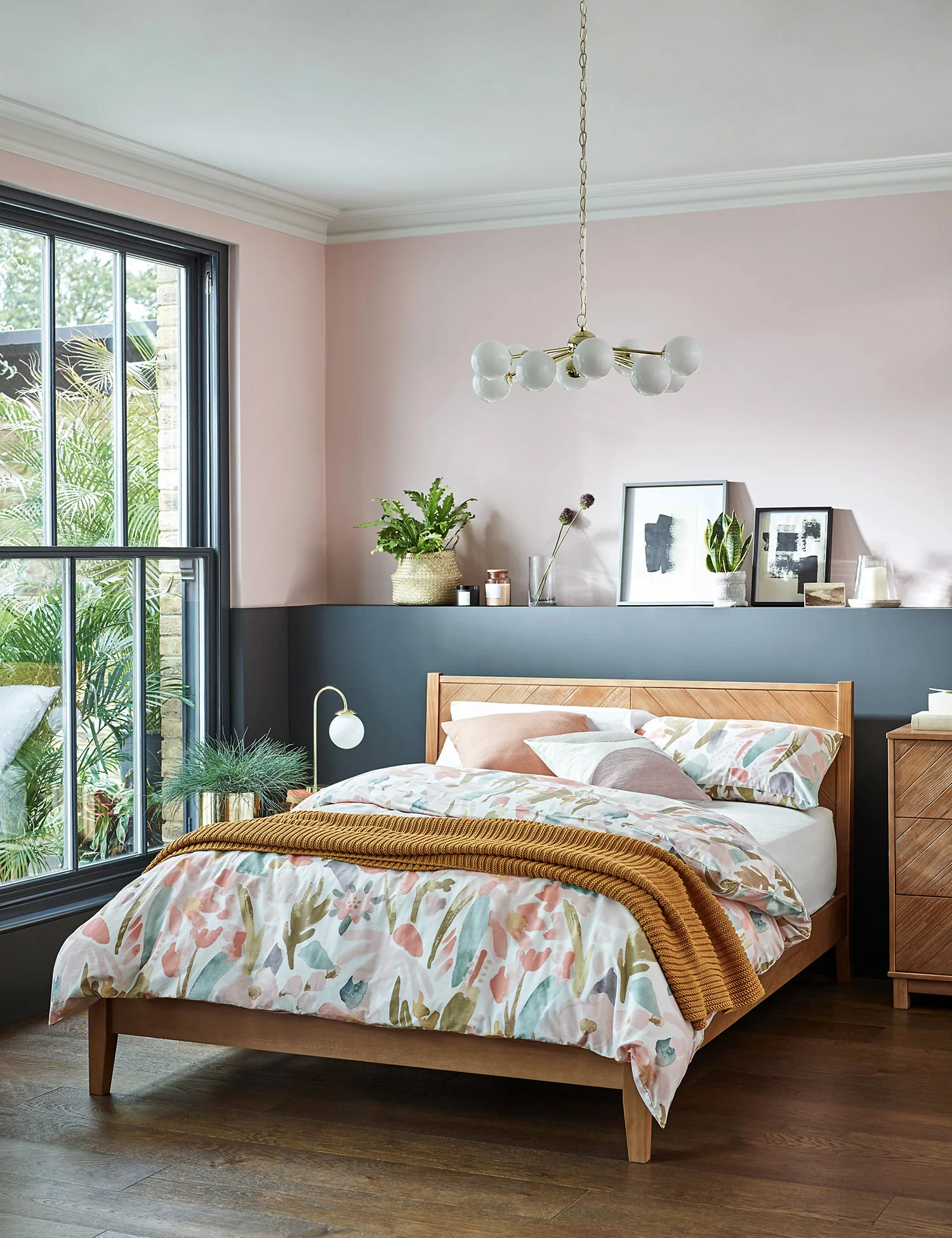 PHOTO: MARKS & SPENCER
4. Pink and Light Taupe Bedroom Wall
Light taupe is a calming neutral that will complement every colour, and pink is no exception. Taupe helps to soften the warmness of pink and acts as a refreshing backdrop.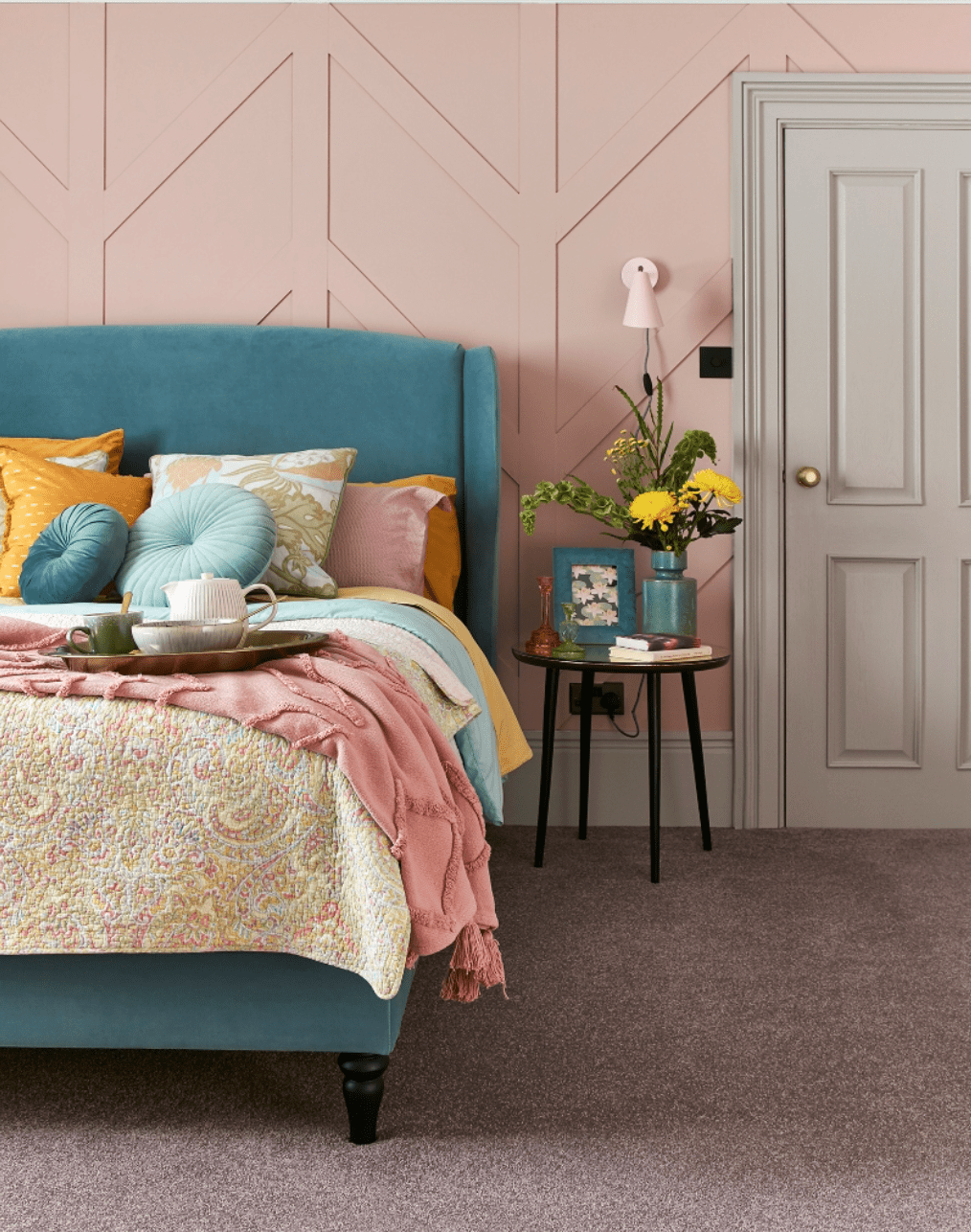 PHOTO: LIFESTYLE FLOORS
5. Pink and Dark Orange Bedroom Wall
Pink and orange is an unusual two colour combination for bedroom walls simply because they sit close to each other on the colour wheel. This doesn't mean that they don't work well together. In fact, light pink and dark orange exudes warmth, drama, and a strong sense of style.
PHOTO: LIFE INTERIORS
6. Pink and Teal Bedroom Wall
Teal ignites feelings of tranquility, balance, and calm, which is why it is ideal for the bedroom. In addition, teal is a revitalizing and rejuvenating hue that fosters clarity of thoughts and communication.
When matching pink two colour combination for bedroom walls, pay attention to how lighter and darker shades marry one another. Light or pale pink is the most ideal shade to pair with teal in the bedroom.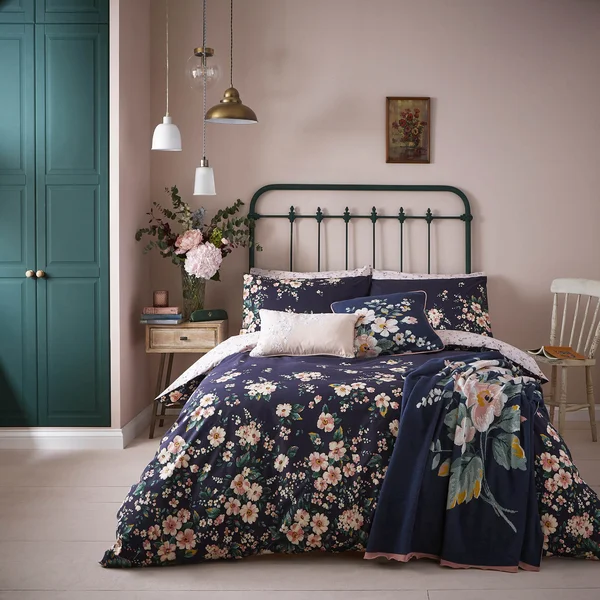 PHOTO: CATH KIDSTON
7. Pink and Cherry Red Bedroom Wall
Pink and cherry red is a pair that can bring warmth and a romantic ambiance to a bedroom. Depending on how much cherry red and pink you choose to incorporate, you can use this combination to create a dark and moody or a bright and airy space. The best shade of pink to pair with cherry red for a softer look is blush pink.
PHOTO: PINTEREST
8. Pink and Tiffany Blue Bedroom Wall
Tiffany blue is a soft, delicate, and subtly striking shade of blue. According to Psychologists, Tiffany blue help relieve eye strain, rejuvenates, and fosters mental productivity.
This colour of often associated a sophistication and laid-back luxe. Tiffany blue and pink two colour combination for bedroom walls is sure to give your space a luxurious and hotel-like feel.  
PHOTO: RUTH WASSERMANN
9. Pink and Mustard Yellow Bedroom Wall
A pink and mustard yellow colour combination shows the extent of pink's versatility and adaptability. It is an unexpected pair but unsurprisingly, they complement each other. Soften the mustard yellow with pale tones like rose pink, pastel pink, and blush pink.
PHOTO: INSTAGRAM @ OURCOLOURFULROSEDALE
10. Pink and Mint Green Bedroom Wall
Mint green adds freshness and a playful element to a space. It can instantly brighten up any space lacking natural light. It is best combined with pink of the same tone, like pastel pink.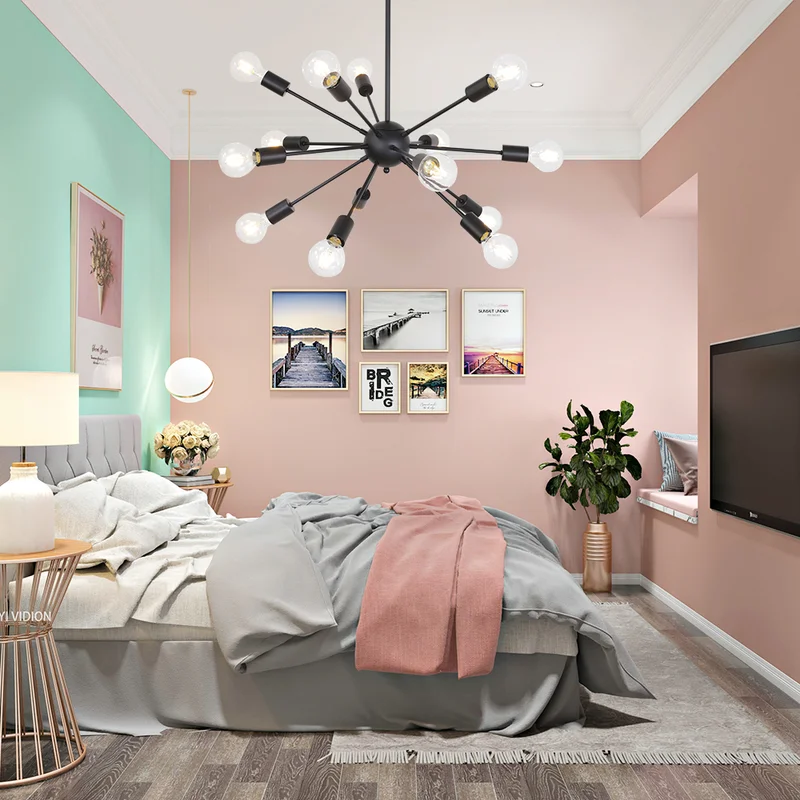 PHOTO: CORRIGAN STUDIO
11. Pink and Light Coral Bedroom Wall
Light coral is also another unusual pair for matching pink two colour combination for bedroom walls because it has a similar undertone as pink. Interior design is subjective, therefore, the biggest interior statement can be made through unconventional approaches.
PHOTO: CAROLYN REYES
12. Pink and Sage Green Bedroom Wall
Sage green is fast rising neutral that is perfect for the bedroom. It creates a relaxing and therapeutic environment.
This muted green will complement most shades of pink but is particularly suited for rose pink, cherry pink, dark pink, and French pink.
PHOTO: INSTAGRAM.COM@HOUSEOFJACKANDBOO
13. Pink and Light Grey Bedroom Wall
Light grey is a classic neutral that is just as versatile as white or black. It is an ideal alternative to stark white walls as it also makes a room feel open and airy. If you're looking for a minimal dual colour pink two colour combination for bedroom walls, look for further than a light grey.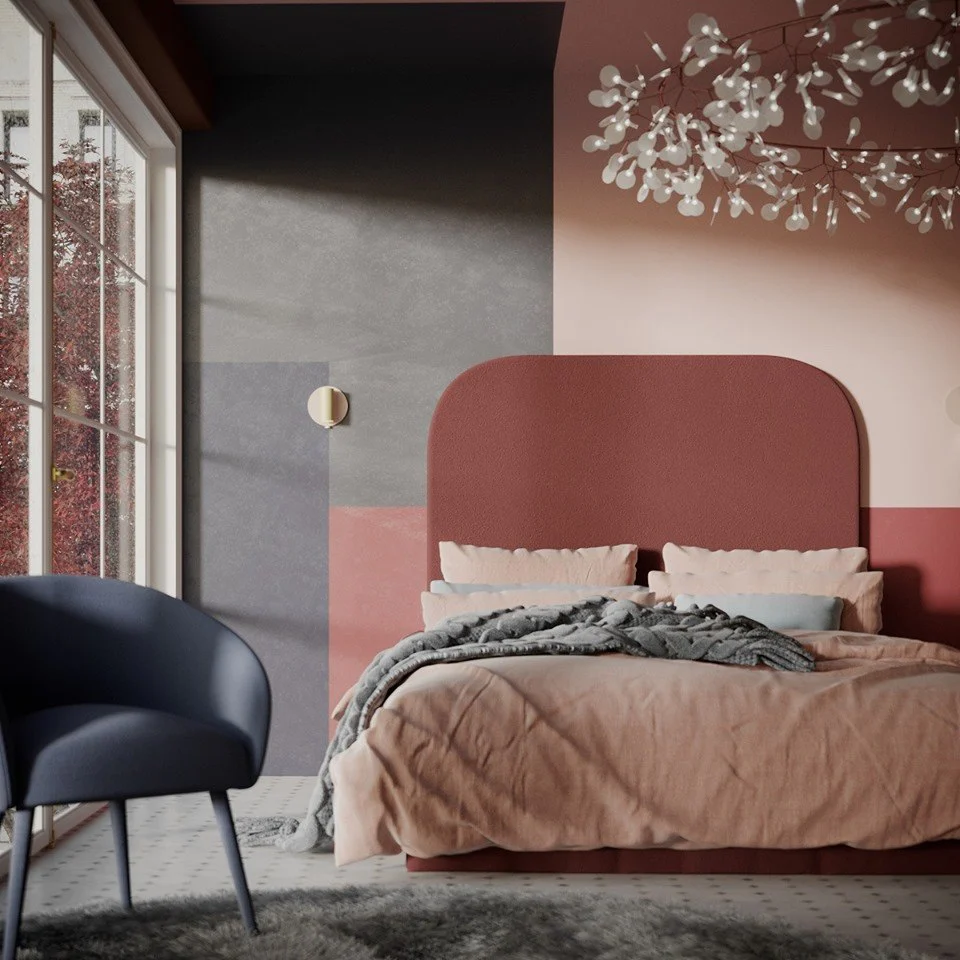 PHOTO: EYES ON DESIGN
14. Pink and Light Tan Bedroom Wall
Tan is an enormously popular neutral colour that lends warmth and effortless elegance to a room. It has a calming effect on the senses which makes it ideal for the bedroom.
When paired with pink, it will give a room a decorative flair. Tan is best suited with brown, so throw in some brown accents to give the colour scheme an impactful edge.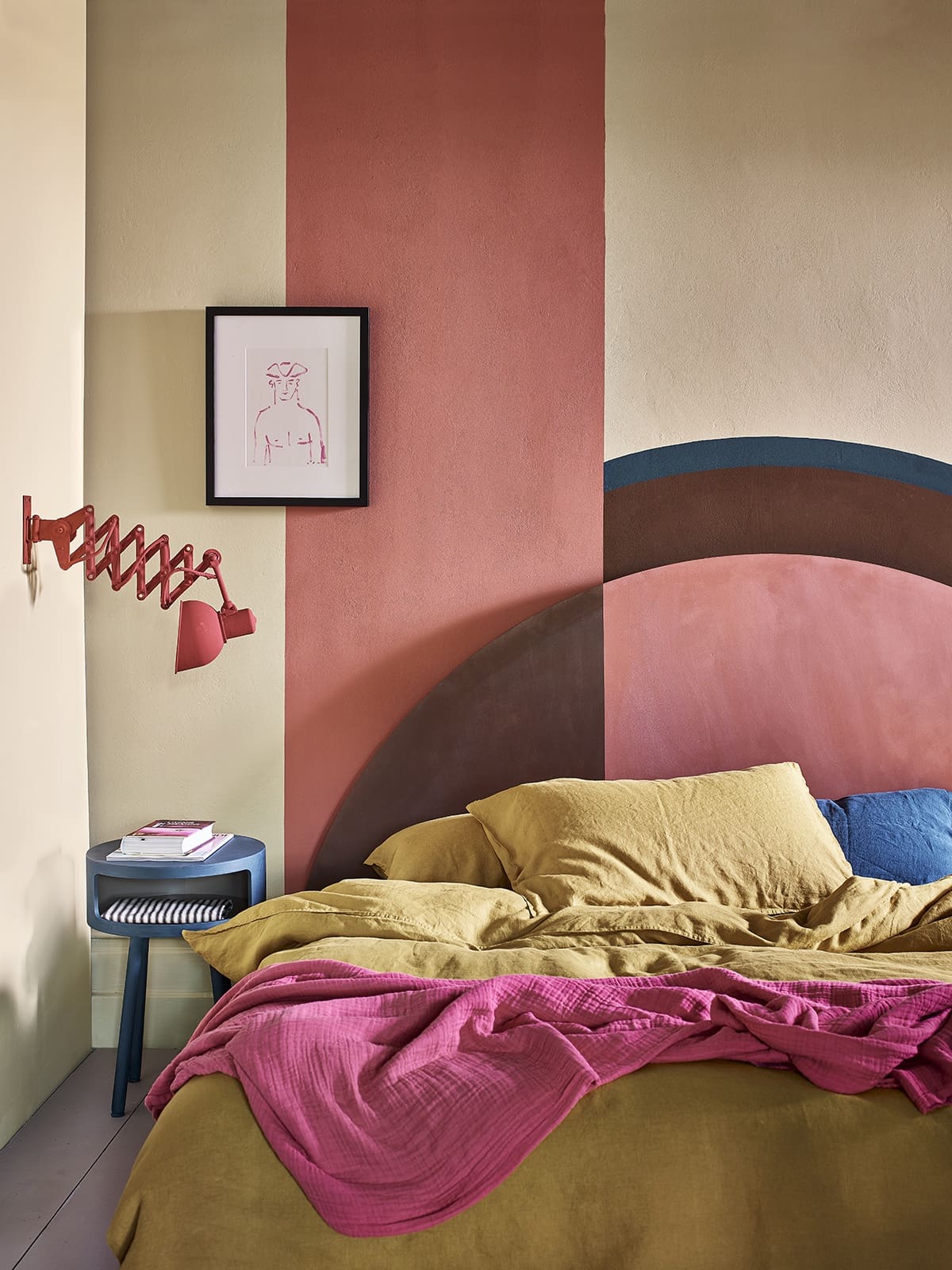 PHOTO: ANNIE SLOAN
15. Pink and Pastel Blue Bedroom Wall
Pink and pastel blue are a pair made in interior heaven. This pair can bring a dynamic design and soothing qualities to any room. Using the same shade of each hue to unify the space.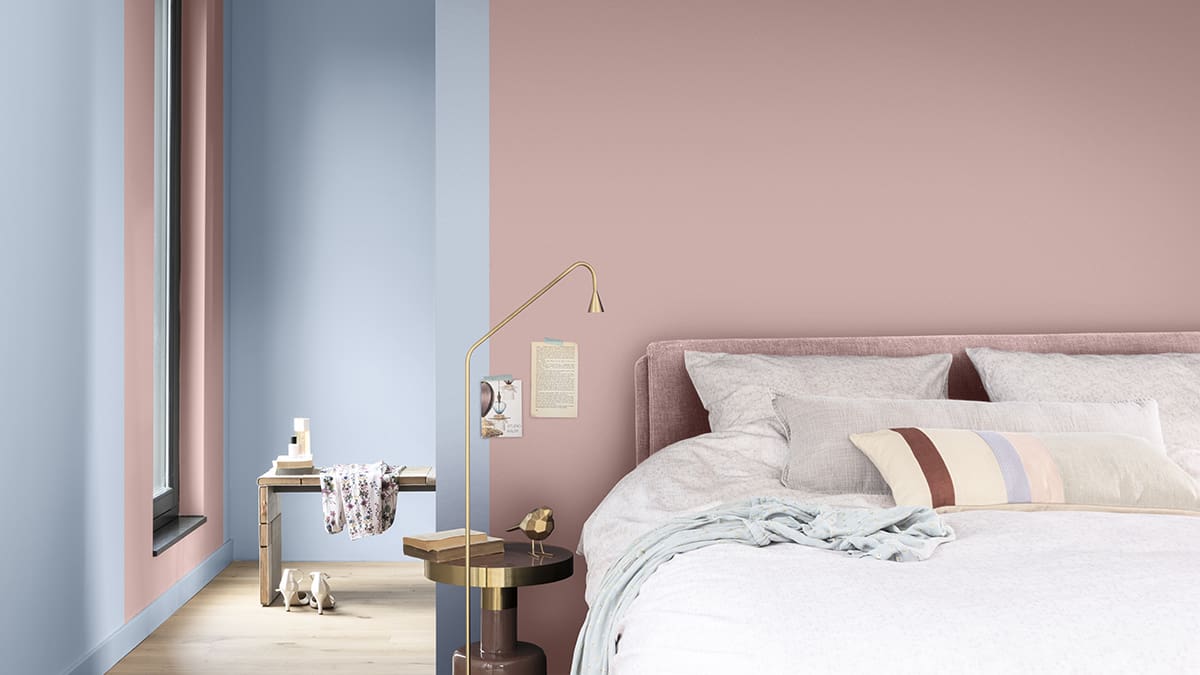 PHOTO: DULUX
16. Pink and Ivory Bedroom Wall
Ivory is a relaxing neutral colour that can lend a touch of sophistication to a bedroom when paired with pink. Natural elements such as wood and stone can help to embellish the beauty of ivory and give the space a lived-in feel.
PHOTO: ASIAN PAINTS
17. Pink and Light Yellow Bedroom Wall
Pink and light yellow can add cheer and lively sophistication to a space. Lighter shades of this pair can create calming cool and fun bedroom while the darker shades can create mood, impact, and drama in the bedroom. 
PHOTO: BALDWIN HOMES, INC.
18. Pink and Williamsburg Wythe Blue Bedroom Wall
Williamsburg wythe blue is a fusion of Prussian blue and grey. It is one of Benjamin Moore's most sophisticated and enticing colours for bedrooms. This tried and tested hue, combined with baby pink, accentuates the luxurious feel of a space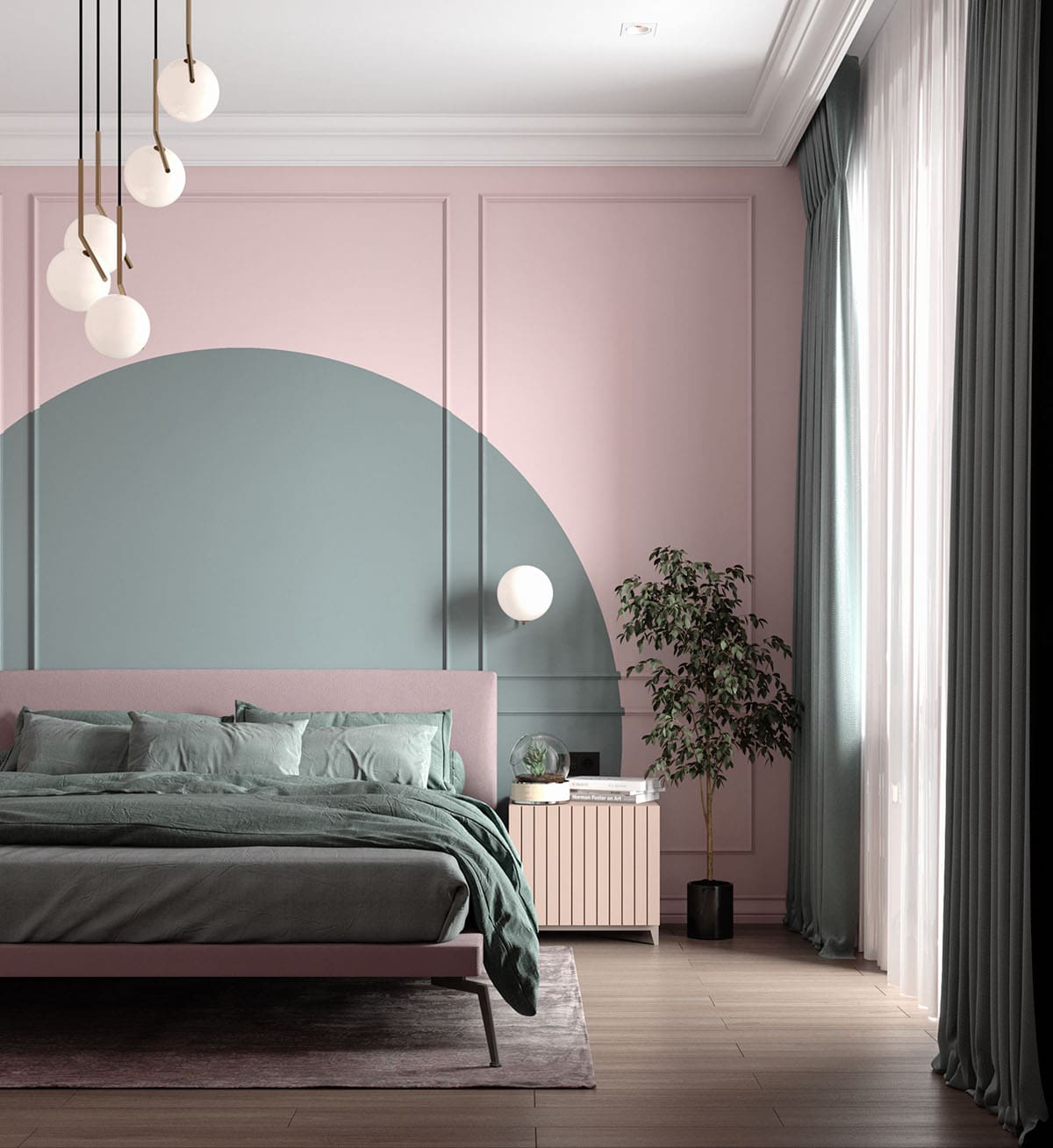 PHOTO: HOME DESIGNING 
19. Pink and Celtic Blue Bedroom Wall
Celtic blue is a statement-making colour that is presumed to be too bold for the bedroom. Pale pink and less saturated shades of pink are the perfect match to tone down the impact of Celtic blue. Together, they balance out each other perfectly. Yellow accents can help to elevate the aesthetics of the space.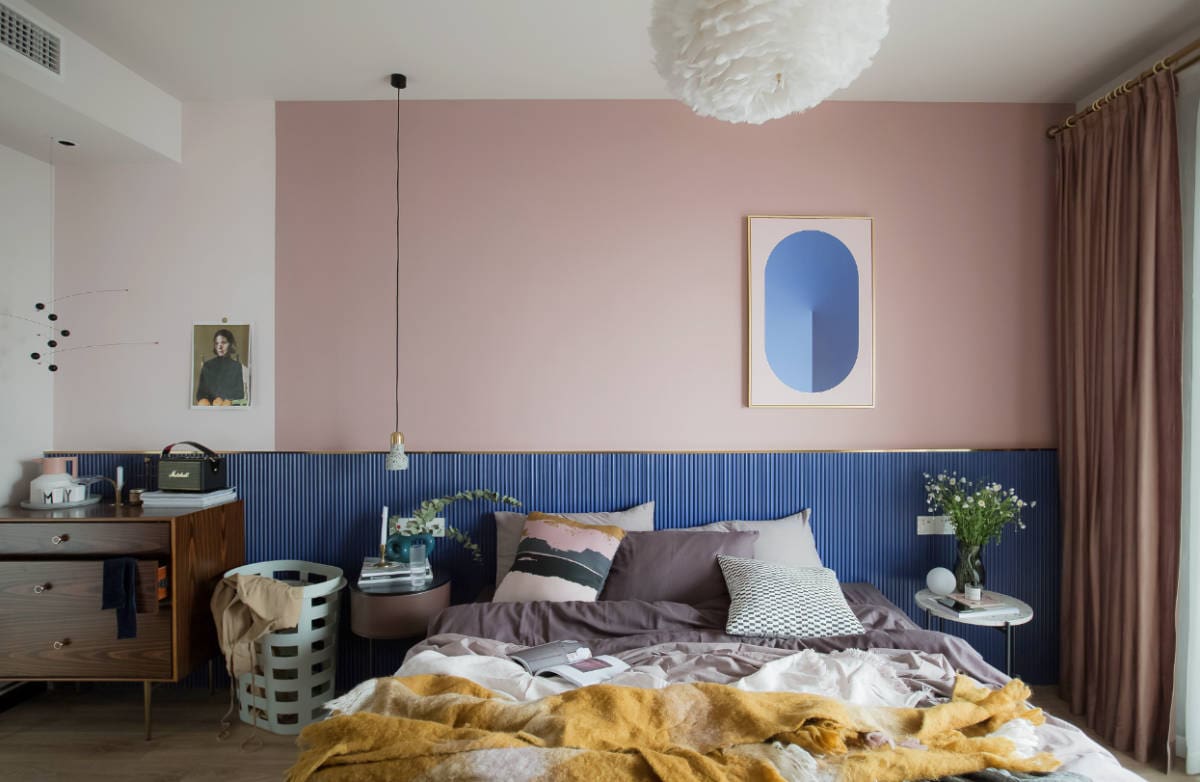 PHOTO: RONG YE
20. Pink and Celadon Blue Bedroom Wall
Matching pink two colour combination for bedroom walls can be tricky but some colours make it easy. Celadon is a pale blue-green colour that is named after a type of ceramic popularly made in China. When paired with light pink, it creates luxurious and attention-grabbing aesthetics that never tires.
PHOTO: GUNTER AND CO INTERIORS
21. Pink and Pale Blue Bedroom Wall
The freshness and delicacy of pale blue are what make it a designer's favorite for the bedroom. This crowd-pleasing neutral colour has the ability to instantly brighten and liven up any space. It harmonizes perfectly with most shades of pink.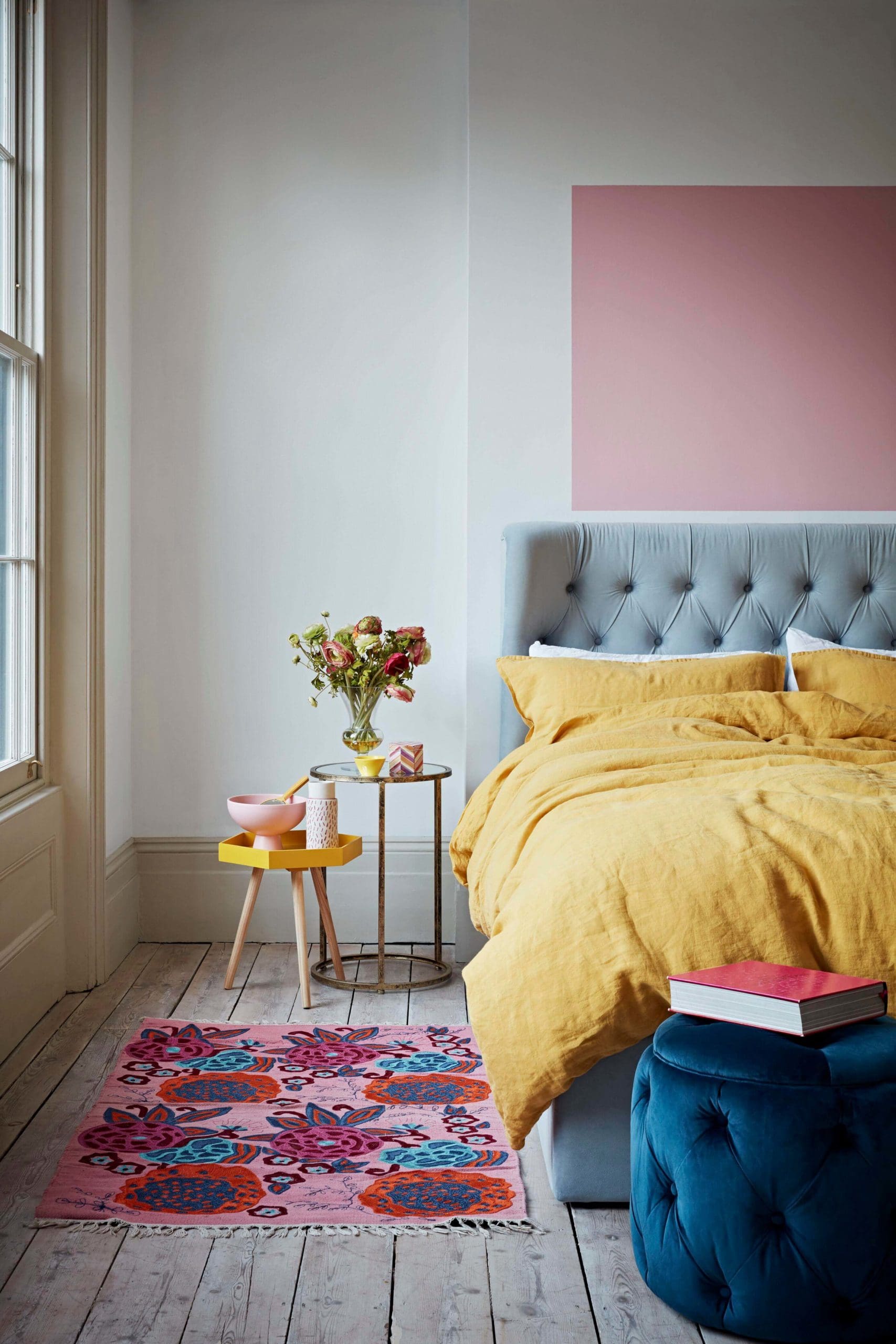 PHOTO: MAXINE BRADY 
22. Pink and Terracotta Bedroom Wall
Terracotta is often used interchangeably with burnt orange but what is the difference? Terracotta is a rich, earthy shade of deep burnt orange with a hint of brown while burnt orange is medium dark orange.
It is not common to pair terracotta or any shade in the orange family with pink but it is a great way to inject character and a dramatic flair into a space.
PHOTO: DANIEL BOGGI
23. Pink and  Emerald Green Bedroom Wall
Emerald green is a rich-tone blue-green named after the precious gemstone. This vibrant and invigorating colour is associated with wealth, luxury, royalty, and growth.
It may refresh and revitalize your bedroom while making you feel relaxed and safe. Emerald and pink two colour combination for bedroom walls is the perfect combo of sophistication and timelessness.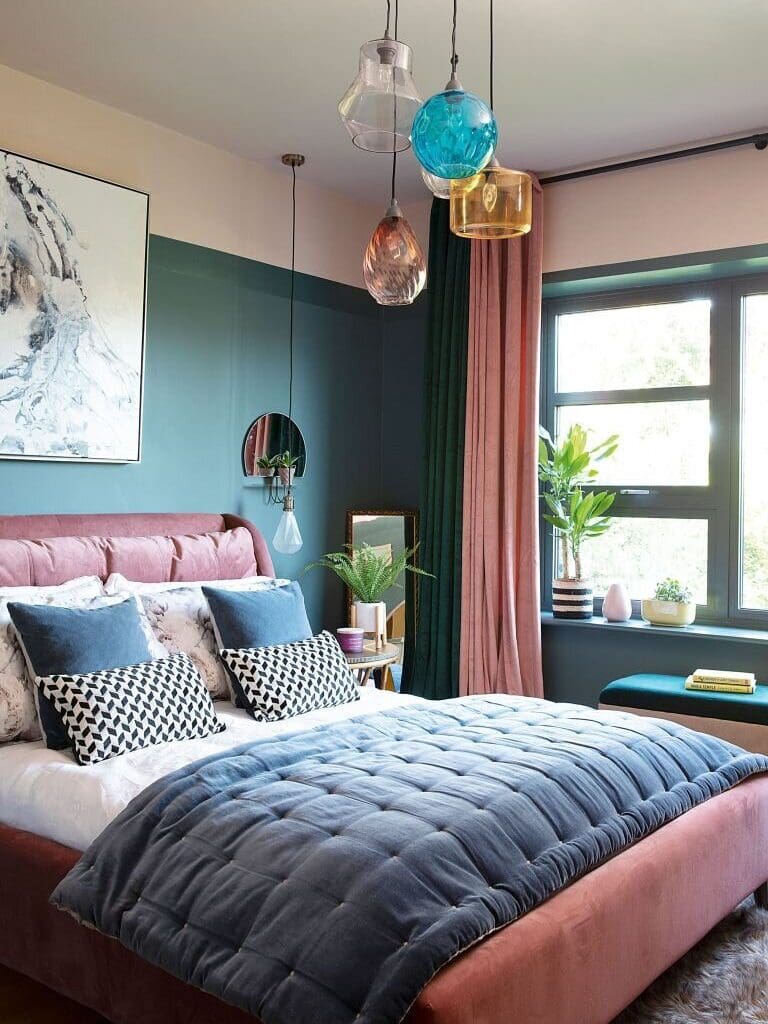 PHOTO: VIV YAPP
24. Pink and Dark Navy Bedroom Wall
Dark navy blue is popularly used to create moody spaces. By fostering a cozy and enigmatic atmosphere, moody interior spaces are used to create a more intimate and welcoming ambiance. Blush pink and dark navy blue are a classic combination for the most sophisticated and characterful spaces.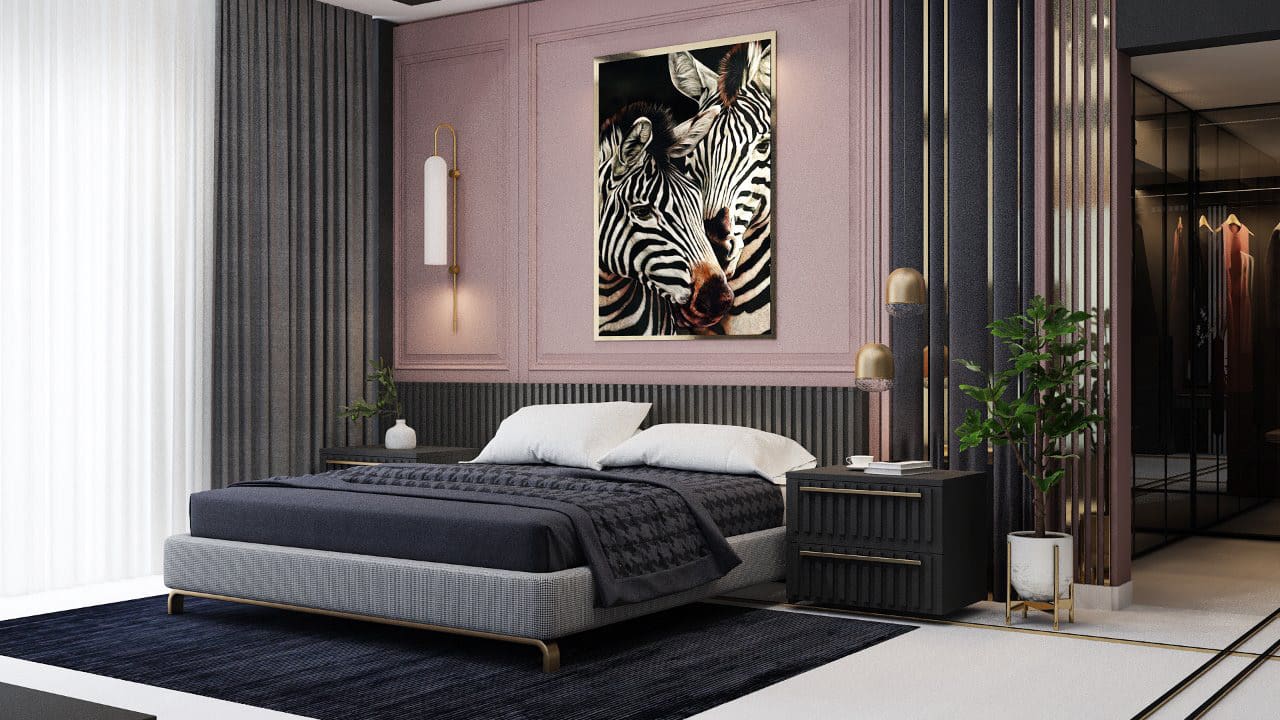 PHOTO: SARA ABOUEBEID
25. Pink and Dark Green Bedroom Wall
As mentioned earlier, pink and green are naturally complementary pair that will beckon you in. A dark green and bright pink two colour combination for bedroom walls lends a sense of lighthearted fun to the bedroom.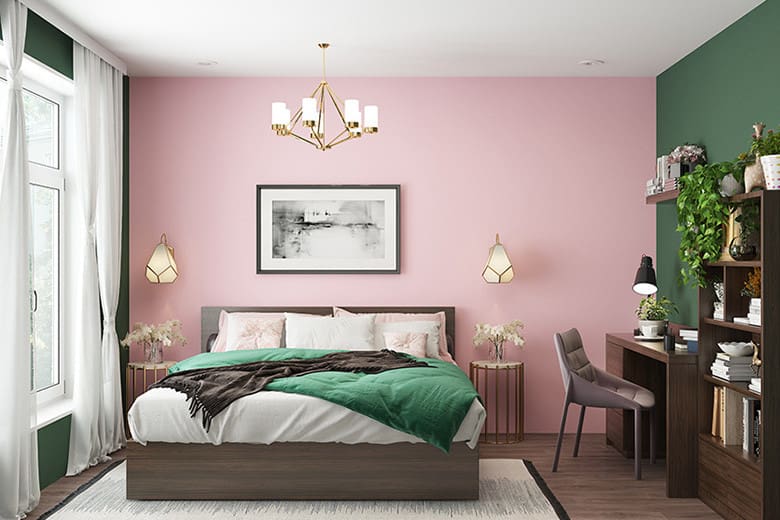 PHOTO: DULUX
26. Pink and Aegean Blue Bedroom Wall
Aegean blue is an invigorating fusion of saturated cyan blue with a hint of teal green. It gives tranquility, freshness, and a sea-house-like feel to a space. This alluring colour harmonizes perfectly with pale or faded pink. Consider using bold blue to zest the colour scheme.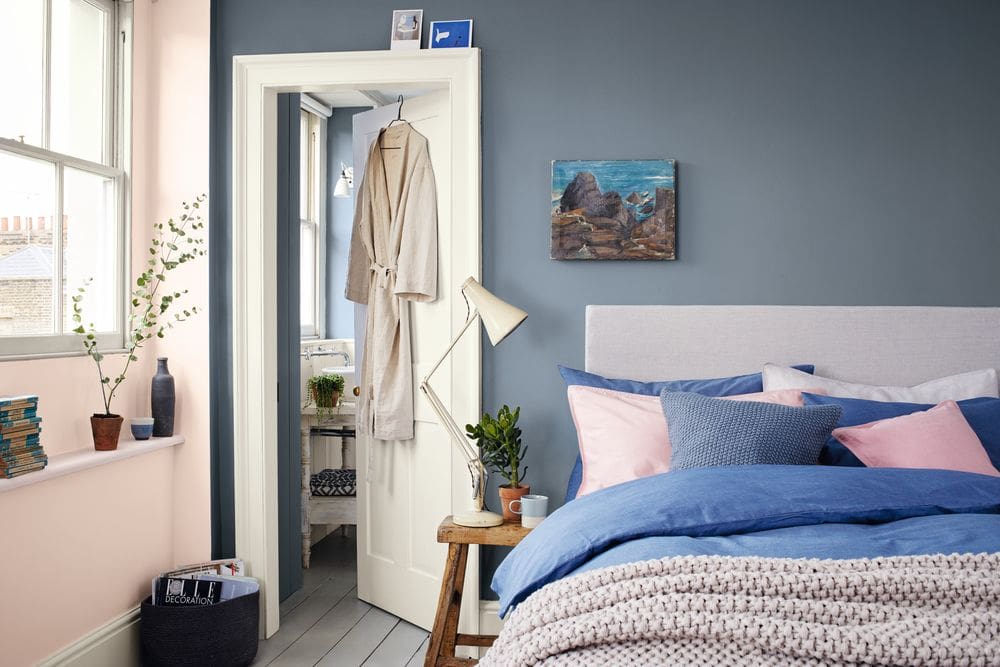 PHOTO: DULUX
27. Pink and Tan Bedroom Wall
Tan is a versatile neutral that can serve both as a refreshing backdrop and as an accent colour. It only complements paler shades of pink such as blush, rose, peach, and dusk pink. Hints of purple accents or dark cherry pink can help infuse a unique character into the colour scheme.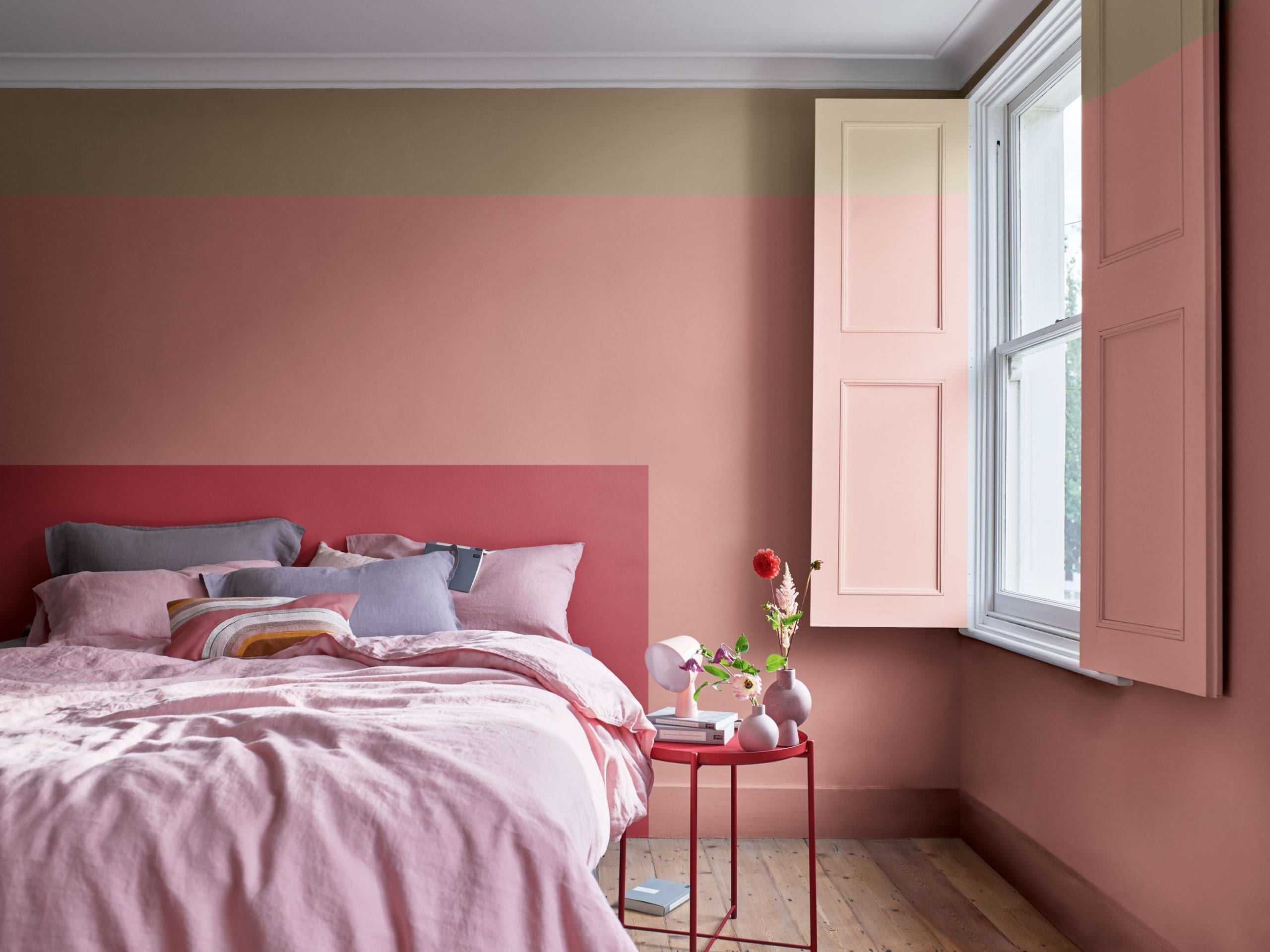 PHOTO: DULUX
28. Pink and Dark Mahogany Bedroom Wall
Mahogany is a reddish-brown colour that can create mood, drama, and impact in interior spaces. It is the ultimate hue for a moody scheme and warmth in the bedroom. This dual colour pink two colour combination for bedroom walls can make a real style statement.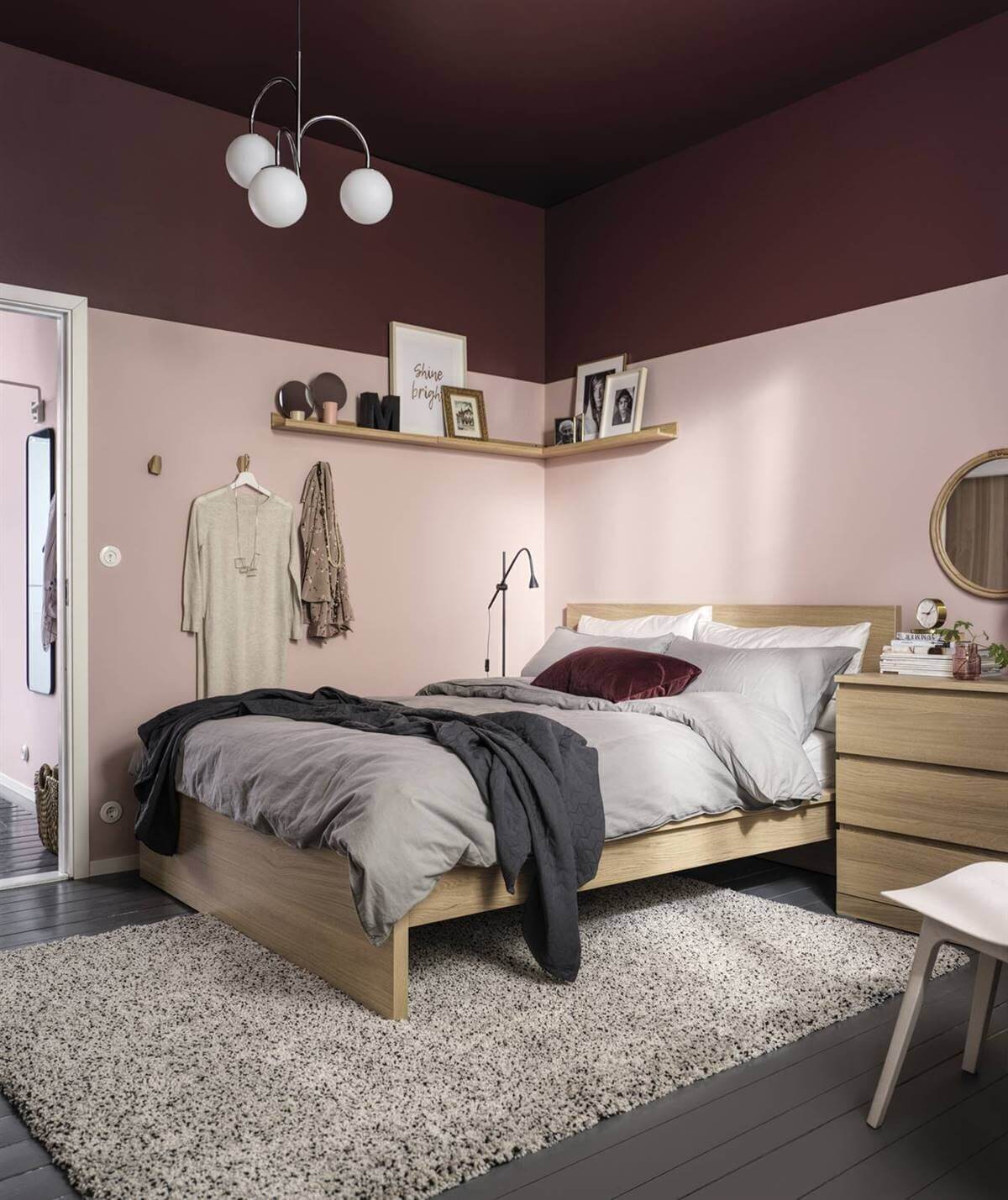 PHOTO: IKEA
29. Pink and Faded Yellow Bedroom Wall
A faded yellow and blush pink two colour combination for bedroom walls that lends a clean, streamlined look to a room. A bedroom with this pair feels tremendously soothing and relaxing.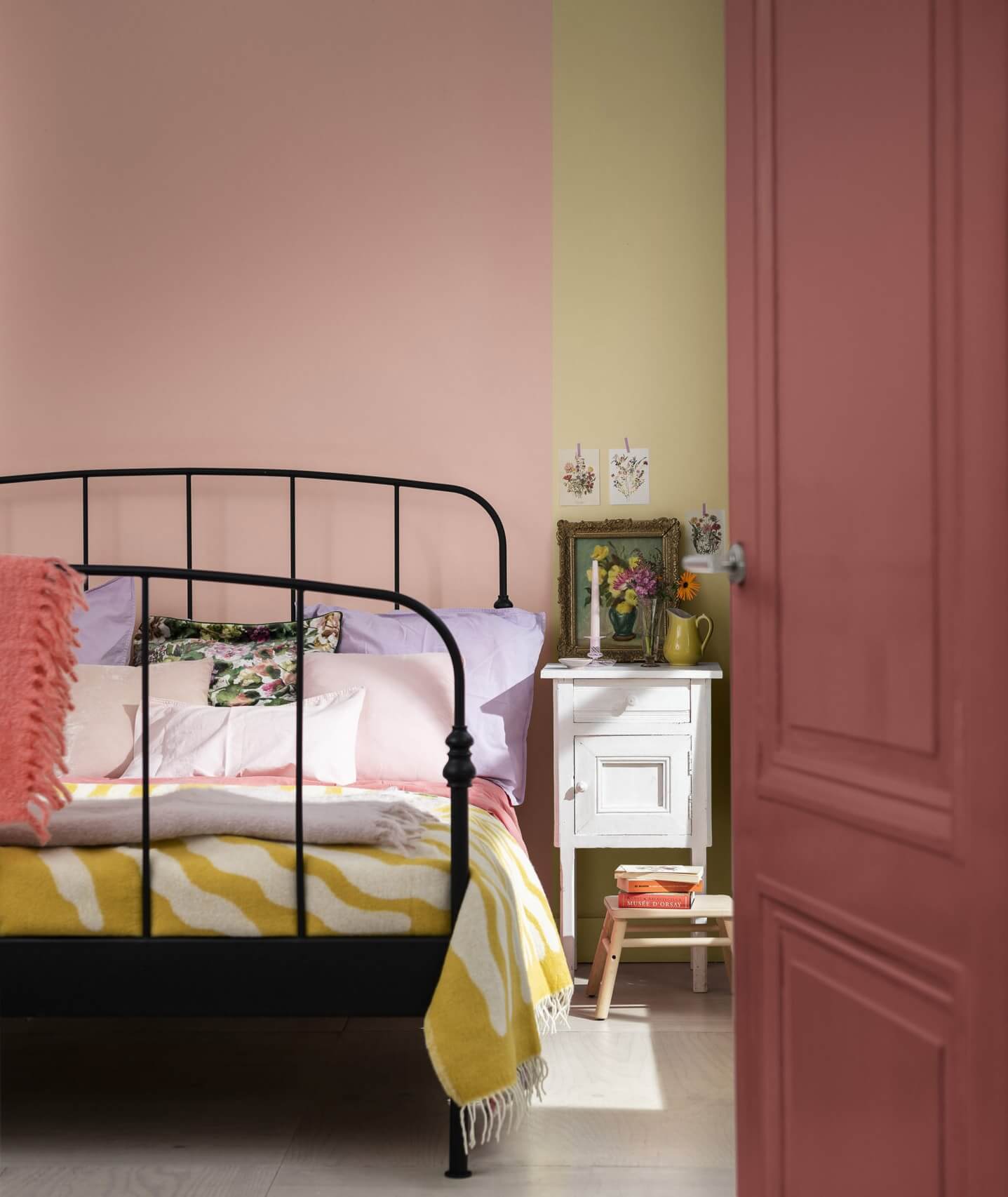 PHOTO: DULUX
30. Pink and Lilac Bedroom Wall
Pink and lilac evoke the feeling of softness and a spring-like vibe in the bedroom that makes one want to stay indoors longer. It is a fun and alluring combination for the bedroom wall.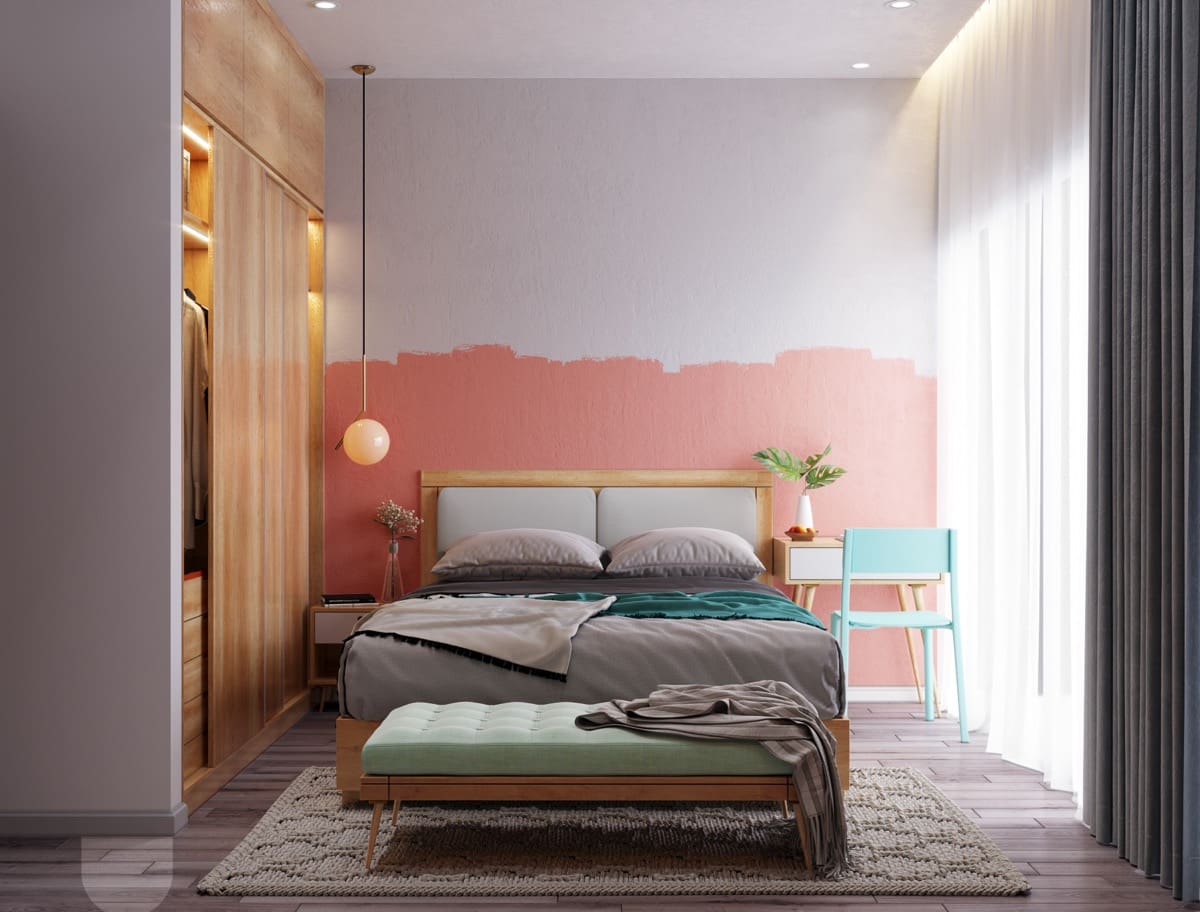 PHOTO: NAM QUANG ĐẶNG
31. Pink and Dark Blue Bedroom Wall
Soft baby pink can help add a relaxed contemporary feel and freshness when used against dark blue bedroom walls. It is demure, classy, and a clever use of colour.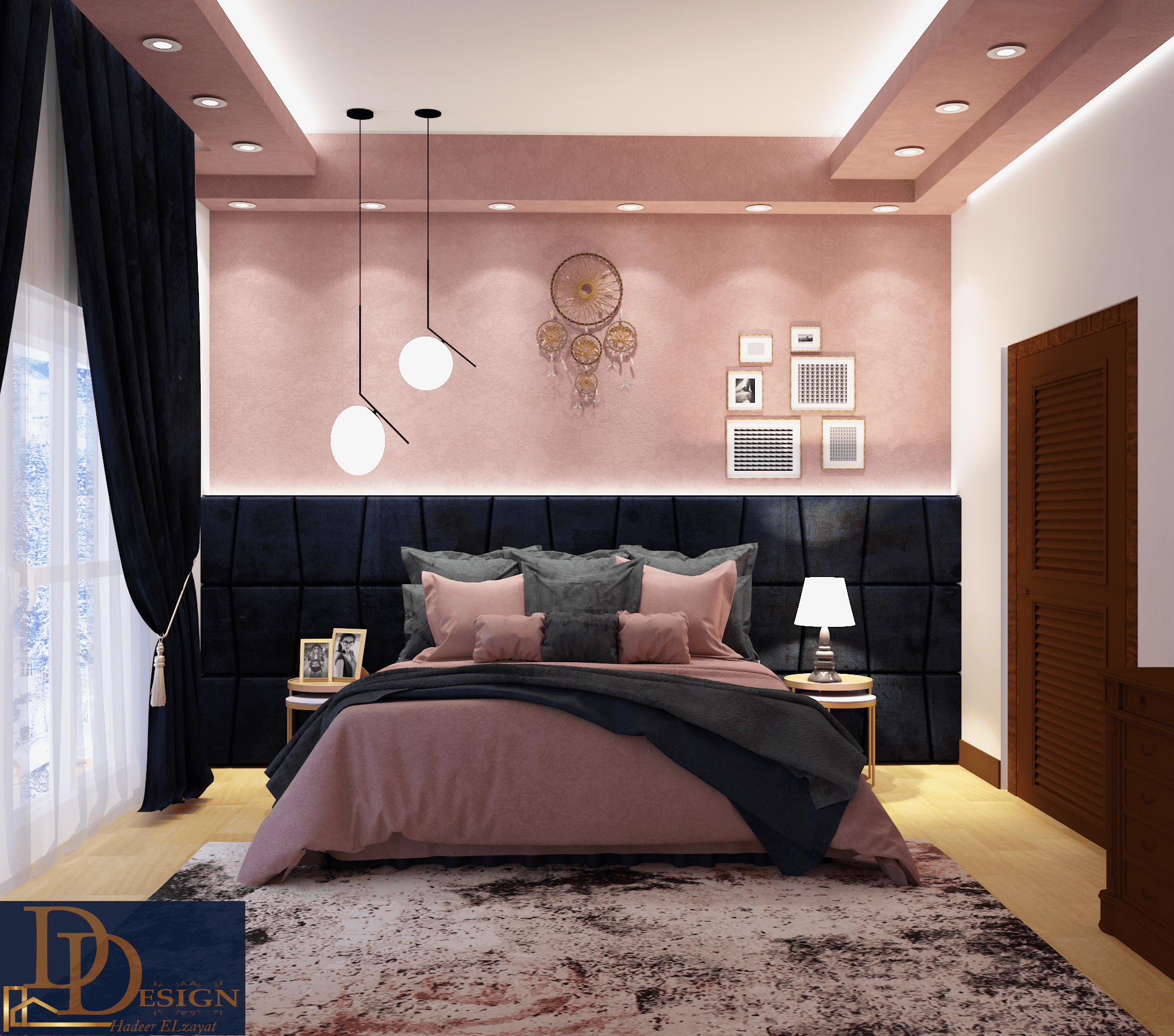 PHOTO: HADEER ELZAYET
32. Pink and Red Bedroom Wall
Let's face it, red is a bold and very energetic color that may be too overwhelming for the bedroom wall, even most spaces in a home. But they help create drama, character, and style.
So, how do you go about it?  That's where pink comes in! It helps to soften the intensity and saturation and the red.
Be mindful of the shade of pink you choose. Bold shades like fuchsia, cherry red, orchid, rouge, or neon pink can create a totally chaotic aesthetic when paired with red. Instead, opt for soft hues like pale pink, blush pink, and faded pink.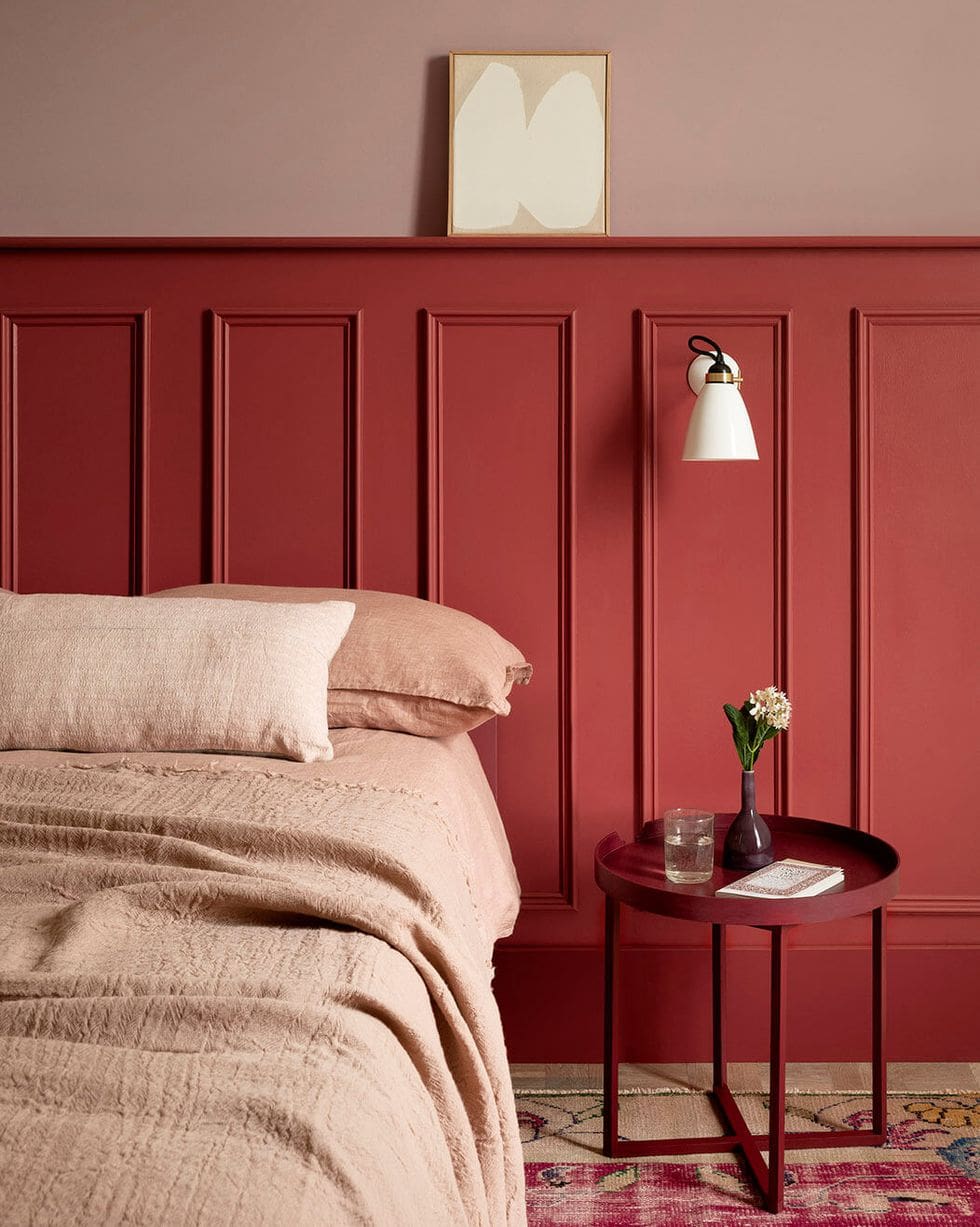 PHOTO: PAINT & PAPER LIBRARY
33. Pink and Light Mocha Bedroom Wall
Mocha is a lighter, and low saturated shade of light brown. Light mocha is a timeless and chic neutral color that is perfect for any room in the home. When combined with blush pink it can inject an understated elegance and contemporary feel into the bedroom.
PHOTO: HUYEN DANG
34. Pink and Lemon Yellow Bedroom Wall
The lemon yellow and pink two colour combination for bedroom walls is fun and energetic. This pair can instantly brighten and liven up a space.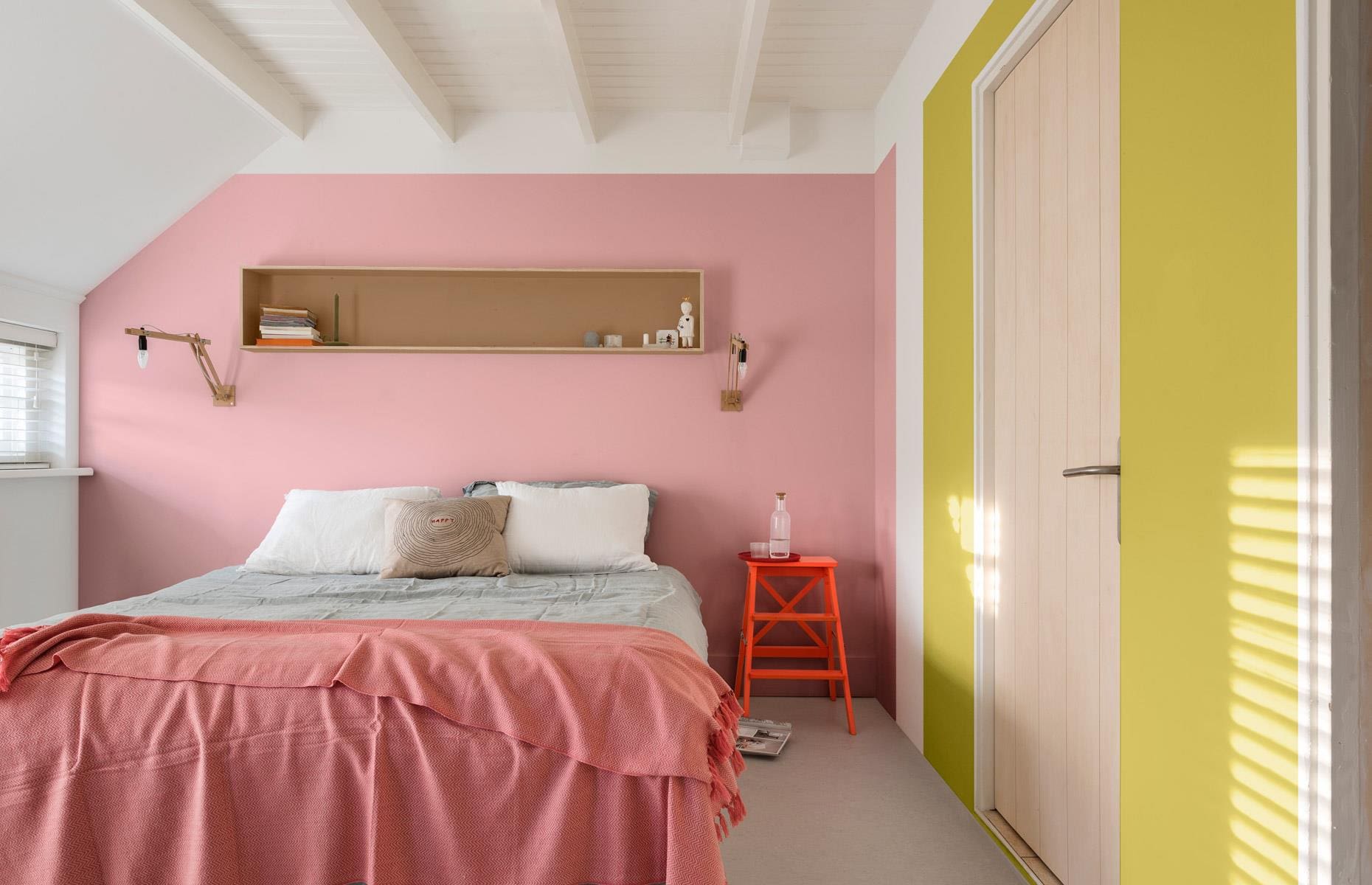 PHOTO: DULUX
35. Pink and Pale Moss Green Bedroom Wall
Moss green is a pale dark green hue with a hint of yellow, just like that of moss. This colour as an accent to your pink bedroom wall will bring a touch of nature and liveliness to the colour scheme.
PHOTO: DULUX
36. Pink and Dark Grey Bedroom Wall
Dark grey is also great for creating moody spaces and a hint of blush pink cheers up a room. Matching pink two colour combination for bedroom walls in a way that doesn't appear too feminine can be tasking but dark grey helps to add drama and sophistication to the space.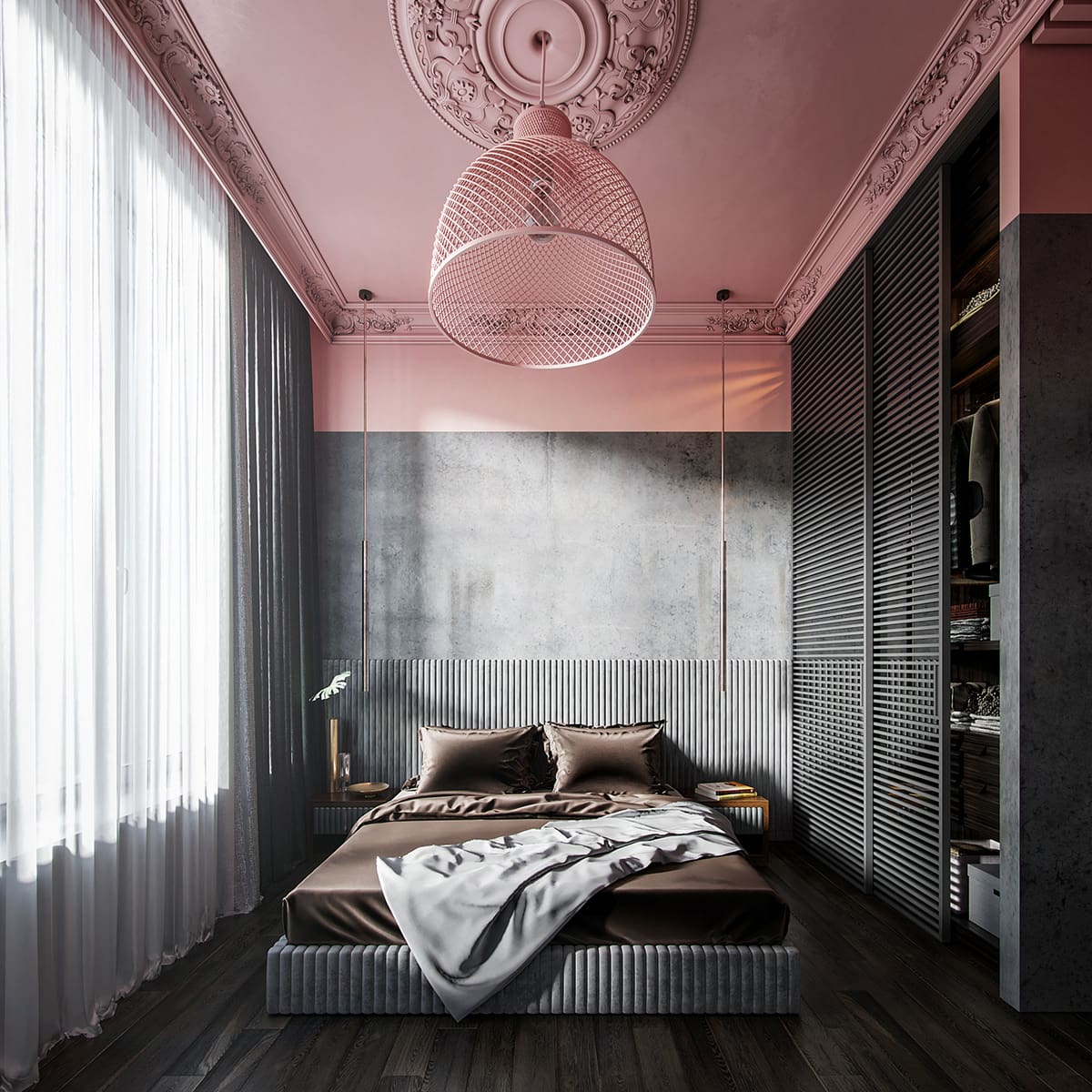 PHOTO: ANDREY BARINOV
37. Pink and Rose Gold Bedroom Wall
Why not inject richness and understated elegance into your bedroom with a pink and rose gold combination? Rose gold can instantly lend soft, romantic, and feminine energy to a bedroom.
PHOTO: CARMEL BRANTLEY
38. Pink and Beige Bedroom Wall
Beige is one of the most commonly used neutrals. Most people prefer beige in place of stark white walls as it can serve as a refreshing backdrop can infuse warmth to space. Beige and pink two colour combination for bedroom walls can add richness and minimal elegance to a space. 
PHOTO: EMAN ABDELRAHMAN
39. Pink and Brown Bedroom Wall
Brown is a versatile hue that will work in just any space or color scheme. This colour, combined with pink, can enhance the feel of coziness in the bedroom.
PHOTO: ANGEL BLACK
40. Pink and Black Bedroom Wall
Black is the new neutral. Design experts are increasingly using black accent walls to make a major statement and add character to interior spaces. A pink and black bedroom wall colour combo can make the space feel unique, rich, and cozy.
PHOTO: PINTEREST
41. Pink and Turquoise Bedroom Wall
Turquoise can eradicate blandness in a room. It can make a space pop like never before, especially when combined with pink.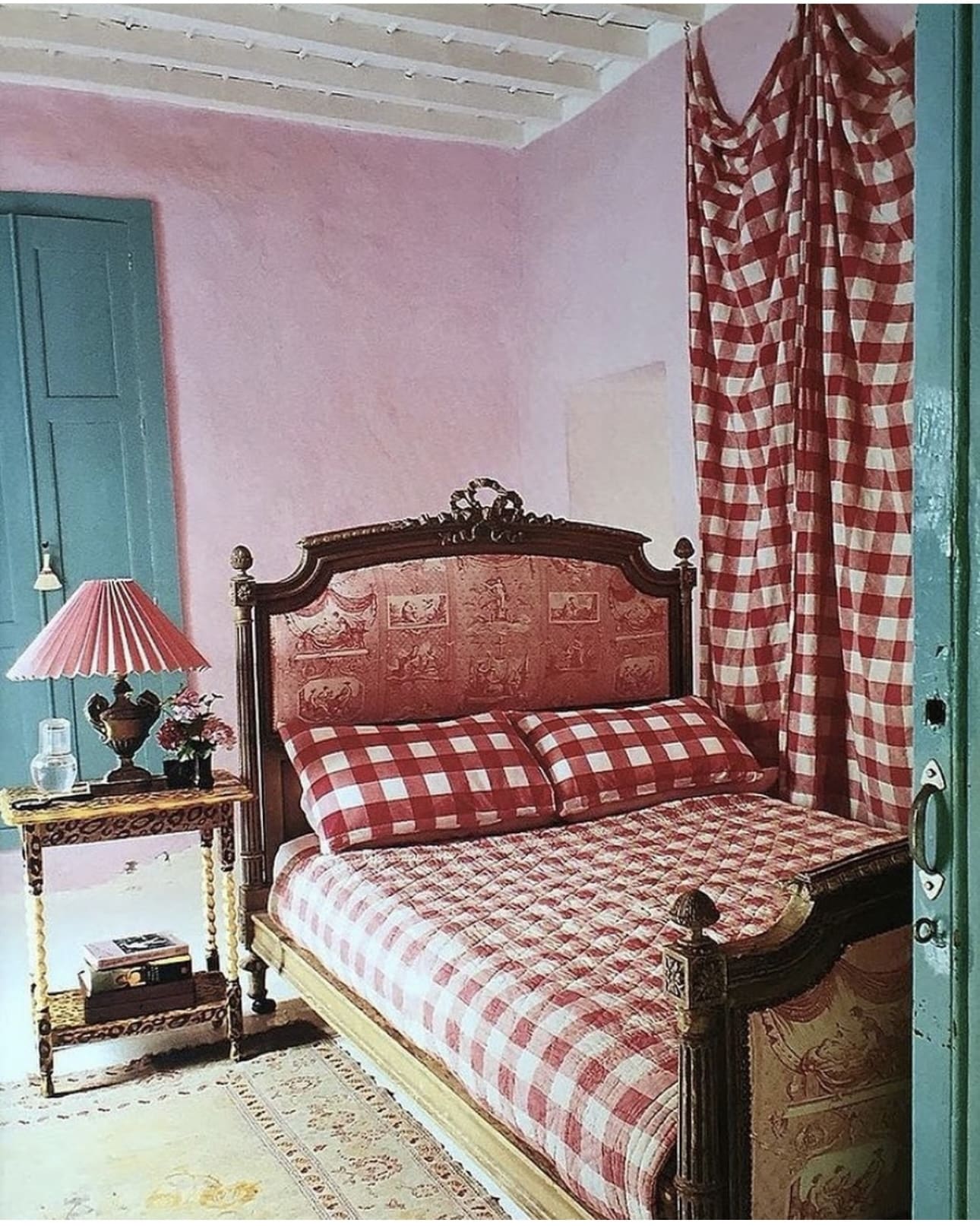 PHOTO: LEAH O'CONNELL DESIGN
42. Pink and Purple Bedroom Wall
Contrary to popular belief, purple pink two colour combination for bedroom walls is not only for kids' rooms. If you want a striking combo that will give an exquisite look to your room, this pair should be on your radar.
PHOTO: BEAUTIFUL HOMES
Question and Answers
Is pink a good color for a bedroom?
Well, the short answer is a resounding, yes! Pink can be used to establish mood and make a style statement in the bedroom. The secret to nailing this is using the right shade of pink and complementary colours to amplify the room's overall aesthetics.
What colour goes with pink walls?
Pink is a very versatile hue and works brilliantly with a wide array of colours. Some of the colours that go with pink walls are green, dark blue, mahogany, grey, cherry red, and teal.
Which colour curtains go with pink walls?
Curtains that complement pink walls are grey, taupe, beige, ivory, dark green, black, and dark blue.