28 Colour Schemes to go with Blue Sofa
 A blue sofa can add sophistication and a timeless appeal to your home. But, what colours go with a blue sofa in the living room? Check out these visually intriguing colour schemes to go with blue sofa.  
Are remodeling your living room or designing a new one from scratch? If so, you should start by formulating a scheme. Blue sofas are having a major moment in contemporary interior design and we can see why.
Other than its timelessness, blue is one of the most versatile and calming colours in the design spectrum. Whether you're leaning toward a moody navy blue sofa or a vivid sky blue sofa, there is a wide array of colour schemes to will complement it beautifully.
Here, we've curated our favorite colour schemes to go with blue sofa. No matter your design style, you will find incredible ideas to meet your aesthetic predilections and preferences.
1. Blue + Olive Green + Grey
The colour scheme possibilities are endless when it comes it designing a living room with blue sofa. Grey is a muted grey that goes with every colour while olive green is a calming and alluring shade of green. A striking colour combination that can elevate the aesthetics of your living room is blue, grey, and a splash of olive green.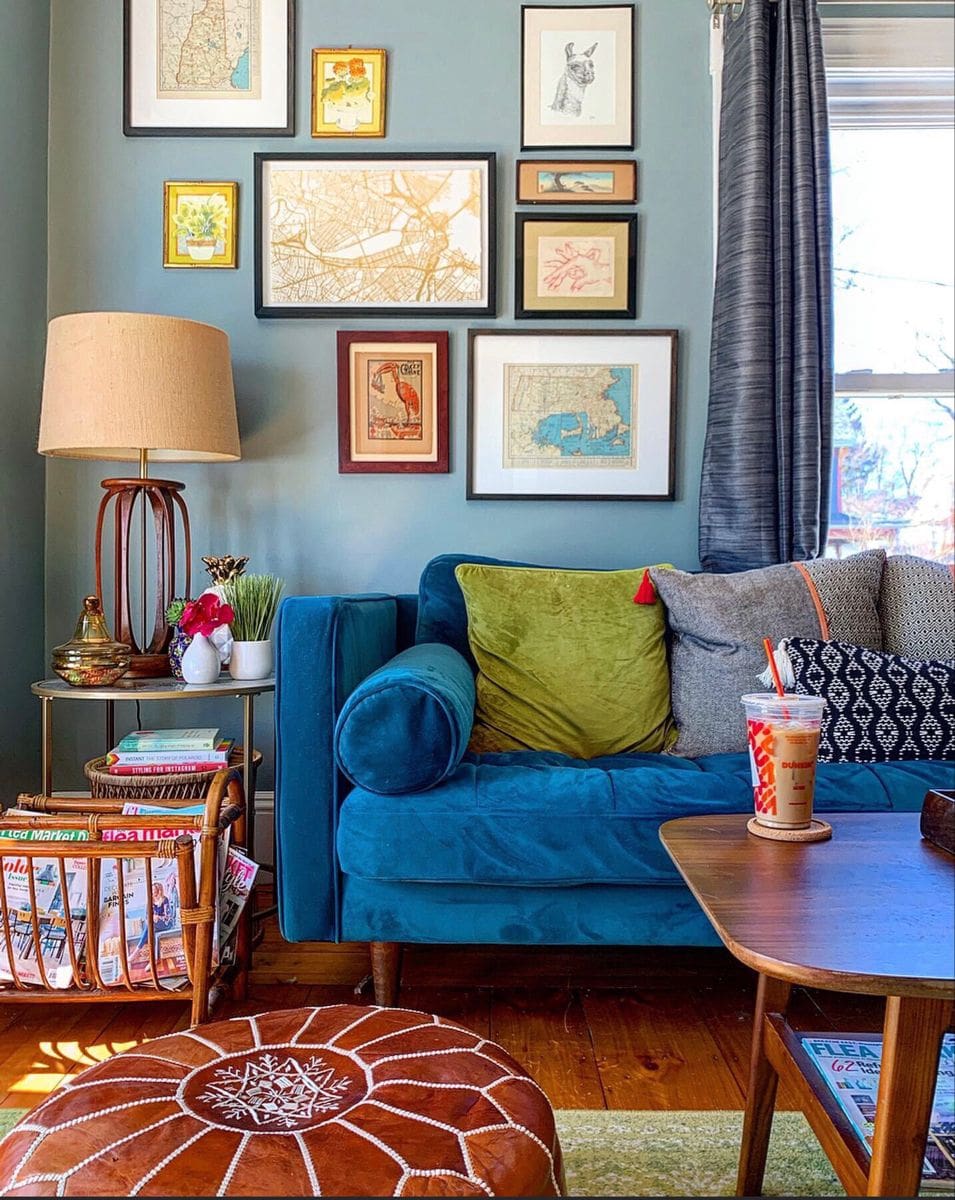 PHOTO: REDDIT/ BLAMETEHCRANES
2. Blue + Yellow
The colour yellow is a mood-boosting hue commonly used to make a statement in interior space. Yellow infuses warmth and conveys feelings of happiness and enthusiasm and while blue is a cool tone that lends a peaceful and soothing ambiance to a room. They work brilliantly in the living room when used in the right shades.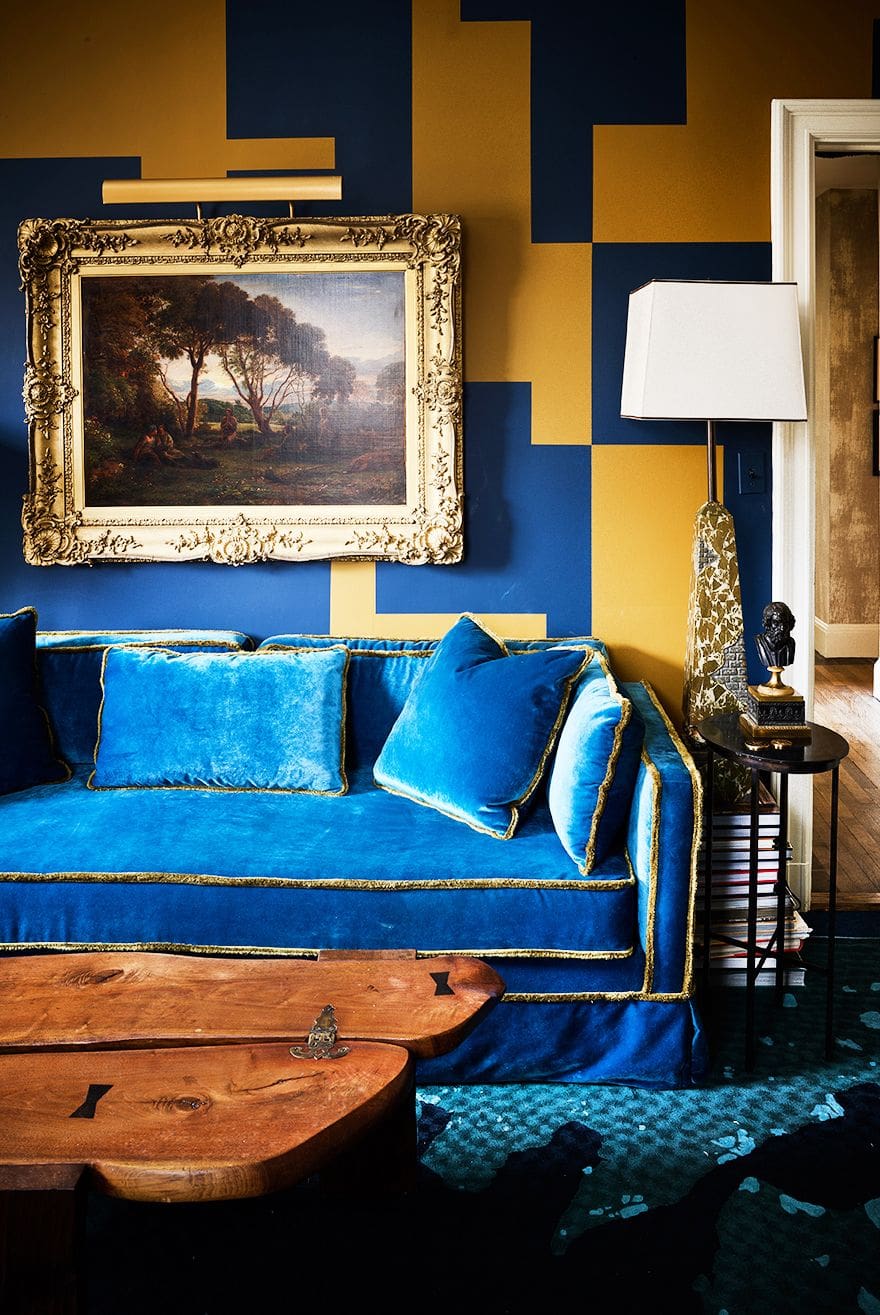 PHOTO: ANNE PYNE
3. Blue + Ivory+ Teal
If you have a blue, especially dark blue, it is best to use a neutral colour live ivory, off-white or beige for the wall to ground the scheme. Although, this may not apply if you're going for a moody theme. Teal is a sophisticated colour that can add a beautiful accent when used to accentuate a blue sofa.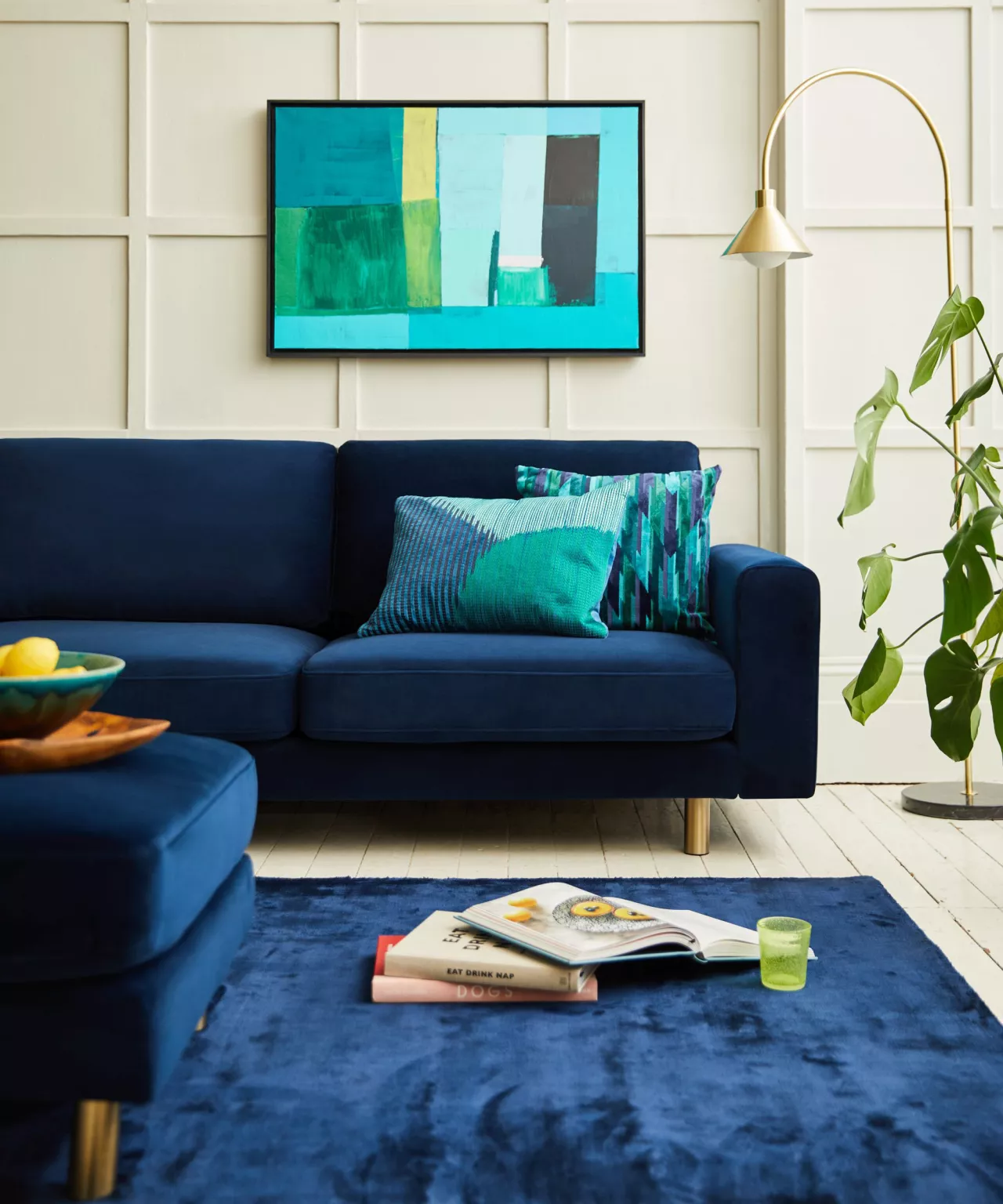 PHOTO: SNUG
4. Blue + Green + Red
A three colour combination that works easily in the living room is blue, green, and red. This trio can curate rich and statement-making aesthetics. If you're a maximalist who likes a colourful and eclectic abode, this scheme should be up your radar.
PHOTO: GAVIN HOUGHTON
5. Blue + Lilac + Green
Lilac can be a tricky colour to work with when combing it with other bold hues. Navy blue and dark blue are probably the best shade of blue to combine with lilac. If you're adding green to the mix, a teal or dark green shade can make a real style statement.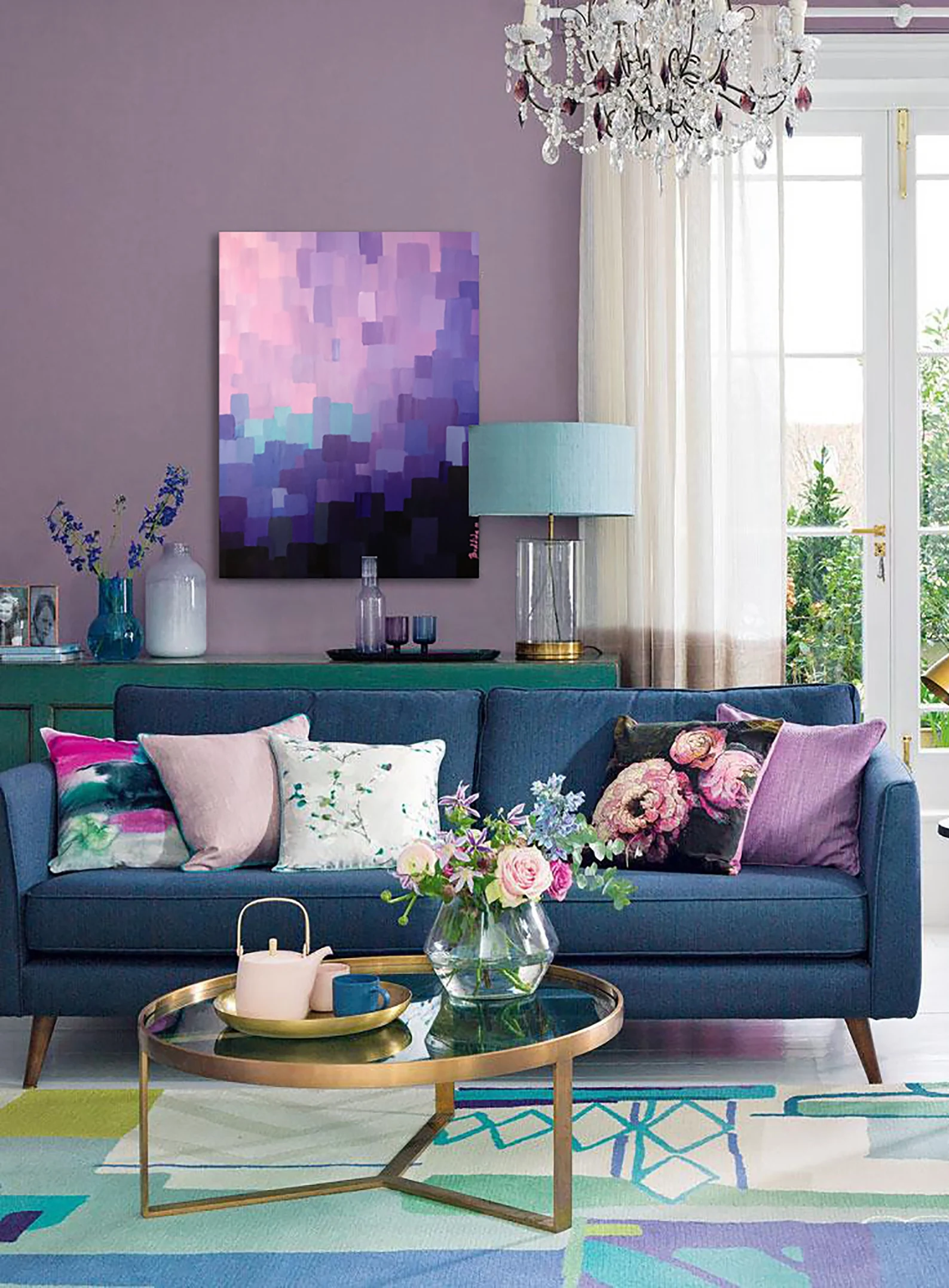 PHOTO: ETSY
6. Blue + Bold Green + Pink
Just like any hues that sit next to each other on the colour wheel, blue and green work beautifully together. A hint of pink can lend softness and a welcoming feel to the room.  This is one of the tried-and-true colour schemes to go with blue sofa that packs a big punch and that is easy to execute.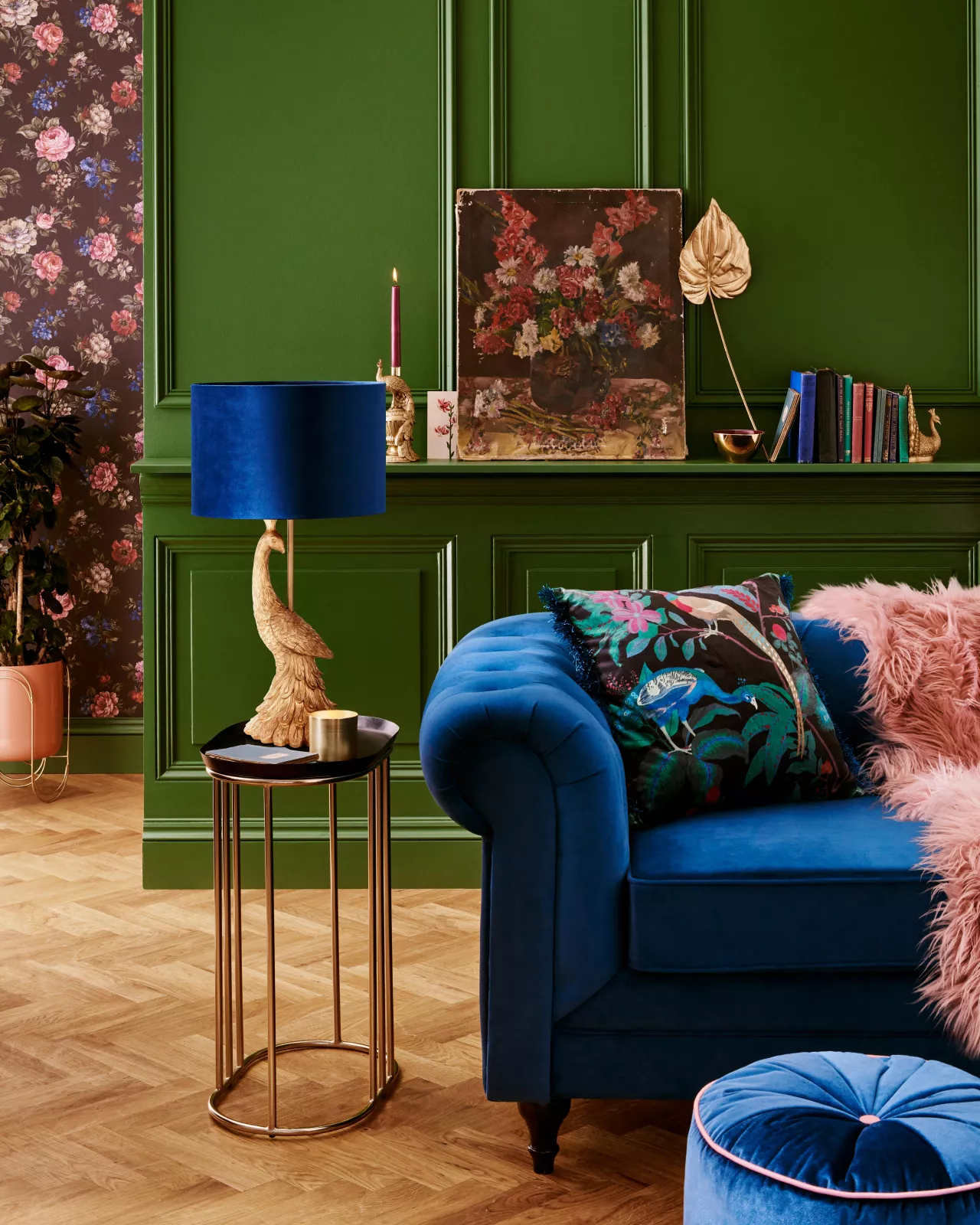 PHOTO: SAINSBURYS
7. Dark Blue + Light Blue + Yellow
The use of the different tones of the same shades gives off a monochromatic and layered aesthetics. A dark blue sofa, light blue wall, and statements pops of yellow can reignite and enliven a boring space.
PHOTO: SOFA
8. Blue + Teal
A rich and deep shade of teal will pair elegantly with a dark blue sofa. This two colour combination for living room can be used to design both modern and traditional spaces. If you want to brighten up the room and soften the colour scheme, use a warm neutral like beige, cream, or warm white.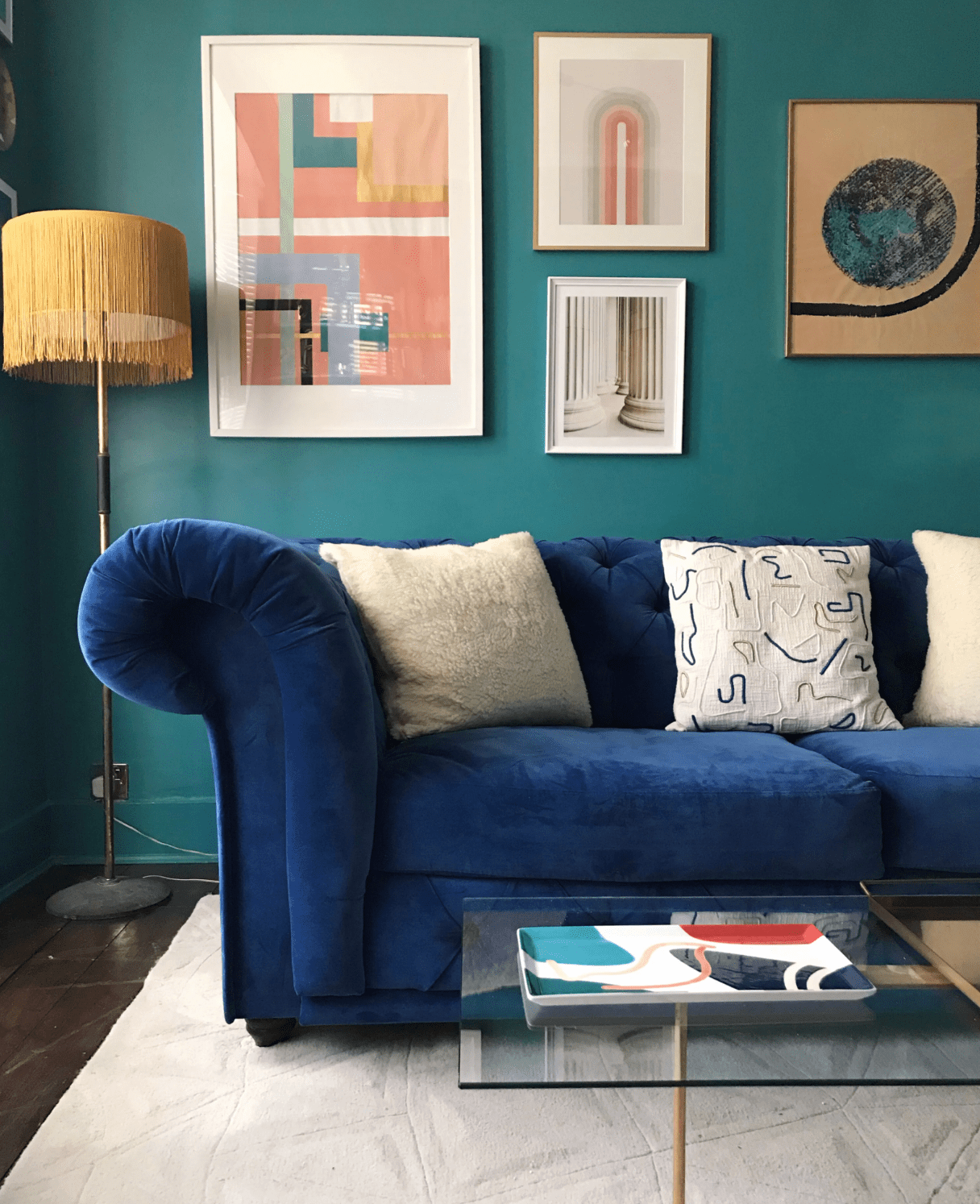 PHOTO: PAOLO D'AGOSTINO BOWE 
9. Blue +Red
Whilst red isn't the most popular colour on the spectrum for interior spaces, it can make a big statement. No other colour can make a statement quite like red. It is an invigorating and eye-catchy hue. Red is a great contrast colour for a blue sofa.
PHOTO: CHILDRESS DESIGN
10. Blue + Teal + Fushia
One of the most virtually appealing colour schemes to go with blue sofa is teal and fushia. Teal has a blue undertone so it works well with blue while fushia is an attending grabbing accent colour that can give an impactful edge to the colour scheme.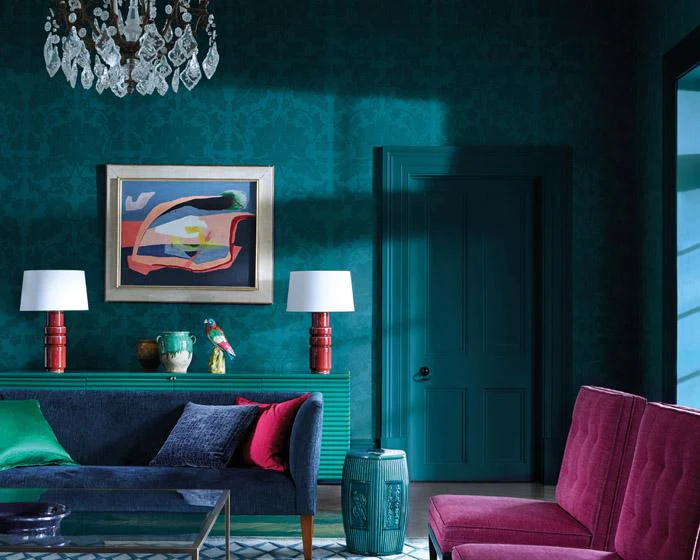 PHOTO: CHAPEL INTERIORS
11. Blue + Rose Pink
For an alluring and eye-catchy aesthetic, pink is a great choice to use with blue sofa. Pink is not only for feminine spaces. The heat from the rose pink's red hue can help to warm up the coolness of blue. Plus, when pink is paired with blue, its rosy appearance is muted.
PHOTO: ANTHROPOLOGIE
12. Blue + Burnt Orange
No colour is possibly better suited for blue than orange. This duo goes together like zebras and stripes. The most visually interesting shades to combine are dark blue and burnt orange. This is one is the easiest colour schemes to go with blue sofa to pull off.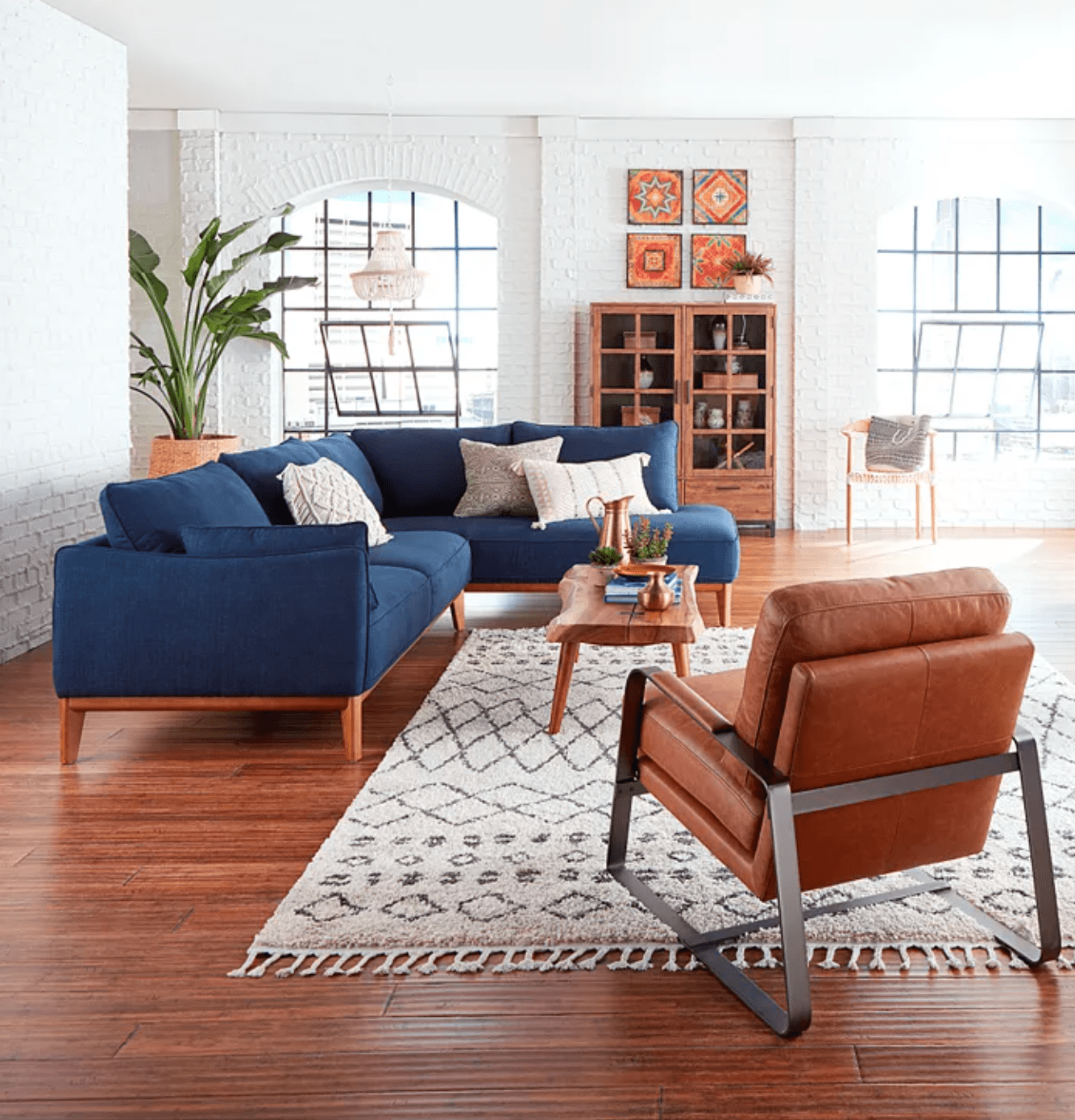 PHOTO: MACY'S
13. Blue + Peach
Blue, especially light blue is the complementary colour to peach according to the colour wheel. Peach and navy blue are a match made in interior heaven. Peach can lend a sense of visual calm to a living room with a blue sofa.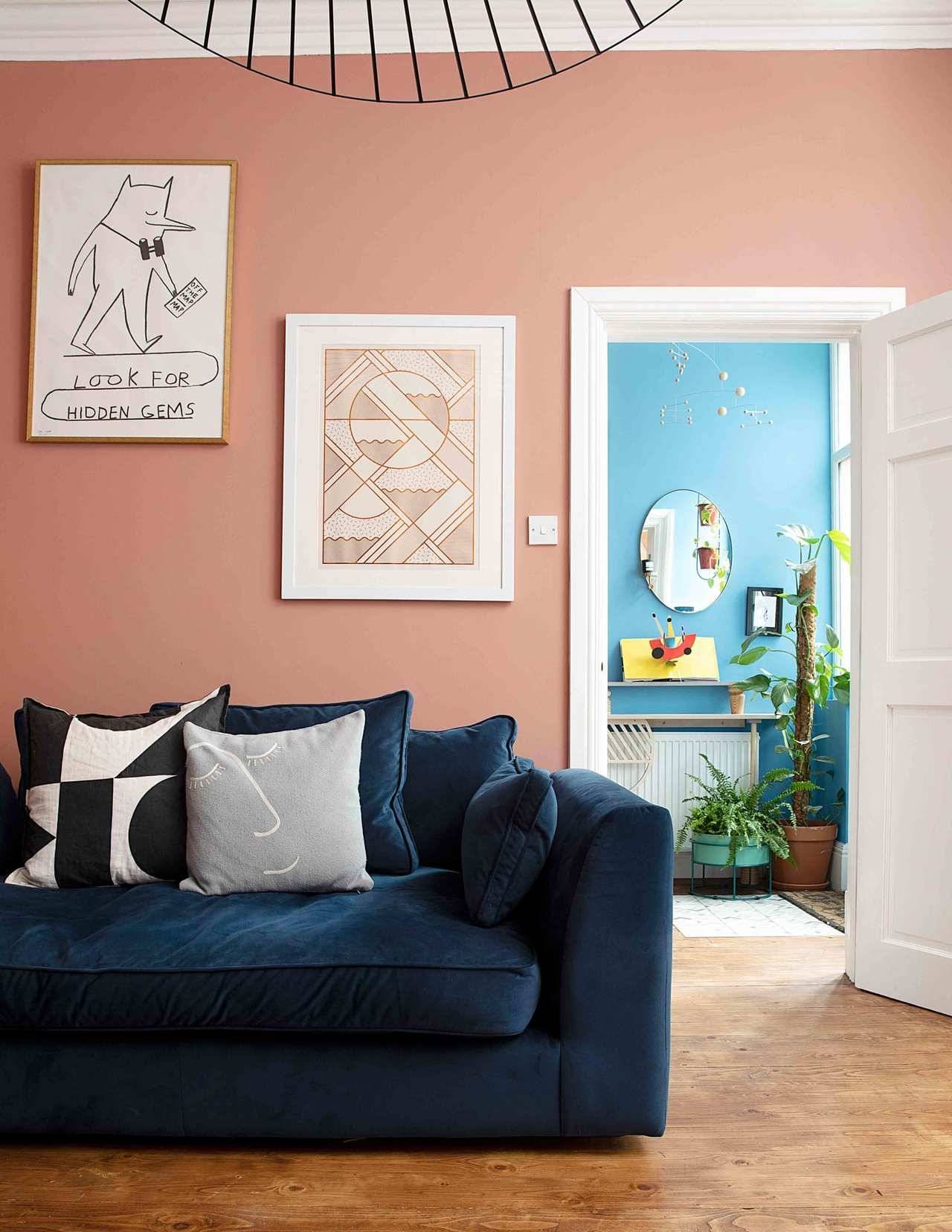 PHOTO: BEAUTIFUL HOMES IN THE NORTH
14. Blue + Orange+ Sage Green +
The colour combination of blue, orange, and sage green adds an unexpected yet charming aesthetic to a room. This colour scheme works effortlessly because blue is the contrast of orange while olive green is a muted and earthy hue that serves almost as a neutral.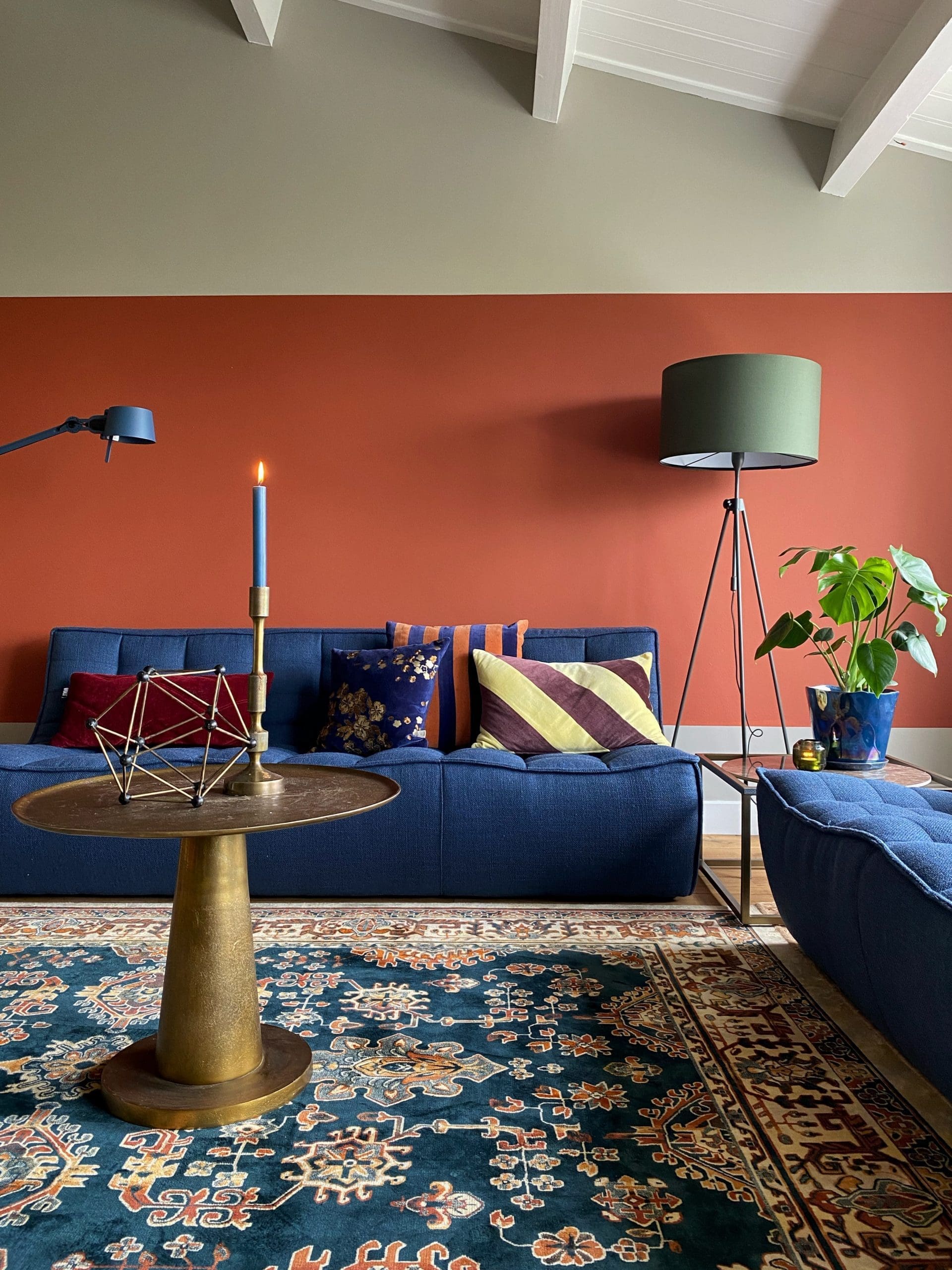 PHOTO: FLEXA
15. Blue + Cream + Red
If you have a blue sofa, add a beautiful patterned reddish rug and cushion to add a hint of drama to the space. Consider using calming neutral colours on the wall like cream, beige, or ivory.
PHOTO: SUZANNE CHILDRESS DESIGN
16. Blue+ Dark Green
Blue, both in lighter and darker shade are extremely easy to pair with dark green. This due can bring a dynamic design to any room. For that perfect contrast use dark green wall paint behind the blue sofa, whether as an accent room or full room wall colour.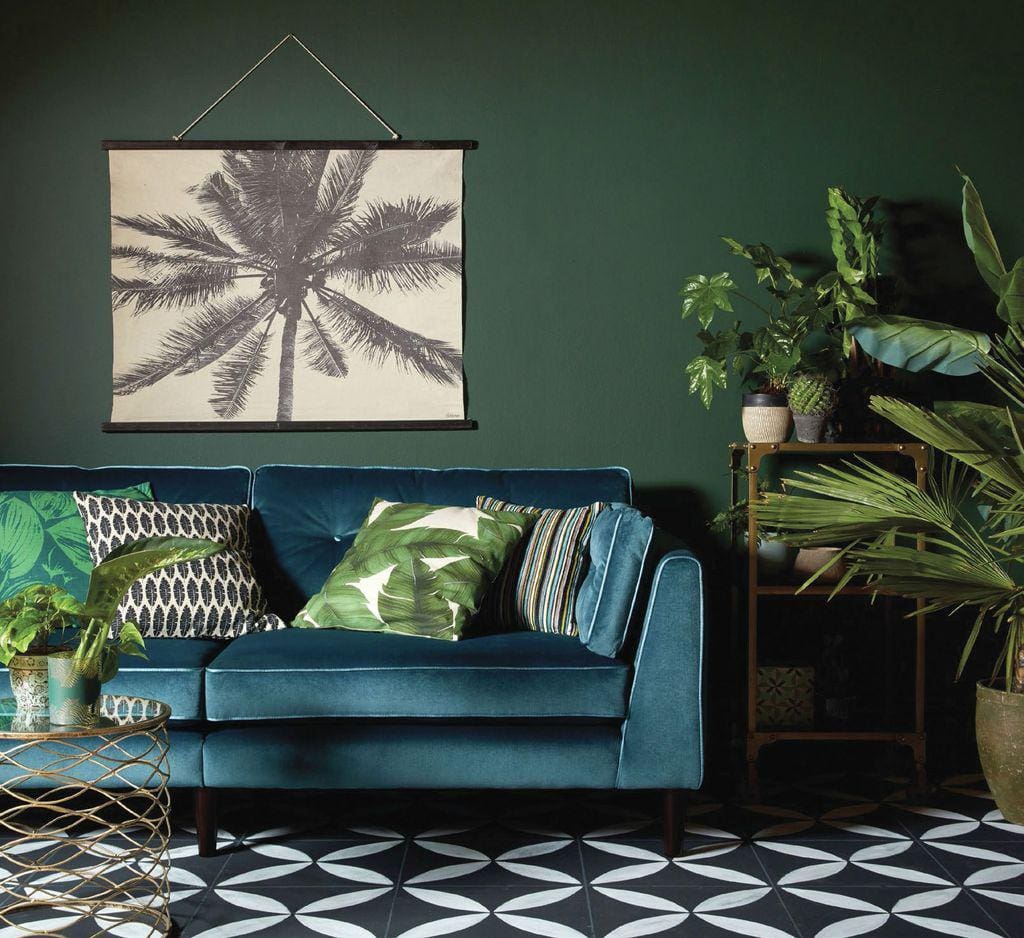 PHOTO: SOFOLOGY
17. Blue+ Mustard Yellow+ Brown
Mustard yellow cushions will stand out beautifully against your blue sofa. Brown wood tones are a great neutral colour to add a natural feel to a space. The blue, mustard yellow, and brown colour scheme is the perfect combination of modernity and rusticity.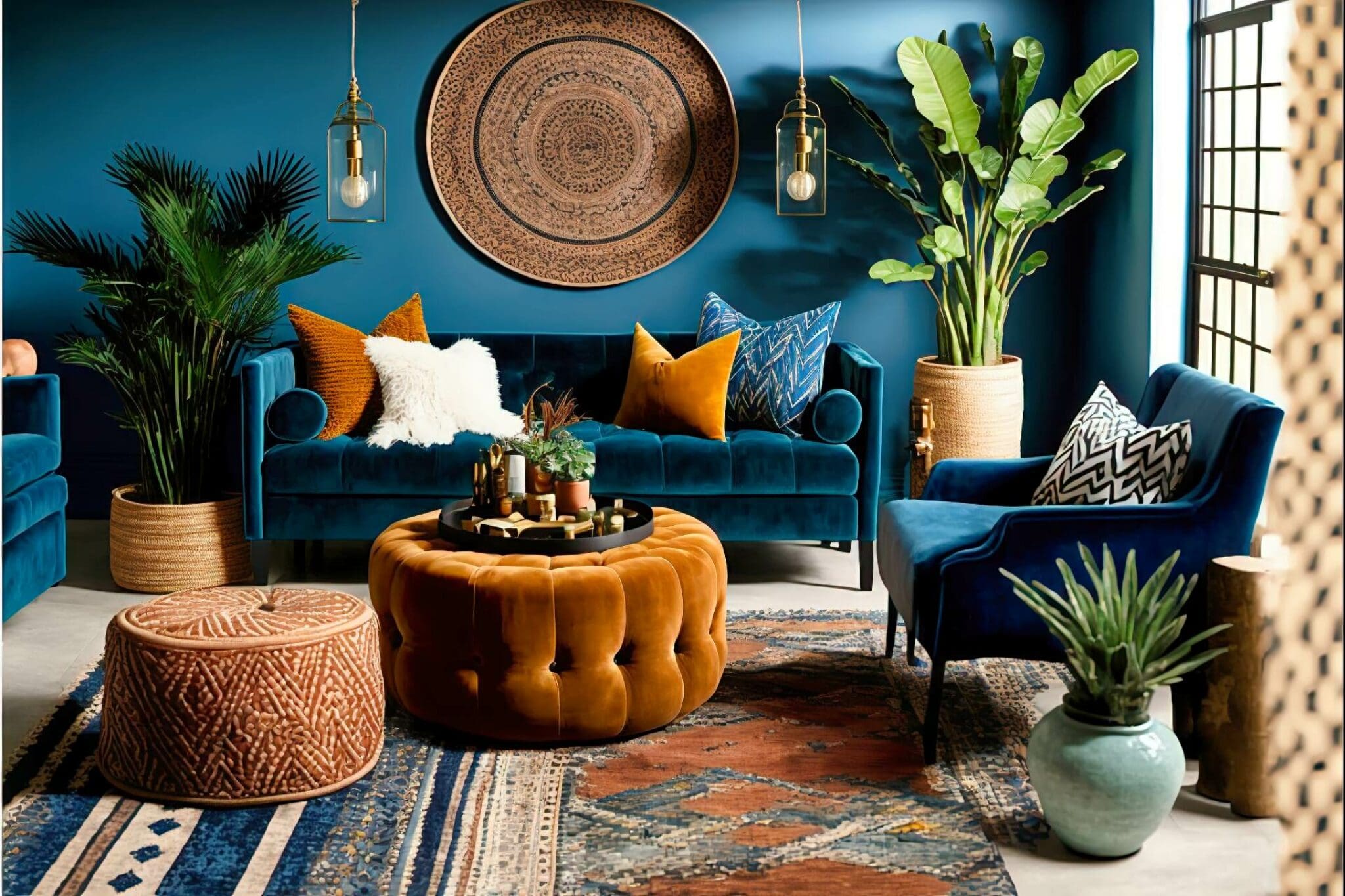 PHOTO: ADOBE
18. Blue+ Pink
If you want to add zing to your living room with blue sofa, pink may be just what you need. Blue and pink is an unbeatable colour combination that works every time!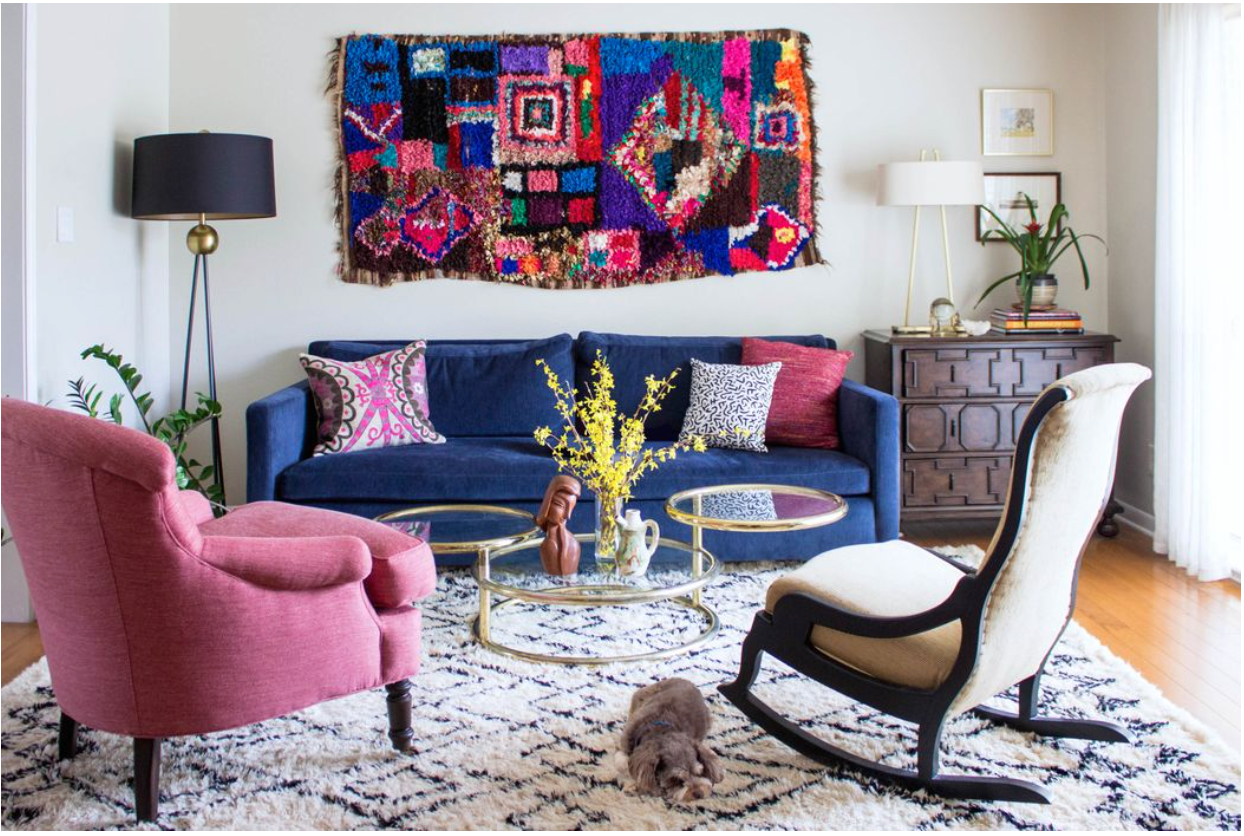 PHOTO: SARAH STACY INTERIOR DESIGN
19. Blue+ Purple+ Green
If you want to create a rich and moody scheme, green and purple are one of the most deal colour schemes to go with blue sofa. These colours can introduce a dramatic sense of style and elegance to a room.
PHOTO:  ADOBE
20. Blue+ Yellow+ Teal+ Orange
You can create a strong visual impact in the living room by combining complementary colours to create a visually appealing and dynamic design. A combination of blue, teal, orange, and yellow will not only lend vibrancy to your room but also adds a playful element to it as well.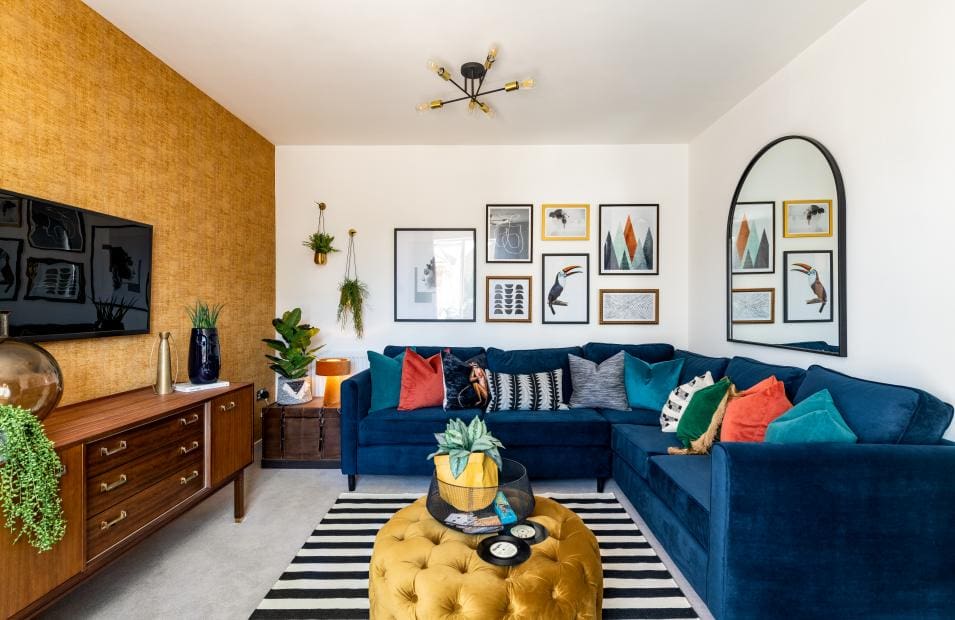 PHOTO: HILL.CO.UK
21. Blue+Beige + Orange
Beige is favored for adding an earthy, warm touch to interior spaces. It is staying on top as the most used neutral in contemporary interior design to date. Blue and orange are a natural complementary pair but adding beige to the scheme can help to keep it grounded.
PHOTO: SOHO HOME
22. Blue + Cream + Purple
There is a good reason why cream colours never get outdated. It is a very versatile shade that exudes warmth and brightens up a space. Purple is a great combo for blue and cream because they complement one another seamlessly.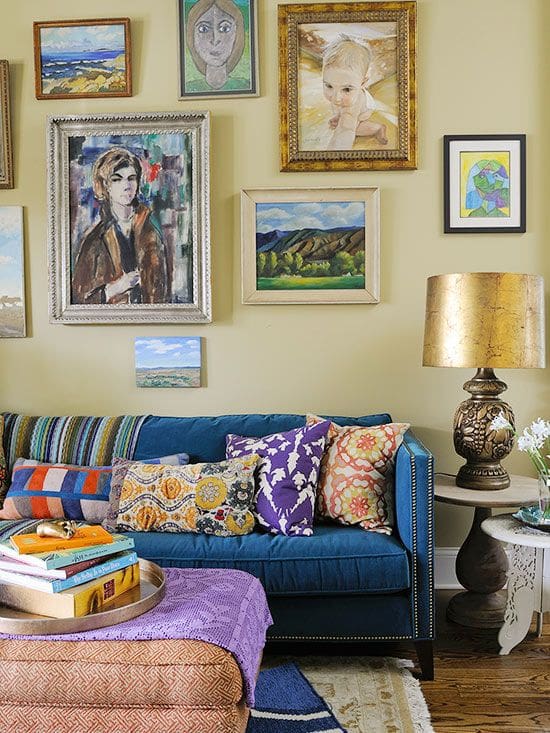 PHOTO: SOHO HOME
23. Blue + Grey
Grey is one of the most popular and timeless hues in interior design. It works aesthetically well with blue, just as it would any other colour on the spectrum. Together, they create a peaceful and soothing atmosphere that promotes relaxation.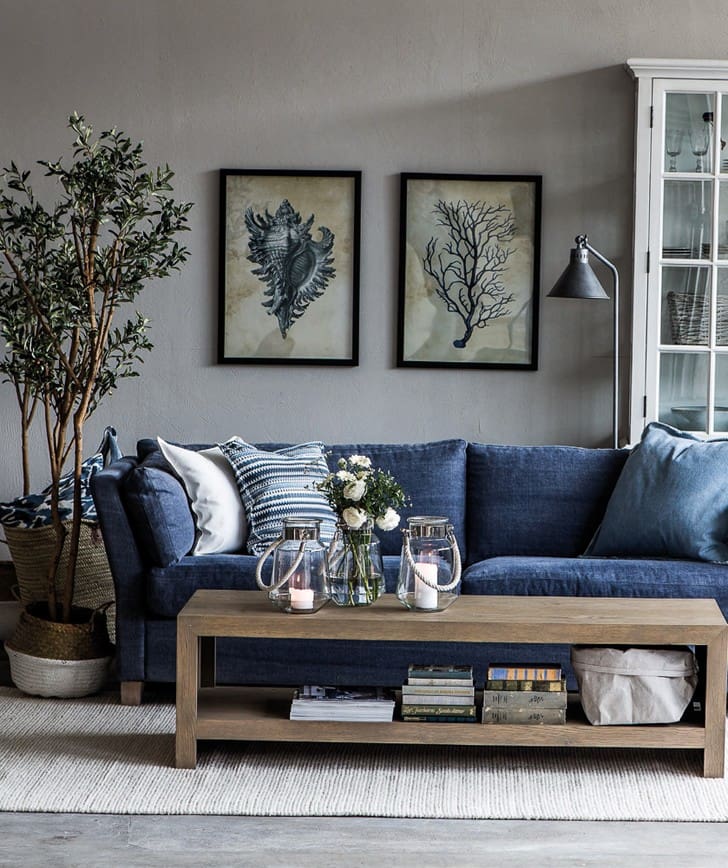 PHOTO: SOHO HOME
24. Blue + Orange + Black
Using black for interior walls is a great way to make a bold statement and add elegance to the space. Black can introduce a dramatic flair to any colour scheme, especially when combined with blue and orange.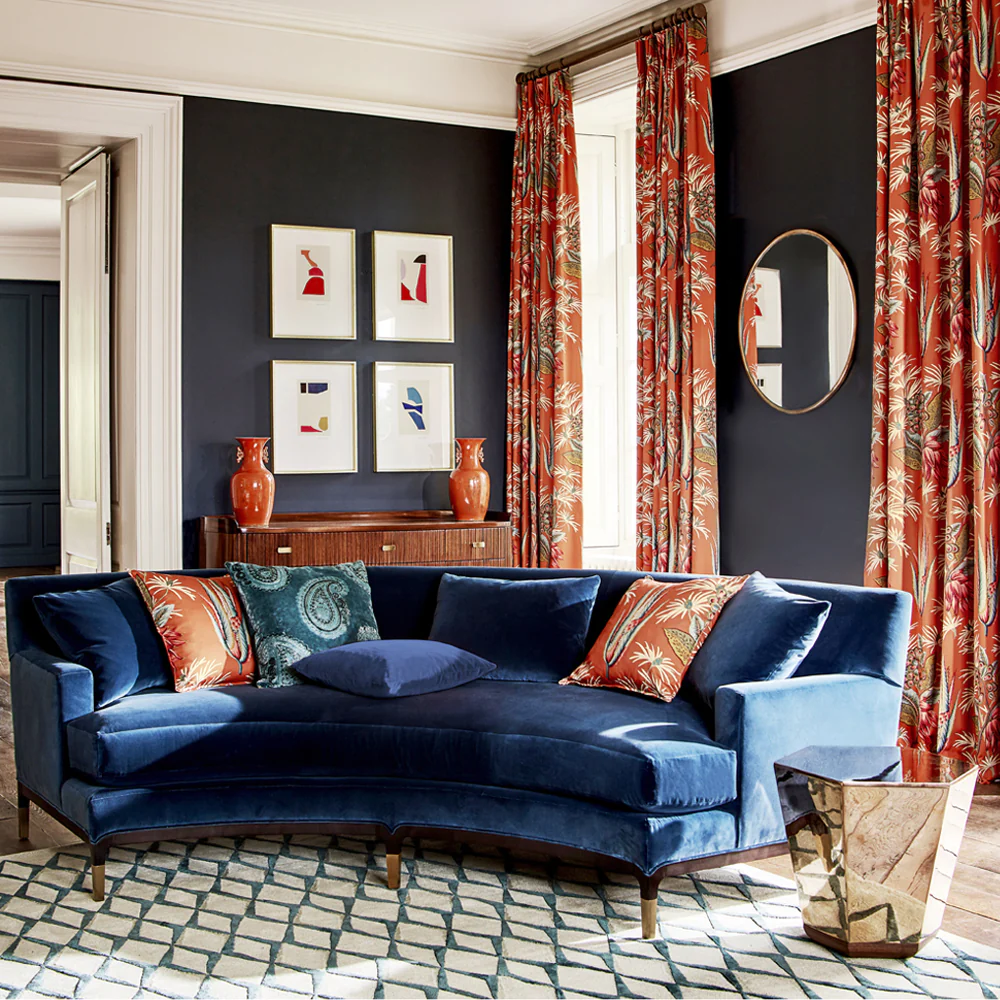 PHOTO: SETTLE
25. Red + Yellow+ Blue
The three primary colours, red, yellow, and blue, can be used together to create mood, drama, and impact. It is a daring look that may be too much for some but there is no denying that they create high-energy and statement-making interiors.
PHOTO: FUTURE PLC/ ANNA STATHAKI 
26. Blue+ Sage Green
Sage green is a calming and less-intrusive shade of green that is even considered a neutral colour by many. It combines amazingly well with blue, especially navy blue or dark blue. This duo gives depth and sophistication to a room.
PHOTO: INTRINSIC DESIGN
27. Blue+ Beige + Brown
For a modern minimalist interior, beige and brown are one of the best colour schemes to go with blue sofa. This colour combination gives the finished look a modern edge that's subtle but not boring.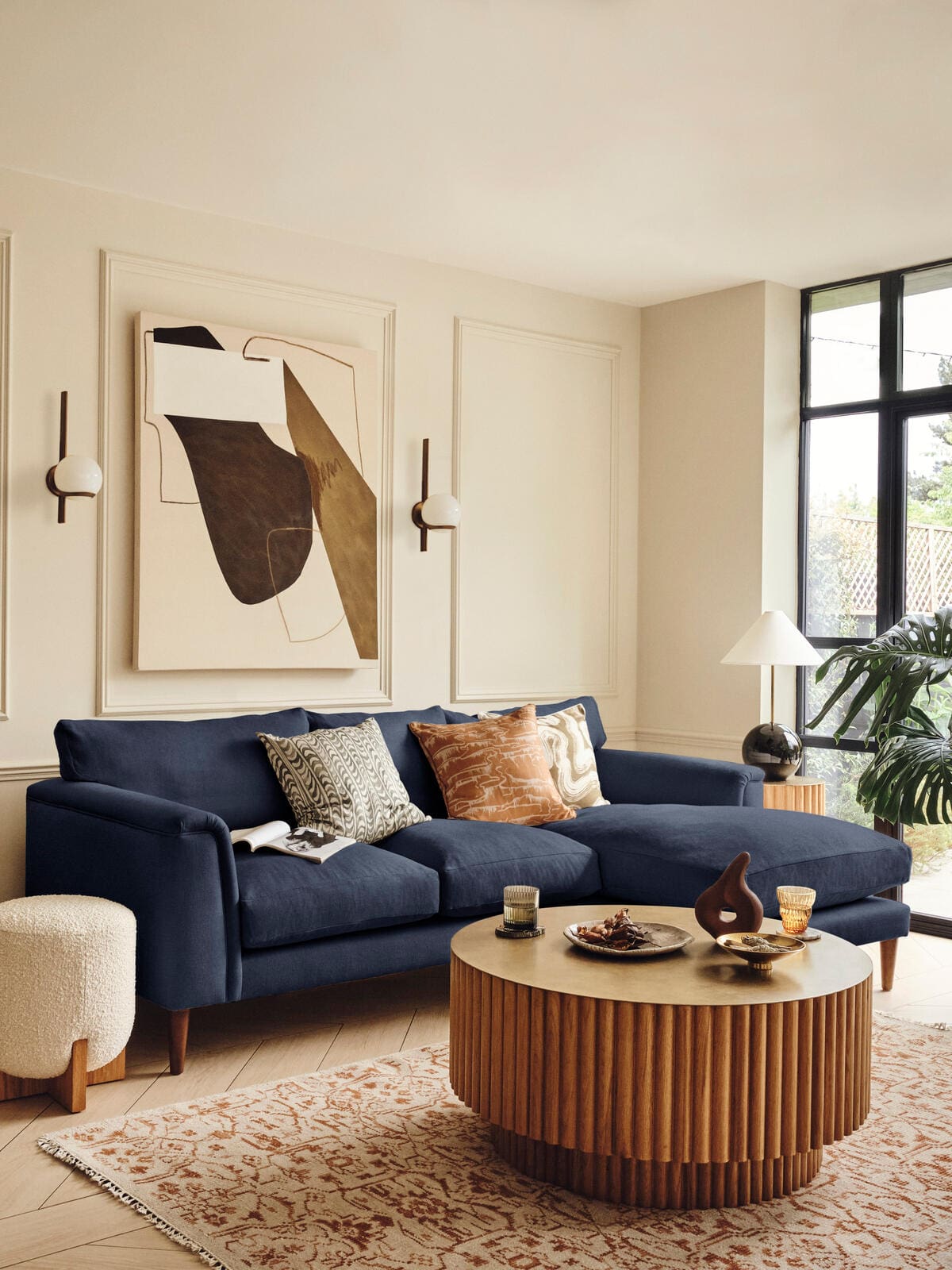 PHOTO: SOHO HOME
28. Blue + Olive Green
Using olive green wall paint in your living room with blue sofa can help to add extra pizzazz to the space. This colour scheme can add a major statement to your living room aesthetic. The key to nailing this is finding the balance between too much and too little. Use olive green as an accent wall colour or as a pop of colour that will not overwhelm the room.
PHOTO: INSTAGRAM @STYLINGMYHOUSE_
Save Image to Pinterest