Acrylic Kitchen Cabinets: All You Need To Know
Kitchen cabinets play a vital role in the aesthetic and practicality of the kitchen. Kitchen design or remodeling projects don't come cheap and they are often the trickiest home projects to undertake. Upgrading your kitchen cabinetry can have a profound influence on your kitchen.
There is a myriad of kitchen cabinets available today that can fulfill your kitchen aesthetics and budgetary needs. Acrylic kitchen cabinets have been homeowners' go-to for a long time now as they can elevate the aesthetics of a dull kitchen.
Want to revamp your kitchen and elevate its aesthetics? A high-gloss acrylic kitchen cabinet might be just what you need. In this article, you'll learn all you need to know about acrylic kitchen cabinets, including the pros, cons, and costs to help you decide if it's the best option for your kitchen.
What is Acrylic Kitchen Cabinet?
Acrylic, also known as plexiglass, is a non-toxic material that gives a glossy finish to the kitchen cabinet. This high-quality synthetic fiber is made using plastic resins and produced in the form of sheets. Its glossy sheen, smooth texture, and reflective finish give the kitchen a sleek and polished look.
The acrylic material is similar to lacquer which has a hard and extremely intense glossy finish. Acrylic kitchen cabinets come in a plethora of vibrant colors and textures to remove dull blandness from a kitchen. Acrylic cabinets are used mostly in modular kitchens because they create a stylistic high-end modern look.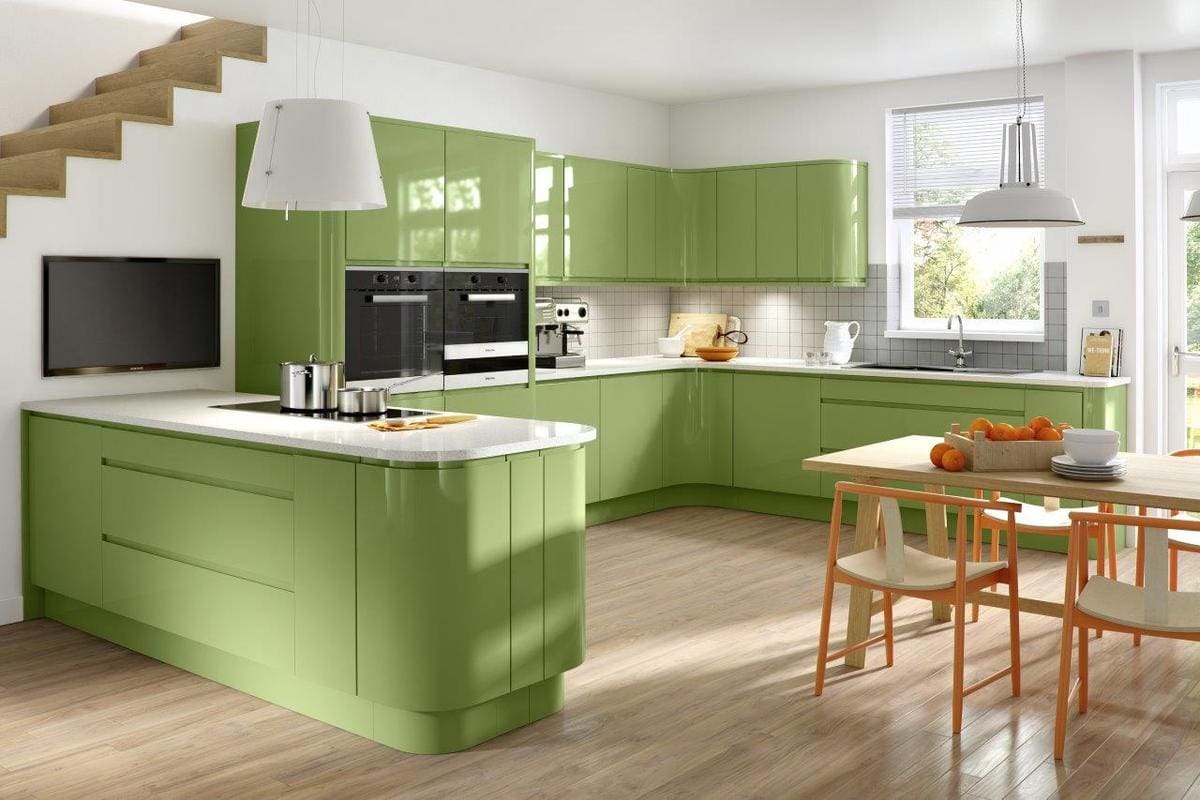 (Image credit: Richfield Interiors)
Types of Acrylic Kitchen Cabinets
Here are two main types of acrylic kitchen kitchens.
This type of acrylic cabinet is consistent with acrylic in its entirety. Solid acrylic doors have a richer color and more even appearance. This makes it a more expensive option than its counterpart.
This type of acrylic cabinet comprises acrylic sheets attached to an MDF (Medium Density Fibreboard) with an adhesive and sealed at the edges with the use of edge bands. The acrylic-faced doors are cheaper than the solid-faced doors.
The visually appealing characteristics of acrylic kitchen cabinets are undeniable but before deciding whether to opt for this high-gloss kitchen cabinet, you should take into account the pros and cons.
Pros of Acrylic Kitchen Cabinets
Here are some of the advantages of acrylic kitchen cabinets to consider:
Durability: The acrylic material is well known to be highly durable and reliable. It can retain its glossy appeal and hue for decades without needing an upgrade. It is also moisture, scratch, and UV-resistant which makes it less susceptible to damage compared to other finishes
Aesthetics: This ultra-glossy finish creates a visually appealing, stylish, and comfortably modern feel. It offers an irresistible textural contrast. It also adds a chic layer of depth that creates an inviting look to a modern kitchen.
Other than the fact that this glossy cabinet finish adds a sophisticated look to your kitchen, it also makes your kitchen look more spacious by reflecting light.
Maintenance: Acrylic kitchen cabinets are easy to maintain. It only requires a gentle wipe using a fiber cloth and mild soapy water.
Varieties and Colors: Acrylic cabinets are available in a wide range of colors, from crowd-pleasing neutrals to vibrant lively hues.
Cons of Acrylic Kitchen Cabinets
Here are some of the disadvantages of acrylic kitchen cabinets to consider:
Frequent cleaning: Acrylic needs to be cleaned regularly because it can easily show stains, smudges, and fingerprint marks.
Expensive: It is a premium finish hence it is more expensive than laminated cabinets.
Plastic look: Despite its high-gloss appeal, some owners are not a fan of the plastic look it gives. Plus, it doesn't suit every home type.
Cost of Acrylic Kitchen Cabinets
Are you wondering what it will cost to have an acrylic kitchen cabinet for your home? We'll have you ascertain an estimate or average costs.
The cost of an acrylic modular kitchen cabinet depends on several factors. These factors include the style, shape, and size of your kitchen. The price is also influenced by some function preferences such as storage space.
Most importantly, your individual taste, customization requests, and budget can also majorly impact the costs of an acrylic modular kitchen.
If you are looking for a low-budget modular kitchen, you can opt for the semi-modular kitchen- which is designed around the original civil structure. The price of acrylic modular kitchens is calculated using square per foot.
The cost of acrylic kitchen design cabinets starts from Rs. 1000 to Rs. 5000 per square foot, equivalent to 12.10 USD to 60.52 at the time of publishing this article. Combining acrylic material with laminate could lessen the price. Glossy and matte finishes are also priced differently.
All things considered, consult with a professional in your area to discuss the size of your kitchen, budget, style, and color preference to get a more viable quote for your kitchen.