12 Stunning Shower Niche Ideas
The bathroom is one of the most challenging rooms to design. When designing a bathroom, functionality should be prioritized, as well as visual appeal. Design experts say that most bathrooms are likely to last for at least 8 years before needing an upgrade.
In addition to this, bathroom remodels can be quite expensive. This is why each aspect of your bathroom design should be well-thought-out. In many bathrooms, essentials like shower gel and shampoo tend to be kept on the floor, on the side of the bathtub, or on cluttered bath shelves. That's where the stylish space-saving shower niche comes in.
Over the past decade, shower niches have grown increasingly in popularity. Most homeowners and designers also use a shower niche to elevate the look of a dull bland shower walls. It is a practical design element that has aesthetic beauty. Are you considering one for your bathroom, but need a little inspo or options to explore? If so, stay tuned!
In this article, we've put together 12 stunning shower niche ideas to inspire your bathroom remodeling. No matter the style of your bathroom, you'll find some incredible show niche ideas to complement it.
What is a Shower Niche?
A shower niche is an open storage space within the wall of a shower or bath. It is used to store bathroom essentials like shower gel, shampoo, and conditioner in a well-organized manner.
A shower niche is sometimes referred to as a built-in shower shelf or a recessed shelf. Asides from its ability to maximize storage, it can add a strong sense of style and a unique accent to any bathroom.
Shower niches are finished, waterproofed, and usually positioned at chest-to-eye level during installation. Arguably, smart and stylish bathroom storage solutions don't get any better than this.
Types of Shower Niches
There are two main types of shower niches:
Custom shower niche
This type of niche is built from scratch by the construction of framed box in the wall. It offers designers the ability to customize a shower niche as they see fit.
The custom shower niche requires custom framing to stop water from leaking into the wall. Waterproofing membranes must be applied in order to reach the necessary proportions.
Prefab shower niche
This refers to a prefabricated or preformed niche. A prefab shower niche is less time-consuming to install. Its surface is intended to be covered with tiles and it can also be constructed of foam board, plastic, or stainless steel.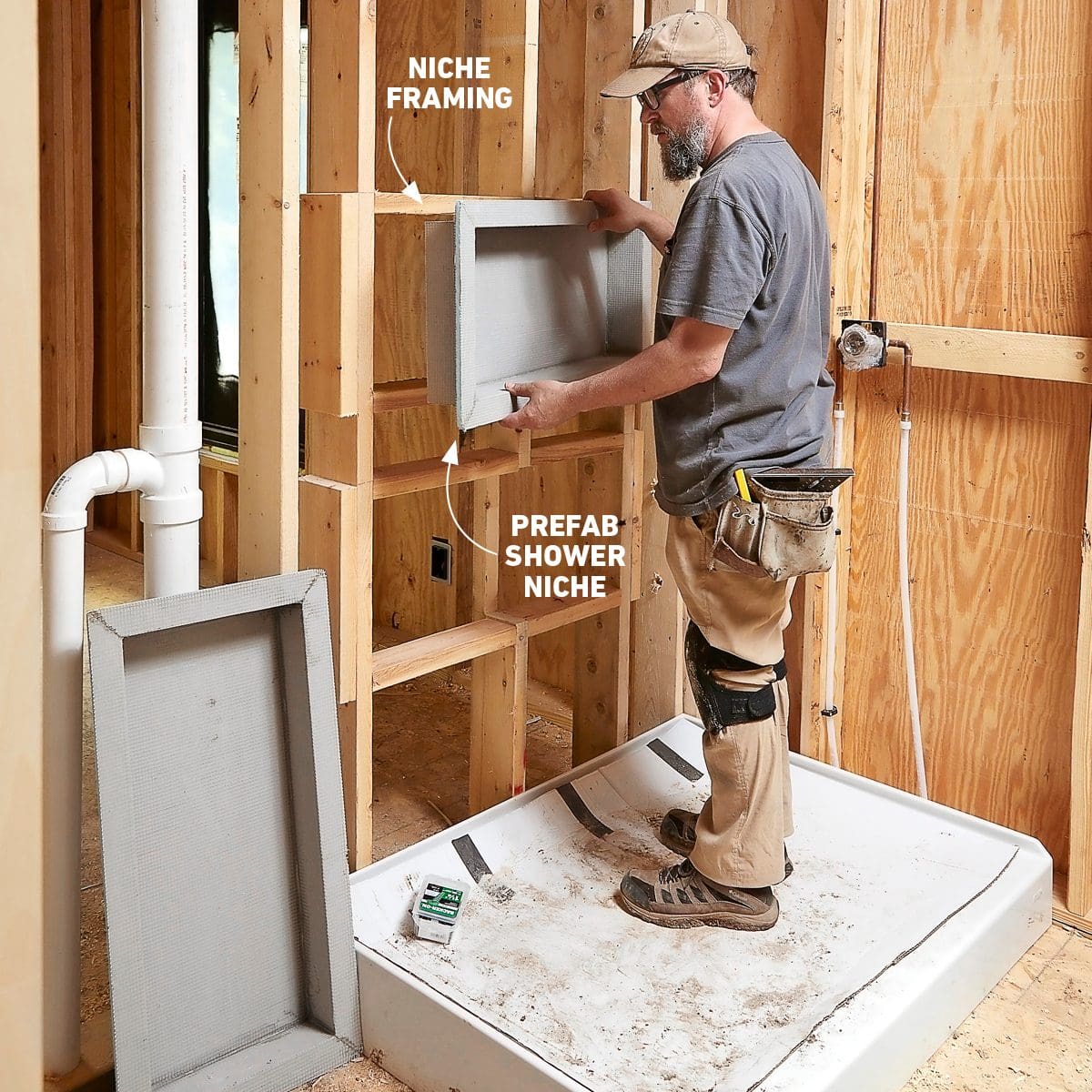 Prefab Shower Niche Installation: Courtesy of Family Handyman
Here are 12 incredible shower niche ideas that you take your shower wall from basic to highly stylish.
1. Vertical Shower Niche
A vertical shower niche with built-in shelving is very functional and can make a stylish addition to any bathroom. There are simple yet practical. The height of the niche depends on individual preferences.
The higher the vertical shower niche, the more shelve you can add to it. However, avoid the temptation of adding too many shelves as the shower niche may start to look cluttered.
(Image source: Pinterest)
2. Horizontal Shower Niche
The horizontal shower niche is the most popular shower niche positioning. This gives an effortlessly stylish and contemporary feel to a bathroom. This is well suited for both small and big showers.
The horizontal show niche does not take up valuable space. In addition to providing ample storage for bathroom essentials, from a design standpoint, it can also be used as the focal point of the shower.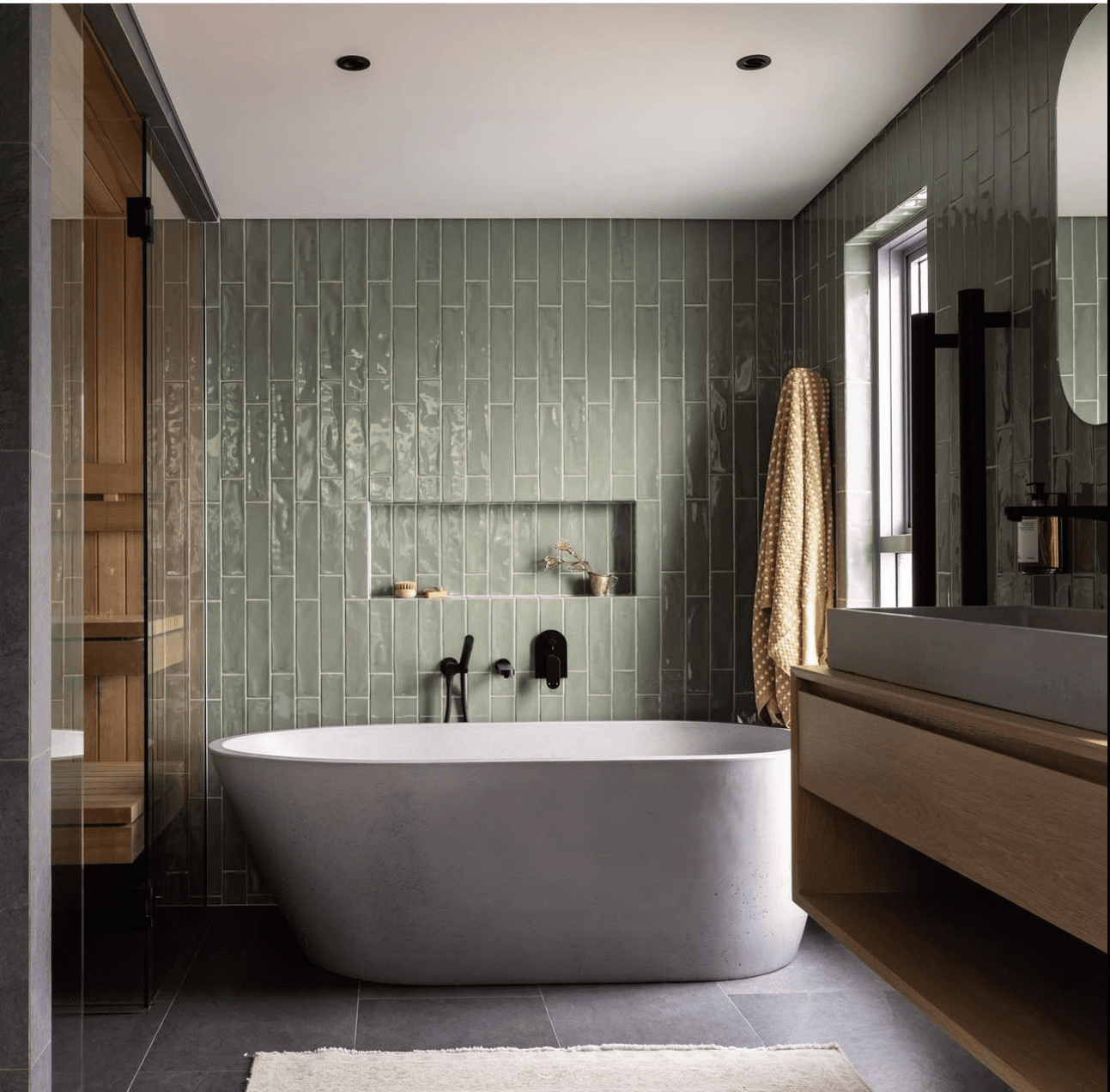 (Image credit: Zephr & Stone)
3. Arched Shower Niche
Archs are an architectural feature that embellishes the beauty of a space. This is one of the most stylish shower niche ideas out there. It offers practicality as well as aesthetics.
In interior design, arches are used to visually draw attention to the height of the walls, and this makes a space appear more spacious than it is. An arched shower niche is an elegant design option that is worth considering for your shower wall.
(Image credit: IG @Homeonnashvillehill)
4. Multiple Shower Niches
Another clever way to increase storage in your shower is to install multiple shower niches. Symmetrical placement is used to maximize interest in interior spaces. This can be achieved by installing two or four shower niches.
Asymmetry is also a characterful and more laid-back approach that embraces odd numbers like one and three. Asides from being a visually interesting option, multiple shower niches have more storage capacity than one single niche.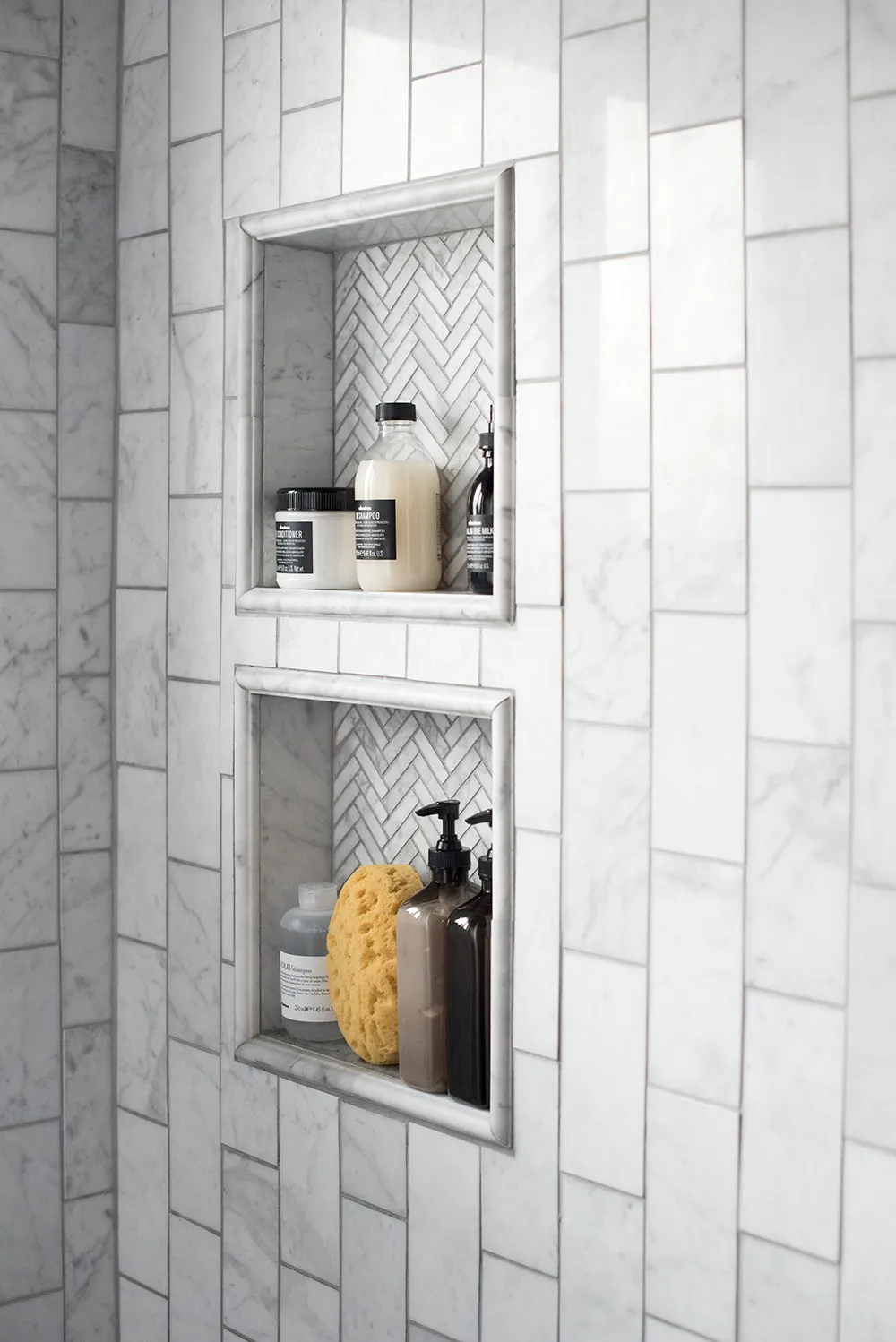 (Image source: Pinterest)
5. Wood Shower Niche
For a long time, the idea of wood in the shower was perceived as being unsuitable. However, hardwood has been historically used in frequently used areas in the kitchen, where liquid splashes and steam is imminent. Wood is a prized building material that adds a sense of nature and rustic charm to a bathroom.
Herringbone is a popular wood design used for flooring but looks great as shower niches. They are rectangle boards that are highly durable and stylish. Plus, wood tones give an intriguing accent to interior spaces.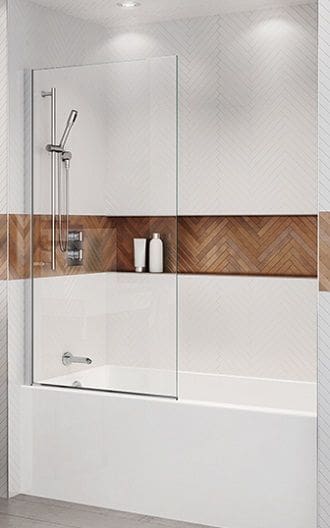 (Image source: Pinterest)
6. Shower Niche with Glass Shelves
A great way to increase storage and add a contemporary chic feel to your shower is by using glass shelves for partitioning your shower niche. Using glass shelves in your shower niche can brighten your space and enhance the aesthetic of your bathroom.
Glass shelving is versatile and very easy to clean. It only needs a wipe with some glass cleaner and a fiber cloth to remove dust or fog. In addition, it does not scratch easily when installed in the shower.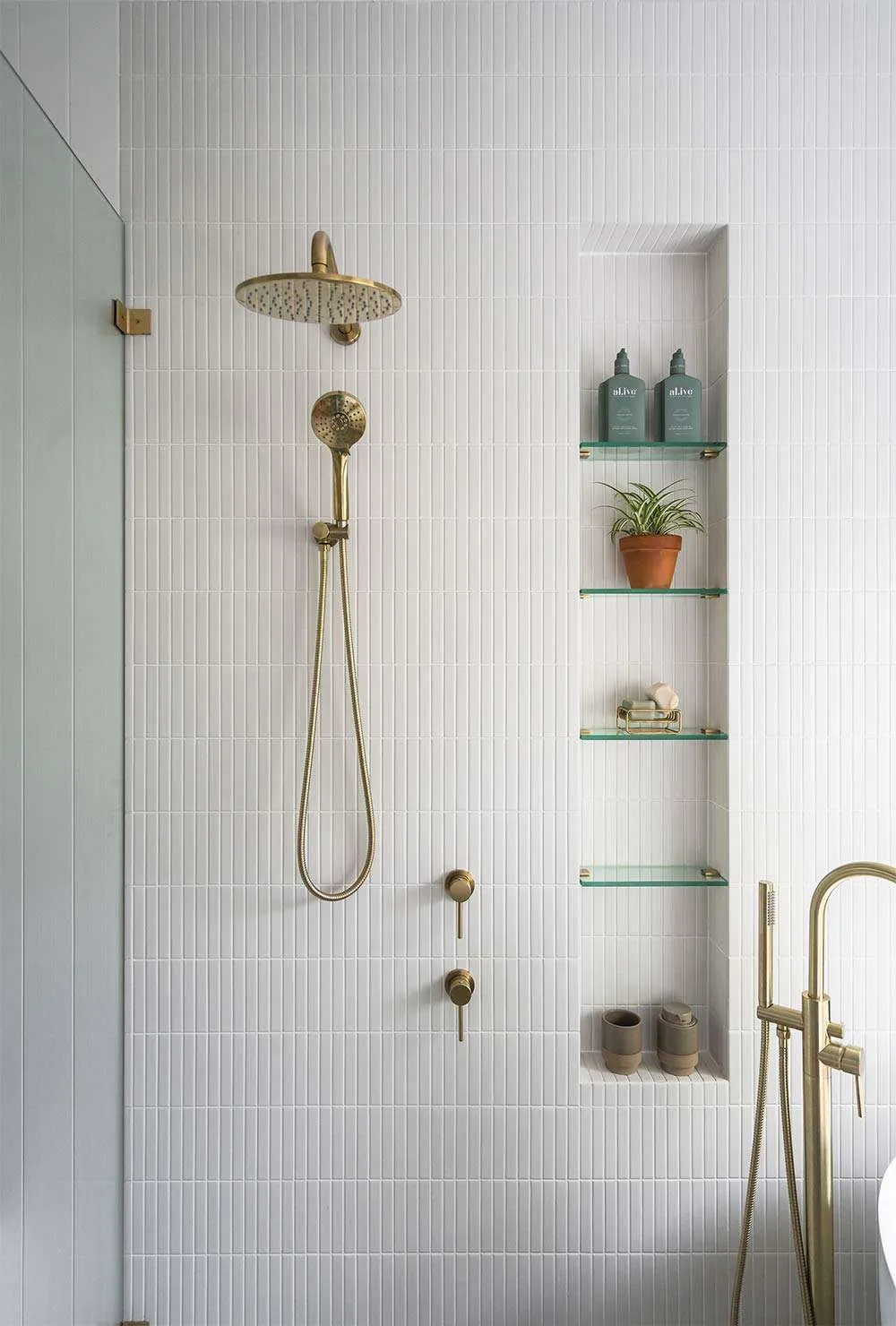 (Image source: Pinterest)
7. Illuminated Shower Niche 
Smart lighting technique is a crucial aspect of interior design. Installing hidden LED lighting in a shower niche enhances the beauty of the space and provides great illumination.
This option is often overlooked but it can add depth and detail that will elevate the bathroom. This type of lighting is often waterproofed and they come in different tones such as warm white, bright white dim candle-like light, and many more.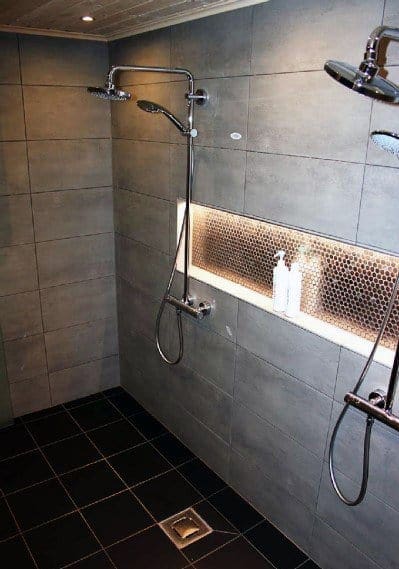 (Image source: Next Luxury)
8. L-Shaped Shower Niche
Instead of installing a vertical or horizontal show niche, you can opt for a combination of both which creates an L-shaped shower niche. This adds an effortlessly stylish flair to your shower wall.
The L-shaped show niche gives rooms for storing varying sizes of bathroom bottles. It is a shower niche idea that creates a comfortably modern feel.
(Image source: Homed It)
9.  Shower Niche with a Pop of Colour
A pop of color is a great way to add some flair to a neutral space. Most contemporary bathrooms feature a neutral palette and clean lines. A shower niche is a place where you can inject color into your bathroom in a less intrusive way.
This can be a color that already exists in your interior scheme or a fresh color to add interest. This is a tried-and-true way to highlight your shower niche and lend personality to a bland bathroom.
(Image source: Amazon)
10. Natural Stone Shower Niche
Natural stone brings warmth and charm to interior spaces. To add texture and an impactful edge to your bathroom, consider installing a natural stone shower niche. Natural stone is prized for being highly durable and able to withstand the test of time.
Plus, they are a myriad of materials, colors, patterns, and textures to choose from. You may be pleased to know that natural stone is maintenance-free. It doesn't require any painting, oiling, or even replacement as it is hardly damaged. It is fire, water, rot, and bug resistance.
(Image source: Next Luxury)
11. Gold Trim Shower Niche
A gold trim can add elegance and glamour to your shower niche. Gold radiates a subtle shine that is used to add a luxurious feel to interior space. Interior experts claim that gold highlights can accentuate even the most boring interior spaces.
Black and gold are the two most timeless, luxurious, and versatile hues. White and gold is a match made in interior design heaven and when combined, they create a sleek and polished finish.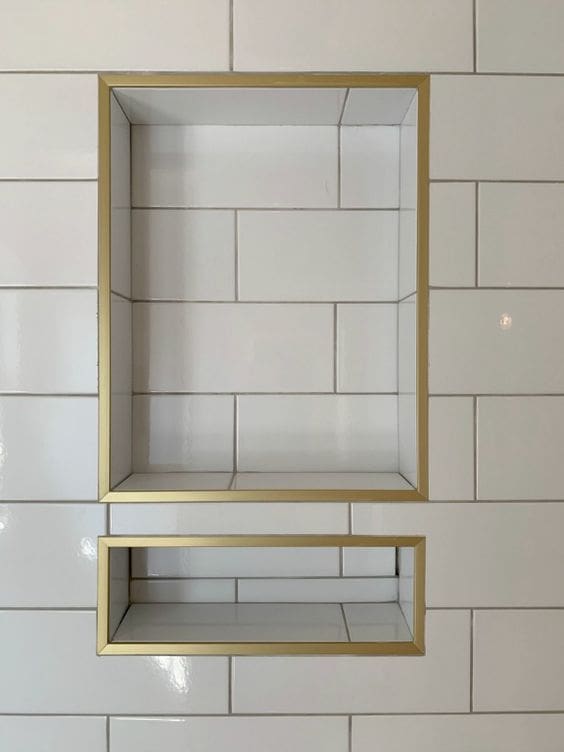 (Image source: Dimples and Tangles)
12. Matching Tiles  Shower Niche
To add visual appeal to your tile show niche, use the same tiles as your flooring or parts of the bathroom wall. This creates stylistic consistency and a cohesive feel to your overall bathroom design. Accent tiles are great elements for creating an inviting and visually interesting space.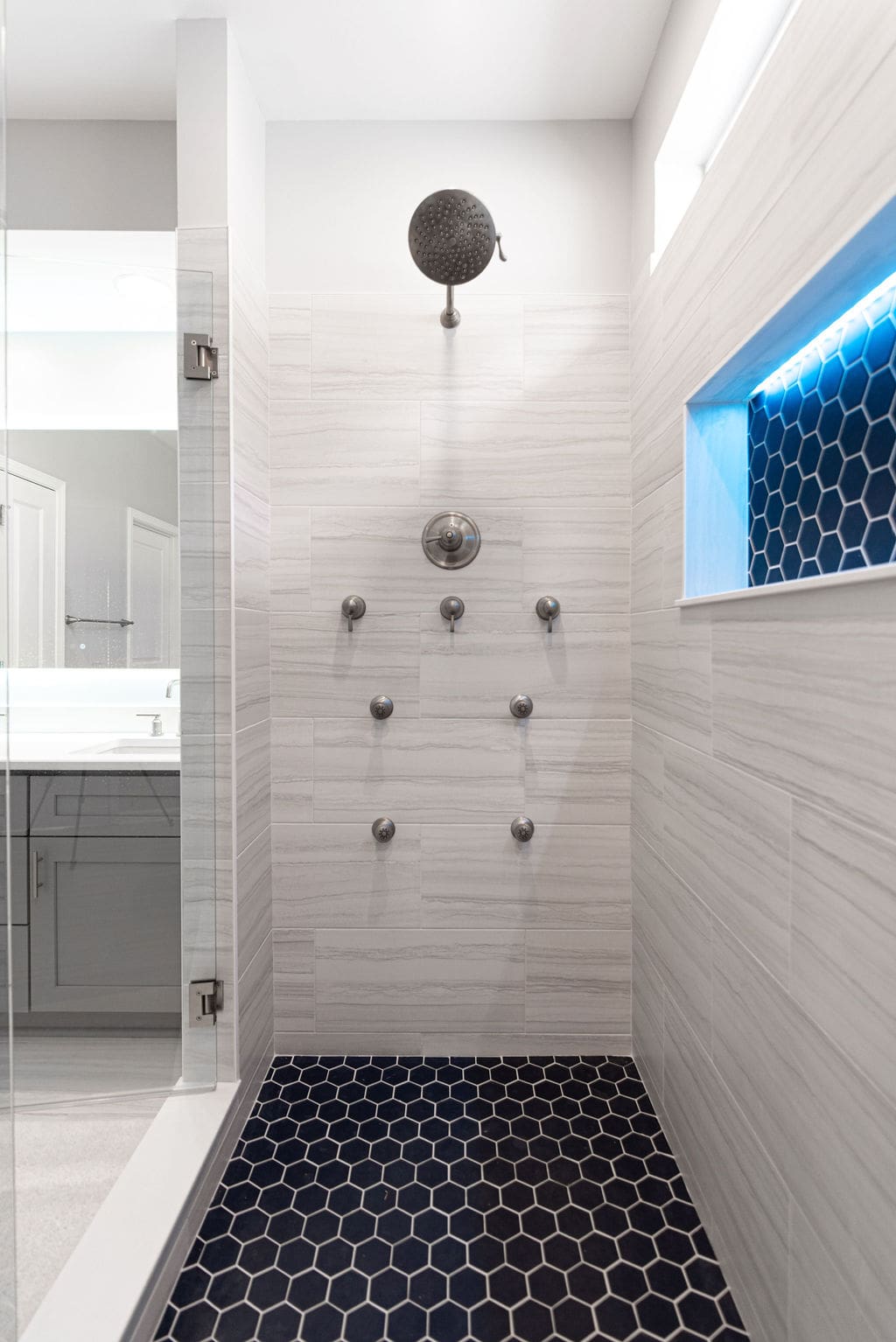 (Image source: Pinterest)
Wrapping Up
Every bathroom is different, and so is everyone's style and preference. One of the most common mistakes people make when renovating a bathroom is following trends. Bathroom renovations are meant to last for many years. We recommend that you opt for a style that is timeless but also resonates with your style.
So, now that we've explored the meaning of shower niche, types of shower niches, and some incredible shower niche ideas that will steer you in the right direction. Let us know in the comment section below what style you're leaning towards.