32 Best POP Designs For Bedrooms
POP has become standard in contemporary homes and it's no surprise why. Want to create a focal point and add a stylish fair style to your home? Get inspired with these incredible POP designs for bedrooms! 
POP (Plasters of Paris), also known as calcium sulfate, is a hard substance Gypsum found near Paris.  When the Plasters of Paris powder is mixed with water, it forms a paste that can be molded in false ceilings, cornices, wall art, and other decorative materials. POP is also commonly used to make precasts and statues.
There are a number of reasons why POP is seen in most modern homes today. This material can instantly elevate the aesthetic of a space and give it a sophisticated edge. POP is also thought to be a more cost-effective and environmentally friendly alternative to standard cement plaster.
When it comes to designing a bedroom, there are many ways to create visual impact and sophistication. A simple or dramatic POP design can make a significant impact.
In this article, we have curated the 32 best POP designs for bedrooms that are sure to make your bedroom look visually appealing and welcoming.
Let's get into it!
1. Tray Bedroom POP Design
A tray ceiling is a popular false ceiling design that is perfect for a minimalist bedroom. It is easy to execute and can work well in all room sizes or styles. The tray-style ceiling is far from boring, it is no less-intrusive way to improve the visual feel of the room.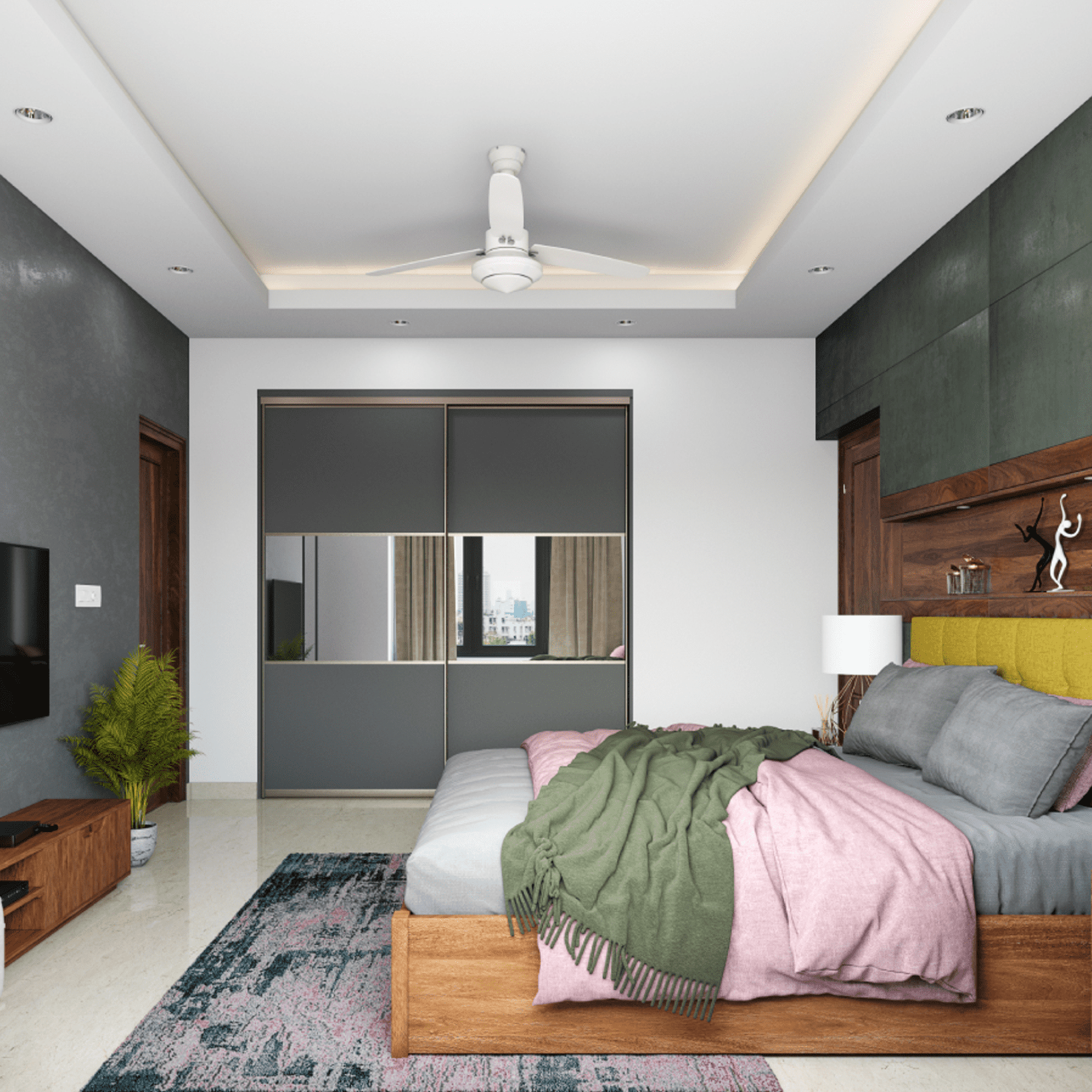 PHOTO: LIVSPACE.COM
2. Bedroom POP Wall with Wallpaper
Wallpaper is a widely used wall covering for interior walls, especially the bedroom. They add character, texture, color, and a stylish flair to the bedroom.
A nature-theme wallpaper tends to be the most commonly used. Using wallpaper on a carved-out portion of a POP wall can add depth and a strong sense of style to the room.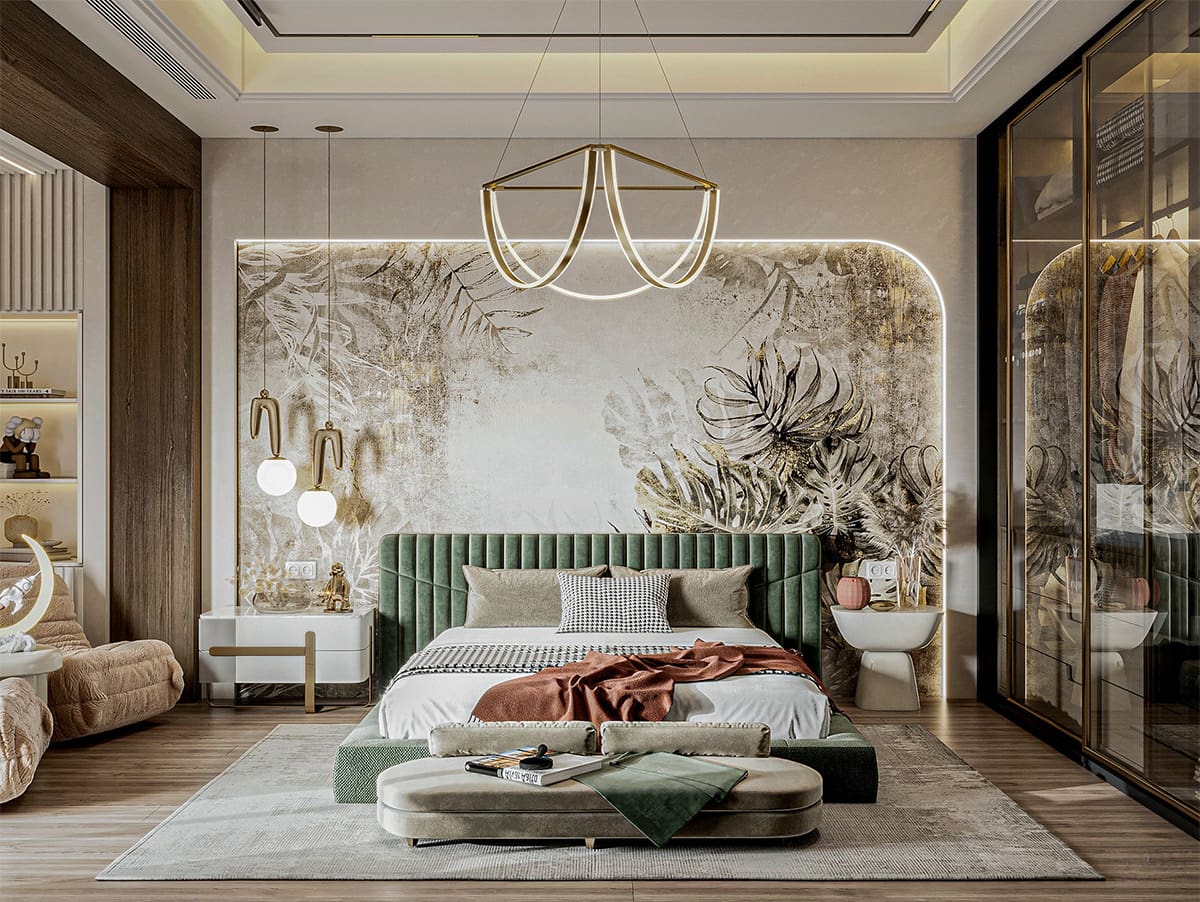 PHOTO: RAWAN ADEL & CREATIVILLE WALLPAPERS
3. Squircle Bedroom POP Ceiling
A squircle is a shape that blends both a square and a circle. Essentially it is a square with curved edges. This shape tends to stand out more than square or circle false ceiling shapes.
A squircle is also a minimalist and simple pop design for a bedroom. It is a quick and easy way to introduce character into the room.
PHOTO: STEVE LEUNG INTERIOR DESIGN
4. Luxury POP Design with Gold Trims
Gold trims are a popular finish for luxurious modern bedroom simple pop designs. Its striking metallic sheen can instantly add a touch of glamour and an understated elegance to the room.
So, if you're looking for a fusion of elegance and modernity, then look no further than a gold-trim finish.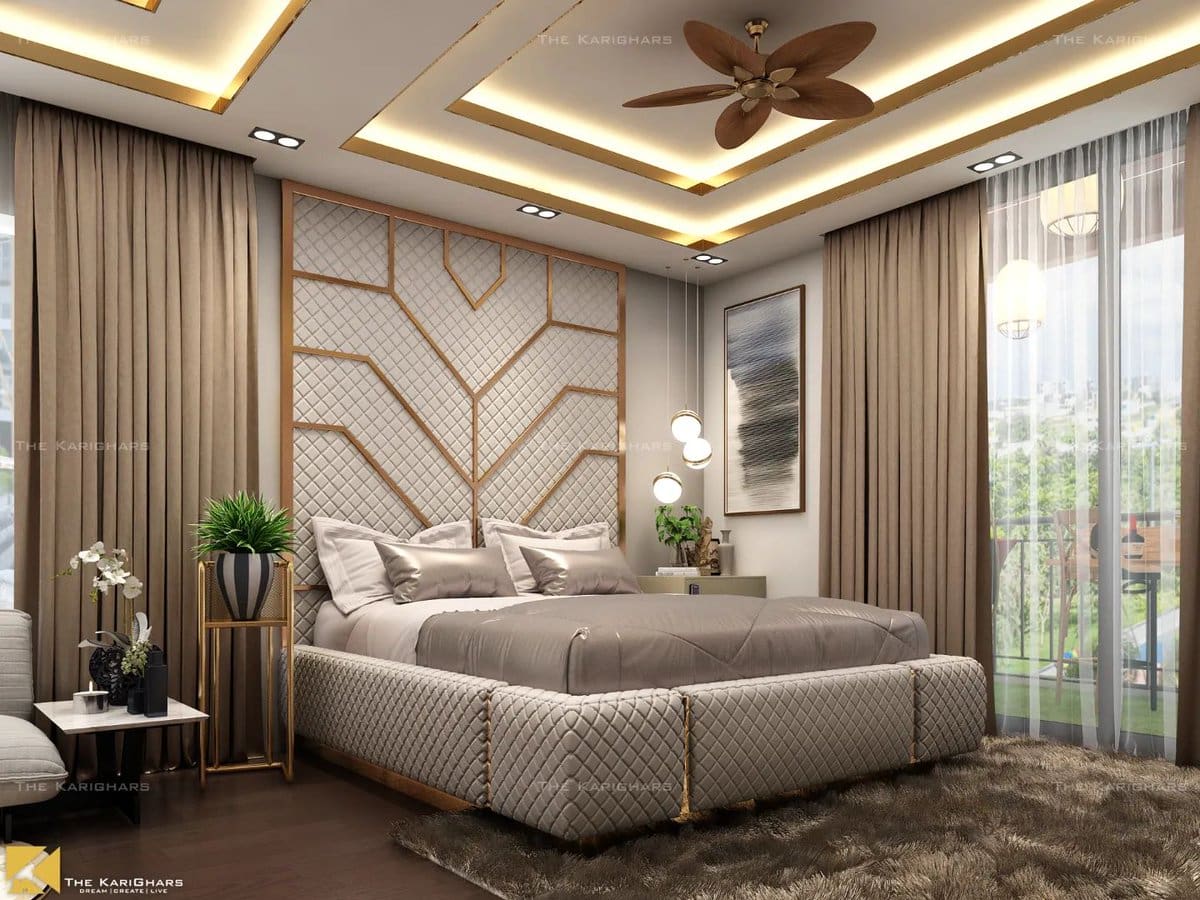 PHOTO: THE KARIGHARS
5. POP and Glass Bedroom Ceiling
What makes glass one of the best pop designs for bedrooms is that it can add a contemporary feel and sleekness to the space.
Opt for reflective glass with a mirror-like appearance as it allows natural light to bounce back into the room— making the bigger feel bigger and more open.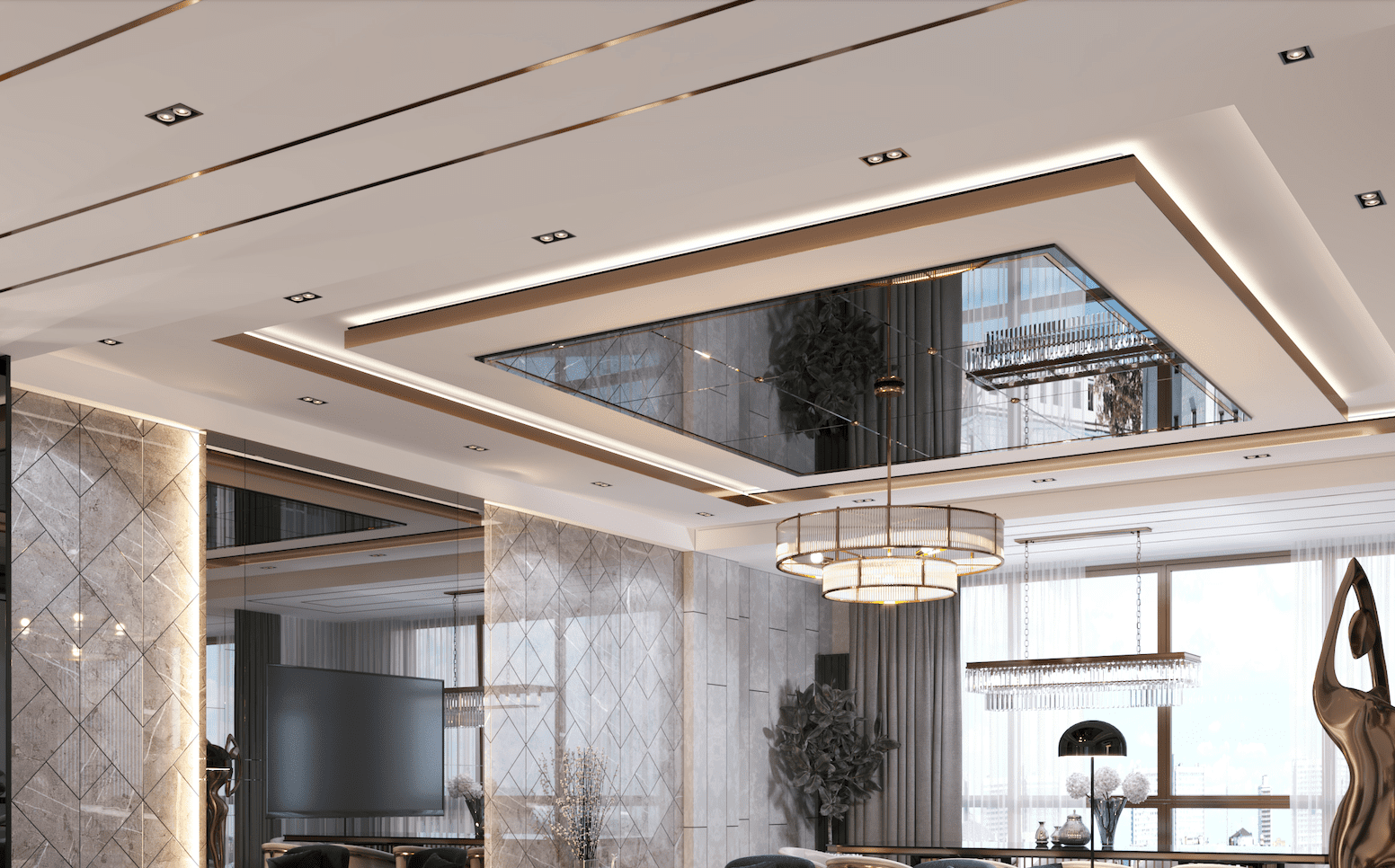 PHOTO: ASIM AZAQOV
6.  Minimalist POP Design 
A popular modern minimal POP is that which has a flat white surface. This type of bedroom simple pop design usually has soft LED lights to illuminate and add warmth to the space. It communicates simplicity to the eye and is suitable for any bedroom.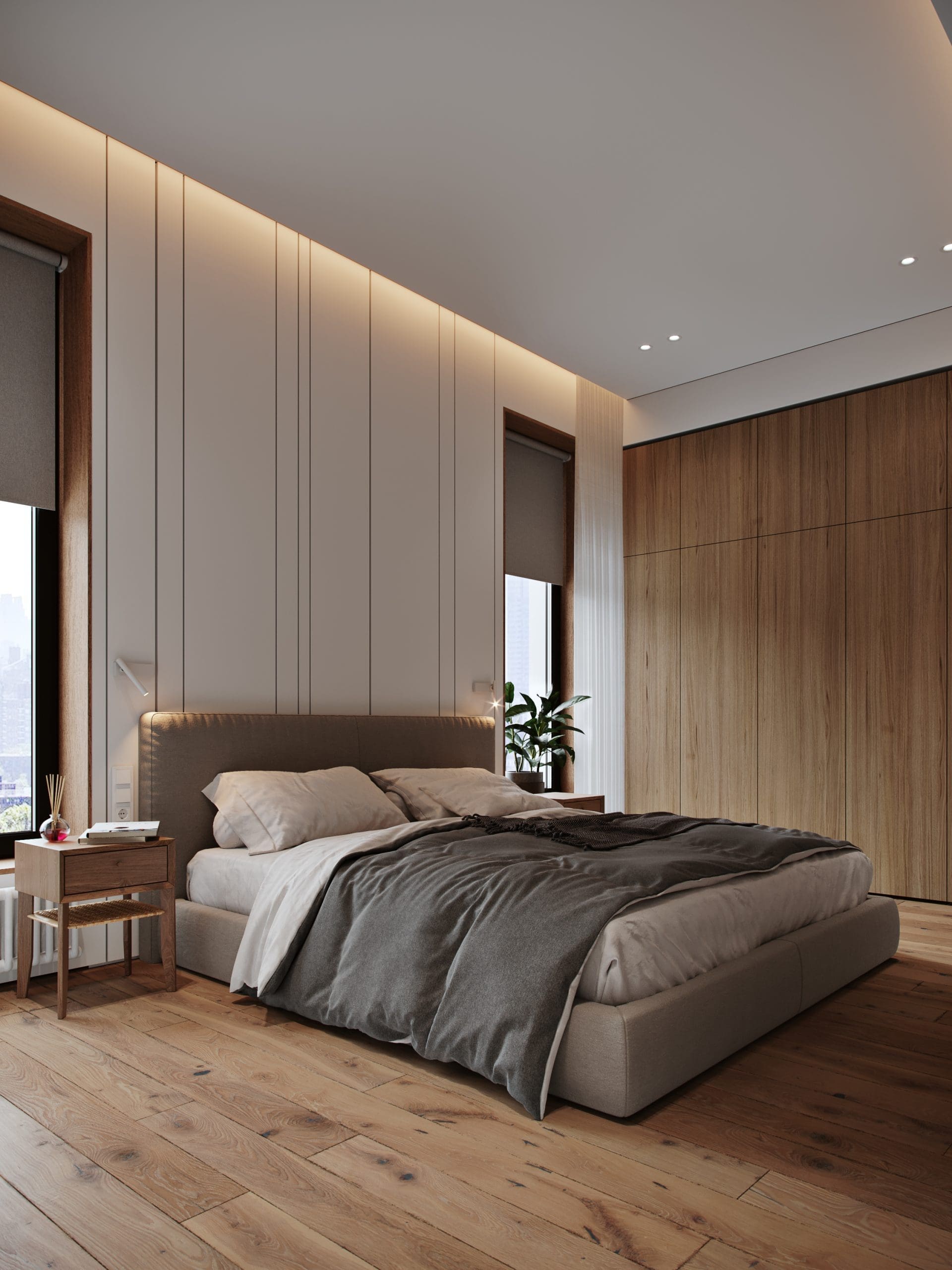 PHOTO: HĀLŌ STUDIO, KIRILL VIL & RHYME TEAM
7. Coffered POP Bedroom Ceiling
A coffered ceiling is an ever-popular false ceiling design that has been around for centuries— tracing back to ancient Romans.
It is known for its squared series of sunken panels, although coffered can also come in an octagonal or rectangular shape. This type of ceiling can be constructed with POP, rigid PVC (plastic), and softwood.
PHOTO: WHITTNEY PARKINSON
8. Leafy Bedroom POP Wall Design
This artistic detail can make a real style statement on your bedroom wall. It makes an excellent POP wall decoration as it adds a touch of nature and texture to the space. So, give your bedroom a charming vibe with this leady wall detail.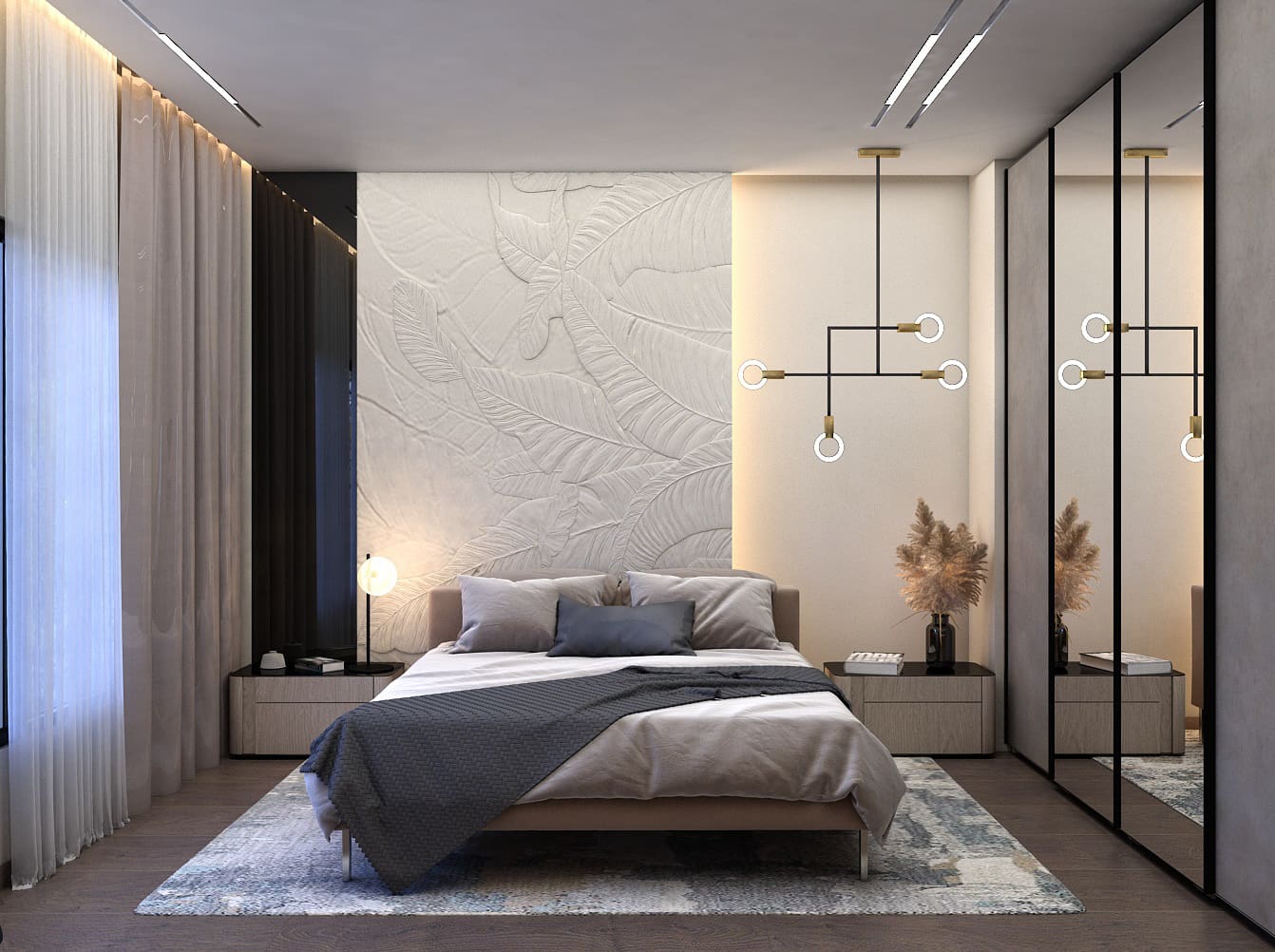 PHOTO: ĐỨC HOÀN
9. Simple Bedroom POP Wall
Simplicity is subjective, thus, could mean any myriad of things depending on individual style and preference. Most simple ceilings feature a stark white simplistic design because it is versatile in the sense that you can redesign the room time and time again without having to alter the ceiling design.
PHOTO: RANA HASSAN
10. Bedroom POP Ceiling with Vertical Wall Panels
Vertical wood panels are POP ceilings are two features that can bring dynamic contemporary design to any room. Wood exudes warmth and coziness while adding an irresistible charm and sophistication to the space at the same time.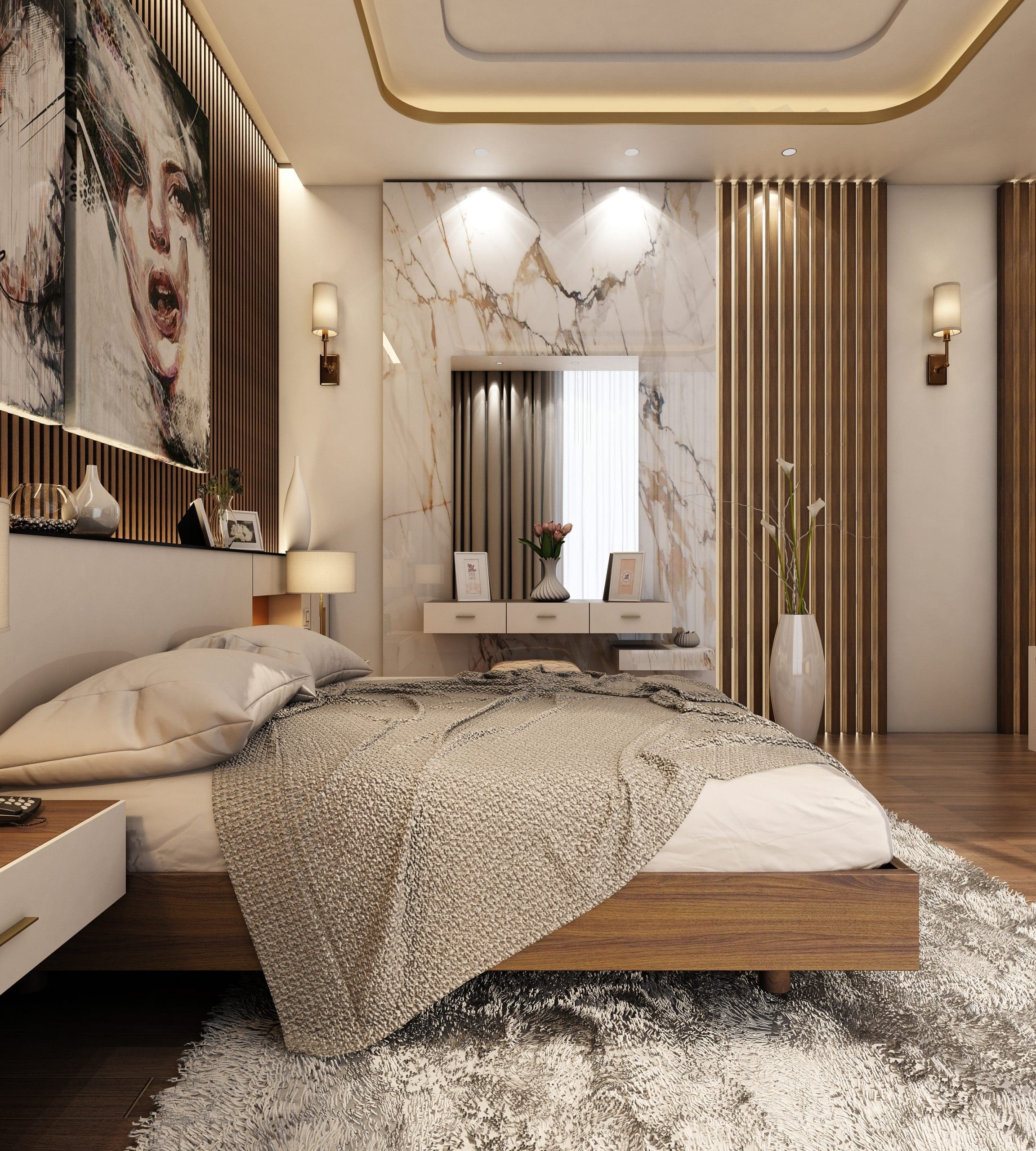 PHOTO: AHMED YEHIA
11. Dropped Bedroom POP D
esign
The dropped-style bedroom simple pop design is a common style that looks like a portion of the ceiling is lowered down. This adds an unexpected aesthetic and lively sophistication to the bedroom.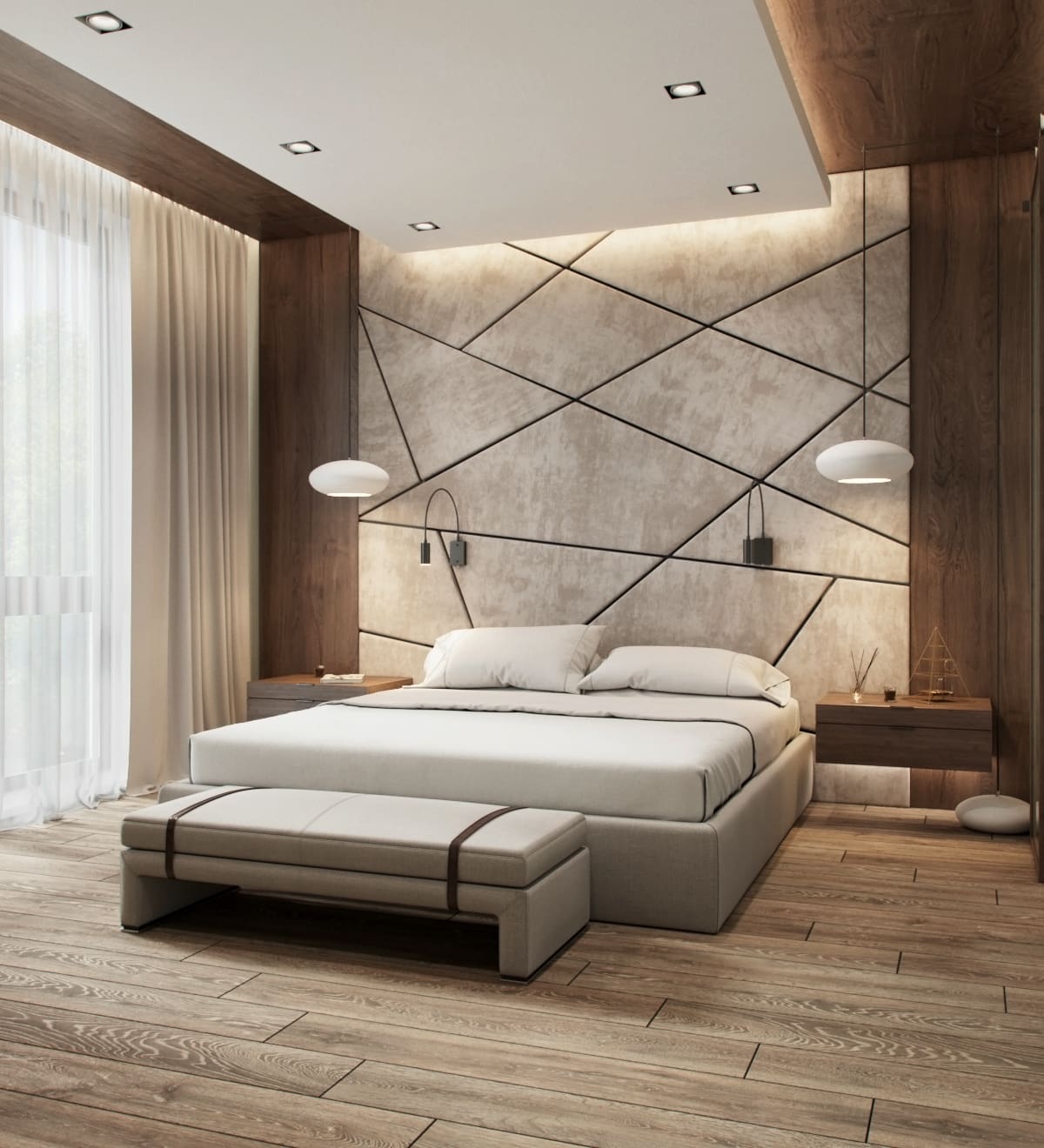 PHOTO: EGOR IGNATIEV
12. Layered B
edroom Simple POP Design
The layered tray-like pop simple design for bedroom adds a perceived sense of height to the space. It also adds architectural interest and visual depth which makes it a popular choice for homeowners.
PHOTO: FATMA NUR MİLLETSEVER & ZERO POINT MİMARLIK&İÇ MİMARLIK
13. Simple POP Headboard Design
Fabric upholstered wall-mounted headboards have prevailed for a long time but they are not as durable and sturdy as a POP headboard. These add more artistic interest to the space and will instantly add zing to any modern bedroom.
PHOTO: BASEL AHMED
14. Statement POP Headboard Design
You can also make a big statement with your POP headboard by opting for an intricate statement-making design. This will add a spectacular element and will serve as the ultimate centerpiece in the bedroom.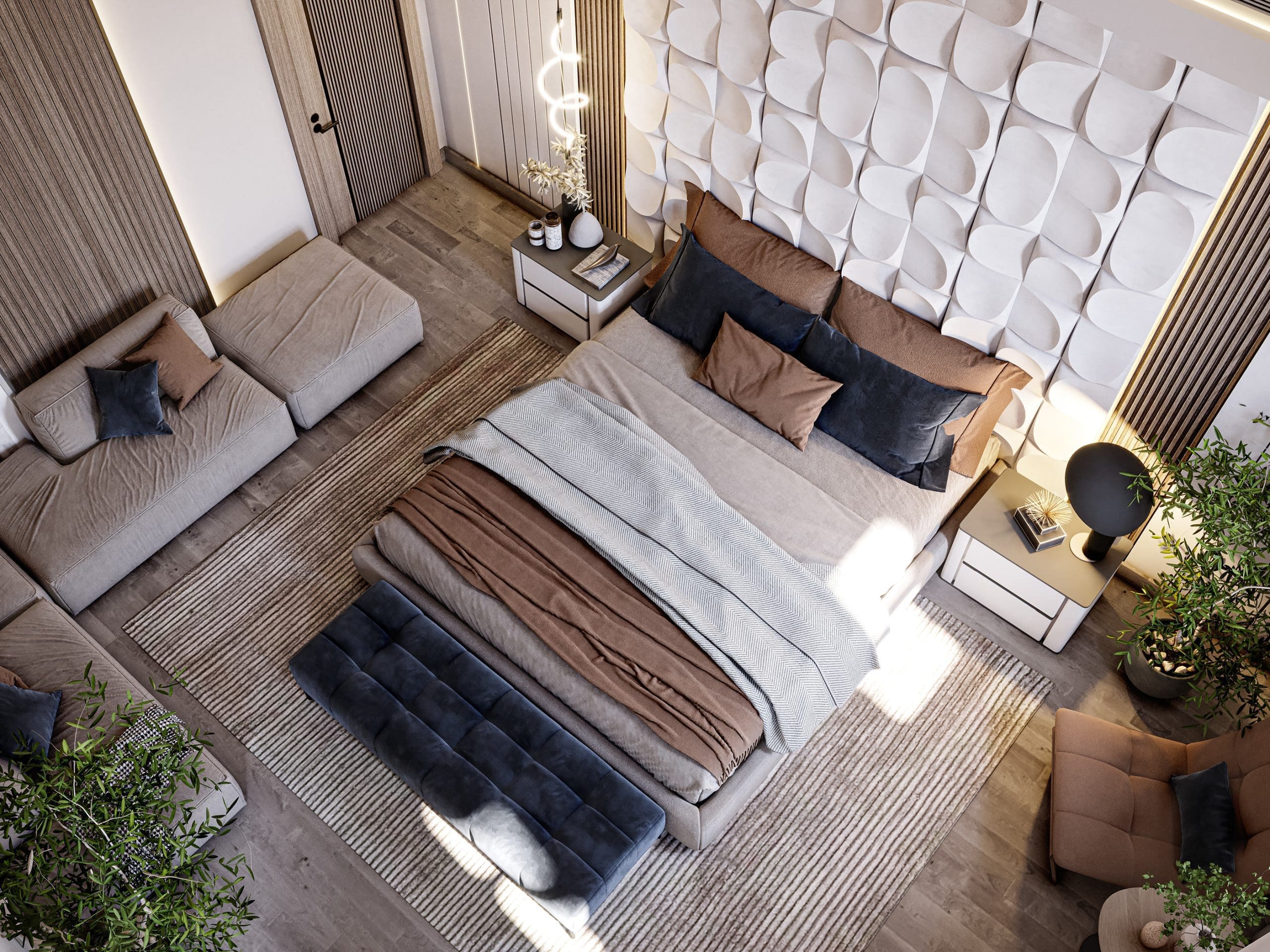 PHOTO: HAGER A-MOUSSA
15. Black and White Luxury Bedroom POP
Most interior ceilings are crisp white, so why add black to the mix? Black is a classic hue that adds elegance and visual intrigue to a space.
Adding a hint of black to your simple pop design for bedroom can give it an aesthetic flair and is a great way to way to liven up plain white ceilings.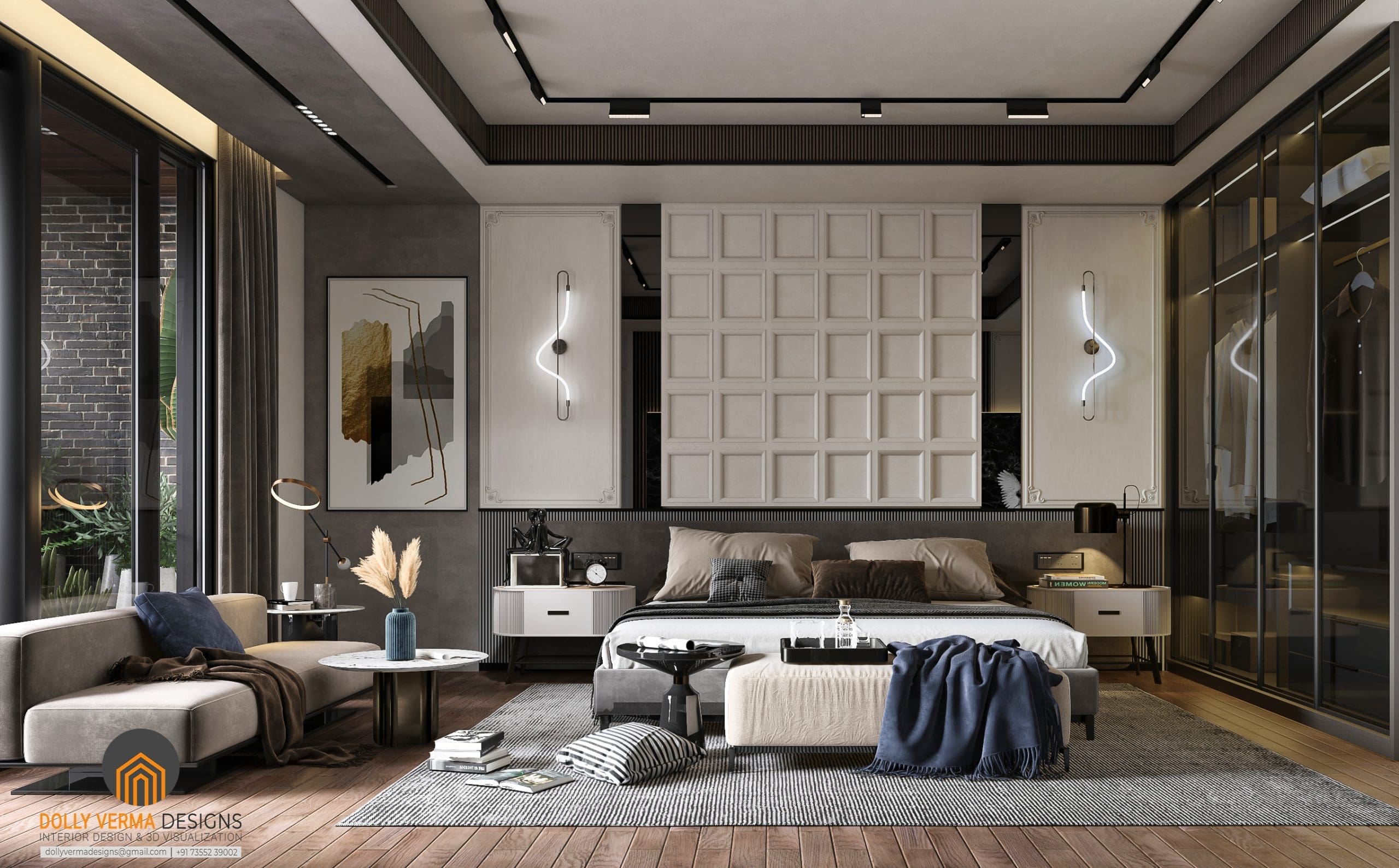 PHOTO: DOLLY VERMA DESIGNS
16. Square Bedroom POP Ceiling Design
A square or boxed POP ceiling is probably one of the most common pop designs for bedrooms. Do not be tricked by its simplicity as it can instantly amplify the room's overall aesthetics.
PHOTO: ABDULLAH BAGHDADI
17. B
edroom Modern Simple Pop Design
Modernism is characterized by clean lines and simplicity. This involves the use of reductive design elements and clean neutral palettes. Simplicity and minimalism are finding the right balance between too much and too little.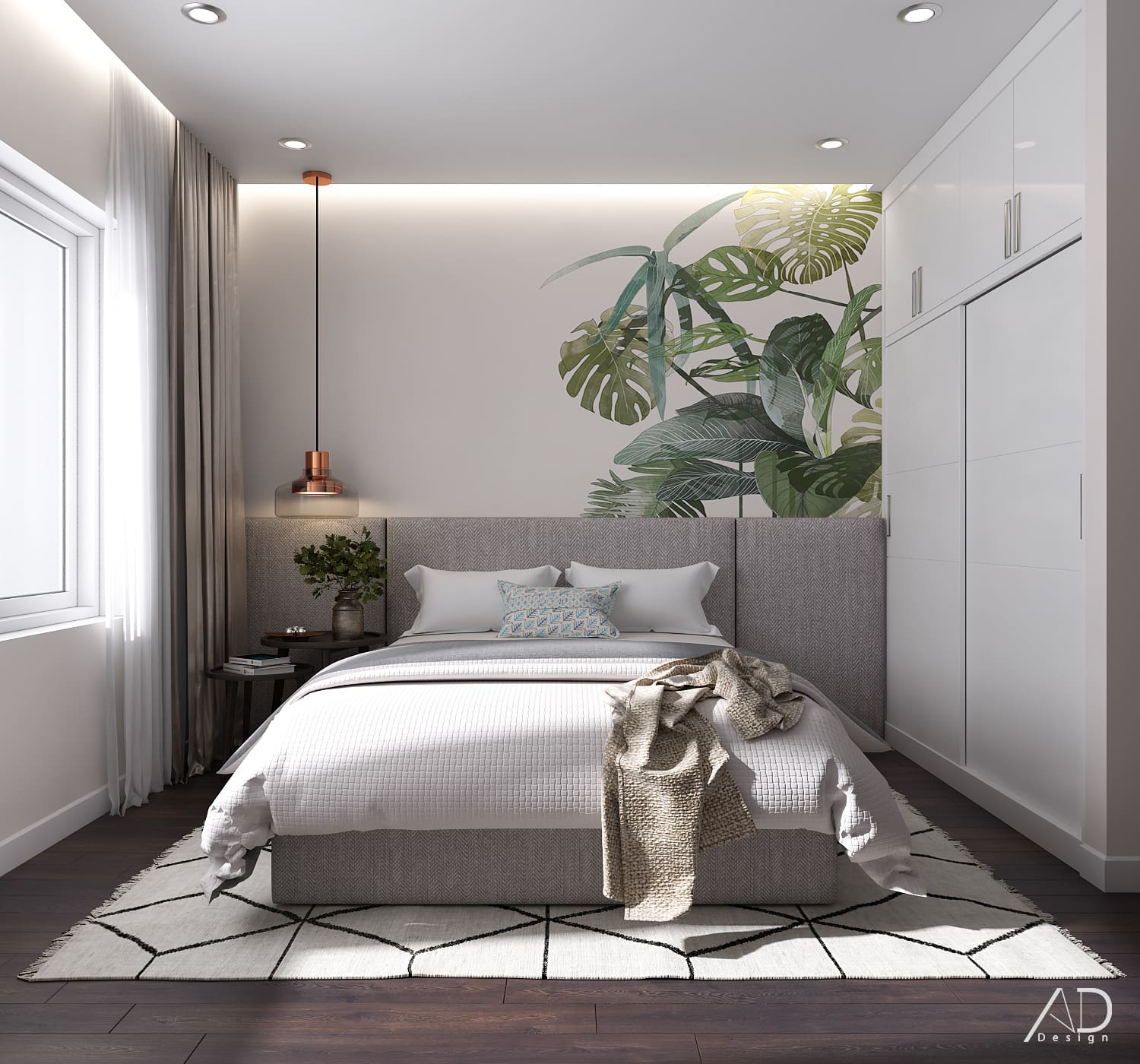 PHOTO: AD DESIGN STUDIO 
18. Kids' Bedroom POP Wall Design
Since the plasters of Paris powder can be molded in an endless array of shapes, POP makes a great addition to kids' bedrooms. Whether it's installed on the wall or ceiling, it can be used to create a fun and lively theme that kids will find intriguing.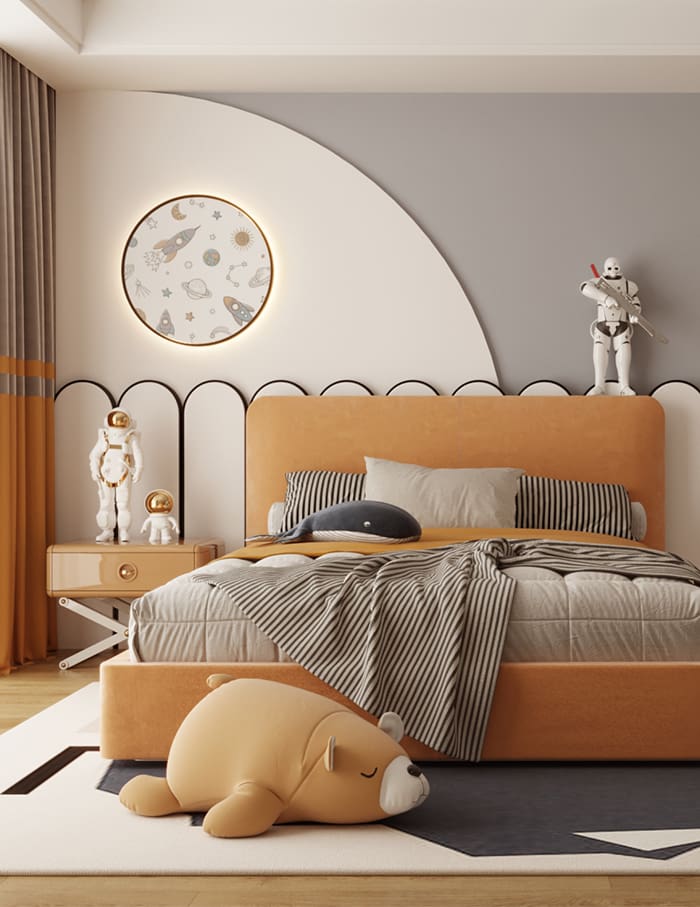 PHOTO: APARNA KAUSHIK DESIGN GROUP
19. Painted Tray Bedroom POP Ceiling
An easy way to make a standard tray POP ceiling design stand out is by painting the inner side of the ceiling an accent color. This evokes a strong sense of character and personality. Although, it is a daring approach that most people may shy away from.
PHOTO: CORTNEY BISHOP DESIGN
20. Cornered Bedroom POP
A subtle way to introduce POP and a pop of color into your space is placing it on a corner and letting it run down to give it a floor-to-ceiling aesthetic.
This will create a subtle feeling of warmth and a strong sense of style in a space. It will also save you some dough as this technique costs less than most pop designs for bedrooms.
PHOTO: LESTAD STUDIO 
21. POP Textured Bedroom Half Wall
A halfway beside the bed can enhance the coziness of the space. This is not a conventional approach but the sky is the limit when it comes to pop designs for bedrooms. Texture has become de rigueur in today's interior sphere. This is a great way to introduce texture and character.
PHOTO: KAMRAN NASIBOV
22. X-Sign Bedroom POP D
esign
POP ceilings have a significant influence on a space that even a simple X sign add extra pizzazz and a focal point to the space. This easy-to-execute design packs a big punch and can reignite a boring space.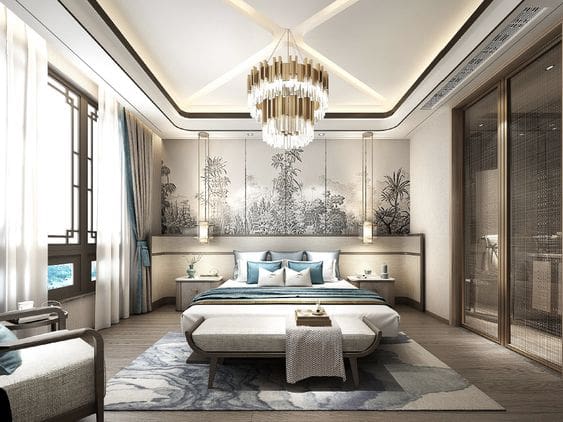 PHOTO: GRAND MIRRORS
23. Ceiling-to-Wall POP D
esign for Bedroom
A design-savvy bedroom POP is that which runs from the ceiling all the way down the wall. This is a clever way to create a focal point and draw the eye up. This is a simple pop design for bedroom that is far from boring or lacking interest.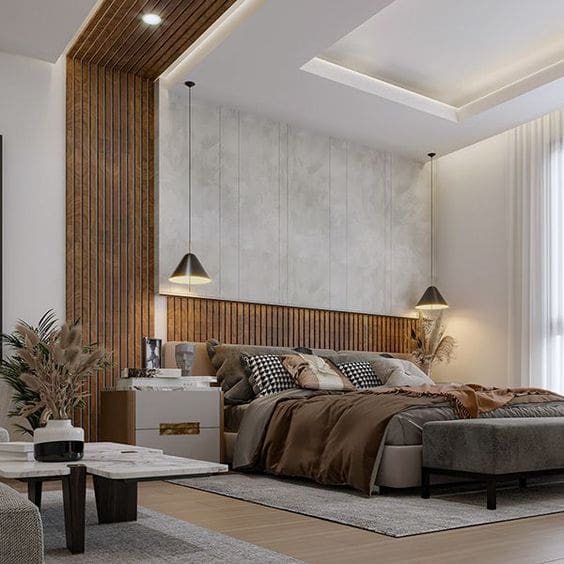 PHOTO: PINTEREST
24. Triangular Bedroom POP Design
Considered to be one of the legends of geometric design, a triangle is also a statement-making shape for a bedroom modern simple POP design. It is subtlety striking— making it ideal for contemporary bedrooms.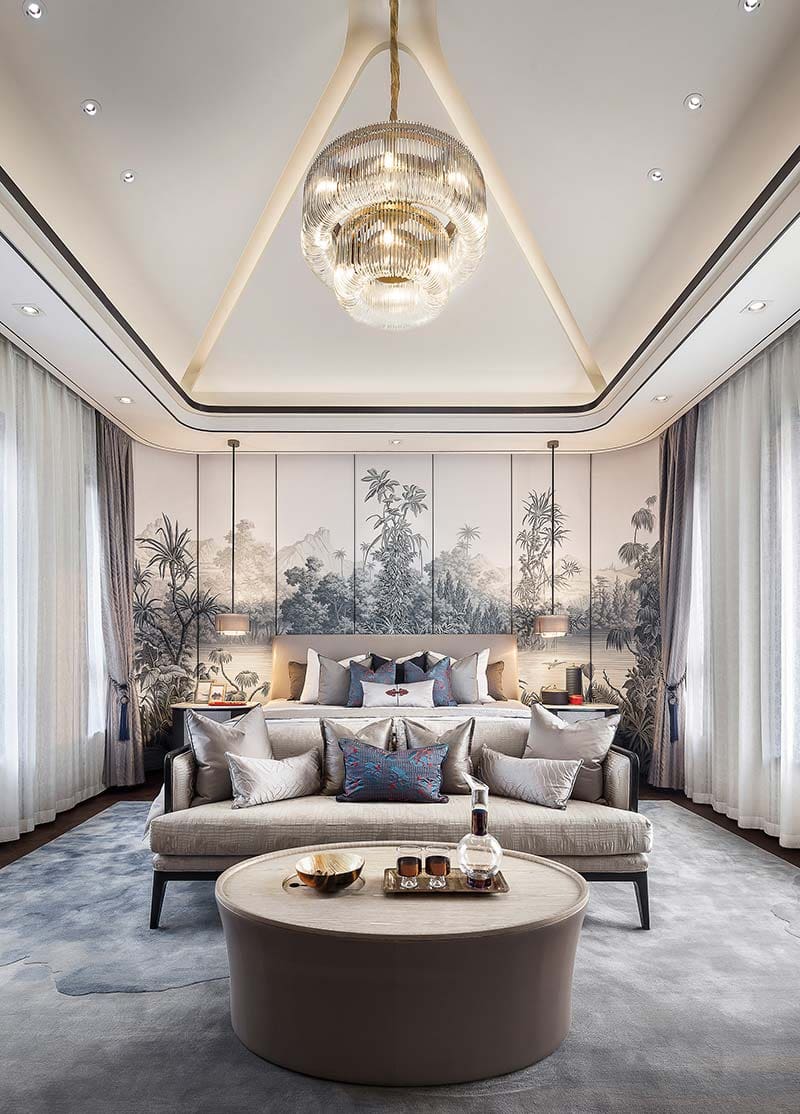 PHOTO: GRAND MIRRORS
25. Circular Bedroom POP Design
Circular false ceiling designs tend to stand out more in comparison with traditional square and rectangular false ceilings. This modern bedroom ceiling design brings about a certain depth to the spatial vibe of the room adding a new dimension to the visual aesthetics.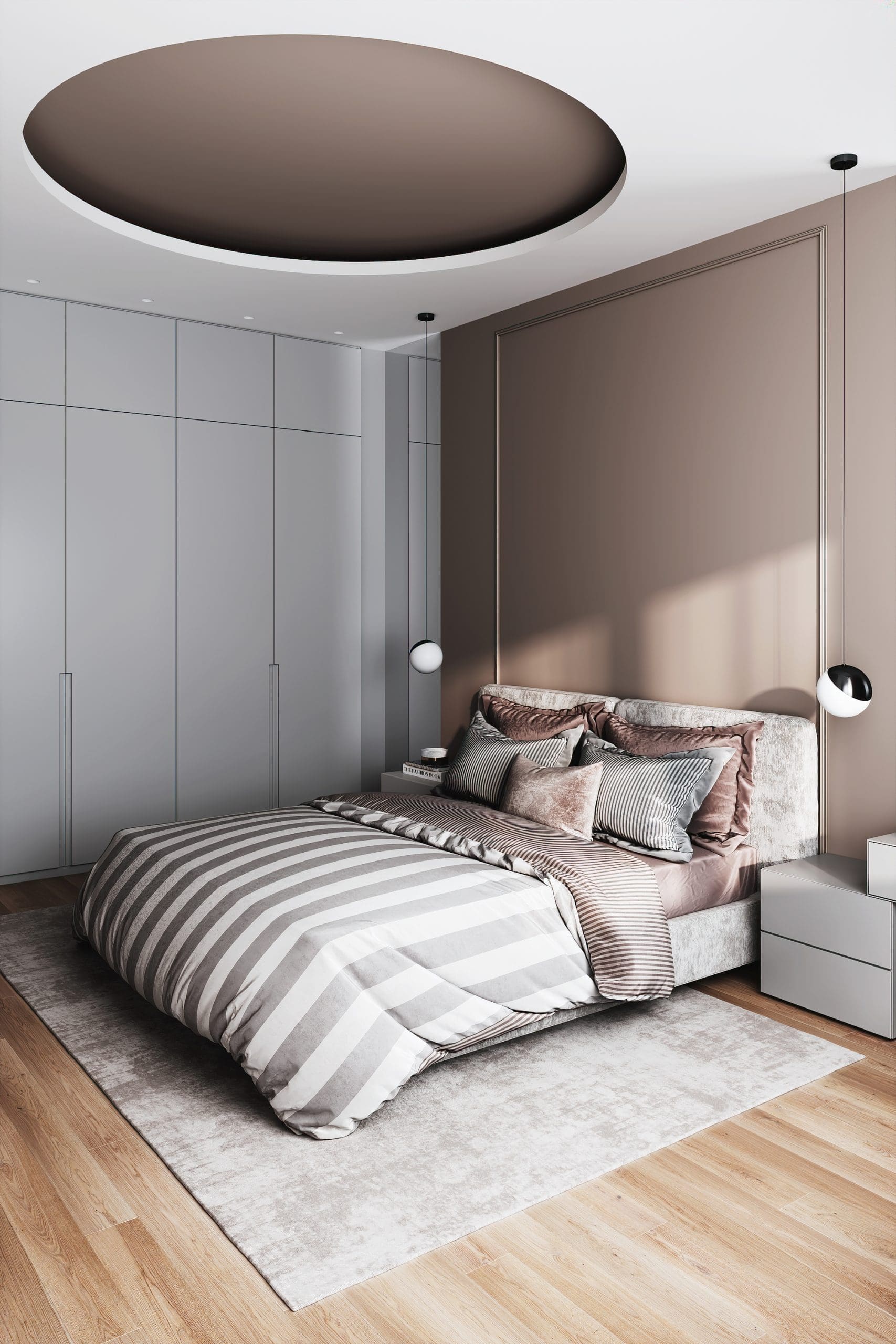 PHOTO: PINTEREST
26. Pop of Color Bedroom POP Design
Accentuate your bedroom with a pop color through your POP simple design for bedroom. Consider adding a pop of accent of color to an area that needs some energy to liven it up. Interior experts advise homeowners and decorators to use a single accent color throughout the space.
PHOTO: VASTU AARAMBH
27. Arched Bedroom POP Wall
An arch in architecture is a curving opening in a structure that is designed to distribute weight. In interior design, they are used to draw interest to a space and also serve as an accent wall.  A uniquely carved arch wall designed with POP can add style, dimension, and texture to a space.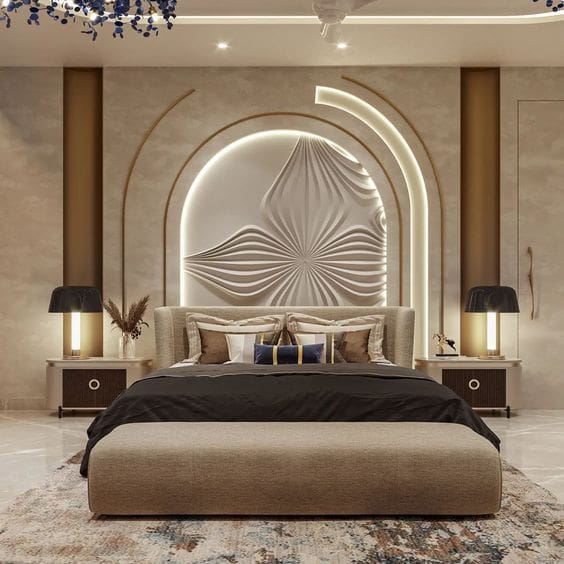 PHOTO: PINTEREST
28. Geometric POP Design for Bedroom
A geometric POP design is an effortlessly stylish and modern way to add character and visual intrigue to any room. A geometric pattern is essential in the quest for balance and harmony in interior spaces.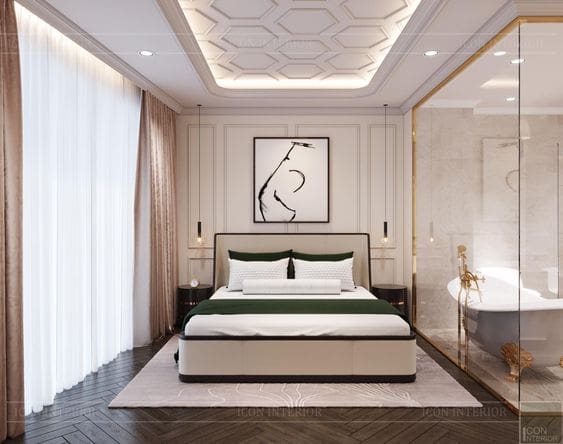 PHOTO: ICON INTERIOR STUDIO
29. Tray Bedroom POP with Black Trim
The tray is one of the popular pop designs for bedrooms for good reasons. Stark-white ceilings can be offputting and bland in some spaces. Liven things up with a black trim!  This simple feature can create an overall much more stylish aesthetic.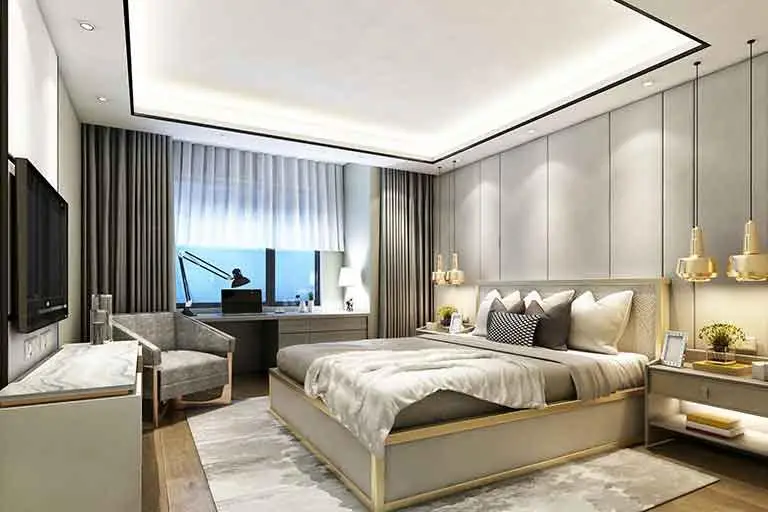 PHOTO: PINTEREST
30. Above Bed POP Design
A POP false ceiling can be used to highlight certain features in a space, such as a bed in a bedroom. This design adds a grand gesture to the space, thus, creating a focal point.
PHOTO: PINTEREST 
31. POP and Wood Bedroom Ceiling
Wood has a plethora of advantages and this is why they are sense in every home today. They add the perfect warm accent and enhance the natural feel of a space. Wood is a great pair for POP as it gives the finished look a modern edge and character.
PHOTO: KF DESIGN STUDIO
32. Fan Bedroom POP Design
The fan is a fast-rising POP design for bedrooms because it is virtually interesting and serves as the perfect backdrop for the fan. This element is also a statement-making feature that can enliven an otherwise neutral space.
PHOTO: PINTEREST