10 Minimalist Dining Room Decor Ideas
Dining room trends have evolved over the years, whether your dining area is placed in your living room or kitchen, it is essential that it has a touch of class and complements the style of your home. The dining area is a multifunctional space in the home, where we dine, entertain, hold meetings, and even work.  According to Coco Chanel, "Simplicity is the keynote to true elegance". We agree! as less is more indeed with our ten picks for contemporary and minimal dining room inspirations. Whether you want to renovate or add stylish touches to your dining area, these dining room decor ideas from talented interior designers will help you achieve that perfect look that is chic and achievable.
  1. Family-Friendly Dining
This bright and minimal dining room is simple yet inviting and it is an ideal contemporary dining space for a family home. The dining set complements the flower vases and pendant light fitting. When decorating your dining room, focus on the details of the lighting and decorative pieces. Home remodeling contractors such as Everhart Constructions can help you create that perfect family-friendly dining.
Source – Monisa Rosa Architecture
  2. Statement Lighting
This sensational dining room is very detailed and undeniably sophisticated. Creating a statement with three identical golden cubes pendants gives the space an ultra-modern feel and shows how much impact good lighting will have in a room. The coordination from the dining sets, wallpaper, and decorative pieces is applaudable. Home remodeling contractors such as Everhart Constructions can help you create that perfect dining. You can also decorate your room with decorative party lights.
Source- Marilia Zimmermann
  3. Bright and Simple
This bright dining room stands out with its beautiful terrace view. The centerpiece on the dining table, light fixture, and plant coordinate easily. It is a great dining room idea for a small space. Style isn't determined by size, with modern furnishings and neutral tone, this dining room is simply elegant and clean.
Source- Tatjana Home in Happiness
  4. Multi-Functional
This elegant dining room is minimal yet very stylish. The dark blue walls add a bit of color to the room and the marble blends perfectly into the theme. This is a multi-functional dining space that is great for working and studying because the lighting is layered perfectly and it looks tranquil. A pendant light is a brilliant way to make a statement in a minimal dining room.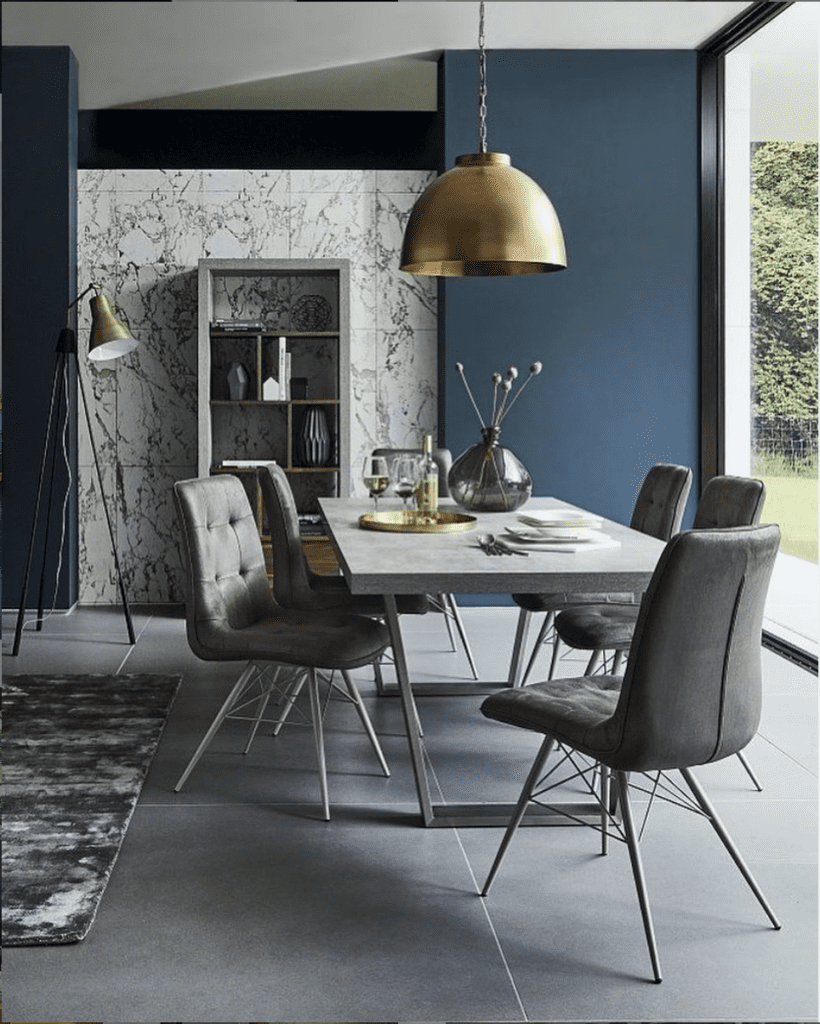 Source: Future Modern Home
  5. Contemporary Minimalist
This is a very stylish dining room with a stunning light fixture and cool decorative flower pots. There is so much creativity in one space and 'sophisticated' is just one way to describe this dining room. This room is very contemporary but notice how the metal brown flower pots stand out? With a neutral dining set, you have the opportunity to make a statement with your light fixtures and centerpieces.
Source- Rubia Viera Interiors
  6. Clean and Airy
The stylish room doesn't have to be colorful, this dining look is ideal for a penthouse or a simple contemporary apartment. This dining room interior proves that you don't always need a lot of decorative pieces for your dining room, investing in simple and elegant dining tables and chairs can instantly transform your space. Whether it is a tulip coffee table or a big family-sized dining table ensure you keep in mind the space you want to have, never forget less is more.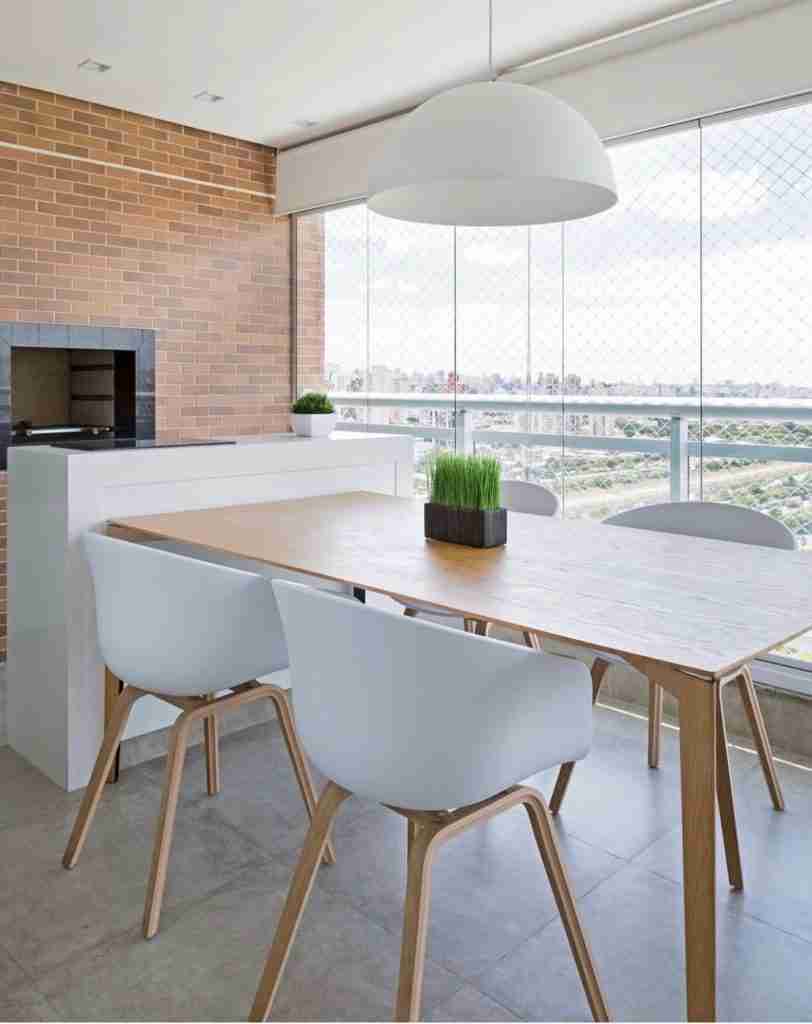 Source – GF Projects
  7. Monochrome Dining
Monochrome themes are timeless. This spacious dining set is simple and unique, it also complements the glass windows and the copper shade light fixtures add a touch of style to it. It is very minimal and the details are played in the fancy pendant light and the dining set itself.
Source- Art Department Styling
  8. Simple and Sophisticated Dining
The contemporary and stylish dining room is a work of art, just beautiful to look at !! Avoid the temptation of overcrowding your dining area, the neutral color dining set is the most used for modern space because it gives you an opportunity to add statement lighting to your space and it doesn't seem overwhelming. This room is a great inspiration for minimal dining room interior design.
Source- Dudi Duarte Architectures /Interiors
  9. Minimal Custom Cabinets
This bright and minimal dining room is very stylish with its white and brown color scheme. The light fixture design is simple and complements the overall look of the room. This dining space is also placed by the outdoor area which allows the natural light to come in, and it is ideal for keeping the room fresh.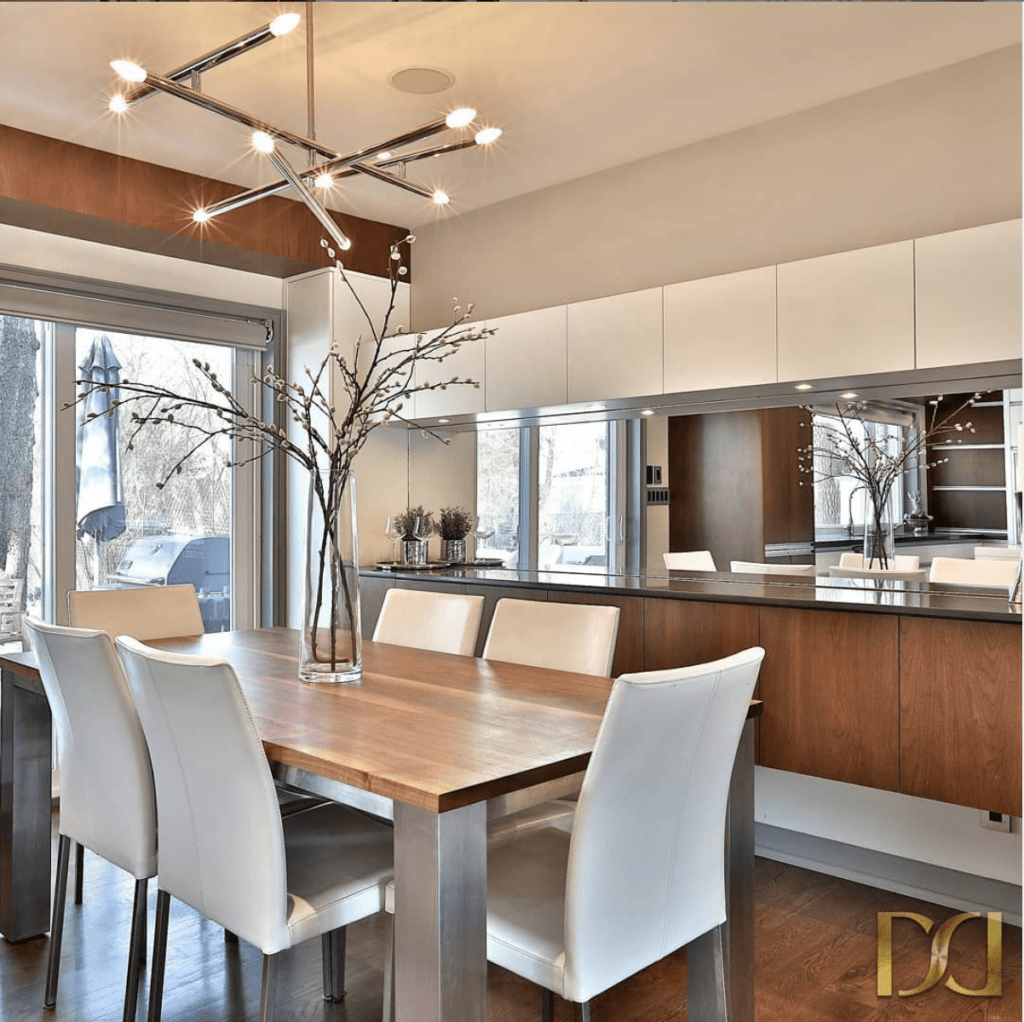 Source- DS Design-Build
  10. Spacious Dining
This dining area incorporates the main canvas of clean and simple lines and textures. The white dining chairs with wooden legs and the wooden table is simple and chic. The white and blue wall arts blends perfectly in the room and the jug flower vase adds a bit of nature and personal touch to the room.