20 Fence Paint Color Ideas
Is your garden fence desperately in need of fresh paint or do you want to redecorate your outdoor space? Painting the garden fence is one the easiest ways to add liveliness and a stylish flair to your outdoor space. Choosing the right fence paint color can instantly take your outdoor space from drab to fab.
For most fencing materials, a paint job will also protect the exterior from deteriorating due to environmental conditions and add more years to its life. This is an undemanding job that any competent DIYer can execute without professional help. Whether you have a concrete, wrought iron, or wooden fence, a fresh coat of paint can make a big impact.
Ready to give your outdoor space a new facelift? Here are the 20 invigorating fence paint color ideas to revamp your garden.
1. Pastel Blue
Pastel blue is a light blue shade that can give your outdoor space a fresh and spring-like vibe all year round. This garden fence paint color will make your space feel tremendously soothing and relaxing. If you're formulating a color scheme around sky blue, consider pink or yellow, especially in pastel tones.
PHOTO: FUTURE PLC /CAROLINE MARDEN
2. Off-White
White is a classic fence paint color and it is still very common in traditional homes. The drawback of crisp white fence paint is that it is highly prone to stain and may need repainting more often than other colors.
However, if you still want the sophistication and flexibility of white in the garden without the concern of stains, use an off-white shade instead. The advantage of using neutral colors for the fence is it will complement any garden color scheme.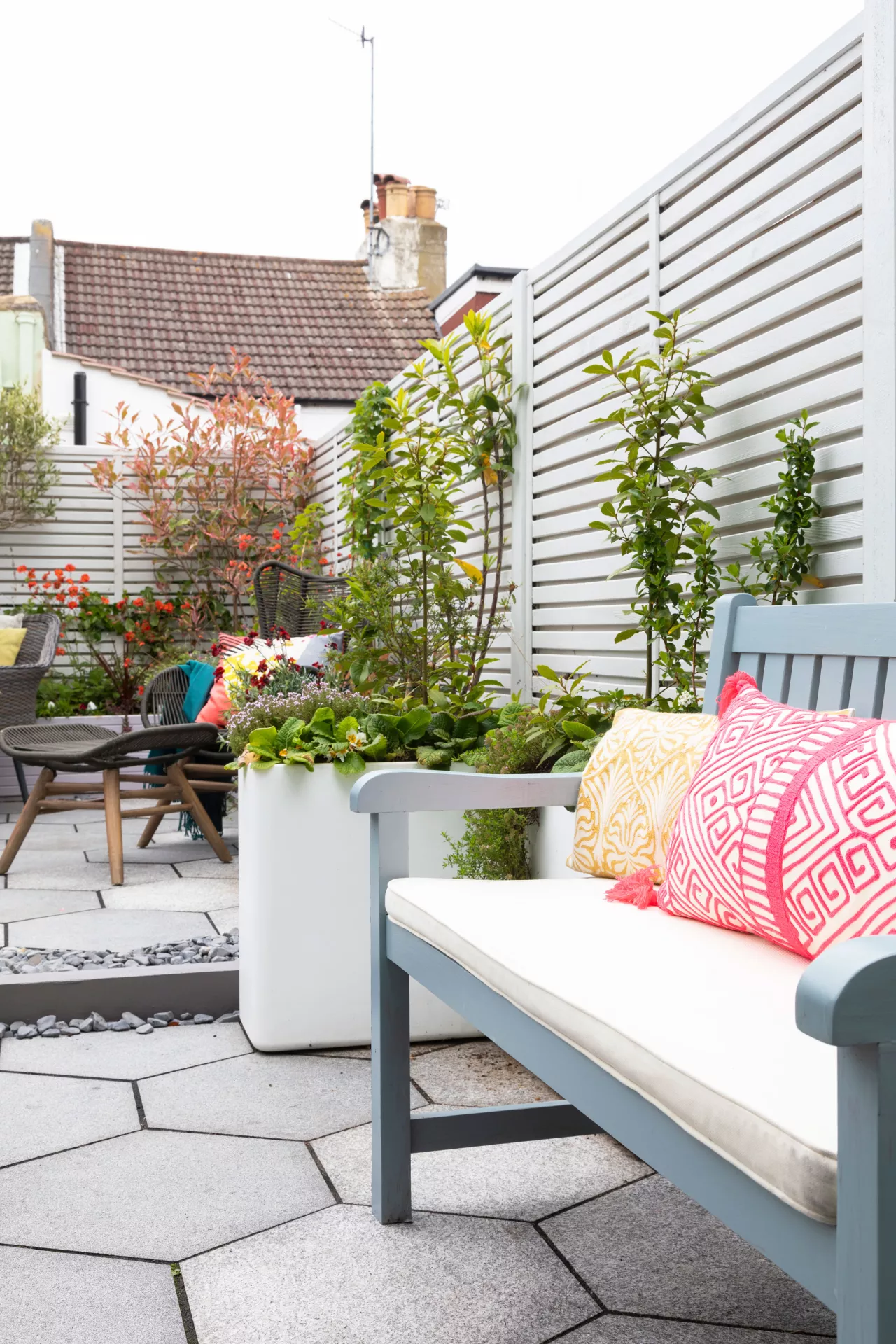 PHOTO: FIONA WALKER ARNOTT 
3. Light Blue
Lighter shades of blue give a calming viewer's impulse. Light blue is also versatile and easy to work with in the backyard. Not only will it brighten and give an impactful edge to your garden but it will also give it a strong sense of style. Use light blue sporadically in your outdoor space to create a tranquil and relaxing oasis.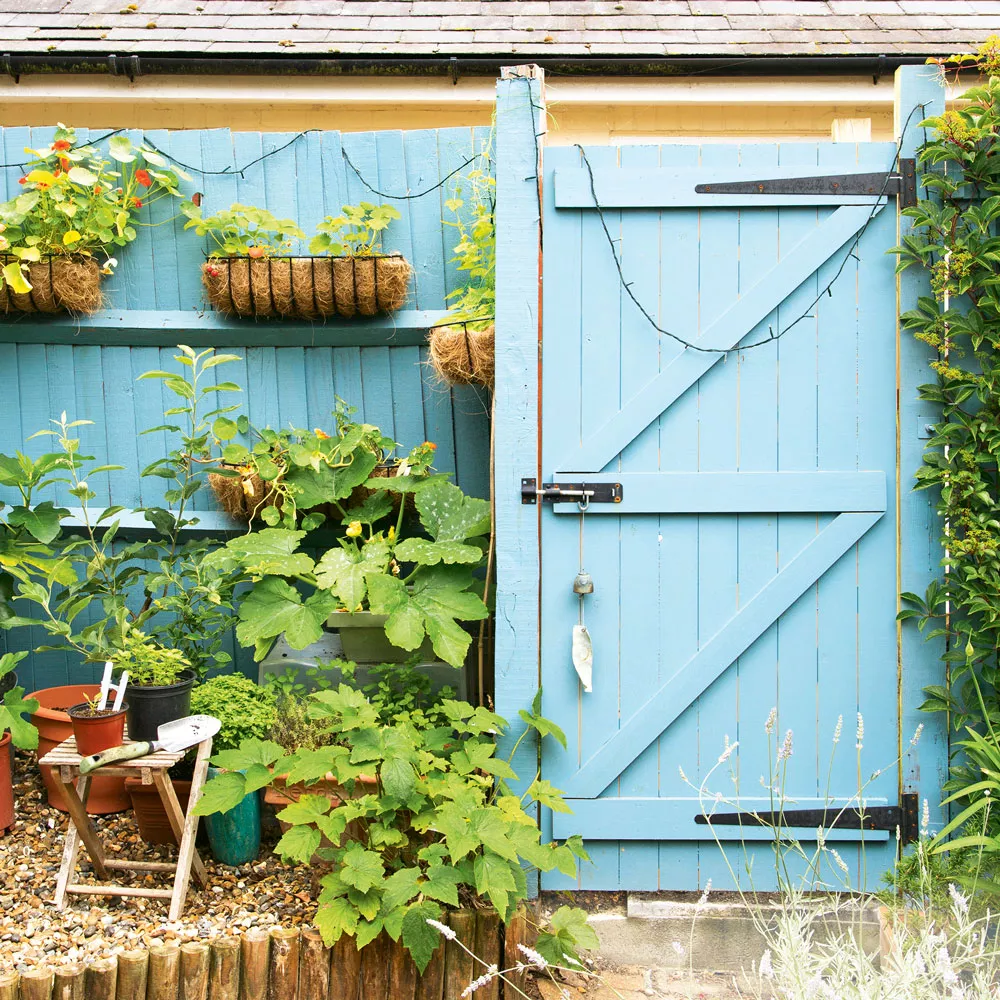 PHOTO: FUTURE PLC/ DAVID GILES
4. Grey and Mint Green
A  fence paint two color combination can bring a dynamic design to your space. It adds more interest and character to a space than a one-color fence. Grey and mint green is a muted and invigorating pair that will put a contemporary spin on your backyard.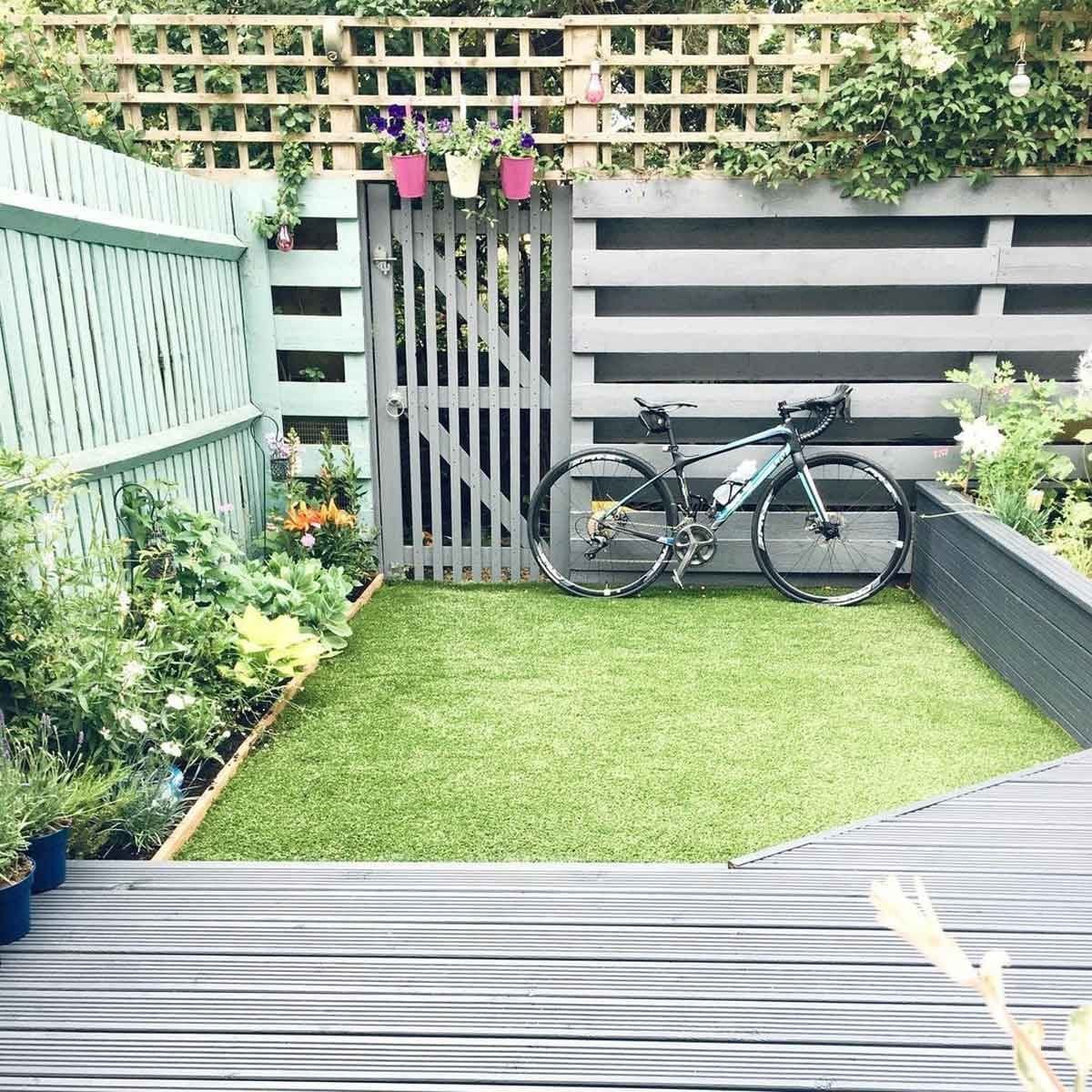 PHOTO: FAMILY HANDYMAN
5. Pale Lilac
There is a delicacy and calming quality in pale lilac that makes it ideal for the garden. This color is sure to lend an exquisite look to your outdoor space. Since it is the color of lavender and lilac flowers, it will add a refreshing floral touch to the space.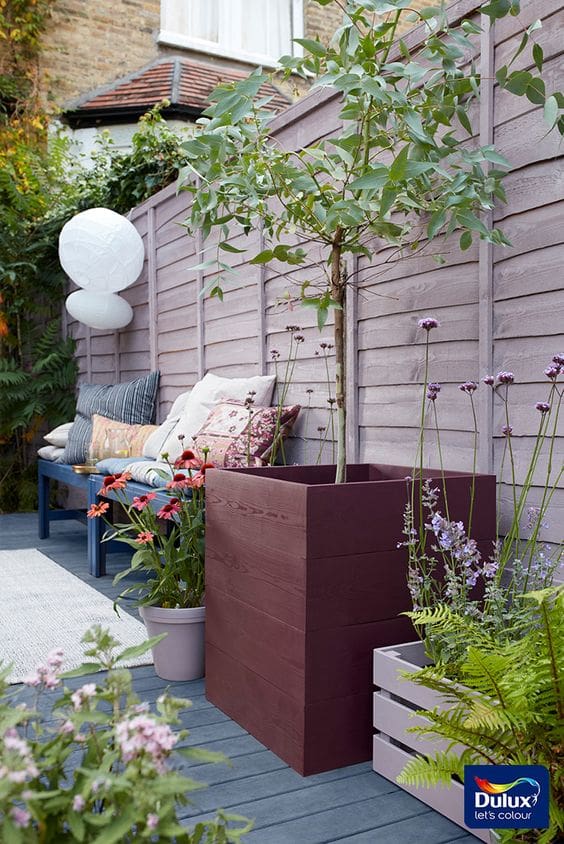 PHOTO: DULUX 
6. Steel Blue
If you take a tour of most modern homes, you will find steel blue in the fences or garage doors. This timeless color has a cold sensation to it like the metal steel.  A splash of steel blue is also a good way to inject elegance and a contemporary feel into your home's outdoor spaces.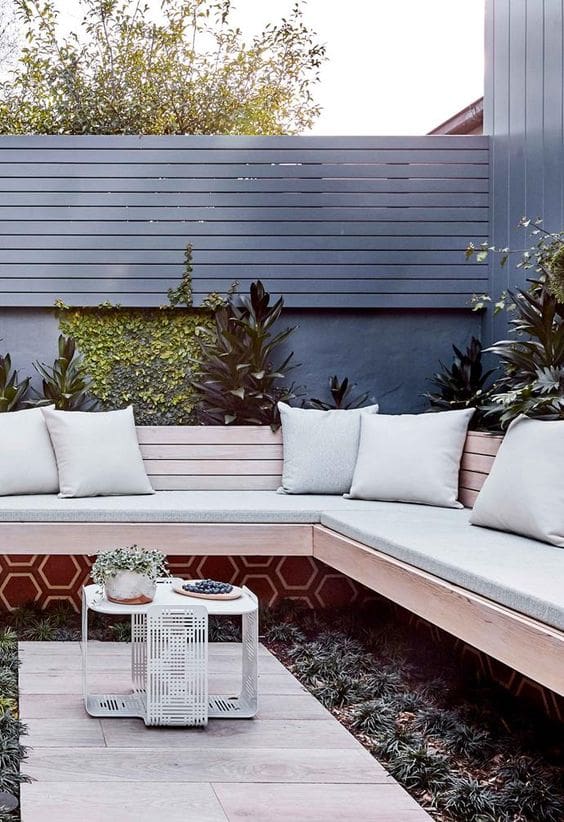 PHOTO: ADAM ROBINSON DESIGN
7. Light Grey
Light grey is an enduring neutral that never tires. It is one of the most versatile colors under the sun. There are so many shades of grey to consider to complement your garden scheme, from blue-grey to rusty grey— the possibilities are endless with this elegant and sophisticated hue.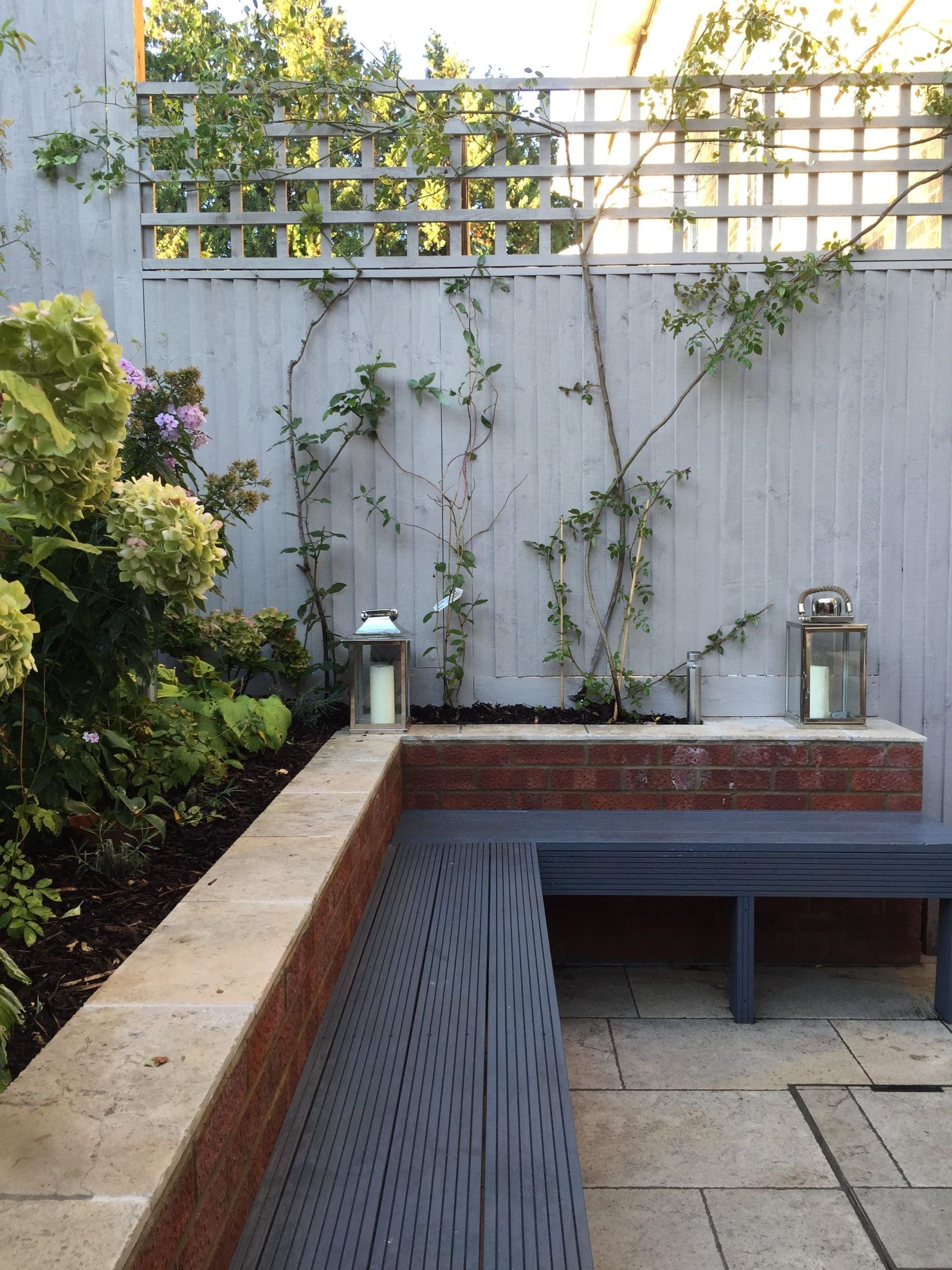 PHOTO: INSTAGRAM/MADEBYMELW 
8. Teal
Do you want to make an elegant and bold statement in your outdoor space? If so, then teal should be on your radar. It strikes a balance between stimulating and serene. The best colors that go with teal are orange, yellow, dusty pink, and beige.
PHOTO: LITTLE GREENE
9. Klein Blue
Most people want their gardens to feel like a holiday resort. There are many ways to do so but the first step is the fence paint color. Klein blue is ideal for creating an exotic and eclectic feel to your garden like that of houses in Chefchaouen Morocco.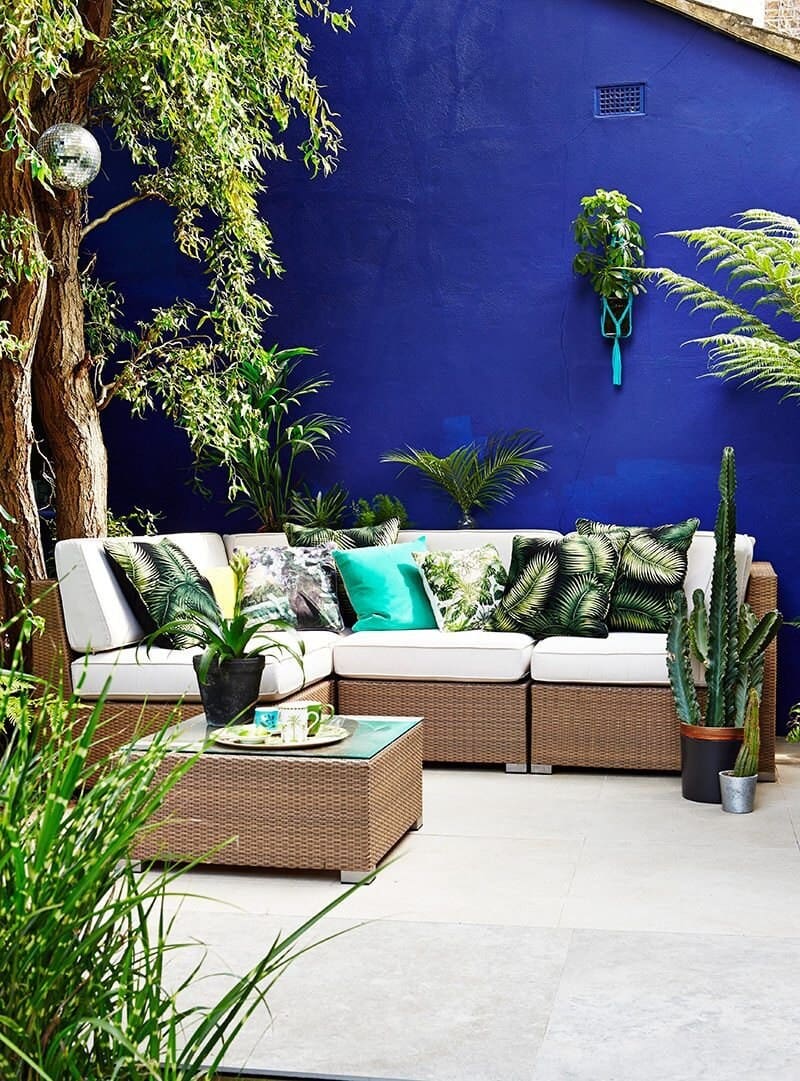 PHOTO: PINTEREST
10. Peach and Teal
Peach and teal are two colors that bring out the beauty of each other, especially in an outdoor setting. They sit on the opposite sides of the color wheel which makes them an contrast and complementary pair. This duo will create a cutting-edge look when used as a fence paint color combination.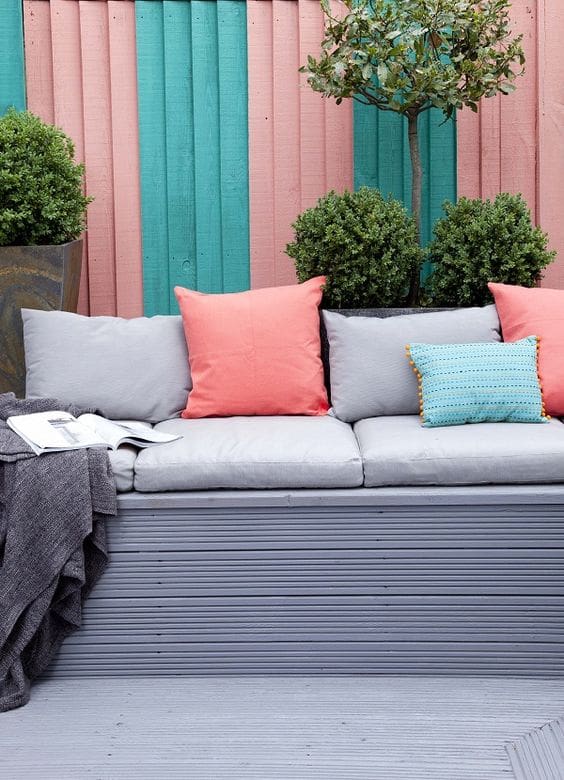 PHOTO: PINTEREST
11. Dark Blue
Blue is a calming and sophisticated color that is great for both interior and exterior spaces. Dark blue is chic, modern, and a versatile fence paint color. This color can dramatically elevate the aesthetics of your outdoor space.
PHOTO: JESSIE WEBSTER
12. Light Green
Greenery is always a good idea for gardens. Light green creates a calming and harmonious effect in just about any space. This is especially a superb fence paint color option for those who live in urban environments that have little to no greenery.
PHOTO: OLD BRAND NEW
13. Light Blue and Yellow
Yellow and light blue form a classic color combination that creates a welcoming atmosphere in backyard spaces. This pair can evoke character, spirit, and personality when utilized as a fence paint color.
PHOTO: ANGEL O"DONNELL
14. Red
Red is an invigorating and daring fence paint color but it can create a unique striking impression on outdoor spaces. It may not be for everyone but if you're a maximalist and want to add personality and drama to your space instead of following fickle trends then red may be perfect for you.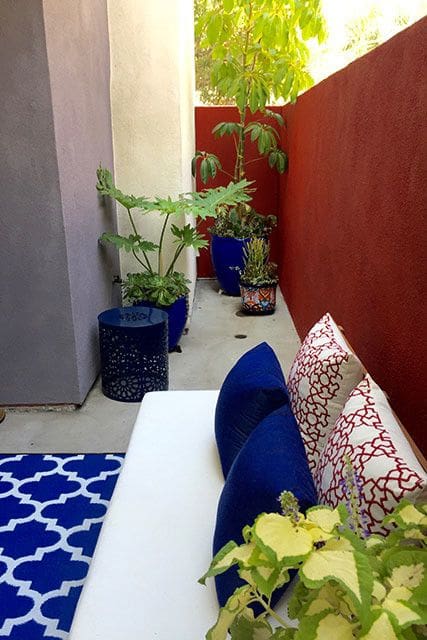 PHOTO: LONNY
15. Cobalt Blue
The color cobalt blue is popular in both interior and exterior design. It can add an understated vibrancy and charm to a garden. Cobalt blue is a crowd-pleasing fence color paint. Plus, it is a classic shade of blue that will complement a wide array of hues on the color wheel.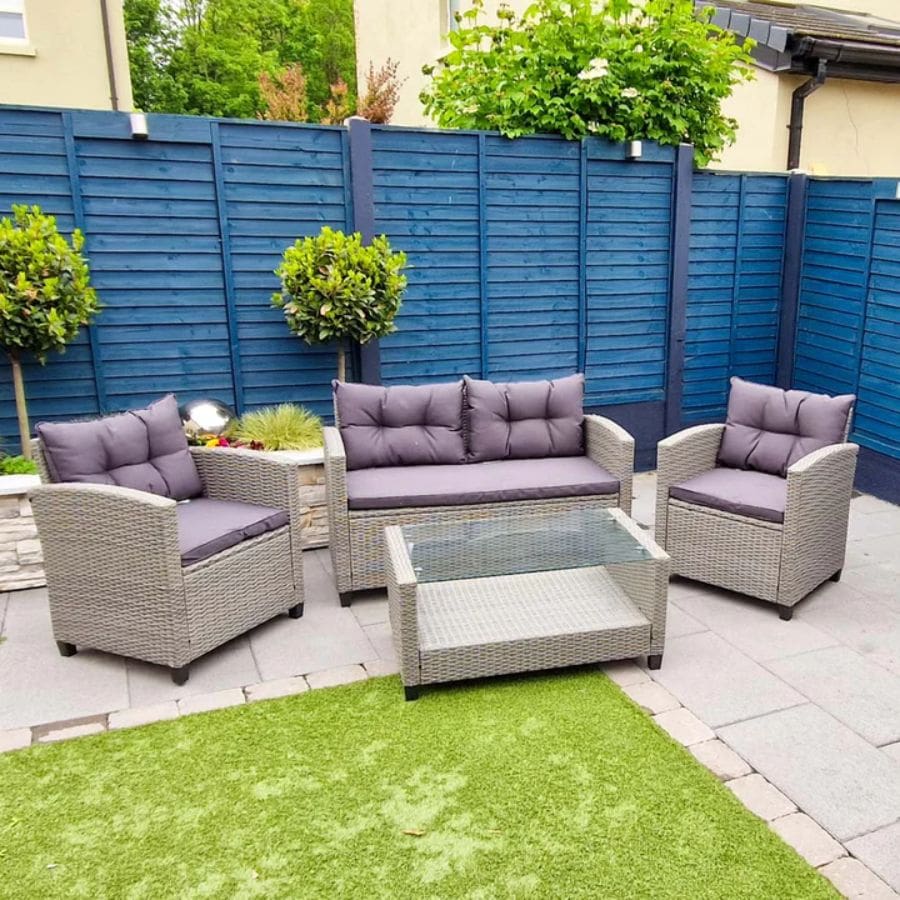 PHOTO: HOUSE PROUD FURNITURE
16. Jungle Green
Jungle green is a rich and saturated tone of medium spring green that can imbue your outdoor space with color and personality. It's a balance of simplicity and modernity and will make a visually appealing fence paint color.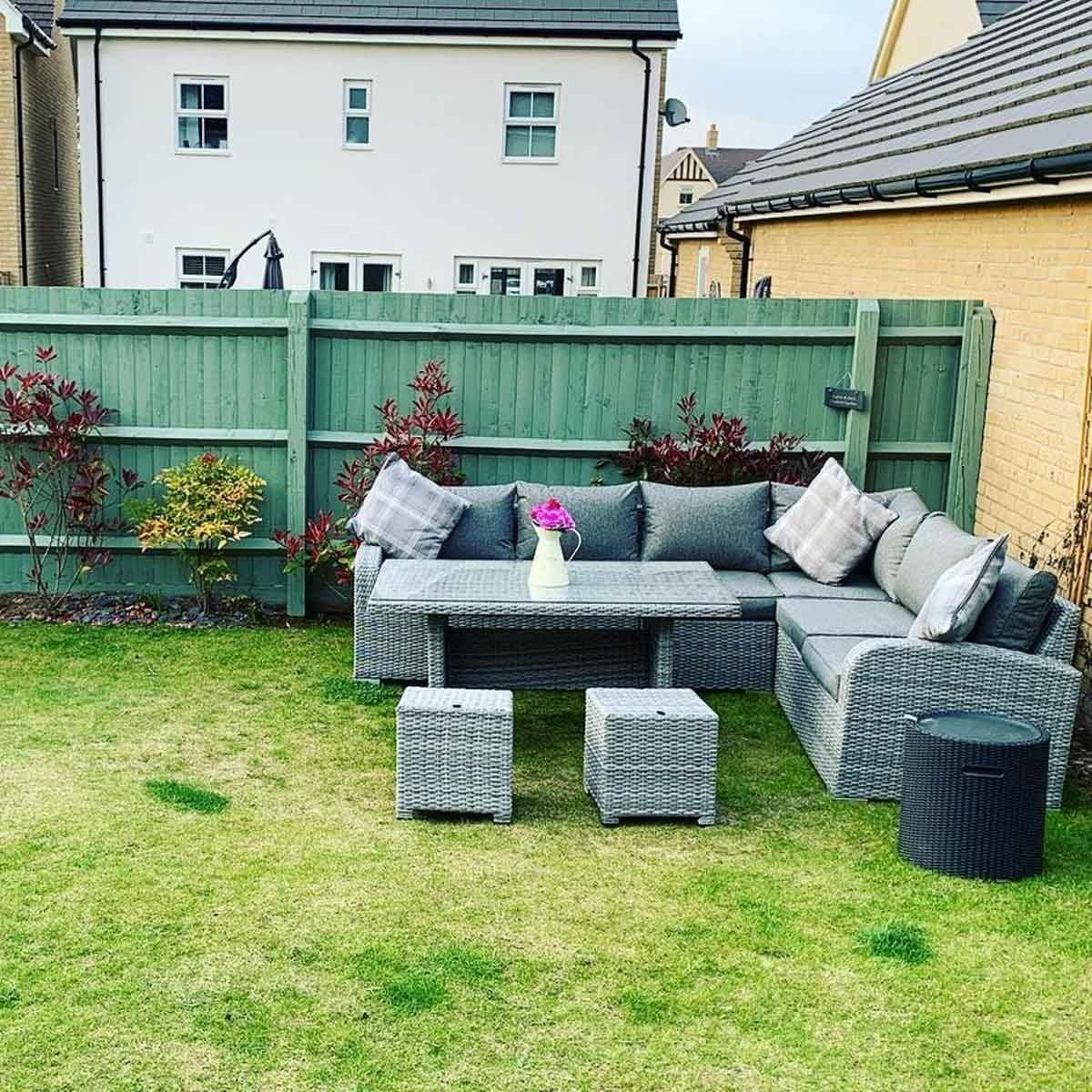 PHOTO: INSTAGRAM @@PRETTYPINKHEARTS1
17. Navy Blue
Navy blue is an impeccable fence paint color choice to play up the drama of outdoor spaces. Colors that go with navy blue are blush pink, yellow, grey, orange, and crisp white.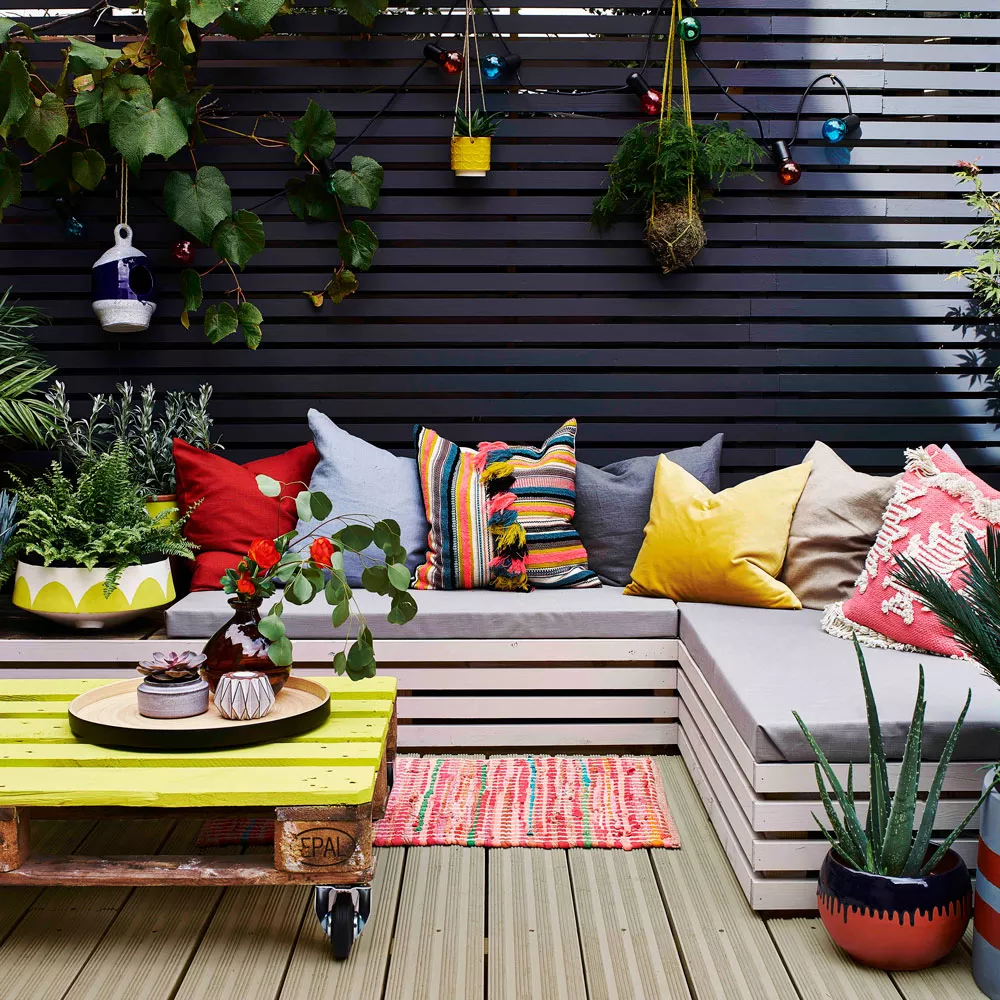 18. Sage Green
Green is a great option for fence paint color because there are so many different shades to choose from. But, it comes as no surprise that sage green is experiencing a burst of popularity in recent times. It can instantly modernize and add lively sophistication to a space.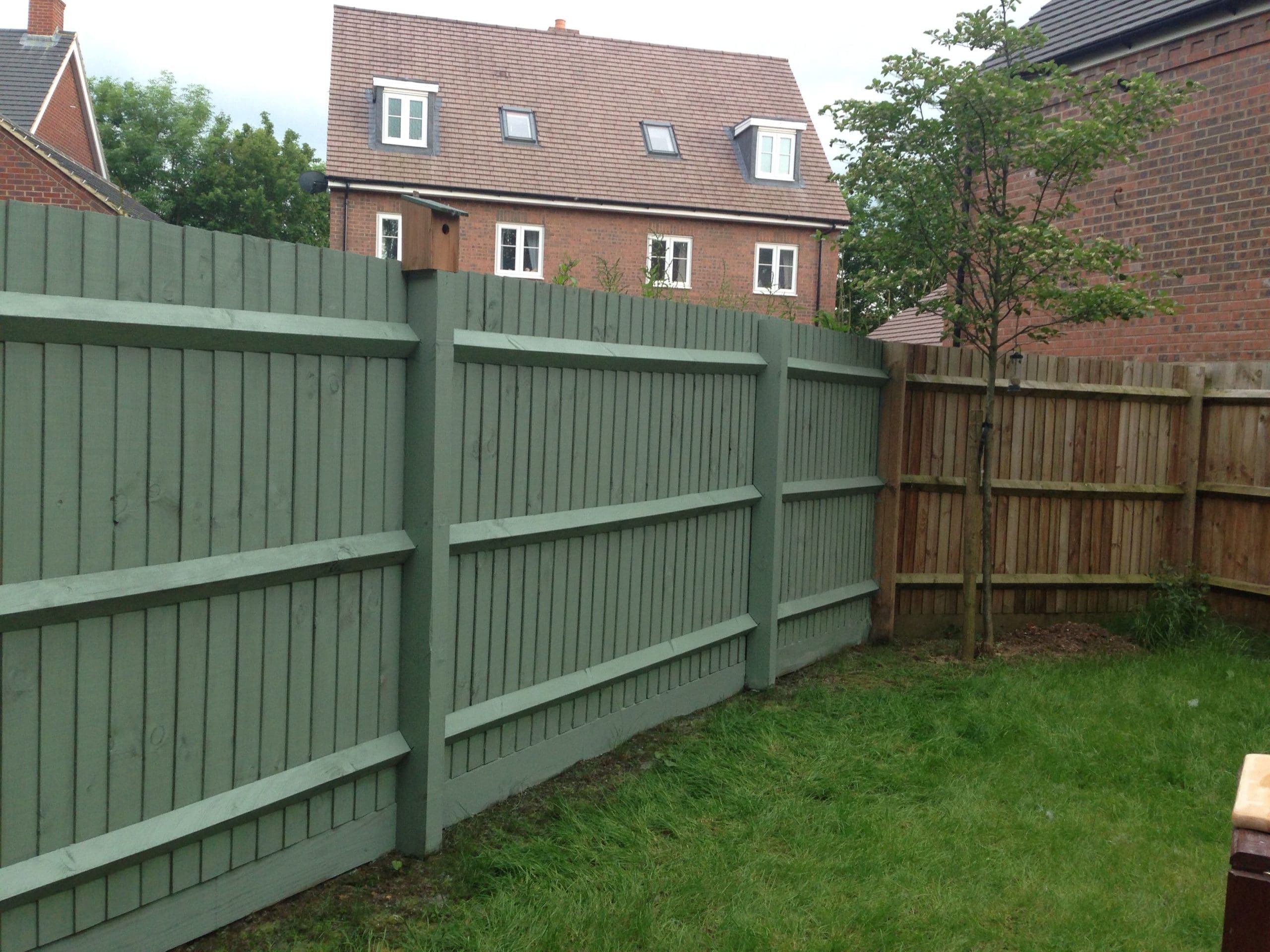 19. Pale Yellow and White
Yellow, even in a pale shade, can add liveliness and brighten up your garden even on the gloomiest winter days. A pale yellow fence paint color emits a warm glow that creates a fun and cheerful ambiance in your garden, especially with a hint of white.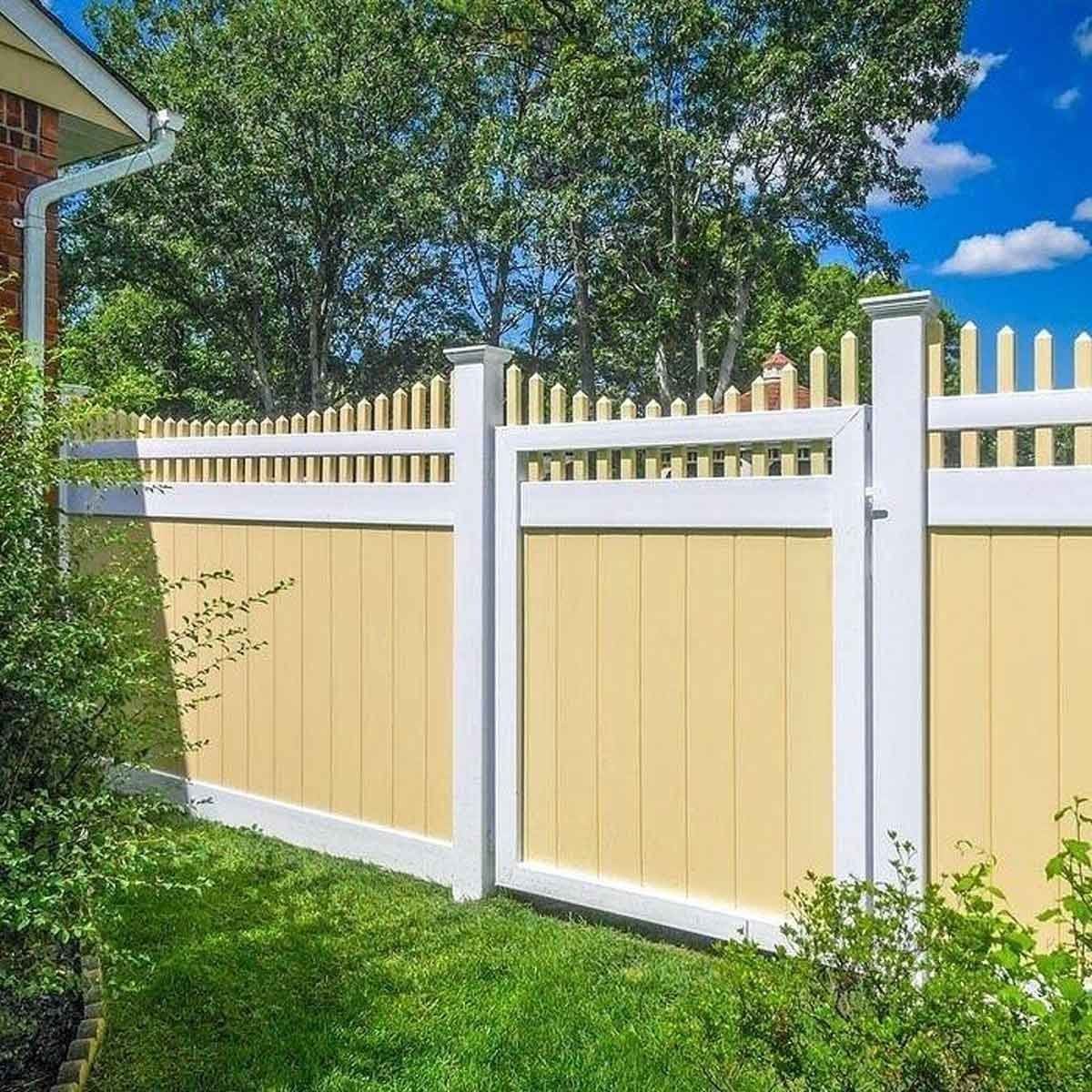 PHOTO: INSTAGRAM @VOMONTALVAN
20. Teal and Cream
Rich teal accents look particularly striking with a creamy neutral. Together, they make a winning two-color combination for a garden fence and are perfect for both contemporary and traditional spaces.