Glass Pool Fencing and Its Benefits
When summer arrives, we pay special attention to conditioning the exteriors of our houses and an important aspect of them is the enclosures. Enclosures like glass pool fencing. Glass fences are in today.
Glass pool fencing is increasingly present in architecture due to the timeless elegance it provides and because it allows us to enjoy the views of the landscape without losing an inch of it.
One of the advantages of a glass fence is that due to its simplicity, it can be combined with all kinds of environments, from the most classic styles to the most avant-garde. A system like this can be used in panoramic railings, balconies, terraces, or pool enclosures, therefore we can say that it is very versatile.
The glazed plane is anchored to the floor by means of stainless steel floor clamps, available in mirror polished and satin finish and, if desired, they can be combined with stainless steel handrails, although it is better to leave the glass alone, especially if the views are wonderful.
Glass is one of the materials that is a symbol of a diaphanous environment. If what you want is to give lightness to your stairs or pool and you do not want to resort to wood or metal, opt for glass pool fencing. They offer beauty and minimalism at the same time, as well as security and stability. It is not just about mounting glass pool fencing and that's it, but about using the most current technology so that it looks perfect.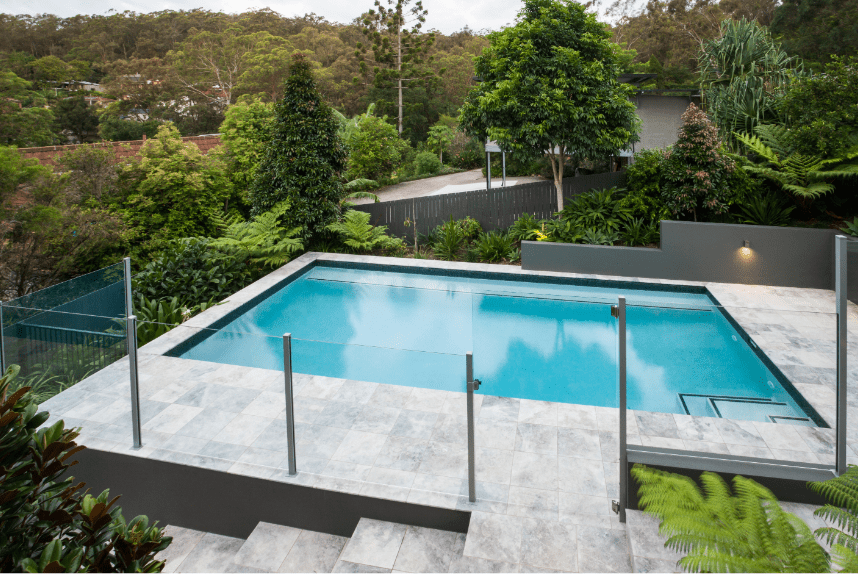 Benefits of glass pool fencing
Over time, glass pool fencing bunnings have become an increasingly present element in private homes and businesses due to their numerous advantages. Among the advantages are its transparency and functionality. Glass railings allow you to enjoy endless horizons without compromising the security and tranquility they provide.
The current trend highlights that the decoration and finishes of the home are increasingly minimalist. It seeks to find increasingly larger spaces with visual cleanliness. In this sense, having glass enclosure solutions, or in this case, some elements such as glass fences, allow the creation of almost infinite spaces.
Currently, frameless glass pool fencing is an effective option to place around your pool, since, in addition to providing security, it does not require much maintenance. This is due to its easy cleaning and because it is resistant to saltwater, rain, and humidity. So, if you have a swimming pool, choose glass pool fencing that does not break with the aesthetics and design of your terrace or garden.
Ver esta publicación en Instagram
Reasons to opt for glass pool fencing instead of a mesh fence
When it comes to pool safety, several elements come to mind that can help us, such as alarms, covers, or protection fences. The latter, the fences, are probably the most used, which also influences the diverse offer that we can find in the market.
In recent times, diy glass pool fencing is gaining great relevance, mainly thanks to its attractive aesthetics.
Ver esta publicación en Instagram
When choosing between one type and another of protection fence for our pool, there is a fundamental aspect that we will have to assess in the first place, and that is whether we want the fence for a certain time (little), or if on the contrary, we want permanent fencing.
Hardly removable
The reason is very simple, a glass fence is hardly removable. This does not mean that once installed it cannot be removed, everything can be removed, but the necessary hassle involves a certain amount of work that perhaps other types of fences, removable, do not need.
Resistant and eye-catching 
It is true that the aesthetics of, for example, a glass pool gate are very attractive, and depending on the quality of the glass and steel, it can be extremely resistant. It is also true that these are rigid structures, without any kind of flexibility, which in some cases can be complicated if we have children involved, even more so if they are a bit "crazy goat".
Ver esta publicación en Instagram
But in the end…
Returning to glass pool fences, if we must say that if they are structures with quality glass, they are very resistant, so the investment to be made, which will generally be much higher than with a mesh fence, can be profitable. On the other hand, structures that include the use of methacrylates or polycarbonates can be aesthetically attractive and cheaper, but we must say that they are usually materials that scratch too easily and that can turn yellow over time.
And why not say it? Glass pool fencing conveys an air of exclusivity that other types of fences cannot.