24 Cupboard Design For Small Bedrooms (With Pictures)
Designing a small bedroom can be challenging but it doesn't have to be. The key to nailing this is using the right furniture style and size for the space. Check out this post for clever cupboard design for small bedrooms. 
One of the most important things to keep in mind when designing a bedroom is to make sure that it doesn't feel cramped. The best way to go about it is to devise a functional, dual-purpose, and space-saving furniture plan.
A must-have bedroom furniture that usually takes up a lot of space is a cupboard, which is also used interchangeably with a wardrobe, or closet. It is used to store items of clothing and can be seen in most bedrooms.
There are a plethora of cupboard ideas that can help save or maximize space in a small bedroom. Here, we have gathered 24 cupboard design for small bedrooms that will help you create a space that will look great and feel comfortable for you.
1. Optimize Space with a Built-In Wardrobe
The most common type of wardrobe in contemporary homes today is a built-in wardrobe— which is also referred to as a fitted wardrobe. Unlike traditional free-standing wardrobes, a built-in wardrobe is integrated into a wall cavity.
A built-in wardrobe cannot be easily moved and it's custom-made to look like it is part of the room. This bedroom wardrobe style is growing increasingly in popularity because it can help maximize storage and give the room a streamlined look.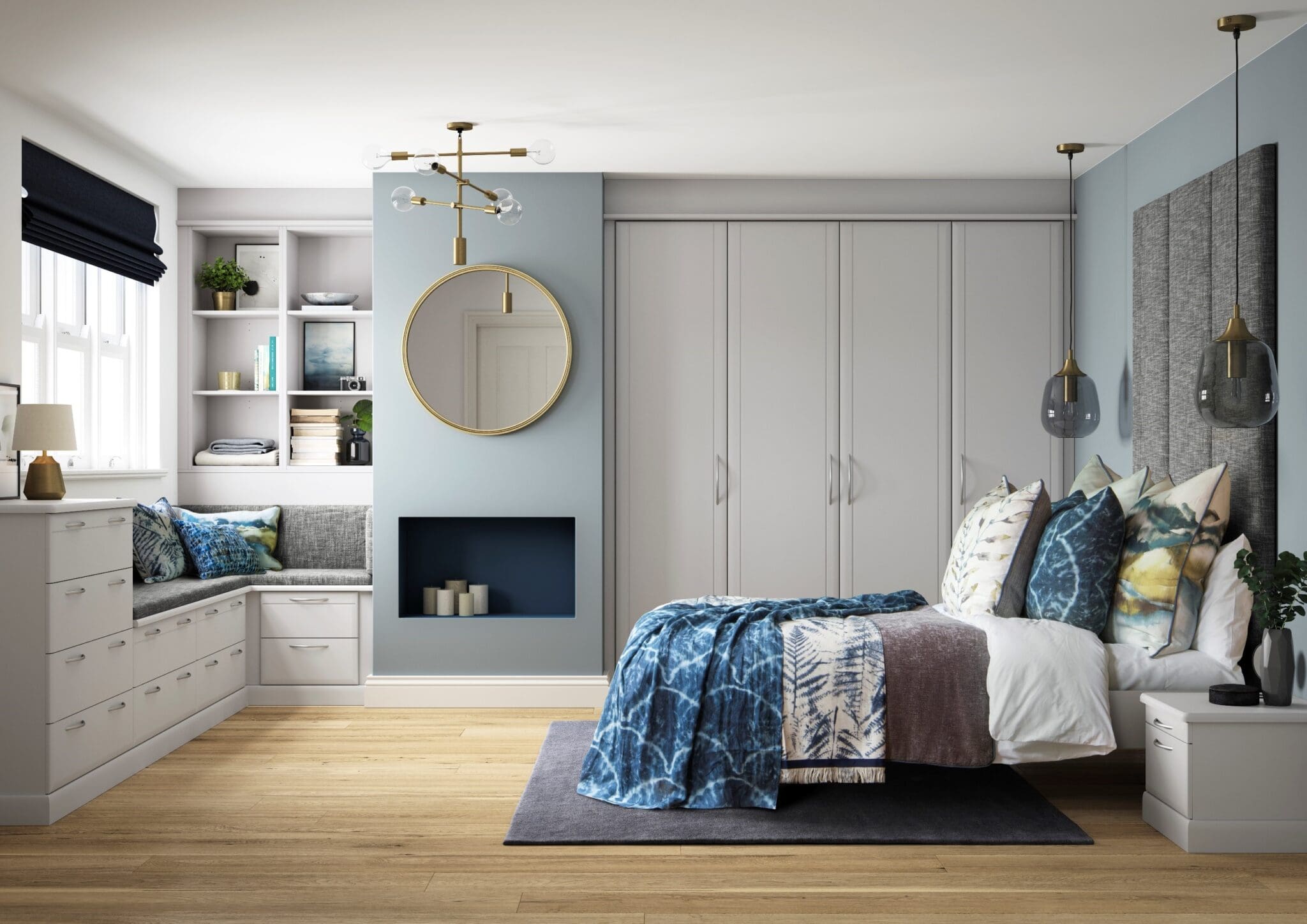 PHOTO: HEPPLEWHITE
2. Free Up Floor Space with the Multi-Purpose Murphy Bed
There is no bedroom space maximization hack quite like a Murphy bed. William L. Murphy invented the Murphy bed also known as the wall bed or pull-up bed in 1908. This clever piece of furniture doubles up as a disappearing bed and a storage system.
The Murphy bed looks like a large cupboard when upright. It features a folding mechanism that enables it to be pulled upwards or downwards as needed. When tucked away, it saves a significant amount of floor space— which is ideal for small spaces.
PHOTO: FAMILY HANDYMAN
3. Stick to the Traditional Free Standing Bedroom Cupboard
If you like the feel and simplicity of the traditional free-standing bedroom cupboard, then it may be the perfect option for you. Think about the size that will fit your space perfectly and the style that will complement your bedroom aesthetics.
The mobility and portability of free-standing wardrobes are what make many homeowners stick to them. They are not custom-made like fitted wardrobes, so they can be easily replaced or sold. Plus, they offer great flexibility when it comes to interior design.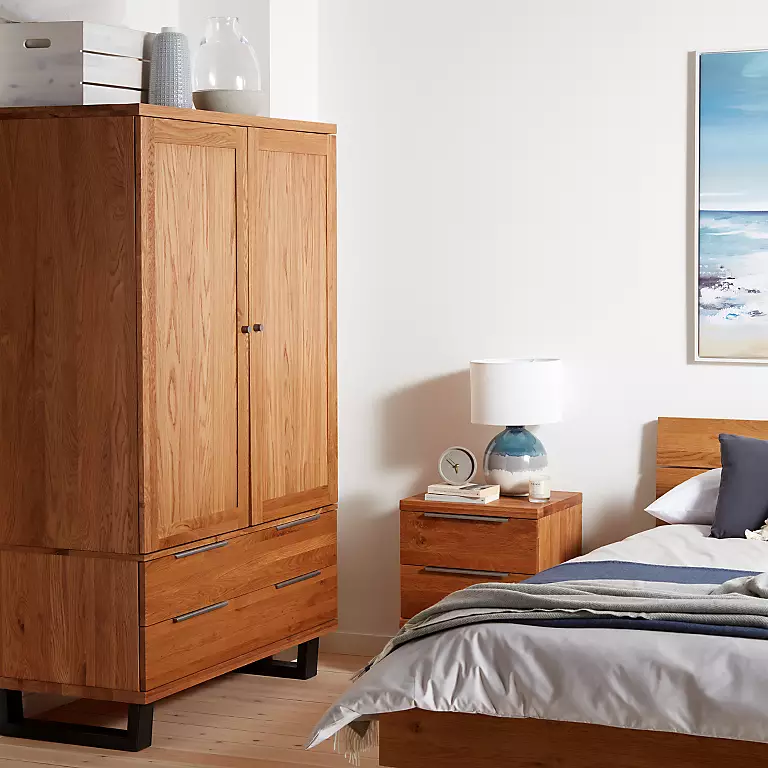 PHOTO: JOHN LEWIS
4. Opt for an Open Bedroom Wardrobe
An open wardrobe makes a space feel larger and more open than a closed wardrobe. Although, the reason why many people choose to invest in an open bedroom wardrobe is solely aesthetic.
This is a brilliant storage solution if you have good organizational skills. Since your items of clothing will be displayed in the open, you want to avoid it looking unsightly and cluttered.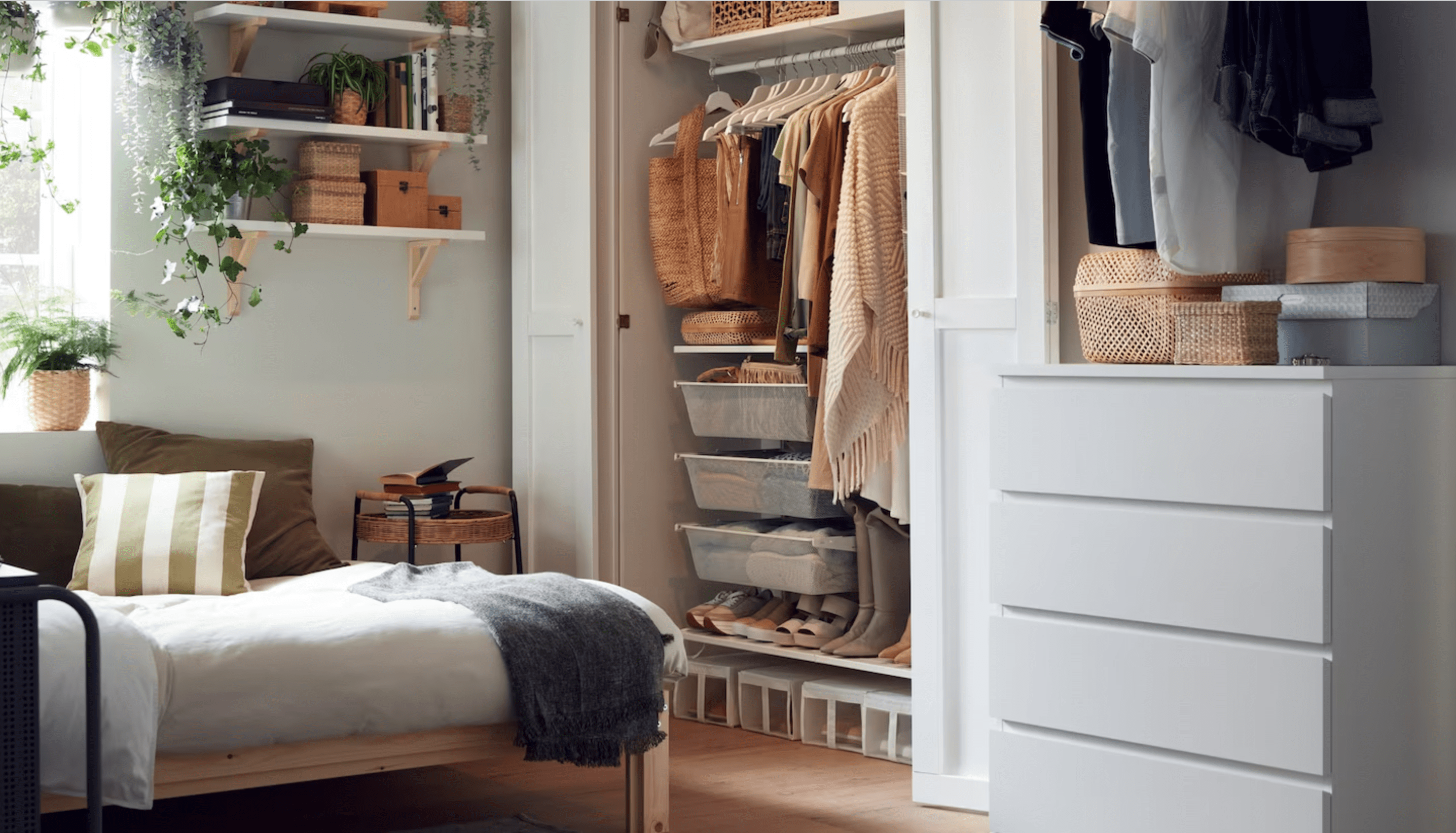 PHOTO: IKEA
4. Utilize a Sliding Bedroom Cupboard
Sliding doors are great for optimizing space since they slide from side to side compared to hinged doors that open outward. A sliding bedroom cupboard is especially ideal for small bedrooms where space is a premium.
Both fitted and free-standing wardrobes can have sliding doors.  Other than their space-saving properties, sliding bedroom cupboards adds an elegant and contemporary feel to a space.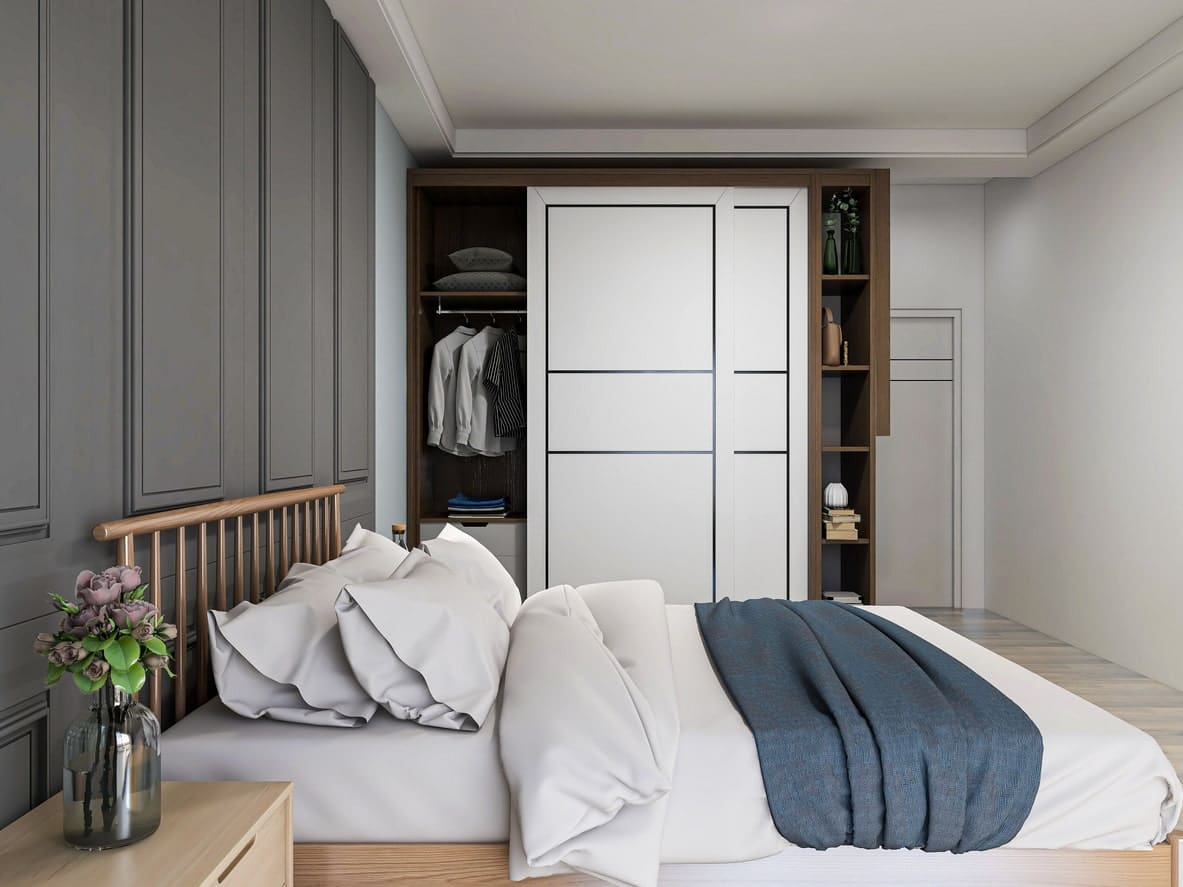 PHOTO: STUDIO 54
5. Integrate a Study Space in a Fitted Bedroom Wardrobe
When thinking of the best cupboard design for small bedrooms, consider how the space will be used as well. If you work or study in the bedroom, you may want to create a study area.
This can be a bit of a challenge with limited space but they are a wide array of fitted cupboard designs options that include a portable workspace. This will also save you the cost of buying a stand-alone study desk.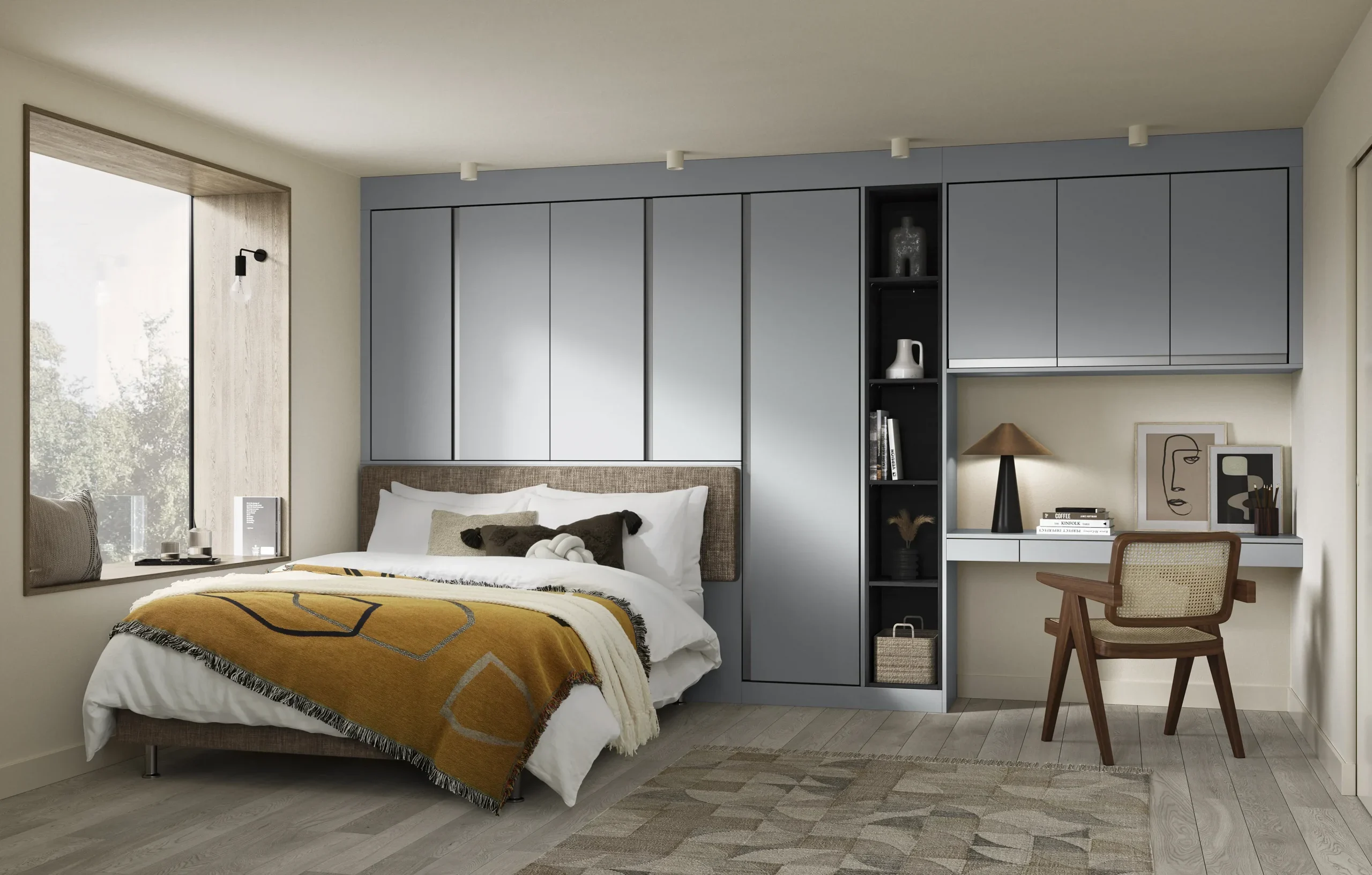 PHOTO: HAMMONDS
7. Invest in a Wardrobe and Dresser Combination
If you're blessed with space, you can have both a dresser and wardrobe in your bedroom. However, if you have space constraints, it may be best to opt for a cupboard and dresser combination.
Drawers are great for storing jewelry, underwear, and accessories while wardrobes are primarily for storing clothes, through hanging or folding.
PHOTO: IKEA
8. Consider a Single Bedroom Cupboard
It is a no-brainer to opt for a single cupboard if you have very little space as they are slim as take up very little space. Although, this may be tasking if you have a great deal of clothing.
In such cases, use other clever storage solutions such as under-the-bed storage, corner clothes racks, ottoman storage, and over-door storage.
PHOTO: SxS DESIGN & BUILD
9. Get Creative with an Inbuilt Bedroom Shelving
Some bedrooms are too small for cupboards, particularly converted bedrooms. If you leaning towards or recently converted your walk-in closet, loft room, or cloakroom, then you probably know that a cupboard simply won't fit in.
The best way to go about this is by constructing an inbuilt shelving system. This provides a storage space without taking up valuable floor space.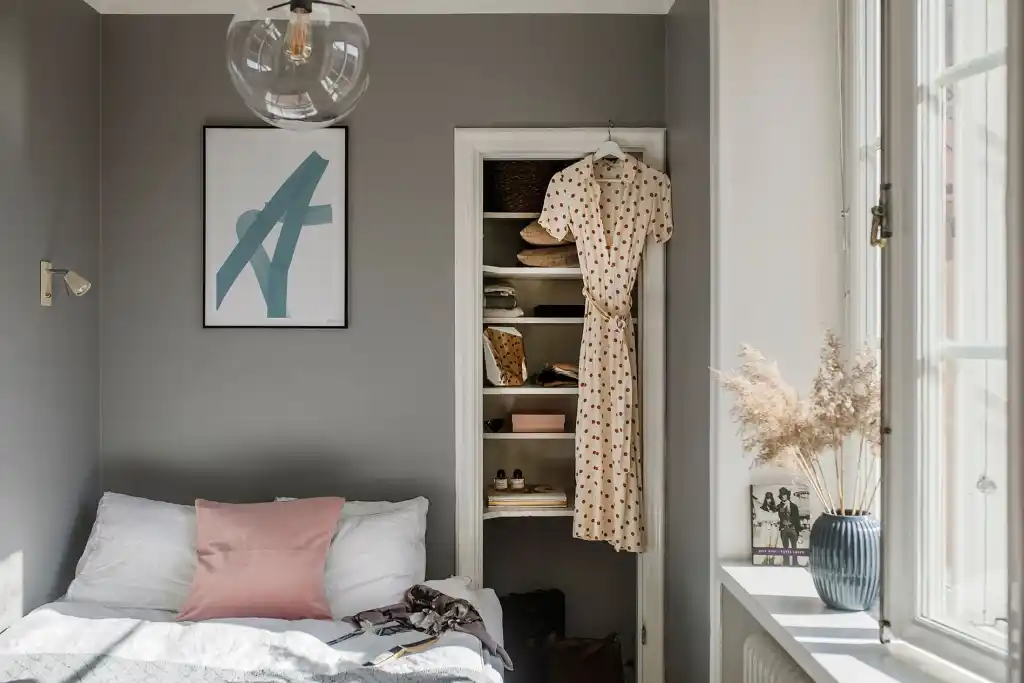 PHOTO: COCO LAPIN DESIGN
10. Create an Illusion of Space with a Mirrored Bedroom Cupboard
Mirrors are the oldest trick in the book that creates an illusion of space. They reflect light and make a room seem brighter and bigger.
Using mirrored bedroom cupboard doors in a small bedroom is a win-win strategy. Mirrors are not only functional, they add aesthetic beauty to a space and open up small rooms visually.
PHOTO: IDEI CLUB
11. Use an Overbed Bedroom Cupboard to Save Floor Space
In a small room where there is absolutely no space for a cupboard, think above the box! An overbed cupboard is a fantastic way to add storage space to a small bedroom as it takes ups no floor space.
With this cupboard design for small bedrooms, not only you will benefit from the freed-up floor space, but it can also give your bedroom a unique look.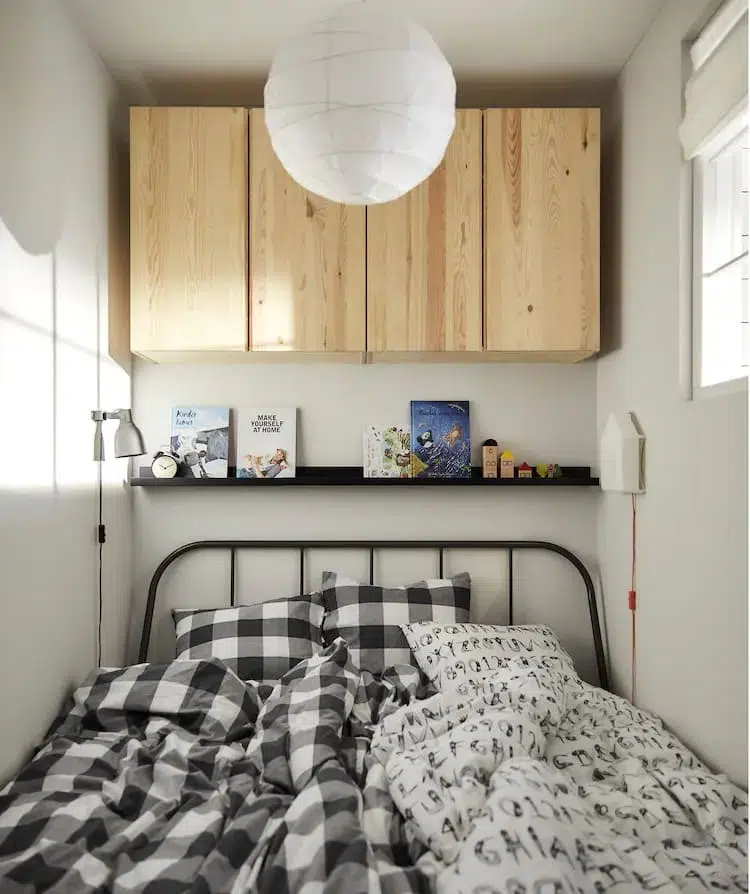 PHOTO: IKEA
12. Opt for a Design-Savvy Cupboard
Smart storage solutions do not have to be boring. Try to strike the perfect balance between practical and picturesque. Choose a cupboard design for small bedrooms that introduces a character and fits harmoniously into your interior design.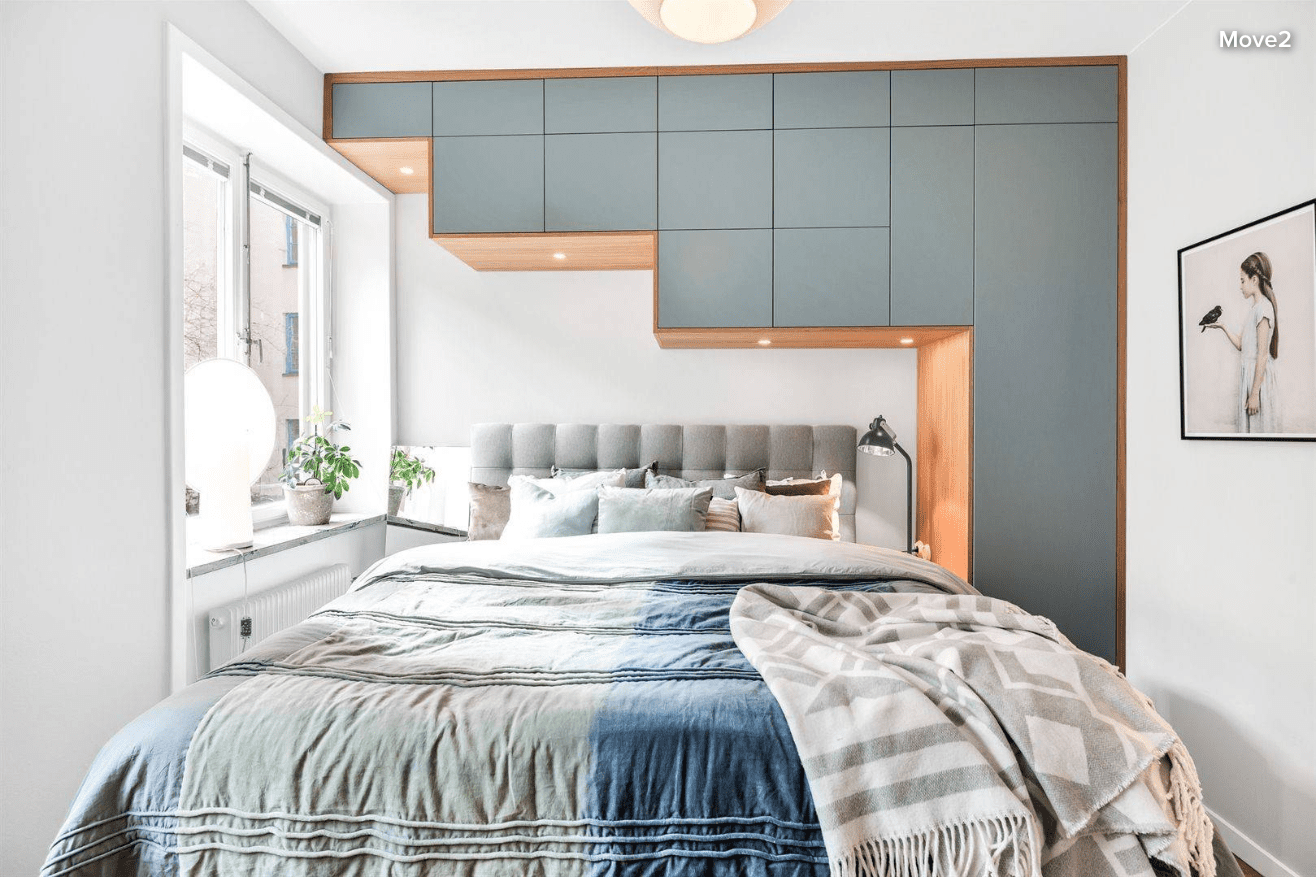 PHOTO: MOVE 2
13. Match the Wardrobe with the Color Scheme
A brilliant way to add an aesthetic flair to your small bedroom is by matching the wardrobe to your existing color scheme. This will give your room a sophisticated edge and a cohesive look. A color-coordinating wardrobe can also help to bring a humdrum bedroom back to life.
PHOTO: MY FITTED BEDROOM
14. Create a Focal with the Bedroom Cupboard
The most ideal cupboard design for small bedrooms can also be used to make a bold statement. To add a hint of drama and create a focal point in a small bedroom, use an invigorating color or design.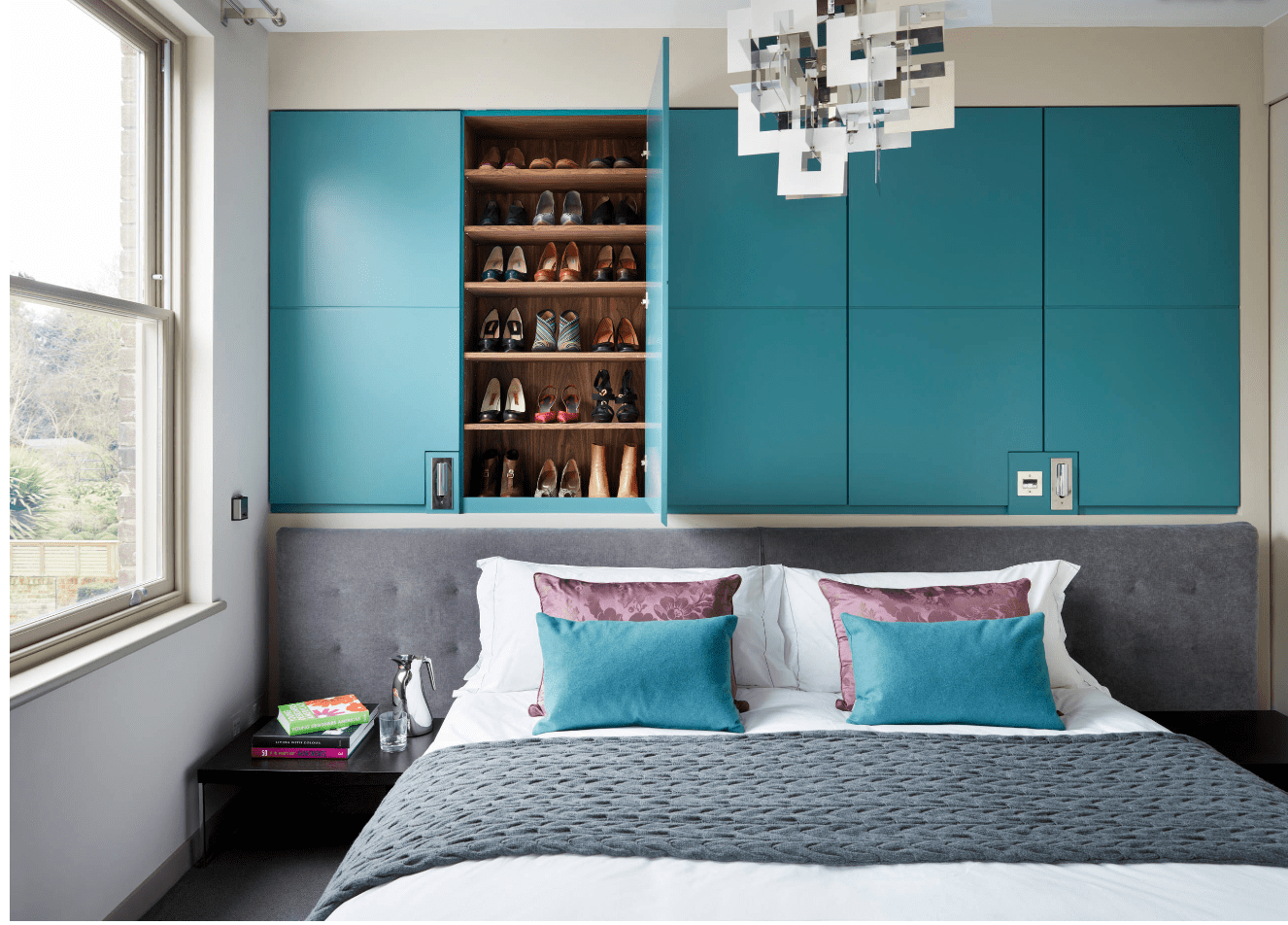 PHOTO: ENSOUL LTD
15. Install a Fireplace
Why not add a luxurious feel to your space by considering a fireplace for your small bedroom? If you want a cozy master bedroom feel, then a fireplace should be on your rather.
You don't have to sacrifice extra space for this. An electric fireplace can be incorporated into your fitted wardrobe to provide a warm atmosphere and comfortable sleeping.
PHOTO: FUTURE
16. Go for a Short Bedroom Cupboard
Tall bedroom furniture like most wardrobes can make a space feel small and cluttered. Just like size, the height of the wardrobe is also a crucial aspect to take into consideration. Using a short bedroom cupboard may have limited space but can keep your clothes organized just like full-height cupboards.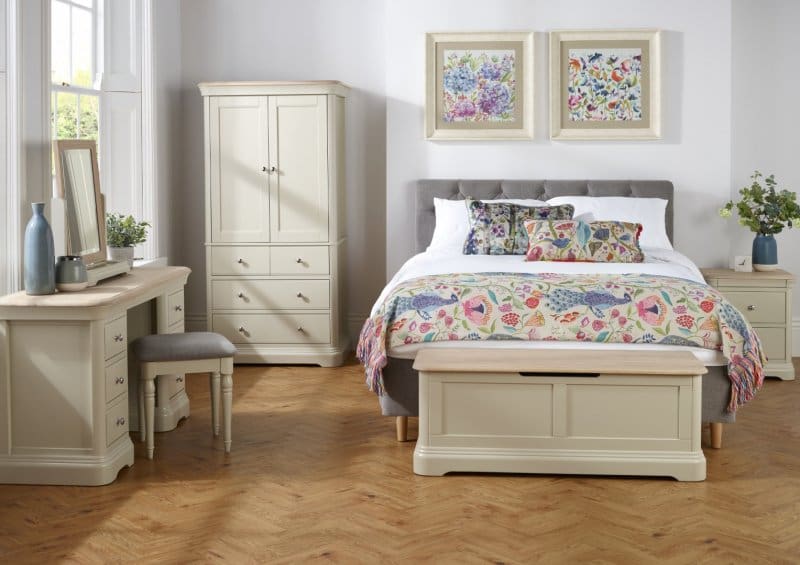 PHOTO: HILLS FURNITURE STORE
17. Use a White Cupboard
The easiest way to make a small room appear bigger is to go for white walls or bright neutrals. In the case of a small bedroom, placing a white cupboard against a white wall helps it blend seamlessly into the room. On the majority of surfaces, cool and delicate warm colors create an illusion of more space in small spaces.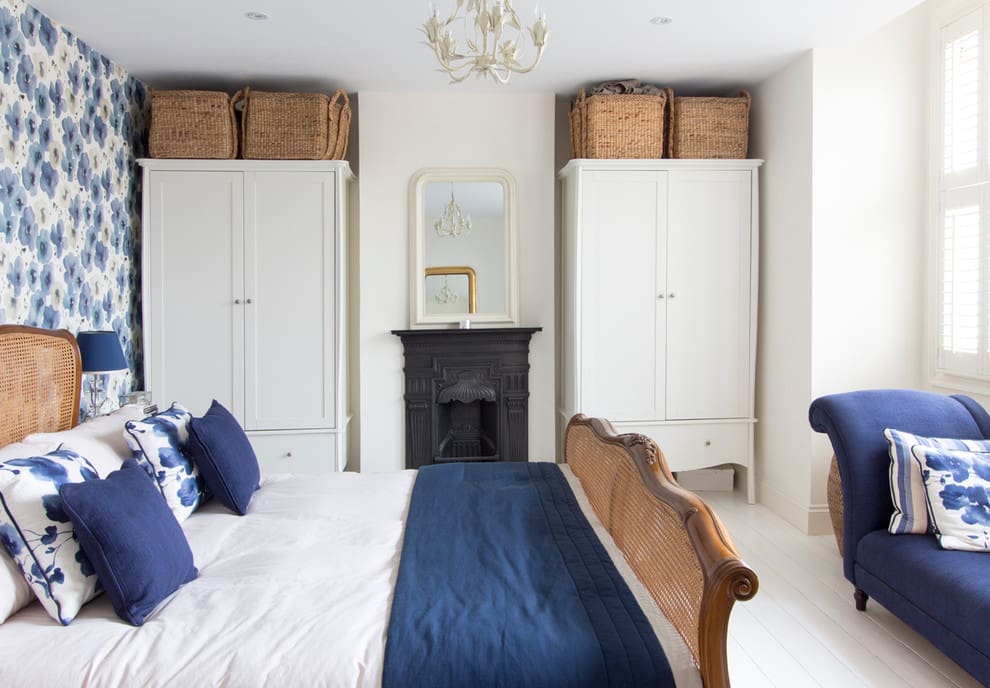 PHOTO: REBECCA HAYES INTERIORS
18. Make Every Space Count!
If you have lots of belongings and little bedroom space to work with, get creative with your storage! A back of door shelving is a brilliant option to consider. If you utilize the spaces around your bedroom well enough and with space-saving in mind, you may only need a dresser or a small cupboard to supplement.
PHOTO: FUTURE PLC
19. Use a Cupboard that Doubles as a Room Divider
The possibilities are endless when it comes to cupboard design for small bedrooms. A bed and wardrobe combination that doubles as a room divider is one of the most clever solutions for small bedrooms.
There is a growing need for multi-purpose furniture and each year, they are more and more innovative space-optimizing furniture being created.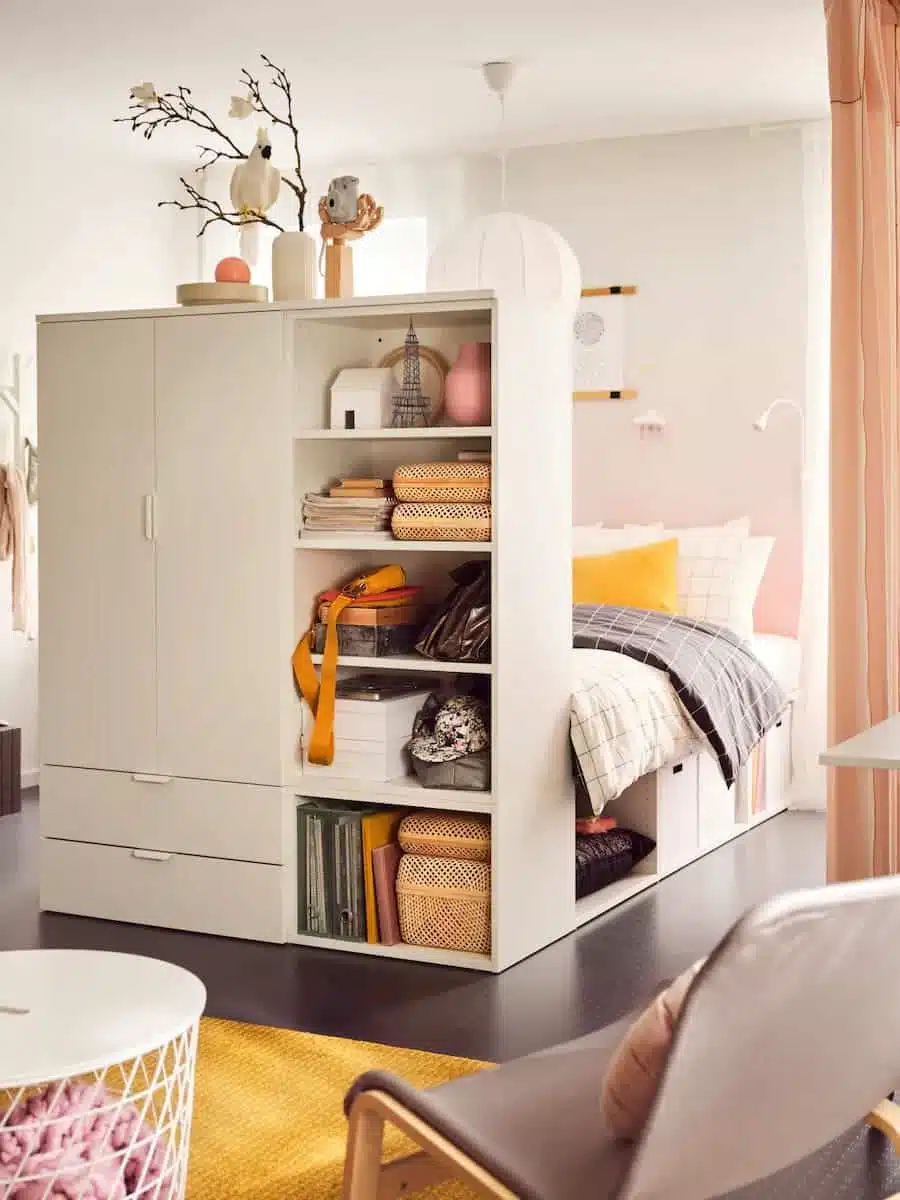 PHOTO: IKEA
20. Make It Happen with a Single Color
There is no better way to virtually conceal a cupboard than painting it the same as the rest of the room. This ensures your room stays cohesive but also will not feel cluttered— even with a bigger-than-needed cupboard.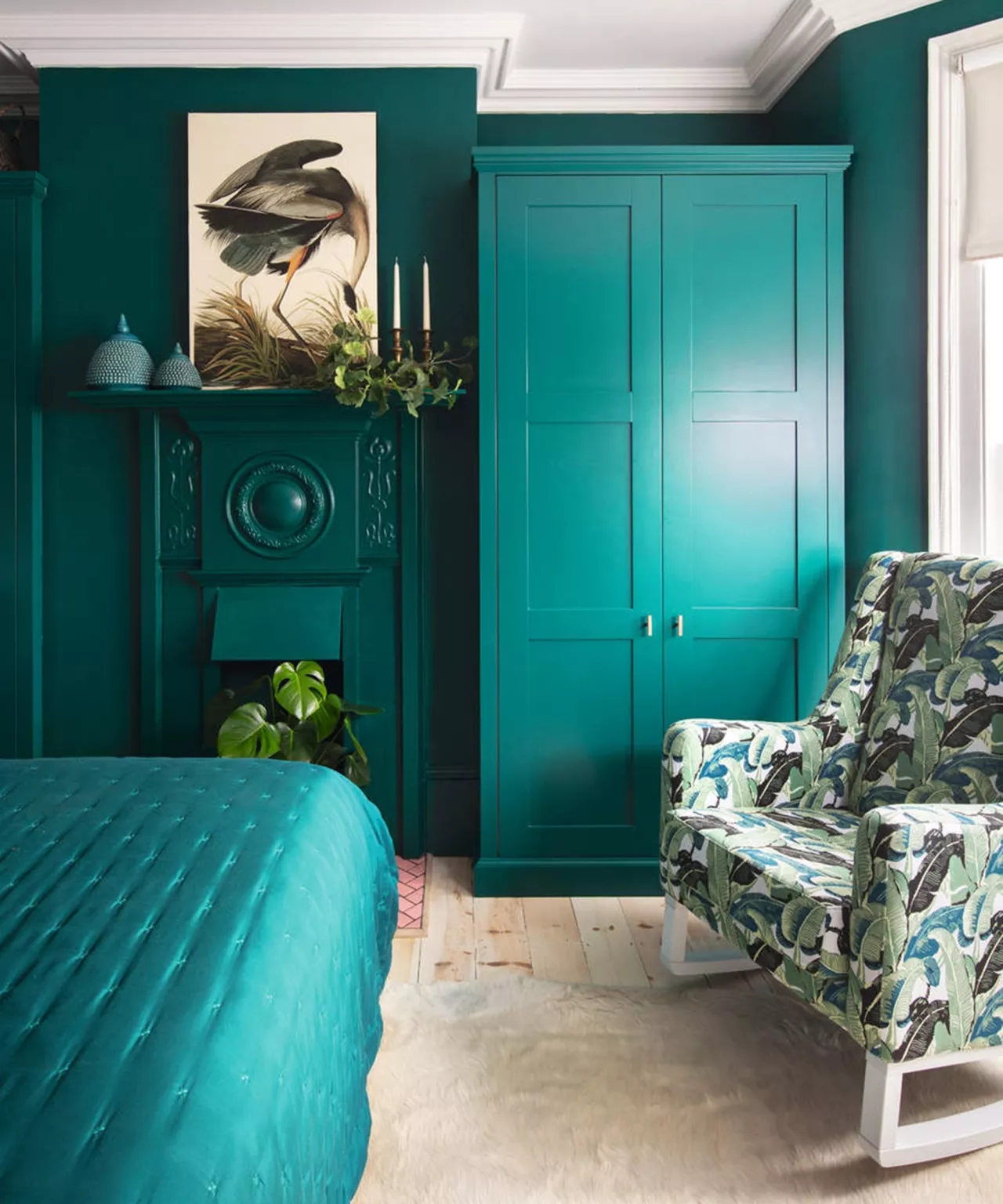 PHOTO: FUTURE PLC
21. Install an Overbed Storage Unit
Overbed-style units are enormously popular as they are perfect for maximizing space in the bedroom. Stretching from floor to ceiling on bought sides of the bed, you are sure to have enough storage for all your items of clothing. Depending on customization, They can also double up a bedside drawer/table.
PHOTO: EMIL DERVISH
22. Stick to Fitted Beside Cupboards
A doubled sided cupboard can make a room look cohesive and stylish. It is also one of the most common cupboard design for small bedrooms. This is especially beneficial if you have a living room with less space but more height.
PHOTO: FUTURE PLC/ DOMINIC BLACKMOORE
23. Embrace a Partially Exposed Wardope
A virtually appealing cupboard design for small bedrooms is a partially exposed wardrobe. Even better, concealed LED lights can be added to add a contemporary feel to the space. Avoid displaying items you use every day, instead, display decorative items, books, or even your hang-bag collection— prioritize aesthetic beauty in this space.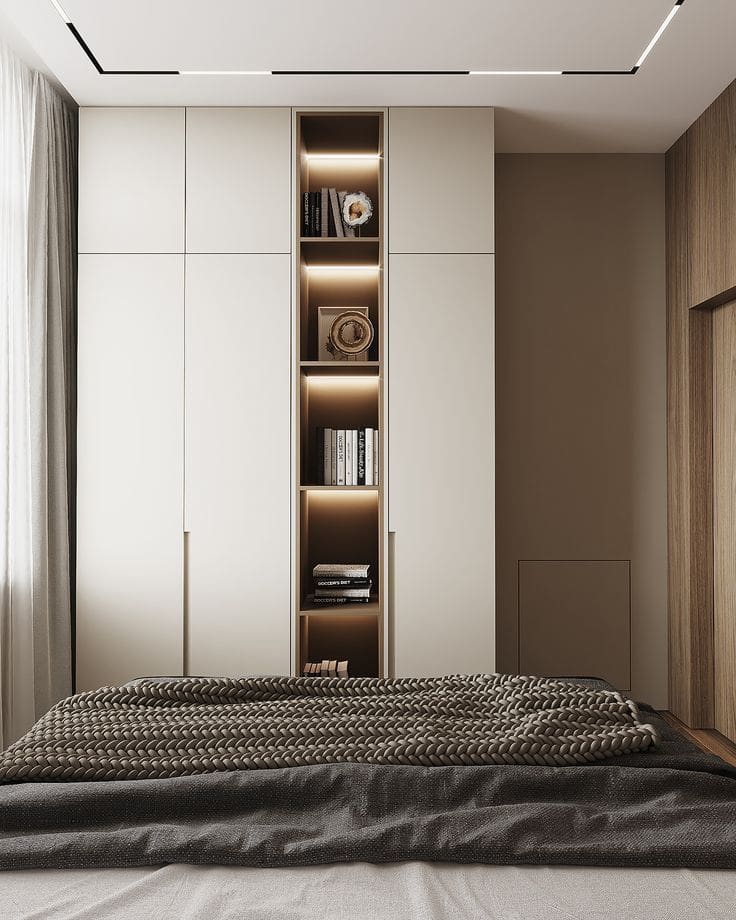 PHOTO: ELMANEK FURNITURE
24. Add a Sleek Look with a Glass-Paneled Sliding Cupboard
If you have a small bedroom, the translucent finish of glass wardrobes can give it a sense of more space. Plus, its reflective surface helps light to bounce around the room, making even the darkest rooms look a lot brighter.
Glass is a great way to add texture and sleekness to a space. Glass-paneled sliding cupboard designs for small bedrooms are more prevalent in contemporary homes. They are often illuminated with LED strip lights to add a luxurious feel to the space.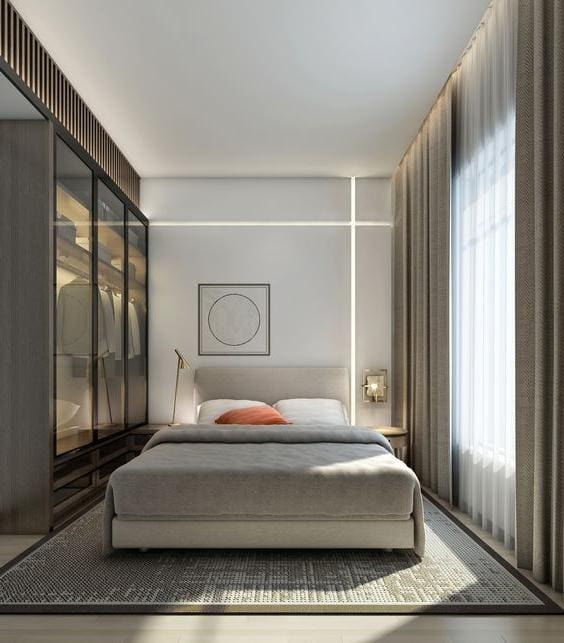 PHOTO: PINTEREST
Tips for Designing a Small Bedroom
Here are some tips to keep in mind when designing a small bedroom:
●      Dark colors make spaces seem smaller while brighter colors have the opposite effect. Use neutral like white, beige, grey sage green, ivory, and taupe as the base color, and a hint of bold hue to add a beautiful accent to the space.
●  Use mirrors to light up dark corners and make the overall space seem bigger as they are naturally brilliant for this purpose.
●  Declutter your space and take advantage of clever bedroom storage solutions.
●  Invest in the appropriate size of furniture, especially those that are multi-functional.
● Do not block natural light. Avoid placing anything around the window if possible, particularly tall furniture.
● Remember when decorating that less is more! Too much decoration is what you want to avoid in a small bedroom.
● Maintain the finished look by keeping the room tidy at all times.
Here is a similar article to read next: 22 Blue Two Colour Combination for Bedroom Walls
Pin for Later!