15 Bedroom Design With Study Table Ideas
Your productivity skyrockets when you create a home study space that prioritizes functionality and emulates an office environment. These 15 bedroom design with study table ideas will help you design a space to induce thought, creativity, and better performance. 
Working or studying from home has a wealth of advantages but most people in this situation struggle to stay focused at home.
A dedicated study area in the home can significantly boost focus and productivity. Many homes do not have a study room or a non-distracting space around the home for this purpose.
A bedroom is a tranquil space designed to aid relaxation. This makes it a great space to carve out a study corner.
There are a plethora of bedroom layout ideas with study tables to help you create the perfect study space. No matter the style and even size of your bedroom, these tips will help you create a stylish and highly functional space.
Here are 15 incredible bedroom design with study table ideas.
1. Minimalist Bedroom Design with Study Table
Minimalism is popular in contemporary interior design for a reason. Minimalist design is by its very nature streamlined, crips, and uncluttered, hence, it is excellent for productivity.
Clashing colors and unnecessary decorative elements can be a potential cause of distraction. Not only will a minimalistic approach make working more efficient but it will also create a sense of visual calm in the bedroom that will help you sleep better.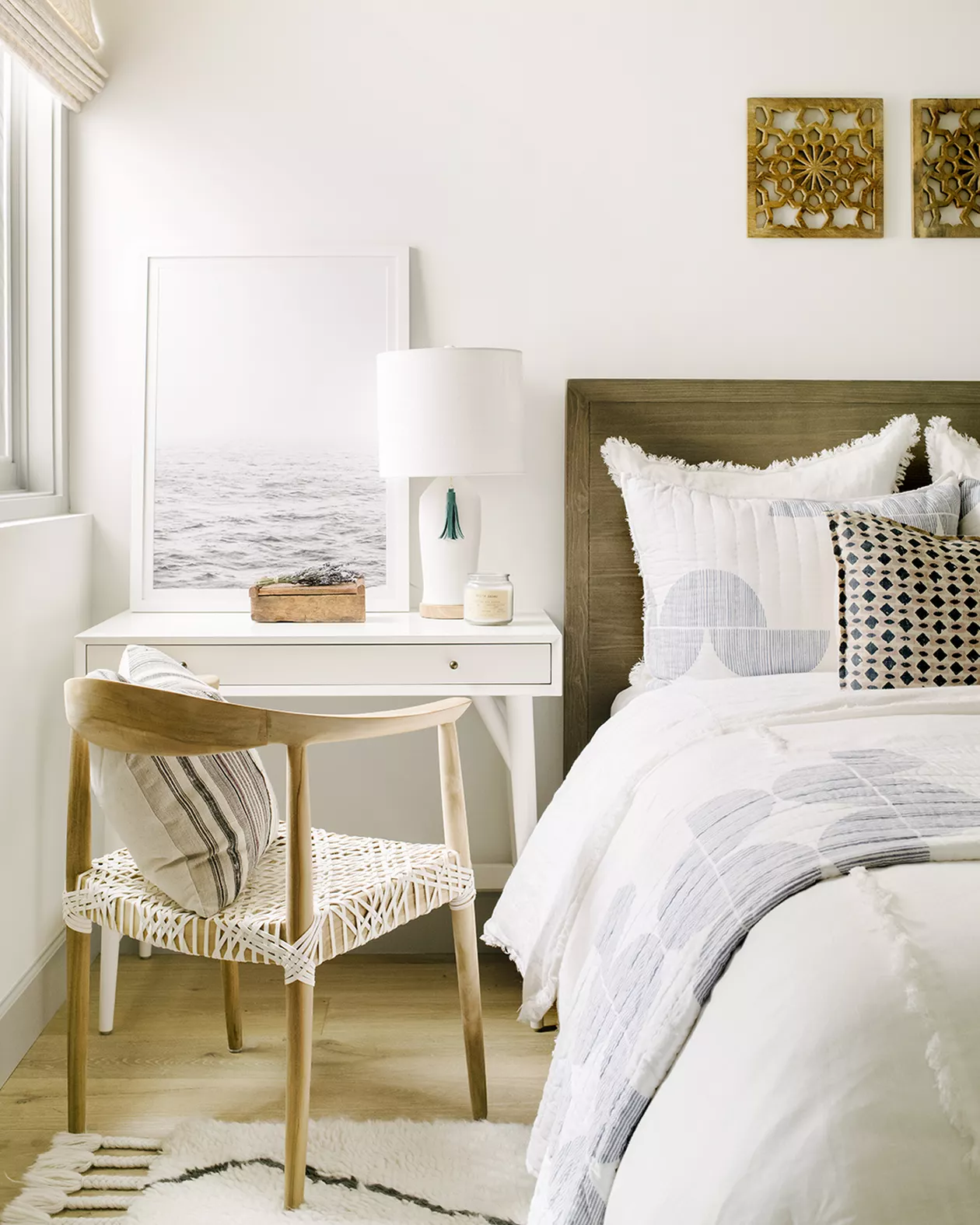 PHOTO: KATE LESTER INTERIORS
2. Dressing and Study Table Combo
A multipurpose table is great space-saving furniture. While a lack of space is the major reason why people choose multifunctional tables, they are also common in bigger homes due to their more effective use of available space. A duo-purpose table also helps to minimize clutter.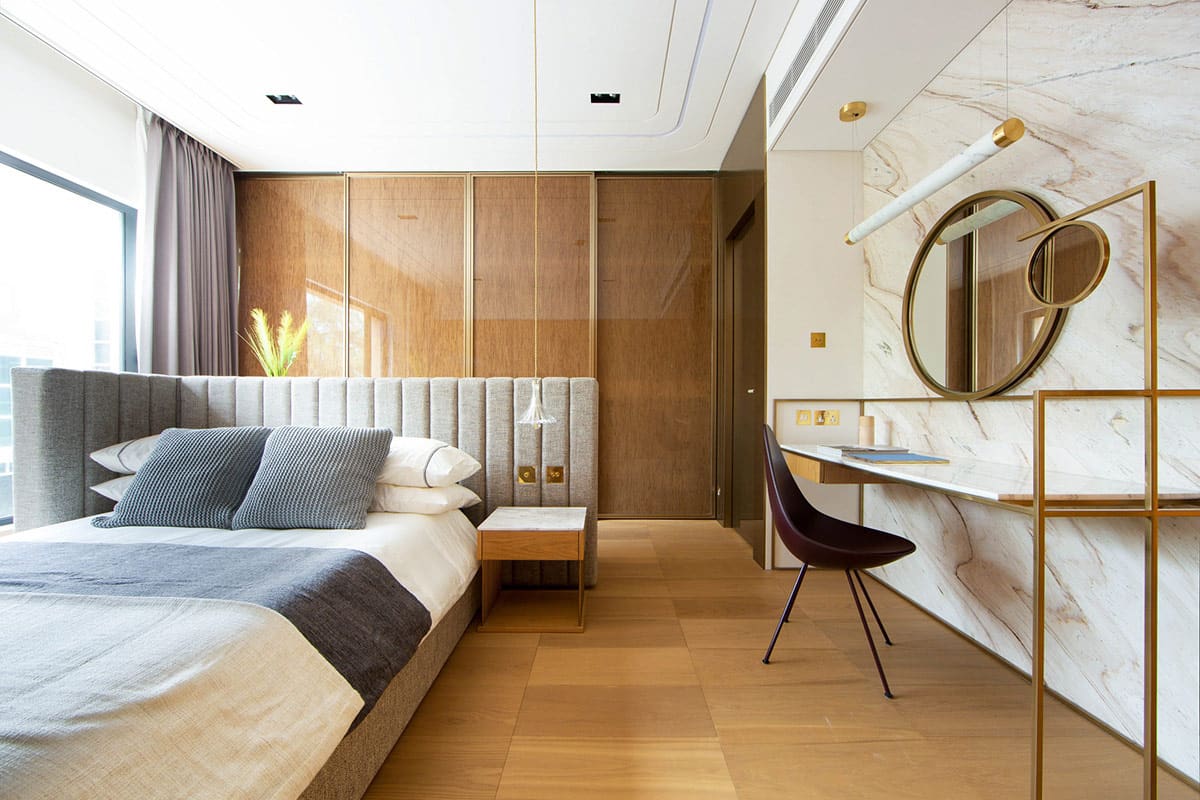 PHOTO: ELENA ZHULIKOVA
3. Cheerful Bedroom Design with Study Table
Yellow is a happy color according to color therapy. The color yellow is cheerful, sunny, refreshing, and vibrant. It has the ability to give one a warm, pleasant feeling.
Yellow adds brightness and a warm accent to interior spaces.  When used in moderation, yellow works well as an accent color for bedrooms and study spaces.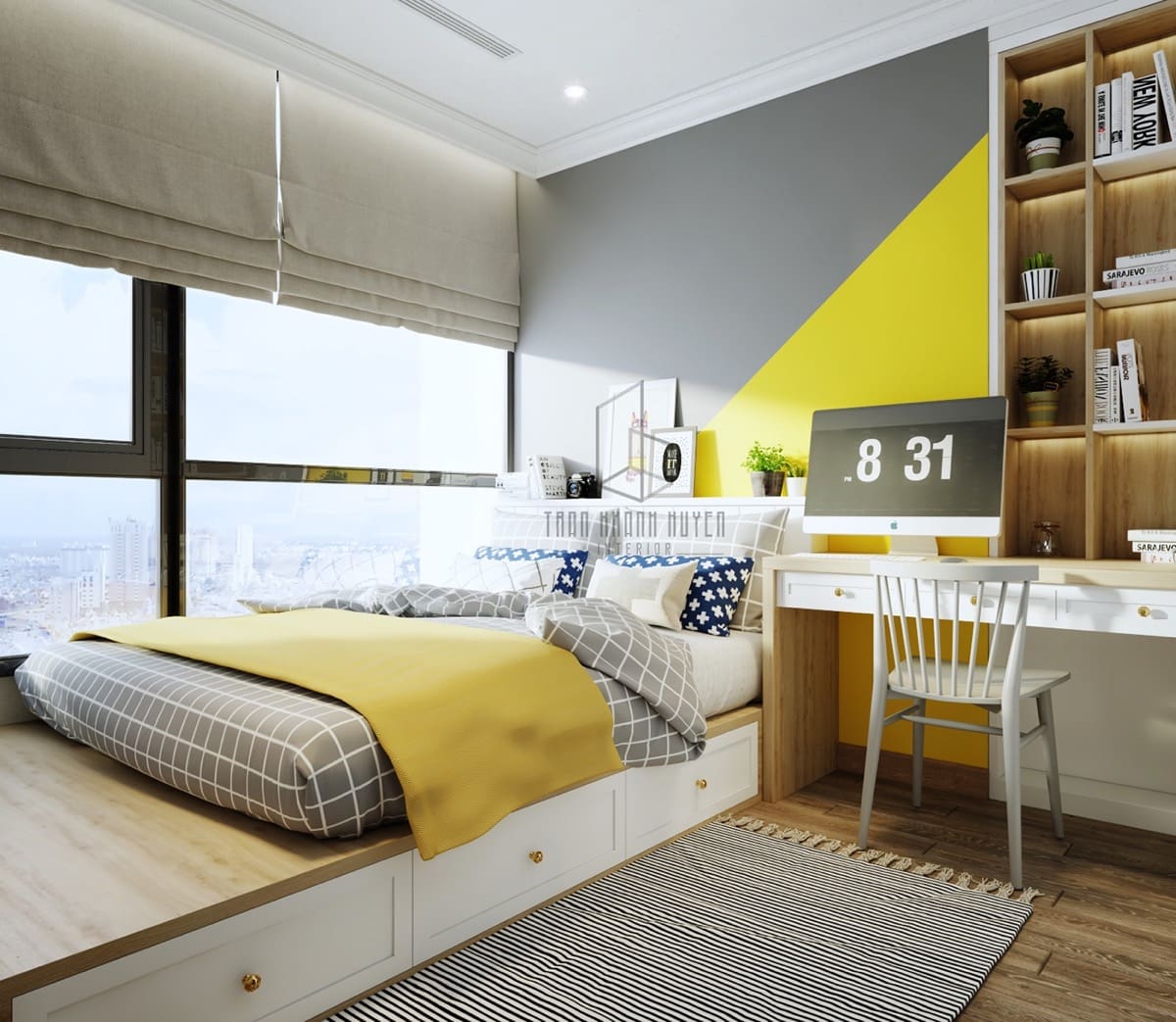 PHOTO: THAO UYEN INTERIOR
4. Bedroom Ladder Study Desk
A ladder study desk helps to save space. If it's often lighter than conventional study desks and easy to move from one place to the other.
The shelf can be used to hold stationery, or you can decorate it with artwork, plants, books, and decorative ornaments to make it more stylish and personal.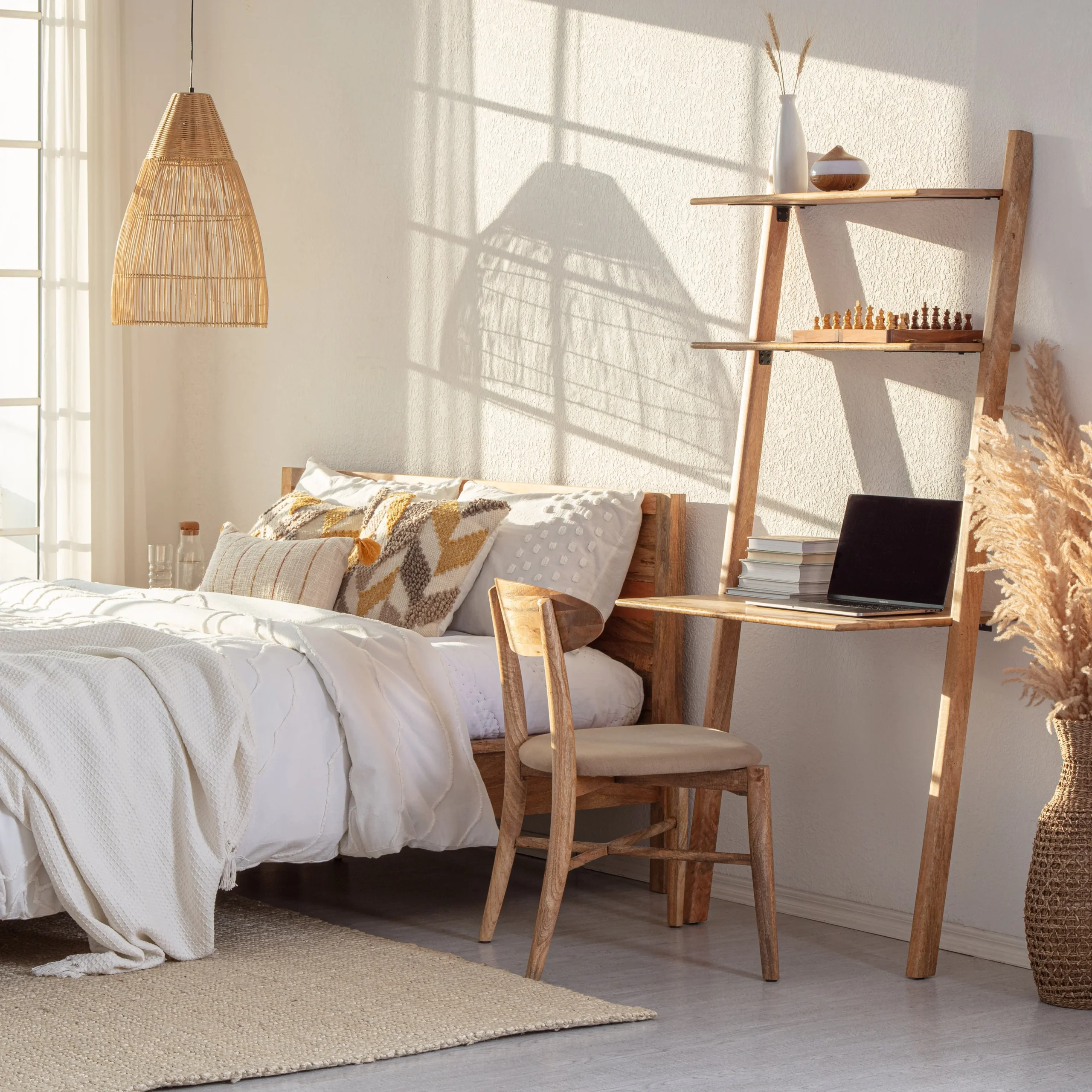 PHOTO: MH LONDON
5. Pull-Out Bedroom Study Table
Some people need but don't have a study table in their homes because of space constraints. Pull-out study tables are particularly useful for small bedrooms.
It can be concealed with a simple push which helps to save leg room when not in use.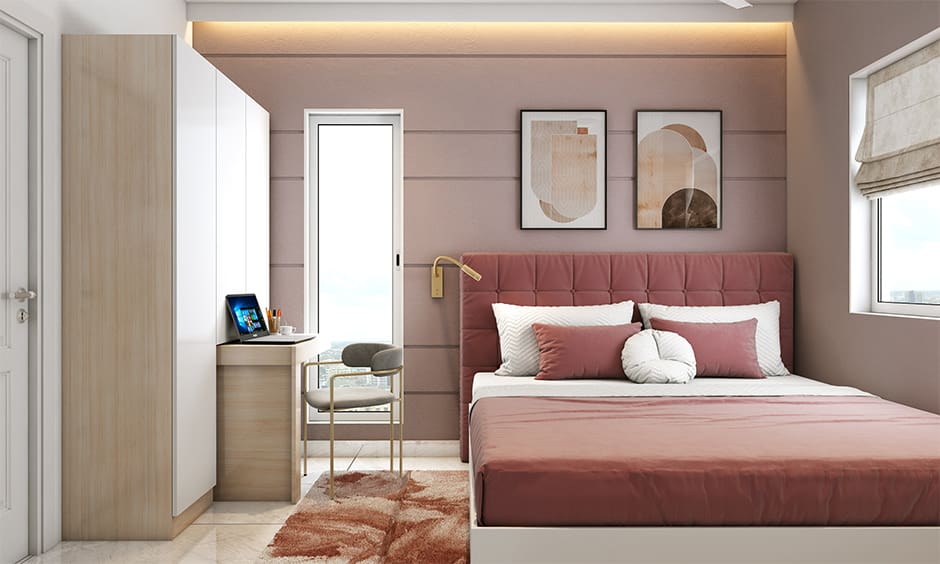 PHOTO: DESIGN CAFE
6. Bright and Airy Bedroom Design with Study Table
The placement of the study table is crucial. According to a recent study, employees who were near windows were 63% less likely to develop tension headaches and 51% less likely to experience eyestrain.
Evidently, having access to natural light increased the workers' vigor. To increase productivity, place your study table in a well-lit and ventilated corner near the window.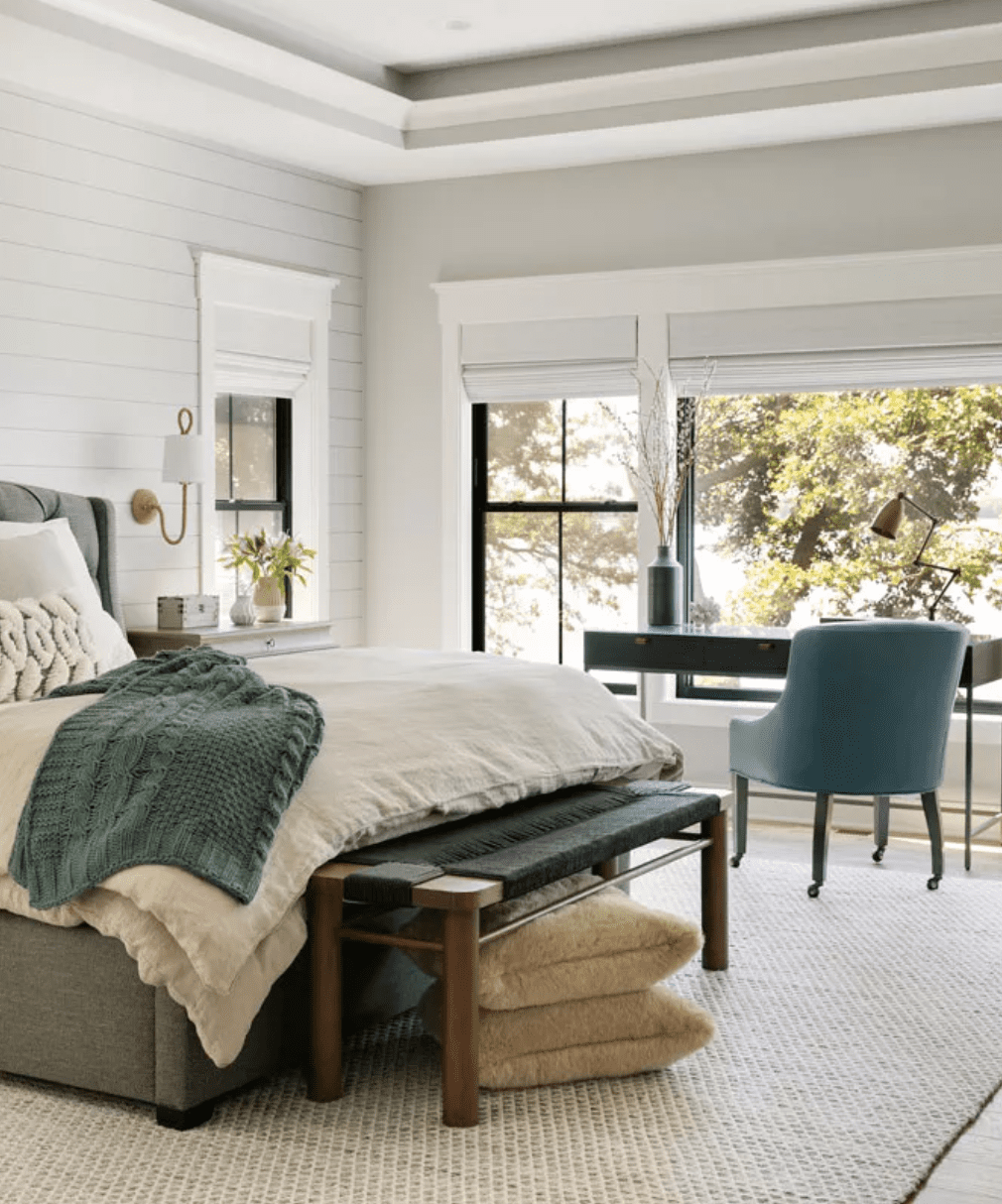 PHOTO: DESIGN CAFE
7. Foldable Bedroom Study Desk
Foldable study tables are perfect for small bedrooms. It is easy to move around should you choose to work in other areas of the home. Similar to a folding chair, fold-away desks are small, tidy, and extremely simple to put up, requiring little to no assembly.
Folding desks are very versatile. There is an array of styles, shapes, and sizes to choose from today.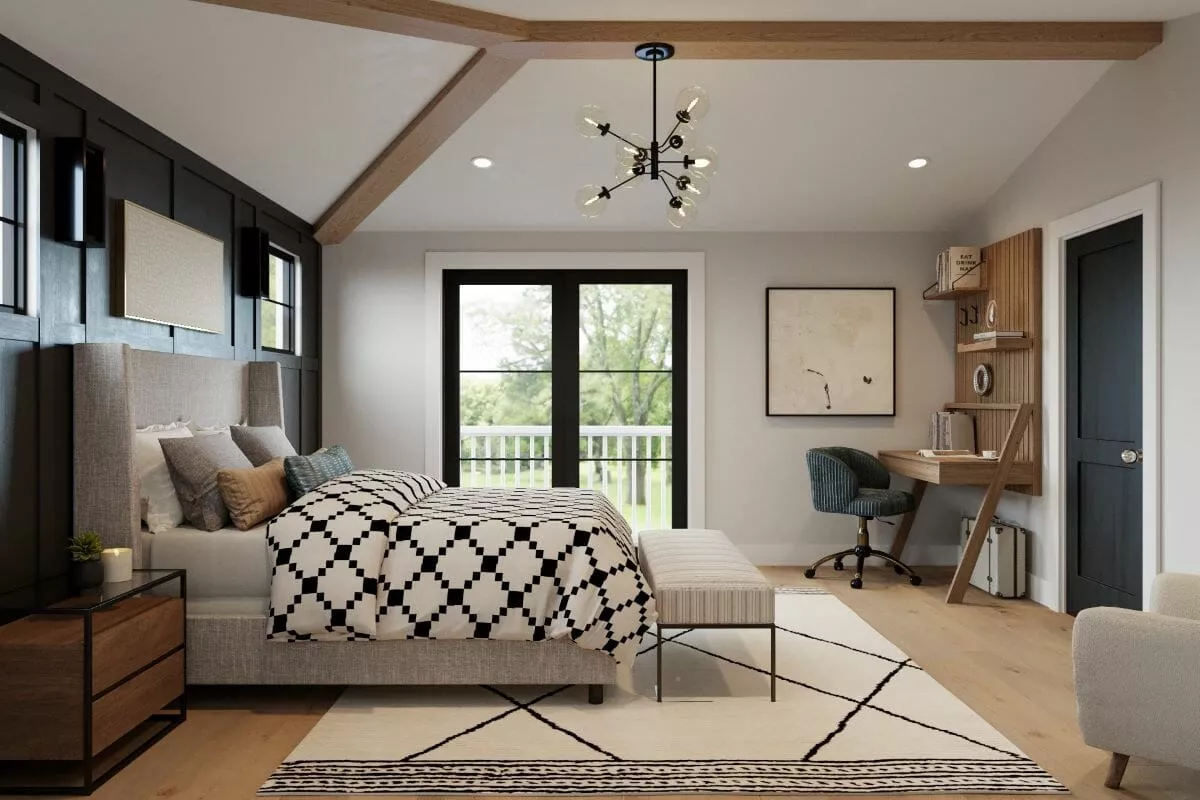 PHOTO: DECORILLA
8. Modern Bedroom Study Area with Wood Paneling
Interior wall paneling has historically been used to improve insulation between a room and stone walls. In recent times, it is used to enhance the room's aesthetic appeal.
If you're looking for a way to give your bedroom and study area some stylish flair and warmth, wood paneling is a great choice.
PHOTO: DESIGN CAFE
9. Nature-Inspired Bedroom Design with Study Table
Nature inspires productivity. It creates and sense of calm and tranquility which makes it a great theme for a bedroom design with study table.
A sensation of awe is also evoked by time spent in nature.  An abundance of plants and materials like stone and unfinished wood in the relaxation area fosters a more tranquil environment.
PHOTO: IMADE PASTEL
10. Teenage Bedroom with Study Table
One thing about teenagers is that they love to be in an entertaining space. It's crucial to keep in mind when designing a room for a teenager that it should be harmonious and creative, just as much as functional.
A teenage bedroom focused on productivity helps to provide them with an appropriate space to buckle down and study.
PHOTO: INT2 ARCHITECTURE
 11. Bedroom Study Corner with Cabinets
By cleverly constructing cabinets in your bedroom to form a study area, you will have sufficient storage space for personal belongings as well as documents, books, or files.
Plus, cabinetry will give your workspace a professional appearance and provide the overall impression of being more organized and polished.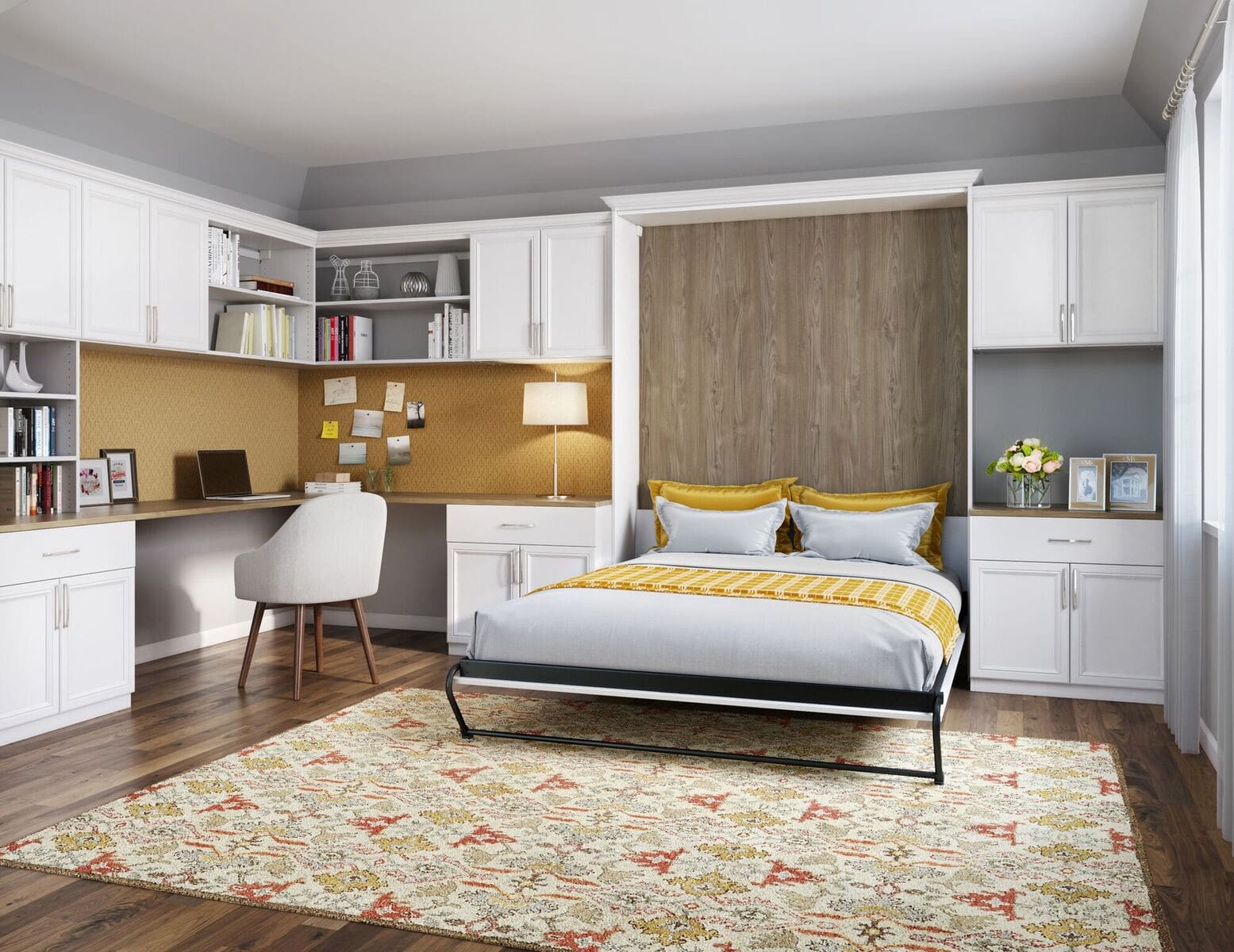 PHOTO: HOUZZ
12. Contemporary Bedroom Study Table
The contemporary interior style is sleek and clean, and it is dotted with a focus on architectural aspects, decorative details, attention to strong proportions, and a concise color palette to create a pleasant atmosphere with effortless elegance.
Contemporary furniture offers an incredible opportunity to choose the right study table best suited for your space because of its variety and versatility.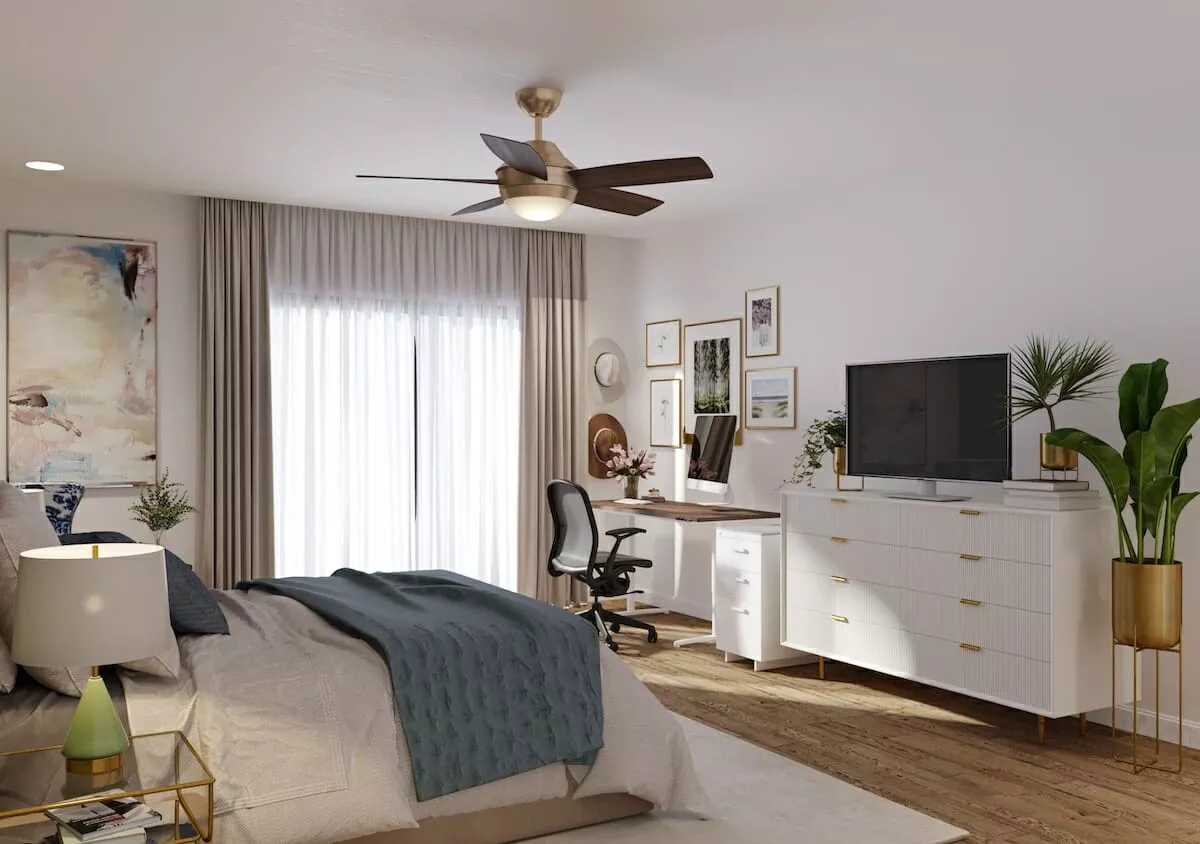 PHOTO: SHUTTERSTOCK
13. Neutral Bedroom with Study Table
A bedroom and study space are peaceful and relaxing when designed using a neutral color scheme.
Soft neutrals reflect natural light, which helps small corners and even the entire room to feel bigger. Neutral colors enhance concentration and do not distract.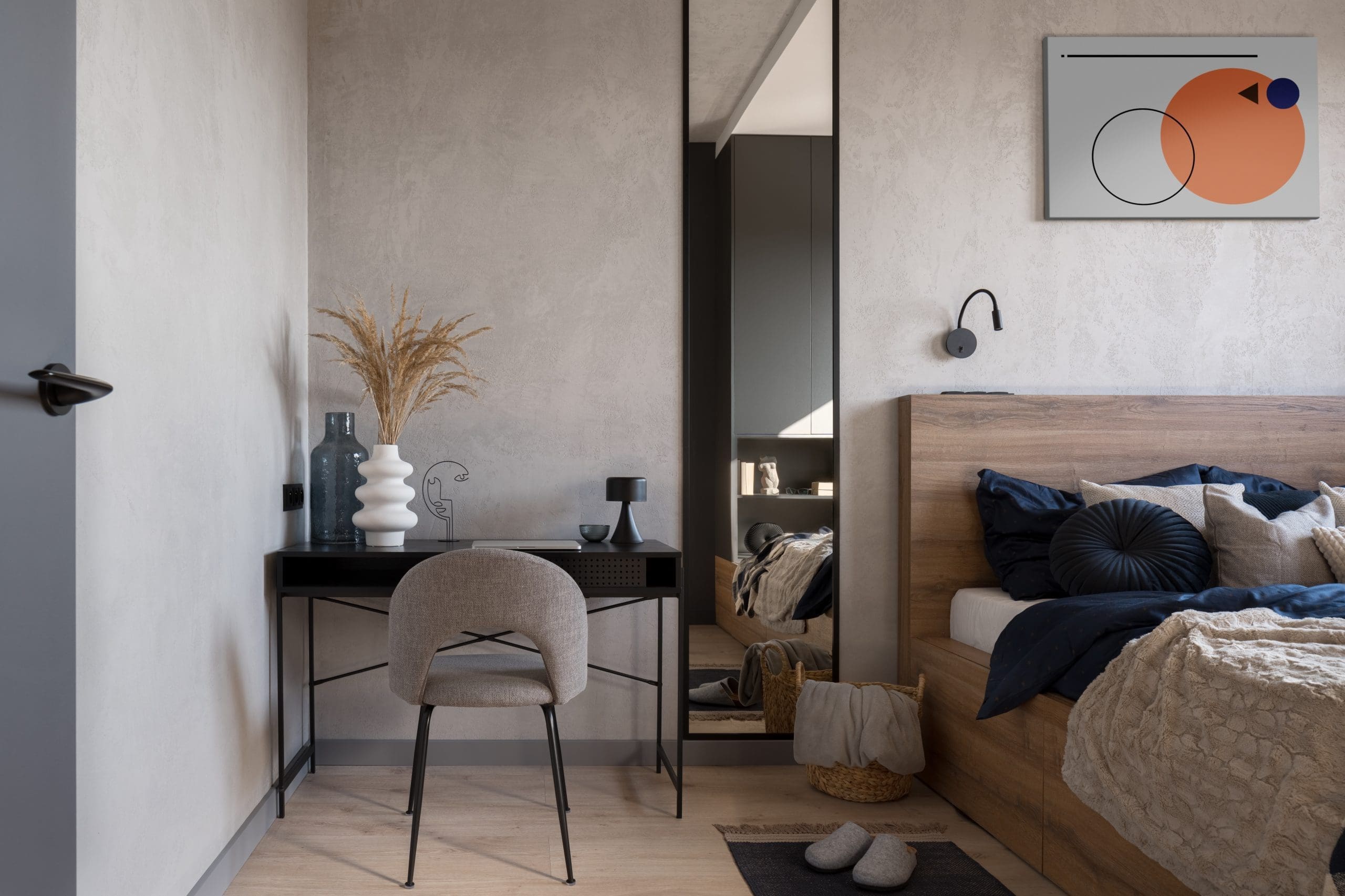 PHOTO: SHUTTERSTOCK
14. Zen Bedroom Design with Study Table
A Zen-style bedroom invokes a peaceful and tranquility. Clear, uncomplicated, clean lines are a defining feature of Zen Style furniture.
Select natural materials that exude warmth and depth; simplicity and sophistication should be your watchwords.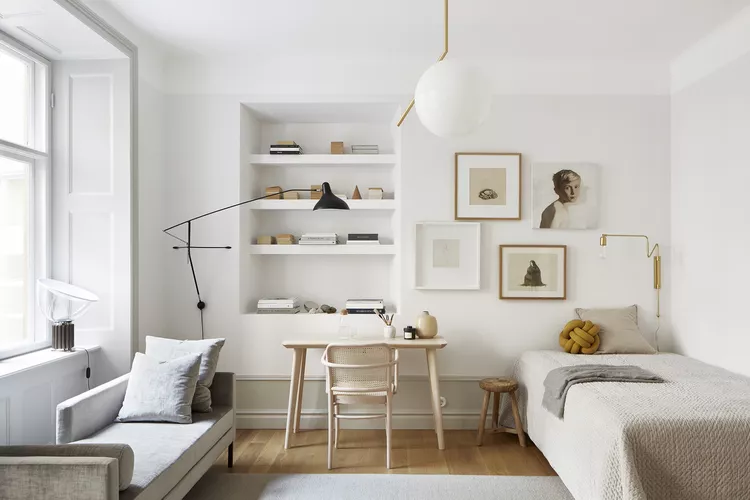 PHOTO: FANTASTIC FRANK
15. Bedroom Study Area with Partition Wall
A partition wall is a great option to consider as it helps divide the bedroom and the study area. The partition of space offers the room a new structure and an organized appearance.
Room partial wall also offers a better level of seclusion and an overall comfortable atmosphere.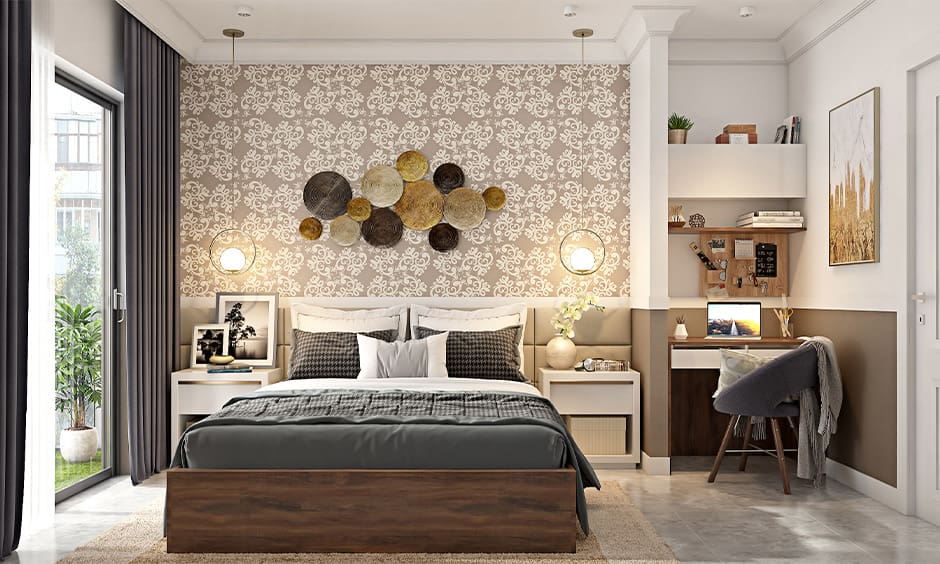 PHOTO: DESIGN CAFE