Best Kitchen Color Schemes
The kitchen is the place where one spends the most time. You spend time cooking, having your meal and sometimes spending time talking to your family there. And as we all know, the colour scheme of your place directly affects the vibes of the environment and your mood.
It would be best if you start by reading house frey and understand step by step. Choosing energetic colours for your kitchen with a mix of neutrals could make a bold statement. All you need to keep in mind is the latest trend and design for colour schemes reflecting vibrance for your kitchen wall.
To help you select the perfect colour scheme for your kitchen, we have a few examples.
You can give your kitchen a metallic and trendy look by adding colours like Dove Gray, Maple Gold, and other metallic shades. These contrast with most of the kitchen furniture and give a modern look to your cooking area. You may also add pendant-shaped copper or gold coloured light to it.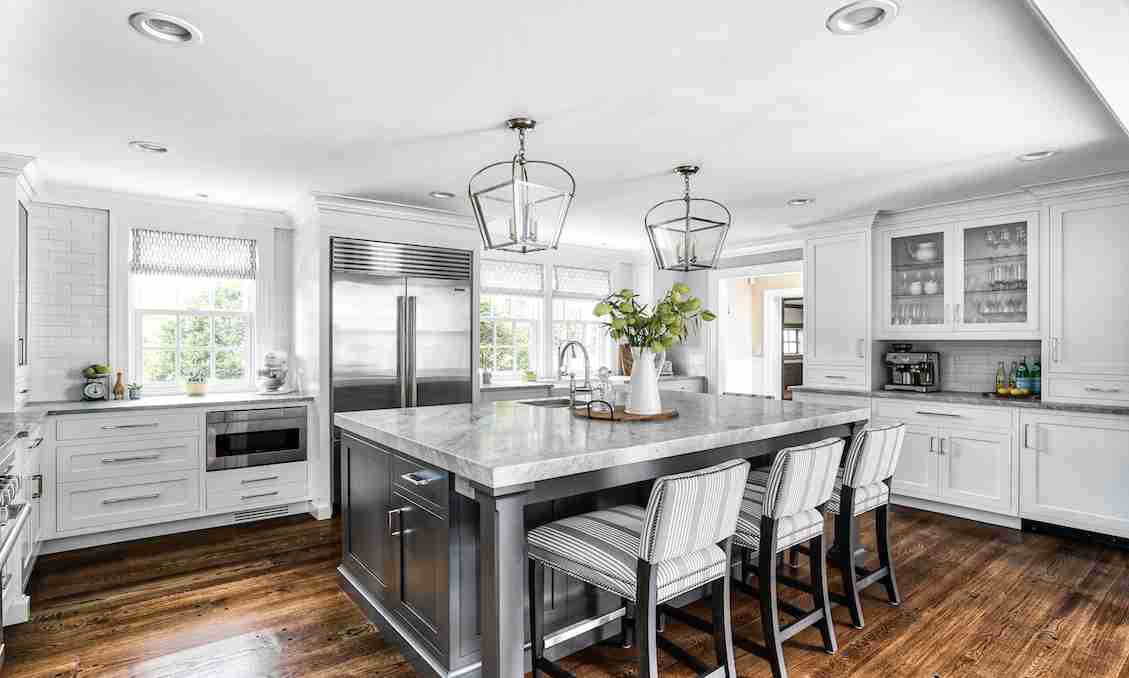 Image credit: Stonington Cabinetry & Design
Green is the colour of Nature. If you are adding a small kitchen garden and your cooking area, you can try painting your walls green. This gives a natural look to your place and blends with the colour of plants in your kitchen. You can try out colours like Pale Green along with some bold dark shades of green.
As we all know, dark colours are meant to create a vibe of intimacy and cosiness, so a dark navy and light blue coloured kitchen could help out. These colours would also match with the wooden furniture you are going to add to your kitchen. Make sure to keep good lighting in the kitchen area if you are going with dark colours.
Image credit: Stonington Cabinetry & Design
Shades of Brown along with White
Brown, along with White or Yellow furniture, gives a wooden look to your cooking area. You can create it like a kitchen in the woods. Even the wooden utensils and other furniture would add up to its beauty.
Bright red along with white marks a significant look in your kitchen. It is classic, traditional and gives a refreshing vibe to your kitchen. Although being classy, it suits modern houses too. The colours are perfect.
Bright yellow kitchen along with orange or green can steal the show. It is natural, reflects sunlight, gives a refreshing and bright look. Because remember nothing is lasting than Nature.
Design: Lonika Chande/Photography: Simon Brown
Grey was the colour of the year in 2021. You can mix and match different shades of grey or add up yellow, red, green, light blue or white. The choice is all yours because grey is supreme.
Even coral and white is a great option. The light, bright colours give energy and are perfect for an airy kitchen. Make sure your kitchen is well-lighted.
Black is supreme. As we all know, black stands out everywhere. Nothing could be much more attractive than matte black in your kitchen. It also contrasts with furniture and kitchen equipment.
Image credit: No Glitter, No Glory
Trying to make your kitchen look unique and different from usual trends? Try out pink and yellow; these bright colours energise the vibe. But make sure to contrast them with some neutrals.
To give a smooth look to your kitchen, you may use oatmeal or blush pink along with a dark colour like blue or grey for marble. The brass furniture and equipment would look so attractive in the oatmeal-blue kitchen.
Pistachio with Black and White
Pistachio looks perfect with the monochrome pair of black and white. It is illuminating and creates a feeling of light and an airy kitchen.
Conclusion
With these colour schemes, you can give your kitchen a trendy modern look. If you like to spend most of your time in Nature, go with the colours of Nature like green, yellow, brown. The choice is yours because you have to decide as per your kitchen size, natural light, and the energy you want from your kitchen.