14 Bathroom Ceiling Ideas To Inspire A Remodel
Bathroom remodeling is essential for improving the bathroom's aesthetic and functionality. 71% of Industry experts found out that homeowners are now, more than ever before, willing to spend more on a bathroom remodel.
Remodeling a bathroom or designing a new one from scratch is typically an expensive project for any homeowner. Despite the expense, the bathroom is one of the most frequently renovated rooms in a home.
The shower, bathtub, or bathroom vanity is often the main focus of these projects. The most overlooked feature during bathroom revamps is the ceiling.
There are a plethora of visually interesting and practical bathroom ceiling ideas that can make a major impact on any bathroom.
In this article, we've put together 14 incredible bathroom ceiling ideas you'd wish you knew earlier.
Without further ado, let's get into it!
1. Wood Slate Bathroom Ceiling
The beauty of natural wood cannot be overstated! Wood slates convey a sense of nature and serenity. Incorporating wood slated in your bathroom ceiling design can radically change the look and feel of your bathroom.
Wood slates come in various shapes and tones that are sure to satisfy your needs. They work well in modern, mid-century minimalist, or traditional home styles.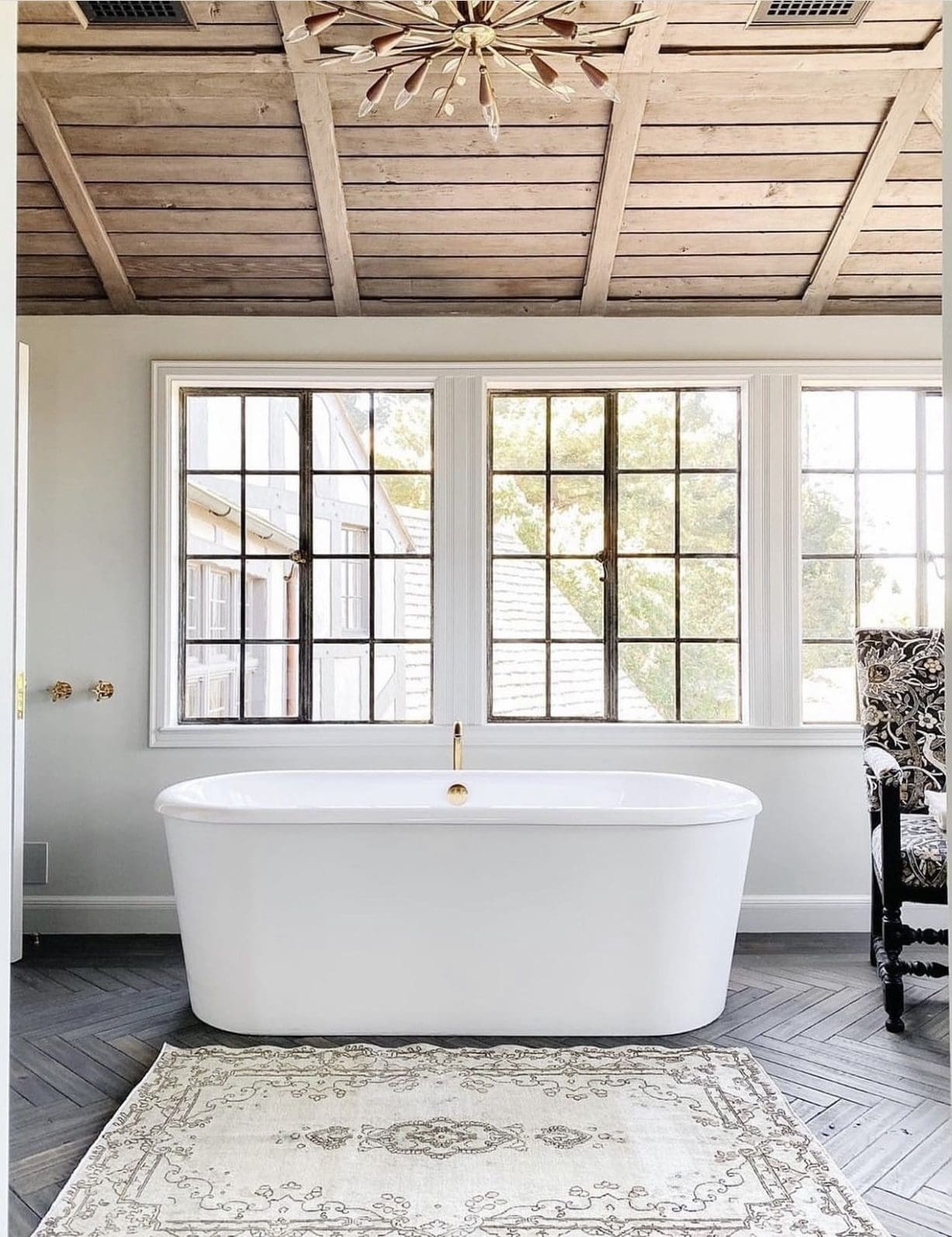 PHOTO: KRISSY PETERSON
2. Conventional Bathroom Ceiling
If you prefer a minimalist approach, then the conventional bathroom ceiling might be ideal for you. It features a plain flat white surface with a standard drywall finish. It is cheap and easy to install and most importantly, timeless.
This classic ceiling is far from boring and actually many homeowners' go-to. The conventional bathroom ceiling is perfect for minimalists and even maximalists who prefer plain ceilings.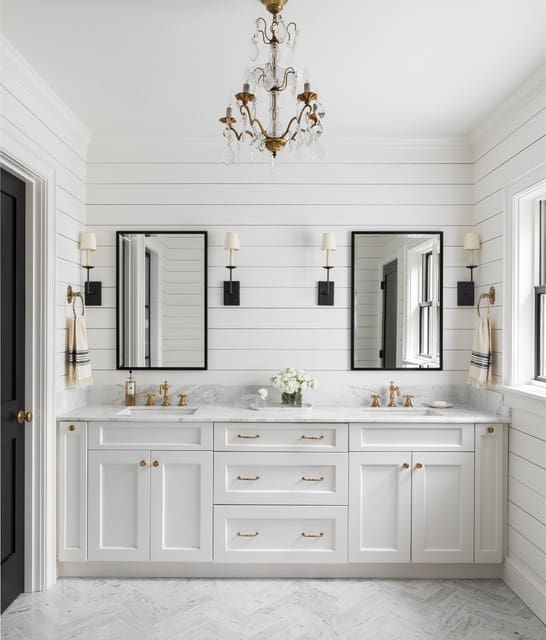 PHOTO: HOUZZ
3. Tray Bathroom Ceiling
The tray ceiling is a classic ceiling design that not only adds aesthetic beauty to a space but also creates the illusion of high ceilings. This ceiling design style makes a low-height bathroom appear higher.
There are endless customization options for the tray ceiling. It can add subtle elegance and stylish flair to a bathroom.
PHOTO: CHRISTOPH THEURER
4. Wallpaper Bathroom Ceiling
Wallpapers are used to add style and depth to interior walls. It is an extremely versatile decorative element. There come in an array of patterns, textures, and colors to suit any space.
Covering your bathroom ceiling with wallpaper is a statement-making move that can instantly bump up the visual appeal of the bathroom. It is an unconventional design style that might not be everyone's cup of tea but it is a great way to give an impactful edge to a bland bathroom.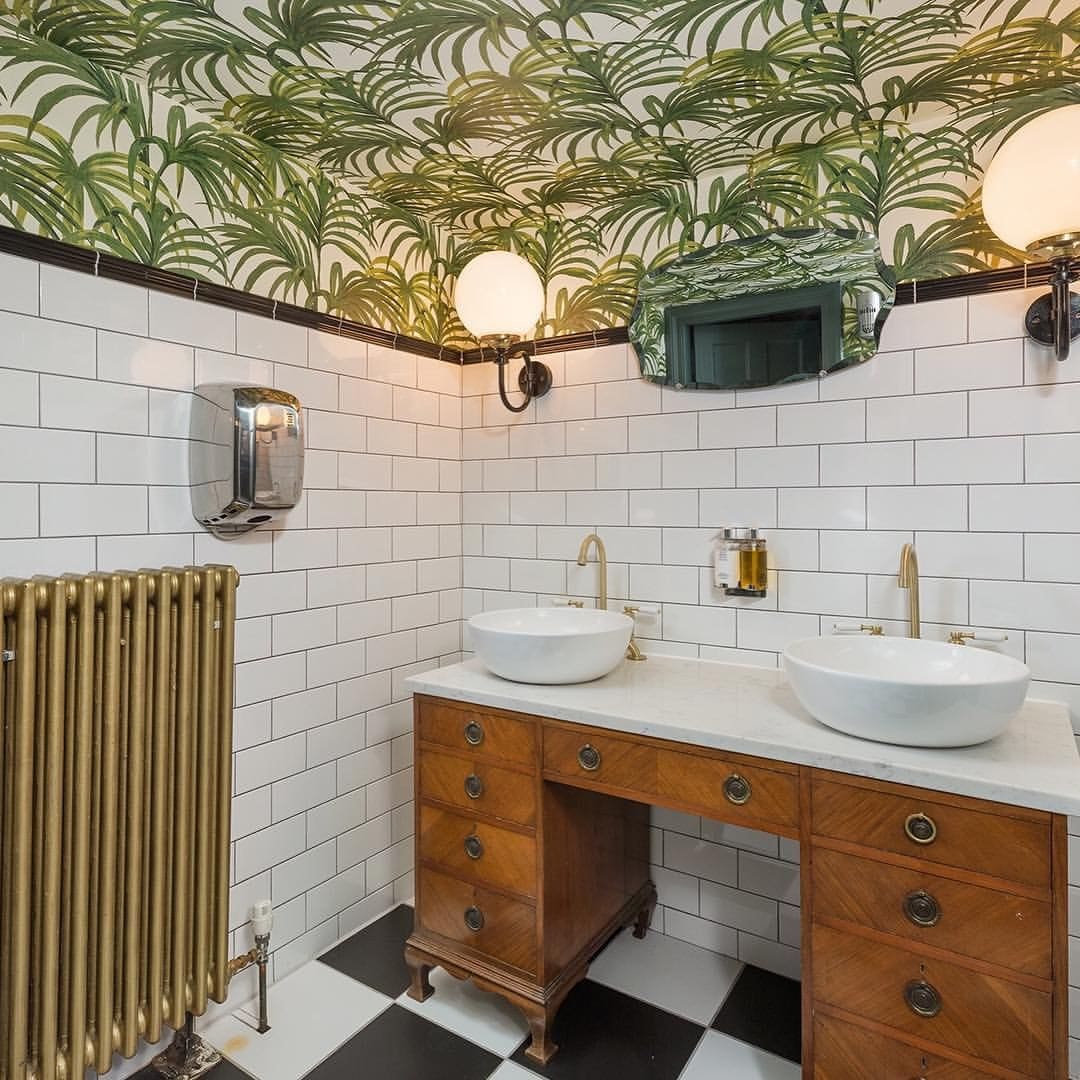 PHOTO: PINTEREST
5. POP Bathroom Ceiling
POP (Plaster of Paris) is a quick-setting building material that has Gypsum as its main component. It is a false ceiling that has grown increasingly popular in modern times. It is expected to last for 15-20 years.
A POP ceiling embellishes the beauty of contemporary homes and makes a great addition to the bathroom ceiling. Other than its aesthetic qualities, POP is durable, and moisture-resistance and makes a small space appear more open.
PHOTO: NU PROJECTS
6. Reclaimed Wood Bathroom Ceiling
Reclaimed wood is basically wood with a past life used for a new purpose. It has more sustainability advantages than new wood.
Reclaimed wood is used to inject character, uniqueness, and a rustic charm into interior spaces. This type of wood is also highly durable and versatile. It is a tried and tested way to bring warmth and an outdoorsy charm into your bathroom.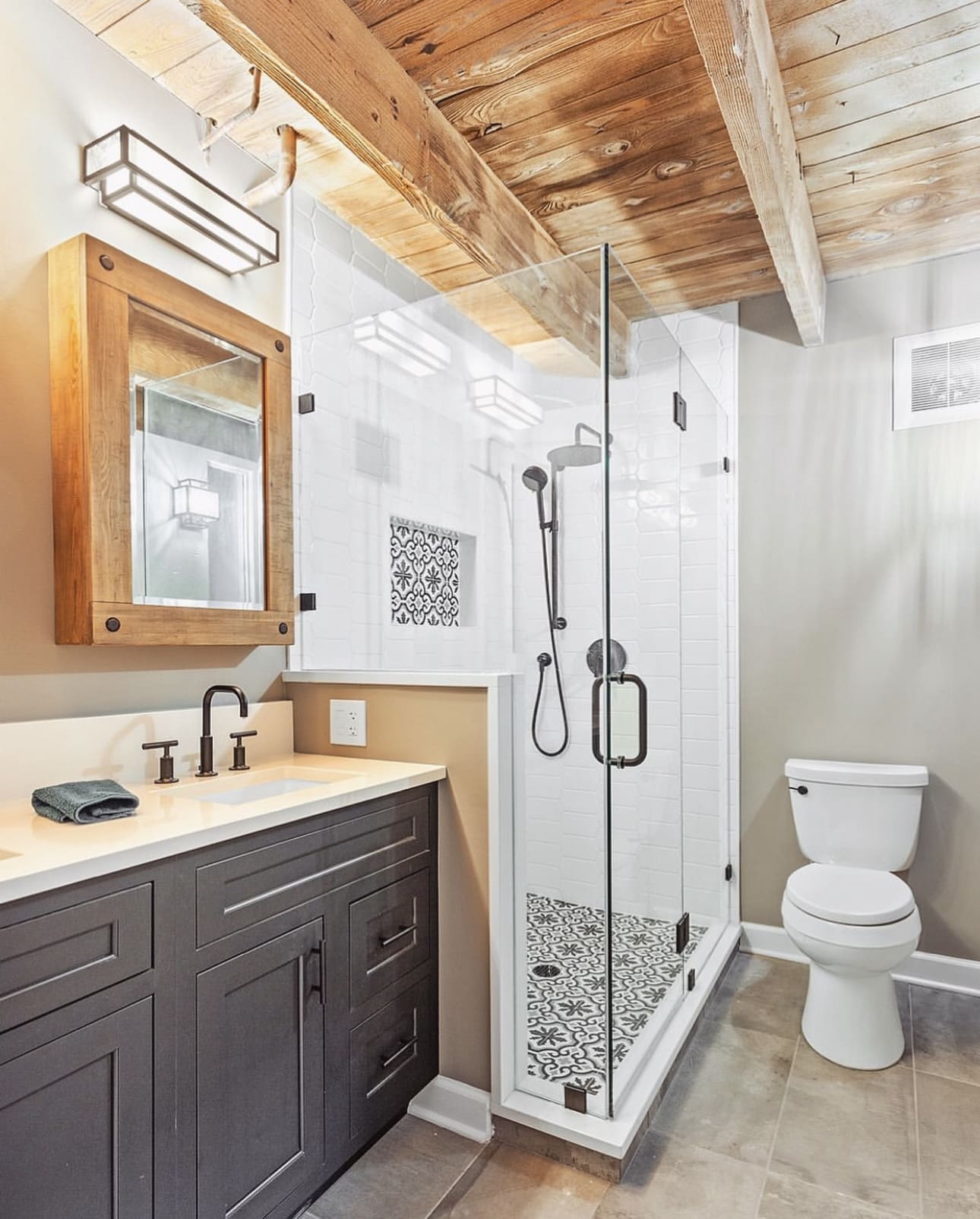 PHOTO: MAGDALENA REPALA
7. Yellow Bathroom Ceiling
Yellow brings a sense of drama and brightness to a room. This may not be a usual ceiling approach but it sure does give a bathroom an impactful edge. The sunshine hue makes a bathroom bigger, brighter, and more lively.
What's there not to like? In color psychology, yellow brings a joyful and energetic feeling. This helps create a visually interesting focal point in the bathroom.
PHOTO: IG/THUSTHEFUSS
8. Skylight Bathroom Ceiling
A skylight is a ceiling opening with transparent glass or acrylic covering it with the intention of letting natural light in.
Bathroom skylights have a wealth of advantages, including increased lighting, better ventilation, less condensation and mold development, and increased home value.
It can create a comfortably modern feel but may not be for everyone as it can be a thermal liability.
PHOTO: HOUZZ
 9. Bathroom Ceiling Wood Logs
Incorporating wood logs into your bathroom ceiling adds a grand gesture and creates a unique and inviting new focal point. It enhances the feel of coziness and warmth in a space.
This is one of the most unique bathroom ceiling ideas as it adds the most spectacular element that is perceived as stylish and authentic.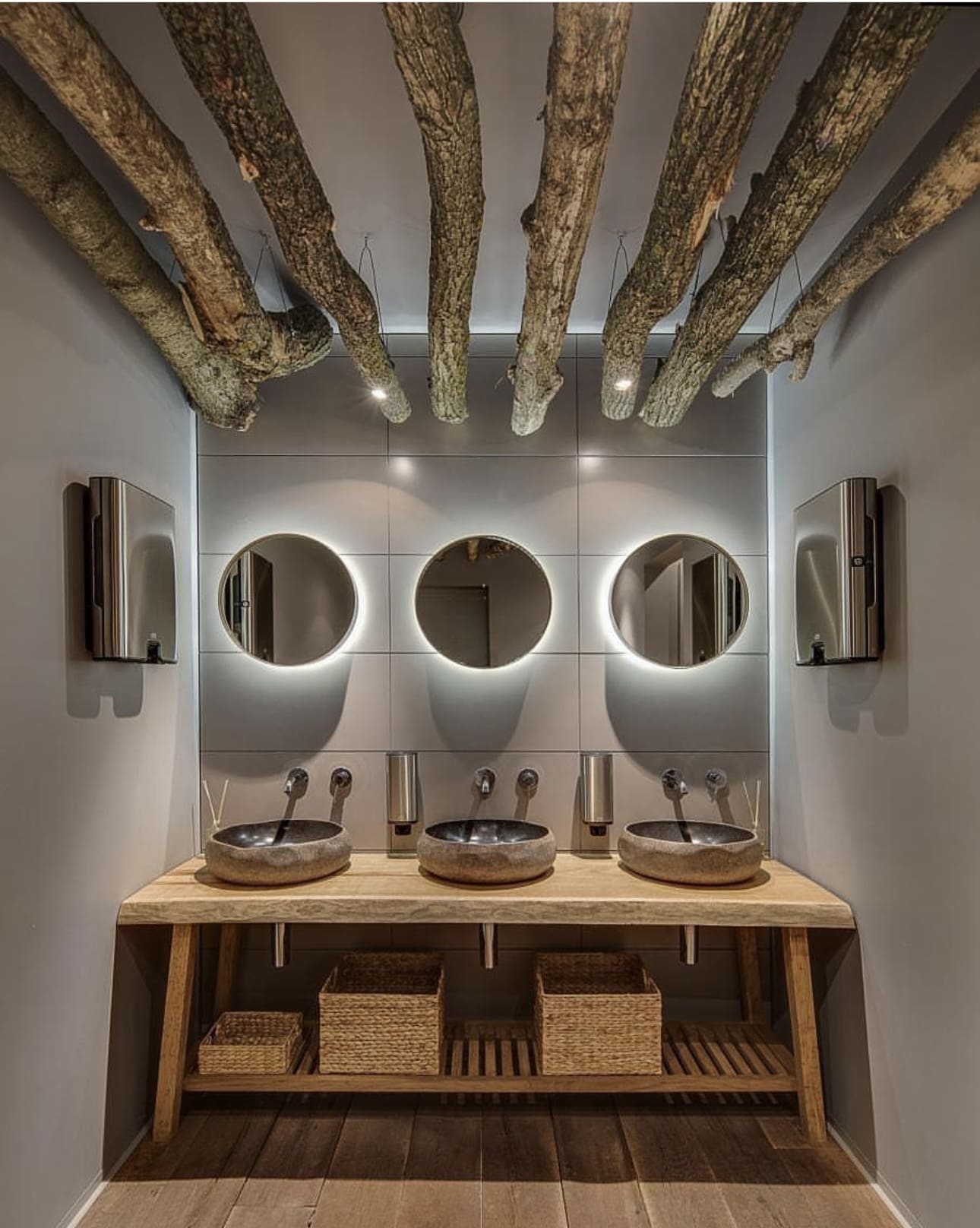 PHOTO: SLAVA BALBEK
10. Wood Paneling Bathroom Ceiling
Wood panels have been long used for cladding ceilings. They add a sense of nature and rustic charm to interior spaces. They are used for contemporary interior design as an alternative to traditional wooden cladding.
Wood paneling ceilings are prized for being environmentally friendly, visually appealing, and enhancing the feel of coziness. There is a myriad of designs, colors, and finishes to suit any home style.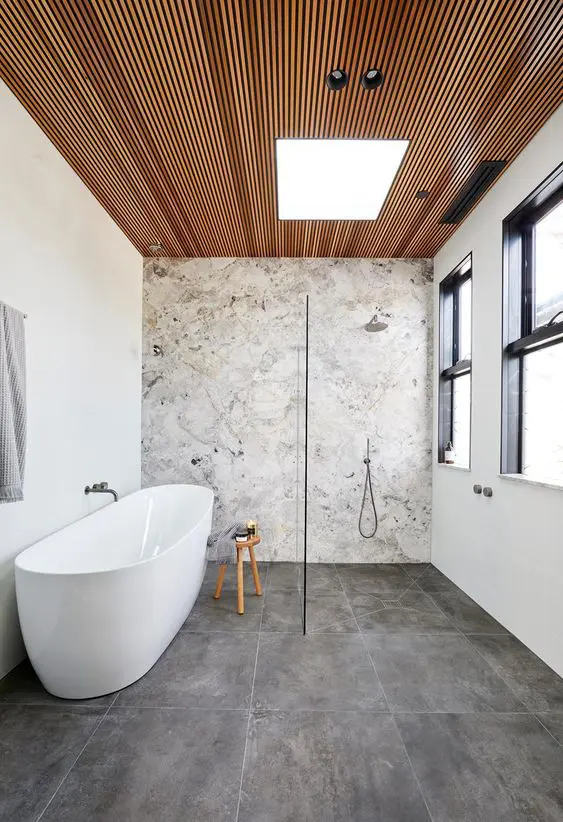 PHOTO: PINTEREST
11. Black Bathroom Ceiling
Black is a classic color that adds understated elegance to interior space. A great way to inject some character and stylish flair into your bathroom is by painting the ceiling black. Black is the new neutral, it is adaptable and works great with any other color.
Black accent walls have taken the interior world by storm over the last decade but black bathroom ceiling ideas are growing in recent trends and are here to stay for the foreseeable future.
PHOTO: STYLE MUTT HOME
12. Bathroom Ceiling With Exposed Wood Beams
Exposed wood beams have a striking appearance and warm that is reinforce the rustic character of a room. A rich stained wooden bathroom beam that can make a dramatic impact and give some life to even the blandest bathroom.
Wood beams are great for bathroom ceilings as they draw the eye up and create a sense of space without taking up too much space.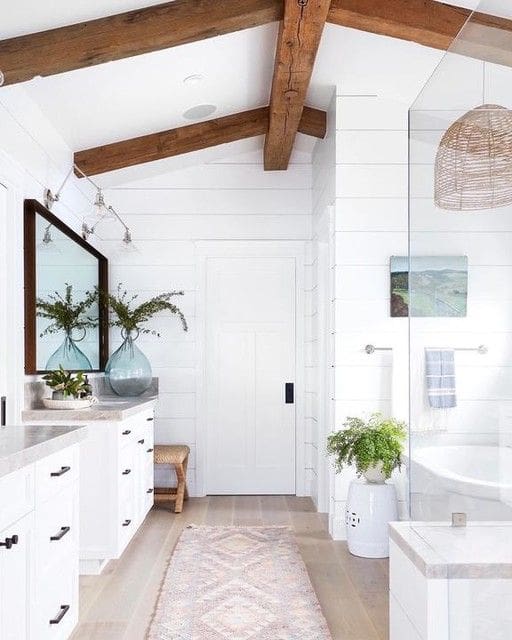 PHOTO: PINTEREST
13. 3D Bathroom Ceiling
3D ceilings are one of the fast-rising decorative ceilings that are being used to design both residential and commercial interior spaces. It adds maximizes interest and adds drama to a space.
You can also visually expand the bathroom with the help of 3D ceilings. You can simply "play" with the room's volumes thanks to the drawing or the original shape.
PHOTO: LUXURY BATHROOMS
14. Coffered Bathroom Ceiling
A coffered ceiling is an architectural design that is created with coffers or coffered panels. A portion of the regular ceiling is recessed or raised by a series of grids in a coffered ceiling.
Coffered is a popular ceiling type used to improve the acoustics, style, and depth in a room. Incorporating this ceiling is a great way to heighten the overall impact of the bathroom.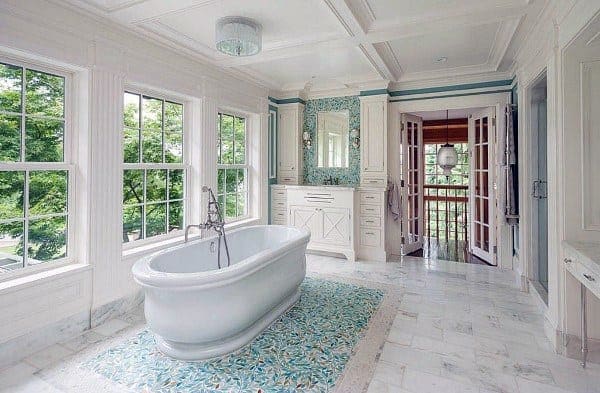 PHOTO: PINTEREST