15 Bathroom Shelf Decor Ideas
The bathroom is a highly functional space and a place of sanctuary and solace. A simple way to maximize visual appeal in the bathroom without breaking the bank is by decorating the shelf. Bathroom shelf decor is often less complicated to execute.
The bathroom shelf is a storage space but is also deserving of some stylish flair alongside practicality. Whether open or closed shelving, the bathroom shelf arrangement should add a chic layer of interest and depth to the space.
There is a myriad of tips and tricks to tackle blandness and create visual interest in the bathroom.
In the article, we have curated 15 bathroom shelf decor ideas to help you create a stylish, functional, and harmonious space.
1. Mix-Match Item
Using varying items on your bathroom shelf decor helps to break consistency and increase visual appeal.
This can be achieved by using a combination of different materials such as glass, wood, metal, and ceramic. This clever combination of materials also helps create visual balance and helps to unify all elements.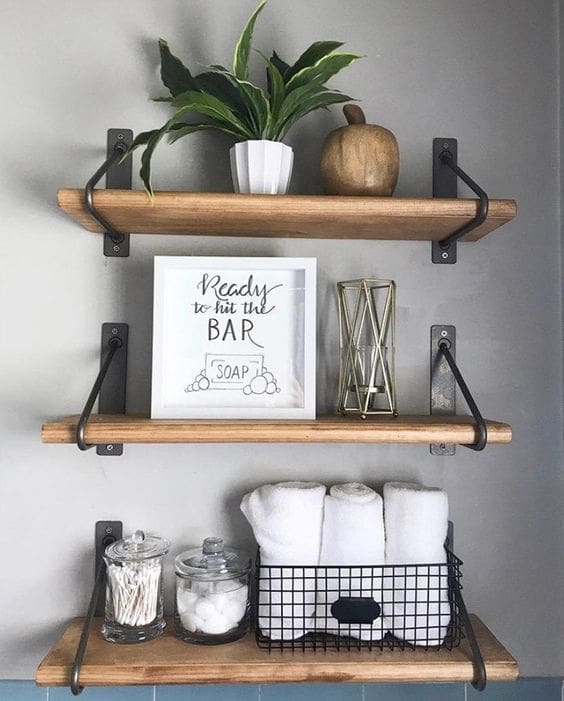 PHOTO: ETSY
2. Use Eco-Friendly Materials
Other than their irresistible visual appeal, there are so many other reasons to invest in sustainable materials for your bathroom organization. It gives a sense of nature and warmth to your space.
Eco-friendly materials reduce your carbon footprint and are also practical. Some of these materials are woven baskets, reclaimed wood, bamboo, cork, natural stone, and many more.
PHOTO: INTERIORS BY MCCALL
 3. Display An Artwork
Artwork is used in interior design to provide style and richness to a space. This can also be used to add a pop of color to uninteresting dull spaces.
Not only does art allow you to show your creative side, but it also shows helps balance the space. So, use interesting artwork to add life and some personality to your bathroom shelf.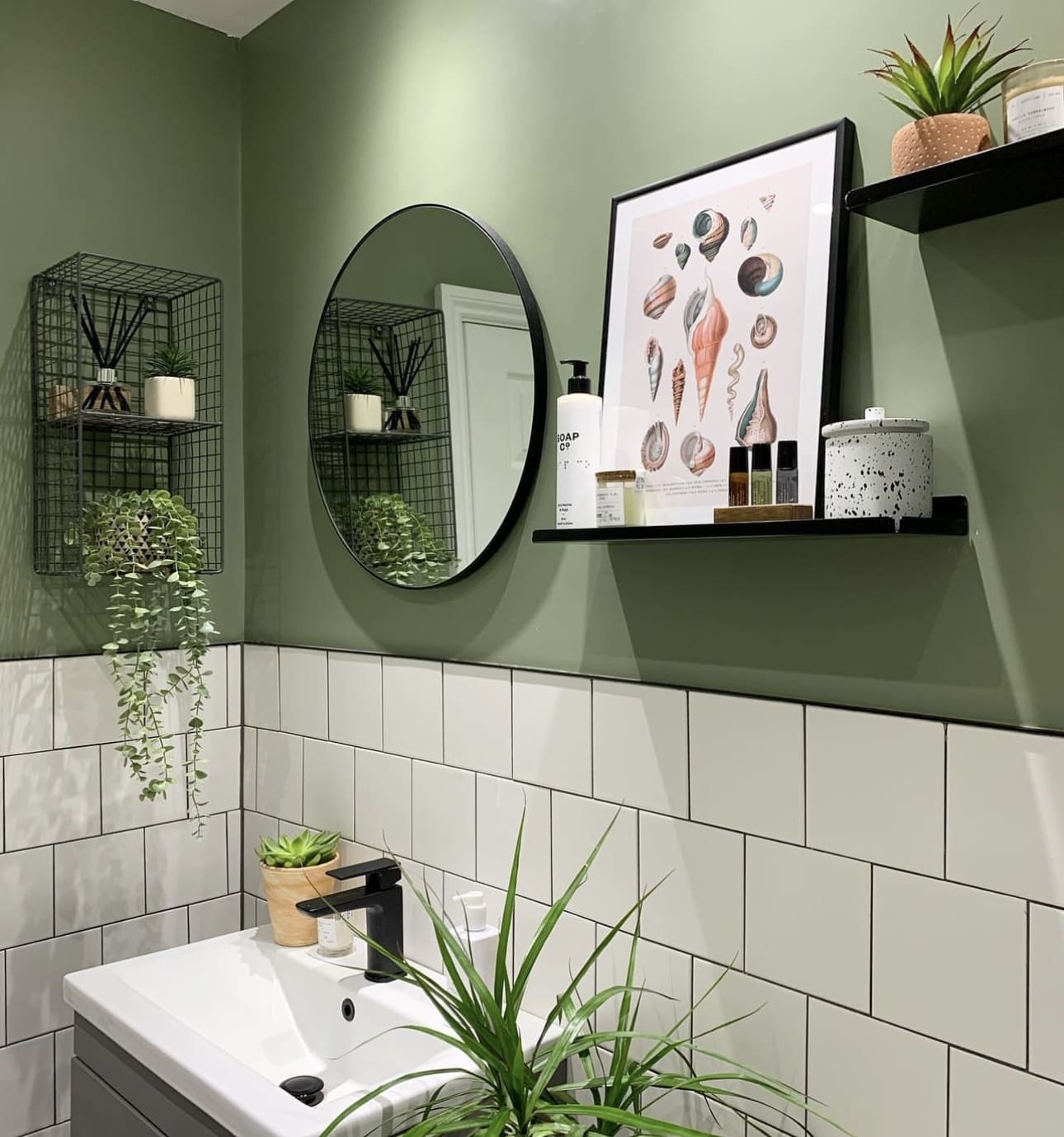 PHOTO: THE SEABURN HOUSE
4. Stick To A Neutral Color Palette
For a chic, clean, and contemporary feel, consider a neutral color palette. This subtle color scheme can help create a balanced and give cohesive look that is easy to maintain.
Neutrals typically consist of beige tones, brown, taupe, grey, and shades of white, to name a few. They can give your bathroom shelf decor a simplistic yet impactful edge.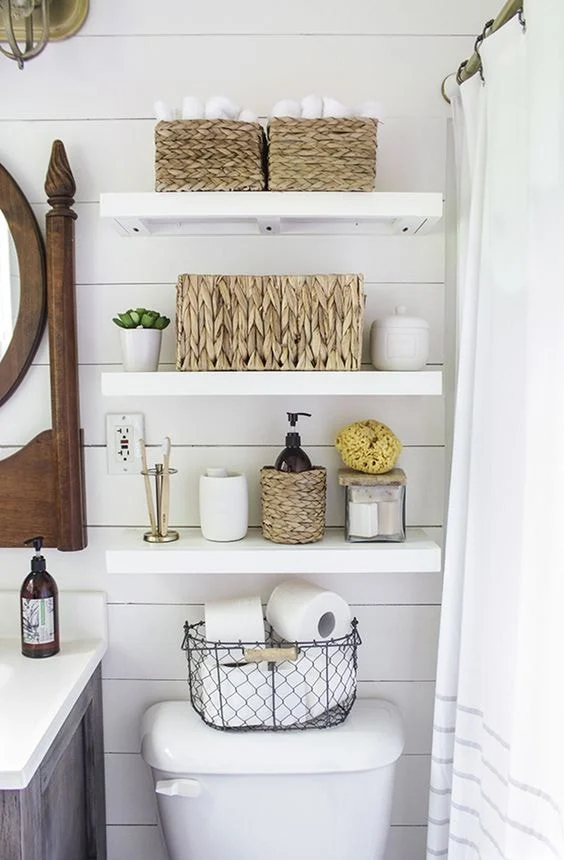 PHOTO: COUNTRY LIVING
5. Display Your Bathroom Essentials
When decorating your bathroom shelf, keep in mind the functionality aspect of things. This is a storage space so it just makes sense to store items you use often for easy reach.
Don't do overboard with it! Thinks about the visual aesthetics of each item. Is it visually appealing? And, are these items you don't mind household members or guests seeing? In addition to this, don't use too many or items of different clashing colors as this can overwhelm the space and create even clutter instead.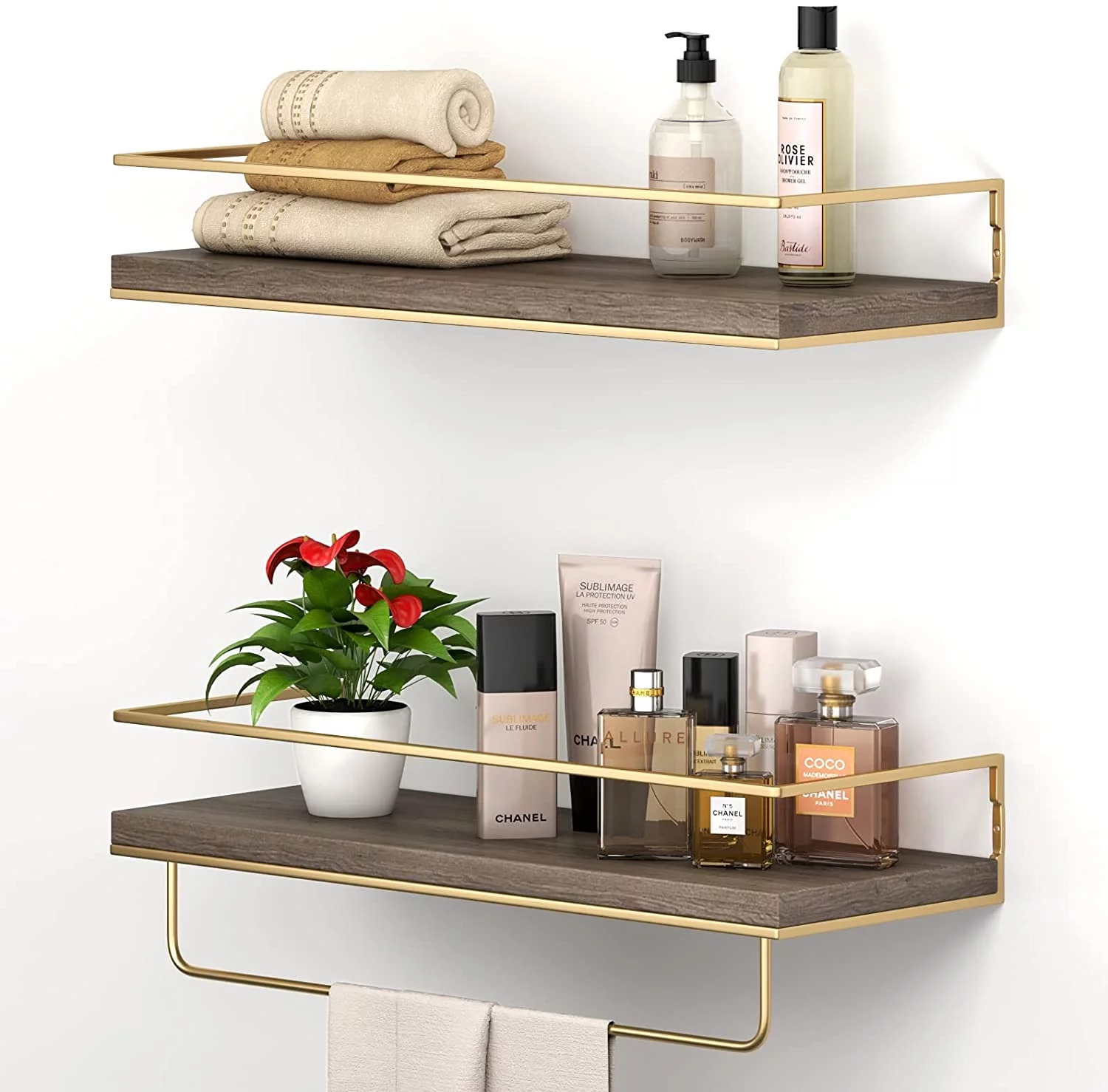 PHOTO: AMAZON
6. Use Apothecary Jars
A clever storage solution technique is important in home decor. Apothecary jars add a sleek stylish touch to a bathroom shelf. They help keep your space very organized and visually interesting.
The most common items that are stored in a glass storage container are cotton balls, Q-tips, cotton swaps, and balsa wood flowers.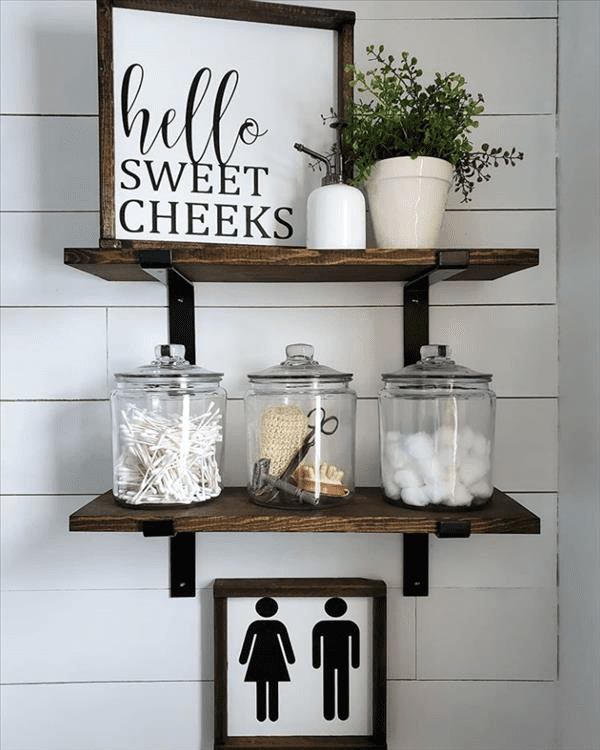 PHOTO: PINTEREST
7. Keep It Minimal
The easiest way to keep clutters at bay is to keep things simple. Modern minimalism involves reductive decor elements. Maintain a muted or neutral color scheme and orderly spatial arrangements.
Minimalism is stylish, calming, and easy on the eyes. Only display on the shelf the elements that actually add practical or stylistic value to the bathroom shelf.
PHOTO: LIKETOKNOWIT
8. Display Inspiring Quotes
Minimal and inspiring art print posters are the perfect addition to bathroom shelf decor. They create a welcoming and inviting atmosphere.
There is an endless array of unique quotes and fonts to choose from. You can purchase some printables on Etsy and get a frame that matches your bathroom interior. Plus, there are also lots of minimal funny and toilet rule prints to consider.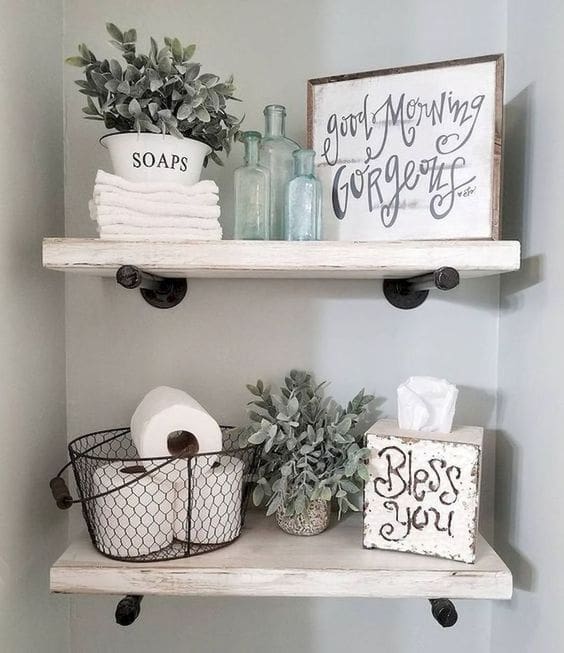 PHOTO: PINTEREST
9. Throw In Some Plants
Plants are great for livening up a space. From a design standpoint, they can add style, texture, color, and interest to a space.
Other than their aesthetic benefits, they have many health benefits such as air purification, reduces stress and anxiety, and promotes recovery. So, incorporate them into your bathroom shelf decor for all these benefits.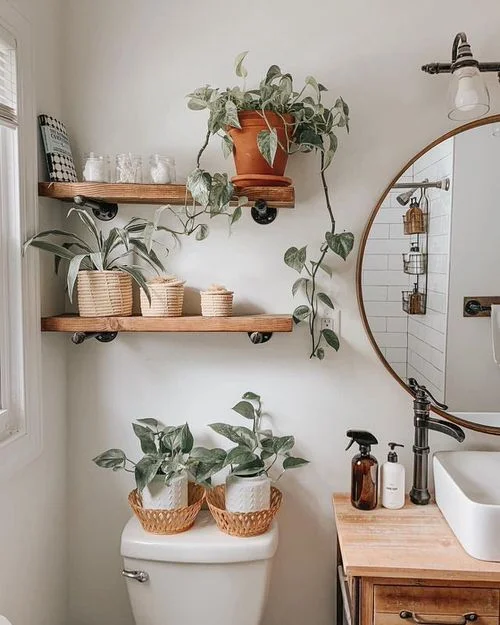 PHOTO: PINTEREST
10. Opt For A Symmetrical Arrangement
Symmetry is an important aspect to keep in mind when decorating a bathroom shelf. This positioning involves mirroring similar objects on the opposing sides.
Symmetry conveys balance within a space and maximizes interest. Because a symmetrical placement produces an organized atmosphere, the bathroom shelf decor will be more structured and appealing.
PHOTO: PINTEREST
11. Embrace A Monochromatic Scheme
A monochromatic color palette is one of the most used in interior design. This is when a single hue forms the foundation of the space's color scheme. The most common monochromatic color is black and white.
This scheme can elevate the aesthetics of your bathroom shelf or the entire bathroom. Besides creating a balanced look, a monochromatic approach also conjures up an elegant and sophisticated impression.
You don't have to use the same flat color throughout a monochromatic design. That's not what this scheme is about! You can combine several tones of the same color, as well as white, brown, or other neutrals, to add contrast to your main color.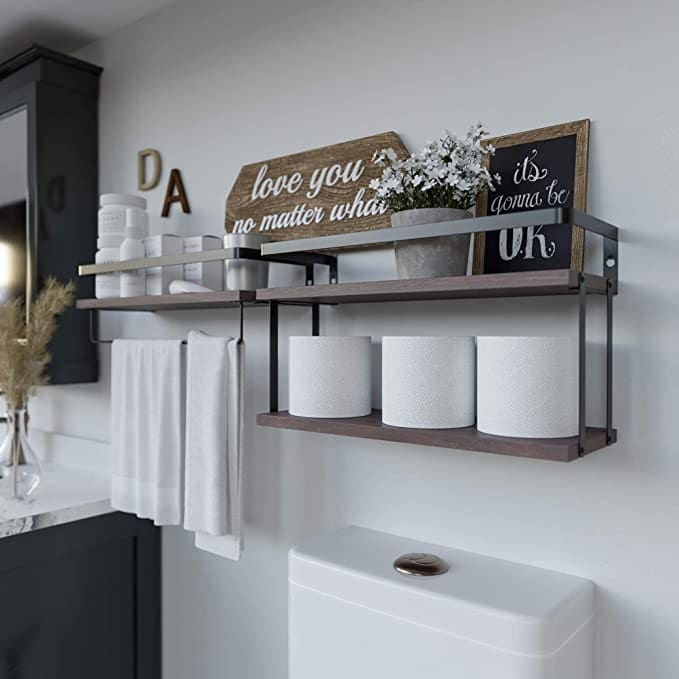 PHOTO: AMAZON
12. A Vintage-Inspired Bathroom Shelf Decor
Vintage is a term used in reference to an item that is at least twenty years or more. Vintage items are used in home decor and interior design to add charm and inject character into a space.
These items are eye-catchy and timeless and are often inexpensive to acquire. They can be found in your local charity stores, garage sales, and auctions. Vintage items are sure to have some uniquely stylish flare to your bathroom shelf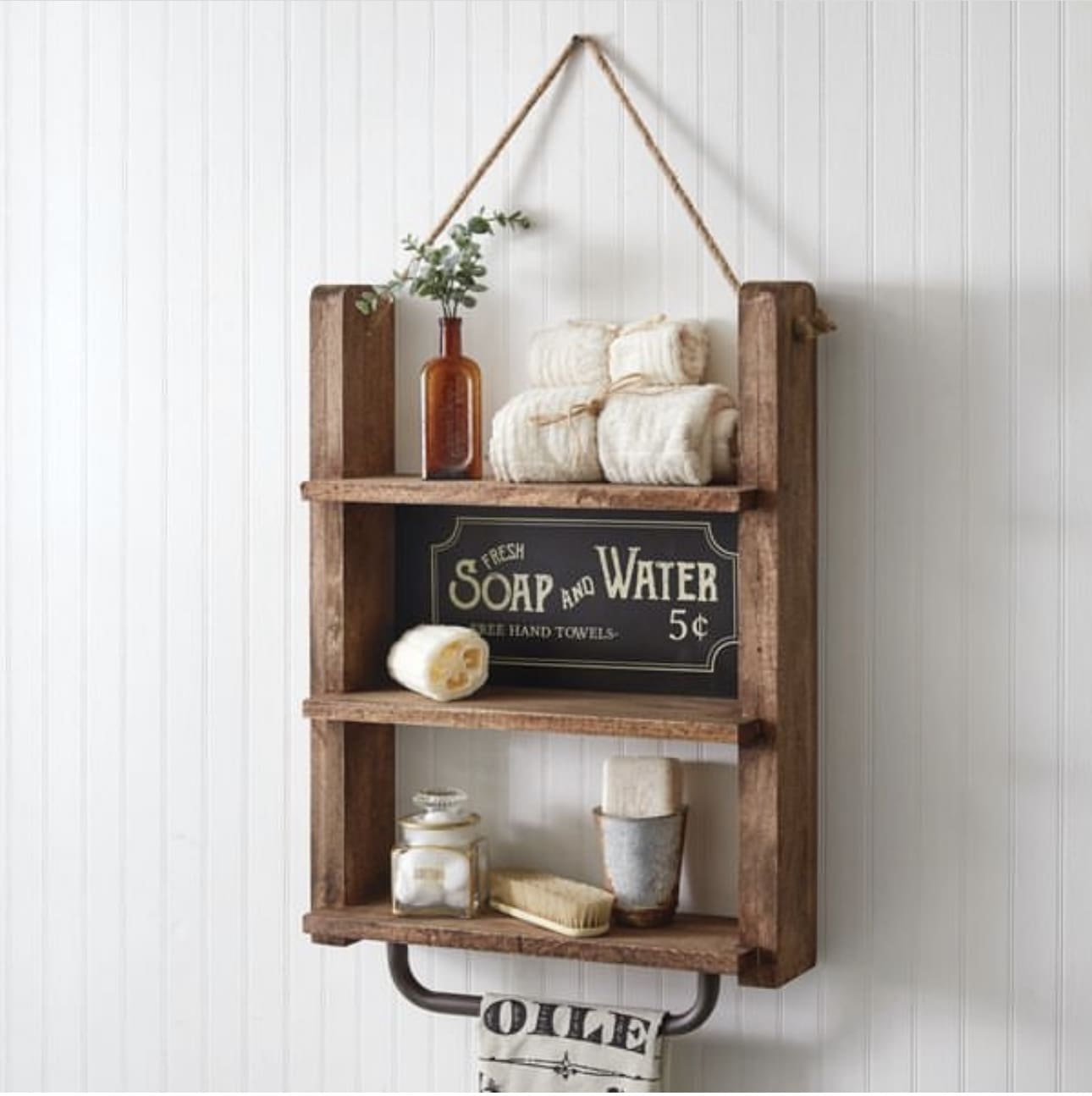 PHOTO: INSTAGRAM/LOVE-HAPPY-CREATIONS
13. Personalized Your Space With An Urban Jungle Theme
The urban jungle style is characterized by an abundant usage of natural elements and greenery. Its colorful accents create an inviting and relaxed atmosphere. It also adds depth, color, and texture to your bathroom shelf.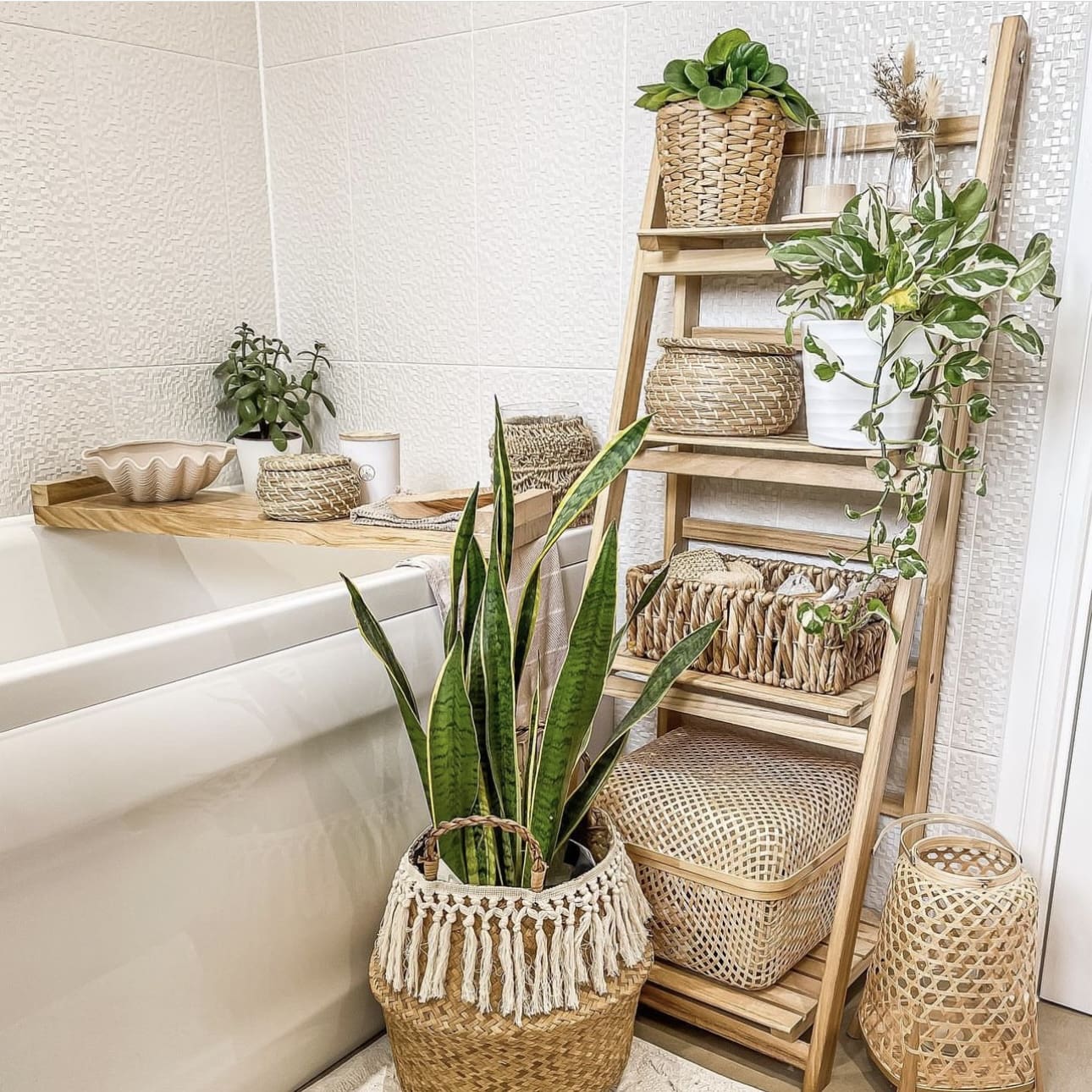 PHOTO: INSTAGRAM/HOME.CAFFEINE.CACTI
14. Display A Portable Mirror
There is no such thing as too many mirrors in the bathroom. Bathrooms are often small spaces. The mirror reflects and distributes lights which help brightens up and make small spaces look bigger.
Plus, mirrors are highly functional, especially in the bathroom. Placing a portable mirror on your bathroom shelves also helps to create depth and visual interest.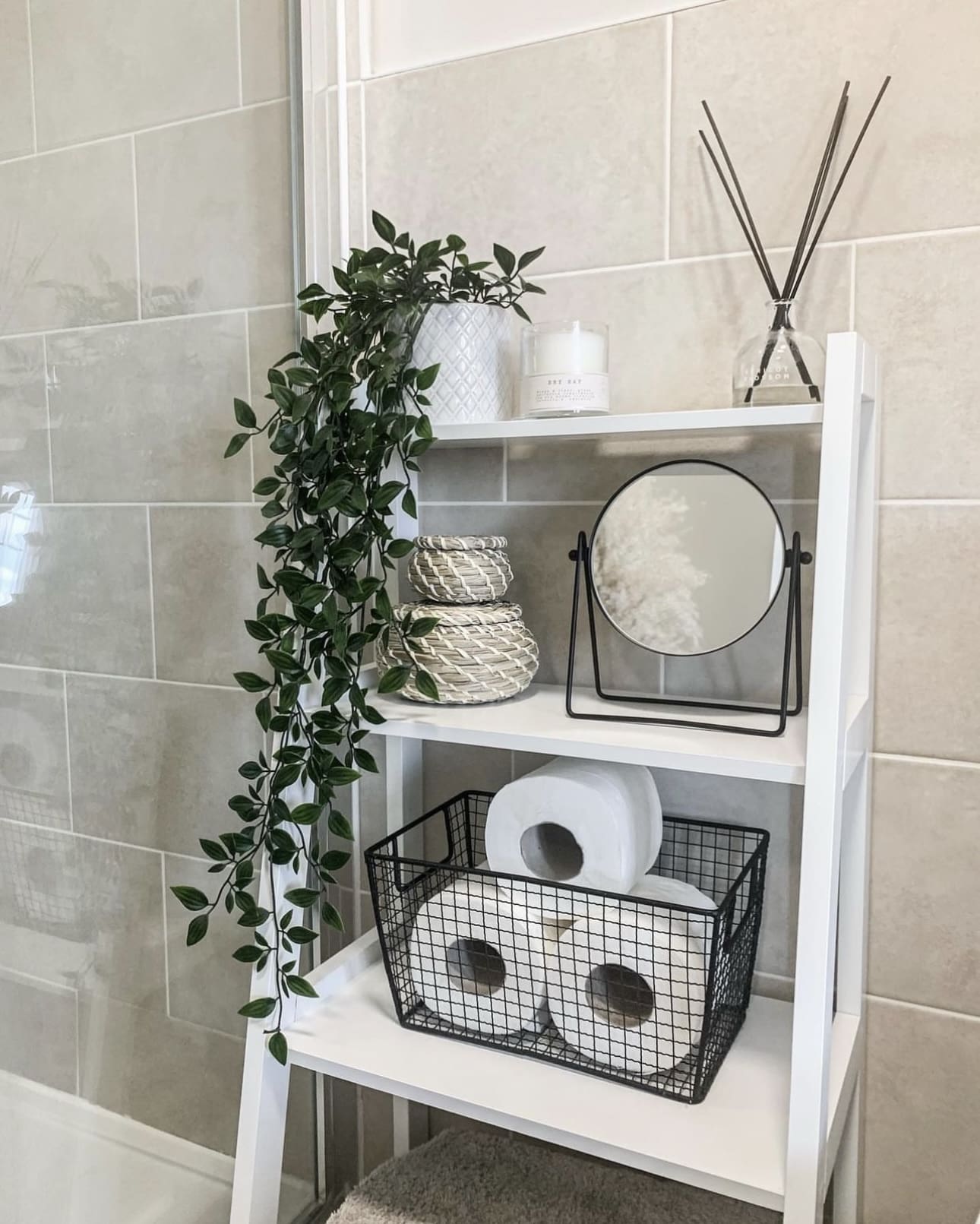 PHOTO: MIDLANDS HOME
15. Be Creative With A Basket Shelf
No Shelve? No problem! Get your creative juices flowing and hang up baskets to form a shelve. This is an even more eye-catchy and characterful shelf than the conventional shelving.
This practical bathroom storage can be a fun DIY project to undertake. Make sure the baskets are properly secured against the wall and avoid putting heavy items on them.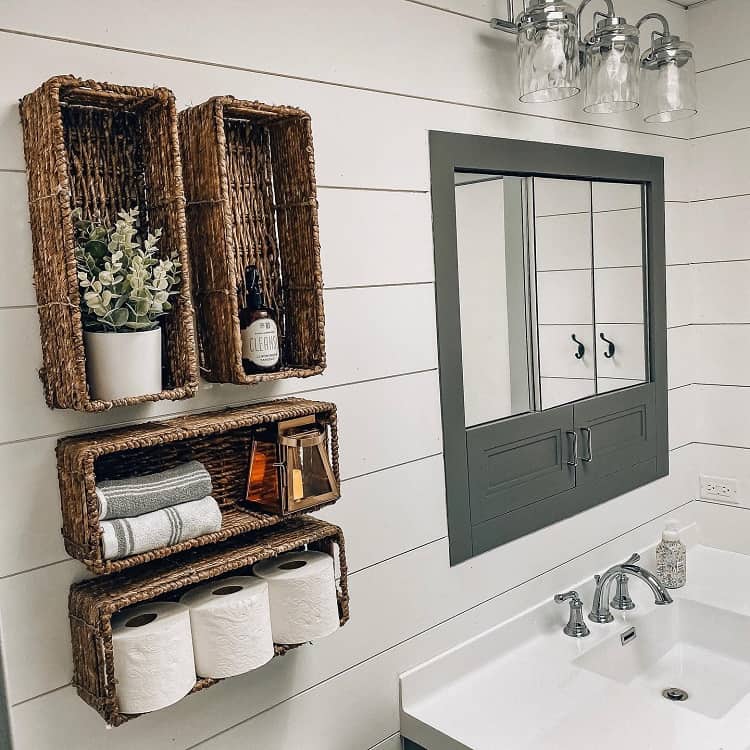 PHOTO: INSTAGRAM/HOMEWITHALIA