14 Best Cream Kitchen Cabinets
The kitchen cabinet is the most impactful element in a kitchen. It can make or break the visual appeal of any kitchen. There are a plethora of kitchen cabinet colors available today that make it so difficult to choose the best one for your home. One of the most important things to consider is the timelessness of the kitchen cabinet.
Cream kitchen cabinets are a popular choice for homeowners because their muted neutral color adds a timeless look and a sophisticated feel to a kitchen.
One of the best things about these crowd-pleasing kitchen cabinets is that they also come in different variations. Some of these creamy tones are ivory, streamed milk, summer white, and egg nog, to name a few. They also work great in different kitchen styles, from modern to traditional, farmhouse, rustic, and country.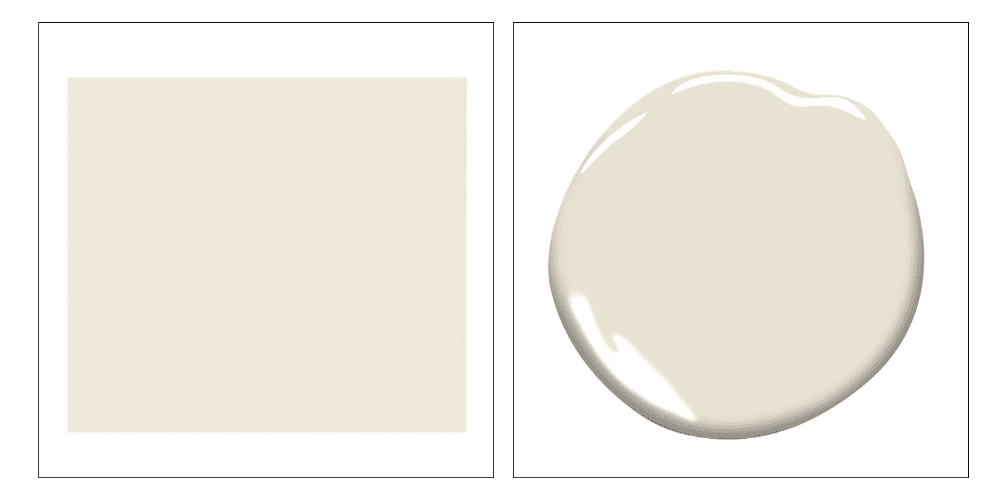 Cream-colored also kitchen cabinets can complement all styles of kitchen countertops, from granite to wood, marble, quartz, laminate, and many more.
They are chic and subtle but not mundane and can satisfy on multiple levels.
In this article, we've curated the 14 best cream kitchen cabinets to inspire your next kitchen remodeling project.
Enjoy the read!
1. High-Gloss Cream Kitchen Cabinets
High-gloss kitchen cabinets give a mirror-like appearance that adds sleekness and style to kitchen spaces. They also reflect lights which makes the room appear even bigger.
A great way to incorporate cream kitchen cabinets in your space is to give them a high-gloss finish. This type of finish is also easy to clean and keeps the cream hue free from long-lasting stains.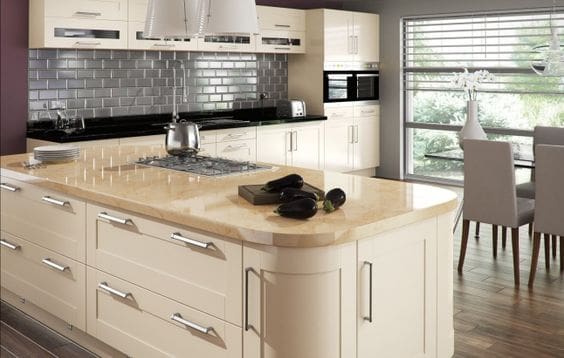 2. Semi-Gloss Cream Kitchen Cabinets
A semi-gloss finish is a more subtle alternative to a high-gloss finish. It has a smooth sleek sheen but is not as reflective as the high-glossy kitchen cabinet.
It reflects light to a degree and it is the right balance between a high-gloss finish and a matt finish. Semi-gloss cream kitchen cabinets radiate a subtle shine that will add a chic layer of interest and style to your kitchen.
3. Matt Cream Kitchen Cabinets
This type of kitchen cabinet design creates a comfortably modern feel that's hard to resist. If you want to create an effortlessly chic kitchen, this may be the ideal style for you.
Matt is a finish that absorbs light, as opposed to gloss which reflects it and this results in a more muted look. Matt cream kitchen cabinets are great for contemporary spaces.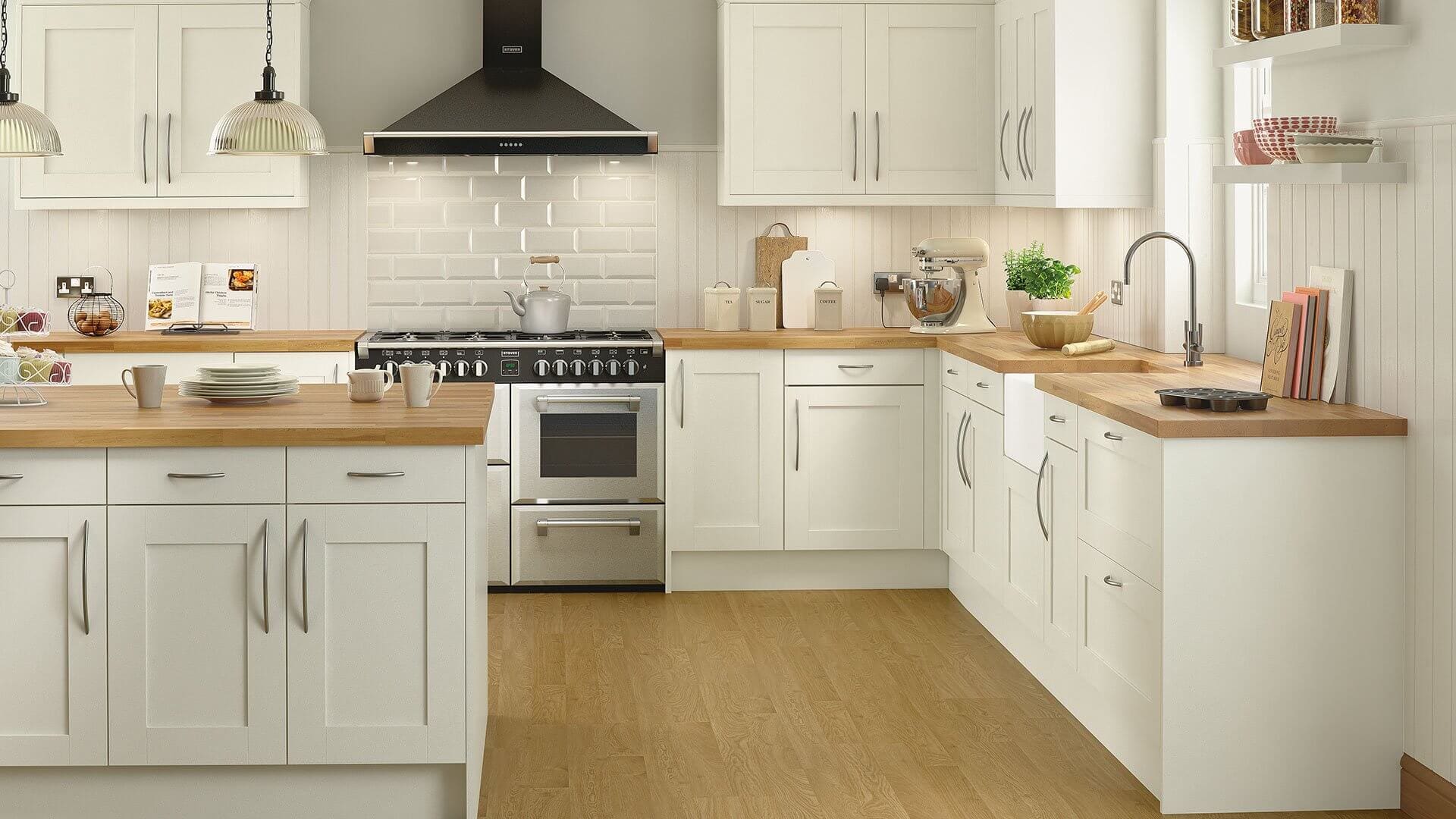 4. Sandstone Kitchen Cabinets
Sandstone is a muted creamy color that can elevate the look of your kitchen in a subtle yet stylish way. The base color is sandy color. Sandstone kitchen cabinets are mostly light tan in color but also come in varying hues.
This kitchen cabinet color variation usually does not have too much yellow undertone. There are usually seen in modern minimalistic kitchens.
5. Two-Tone Cream Kitchen Cabinets
To maximize interest in your kitchen cabinet design, mix cream kitchen cabinets with cabinets of a different color.
The most popular color combo for cream is white but black as grey is also great for adding a strong sense of style and making a dramatic impact.
6. Greige Kitchen Cabinets
Greige is a creamy kitchen cabinet color that combines grey and beige. Grey kitchen cabinets have been a popular choice for the longest time, and so is beige but greige is seen to have taken over over the last decade. It's a tried and tested timeless cream kitchen cabinet option that never fails to please.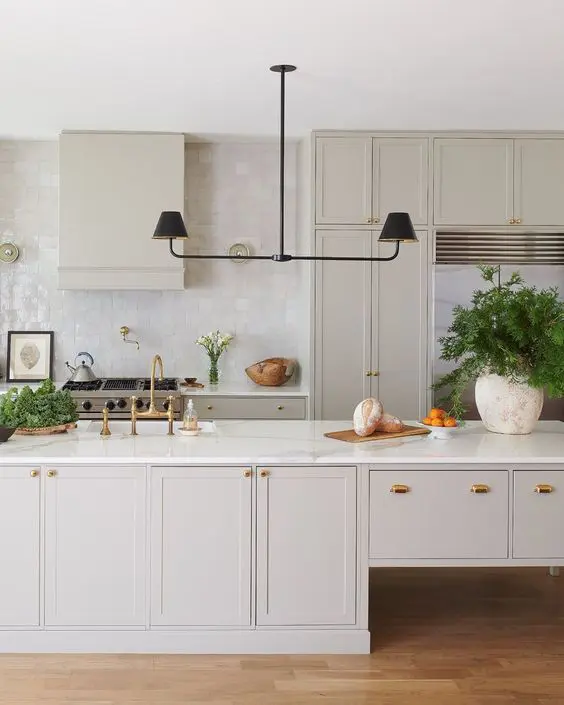 7. Cream Kitchen Cabinets With Black Countertop
Black countertops are great for cream kitchen cabinets for a number of reasons. They add an understated elegance and chicness to the kitchen. Black countertops are also great kitchens because it conceals stains more than other counterparts.
Black is also a classic and adaptable color that complements cream and every other color. The black quartz countertops with subtle gray veining have remained one of the homeowners' favorite choices.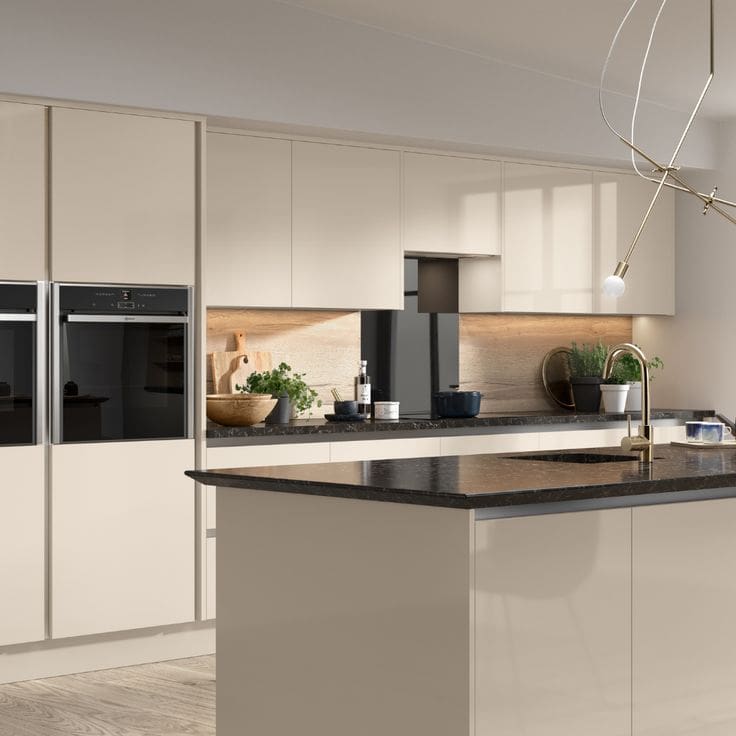 8. Mellowed Ivory Kitchen Cabinets
The mellowed Ivory by Benjamin Moore is one of the most talked about muted and inviting creamy colors for kitchens and bathrooms in recent times. This versatile hue has a harmonious yellow-green look that is rich and inviting.
Mellowed ivory kitchen cabinets are attractive in appearance. It embellishes the beauty of any kitchen without overpowering it.
9. Taupe Kitchen Cabinets
The taupe kitchen cabinet has a greyish-brown cabinet with a soft hue that is hard to resist. This easy neutral creates a calm, warm, and inviting ambiance in the kitchen.
This type of creamy kitchen cabinet is well-suited for white or bright-colored countertops, stone effect tiles, or timber floor tiles.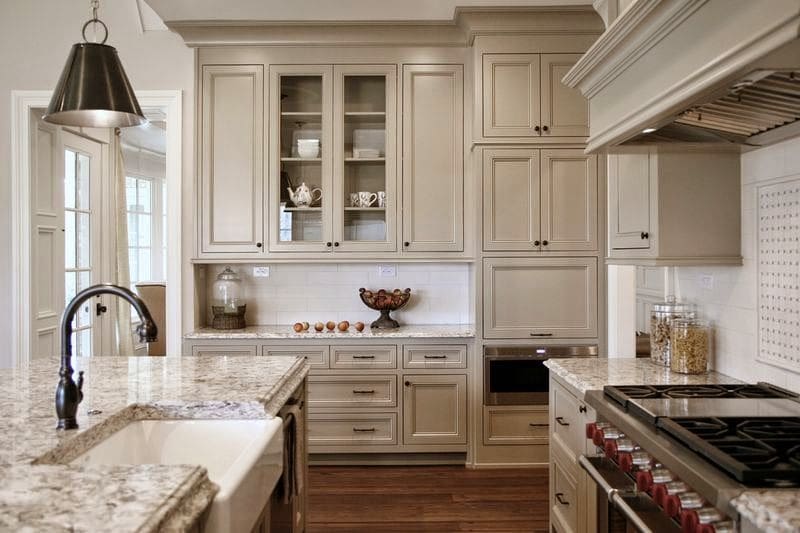 10. Grecian White Kitchen Cabinets
Grecian white is a shade of white with a tint of creamy brown. It is subtle yet highly stylish and creates a relaxed atmosphere.
The Grecian white kitchen cabinet gives a soft sunlit appearance resulting in a warm and comfortable modern feel. This is one of the cream kitchen cabinets that complement any home interior style or granite countertop.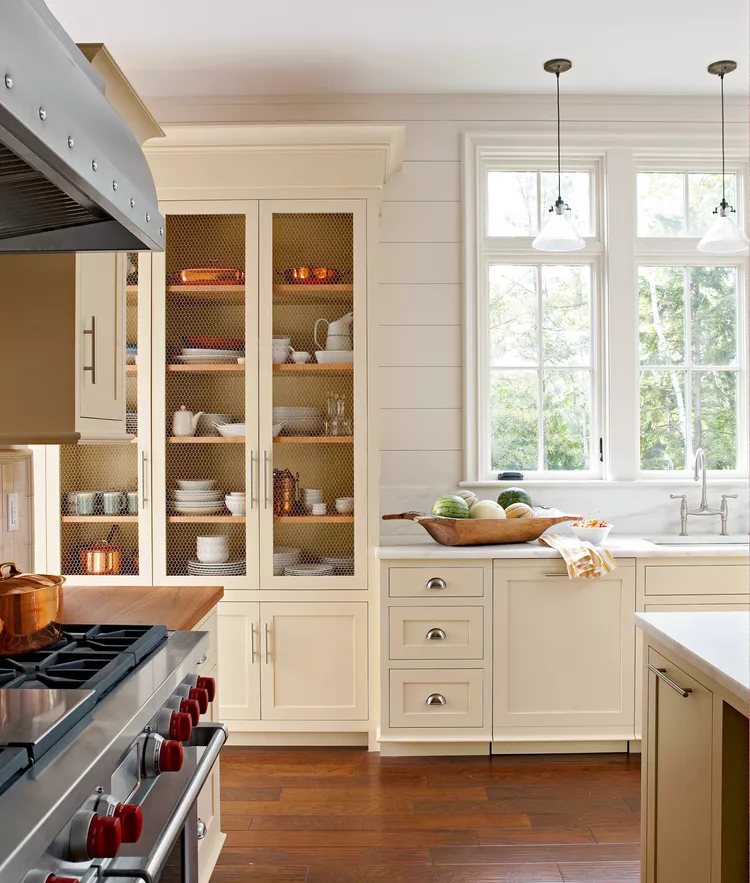 11. Cream Kitchen Cabinets With Granite Countertop
Granite is probably the most timeless kitchen countertop and it's no surprise why. It is the hardest material on the planet, prized for being highly durable, stain and scratch resistant, and visually pleasing.
The granite countertop paired with cream kitchen cabinets is a match made in design heaven. Granite countertops also come in a wide range of colors and textures.
12. Cream Kitchen Cabinets With Wood Countertop
Wood is one of the homeowner's go-to choices for countertops and it's no surprise why. It brings a sense of warmth and nature to the kitchen. It is also a more affordable option compared to granite and marble.
Wood countertop has a profound influence on a kitchen when paired with cream kitchen countertops. They also come in many varying hues and textures to complement any kitchen style.
13. Oakgrain Cream Kitchen Cabinets
Rich, warm, and with a woodgrain texture, Oakgrain cream is a crowd-pleasing neutral color that resembles a hand-painted wood. This kitchen cabinet style is here to stay for the foreseeable future and it's no surprise why.
Oagrain cream is an attractive kitchen cabinet color that creates a warm, style, and sophisticated look.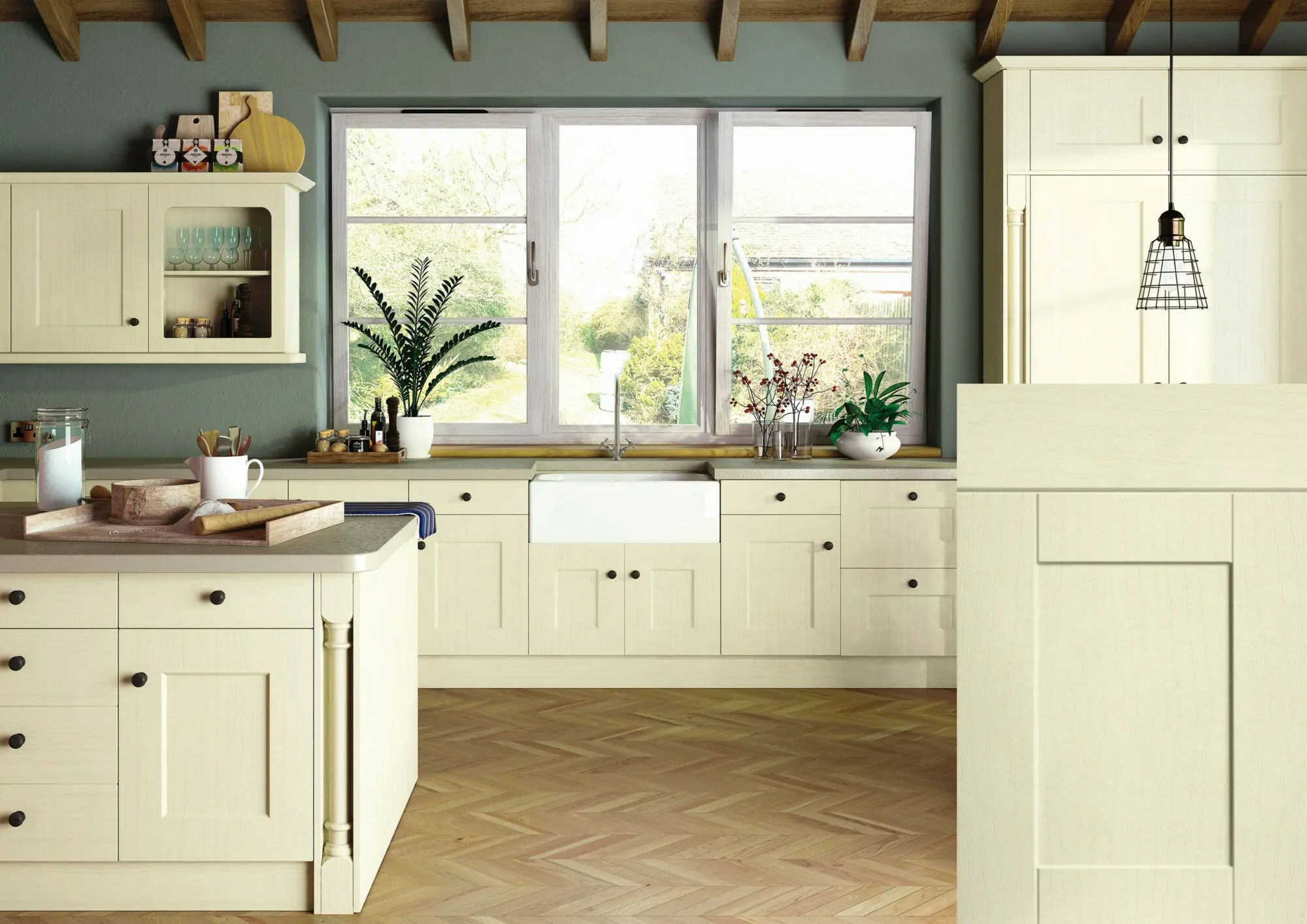 14. Cream Kitchen Cabinets With Gold Hardware
Gold hardware makes a perfect addition to cream kitchen cabinets because they are sleek, eye-catchy, and extremely versatile. In interior design, gold symbolizes glamour, luxury, and elegance.
Gold hardware adds a chic, stylish, and polished finish to the kitchen. They also create an accent that can have a major design impact on the overall look and feel of the kitchen.