25 Best Studio McGee Kitchens
Do you want your kitchen to look elegant and aesthetically pleasing? If so, check out these elegant Studio McGee kitchens that are sure to inspire your next remodel.
Studio McGee is a Utah-based interior design firm and online store. It is co-owned by the married couple, Shea and Syd McGee. The business was established in 2014 and is now recognized worldwide for its impeccable home designs. The duo is also the host of the popular Netflix series "Dream Home Makeovers" (totally worth watching by the way).
Did you know that Studio McGee started out as an Instagram blog, documenting the remodeling process of their first home? Now, they're industry leaders in the world of design and have accumulated 3.8 million followers on Instagram.
In 2020, the pair published their own book, Make Life Beautiful, which is a New York Times Best Seller. Shea also published her first solo book, The Art of Home, in September 2023.
According to Forbes, Studio McGee made $59.7 million in revenue in 2020. The Cinemaholic, also reported that together, they have a net worth of $5 million.
The interior style of Studio McGee is a modern farmhouse style. The design encapsulates simplicity at its finest. It also strikes the perfect balance between rustic and sophisticated. If you like clean, contemporary, and elegant interiors, you will appreciate the skills and attention to detail of this duo.
The kitchen can be a tricky room to decorate— but, Studio McGee makes it look so uncomplicated yet elegant. Do you want to learn how to decorate the McGee way? We've got your back!
In this article, we have curated the 25 best studio McGee kitchens that can help you create a modern and refined kitchen chockful of character.
Without further ado, let's get into it!
1. Rustic-Style Kitchen
A rustic interior design emphasizes the use of natural materials and earthy colors. The natural elements are often used by Studio Mcgee because they bring a sense of tranquility and warmth. It also makes interior spaces feel connected to nature.
Even in modern spaces, a hint of rusticity can make it feel inviting and visually interesting. Rustic elements, such as wood cabinets, brick walls, exposed wood ceiling beams, and woven furniture add layers of warmth and interest.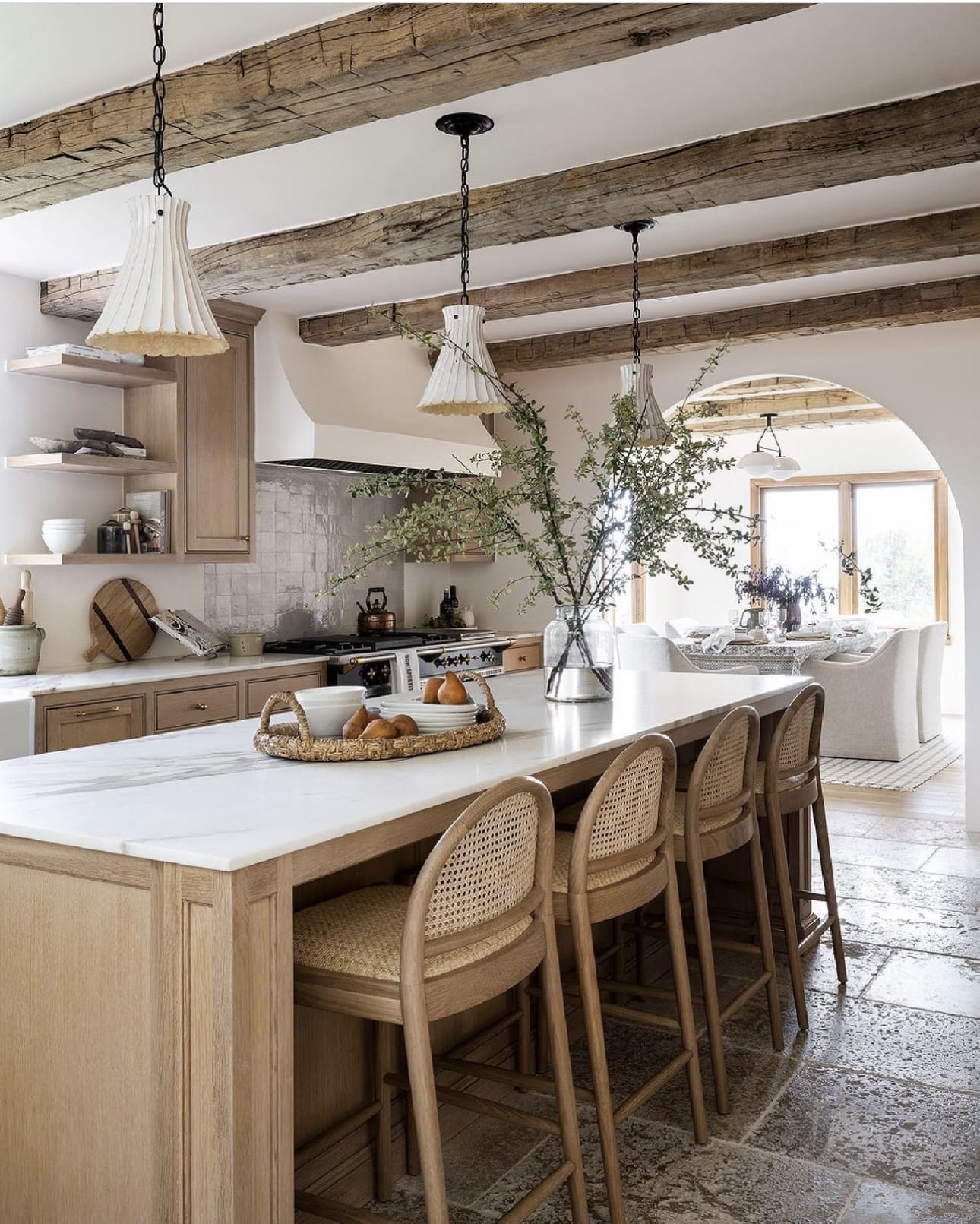 IMAGE CREDIT: STUDIO MCGEE
2. Kitchen Island Statement Lighting
Statement lighting is the gift that keeps on giving. In this kitchen, Studio McGee uses kitchen island lighting to elevate and add zest to the overall design. Not only is kitchen island lighting practical but is one of the easiest ways to add a wow factor to a minimalist kitchen.
This clear glass shade with a brass-colored accent helps illuminate the area with bright ambient light while adding a chic layer of style to the kitchen.
Read here for 21 incredible Kitche Island Lighting Ideas.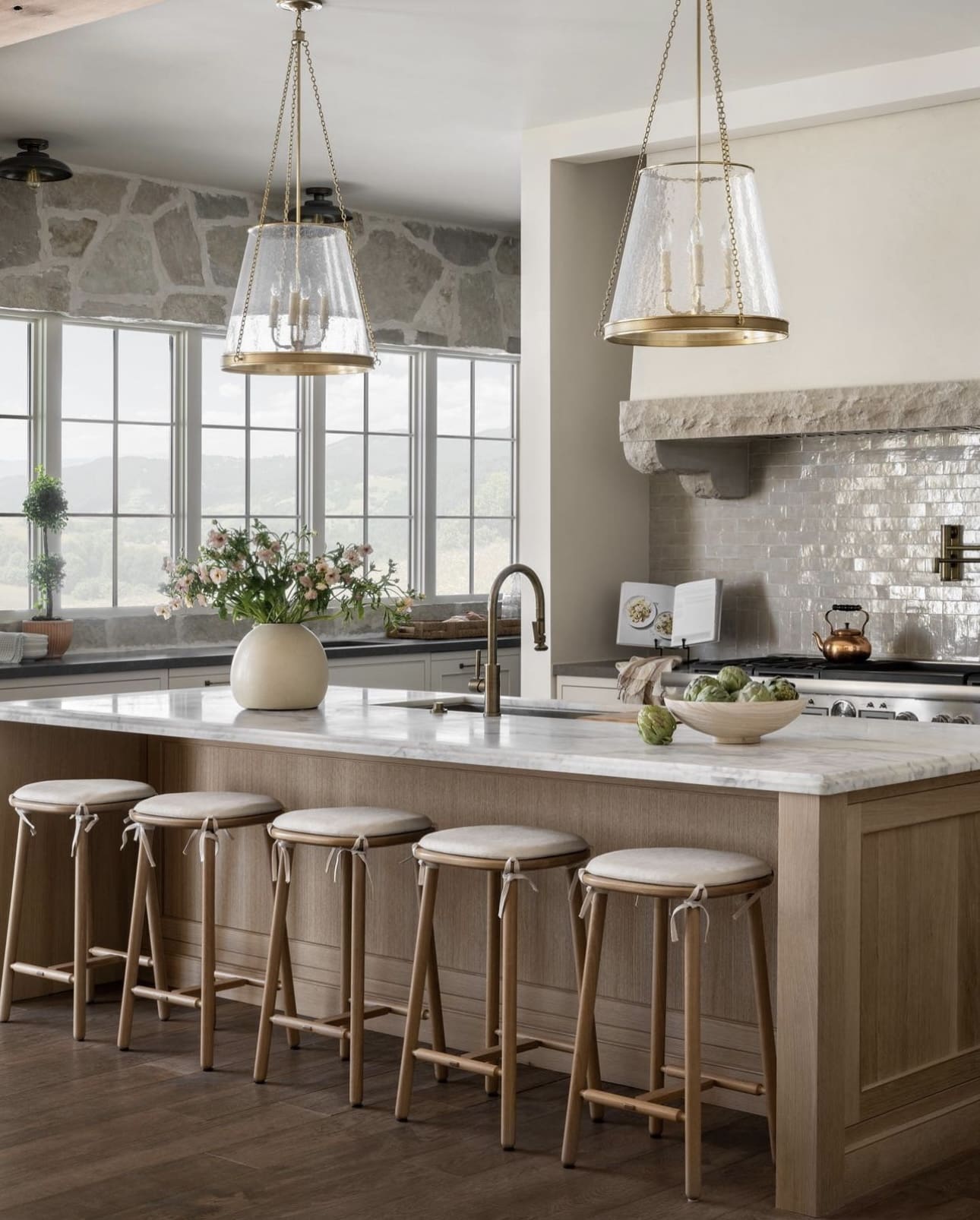 IMAGE CREDIT: STUDIO MCGEE
3. Navy Blue Kitchen Cabinets
If you're looking for an eye-catching and sophisticated shade of blue for your kitchen, then navy blue should be on your radar. Navy blue can bring character to your kitchen like nothing else.
This invigorating color pairs beautifully with all wood tones and it is especially striking when paired with gold or brass-colored hardware. There is an easy elegance and timeless appeal in this Studio McGee kitchen design that makes it one of the best kitchen designs in their porfolio.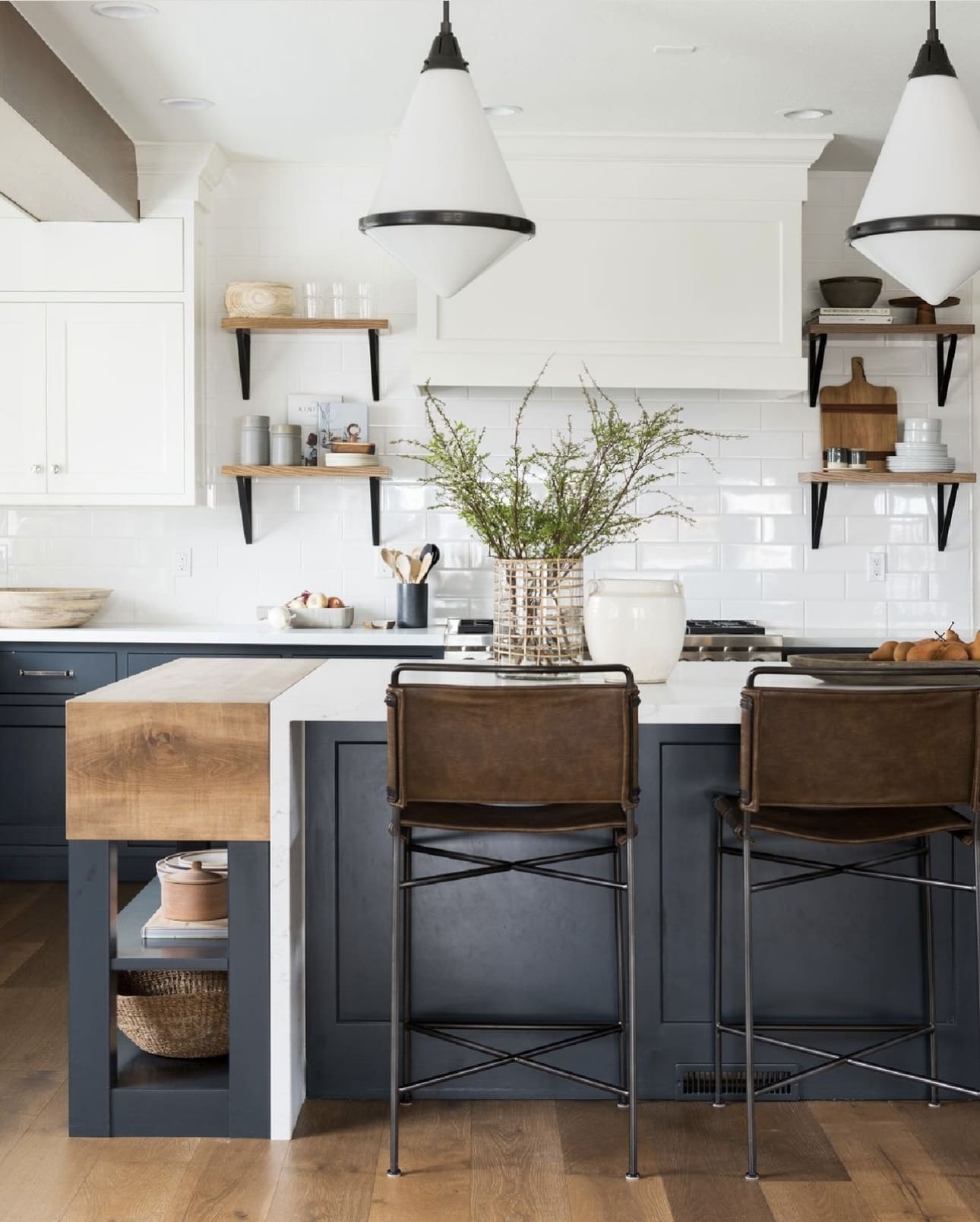 IMAGE CREDIT: STUDIO MCGEE
4. White and Gold Kitchen
The white and gold two-color combination scheme is a match made in modern interior design heaven. White is clean and timeless while gold is rich and dramatic, together, they make a blissful pair.
In this minimalist Studio McGee kitchen design, the oversized gold-colored pendant helps to accentuate the luxurious feel of the space.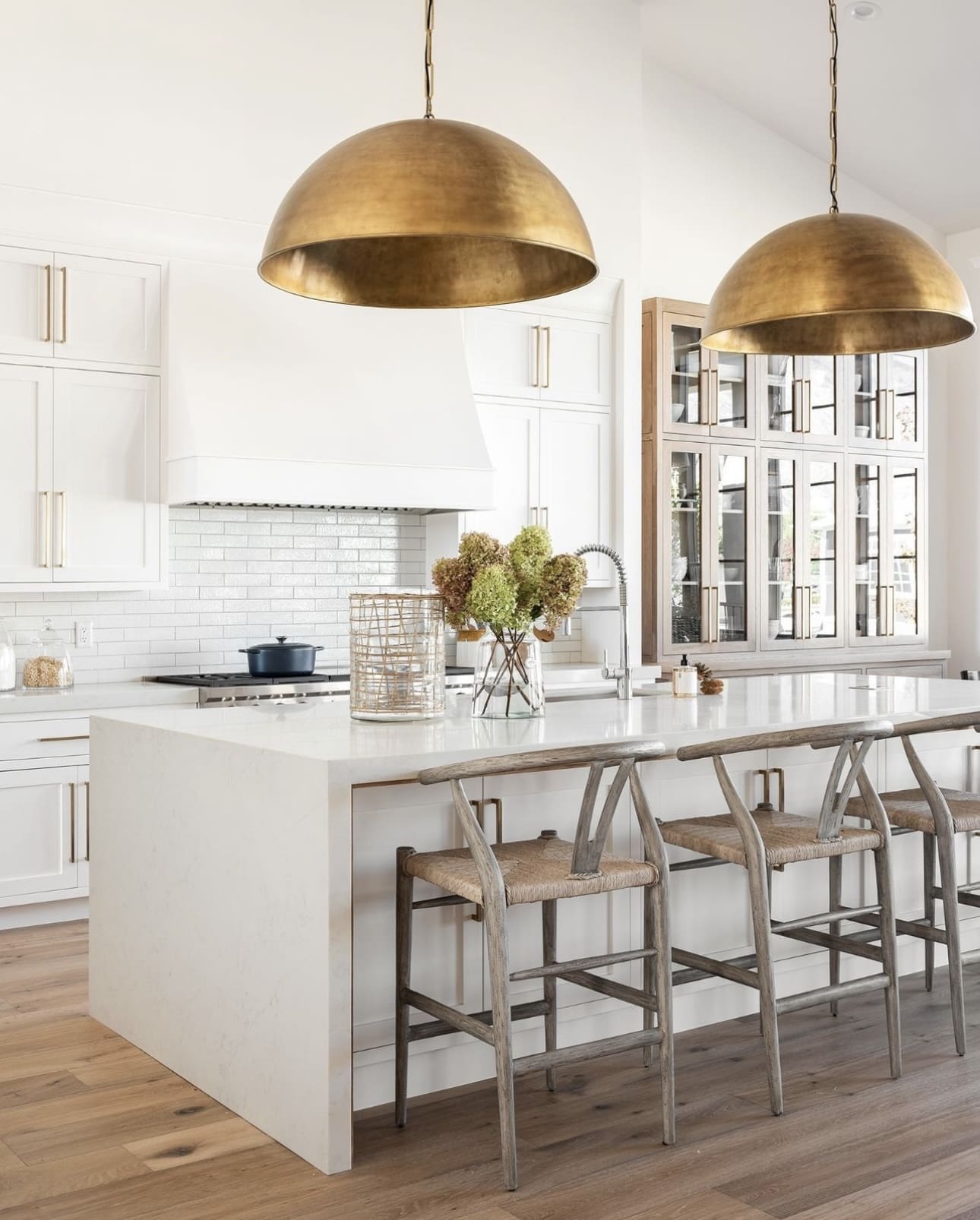 IMAGE CREDIT: STUDIO MCGEE
5. Asymmetrical Arrangement
Asymmetry is the absence of symmetry. It is an intentionally uneven or unbalanced arrangement of visual elements to create visual interest. So, why do designers embrace asymmetry?
Simply because it draws attention to an area. An asymmetrical placement tends to be more interesting and dynamic. What does it mean in design? This means the use of irregular layouts, varying color schemes, and different shapes to create unevenness.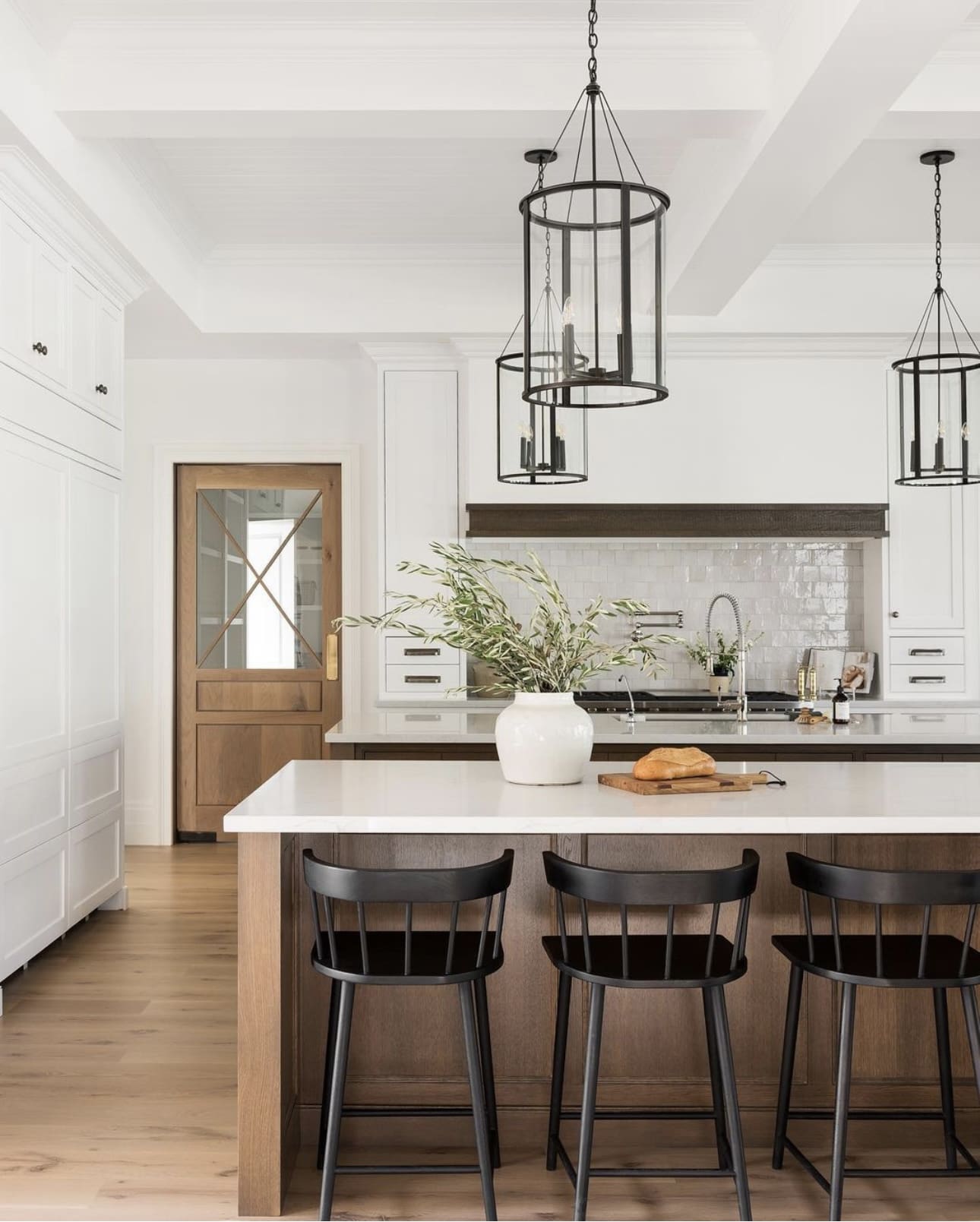 IMAGE CREDIT: STUDIO MCGEE
6. Marble Kitchen Countertop
Let marble reign! Marble worktops give an exquisite and luxurious touch to the kitchens and it is commonly used in Studio McGee kitchens.
Because marble is a natural stone, it is more durable than many other countertop materials and is resistant to scratching, breaking, and cracking.
Plus, some experts claim that marble countertops can help to increase the value of your home.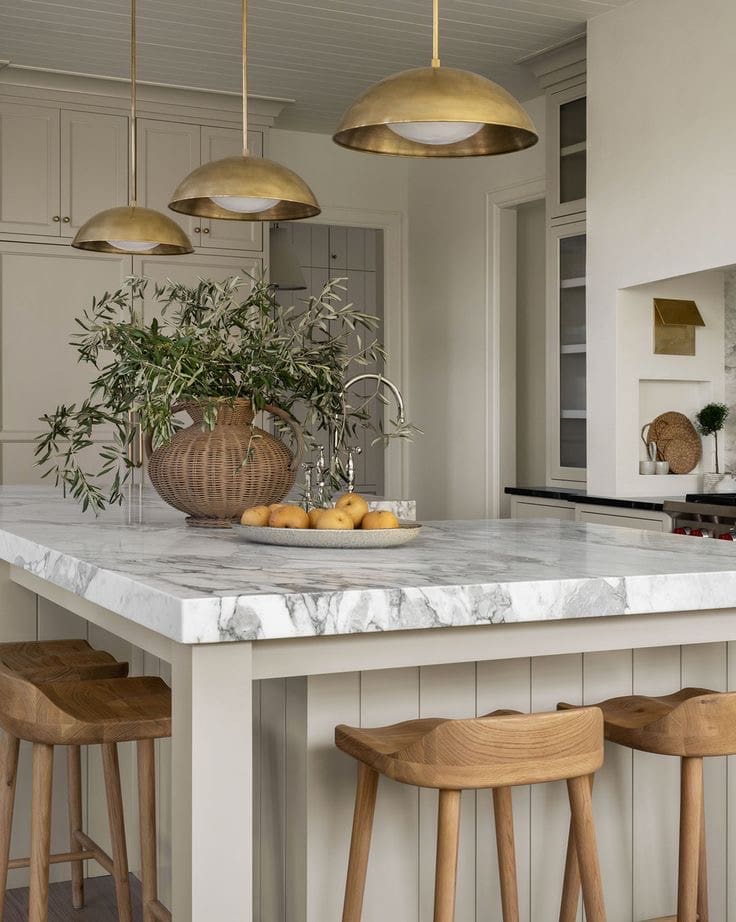 IMAGE CREDIT: STUDIO MCGEE
7. Kitchen Open-Shelving
Open-shelving can make your kitchen feel more spacious and open. It is also a smart way to maximize storage in a small kitchen that feels cramped or restricted.
The shelves can also be used to add interest and character to a space. The best way to decorate kitchen shelves is to mix-match materials (e.g. glass, ceramic, and wood), layer the items, and keep the decor simple and uncluttered.
Read here for 10 expert Kitchen Shelving Decorating Ideas.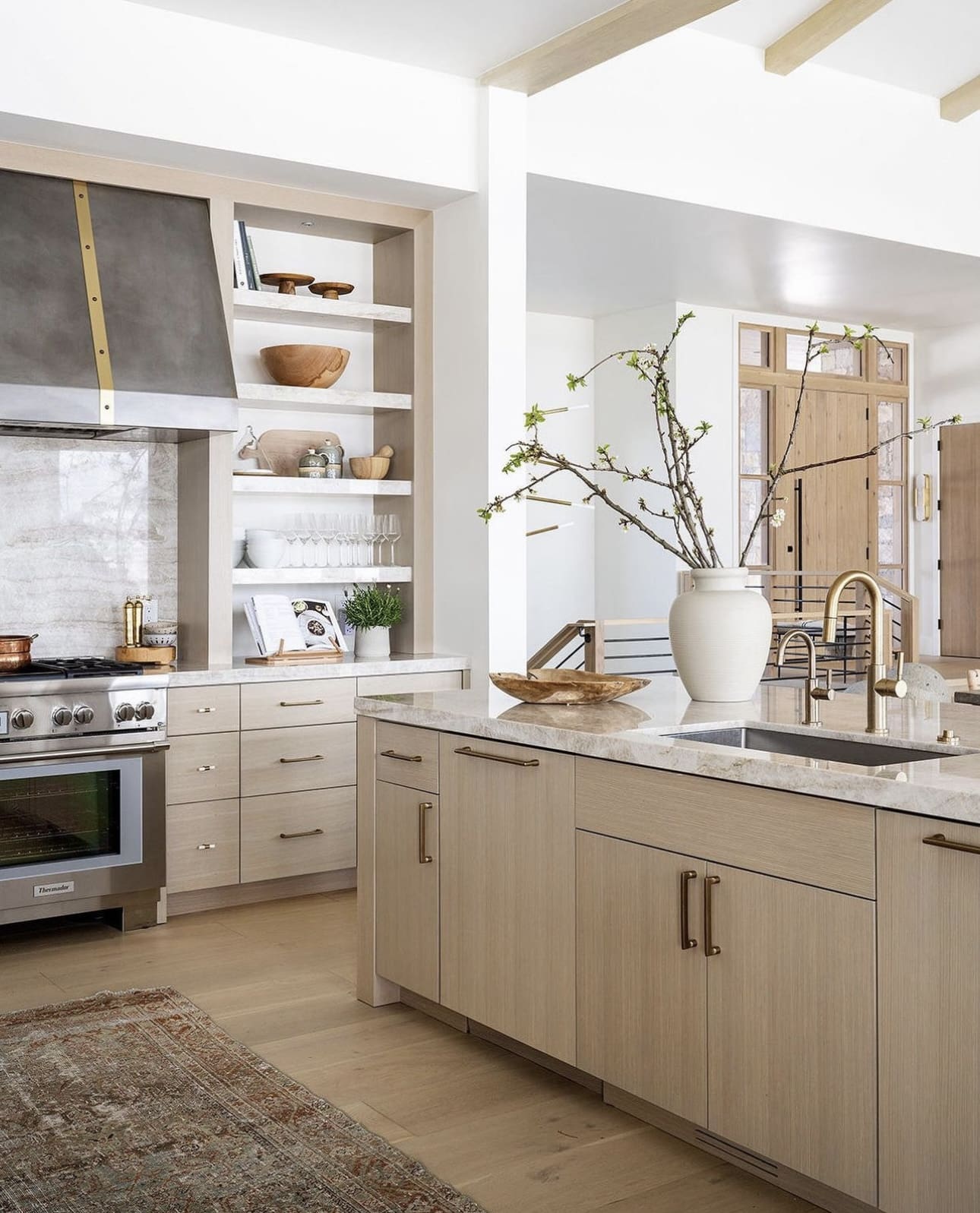 IMAGE CREDIT: STUDIO MCGEE
8. Marble Backsplash
Another fabulous way to incorporate marble into your kitchen is through the backsplash. Kitchen backsplashes protect the kitchen wall, particularly behind the stove or sink, against oil spillage or liquid damage.
Practicality aside, a kitchen backsplash can be used to inject color, texture, and style into your kitchen. The rich stained marble in this Studio McGee kitchen design adds an air of elegance to the space.
Read here for 28 Kitchen Backplash Ideas With White Cabinets.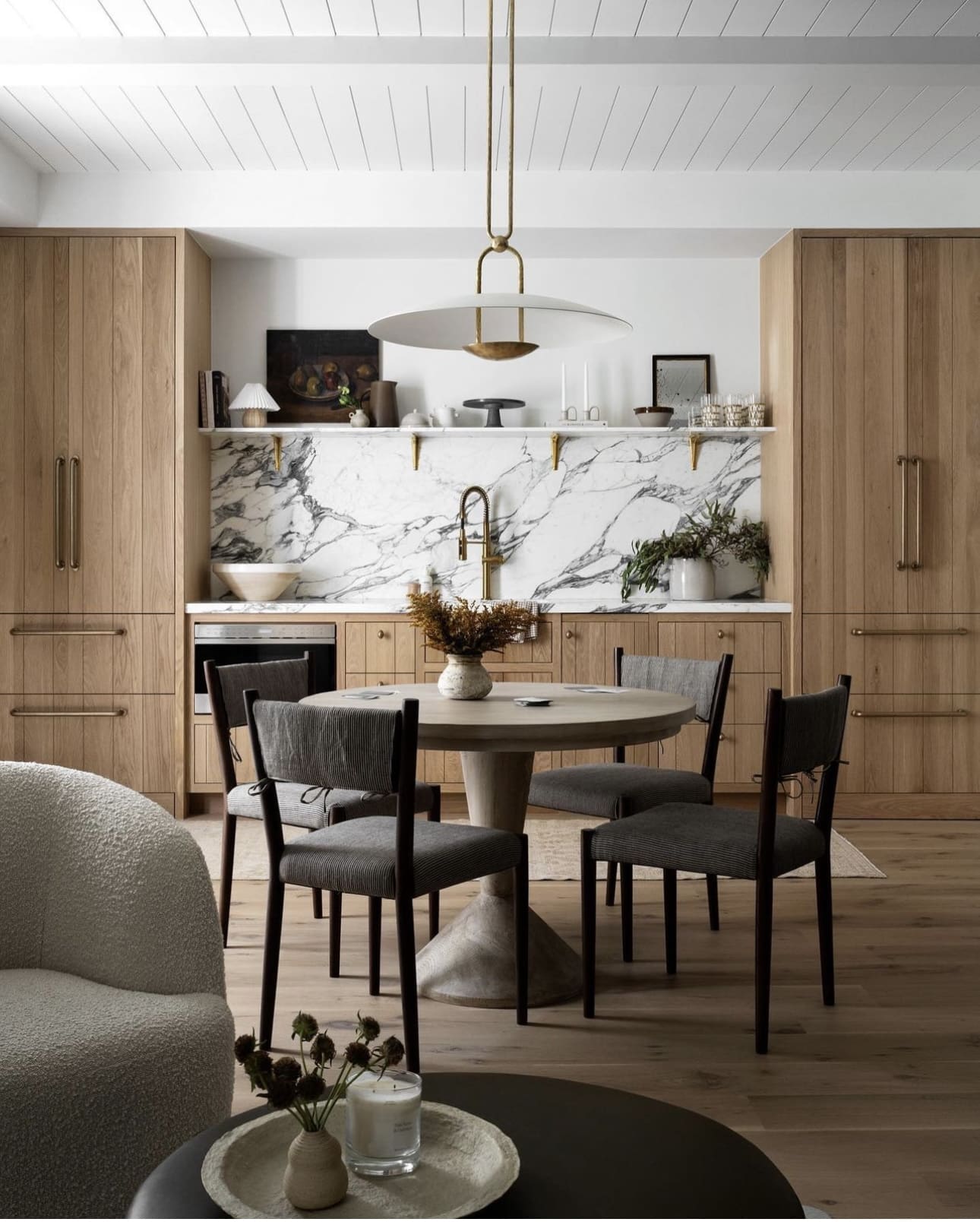 IMAGE CREDIT: STUDIO MCGEE
9. Bright and Airy Kitchen
Most Studio McGee kitchens have one thing in common, they are bright and airy. This beautiful kitchen is a fusion of elegance and modernity.
It features clean lines, bright neutral colors, and simplistic furnishing. This type of kitchen style is timeless, fresh, and aesthetically pleasing.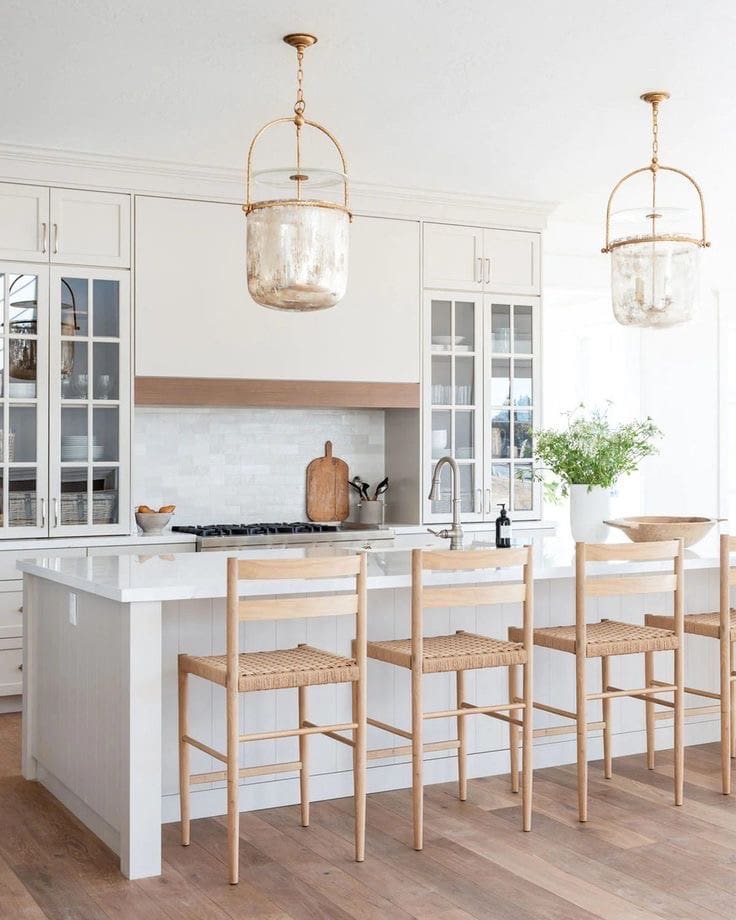 IMAGE CREDIT: STUDIO MCGEE
10. Sherwin Williams Grays Harbor Kitchen Cabinet
If bright color palettes are not your thing then you should consider a moody hue like Sherwin-Williams Grays Harbor. It is a rich slate blue shade that can add depth and a unique character to your kitchen.
However, note that is perfect for well-lit spaces but for poorly lit and small kitchens, it will make it look smaller and darker. Although, you can brighten the space up with a white kitchen countertop and white walls.
IMAGE CREDIT: STUDIO MCGEE
11. White Studio McGee Kitchen
A white wall on white cabinet scheme is easy to execute and it is by no means boring. Since white reflects light, the frequent use of white throughout a space is a clever trick designers use to make the space appear bigger and more open.
Plus, white cabinets and walls give a sense of cleanliness and timelessness. Some people may use a different color on the kitchen island to lend a touch of vibrancy to the space.
IMAGE CREDIT: STUDIO MCGEE
12. Cream Kitchen Cabinet
Stark white can be offputting for some people. You can opt for a cream kitchen cabinet instead, like this chic Studio McGee kitchen. Cream can lend a hint of color and warmth to a kitchen.
It can also brighten up a space and make it appear more open. In addition, cream offers countless color combinations and goes incredibly well with shaker-style cabinets.
Read here for 14 Incredible Cream Kitchen Cabinets. 
IMAGE CREDIT: STUDIO MCGEE
13.
Soapstone

Kitchen Countertop

Soapstone is a durable natural stone material commonly used for kitchen cabinets. It is a non-porous material and is not suspectable to liquid or chemical damage.

Countertops made of soapstone can withstand heat. As a result, you do not need to be concerned about fading or heat damage.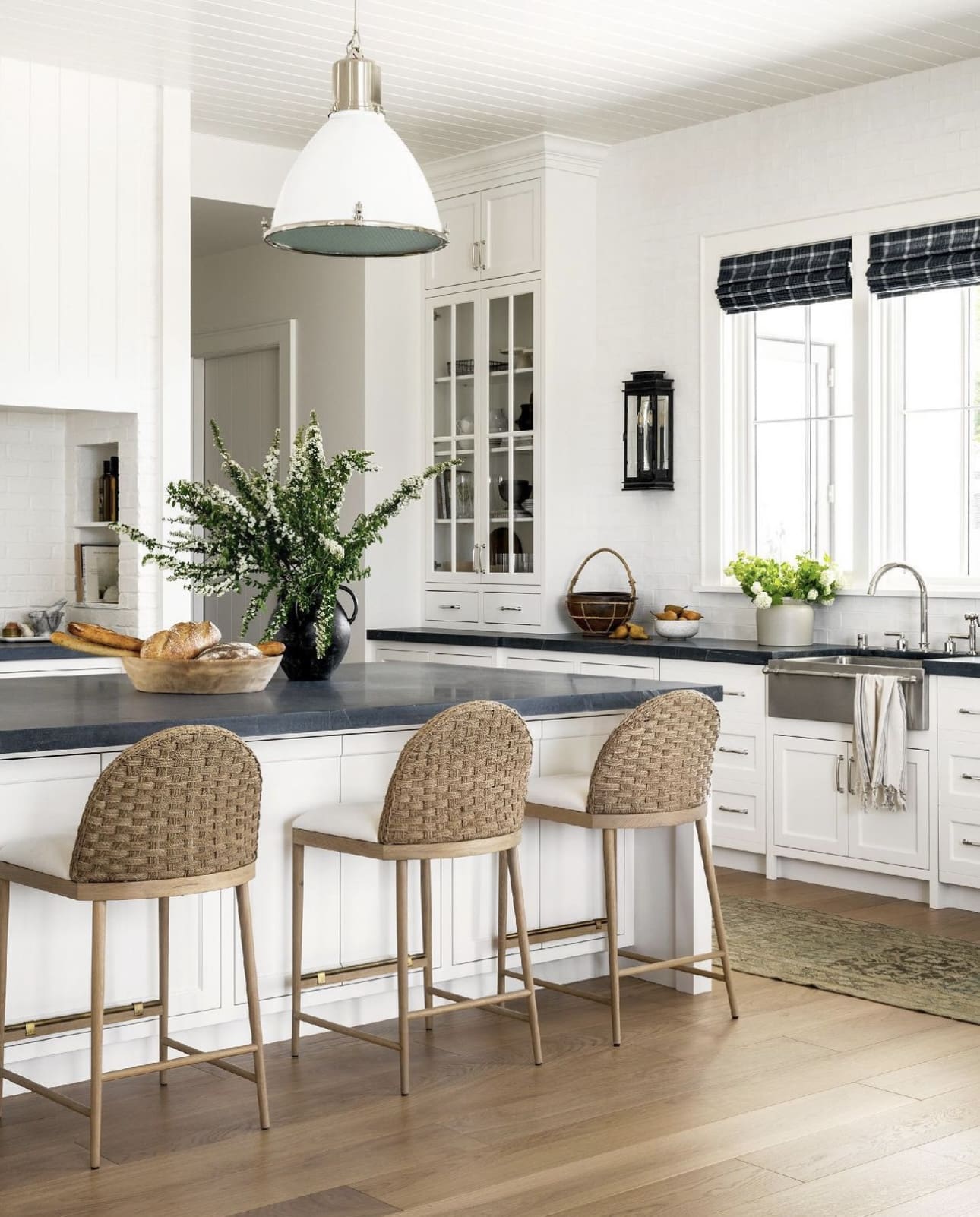 IMAGE CREDIT: STUDIO MCGEE
14. Xavier 6 Light Black Chandelier
The lighting can add visual intrigue and character to the kitchen like the Xavier chandelier in this Studio McGee kitchen design.
The statement-making and functional Xavier chandelier is versatile enough to fit into any interior style. It is perfect to give your kitchen that instant hit of satisfaction.
IMAGE CREDIT: STUDIO MCGEE
15. Moody Studio McGee Kitchen
Most Studio McGee kitchens tend to be bright and clean but their design is versatile enough to match any aesthetic preferences and maintain a home's original character.
Moody, dark color palettes can provide richness, depth, and an unexpectedly relaxing feel to a space. The scheme is often best for a spacious and well-lit kitchen.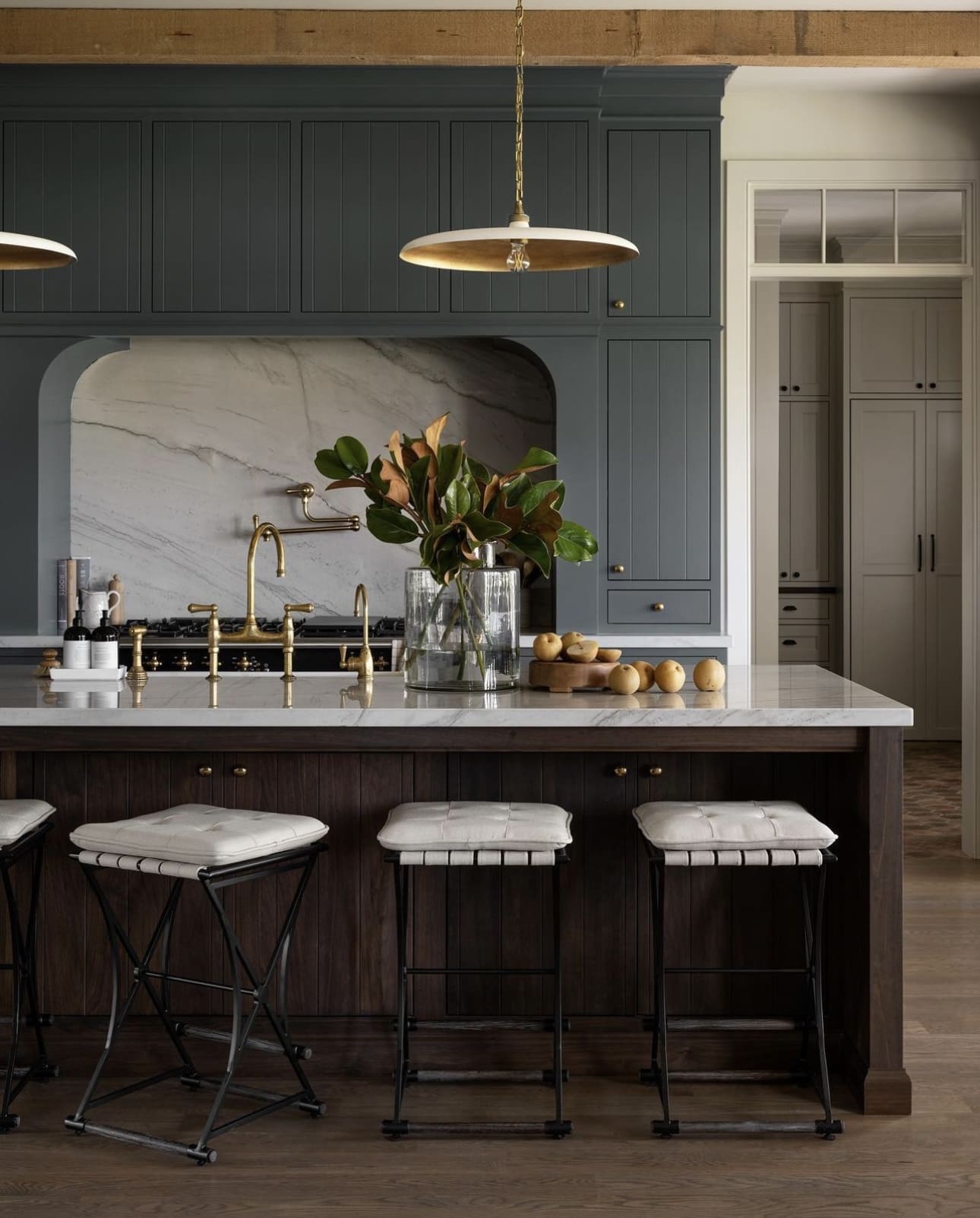 IMAGE CREDIT: STUDIO MCGEE
You may also enjoy our article on: 52 Best Studio McGee Christmas Decorations
16. Coastal California Kitchen
This beautiful coastal kitchen was featured in Dream Home Makeover Season 3, episode 1. "This kitchen is a great example of a way to take a home that has a tract-style layout and finishes, and make it feel designer, high-end, and very custom." Says Shea.
Each element and color in this Studio McGee kitchen work well together to create a space that feels tremendously soothing and relaxing.
IMAGE CREDIT: STUDIO MCGEE
17. Kitchen Finishes Touches
Finishing touches can help tie the look together. For instance, fresh flowers are a beautiful vase placed on the kitchen island or counter, textiles, artwork, cookbooks, and decorative bowls.
IMAGE CREDIT: STUDIO MCGEE
18. Backless Kitchen Bar Stools
Backless kitchen bar stools are space-saving furniture. To save on floor space, they can be tucked beneath the counter or table. Plus, they are a wide variety of design colors available to complement your kitchen style. Although the backrest stools are more comfortable than the backless ones.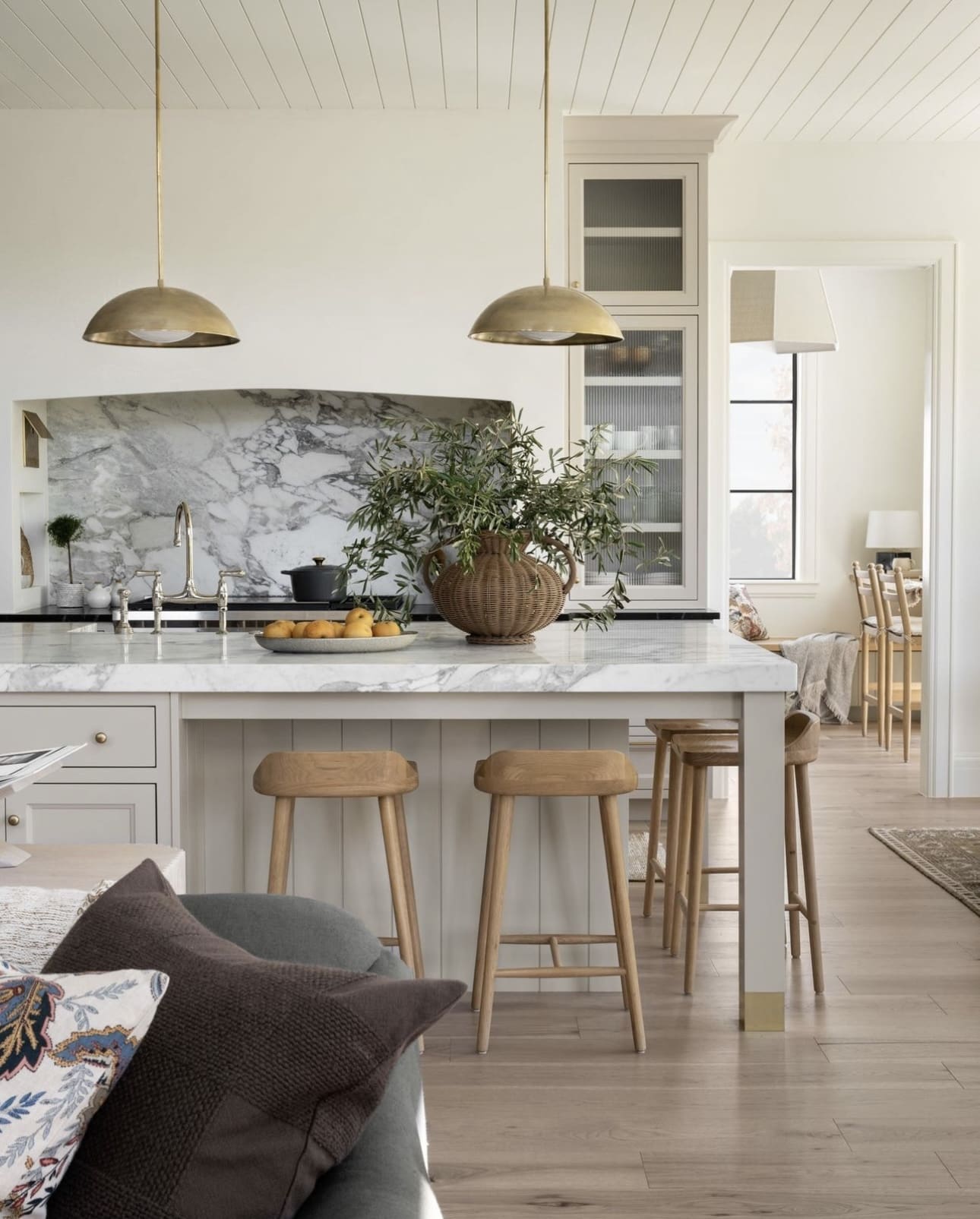 IMAGE CREDIT: STUDIO MCGEE
19. Two Color Kitchen Cabinet Combination
Color-wise, the standing and wall kitchen cabinets do not need to match. Just like this cream and dark grey Studio McGee kitchen, you can add eye-catching contrast and depth by using two colors that go beautifully well together. For cohesiveness the use of the colors throughout the space.
IMAGE CREDIT: STUDIO MCGEE
20. Studio McGee Kitchen/Dining
To create a harmonious and visually cohesive look in a kitchen/dining space, use to appropriate furniture size and style for the space.
Studio McGee creates a cutting-edge look with this rustic meets contemporary kitchen design. From a design standpoint, clean lines and neutral colors create a refined easy-on-the-eye look.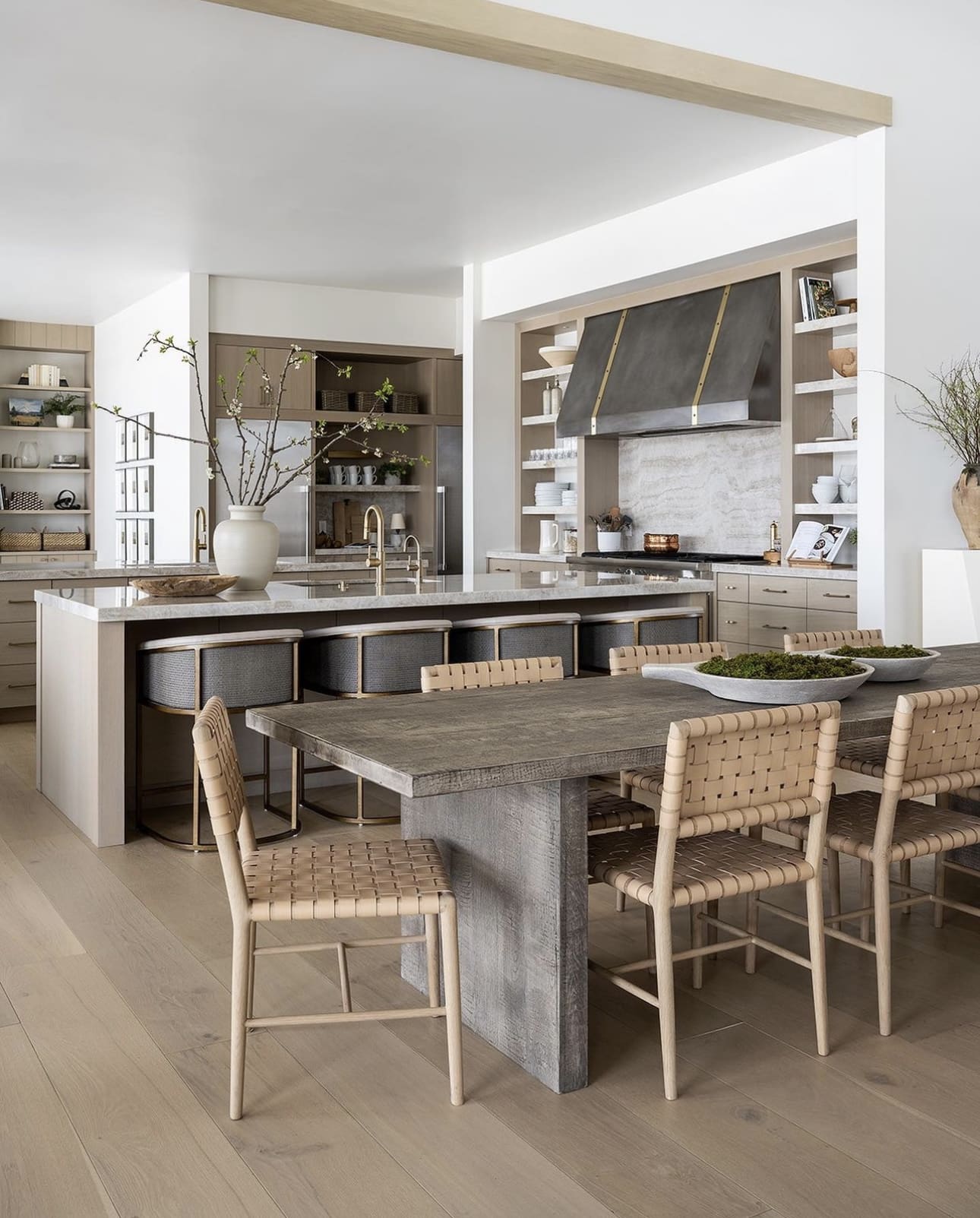 IMAGE CREDIT: STUDIO MCGEE
21. Modern McGee Kitchen
This is another fabulous kitchen featured in the Dream Home Makeover, season 1, episode 4 (The Ramos Family). The custom dark green shade on the kitchen cabinet is elegant, refined, and timeless.
I don't think there is a should or a shouldn't with a dark kitchen. As long as you have some natural light to bounce around the sunshine in the space, I say go with a dark kitchen." Says Shea.
IMAGE CREDIT: STUDIO MCGEE
22. Benjamin Moore Caldwell Green
This Studio McGee kitchen features the sophisticated and timeless Caldwell Green. Benjamin Moore's Caldwell Green is an eye-catching hunter-green shade with regal blue undertones.
This muted and crowd-pleasing medium-dark green color is perfect for elevating the aesthetics of any kitchen.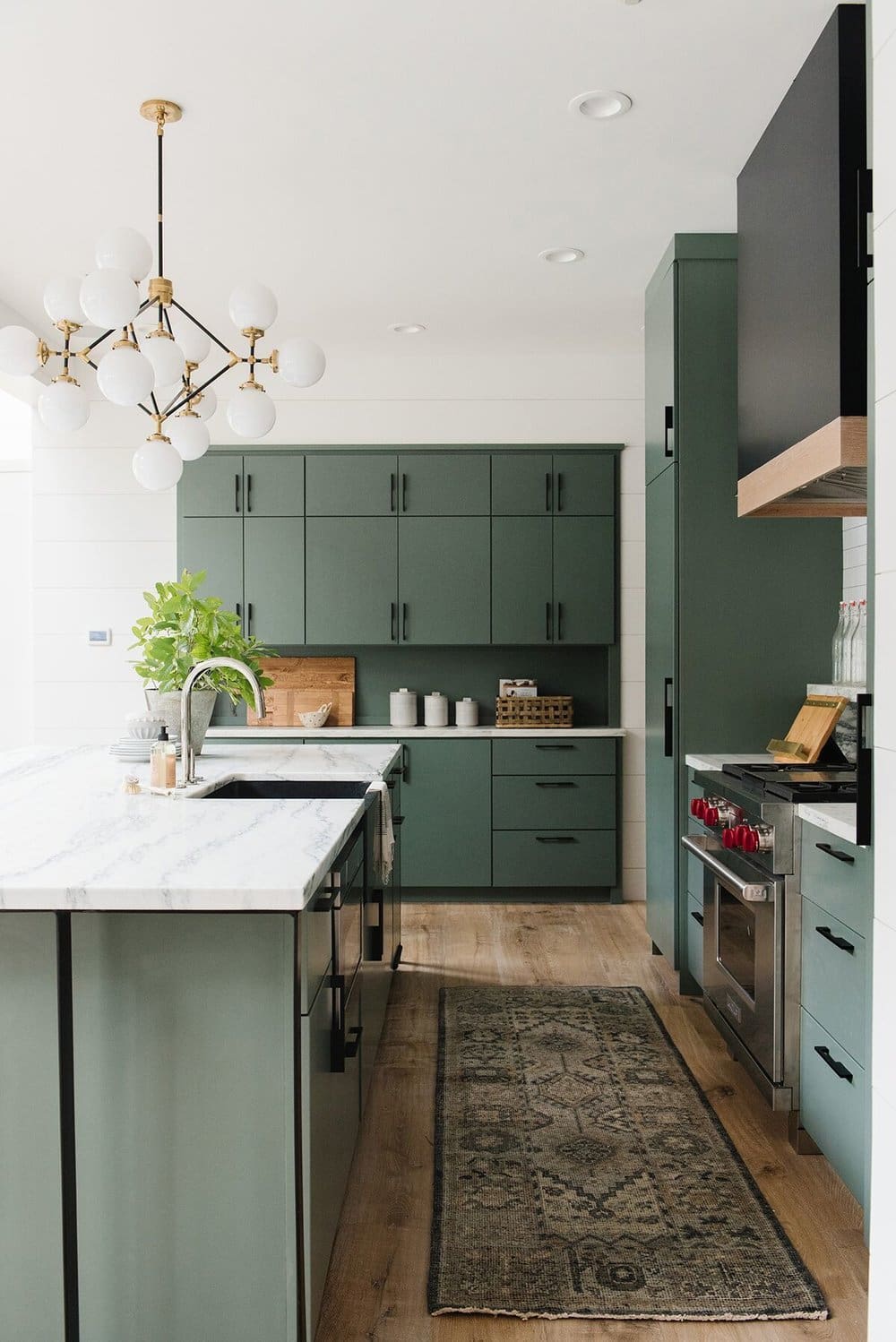 IMAGE CREDIT: STUDIO MCGEE
23. A Warm & Textural Kitchen
 The soft and rich colors used in this kitchen create a classic yet modern aesthetic. It has a comfortably modern feel that makes it one of the best Studio McGee kitchens.
The kitchen in this house is brimming with cozy, personality-driven elements, like warm oak cabinetry, unlacquered brass hardware, and a stunningly striking black-stained white marble countertop.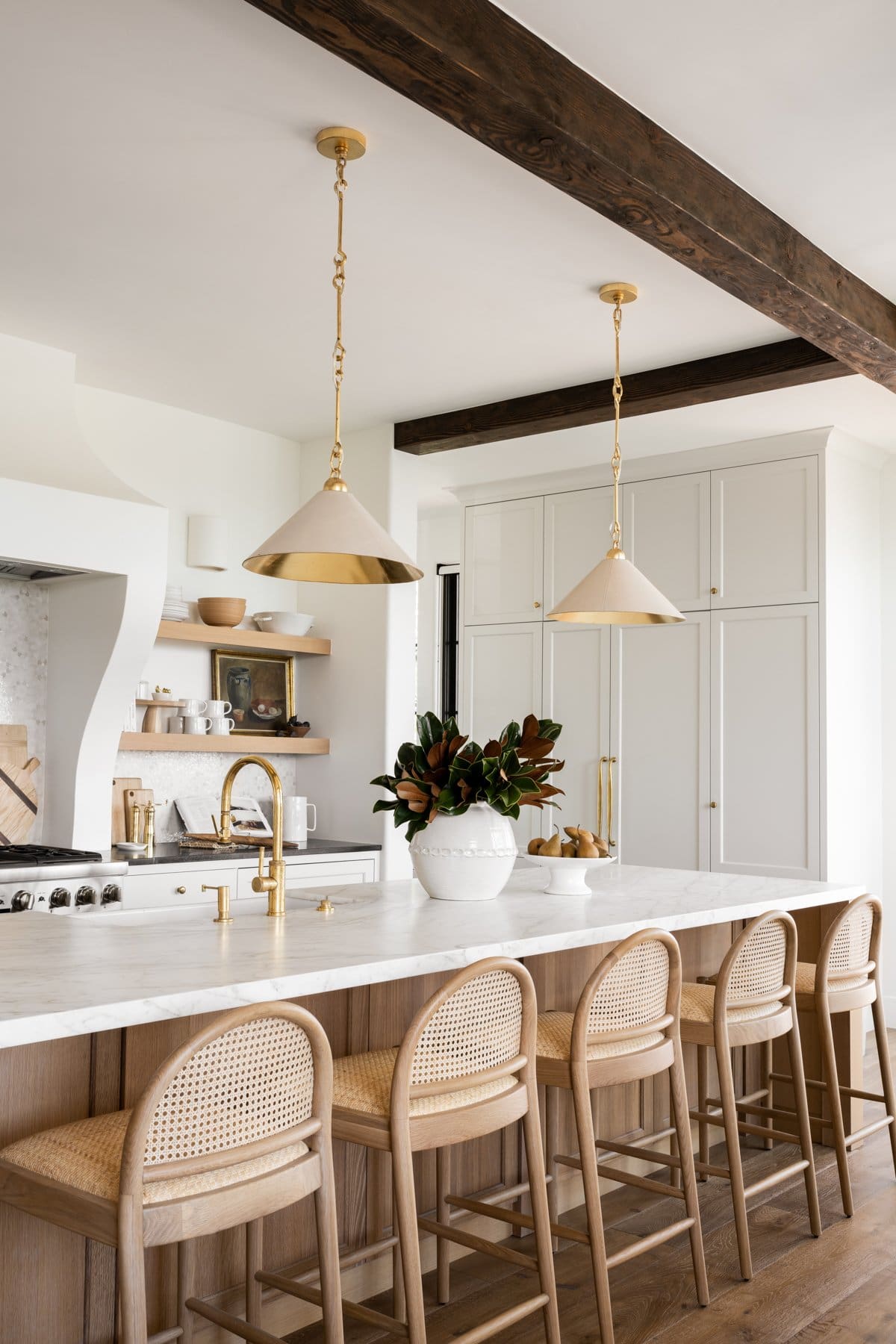 IMAGE CREDIT: STUDIO MCGEE
24. Organic Modern Kitchen
This organic kitchen exudes warmth and rustic charm. Shea and the design team created this organic design kitchen in order to capture the environment's immense natural beauty and the relaxed pace of coastal life.
The statement dining chairs add a sense of grandeur to the space.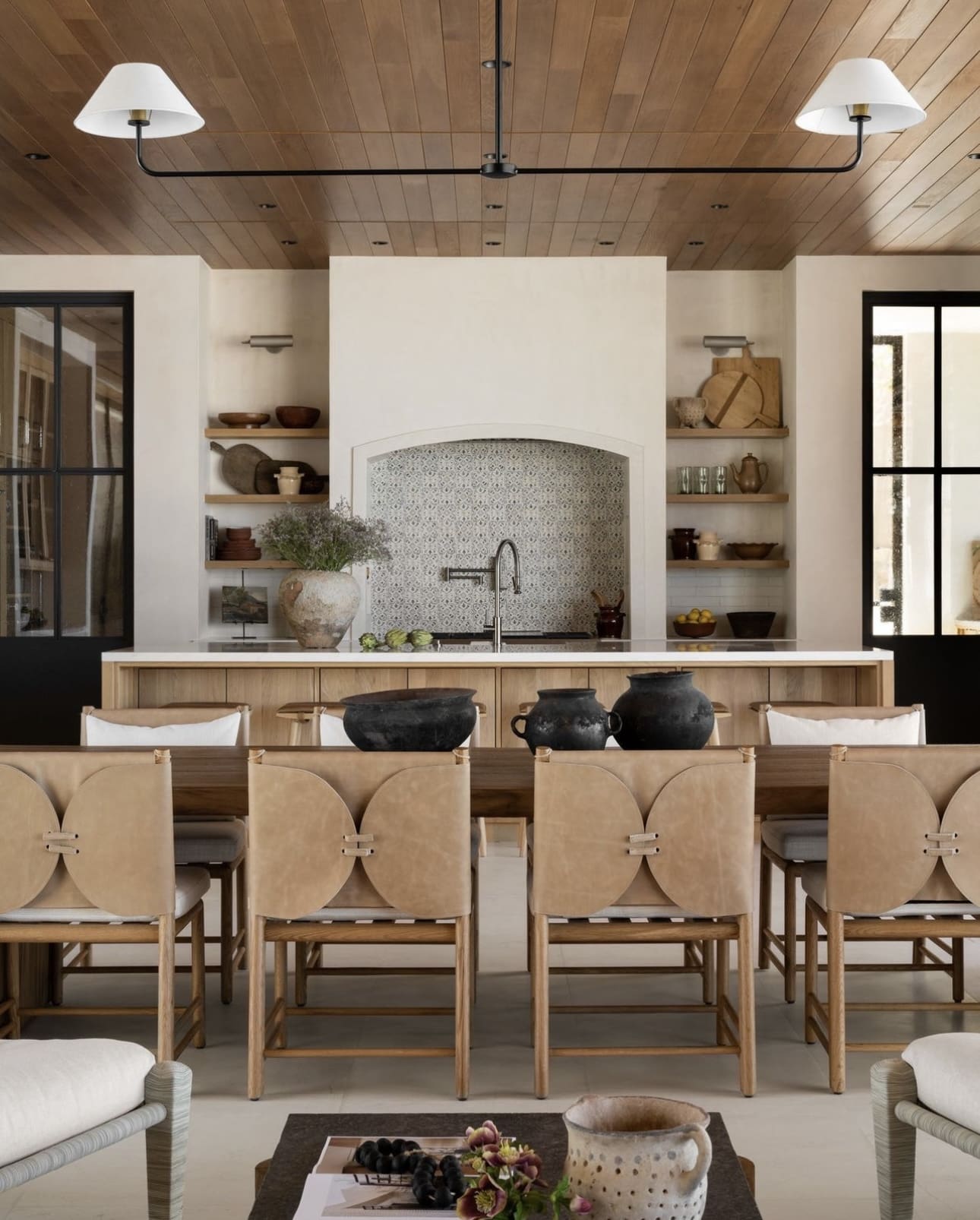 IMAGE CREDIT: STUDIO MCGEE
25. Textured Kitchen Wall
Adding texture to kitchen design creates balance and keeps the space from appearing too flat or uninteresting.
A textured wall can add character to a plain architectural area, warmth to a cold space, and richness and depth to any room.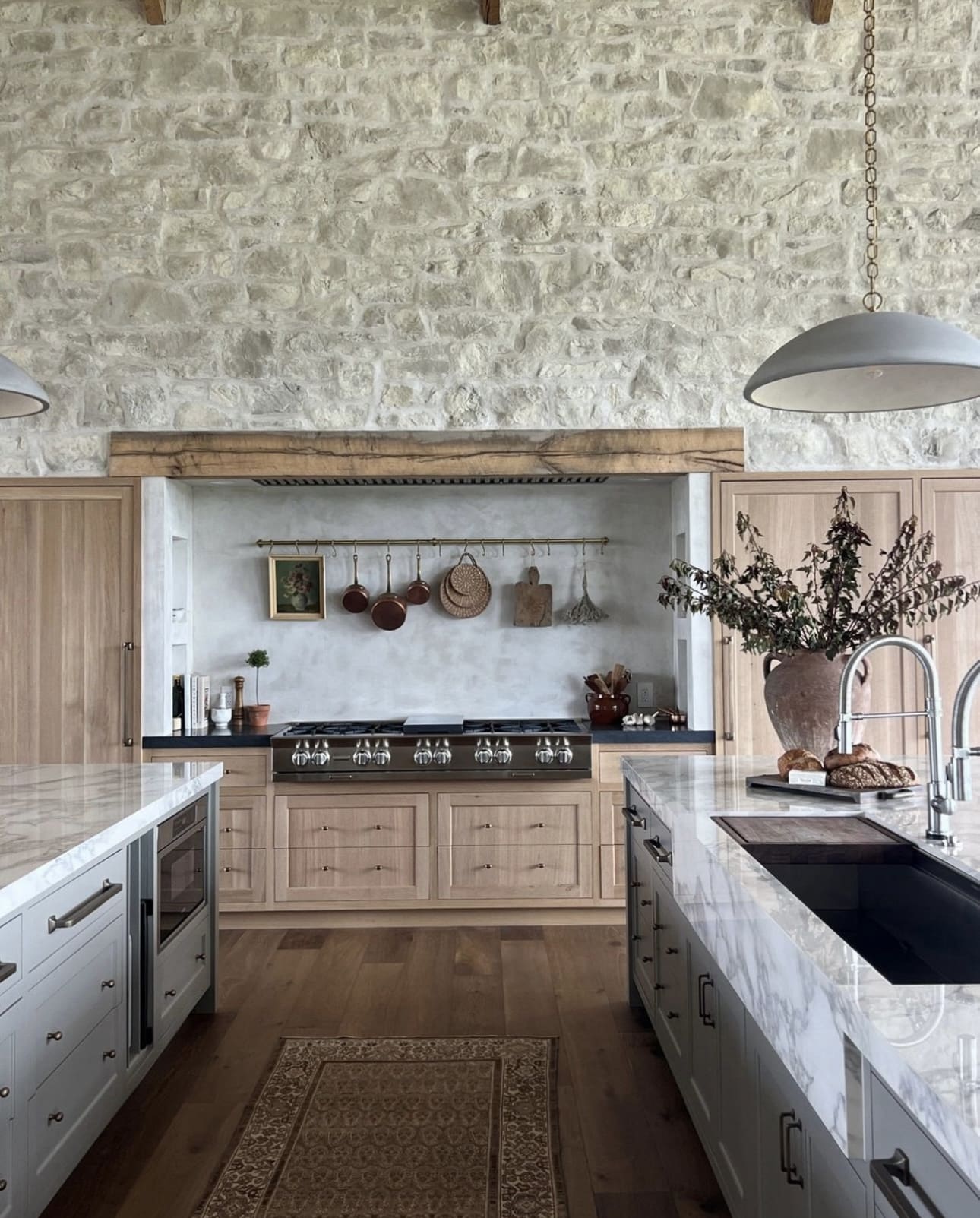 IMAGE CREDIT: STUDIO MCGEE
You may also enjoy our article on: 30 Best Studio Mcgee Bedrooms (With Photos)