25 Chic Studio McGee Entryway Ideas
The entryway sets the tone for the rest of the interior. Elevate the aesthetics of your entryways with these elegant and refined Studio McGee entryway ideas. 
Studio McGee is a full-service interior design firm and online store owned by married couple Shea and Syd McGee. If you've searched for interior design ideas on Instagram or Pinterest, you may have come across their designs without even realizing it.
What makes Studio McGee so popular? The firm designs incredible multi-million dollar homes but what makes their designs stand out is that it is clean, characterful, and has an air of elegance. It often strikes the perfect balance between rustic and contemporary.
Their design style could be described as "Modern Farmhouse" or Classic Modern Rustic".
Shea and Syd McGee are also the hosts of the popular Netflix original series, Dream Home Makeover. In this series, the duo helps real families with regular homes to actualize their dream homes. If you want to brush up your design skills in just one weekend, this is the perfect show to binge on.
The McGee couple is also the author of the book, Make Life Beautiful, where they share their design principles, values, and how they made their business a success.
The Art of Home is also another interesting book authored by Shea McGee. The Art of Home includes 16 step-by-step styling guidelines in addition to 400+ pages that showcase all the stunning homes that Studio McGee has created over the course of ten years.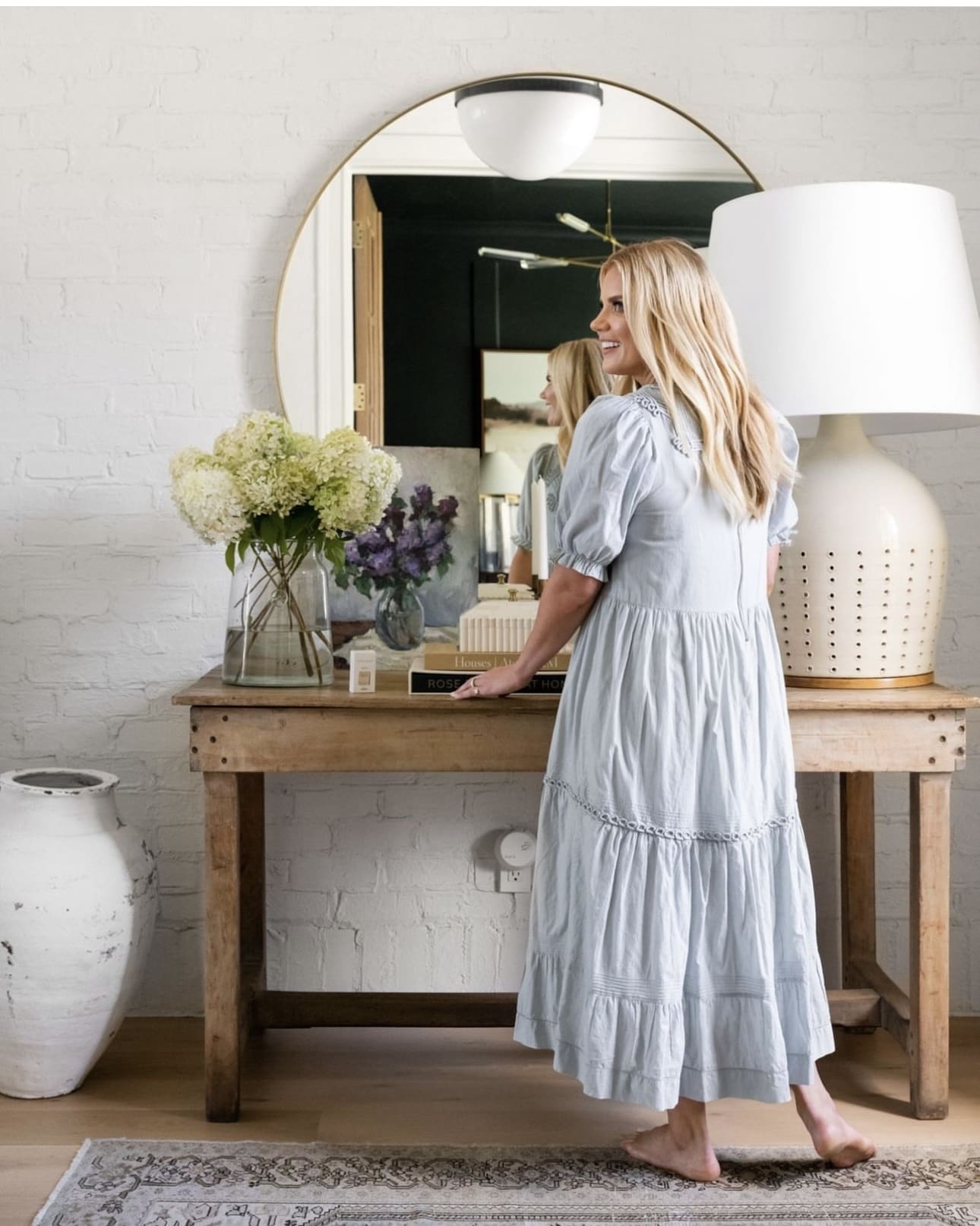 IMAGE CREDIT: STUDIO MCGEE
The entryway is a tricky space to decorate often because of the size and the simple fact that we don't spend much time there like other rooms in the house. But, did you know that the entryway sets expectations for the rest of the interior?
First impressions matter! Give your entryway a stylish look and an instant hit of satisfaction that will make your home feel inviting. No matter the size and layout of your entryway, you can create a unique and eye-catching dynamics.
In this article, we have curated 25 chic Studio McGee entryway ideas to help you design your space like an expert.
1. Place Woven Baskets Underneath the Table
When decorating an entryway, Studio McGee and most interior designers often place woven baskets under the entryway console table. This is because, decorating with natural materials like a woven basket is a clever way to add warmth, texture, and rustic charm to any space.
Plus, it is a stylish storage solution where you can store things like throws, hats, a dog leash, or other items that would otherwise easily clutter up your home.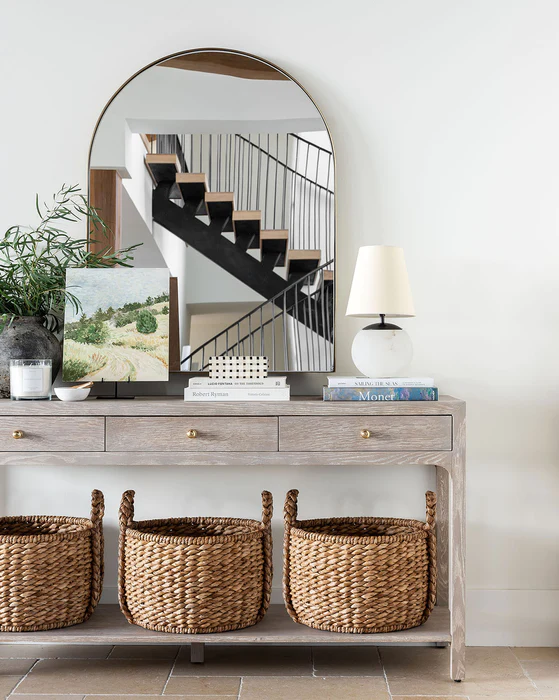 IMAGE CREDIT: STUDIO MCGEE
2. Use a Minimalist Artwork
When decorating an entryway, embrace the notion "less is more". Too many colors, patterns, and decorative elements can easily clash and make the space look unsightly. Instead of going for colorful and dramatic artwork, opt for a design that is classic, minimal, and chic.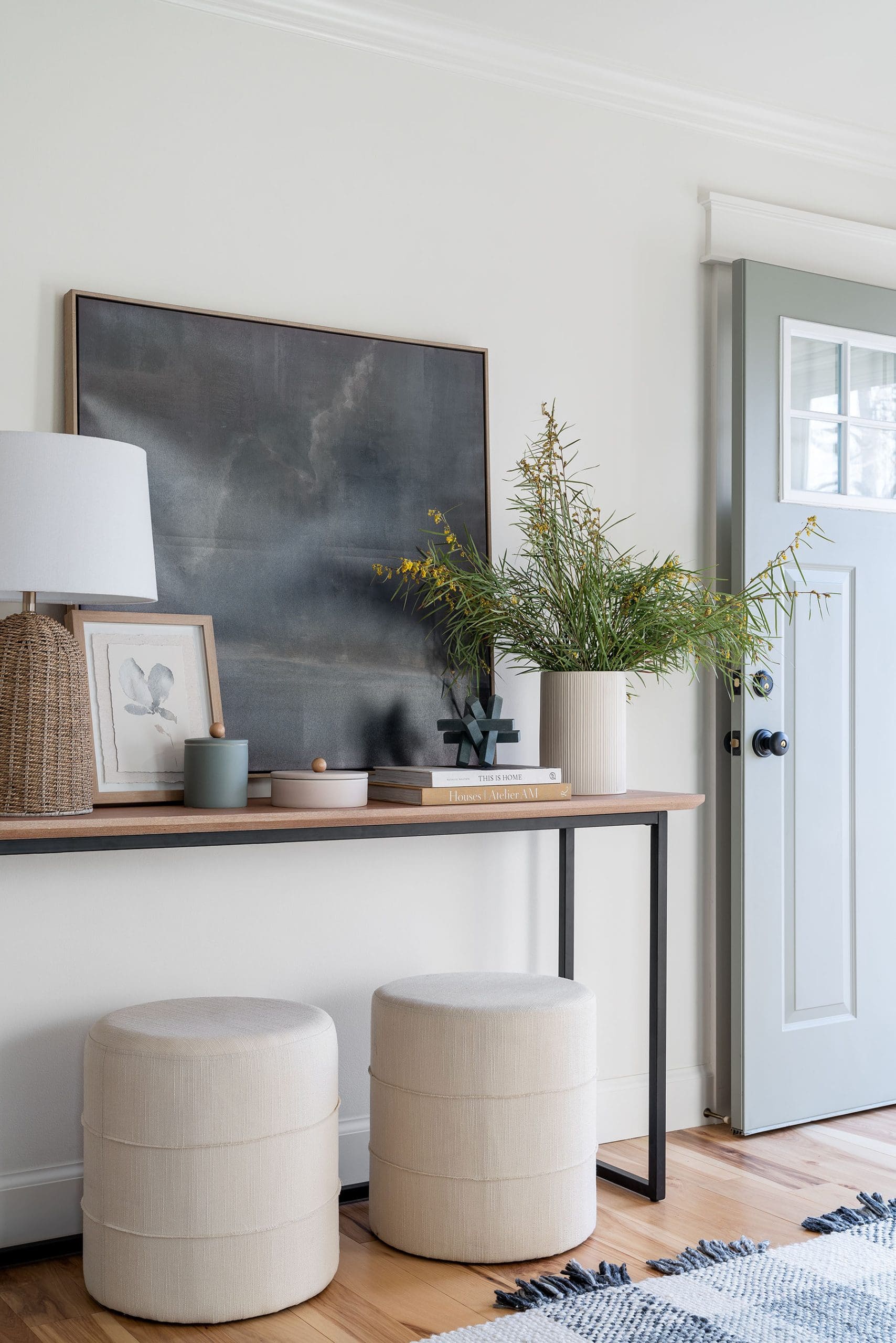 IMAGE CREDIT: STUDIO MCGEE
3. Add Seasonal Touches
Let your entryway decor reflect the current season like this Studio McGee entryway. For instance, during Christmas, you can place a small Christmas tree in a vase and ornaments like reindeer, reindeer, starkly globes, stars, and gonks to make your home feel festive.
Likewise, during spring, bring in fresh quintessential spring flowers like tulips and daffodils, and place them in a vase. Each season brings forth a new opportunity to refresh your entryway decor.
Related: 52 Best Studio McGee Christmas Decorations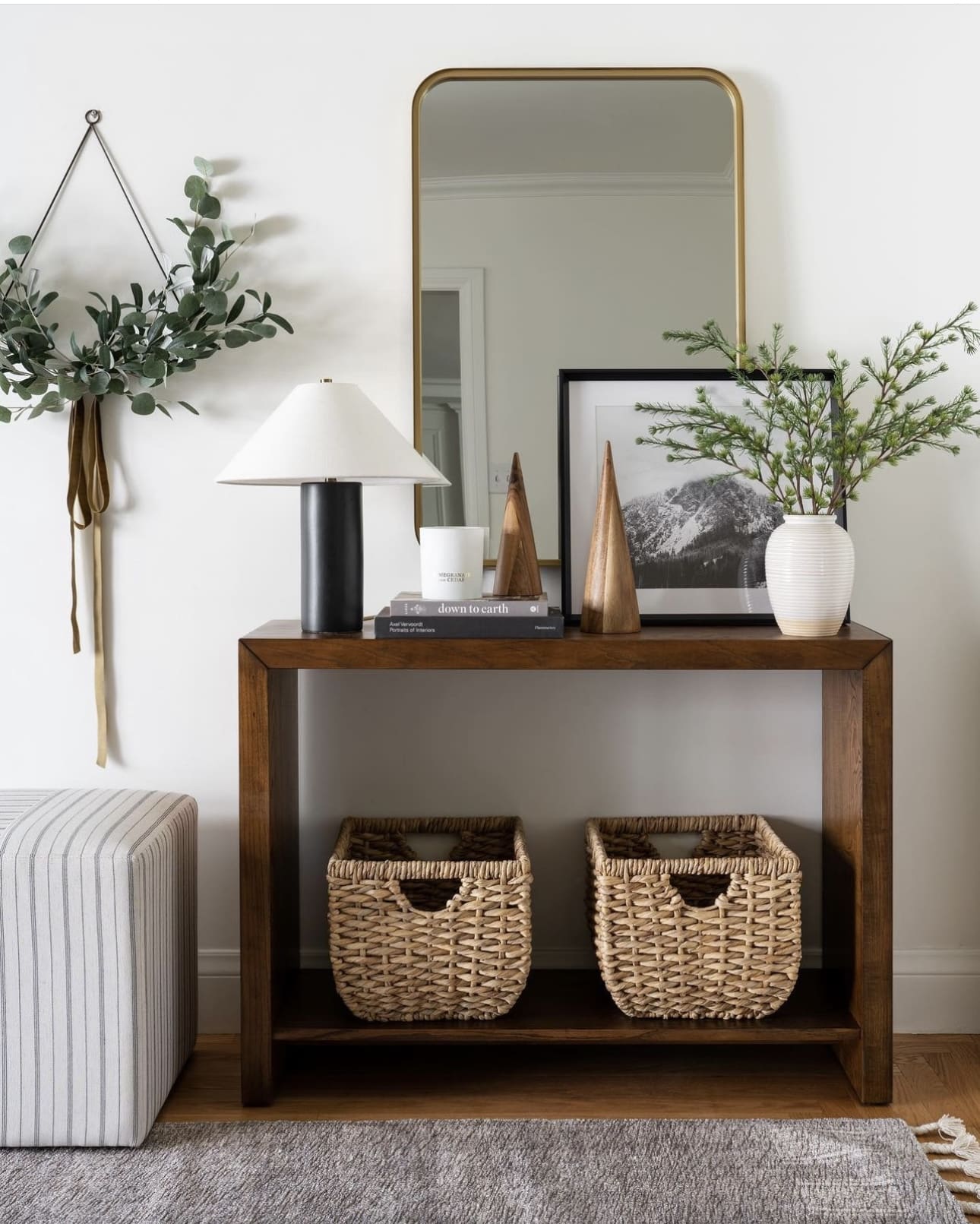 IMAGE CREDIT: STUDIO MCGEE
4. Mirror, Mirror, Mirror on the Wall
Mirrors are the backbones of entryway decorating. The reason why people often hang mirrors on entryways is because they reflect natural light and make the space appear more spacious and open than it actually is.
It is the oldest trick in the book when it comes to interior design. Not only do mirrors help to maximize light and create an illusion of more space — but, they are also practical as people often use them to check their reflection before stepping out of the house.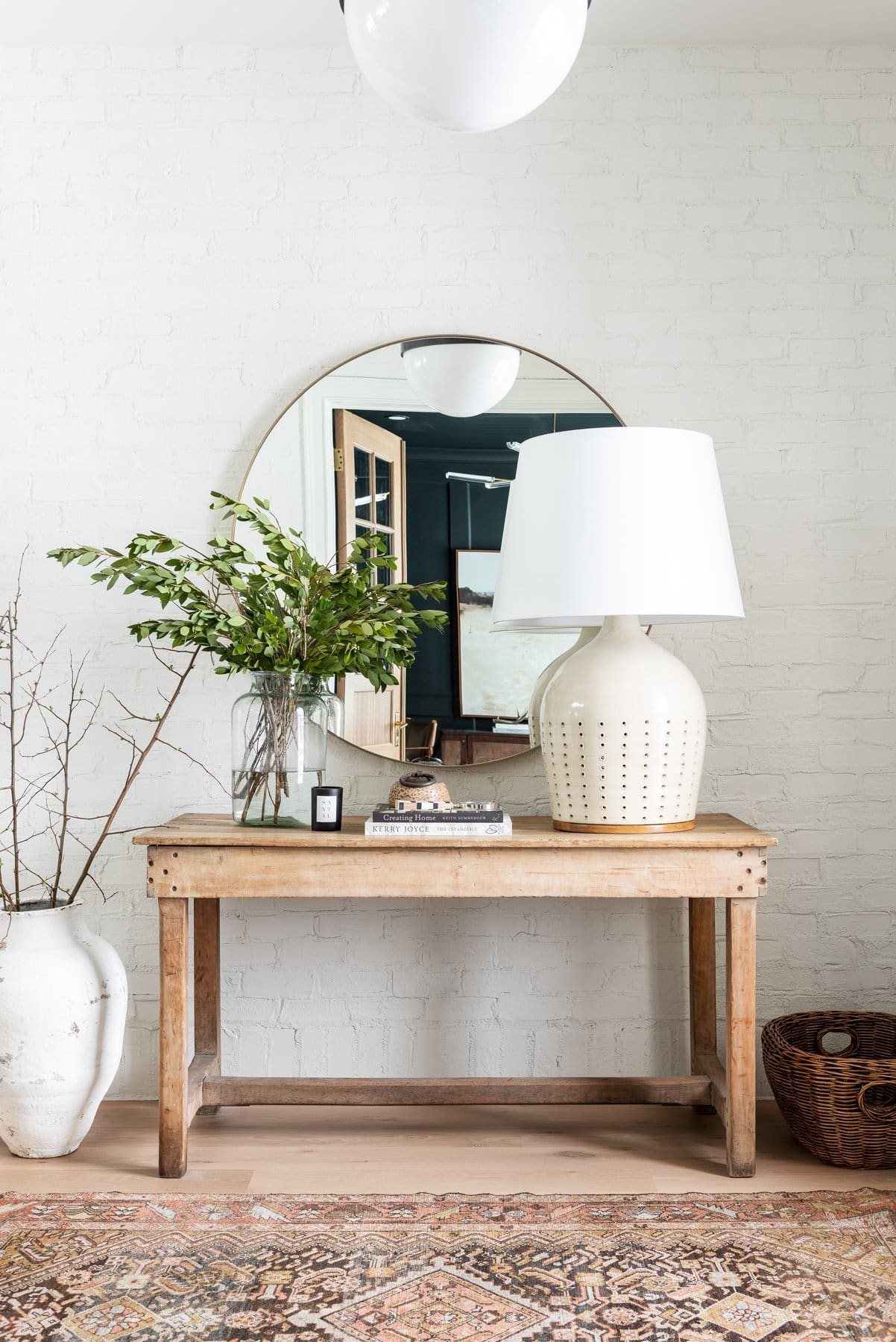 IMAGE CREDIT: STUDIO MCGEE
5. Opt for Low Maintenance Plants
Plants are an essential addition to an entryway decor. They are scientifically proven to remove toxins from the environment, purify the air, reduce stress levels, and boost moods. Plus, they also add a touch of color and visual intrigue to a space.
An expert approach to this is to use a beautiful but low-maintenance plant. Some of the best long-lasting plants to enliven and elevate an entryway are Olive Branches, Orchids, Chrysanthemums, ZZ Plants, and Spider Plants.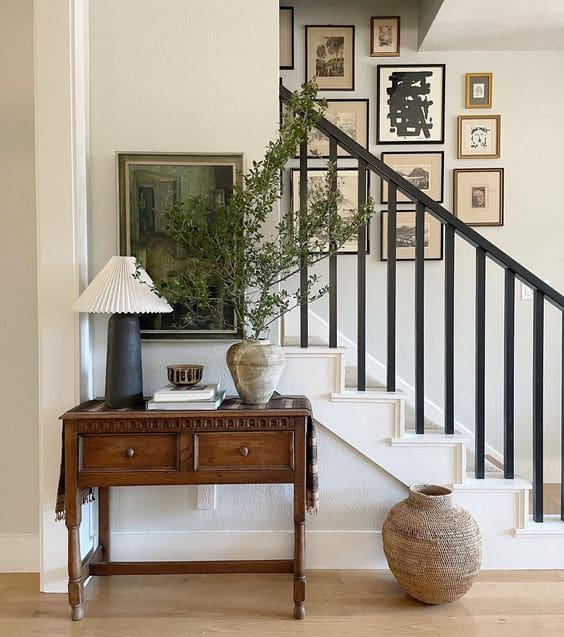 IMAGE CREDIT: STUDIO MCGEE
6. Display Aesthetic Books
In Studio McGee entryway decors, you will always find a few books on display. But, why do interior designers place books on coffee tables, console tables, and sideboards?
Books aren't just for reading, they are also a home accessory that adds a stylish touch to a space. The books that are often used for decorating have neutral colors and minimal designs on the cover.
Related: 12 Best Designer Books To Decorate Your Home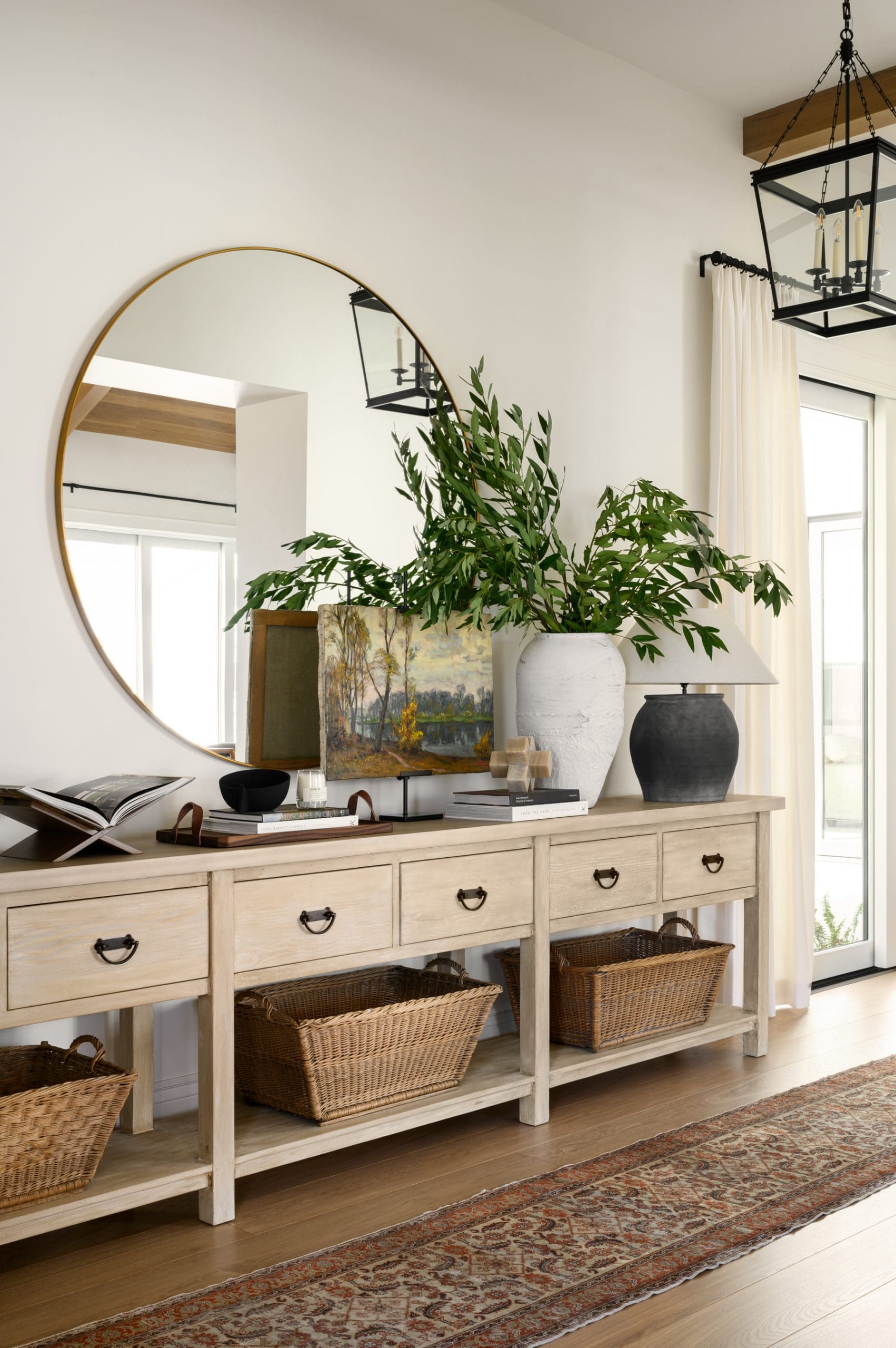 IMAGE CREDIT: STUDIO MCGEE
7. Invest in the Storage Ottoman
Want your entryway to look like a Studio McGee entryway? Make a stylish addition to your entryway with a stunning ottoman. Whether you want to hide away magazines, throw, or children's toys, storage ottomans are the way to go.
Not only do they help to keep your home free from clutter but they can add a chic layer of style to your entryway. Plus Ottomans are useful for taking off or wearing shoes.
IMAGE CREDIT: STUDIO MCGEE
8. Choose a Neutral Color Palette
Studio McGee often used neutral, earthly, and muted colors for their designs because they create clean and timeless aesthetics.
These colors are also very easy to work with since they complement one another, striking a balance between serene and stimulating. This Studio McGee entryway features a wood-tone sideboard, a rustic brown and white lamp, and neutral-colored interior design books.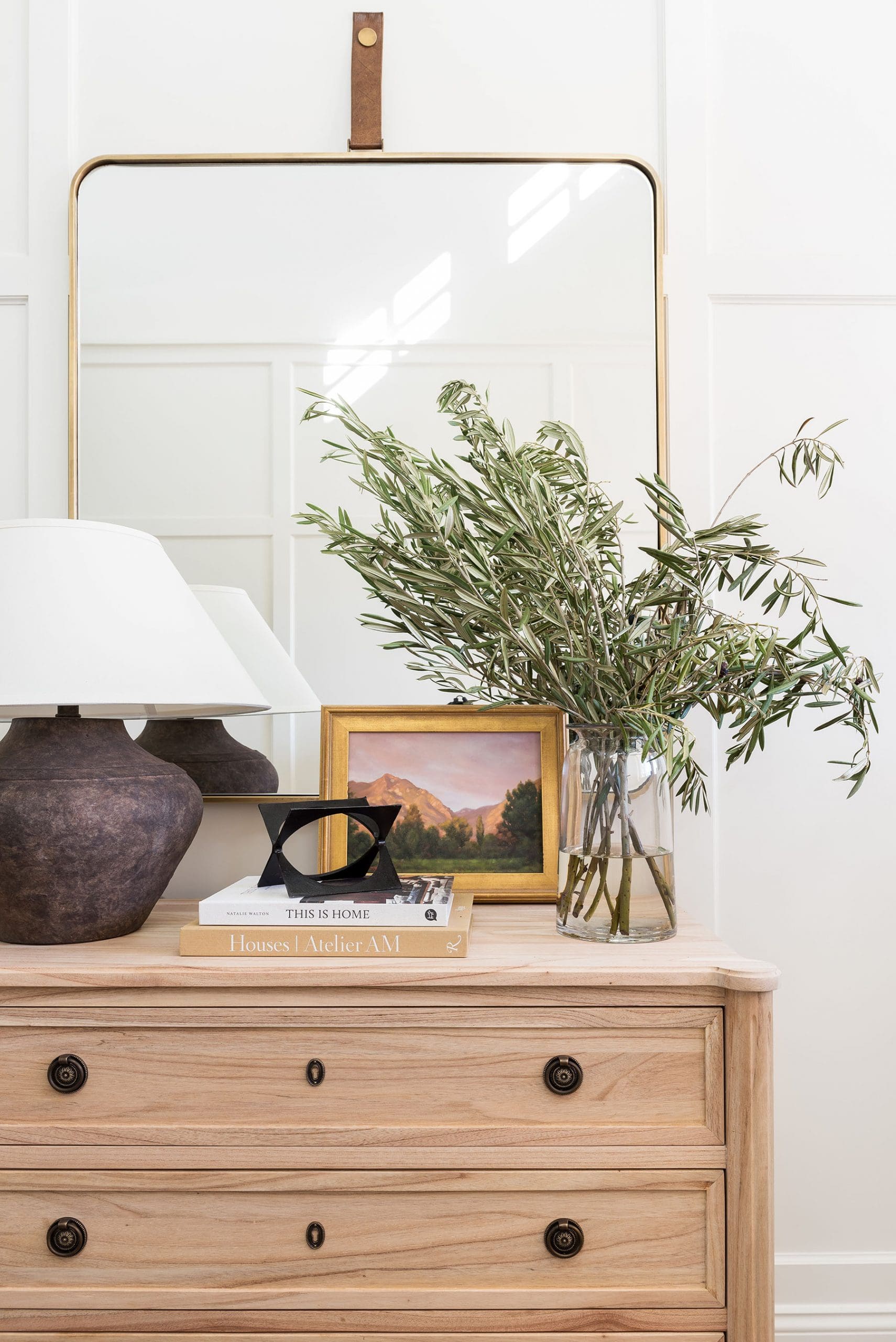 IMAGE CREDIT: STUDIO MCGEE
9. Swap Out Fresh Plants and Flowers for Dried Branches
Decorative dried branches can add charm and character to your entryway. They are a great way to liven up the space without being concerned about them dying and needing replacement.
Stem-cut fresh flowers last for an average of 1-2 weeks if taken care of while preserved dried branches could last up to 3-4 years. Plus the brown hue on dried branches gives the space a rustic touch.
IMAGE CREDIT: STUDIO MCGEE
10. Add Interest by Combining Textures
This Studio McGee entryway design welcomes a refreshing feel and each element works brilliantly together. In interior design, choosing and combining the right textures can draw the eye as it gives a space of visual depth.
Mix textures such as wood, glass, ceramic, and metal to create an entryway that is refined and elegant.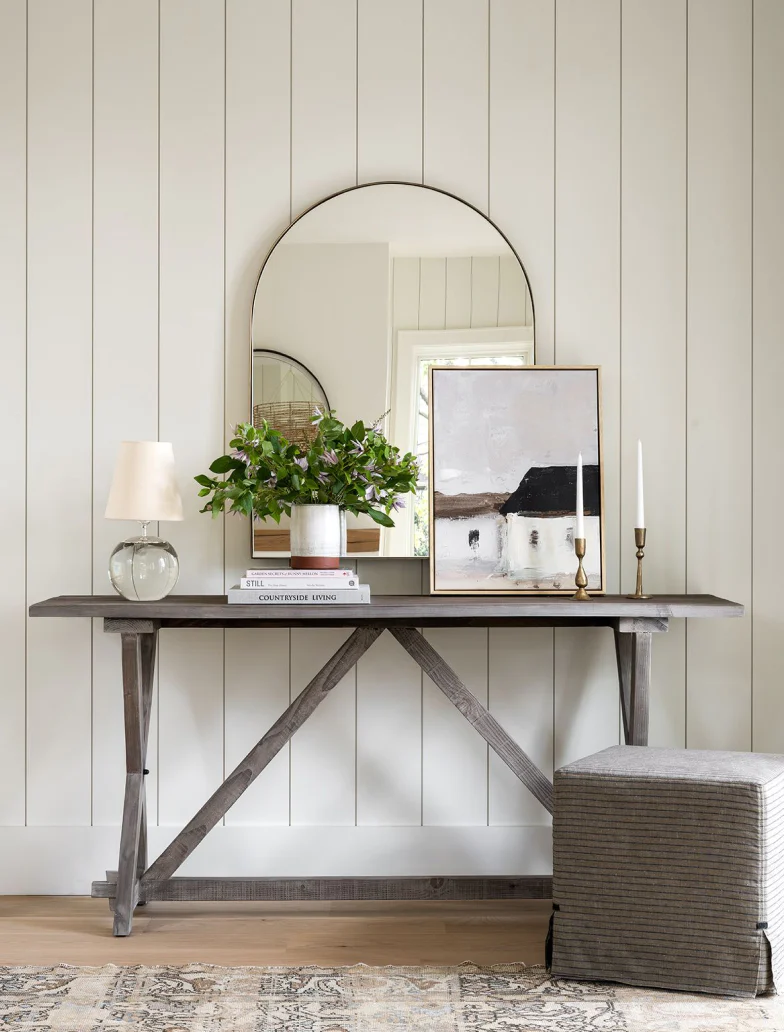 IMAGE CREDIT: STUDIO MCGEE
Related: 45 Entryway Table Decor Ideas
11. Complement Your Existing Interior Style
To maintain a cohesive style throughout your home, consider using the same color scheme and style for your entryway. For instance, if you have a traditional-leaning interior, you can opt for furniture and accessories that lean towards the style as well.
One of the most intriguing things about Studio McGee entryways and designs in general, is that Shea and her team always choose a design style that maintains the home's original character and environment.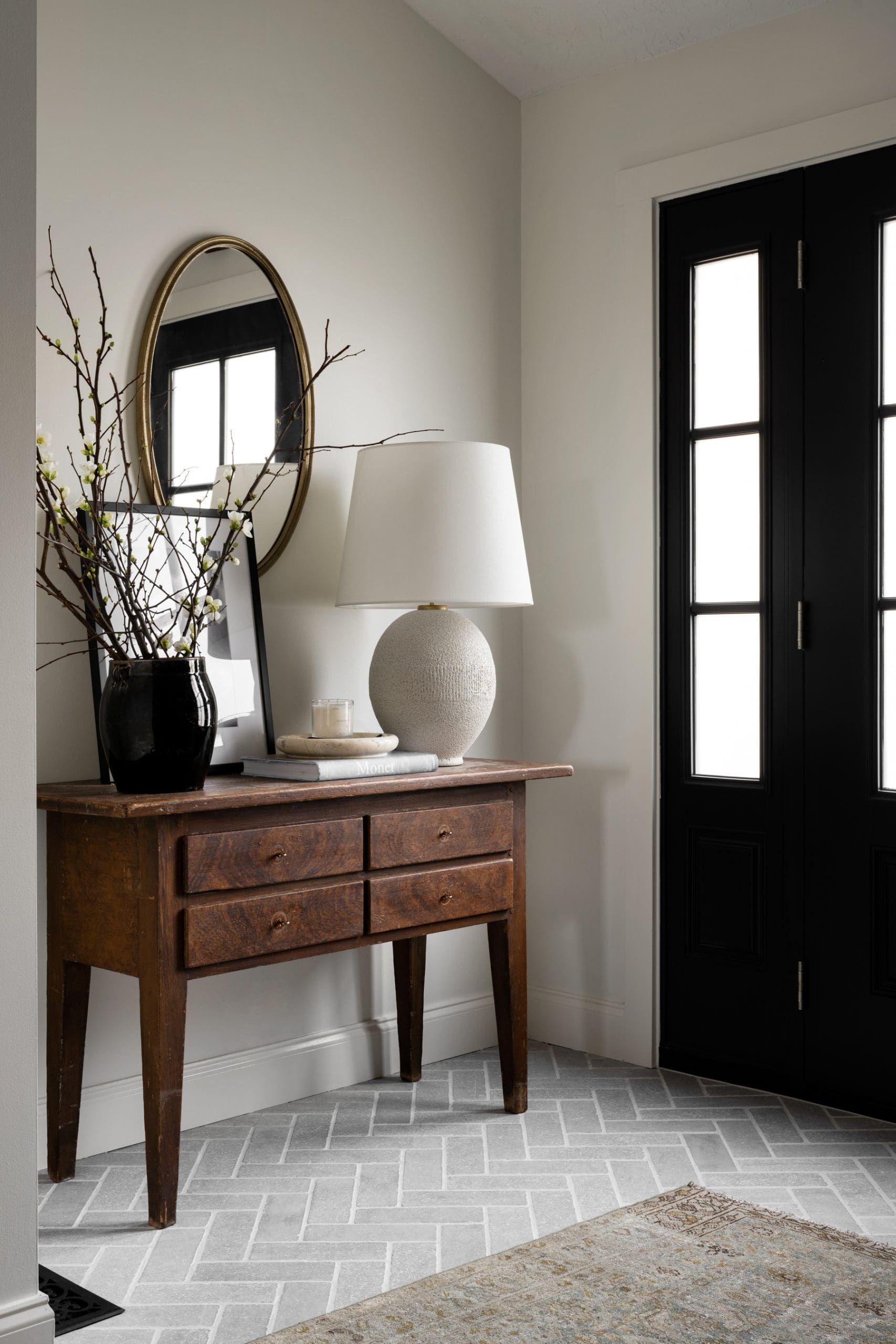 IMAGE CREDIT: STUDIO MCGEE
12. Use a Layering Technique
The main objective of layering items when decorating an entryway is to create a visually interesting and characterful design that commands attention.
So, instead of following a symmetrical placement, embrace asymmetry (absence of balance) like this elegant Studio McGee entryway. The use of varying shapes, heights, and sizes of the decorative elements allows each element to shine and helps to create a harmonious space.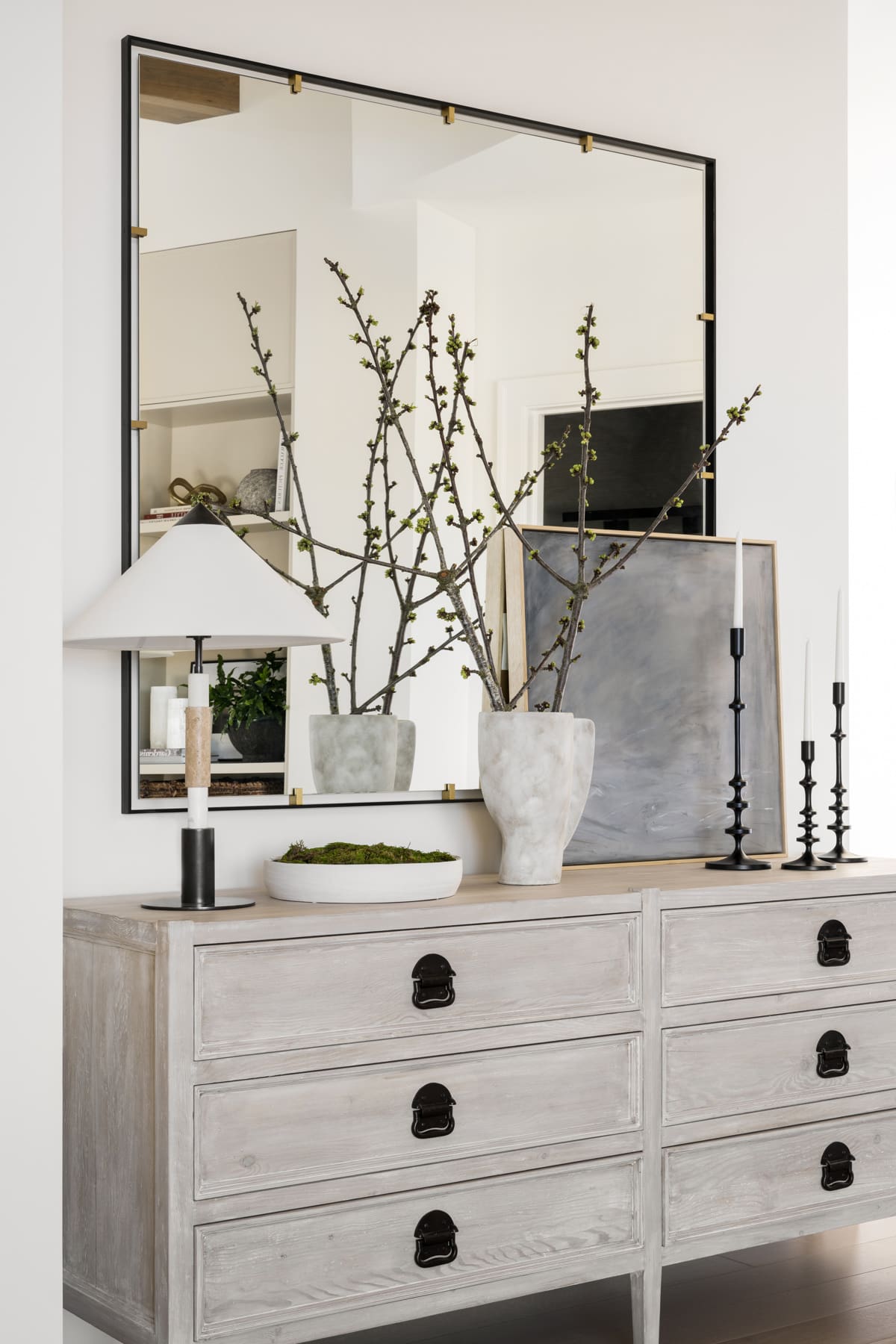 IMAGE CREDIT: STUDIO MCGEE
13. Place an Entryway Rug
Placing an area rug in high-traffic areas in the home is a no-brainer and the entryway is no exception. These types of rugs are easy to clean and maintain.
They help to prevent shoe stains from staining the floor in the rest of the house. An entryway way rug is essential if you want to decorate your entryway like a pro. In addition, they can be used to add style and a pop of color to the space.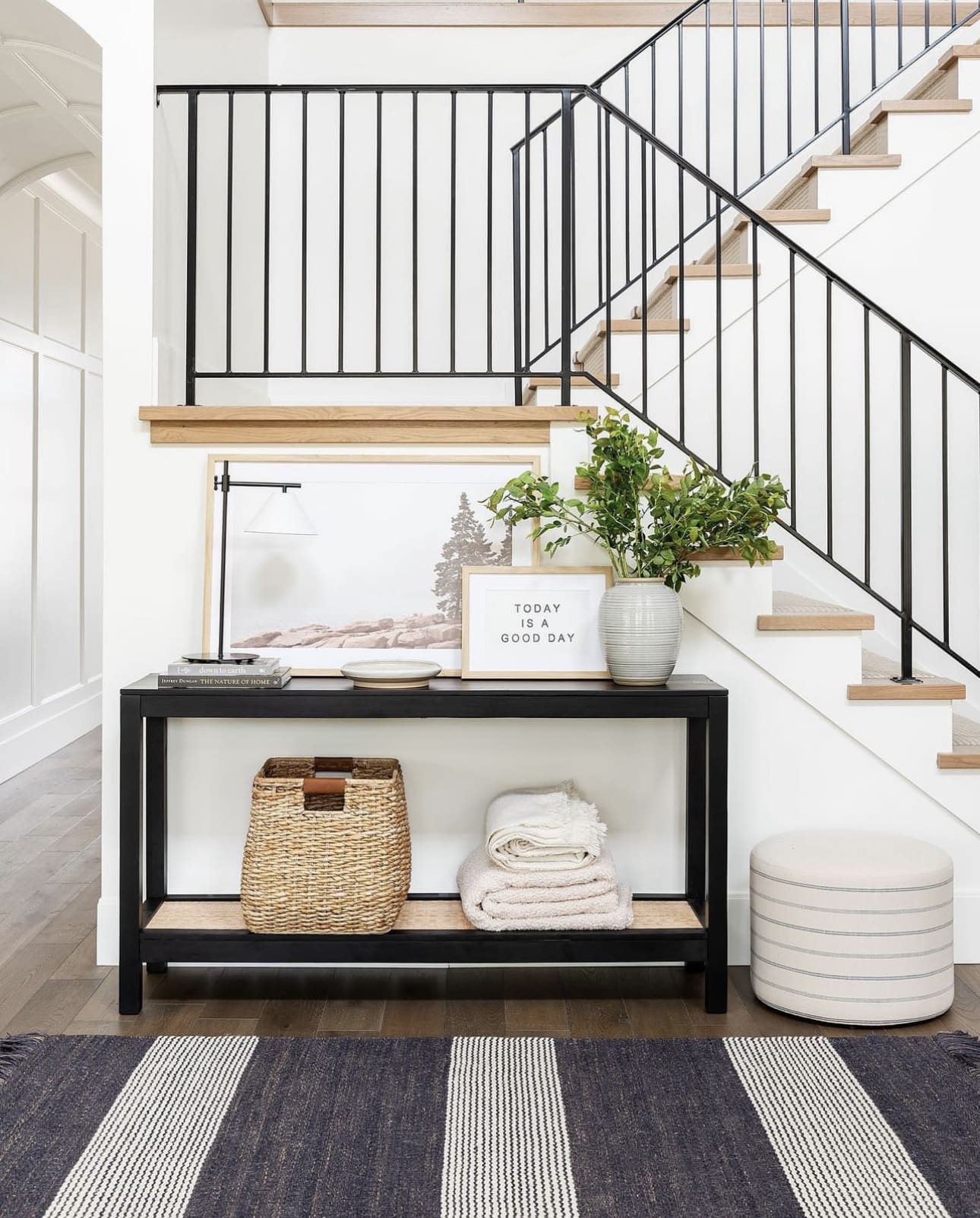 IMAGE CREDIT: STUDIO MCGEE
14. Keep It Clean and Bright
Entryways are often small and poorly lit compared to most rooms in the house. If this is the case for your entryway then it may be best to brighten the space with your decor.
An effective way to do this is to use bright neutrals like white and cream, place a mirror to create an illusion of space, and also use bright-colored decorative elements like this Studio McGee entryway.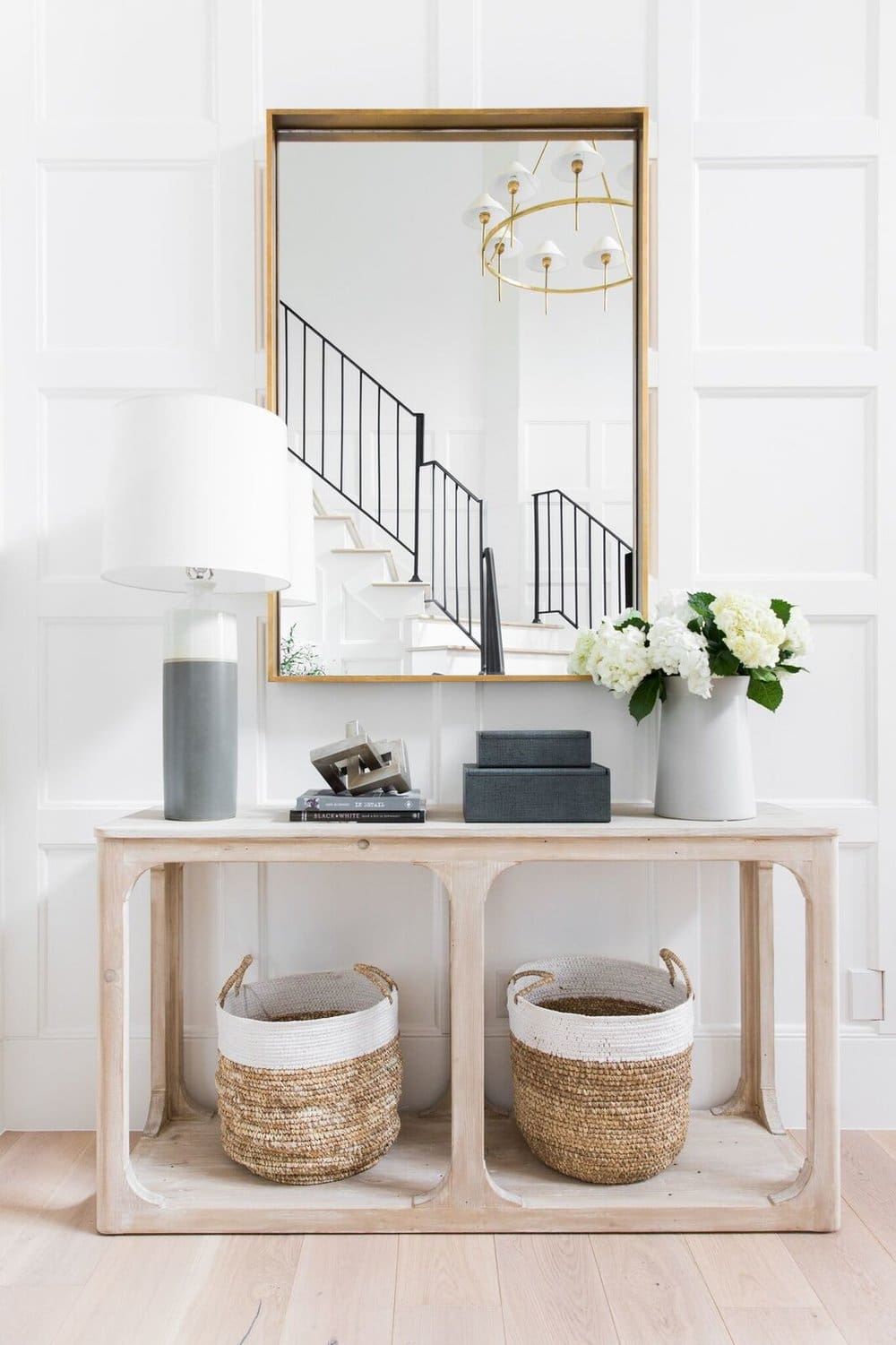 IMAGE CREDIT: STUDIO MCGEE
15. Use an Oversized Lamp
Another common technique Studio McGee uses to add visual interest to the area is using an oversized table lamp. This adds a dramatic sense of style and elegance to the space — instantly taking the space from standard to luxury. This also illuminates the space properly at night.
IMAGE CREDIT: STUDIO MCGEE
16. Draw Interest with Shapes
Shapes are an essential part of the architectural compositional language and they can be used to help define the identity of a space. Interesting and unusual shapes have the ability to keep a minimalistic space from looking sterile.
Whether it is a uniquely shape table, lamp, mirror, vase, or basket, you can add a refined sense of style to your entryway with these.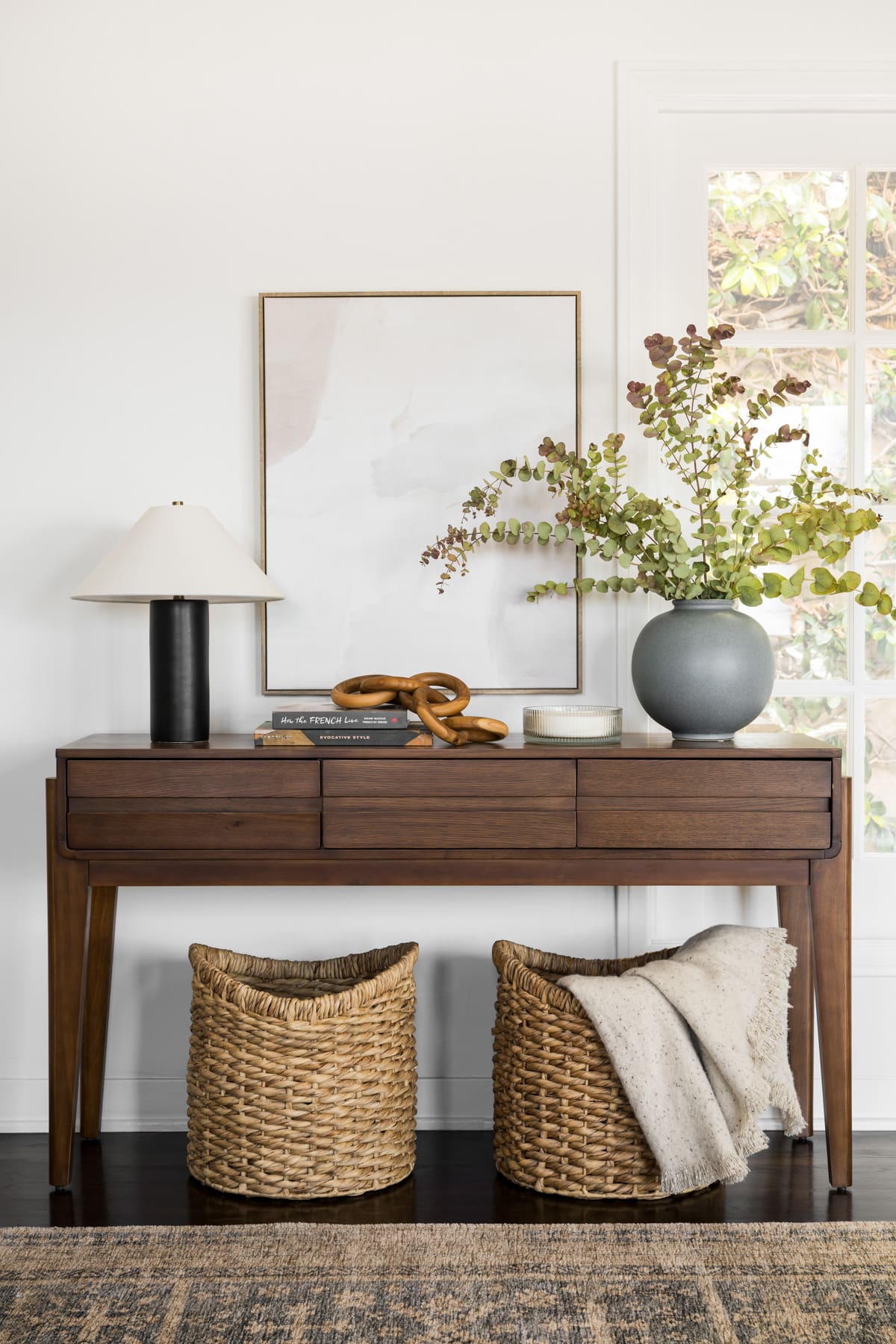 IMAGE CREDIT: STUDIO MCGEE
17. Add a Personal Touch
Your home will not feel personalized if you try to decorate it exactly like you see in magazines, blogs, and social media. Expert interior designers like Studio McGee often ask a client about their interests, aesthetic preferences, and predilections.
You can get inspired by Studio McGee entryways and other designs on the internet but there are endless ways to make it your own. Some common ways to add a personal touch to your entryway are to add your photograph (or your family's), display meaningful items/art, and add something handmade by you.
IMAGE CREDIT: STUDIO MCGEE
18. Place a Bench Instead of a Table
An entryway table is by no means compulsory. Take inspiration from this Studio McGee entryway. Add comfort and style with an upholstered backness bench instead.
Use chic throw pillows to enhance comfort and style. Throw in a stunning tall plant for greenery. Give it a beautiful finish with eye-catching and elegant wall-hung artwork.
IMAGE CREDIT: STUDIO MCGEE
You may also enjoy our article on: 30 Best Studio Mcgee Bedrooms
19. Invest in a Statement-Making Table
A piece of stylish furniture can make the biggest interior statement. Using statement furniture means that you don't have to do too much with the rest of the decor.
This Studio McGee entryway features the beautiful Dowel Console Table Natural from Target to create a dramatic focal point.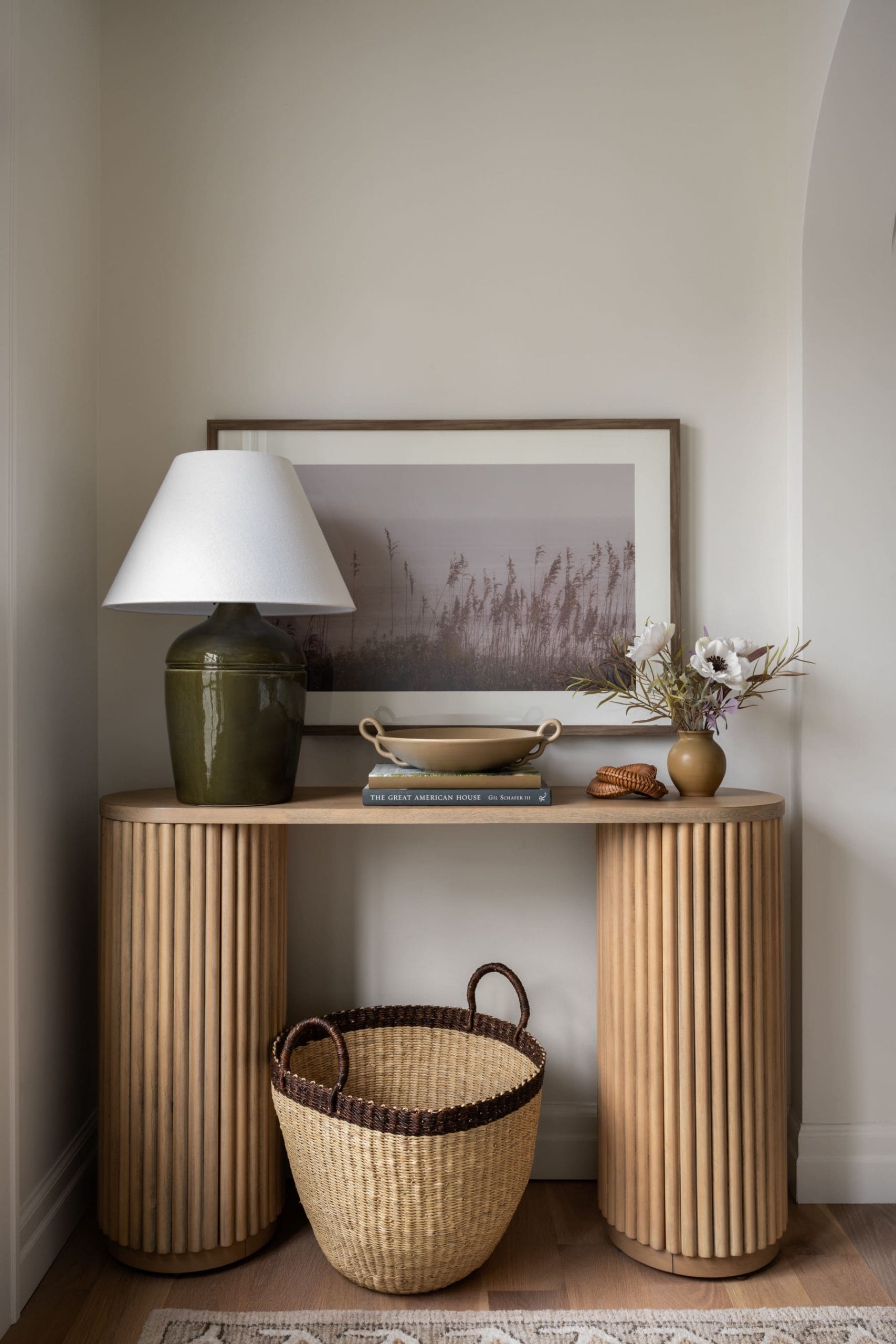 IMAGE CREDIT: STUDIO MCGEE
20. Go for a Round Table
If you're blessed with extra space, you can create an entry-dining like this Studio Mcgee entryway design. This can help to create a comfortable and inviting space that is perfect for dining and entertaining.
In this entryway, Shea and her team grounded the curved staircase with a round table. The large branches add a dynamic element of surprise to a space.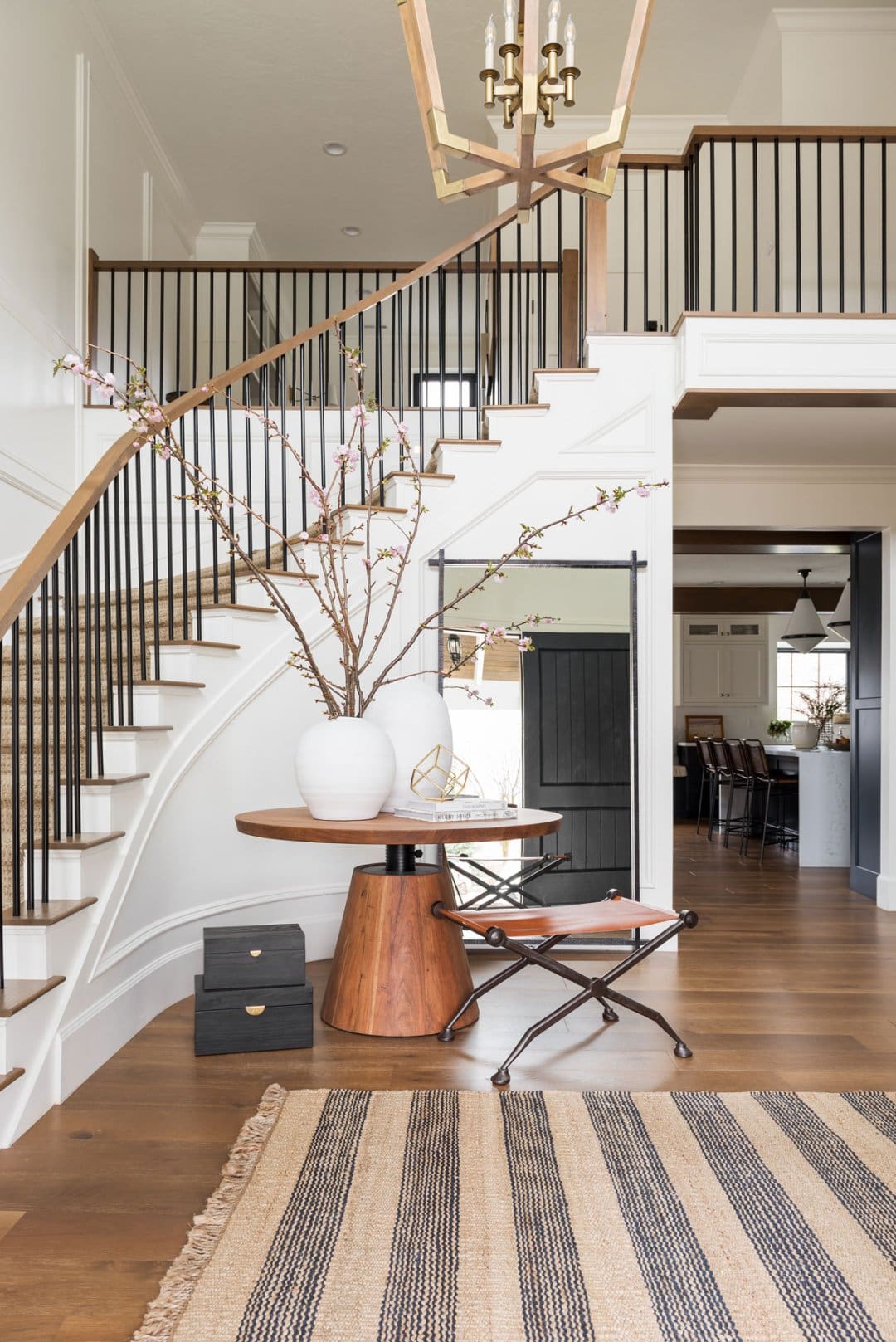 IMAGE CREDIT: STUDIO MCGEE
21. Buy a Round Mirror with a Gold Frame
This type of mirror is quite common in contemporary homes. It is chic, minimalist and elegant. The gold frame in the Studio McGee entryway paired with the gold picture frame helps to accentuate the luxurious feel of the space.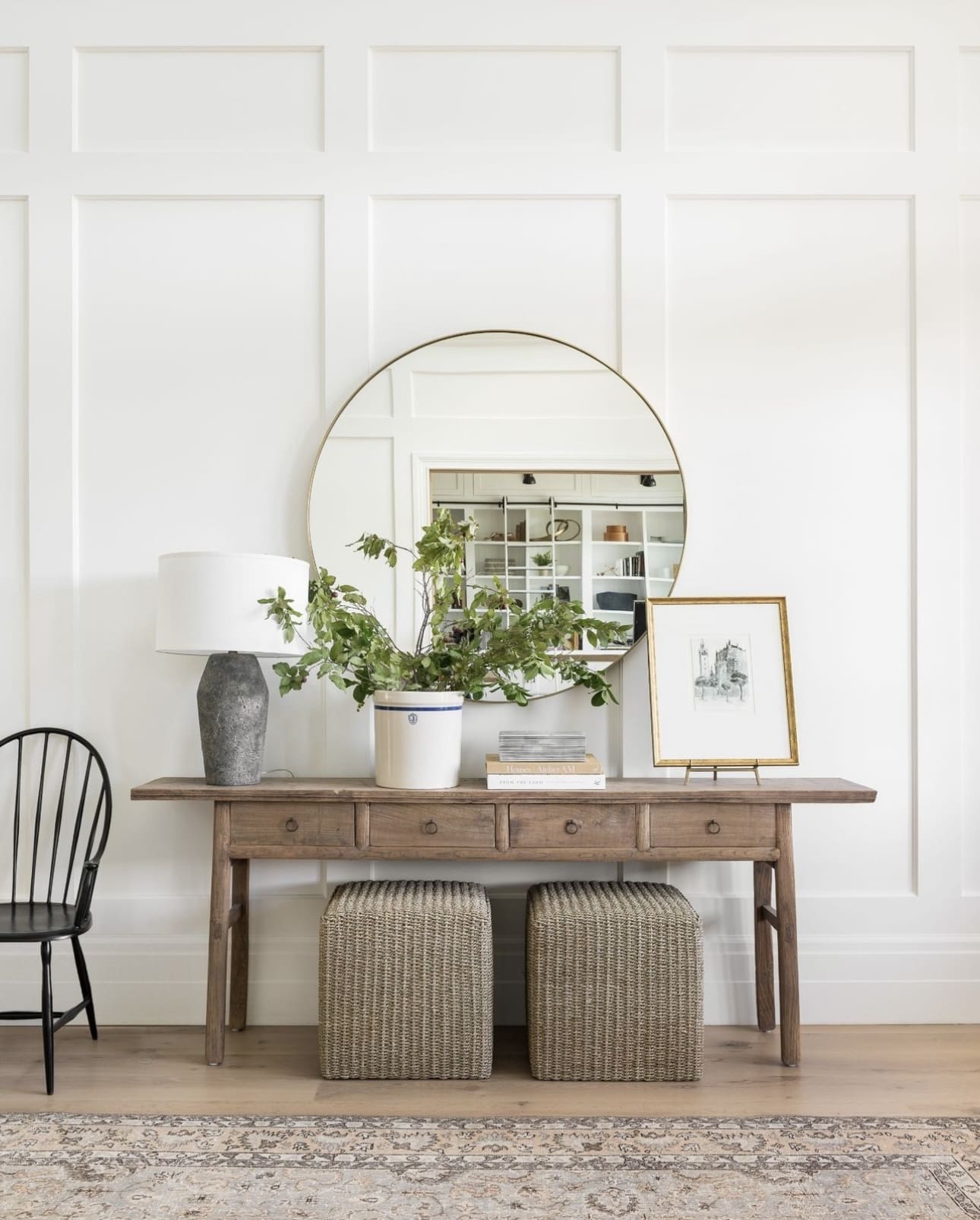 IMAGE CREDIT: STUDIO MCGEE
22. Consider a Reclaimed Drawer Chest
If you have a big entryway space, consider using a drawer chest to fill up the space. This Studio McGee entryway is perfect for a rustic leaning design style.
Reclaimed wood is repurposed old wood that can give a space character, rustic charm, and a lived-in feel. From the antique flower vase to the clay lamp, every element in this entryway works harmoniously well together to create beautiful old-world aesthetics.
IMAGE CREDIT: STUDIO MCGEE
23. Paint Your Existing Console Table
Are you looking for low-cost ways to revamp your entryway? Bring your old console table back to life with a coat of paint. You can also buy a pre-owned console table and paint it up, as well as the handle.
IMAGE CREDIT: STUDIO MCGEE
24. Create a Gallery Wall
Instantly take your bare entryway wall from drab to fab with a gallery wall. A gallery wall or photo wall is an easy way to spruce up plain walls in an entryway. It creates a focal point that draws the eyes and adds a refined sense of style to your space.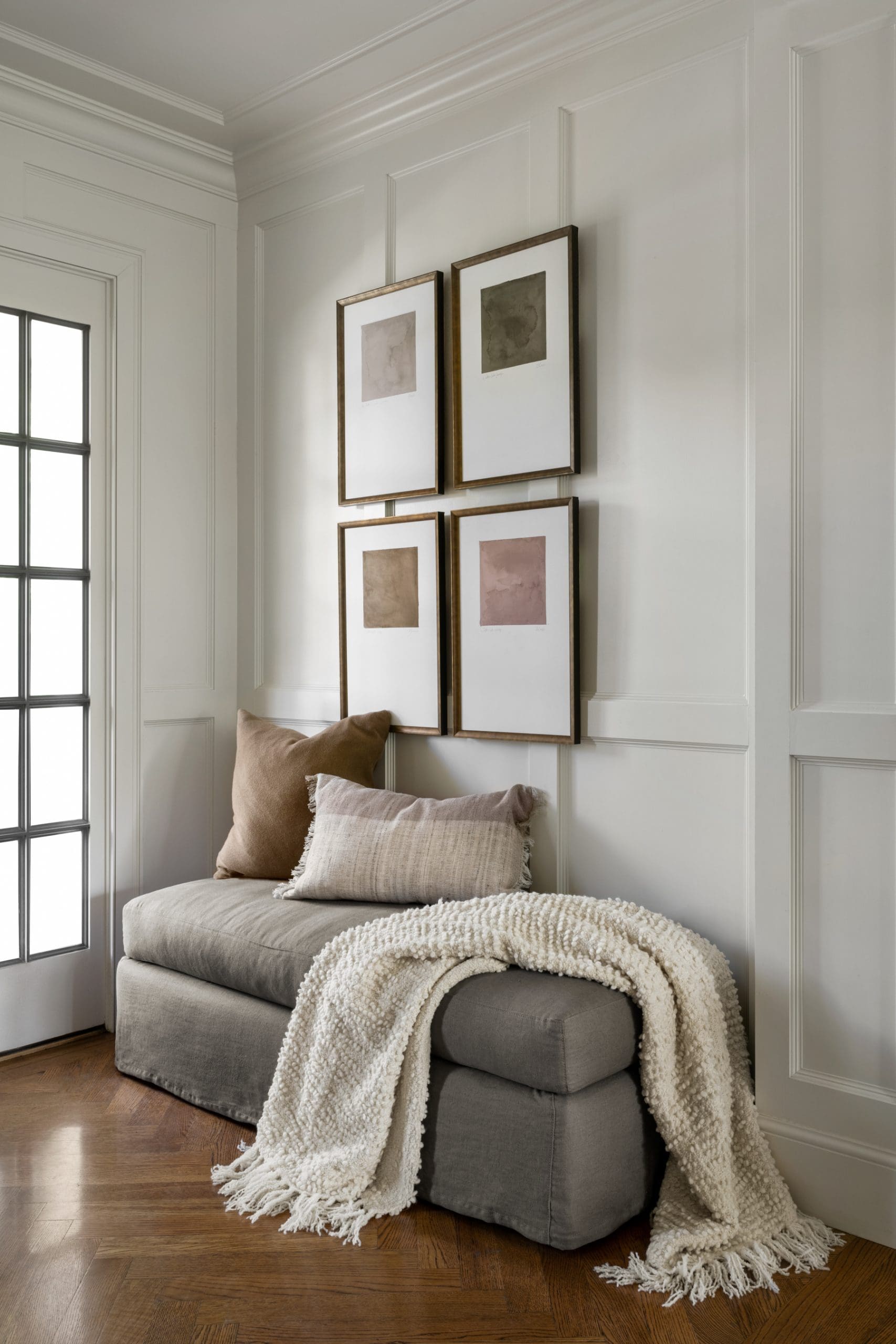 IMAGE CREDIT: STUDIO MCGEE
25. Keep it Clutter-Free
It can be tempting to leave your keys, pieces of jewelry, and other items that cause clutter on your entryway table. This will only make it appear unsightly and untidy. Only keep items that are for decorative purposes on your entryway way table.
Anything else should be stored away in the drawer or other parts of the home. Also, do not store shoes or coats under the table, except if they are placed inside a basket.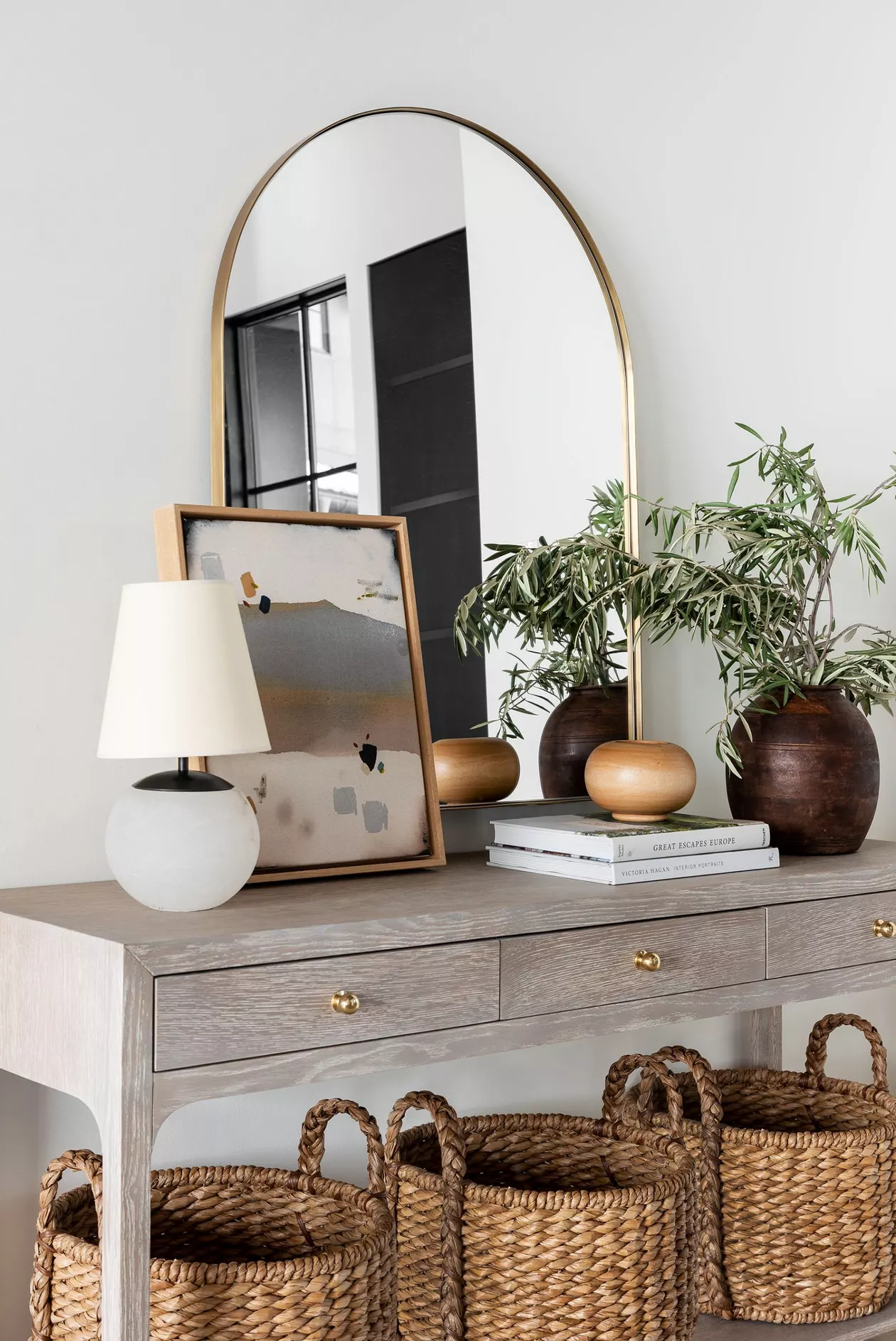 IMAGE CREDIT: STUDIO MCGEE
Special thanks to Studio McGee (Shea, Syd, and the team) for these fantastic entryway inspirations.
Have fun decorating!