30 Best Studio Mcgee Bedrooms (With Photos)
Clean, virtually striking, and effortlessly chic are just a few words to describe Studio Mcgee designs. Elevate the aesthetics of your bedroom by taking inspiration from these incredible Studio Mcgee bedrooms.
Studio Mcgee is a Utah-based design studio and online store. Shea and Syd McGee are the married couple behind Studio McGee. Since its launch in 2014, Studio McGee has become an influential industry leader in today's interior design.
Not only does the creative duo design multi-million dollar homes but they also run a successful YouTube channel and are the hosts of the Netflix original series "Dream Home Makeover " (totally worth watching by the way if you want to brush up your design skills in just one weekend). Studio McGee currently has 3.8 million followers on Instagram and the duo are the authors of the design book "Make Life Beautiful".  Shea recently also launched her first book "The Art of Home".
Their design style can be described as a clean and chic modern farmhouse. There is so much to learn from these masterminds, like layout planning, color palettes, furniture placement, finishing touches, and many more. 
Designing the perfect bedroom doesn't have to be a daunting process. Studio McGee has a design pattern that is easy to learn and execute. Soft neutral color schemes, organic abstracts, and blending of natural and modern elements are common practices seen in Studio McGee designs.
Simply put, they embrace a minimalist approach and combine rusticity and modernity to add an air of elegance to interior spaces.
In this article, we have curated the 30 best Studio McGee bedrooms to help you design yours like a pro.
1. Bright and Serene Bedroom
This bedroom features a clean and minimal aesthetics that is easy to adopt. The design strikes the perfect balance between rustic and sophisticated. Each element is easy on the eyes and works brilliantly together.
The coordinating abstract leaf print lends character to the room and blends seamlessly with the color scheme. Another thing to take note of is how the hint of washed blue adds a beautiful contrast.
IMAGE CREDIT: STUDIO MCGEE
2. Gray Studio McGee Bedroom
There are more than 500 shades of gray to consider for a bedroom design. In this bedroom, Studio McGee takes on a beautiful and soothing Gray-green tone for the wall and large center rug.
The gray backdrop helps the white bed frame to really pop. The hint of coffee brown on the throw pillows adds richness to the color scheme.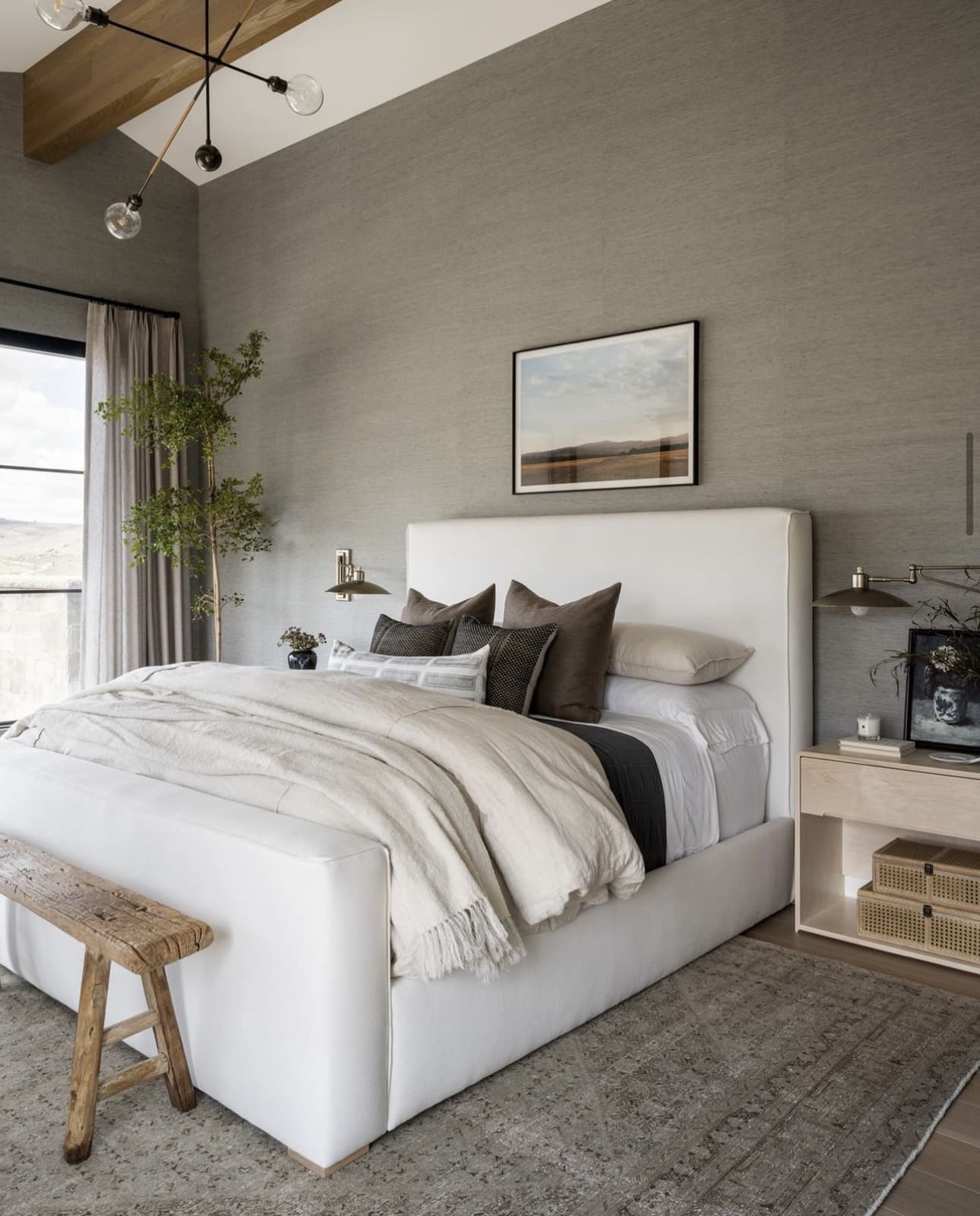 IMAGE CREDIT: STUDIO MCGEE
3. Chic and Moody Bedroom
Studio Mcgee also creates moody spaces that look effortlessly chic. This elegant and moody guest bedroom features McGee's Dominick oak bed, Percy oak table lamps, layers of heavy and cozy textiles, and beautiful museum-quality artwork.
The trick to creating a moody and cozy bedroom is to carefully select the linens, go dark on the wall, embrace pattern mixing, soften the light, and use comfy furnishings.
IMAGE CREDIT: STUDIO MCGEE
4. Blue & White Studio Mcgee Bedroom
Blue creates a calming and refreshing feel in the bedroom. Most people often go for neutral colors when choosing a bed frame but blue is also very versatile and quite easy to decorate around.
It serves as a focal point and conjures up feelings of being around the ocean. Blue also lends a touch of vibrancy to an underwise minimalist space. Mixed wall paneling is another way to add visual interest in the bedroom.
Related: 22 Blue Two Colour Combination for Bedroom Walls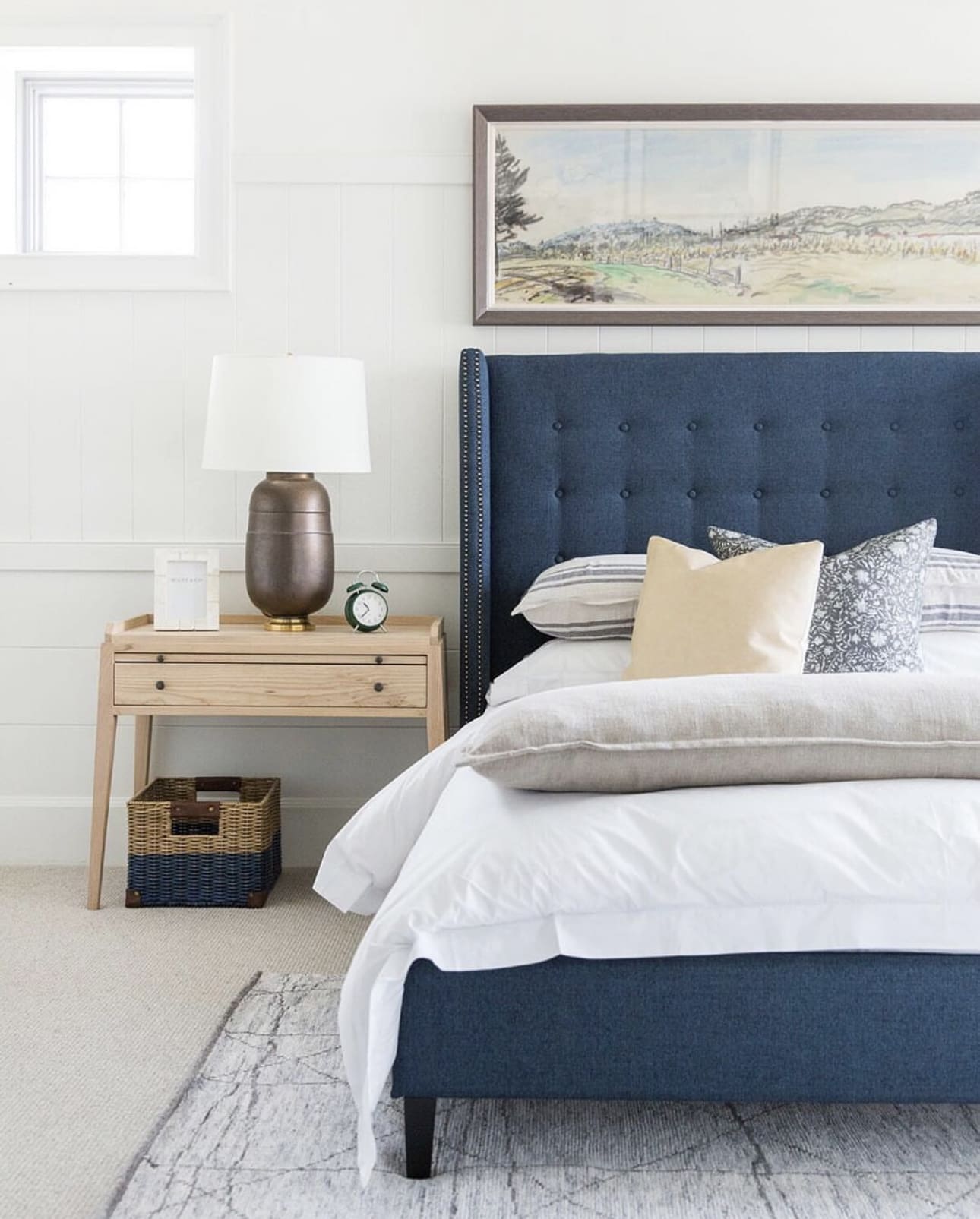 IMAGE CREDIT: STUDIO MCGEE
5. Neutral Scheme Bedroom
One very noticeable thing that Studio McGee bedrooms have in common is a neutral or almost neutral color palette. They tend to use a wide variety of soft and muted colors.
The strategic use of these hues helps to create a timeless look without feeling too punchy. This home on the Bay master bedroom features Farrow & Bell Shaded White (Eggshell Finish) on the wall.
IMAGE CREDIT: STUDIO MCGEE
6. Exposed Wooden Beams Bedroom
Exposed ceiling beams are architectural features that add a dramatic sense of strength and heft to a room. It allows a room to appear higher by giving it additional flexibility.
Exposed beams also add rustic charm and visual interest to a room. Studio McGee approaches this bedroom with a simple white, light blue, and wood-tone color scheme. The overall design is minimal yet it commands attention.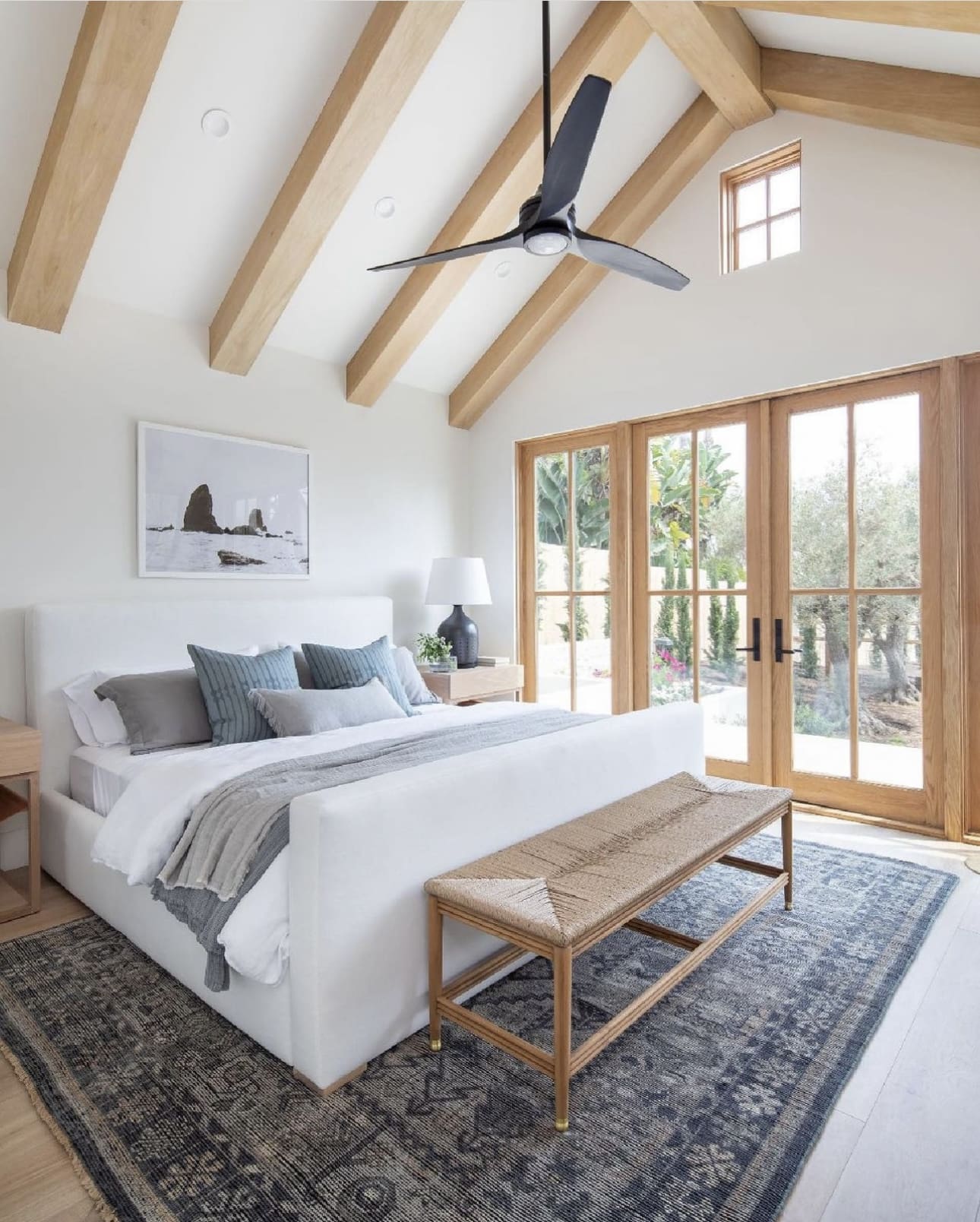 IMAGE CREDIT: STUDIO MCGEE
7. Wooden Canopy Bed Frame
In case you're wondering, canopy beds are still very much style. Canopy beds first emerged back in the old days of Elizabethan and Jacobean.
They were originally used to conserve warmth and enhance privacy, but today, canopy beds are embraced solely for their eye-catching appeal. Wooden canopy beds can be used to create a restful rustic or traditional-leaning bedroom.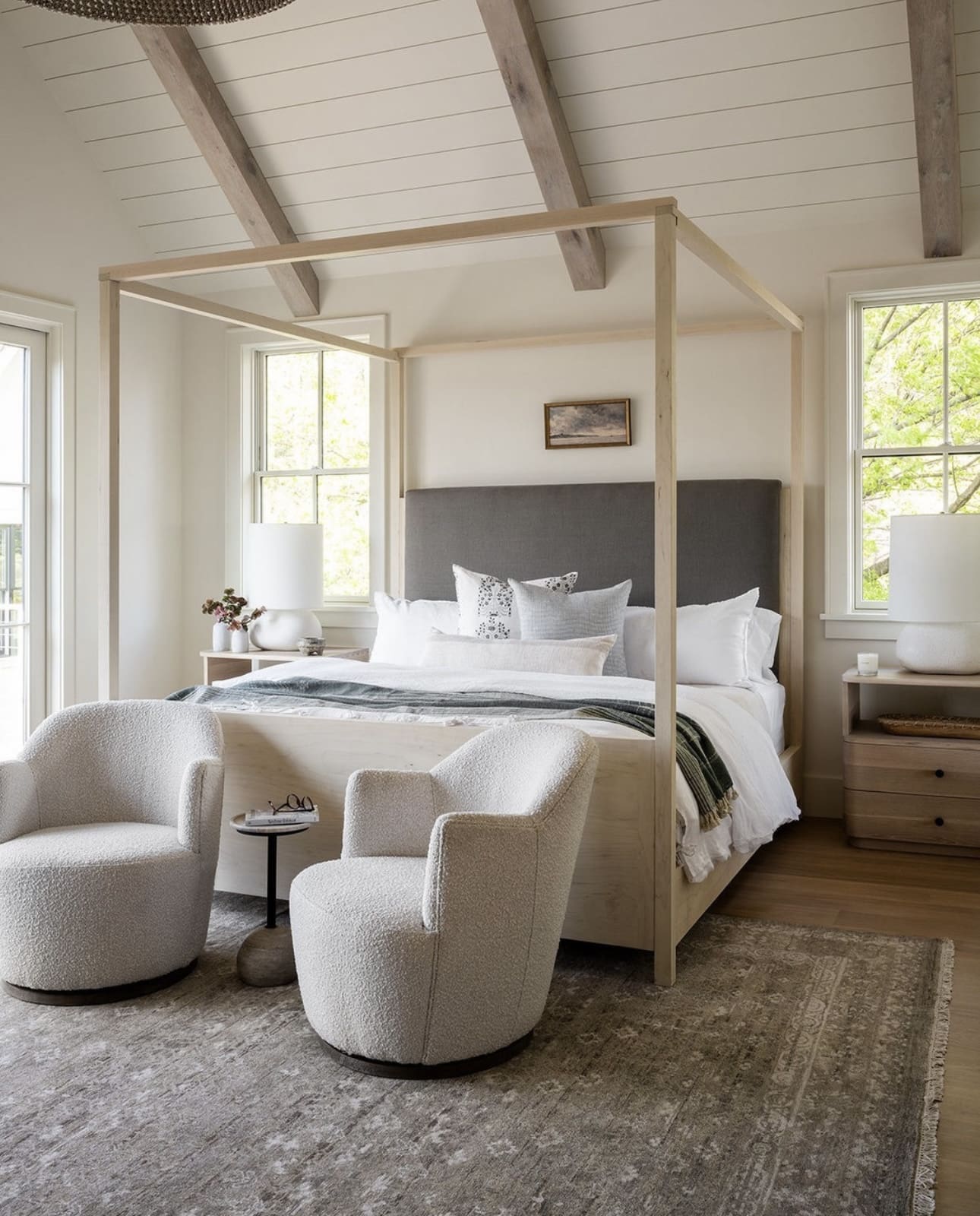 IMAGE CREDIT: STUDIO MCGEE
8. Metal Canopy Bed Frame
Sturdy and well-refined, the metal canopy bed frame can elevate the aesthetics of your bedroom. It can create an elegant and classic look in your bedroom just like this chic Studio McGee bedroom.
This bedroom uses earthy tones like dark green, sand, and beige. The consistent use of fringe fabric also gives the space a shabby-chic aesthetic.
IMAGE CREDIT: STUDIO MCGEE
9. Built-In Arch Shelf
Built-in shelves are great for maximizing space as they eliminate the need for bulky storage systems. They beautify interior spaces and are frequently used in Studio McGee designs.
Arches are architectural detailing that never go out of style. A built-in arch shelf can give a bedroom an impactful edge when decorated appealingly.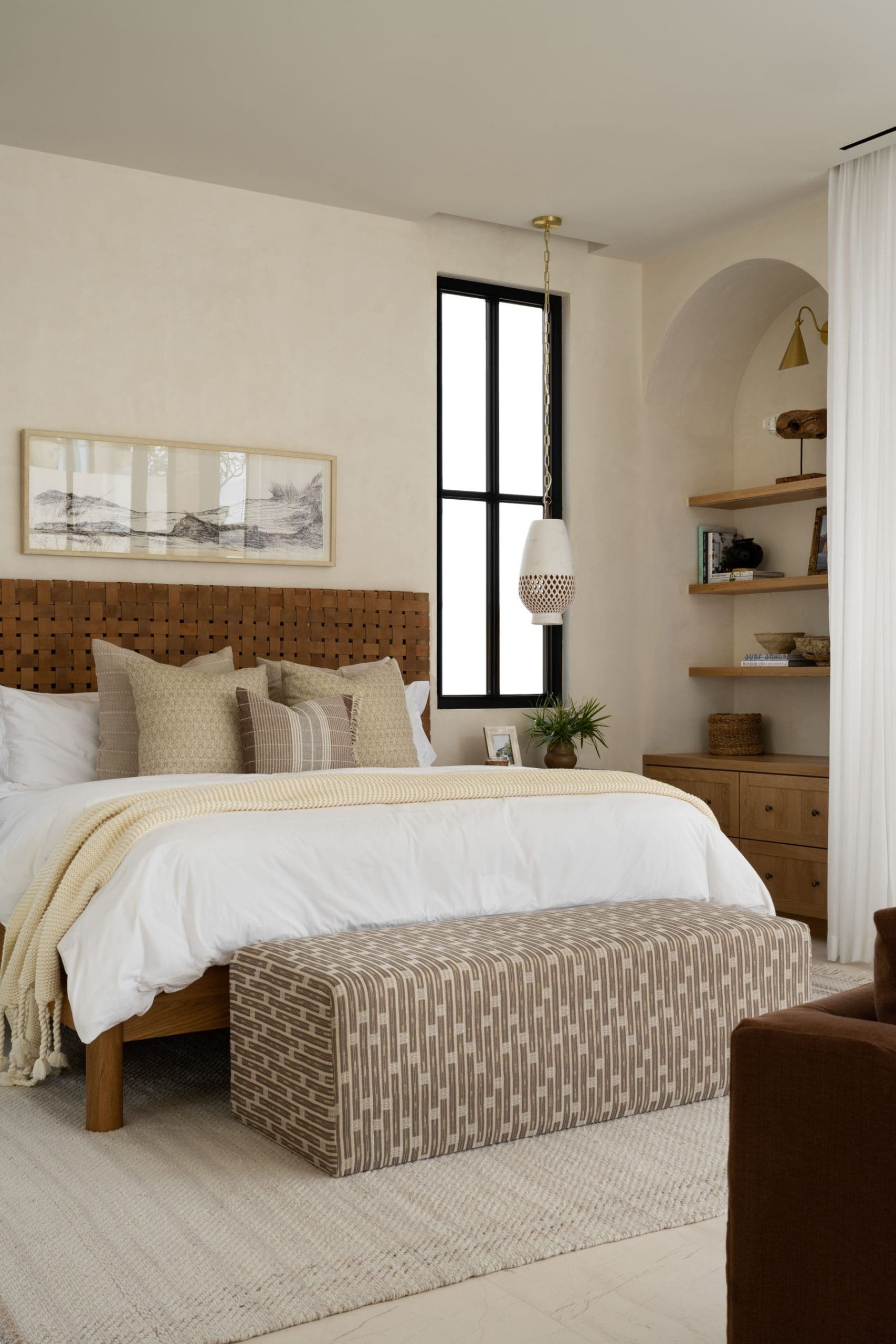 IMAGE CREDIT: STUDIO MCGEE
10. Bedroom Throws Pillow Arrangement
Most visually appealing bedrooms seen in magazines will not look as beautiful as they do without proper bedding arrangements. According to Studio McGee, "Elevated styling means paying attention to the details".
To mirror the Studio Mcgee bedroom, make sure some of your throw pillows match the duvet (you may choose a color in your existing color for this, but NOT the primary color in the scheme). Layer the pillows, use the right amount of throws for your bed size (don't go overboard with it), and experiment with patterns and textures.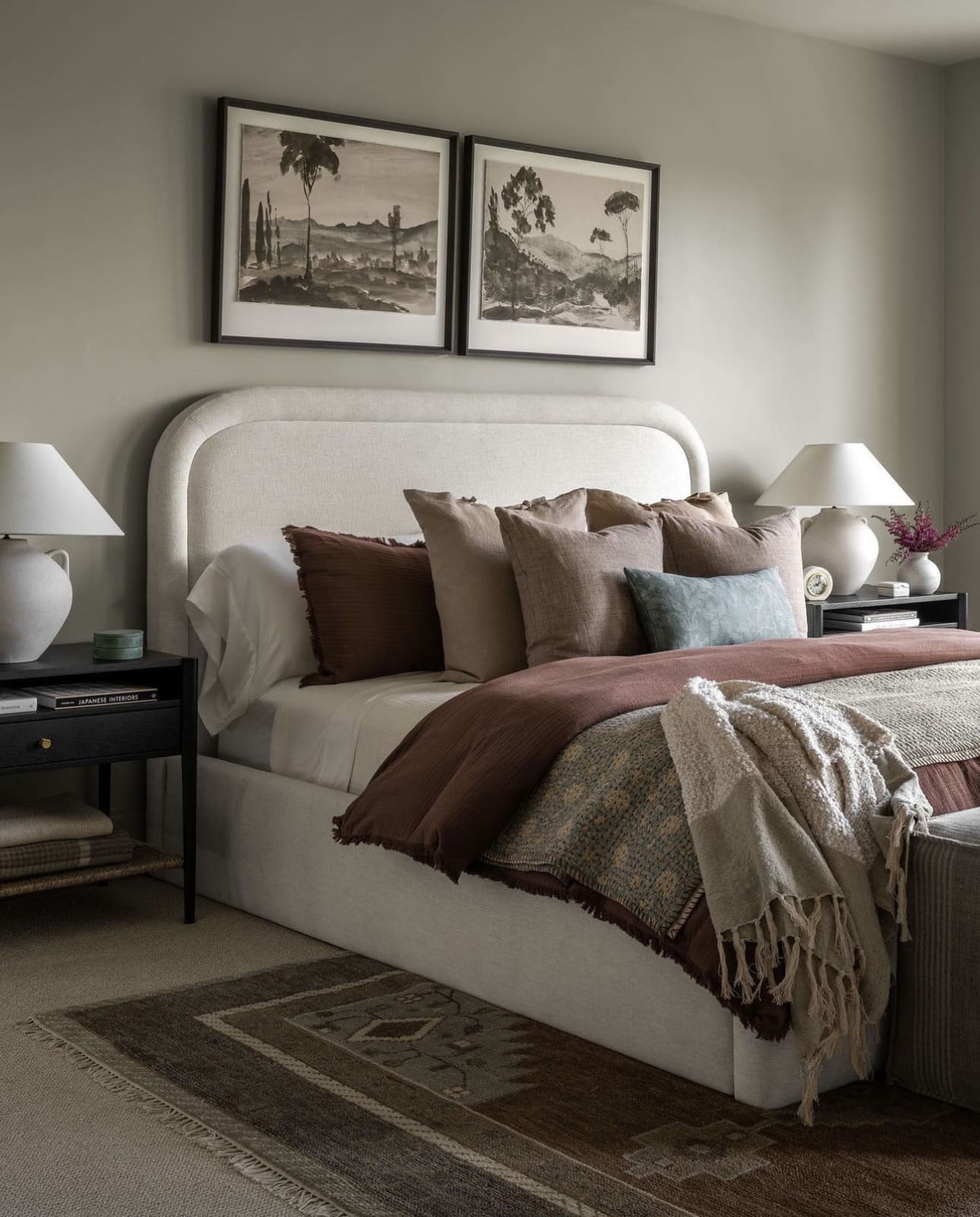 IMAGE CREDIT: STUDIO MCGEE
You may also enjoy our article on: 34 Pink and Green Bedroom Ideas
11. Modern Pastel Bedroom
Pastel colors are great for subtly adding a hint of color to a room without overwhelming it. If you want to create a minimalist room like this Studio Mcgee bedroom without using only neutral colors, then pastels should be on your radar.
The best pastel colors for a soothing and refreshing bedroom are minty greens, blush pinks, and powder blues.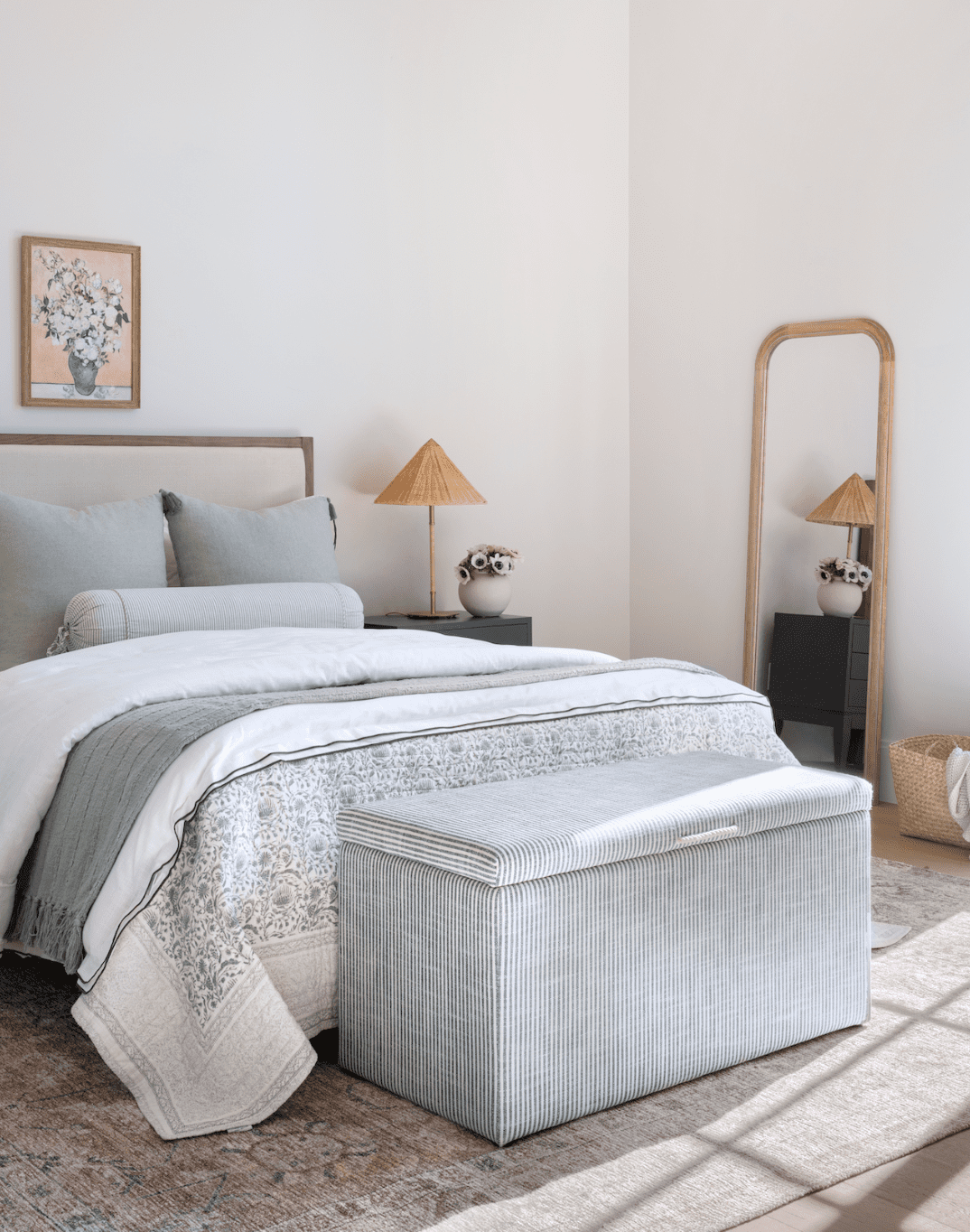 IMAGE CREDIT: STUDIO MCGEE
12. Bedroom Statement Lighting
Lighting is a great way to elevate a minimal bedroom design. Not only can good lighting help to properly illuminate the space at night time but it can also lend interest and character to a space without overwhelming it.
We love the way Shea and the design team color-coordinated the headboard with a vintage-inspired area rug in this elegant bedroom.
IMAGE CREDIT: STUDIO MCGEE
13. Contemporary Chic Studio Mcgee Bedroom
This elegant McGee bedroom featuring a metal canopy bed immediately adds visual intrigue while highlighting the room's wooden exposed beams and black metal windows. The design of the room is well-thought-out and the long purple lumbar pillow helps to add a perfect punch of color to the scheme.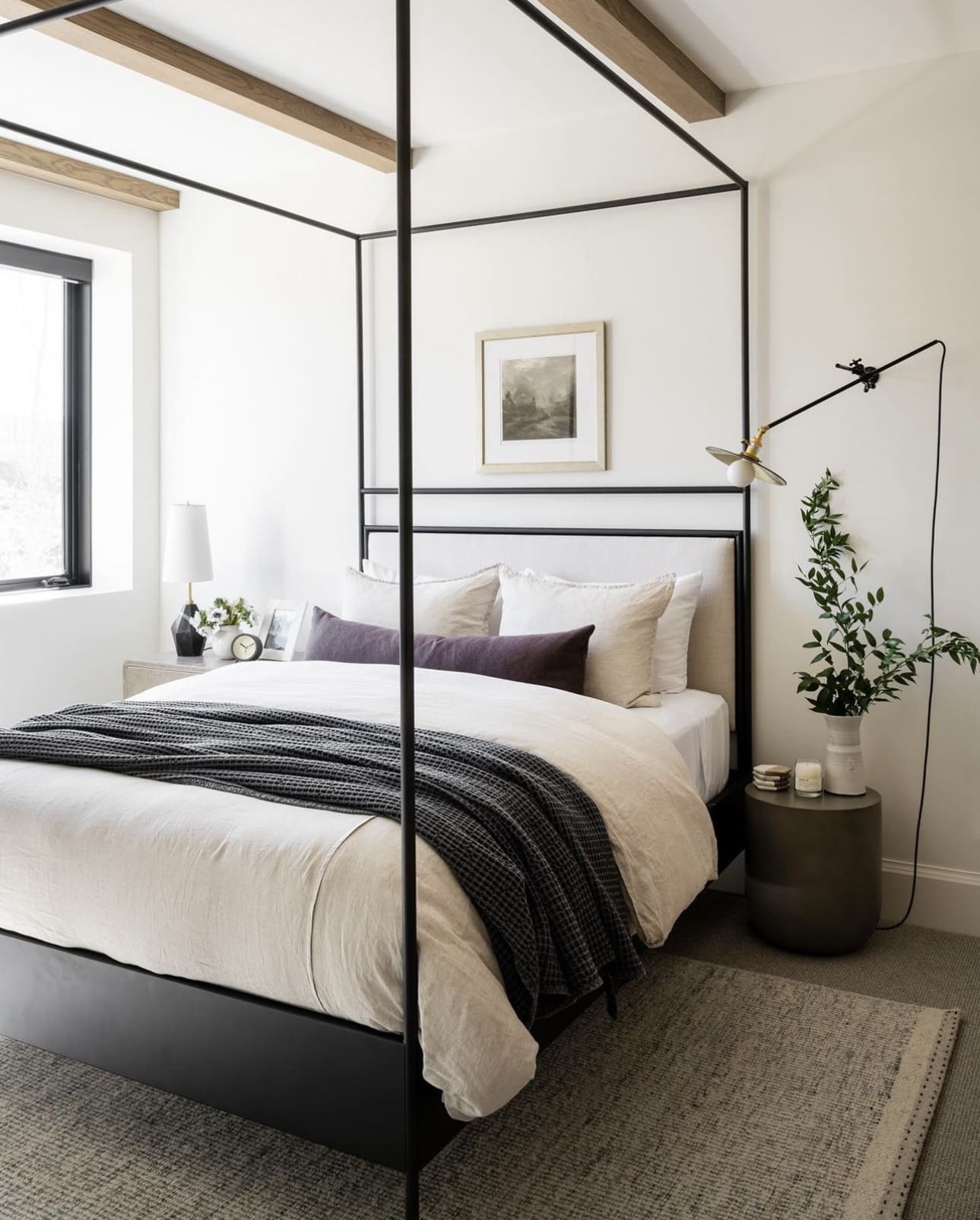 IMAGE CREDIT: STUDIO MCGEE
14. Wooden Matt Black Bed Frame
Black is the new cool! It may not be most people's first choice when it comes to bed frames but it can help to introduce a new character into a room. A black bed frame is rich yet understated and it offers a powerful grounding effect to the room.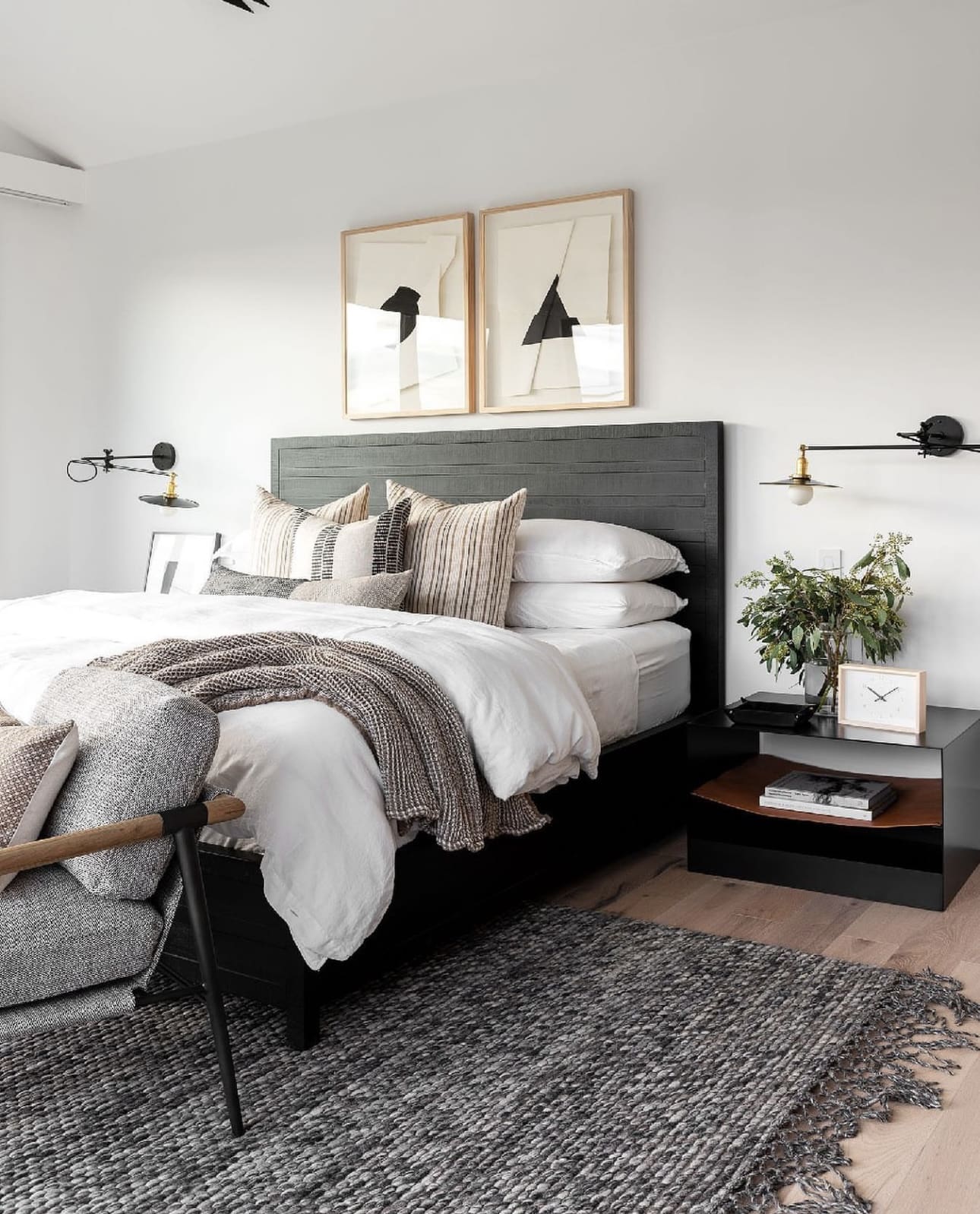 IMAGE CREDIT: STUDIO MCGEE
15. Vertical Wall Paneling
Wooden wall paneling or even wallpaper fitted vertically gives a room a perceived sense of height. Design experts use this trick to make a room appear taller.
For instance, this room designed by Shea and her team features an exposed wooden beam which is typically installed in high ceiling rooms. This means that the wooden beams may steal some height from the room. So the best way to balance the height is to install a vertical wall paneling.
IMAGE CREDIT: STUDIO MCGEE
16. Large Vintage Bedroom Rug
Another common element you may have noticed in Studio McGee bedrooms is the frequent use of large area rugs. They can lend sophistication and character to a room. The use of large vintage rugs in a bedroom gives an attractive organic look and unique dynamic.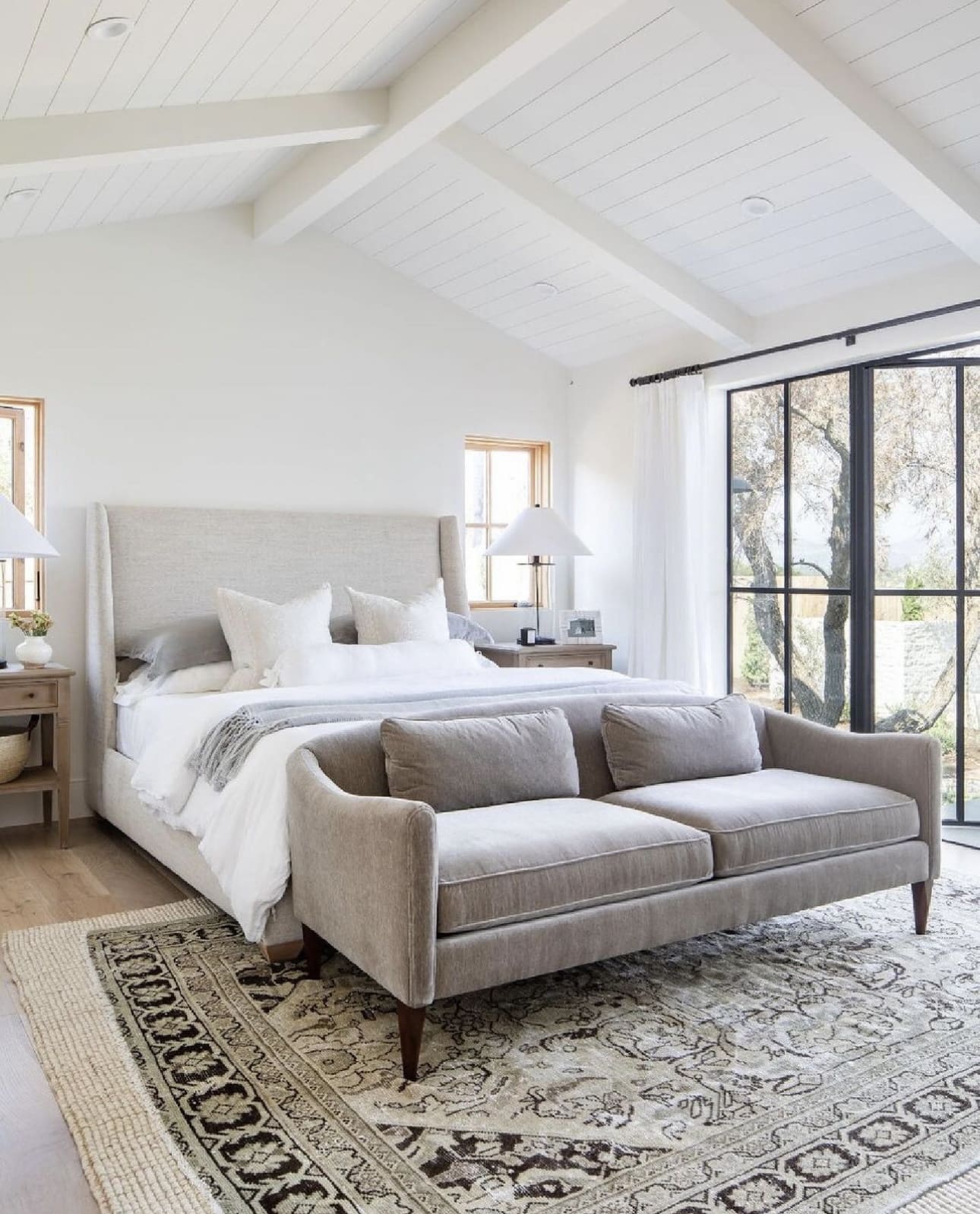 IMAGE CREDIT: STUDIO MCGEE
17. Soft & Neutral Studio McGee Bedroom
In order to create a fresh, lived-in, cozy, and comfortable bedroom, textured objects and a neutral color scheme are required. Choose the bed linen with care, and consider mix-matching patterns and textures. Opt for luxurious textures and natural fibers like long-staple cotton, cashmere goats, linen, and silk.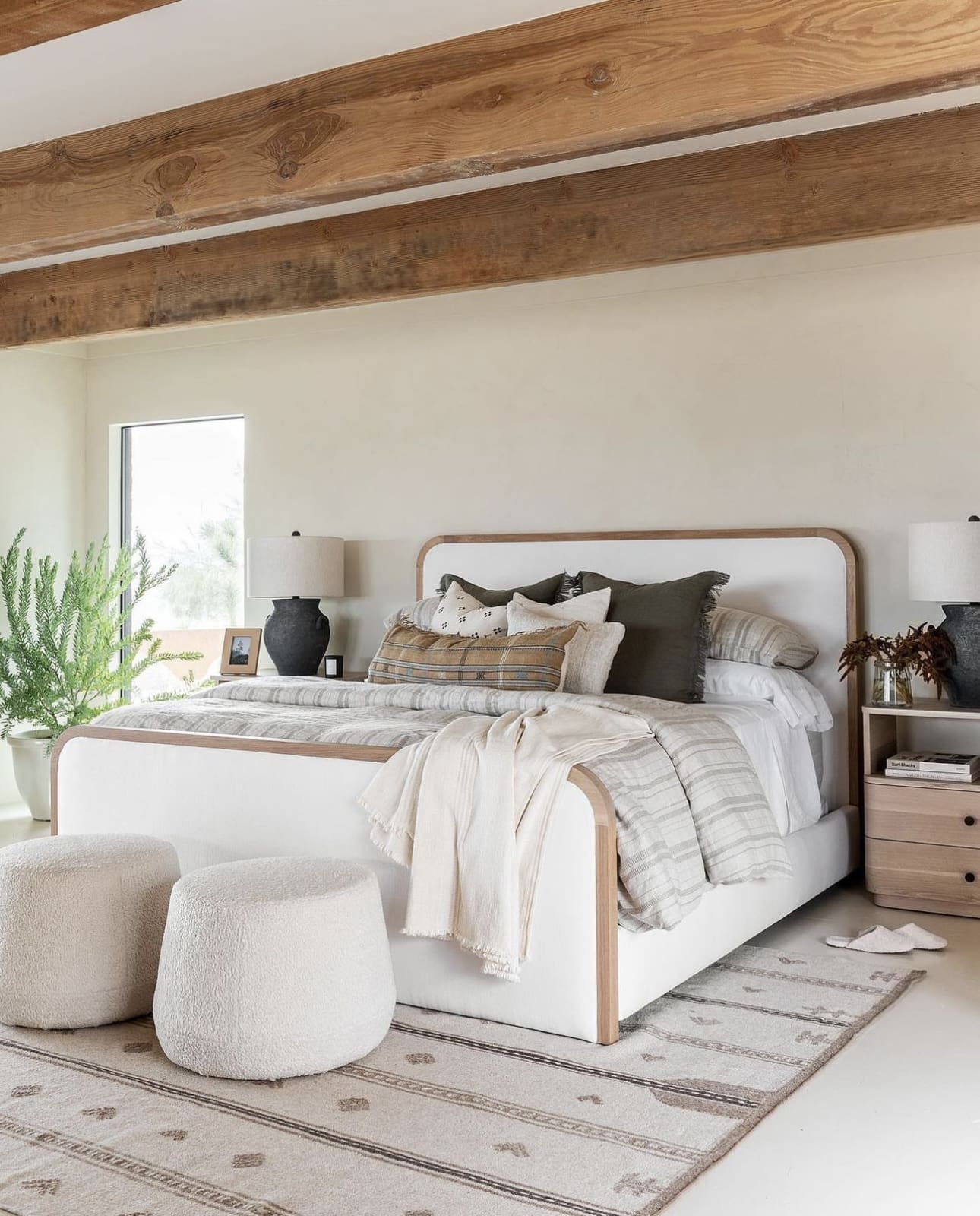 IMAGE CREDIT: STUDIO MCGEE
18. Ratten Bedroom Chair
Rattan is a sturdy, long-lasting, and light material that is great for interior spaces. The stems of palm trees are picked once they naturally fall to the ground and are used to make rattan.
Rattan furniture can add a natural element and texture to a bedroom. What goes exceptionally well with rattan are patterns, greenery, and nature-inspired prints.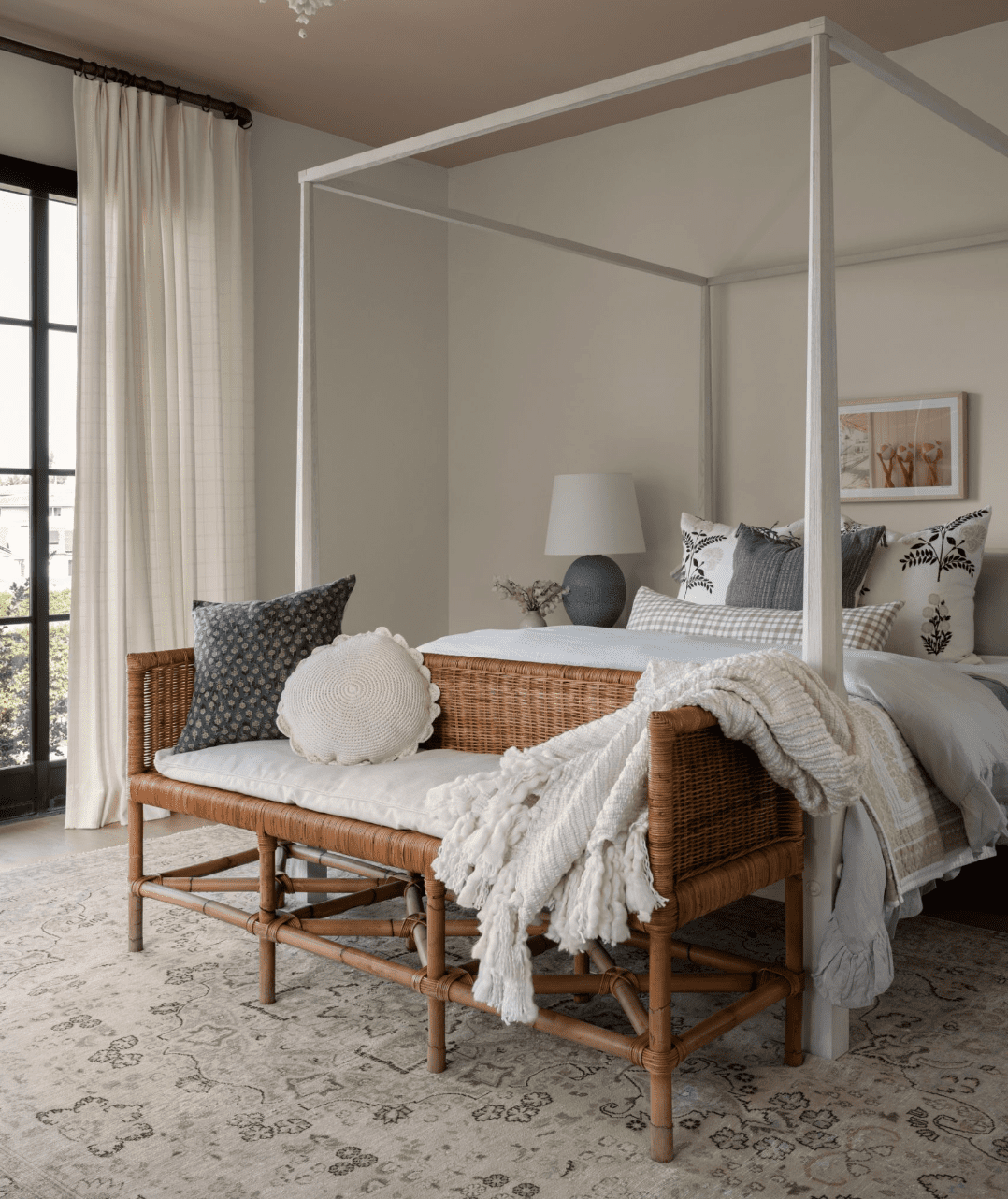 IMAGE CREDIT: STUDIO MCGEE
19. Minimalist Studio McGee Bedroom
Although most of Studio McGee bedrooms are minimalistic, some tend to be more laid-back than others. A streamlined or contemporary minimalist bedroom is timeless and embraces the notion of "less is more". These types of bedroom fosters relaxation and encapsulates simplicity at its finest.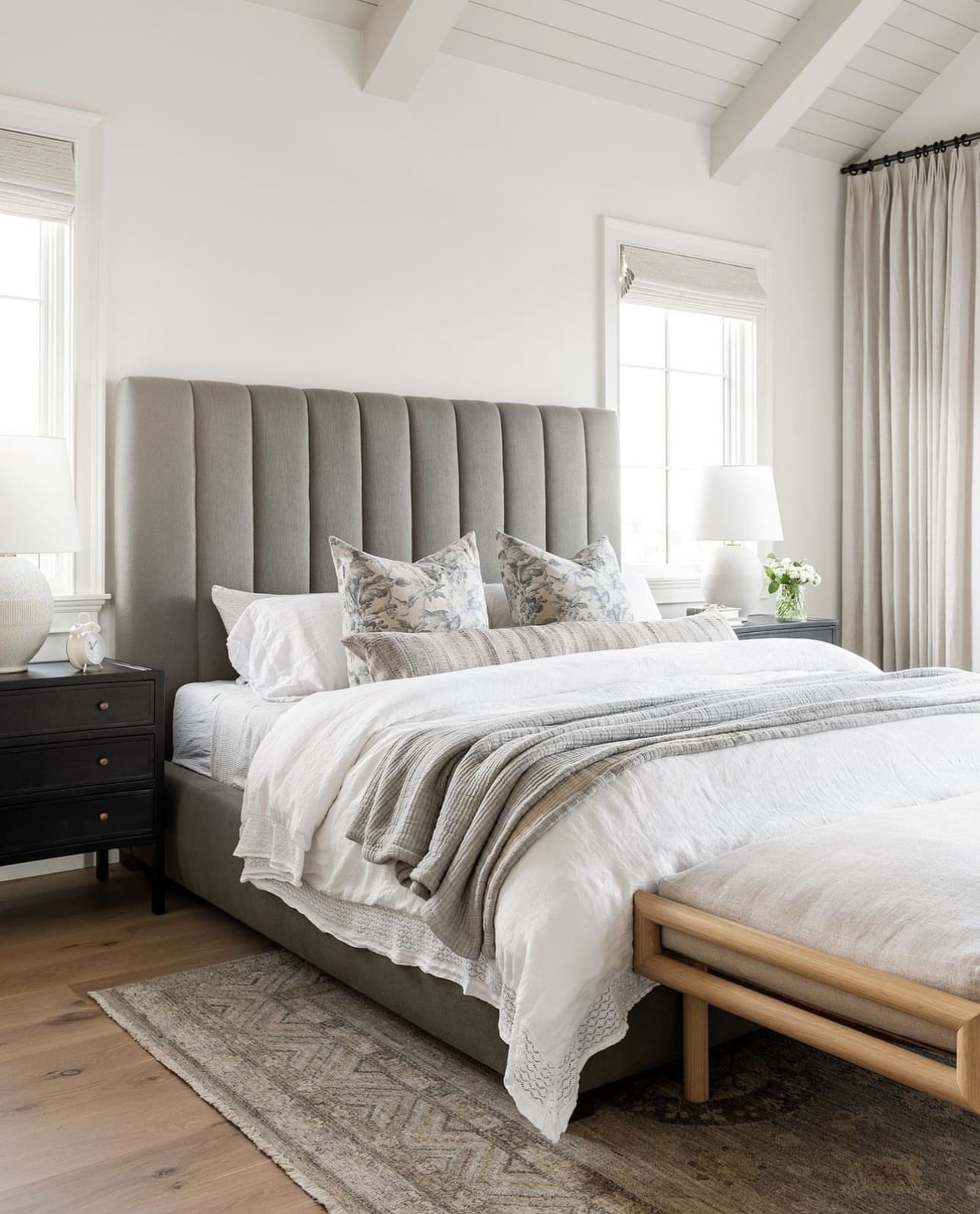 IMAGE CREDIT: STUDIO MCGEE
20. Board and Batten Bedroom Wall
Board and batten wall is commonly used to add interest and dynamic contrast to interior walls. The amazing thing about this type of wall is that it offers tons of customization options like dynamic color combinations, textures, and geometric forms.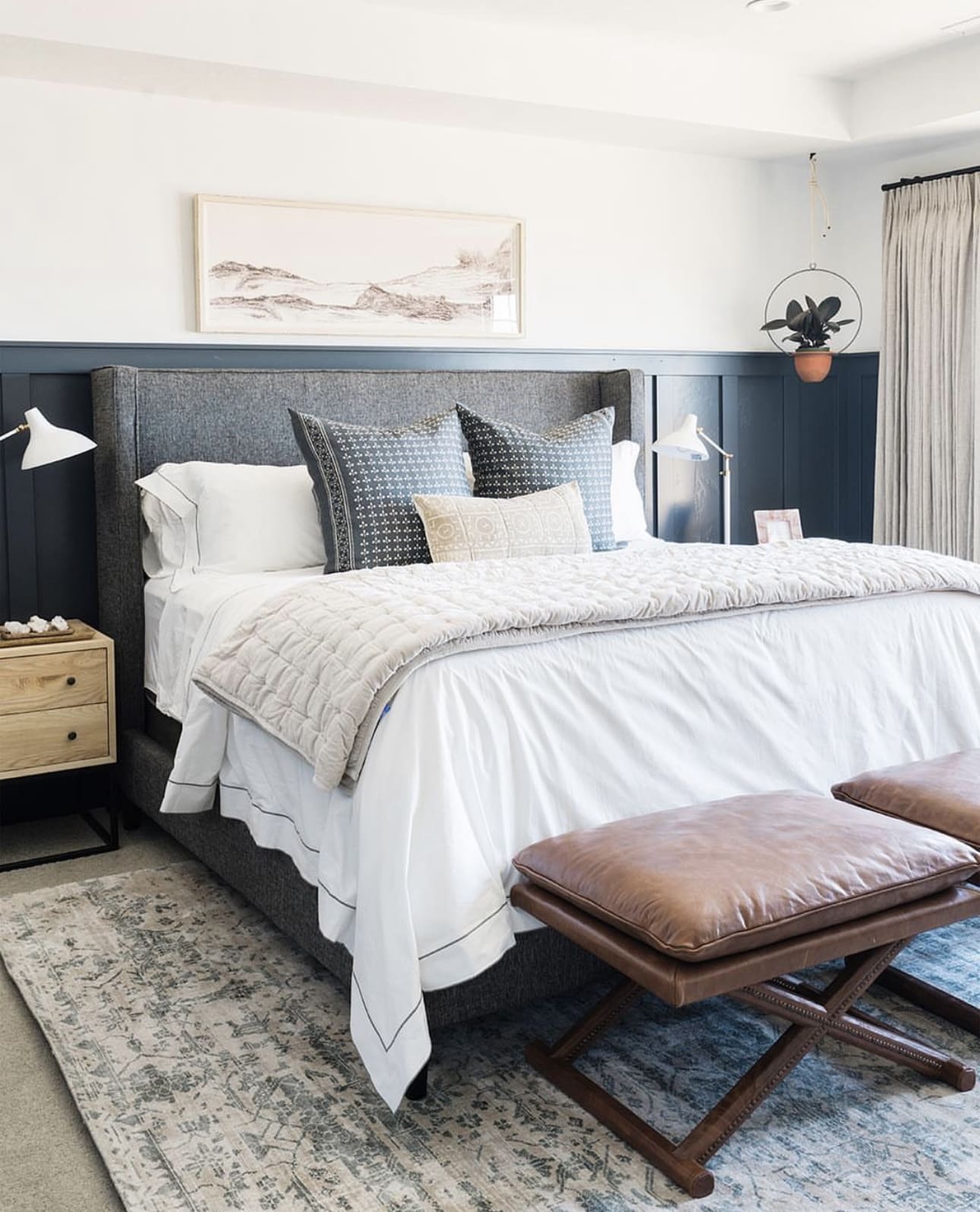 IMAGE CREDIT: STUDIO MCGEE
21. Tan Studio McGee Bedroom
This is another calming and nature-inspired McGee-style bedroom that hits the mark. The wall paneling is coated lightly in Sherwin Willaims Natural Tan, which enhances the character of the wood by not masking its imperfections.
Custom staining was done on exposed wood beams to match the room ceilings. "The goal in here was to keep it serene but honor the rustic nature of the rest of the home" Shea explains.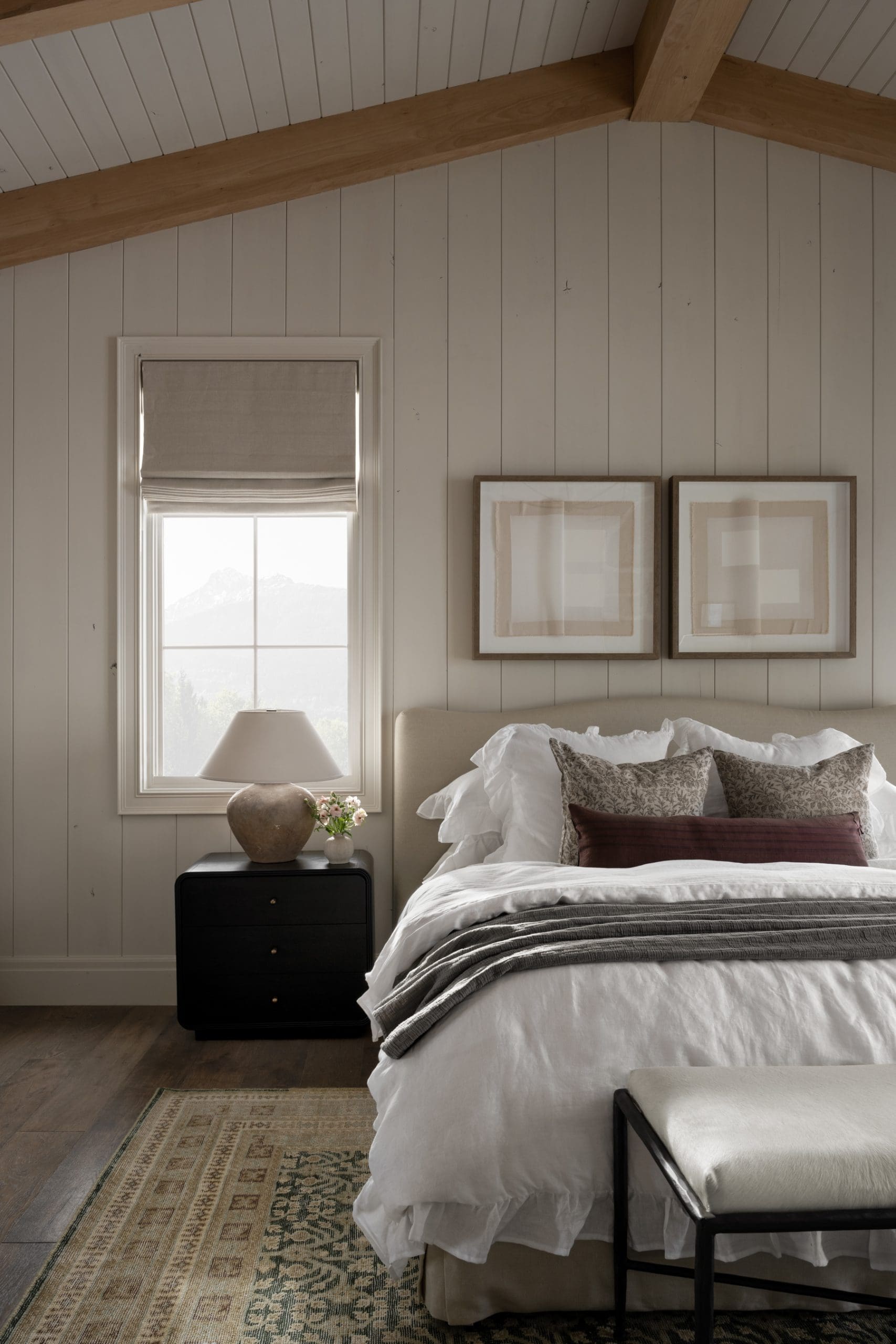 IMAGE CREDIT: STUDIO MCGEE
22. Layered Coastal Bedroom
This coastal bedroom model was one of Studio McGee's Netflix A Dream Home Makeover Project. If you have watched the show then you may recognise this bedroom. This chic and tranquil bedroom's woven textures, soothing color scheme, and fun textiles are what give it an irresistible coastal charm.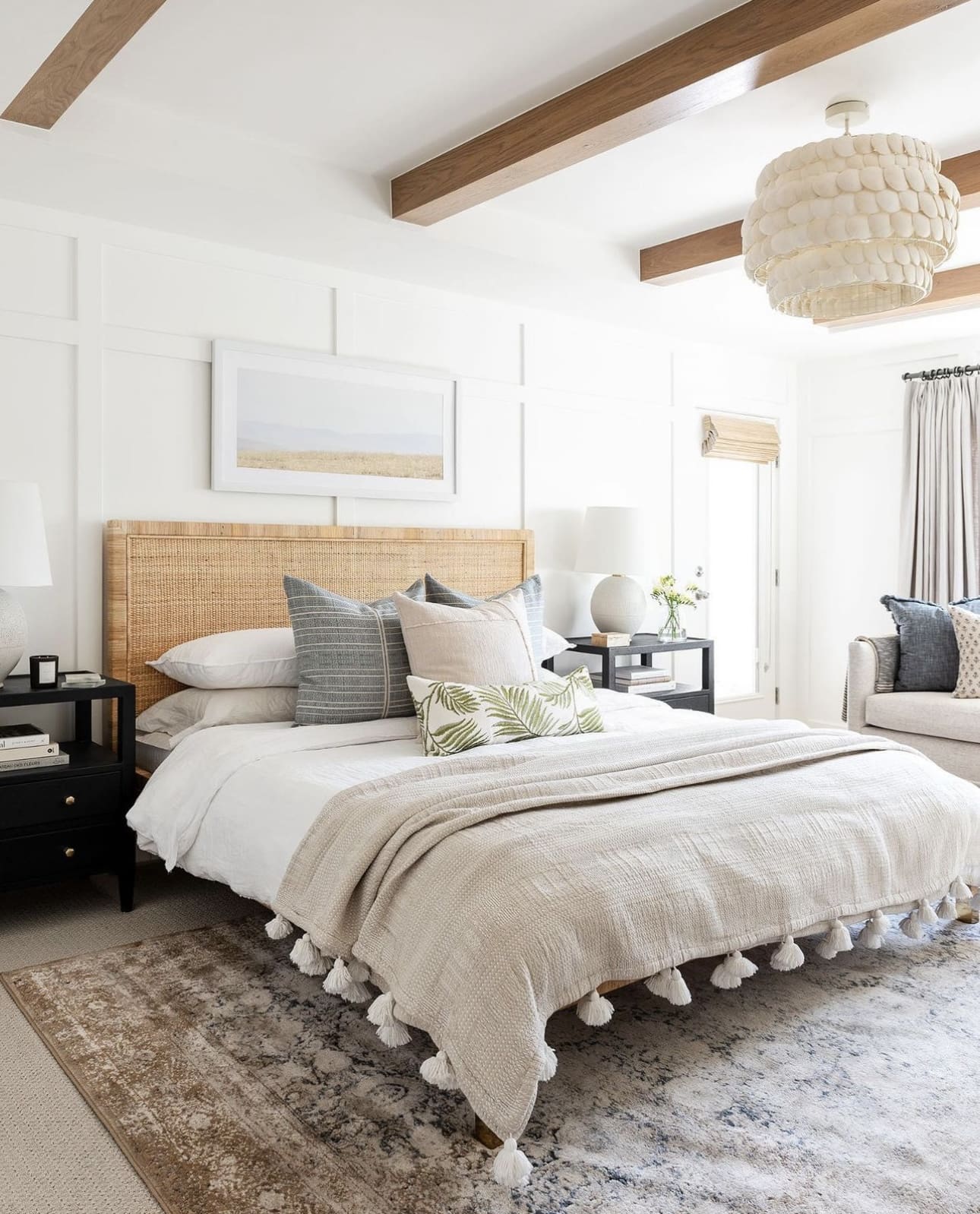 IMAGE CREDIT: STUDIO MCGEE
23. Sage green Studio McGee Bedroom
Sage green is bang on trend at the moment and it is not surprising why. Some refer to it as "the new neutral". It is especially popular in the bedroom because of its soothing and calming qualities.  The paint color used in this Studio McGee bedroom project is Nitty Gritty by Portola.
Want more sage green bedroom ideas? Check out these 45 sage green bedroom ideas that you'll immediately want to steal!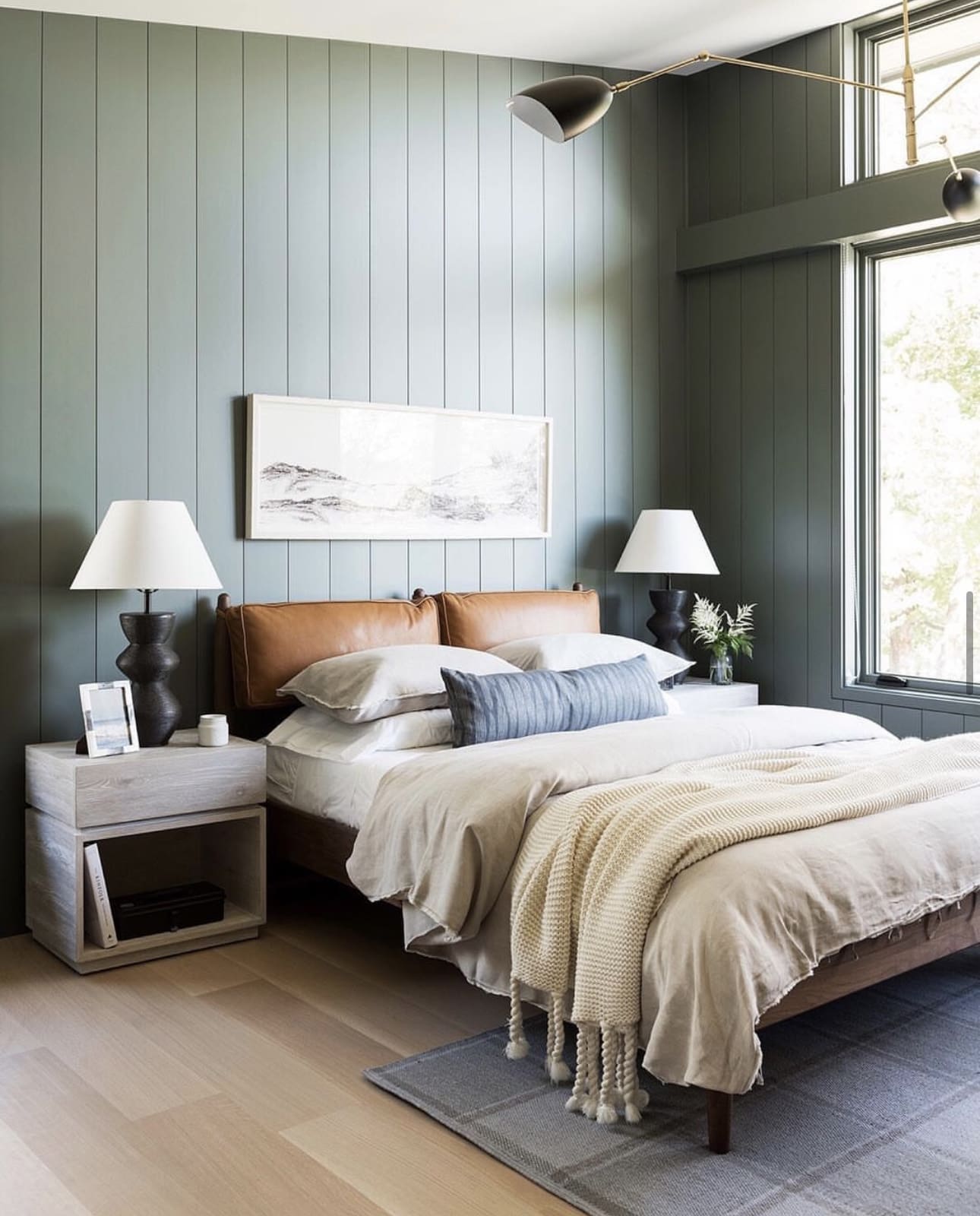 IMAGE CREDIT: STUDIO MCGEE
24. End of Bed Ottoman
Bedroom ottomans can be a useful addition to accentuate your bed because they double up as chic storage and an additional seat. Plus can choose an ottoman or bench to complement your interior style, colour, or theme. These are sure to add a touch of fancy schmancy to any bedroom.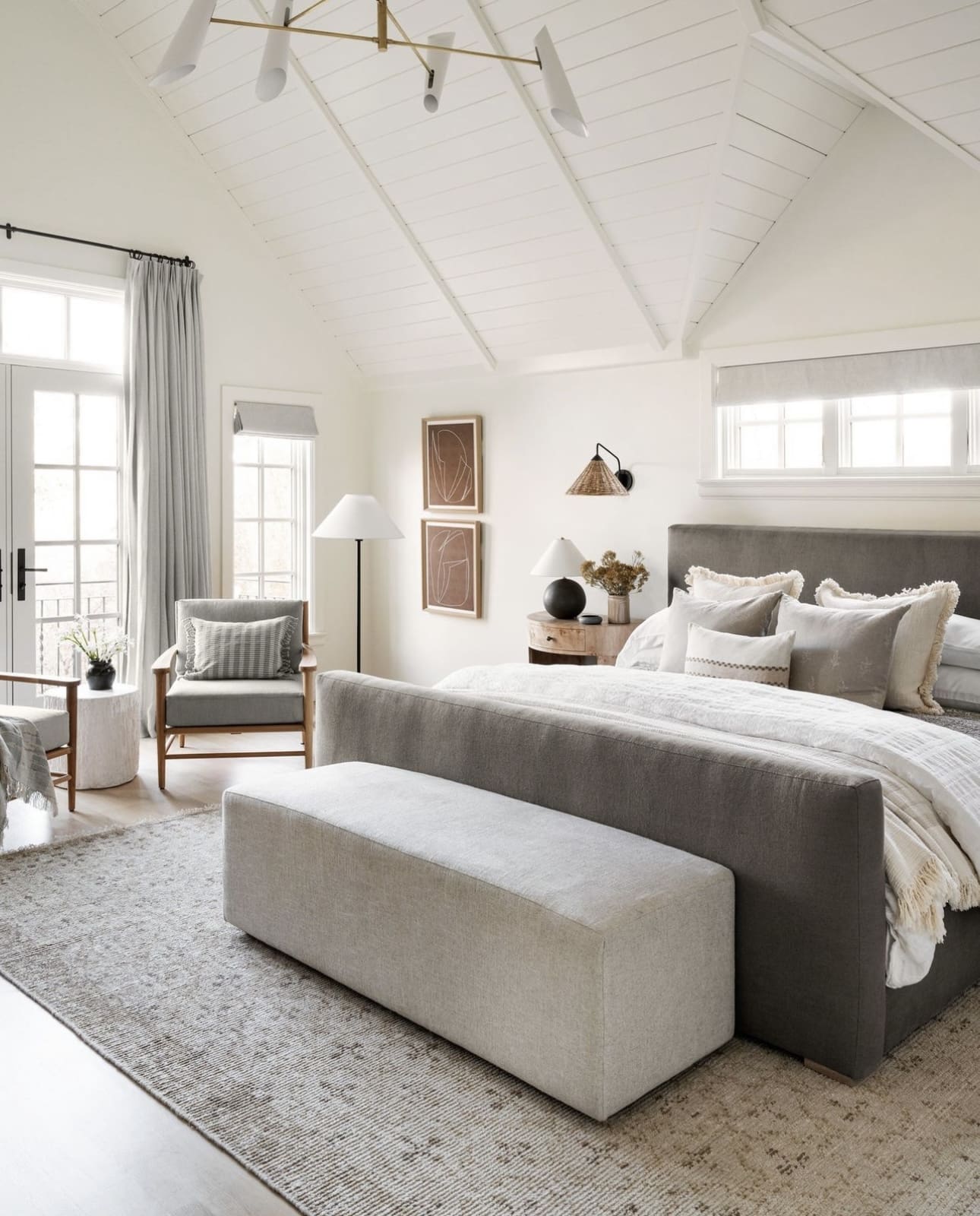 IMAGE CREDIT: STUDIO MCGEE
25. Faded Pink Studio McGee Bedroom
This beautiful and serene bedroom is a sight to behold. The sham and quilt's floral woodblock print on a cream background is the ideal addition to an airy and natural bedroom design. At the foot of the bed, a set of Studio McGee's Lynwood Checkerboard Woven Cubes completes the natural design.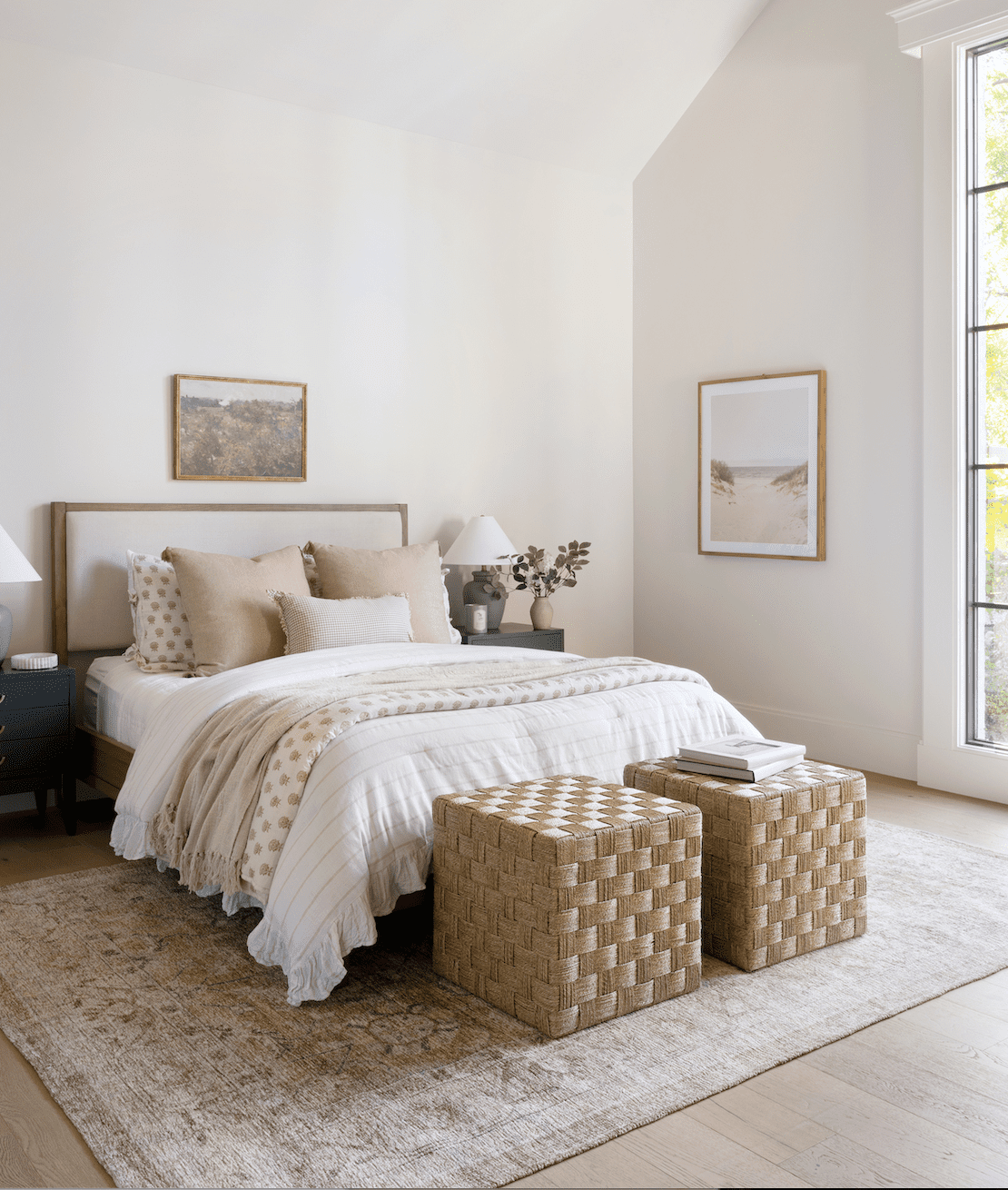 IMAGE CREDIT: STUDIO MCGEE
You may also enjoy our article on: 42 Pink Two Colour Combination For Bedroom Walls
26. Chic and Feminine McGee Bedroom
The interesting thing about the bedroom is that it was designed in the McGee's own Utah home. A striking white and gold color scheme serves as the foundation for Wren's (their daughter) room decor. The pink and blue accents add a delicate touch and an aesthetic flair to the bedroom. The Demi Floral Stripe Wallpaper used for the room can be purchased from McGee & Co.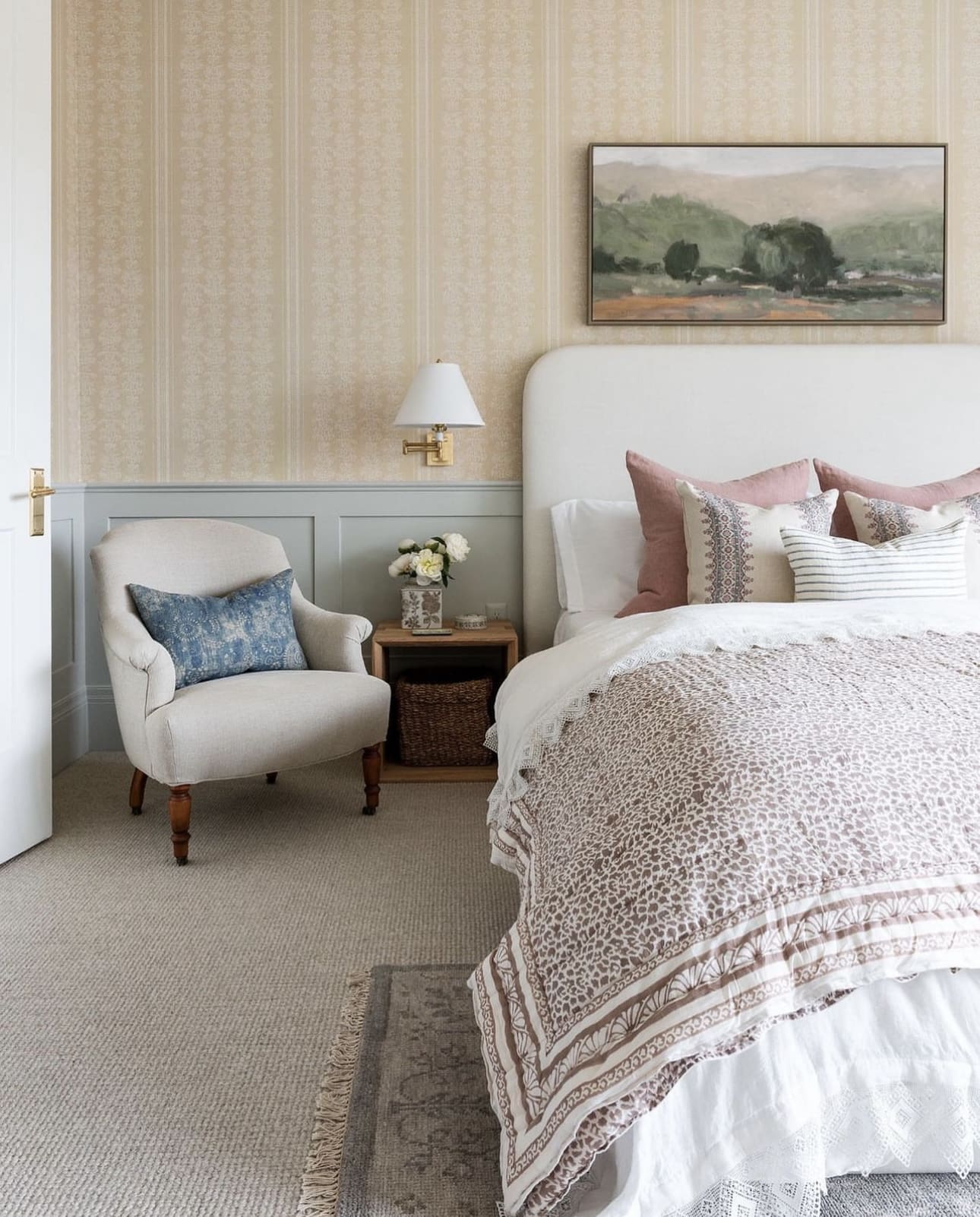 IMAGE CREDIT: STUDIO MCGEE
27. Off-White Wall Paint
Do you have an idea for your color scheme yet? Before you hurriedly start decorating, understand the different tones of each color because they can give different looks. Most people find stark white walls to be cold and off-putting. Most design experts will often go for a warm white shade.
Studio McGee shared their favorite white paints and they are —Benjamine Moore's Chantilly Lace, Simply White, White Dove, Atrium White, Swiss Coffee and China White, — Sherwin Williams's White Flour, and Alabaster.
IMAGE CREDIT: STUDIO MCGEE
28. Bedroom Wainscoting Wall
Wainscoting has been used for centuries to keep walls in high-traffic areas safe from damage and blemishes. Today, wainscoting is used more as decorative wall trim.
They can be used on half wall or on the entirety. Designers use them quite frequently as an accent wall in order to give a room an original and interesting character.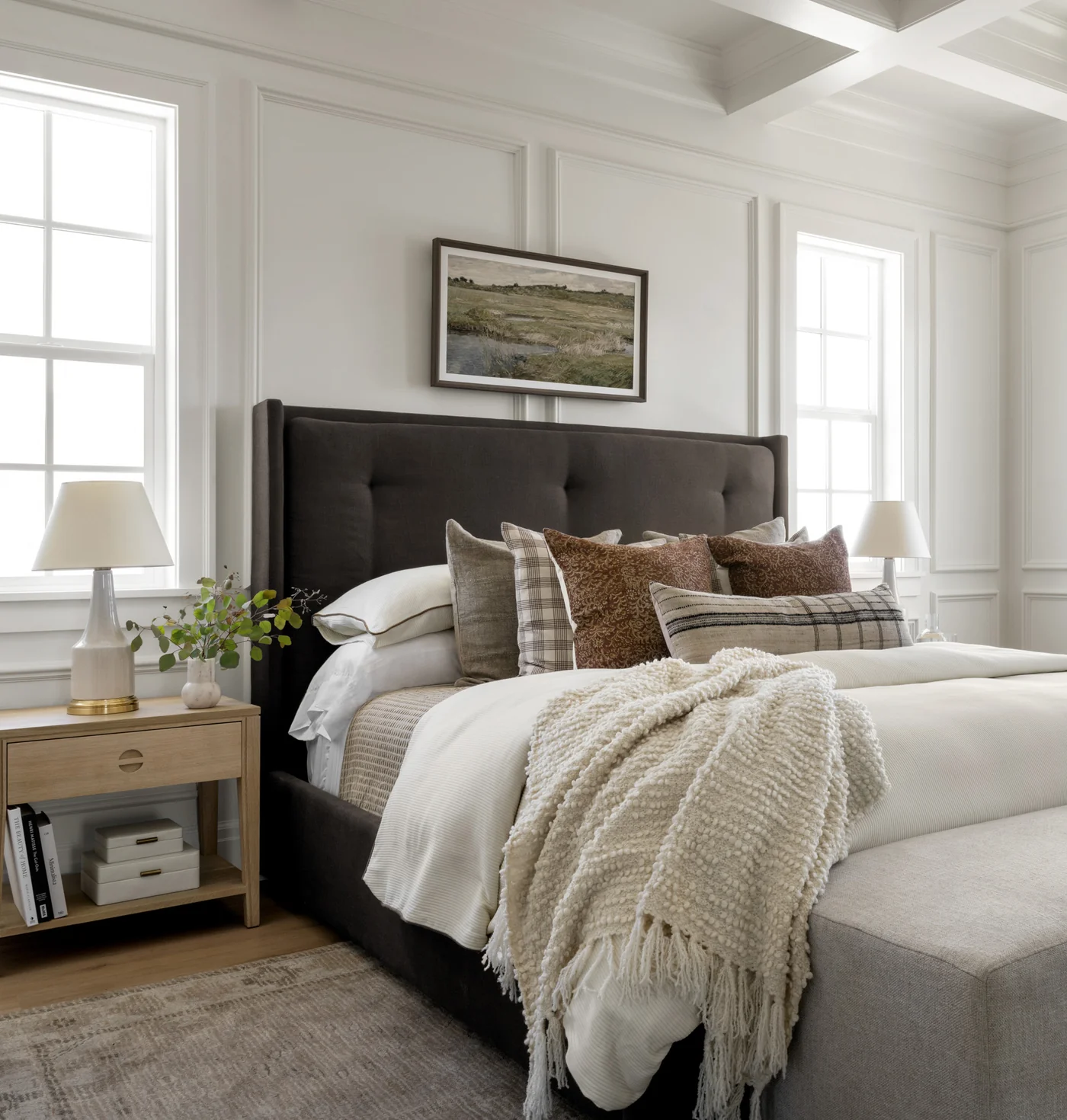 IMAGE CREDIT: STUDIO MCGEE
29. Space-Saving Bedroom Furniture
To make better use of space, it is important to use the right furniture size for the space. For instance, this small room designed by Studio McGee looks spacious due to the furniture choices and neutral color palette.
IMAGE CREDIT: STUDIO MCGEE
30. Modern Bedroom Furniture
The Studio McGee style is fresh and modern. If your bedroom furniture is outdated or worn out, consider swapping it out for new modern ones. This Studio Mcgee bedroom gives modern-meets-cozy aesthetics.
IMAGE CREDIT: STUDIO MCGEE
Now you can design your bedroom the McGee style! 
Read next: 34 Modern Dark Green Bedroom Ideas