How I Grew My Pinterest To Over 20 Million Monthly Views
Pinterest is the ultimate source for free traffic if you do it right! This is exactly how I grew my Pinterest from 89k to over 20 million monthly views in just 6 months. 
Do you know that Pinterest has 465 million active subscribers? Businesses, bloggers, and content creators are using Pinterest to drive free traffic to their websites, resulting in sales. Why spend so much money on ads when you can get your product in the eyes of millions for free?
Pinterest is a social network that allows people to visually share and curate cool ideas for other users to find them. For instance, this is the platform where you will find the best photo and video inspiration regarding home decor, fashion, beauty, and lifestyle. The best thing about Pinterest is that you can add a link to your business page or blog on each post.
I wish I stumbled upon a blog post just like when I began my Pinterest journey, so, I'm putting one together to help others find success in it.
In this article, I'll share all the steps you need to take to grow your Pinterest, as well as my personal observations. Whether you're a novice, a seasoned pro, or never even had a Pinterest account, you will find these tips helpful.
Do you want to know how I grew my Pinterest to 5+ million views within 5 months? To drive insane traffic and make money from Pinterest, you need to follow these steps just like I did!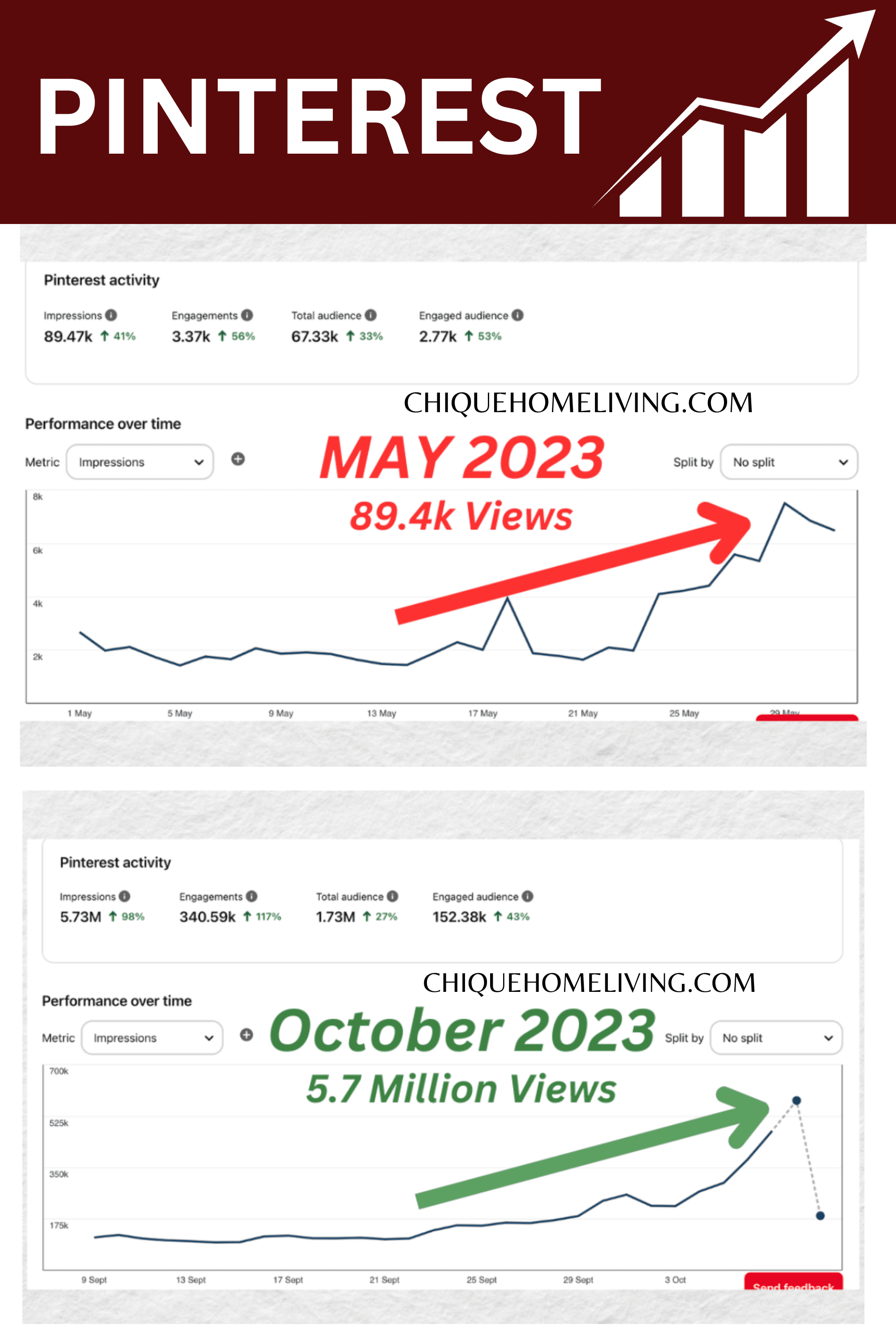 Step 1: Find a Niche
A niche is an area of interest that helps you identify your likely target audience and build trust over time. Besides, the algorithm is more favorable to accounts that have a specific niche.
If you have a home decor or blog business, then it makes sense for this to be your niche (you can skip this step!). If you're a beginner, then, you should choose a niche that aligns with your interests.
Note that some niches tend to be more profitable than others because they are less saturated. The most common niches on Pinterest are beauty, fashion, health and wellness, home decor, personal finance, art, DIY and crafts, and lifestyle.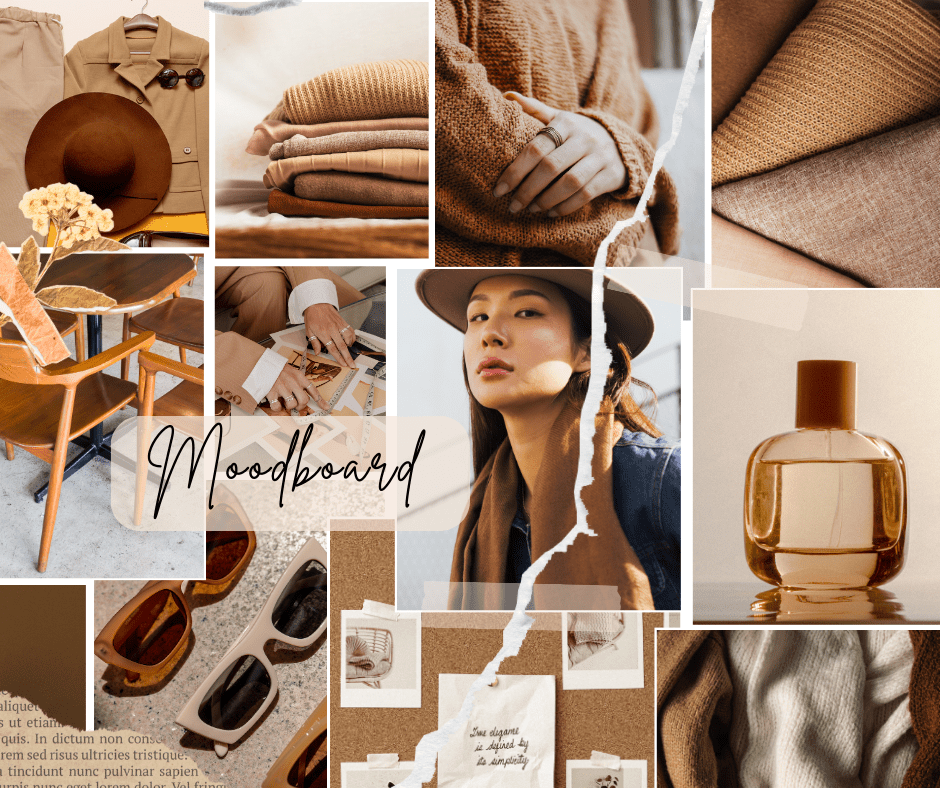 Step 2: Create a Pinterest Business Account
Once you've decided on a niche, the next step is to register for a free business account. If you have a Pinterest personal account, you can easily convert this to a business account or create a new unrelated account.
A business account will give you access to analytics on your Pins and the ability to run ads. This way you can monitor your growth and and see what pins are doing better so you can create more like those.
Step 3: Optimize Your Profile
For your target audience to find your account and pins, you have to optimize your Pinterest profile. Firstly, make sure your profile name alights with your niche. Although not compulsory it gives your profile a boost.
Add a description so people know what your account or business is account. Add your website domain name if you have one and make sure you claim/verify it.
Create pin boards for each sub-category and add a description to each of these boards (you also can add more boards as you progress).
Pinterest profile sample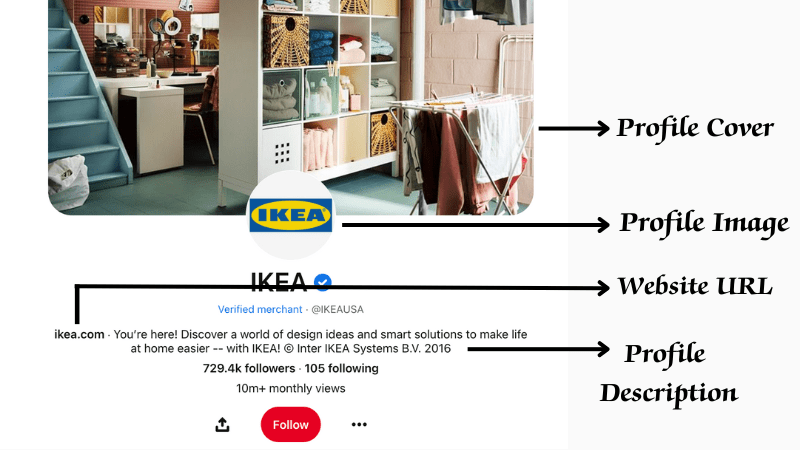 Pinterest board sample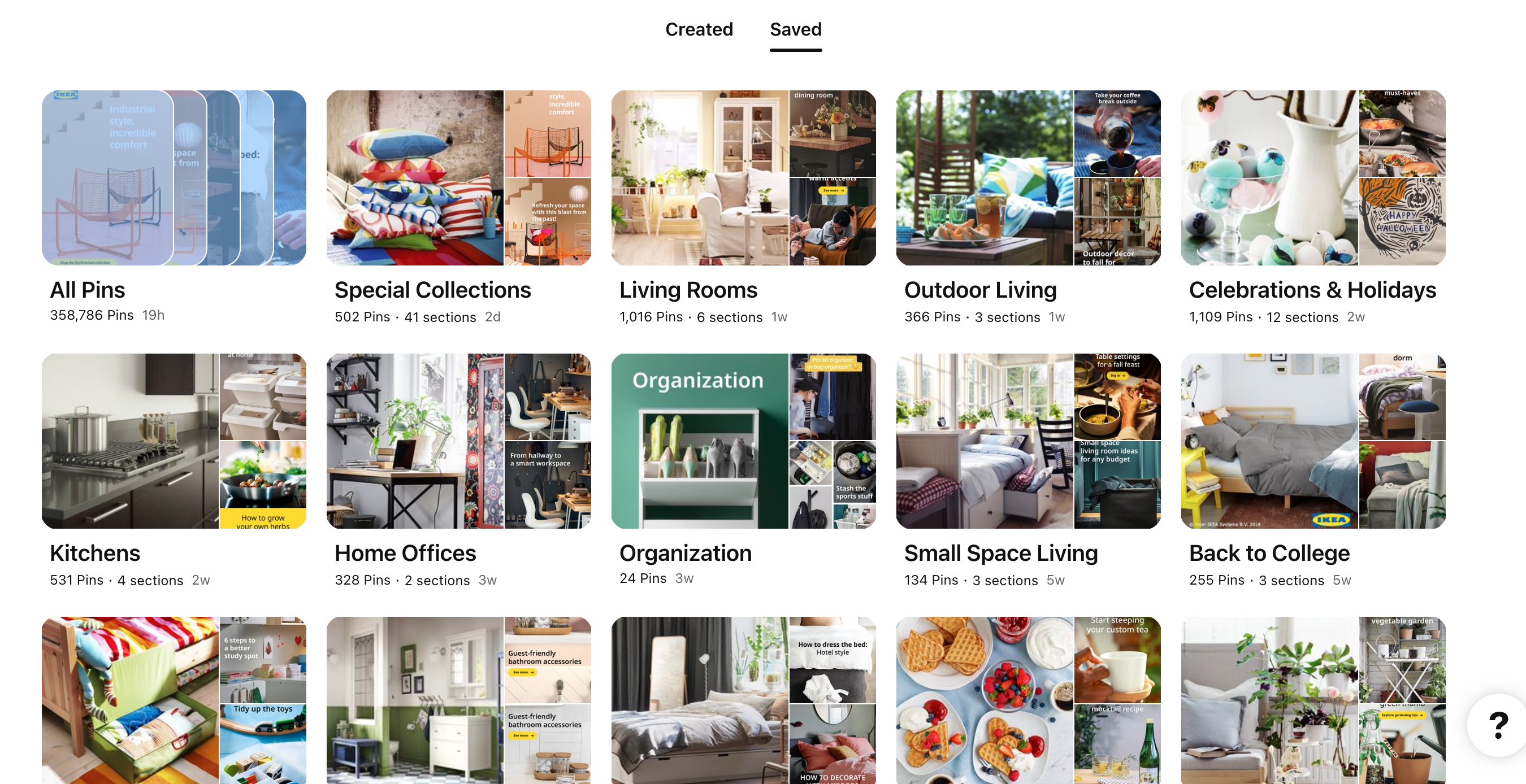 Step 4: Do Keyword Research
This is the most important step. Don't post images and videos because you think it's cute. It doesn't matter how good it looks if no one is searching for it. Instead, do keyword research and find out what keywords are on trend and have high search volumes.
This is essential if you want to see an explosive amount of impressions, followers, and outbound clicks. I use a combination of free and paid tools to find these keywords.
Here is my Secret Keyword Research Strategy Kit that will save you hundreds of dollars. 
Step 5: Create Eyecatchy Pins
Now that you know what your target audience is searching for, the next step is to create pins. This is very easy to do! Just head over to Canvas and register for a free account.
Choose from hundreds of free Pinterest pin templates and twerk it a little to make it your own. Use a bold and readable font. Combine complementary colors and fonts to make it interesting.
Canva also has a wide variety of free images and other design elements for use for your pins. Well-designed pins get the most attention on Pinterest, so make sure yours stand out.
Step 3: Optimize Your Pins
An eye-catching pin is still not enough to get the big numbers. The final step is to make sure that the Pinterest algorithm shows your pin to the people searching for it. To achieve the desired result from Pinterest, use the keyword in the pin title, and write a good pin description that also has the keyword in it.
How to Make Money on Pinterest
There are so many ways to make money for Pinterest. In fact, you may find it easier to make money on this platform than on other social media platforms. Here are some of the ways to monetize Pinterest:
● Promote Your Own Products
If you have an eCommerce business, Pinterest can be a great source to advertise your business for free. You can create pins that are shopable by adding tags to the products on the images.
Whether you have an independent website, Shopify store, Etsy shop, or others, you can make significant sales for your business using Pinterest.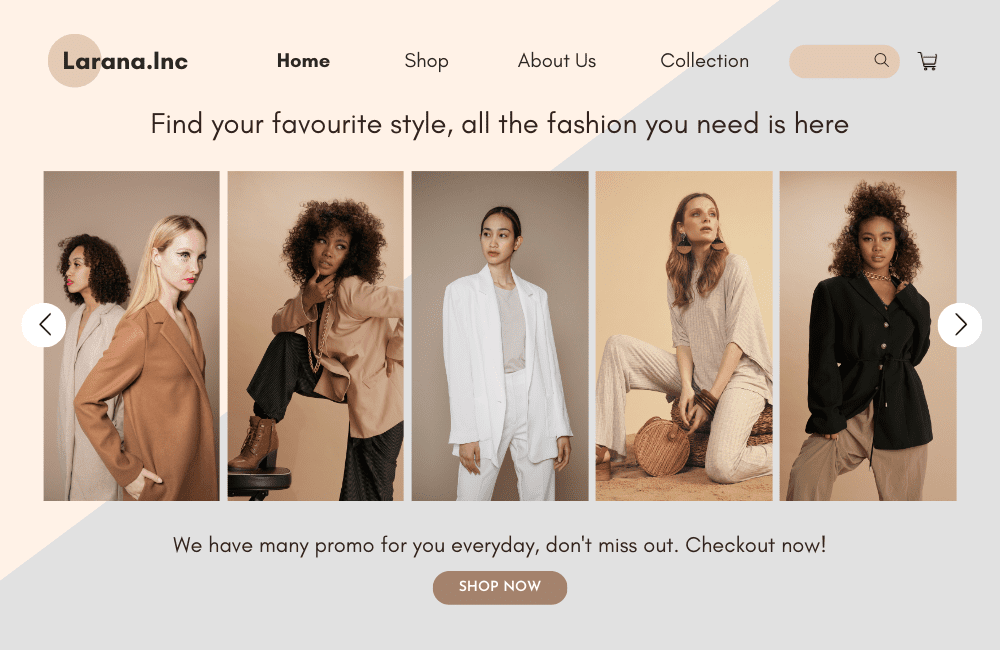 ● Affiliate Marketing
Be the middleman between the seller and the customer. This way, you do not have to deal with customer complaints, shipping, or packaging.
You can simply start by signing up for affiliate memberships on sites like Amazon, ShareASale, CJ Affiliate, ClickBank, and Awin. After signing up, you will be given a referral link for each product and when a customer buys through your link, you earn a commission.
●  Selling Digital Products
Digital products are intangible items that can be delivered electronically, such as PDF courses, templates, music, software, and ebooks.
The best thing about digital products is that you can create one item and sell it to an infinite amount of users. You don't need a website for this. Simply create a Stan Store account (like Shopify for Content Creators) and you can create a personal store where people can buy your digital products.
● Get Traffic to Your Blog
If you have a blog/website, you can get more eyes on your blog and also earn money from Google AdSense (pay-per-click) using Pinterest traffic.
● Pinterest Creators Fund
Pinterest launched the Creator Fund in 2021, which aims to help creators grow and monetize their content on the platform. In this program, the participants will be given a grant as well as other tools to help them succeed.
● Manage Pinterest Accounts
If you enjoy making visually appealing pins, you can consider becoming a virtual assistant for businesses and get paid for your services. You can help them create pins and manage pins on Pinterest. You can Pinterest VA jobs on Facebook groups dedicated to this purpose.
Bonus Tips For Growing Pinterest Account
Get familiar with the Tailwind community to build your engagement and schedule your pins. Engage with other accounts in your niche.
Post frequently and be consistent! You can find out what time your target audience is most likely to be online using Tailwind (often evenings and weekends). This is the time you should post on pins to get more engagement and views.
Read Next: Top 10 Interior Design Blogs in 2023