54 Best Bloxburg Kitchen Ideas (With Photos)
Do you want to create an eye-catching Bloxburg kitchen that you can be proud of? Get inspired by these incredible Blogburg kitchen ideas!
Bloxburg is an open-world, life simulation game in Roblox that allows players to unleash their creativity. It is a very engaging game that has grown enormously in popularity since it was created on November 4, 2012, by Coeptus. Since its beta release in 2016, the game has amassed 6.9 billion visits and more than 4 million likes from players around the world.
In this simulation video game, players are required to take care of their characters by fulfilling their moods and giving them comfortable homes. The game characters can acquire certain skills, work for money, roleplay, and interact with other characters.
Welcome to Bloxburg simply enables players to live their own lives in a virtual world. What makes this game overwhelmingly popular is house building system. In fact, Bloxburg house builds have advanced so much today that it can be tricky to tell them apart from real homes.
Players can channel their inner architectural and design skills and use a variety of tools to create their dream homes in this game. From simple starter-family houses to luxurious mansions, Bloxburg is a world of endless possibilities.
In this virtual world, you can customize every detail of your home including layout, furniture, appliance, and decoration to meet your aesthetic preferences and predilections.
Just like the real world, the kitchen is one of the trickiest rooms to design in Bloxburg, but not to worry. We've got your back bestie!
In this article, we have curated 54 Bloxburg kitchen ideas that inspire you to update your unappealing Bloxburg kitchen. Without further ado, let's explore these ideas!
1. Blush Pink and Green Kitchen
Blush pink and green is a two color combination that commands attention in the kitchen. If you're looking for an interesting color palette to use for a modern Bloxburg kitchen, this color inspiration may be perfect for you.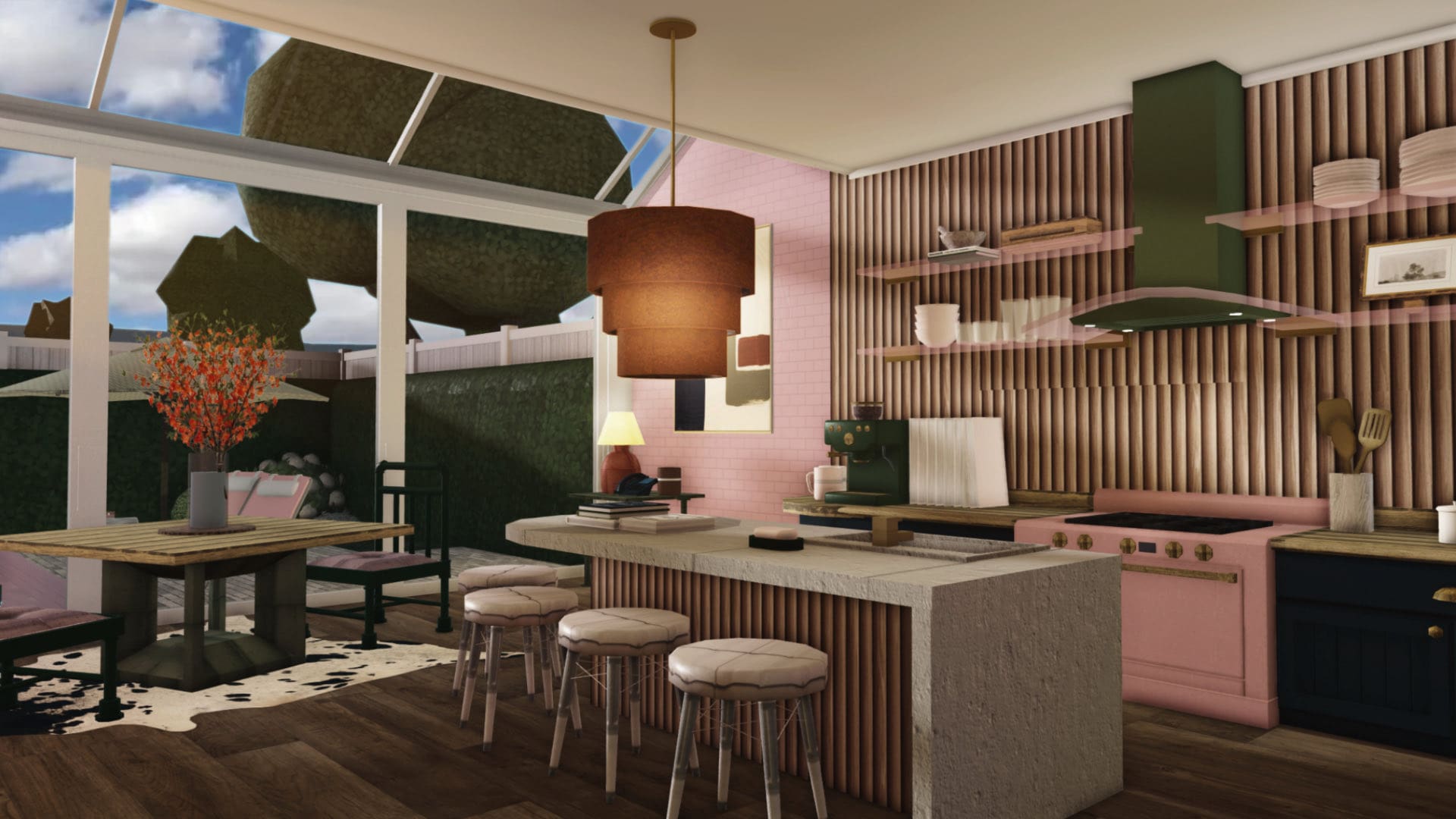 2. Green and White Bloxburg Kitchen
You simply cannot go wrong with a green and white color combination. A green kitchen cabinet can introduce a sense of calm and add a touch of vibrancy to your Bloxburg kitchen. The key is to use subtle green colors like sage, olive green, or moss green. In addition, opt for a marble countertop to add chicness and elegance to the design.
3. Kitchen Window Above Sink
Placing a kitchen sink under the window is a common and practical technique used in the real world. This allows natural light and proper ventilation to flood into the space. Plus, this layout also allows convenient plumbing—  since the sink will be close to the outside wall. Doing this will make your Bloxburg kitchen more realistic. 

4. Marble Kitchen Countertops
Marble is a common kitchen countertop material because it can lend an air of sophistication and modernity to a kitchen. Also, consider adding a marble kitchen backsplash.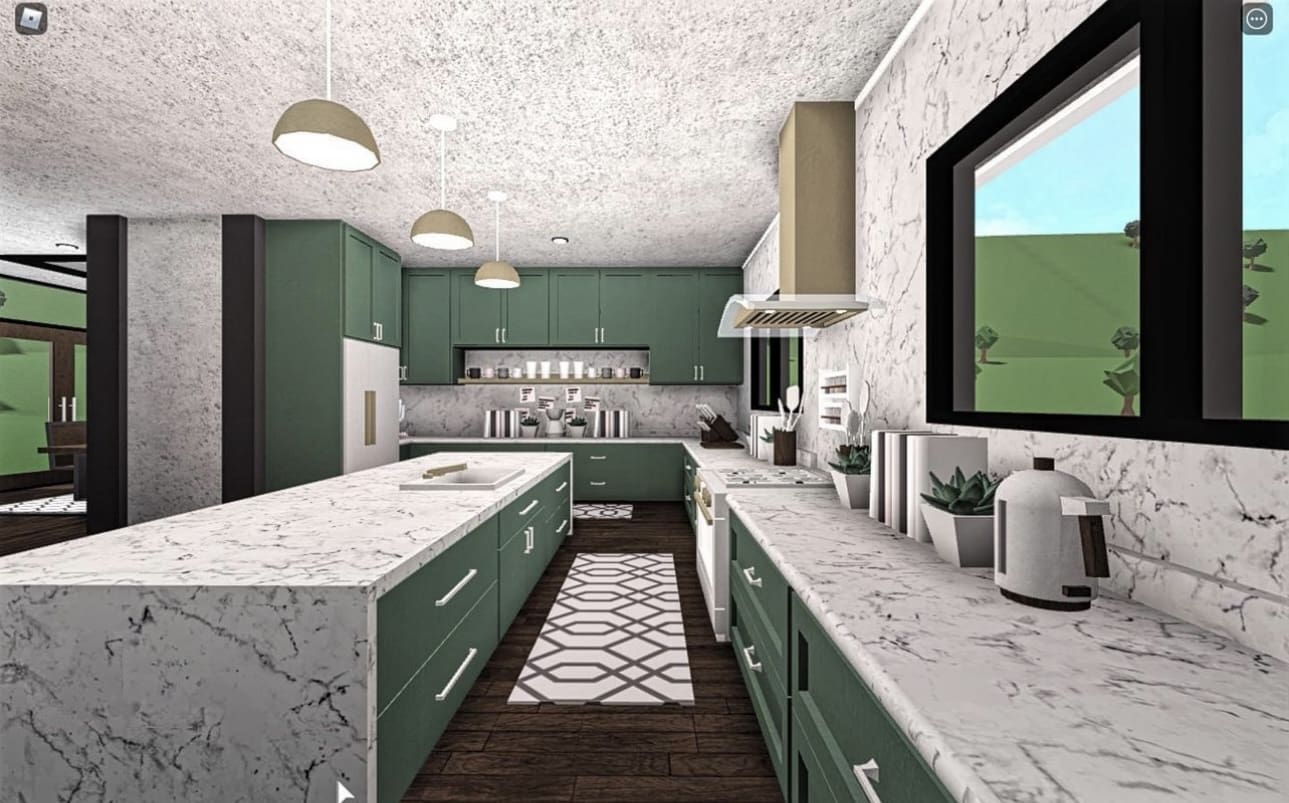 5. Black Brick Tiles
Brick tiles are often used around the stove and sink area in the kitchen because it is easy to clean. The black brick tiles wall covering works great for modern, traditional, rustic, farmhouse, and industrial kitchens. Check out these modern black kitchen ideas!
6. Wooden Kitchen Countertop
Wood is a durable material that is perfect for kitchen countertops. It can lend warmth and rustic beauty to your Bloxburg kitchen.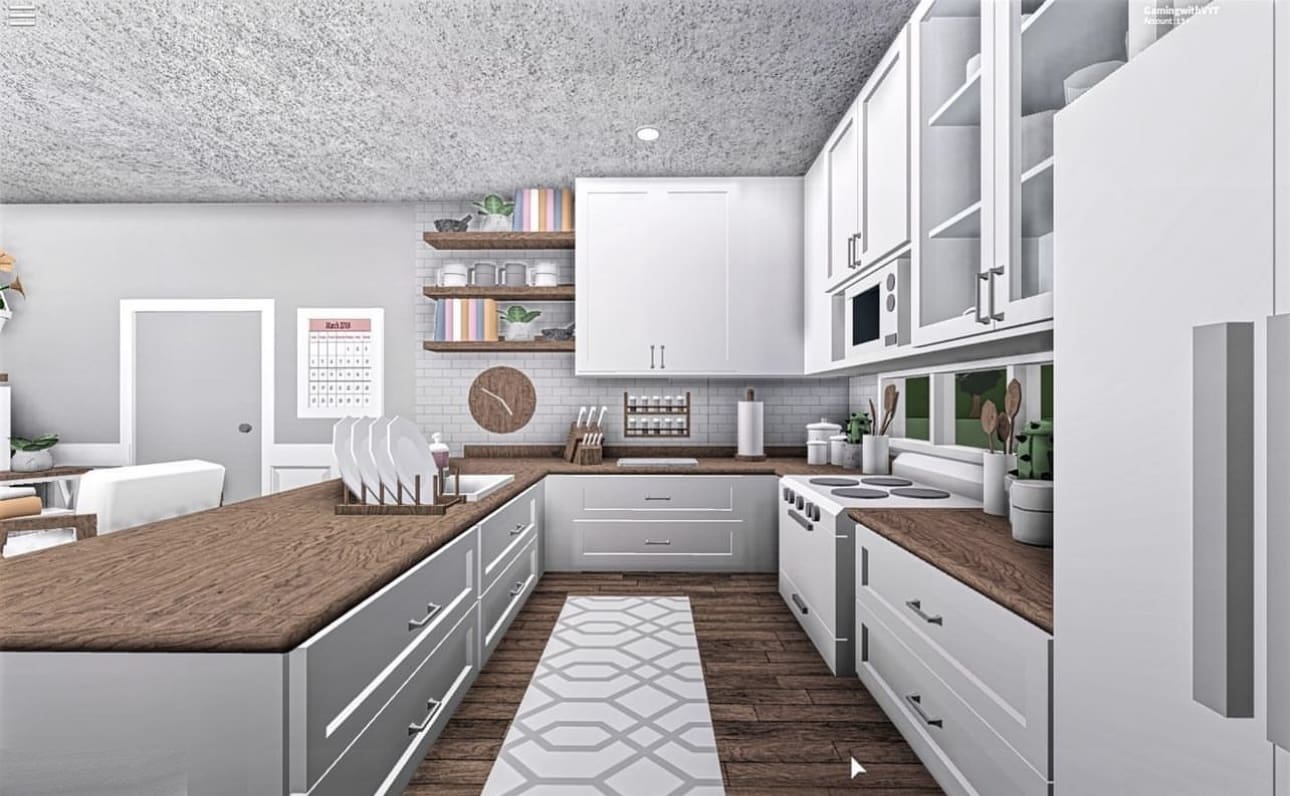 7. French Kitchen/Patio Door
A double door leading up to the garden can make your kitchen seem a lot more spacious and brighter. Plus, it allows for proper ventilation in the kitchen — as things usually get heated up in this space.
8. Contemporary Bloxburg Kitchen
Embrace a contemporary kitchen style if it aligns with the rest of your Bloxburg home interior. A contemporary design style is clean, chic, and often more on the minimalist side.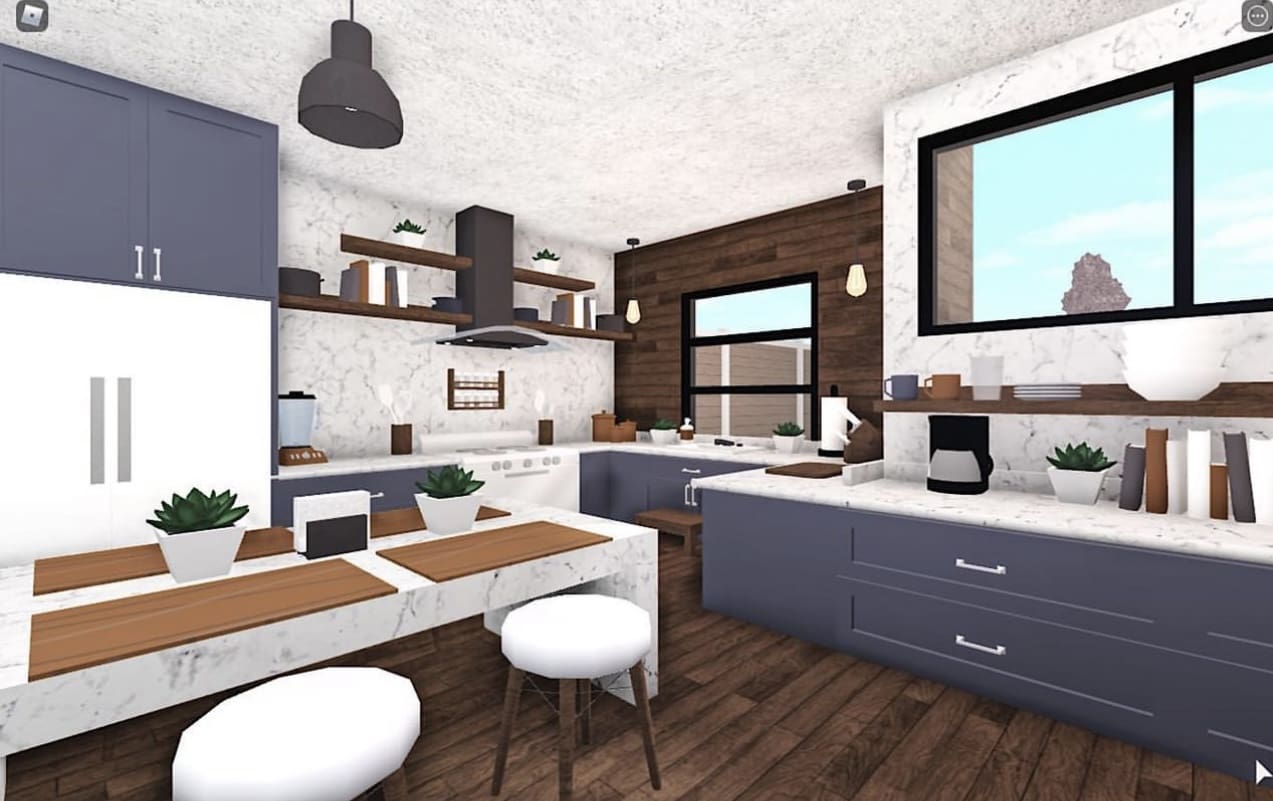 9. White Bloxburg Kitchen
White one one of the easiest colors to work with yet it is quite impactful. This color makes a kitchen feel clean, spacious, and well-illuminated.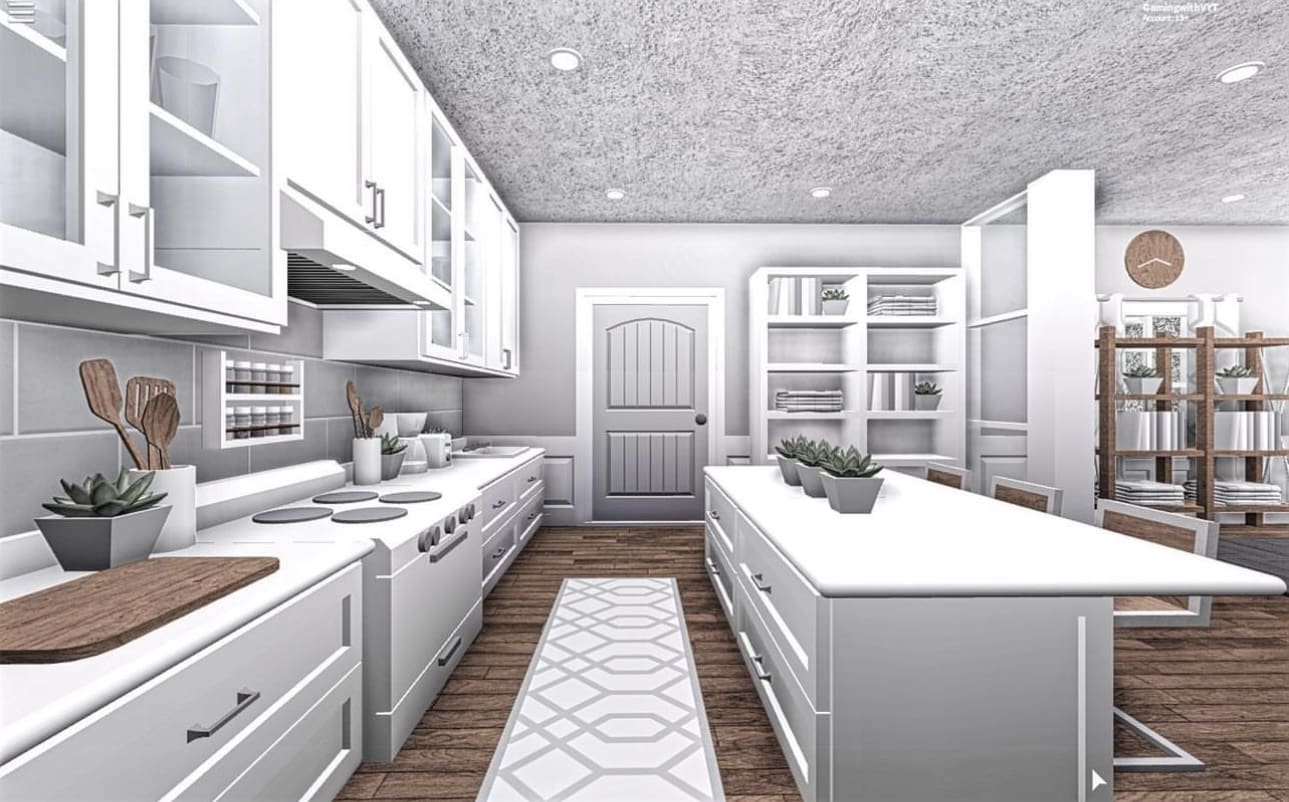 10. Bloxburg Kitchen Opening Shelving
Open shelving makes a kitchen seem more spacious and open. It also allows the display of items for decorative purposes. Place plants, cookbooks, and neutral-colored dishware on your open kitchen shelves. Avoid placing too many items as this can overwhelm the space and make the kitchen appear cluttered.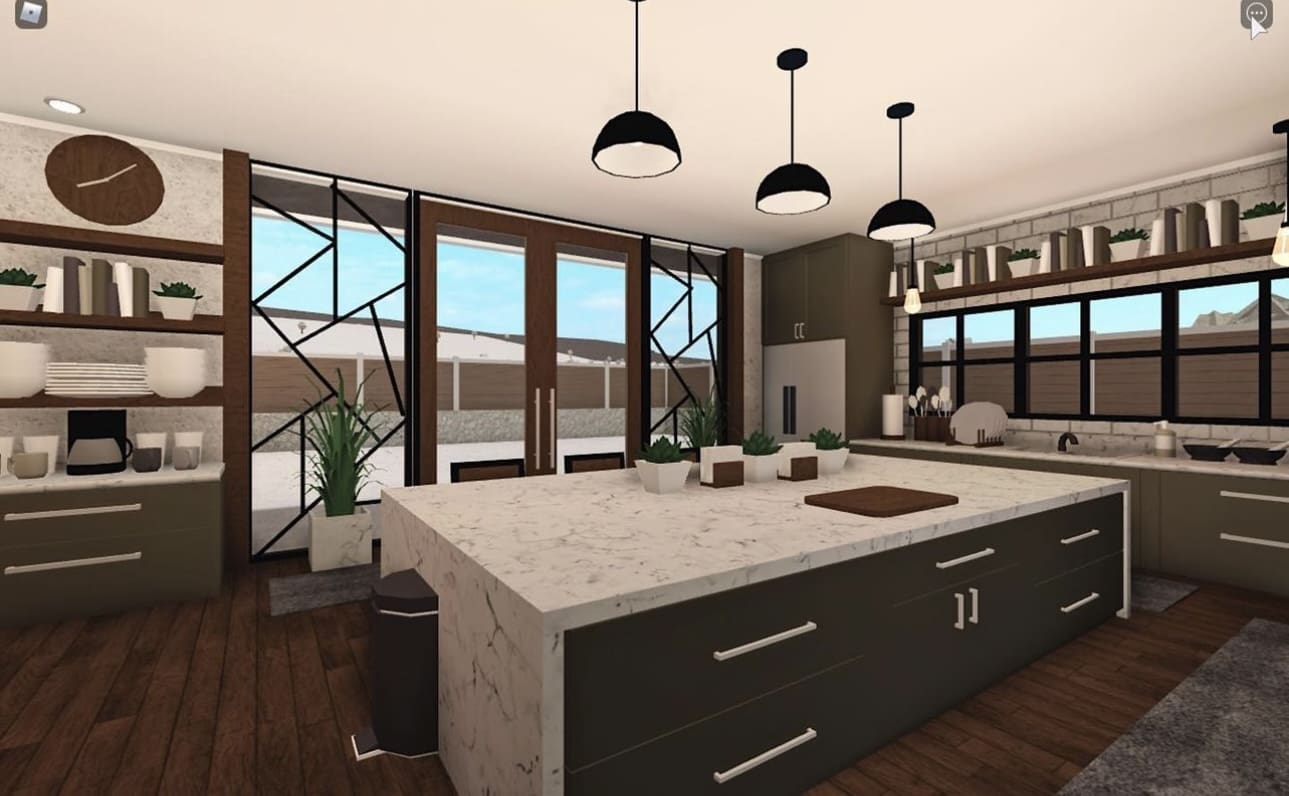 11. Navy Blue Kitchen Cabinet
If you want a virtually striking shade of blue for your Bloxburg kitchen, navy blue should be on your radar. Navy blue is favored for its timelessness and classic-meets-cozy appeal.
12. White and Wood Tone Kitchen
Arguably, the easiest and effortless chic color combination for a kitchen is white and wood tone. These colors go together like dandelions and daydreams.
13. Rustic Bloxburg Kitchen
A rustic theme kitchen is quite easy to pull off and adds infuse warmth to a space. This timeless interior style embraces the use of natural materials and organic elements like wood, stone, rattan, bamboo, and others.
14. Apartment Kitchen with a View
If you're designing an apartment kitchen. Take advantage and the spectacular view and go for a modern design style. Consider a multi-functional kitchen island and use statement lighting to infuse a high level of style.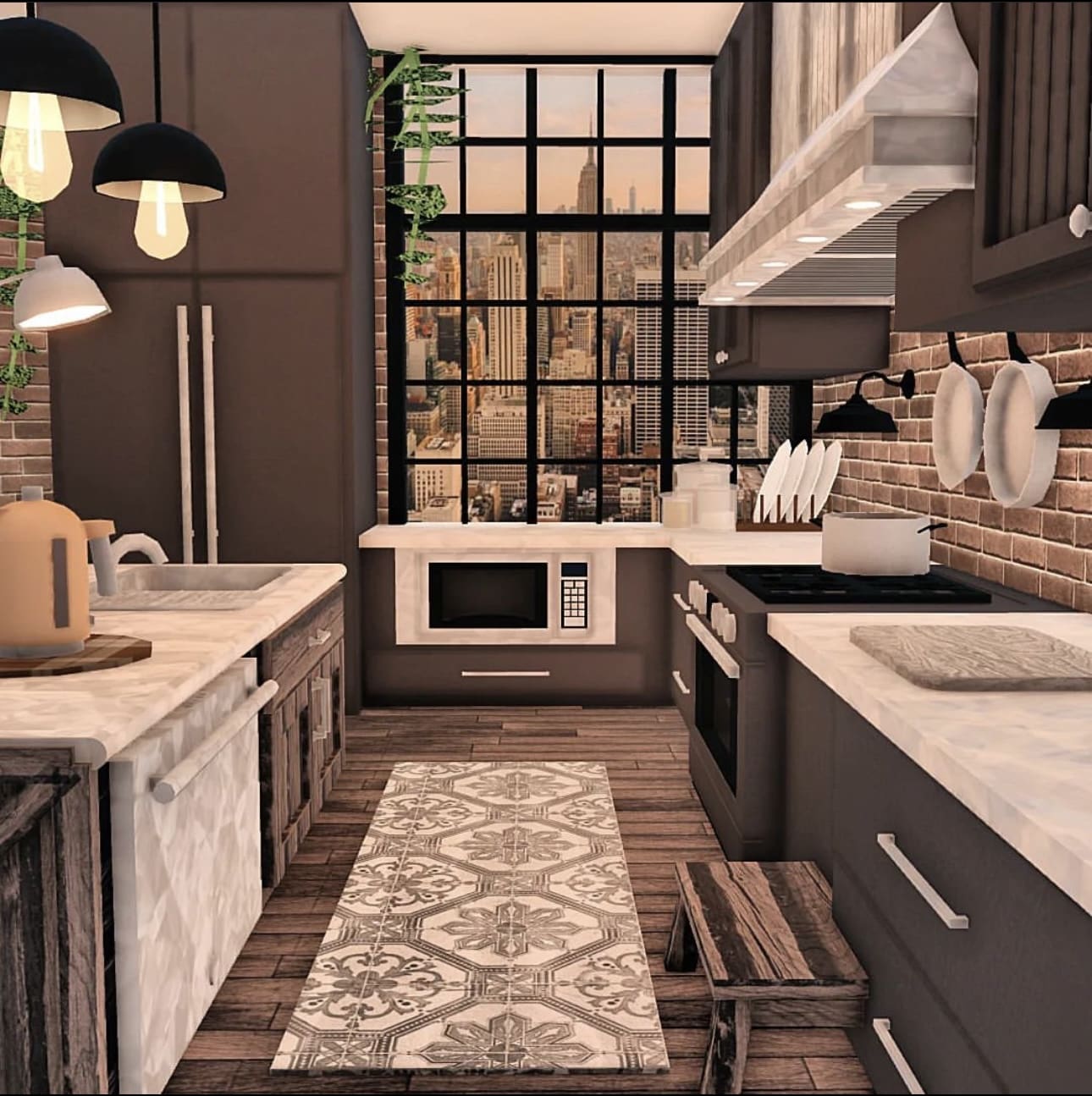 15. Kitchen Island Dining
When designing a spacious Bloxburg kitchen, consider adding high bar tools/chairs to create a multi-functional space. This serves as a breakfast space and even a place to entertain guests and spend quality family time.
16. Bloxburg Kitchen Skylight
Consider using a skylight to brighten up your Bloxburg kitchen. Skylights are predominantly designed to allow free flow of natural light they can also add a thoroughly modern feel and wow factor to your kitchen.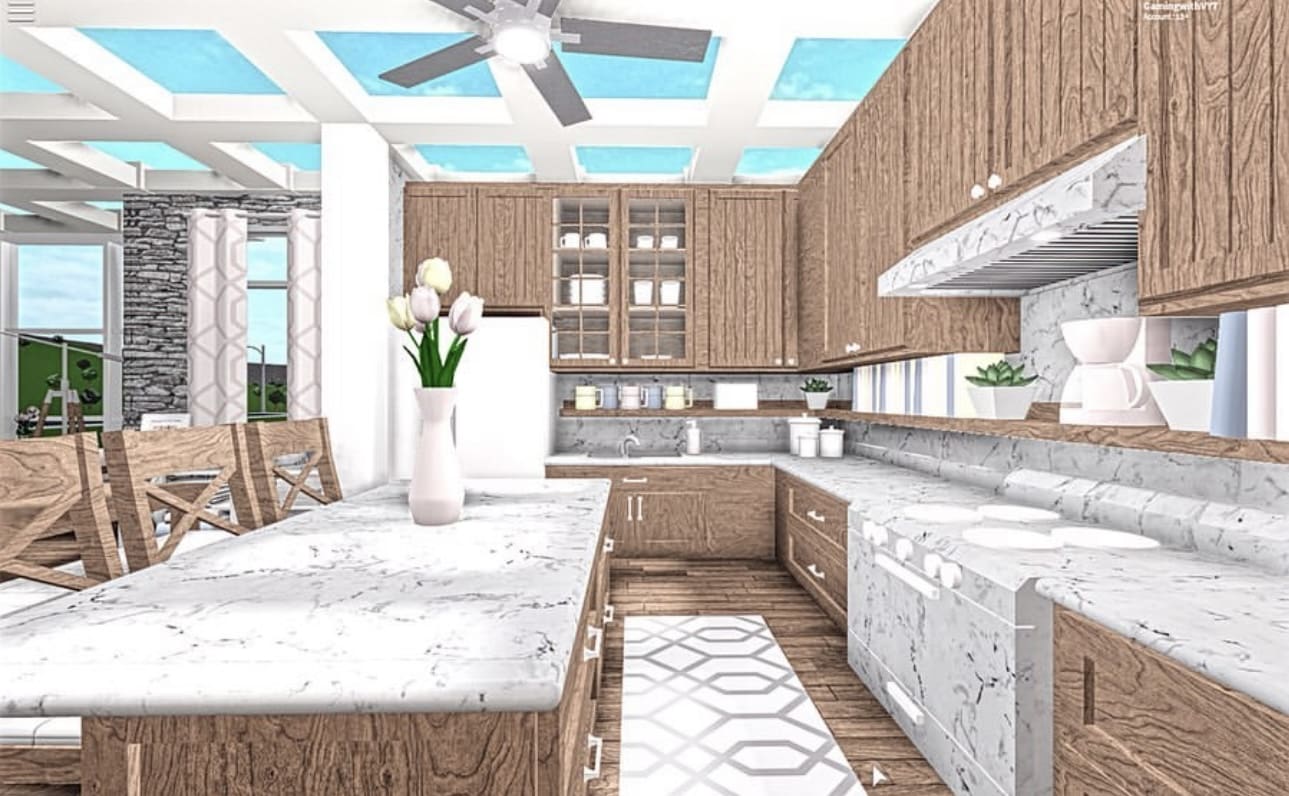 17. Bench-Style Kitchen Island
Unlike a traditional kitchen island that takes up a lot of space, a bench-style kitchen island doesn't require too much space. It is practical yet highly space-saving.
18.  Large Kitchen Bloxburg Rug
Rugs are a great way to add texture, color, and visual interest to a minimalist kitchen design. Rectangular and square rugs are the shapes commonly used for kitchens but if you have a large area, a round rug may work brilliantly for your space.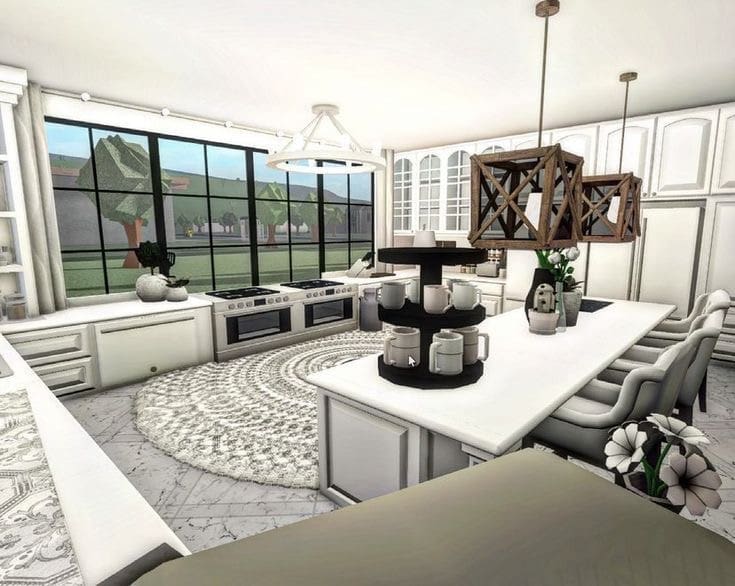 19. Bloxburg Kitchen Island Lighting
A kitchen island lighting is a no-brainer when it comes to kitchen design. Not only is it practically for illuminating the space but it can be used to add a strong sense of style to the kitchen.

20. Kitchen Glass Divider
The dining and kitchen are common shared spaces in most homes. A glass divider is a clever kitchen/dining partition as it allows light to flow effortlessly between spaces.

21. Kitchen Cabinets with Brass Hardware
Using a kitchen cabinet with brass hardware is a surefire way to add richness and sophistication to a Bloxburg kitchen.

22. Tan and Off-White Bloxburg Kitchen
The most realistic-looking Bloxburg kitchens are usually those with neutral colors. Tan and off-white are two neutrals that create a clean cozy, and true-to-life kitchen.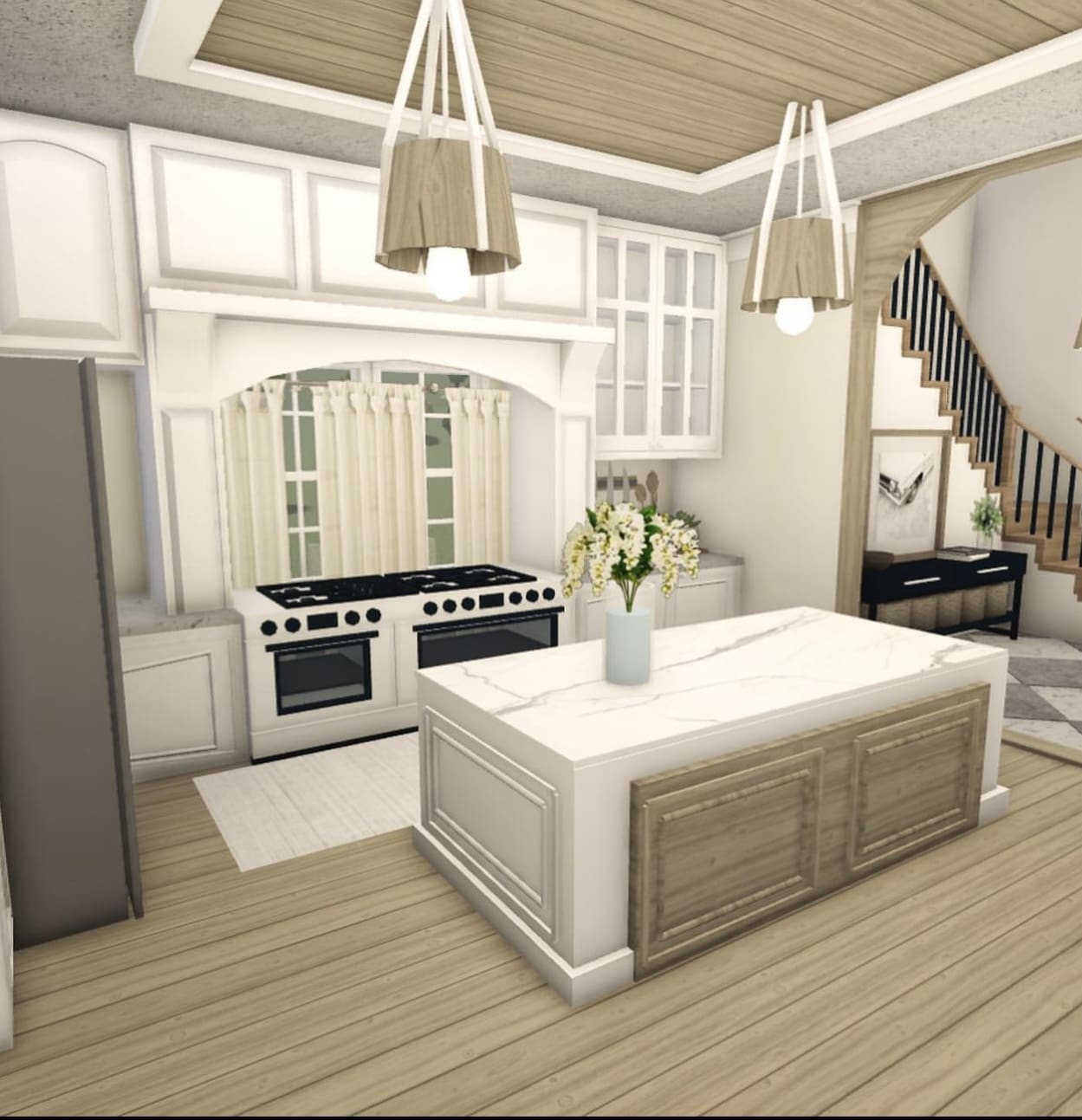 23. Light Blue Bloxburg Kitchen
To add delicacy, tranquility, and richness to your kitchen, consider using a light blue kitchen cabinet. Using this color can create a calming feel and contrasts.
24. Dusty Pink Kitchen Cabinet
Add feminine energy to your Bloxburg kitchen with dusty pink. This color strikes a balance between serene and stimulating.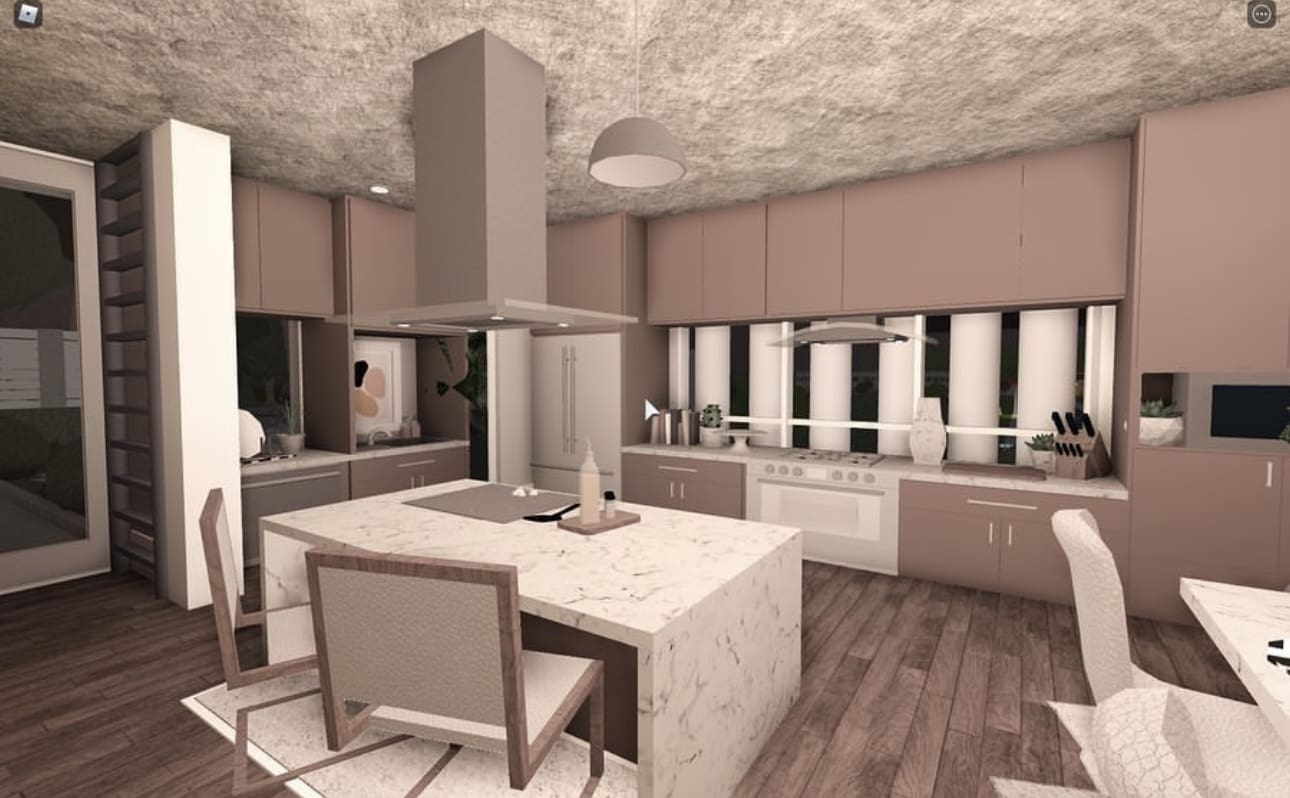 25. Wooden Kitchen Accent Wall
Accent walls are great for creating a focal point and adding interest to a neutral space. A wooden wall is a spectacular accent wall idea that can infuse warmth and rusticity into a kitchen.
26. Beige Bloxburg Kitchen
Beige is a popular neutral color that is often used in place of start white. It is a warm color so it makes a space feel cozy and inviting.
27. Large Kitchen Island
One common feature luxurious kitchens have in common is a large kitchen island. If your space allows and you want to give your kitchen an extravagant feel, then a large kitchen island will be perfect for you.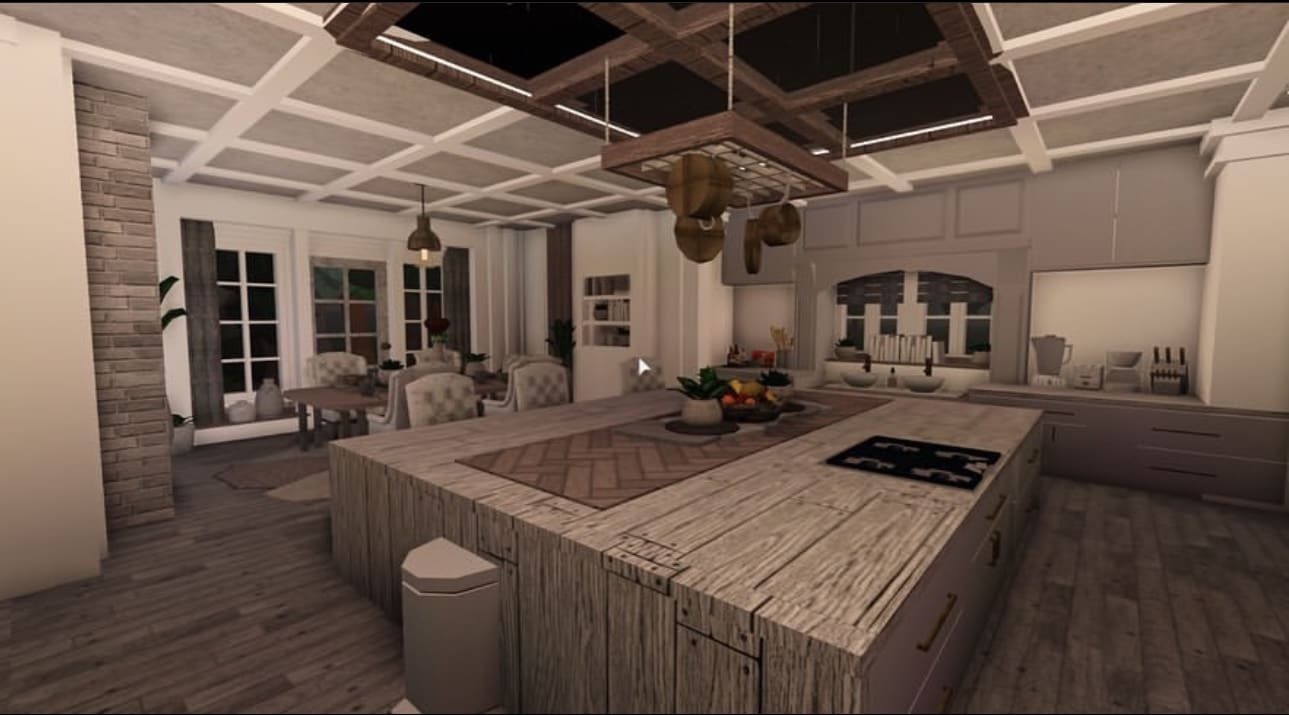 28. Red Brick Kitchen
Brick walls are commonly used in rustic, boho-chic, French country, and industrial-style kitchens. A red brick wall can instantly infuse a unique character into your Bloxburg kitchen.
29. Neutral Scheme Kitchen
If design is not your strong suit, it may be best to stick with neutral colors as they are easy to work with. Most neutral colors complement one another so you can't go wrong with this.

30. Olive Green Bloxburg Kitchen Cabinets
If you're stuck on cabinet colors to use for your Bloxburg kitchen, then you may want to consider olive green. Olive green is an earthly and calming shade of green that works beautifully for any room in a home.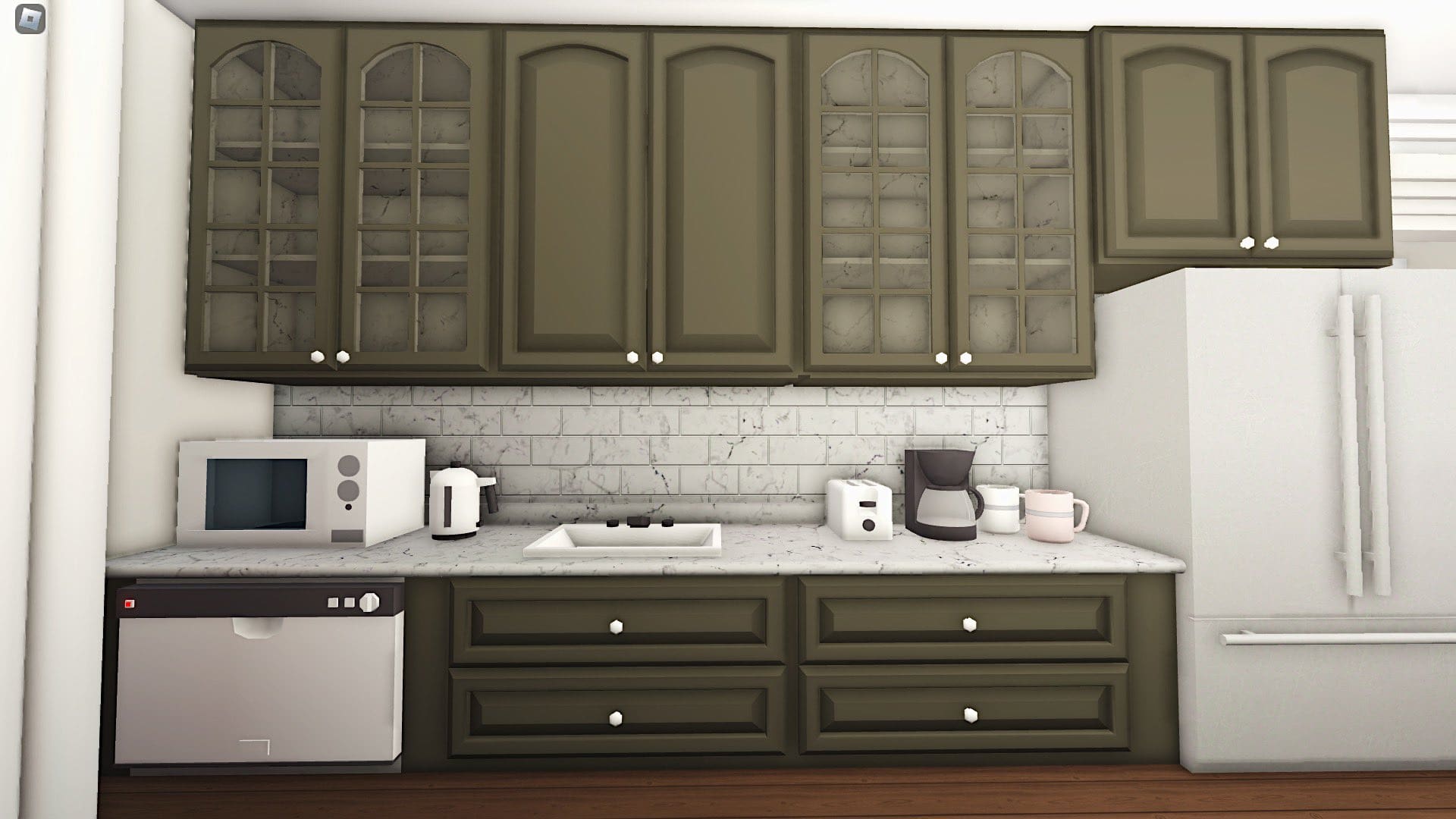 31. French Country Kitchen
Add a charismatic touch to your Bloxburg kitchen with a French-inspired design. In order the properly execute a French country kitchen design, you must strike the perfect balance between rustic and sophisticated.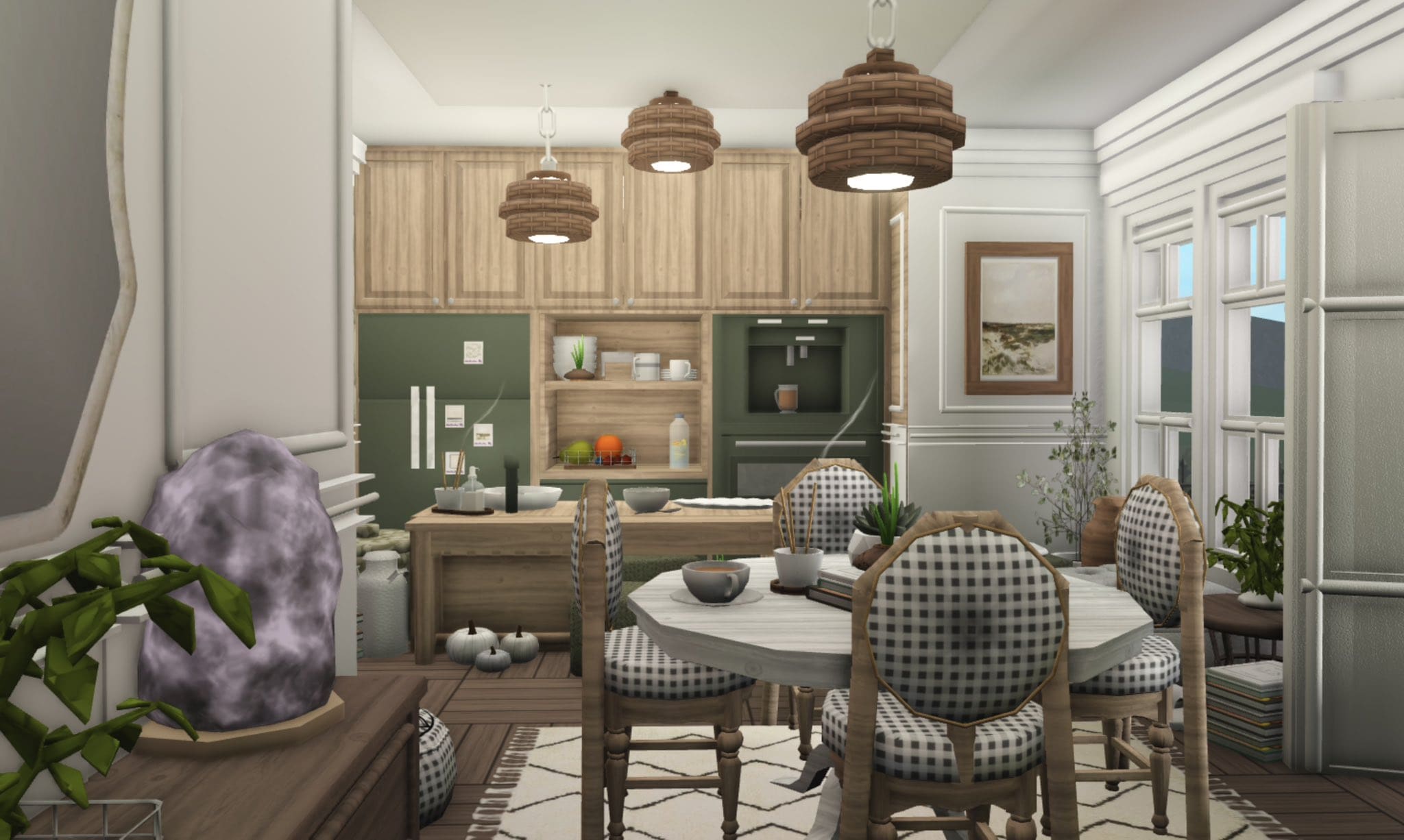 32. Kitchen with Emerald Green Accent
A hint of emerald green can lend sophistication and bring your mundane white kitchen back to life. This timeless accent color can be used to create a bold yet simple statement.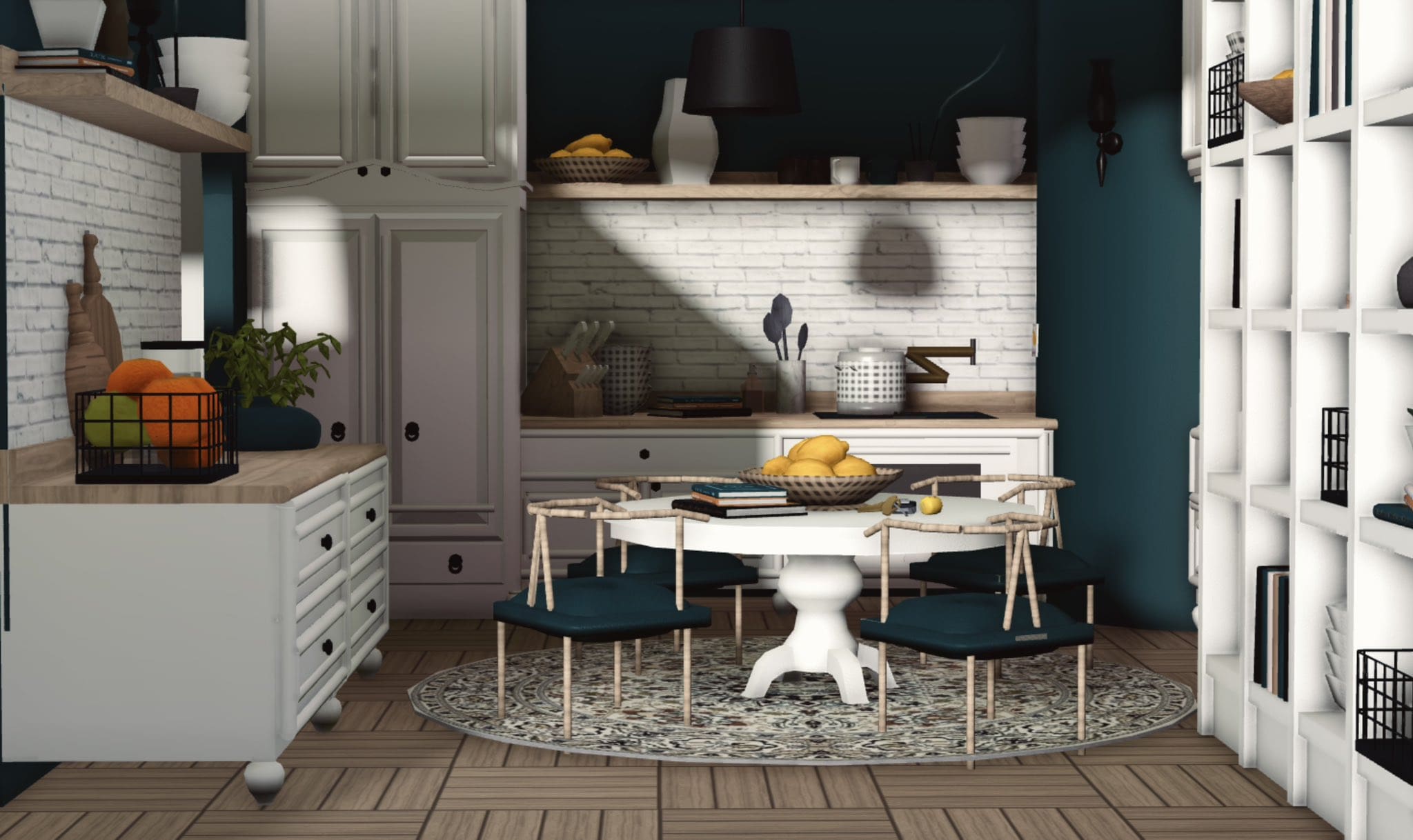 33. Small Bloxburg Kitchen
Working out the best layout for a small kitchen is crucial in order to maximize space. Consider using bright colors, clever storage solutions, and see-through elements. Plus, make sure there is sufficient legroom so that the space doesn't feel cramped.
34. Coffered Kitchen Ceiling
The indentations/ sunken panels in coffered ceilings make a room seem higher than it actually is. Not only do they create the illusion of height but they also add a dramatic sense of strength and heft to a room.
35. Dark Green Kitchen
Dark green is probably the easy shade of green to design interior spaces with. Since it is nature's most associable hue, it provides a sense of bringing the outdoors in.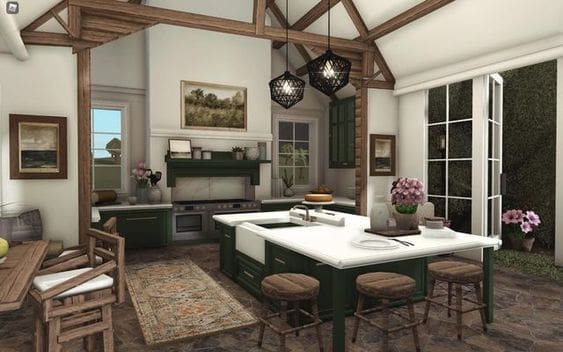 36. Navy Blue and Wood Tone Kitchen
For a moody yet aesthetically pleasing Bloxburg kitchen design, combine a navy blue and any wood tone.
37. Kitchen Subway Tiles
Subway tiles are the most popular type of kitchen backsplash tiles for good reasons. They are stylish and give a minimalist appeal to a space. They can be used for modern, traditional, and farmhouse-style kitchens.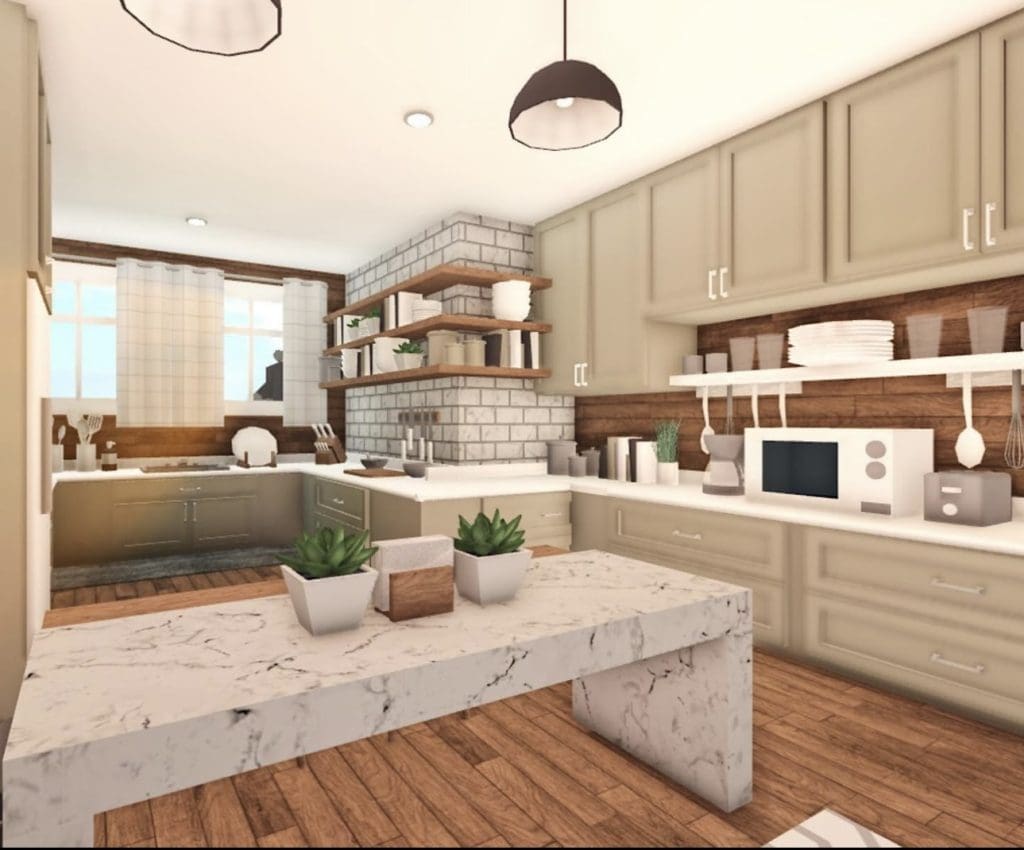 38. Country-Style Kitchen
A country-style kitchen is a fantastic way to bring character and rustic charm into your space. This kitchen style incorporates ceiling beams, antique pieces, patterns, and texture with tactile materials.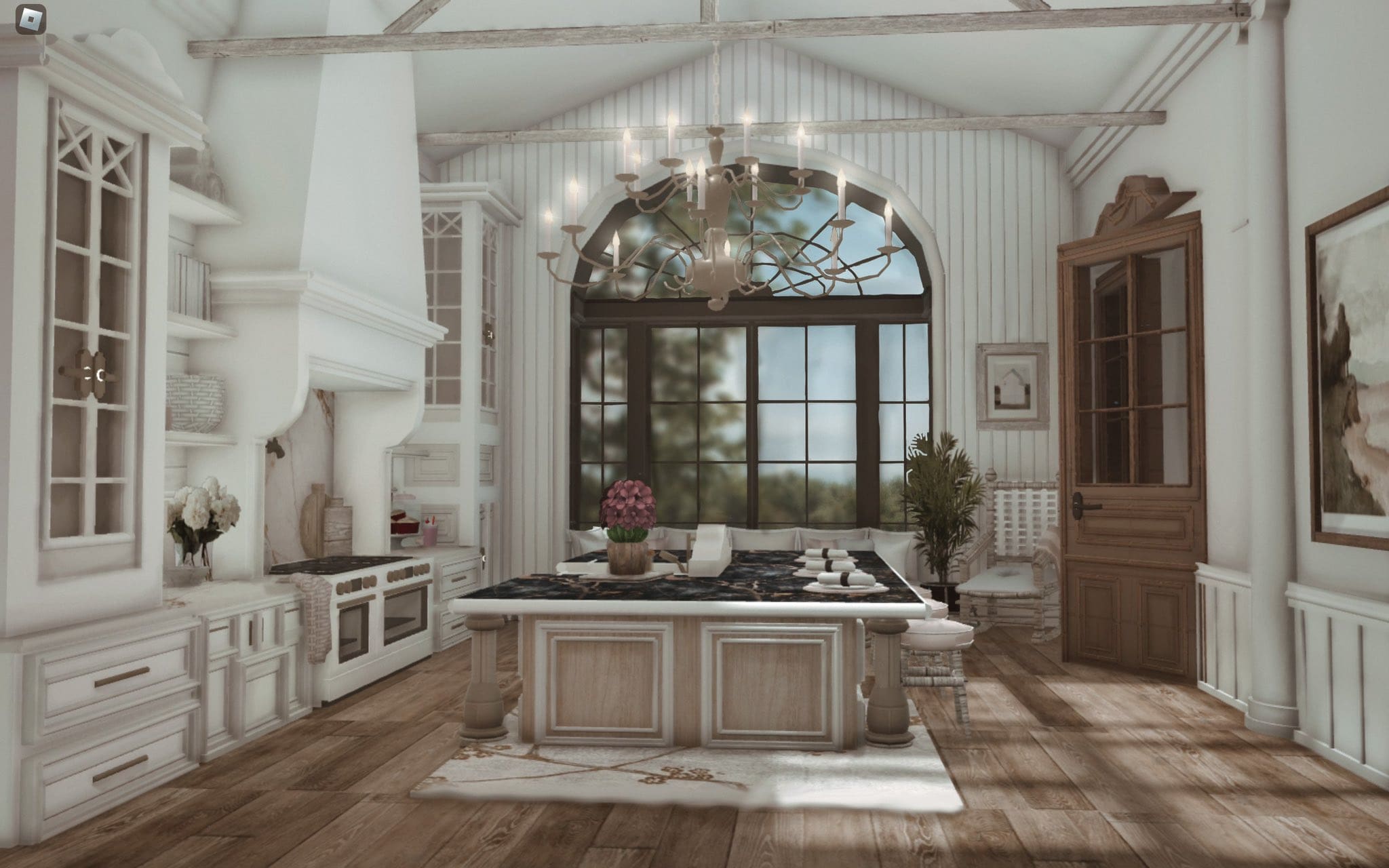 39.  Kitchen Island Cabinets
A great way to maximize storage is to use a kitchen island with cabinets. Multi-purpose kitchen islands are not just for small spaces. Big kitchens can take advantage of them too!

40. Bloxburg Kitchen with Green Accents
A pop of green can infuse a unique character and freshness into your minimalist Bloxburg kitchen.
41. Arch Opening Kitchen Dining Area
An arch opening gives it a softer, more intriguing appeal to a kitchen dining area. It also gives the space an old-world look as arches were popularised by the Ancient Romans.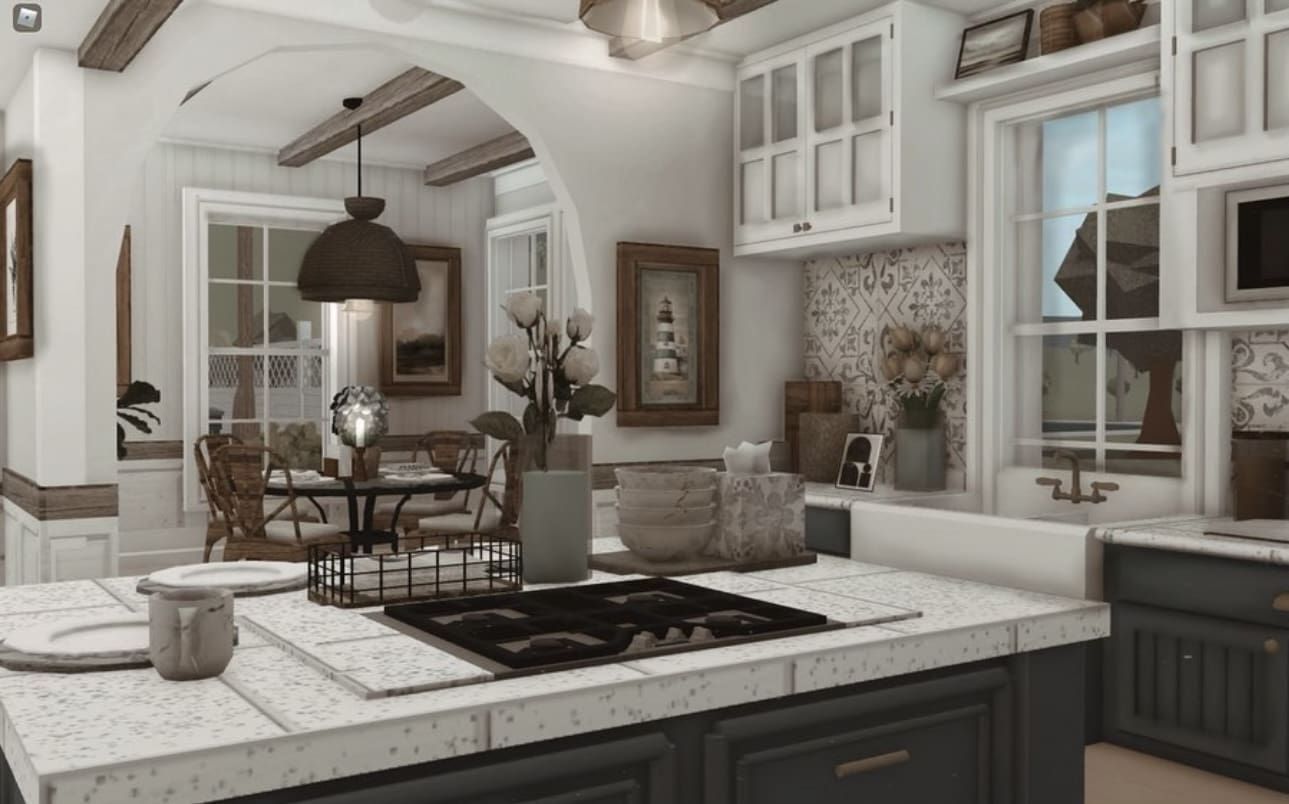 42. Wooden Wall and Ceiling
Give your Bloxburg kitchen an unexpected aesthetic with a wooden wall and ceiling design. This adds warmth and a rustic charm to the kitchen.
43. Modern Grey Kitchen
One of the most popular neutrals for contemporary homes is grey. This subtle color lends a clean, streamlined look to a modern kitchen.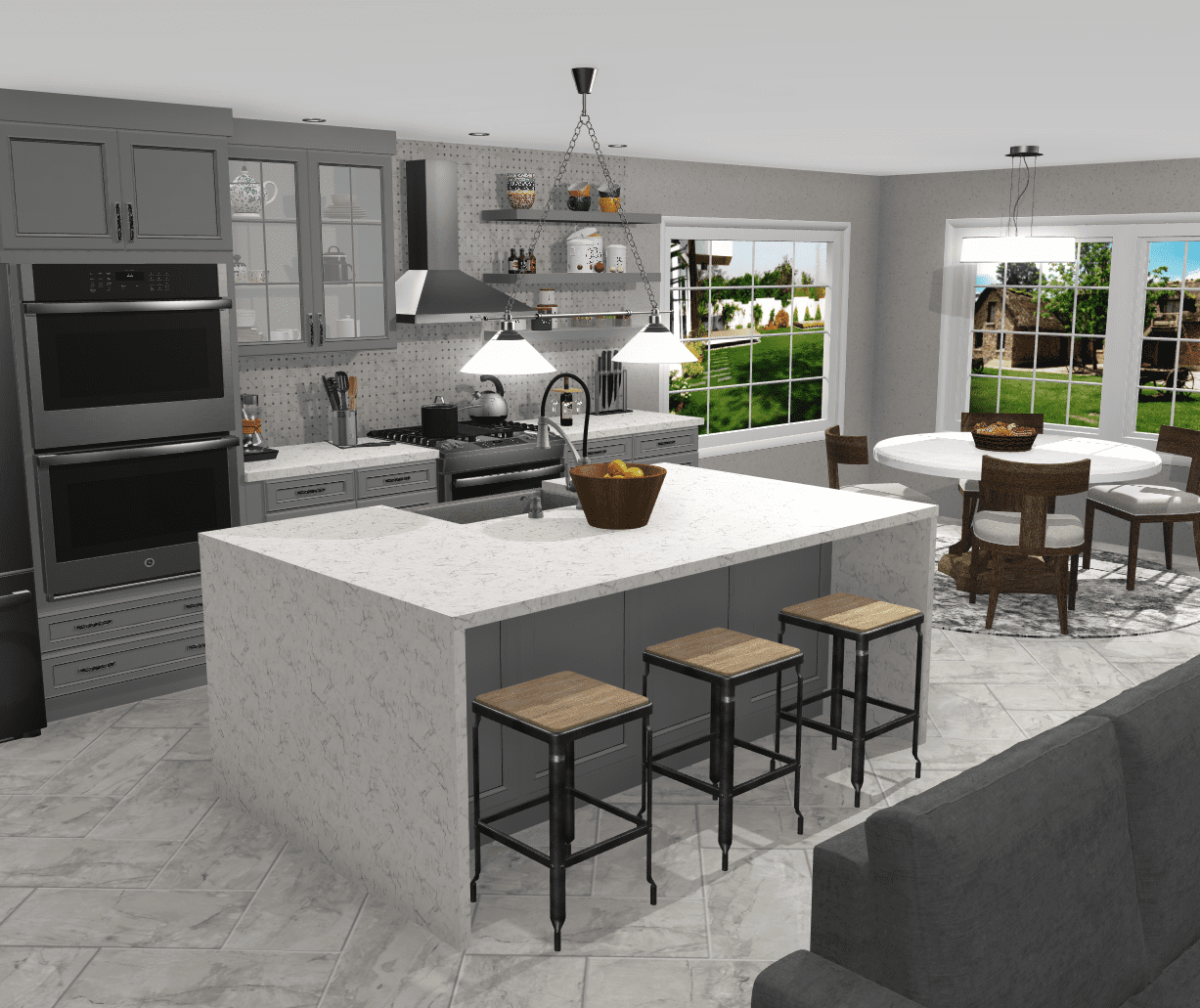 44. T-Shaped Kitchen Island
Contrary to popular belief, kitchen counters do not have to be either rectangular or triangular, especially in Bloxburg. Create a unique design feature with a T-shaped kitchen island.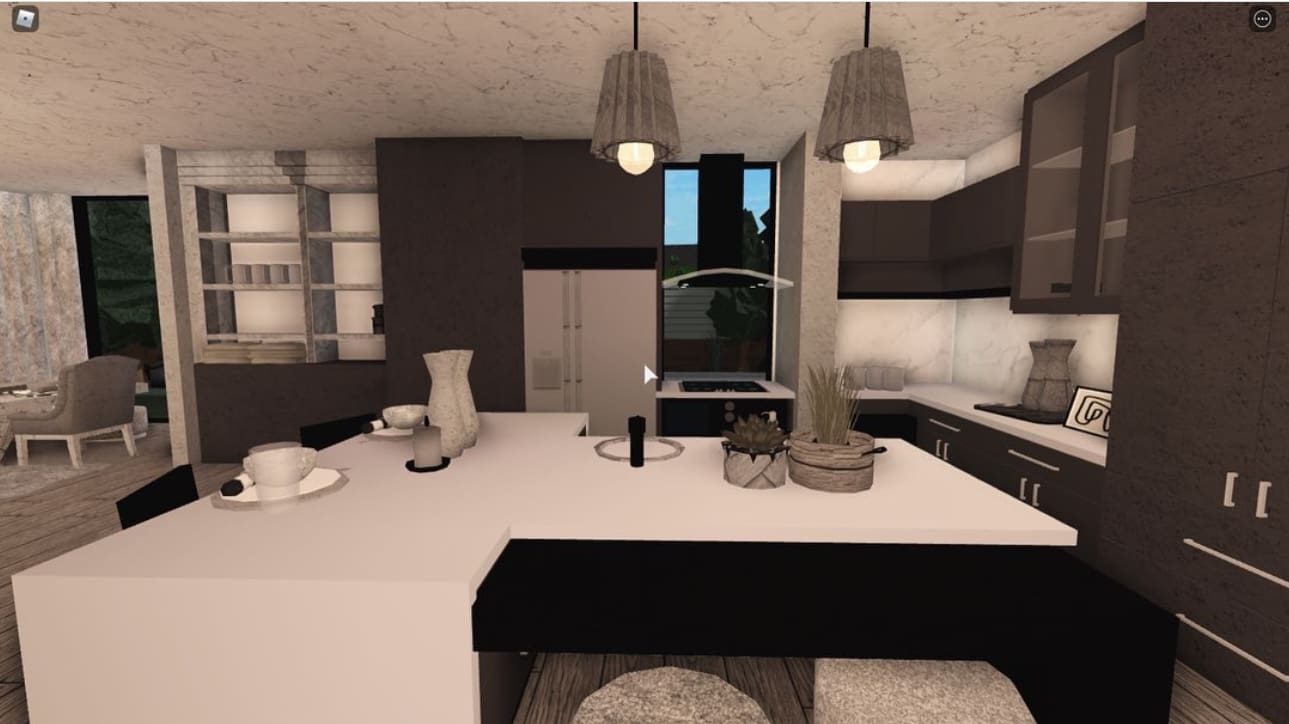 45. Concrete Kitchen Island
The concrete material has with a tone of modernity and a feel of rusticity. A concrete kitchen island can give your Bloxburg kitchen a sophisticated and modern edge.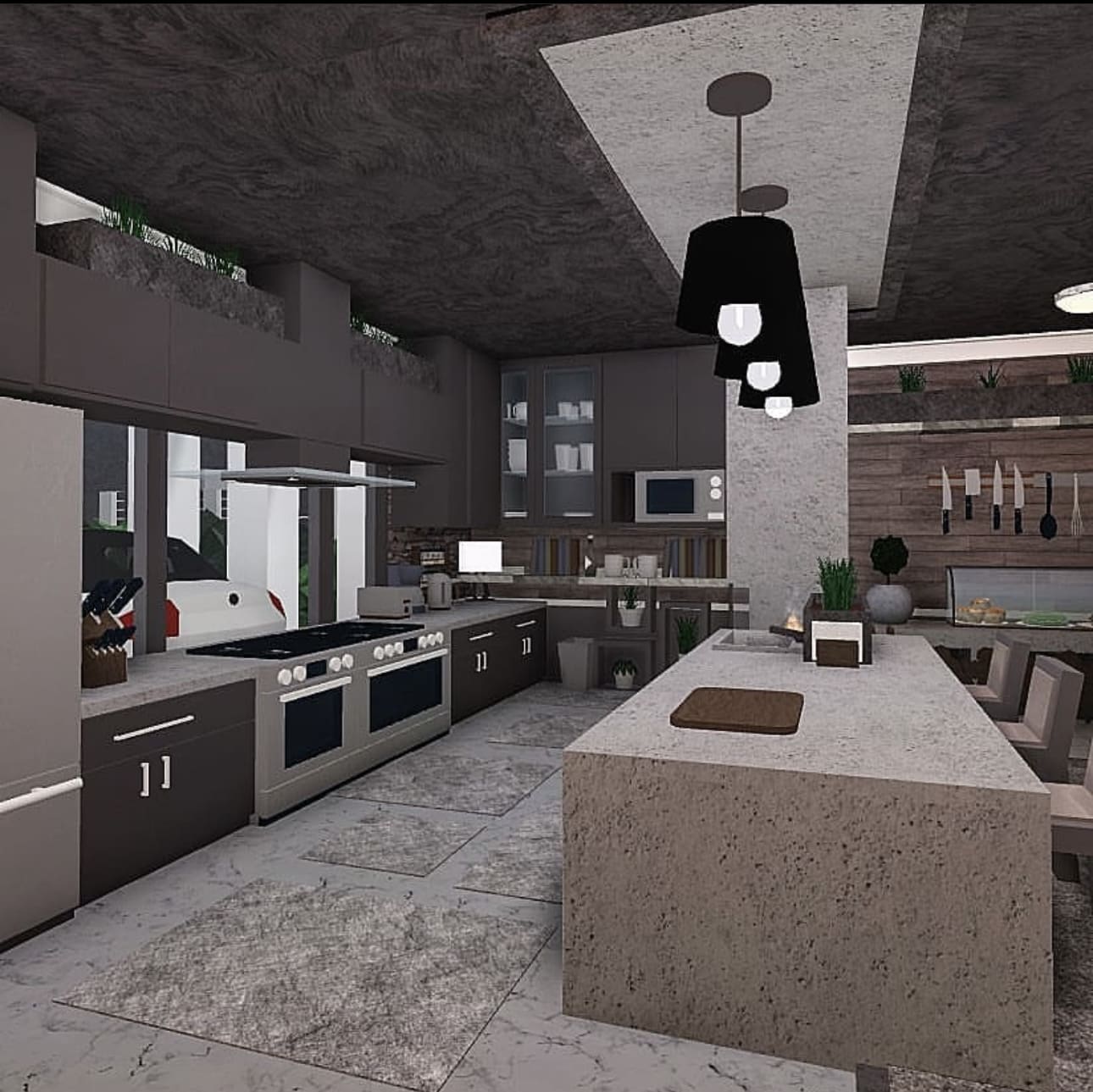 46. Red Oak Kitchen Cabinet
Showcase richness and eclecticism in your Bloxburg kitchen using a red oak kitchen cabinet. However, red oak lends to a traditional kitchen design style. Despite this, it may still be used for contemporary kitchens rather successfully.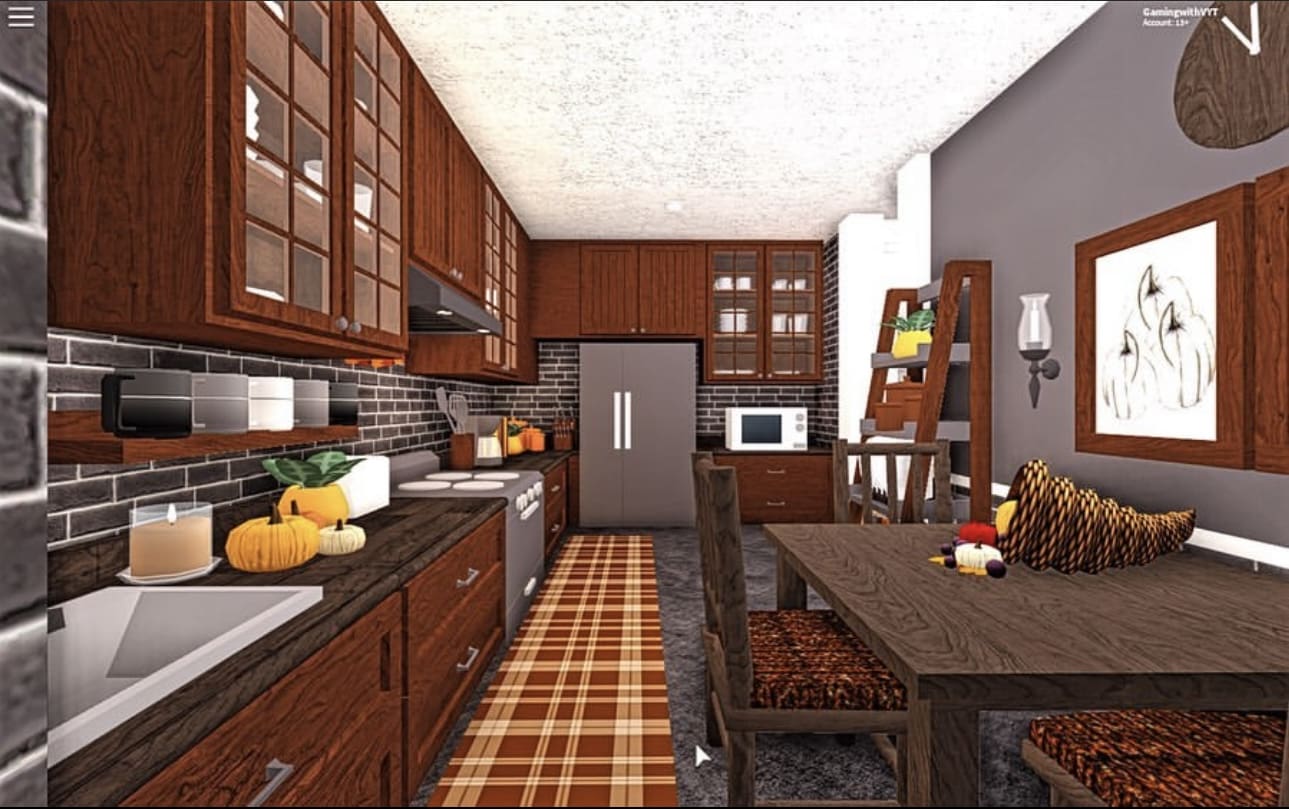 47. Kitchen Island Bench Seating
Bench seats for the kitchen island area provide additional seating for more diners at the table. Because of this type of seating, the whole family may assemble at the table without feeling cramped.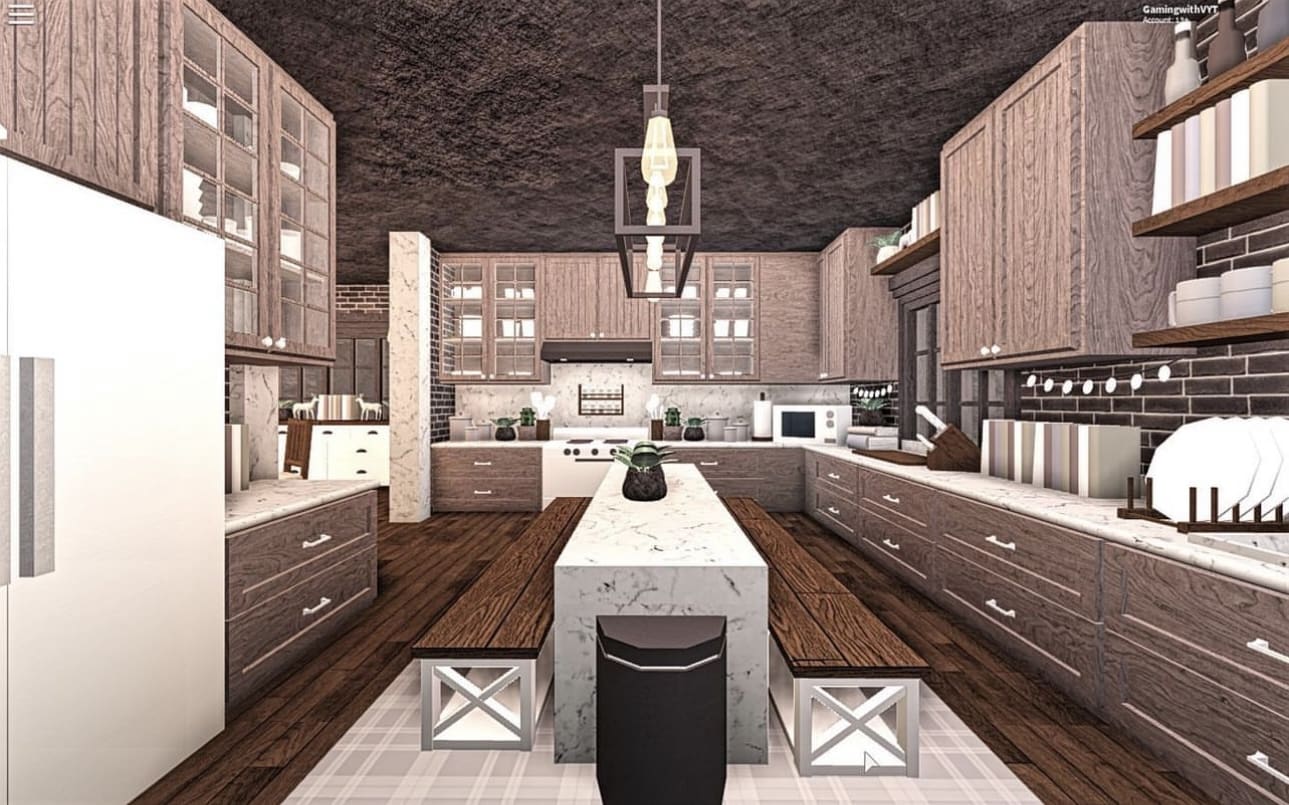 48. Statement Kitchen Lighting
Give your Bloxburg kitchen a dramatic focal point with statement lighting that packs a big punch. This is a clever way to illuminate the space while adding a wow factor to the kitchen.
49. Hardwood Kitchen Flooring
Wood flooring is commonly used for the kitchen because it adds warmth and visual appeal to the space. Hardwood flooring is also ageless and will brilliantly with any design style.
50. Modern Farmhouse Bloxburg Kitchen
The modern farmhouse style is enormously popular in today's interior design scene. In order to create a modern farmhouse kitchen, you must incorporate warm elements, as well as clean and functional elements. The design style strikes the perfect balance between modern and rustic.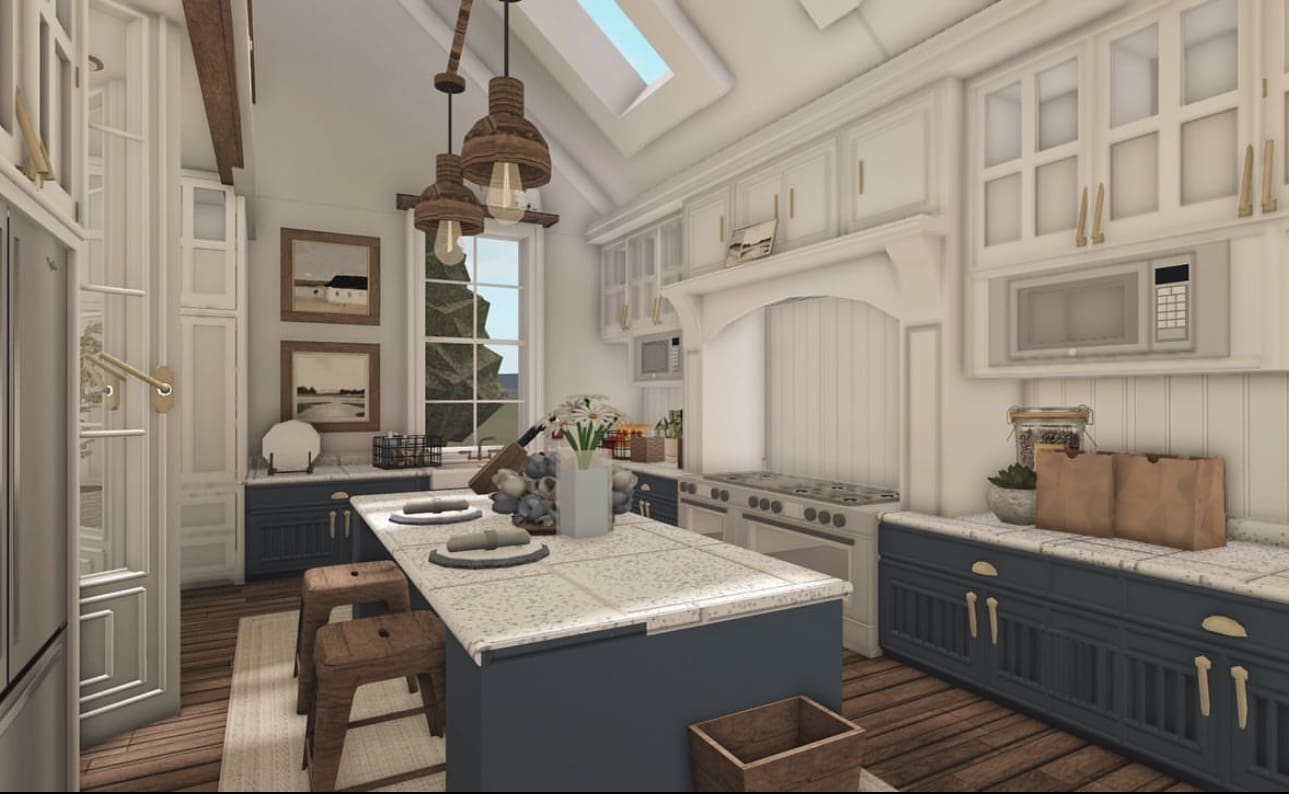 51. Bloxburg Kitchen Curtain
Curtains may be a much better fit for your kitchen's look and feel if it is more traditional or Shaker in style. Modern kitchens tend to lean more towards kitchen blinds.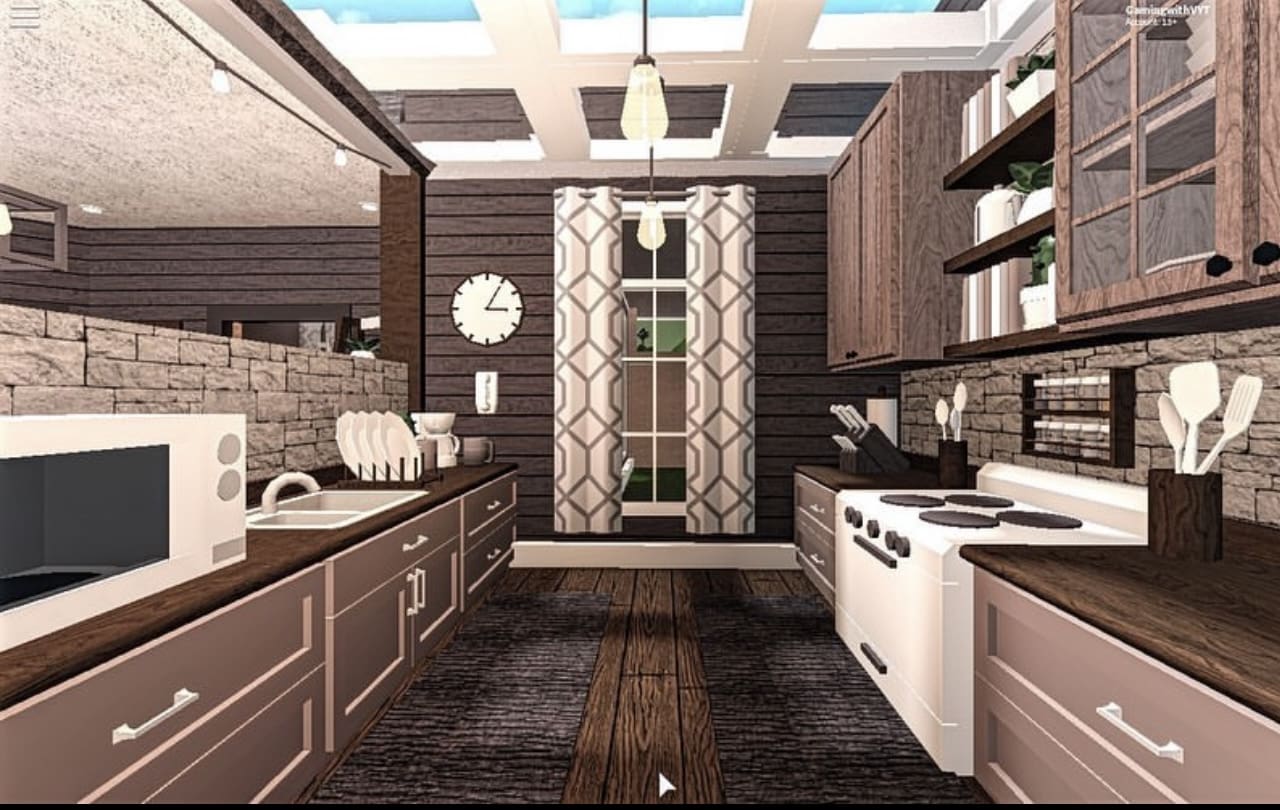 52. Kitchen Ceiling Beam
Exposed ceiling beams can give your Bloxburg kitchen texture, depth, and a sense of heft. Ceiling beams also lend coziness, visual interest, and rustic beauty to modern homes.
53. Wooden Kitchen Lighting
Adds an element of surprise to your Bloxburg kitchen by using wooden kitchen island lighting. Not only is this style of lighting environmentally friendly, but it will also give your kitchen an eye-catching organic look.
54. Brick Kitchen Hall Wall
A half wall is a clever way to create a partition in an open-plan kitchen layout. An exposed brick half-wall can add texture and character to an otherwise lackluster space.
DISCLAIMER: WE DO NOT CLAIM RIGHTS ANY OF THE PHOTOS ON THIS PAGE. ALL IMAGES WERE SOURCED ON SOCIAL MEDIA AND WERE FOR INSPIRATIONAL PURPOSES ONLY. CREDITS WILL BE GIVEN TO CREATORS UPON REQUEST. 
You may also enjoy our article on:
Pin to Save for Later!