Top 10 Interior Design Blogs in 2023
Interior design trends are constantly evolving and there's a good reason why. Our home is one of the most important places in our lives and it's everyone's goal to make it as relaxing and aesthetically pleasing as possible.
There are endless design ideas on the internet today which makes it a bit harder to find the best sources to draw inspiration from- it's like finding a needle in a haystack. Finding design inspirations that match your interior style can be a hassle as well. Are you a minimalist or do you like bold and colorful? Whatever type of design you're into, stay glued to this post!
If you're a homeowner, interior designer, design enthusiast, or even a curious passerby, you're on the right side of the internet today! Here, we've made things easier for you as we'll be sharing the top ten interior design blogs in 2023. Whether you're an expert or still a beginner in interior design and home decor, these blogs can help you achieve your goals.
Not only will you get incredible home design ideas from these seasoned bloggers and interior designers, but you can also learn new DIY tips and tricks. These blogs can help spruce up your existing home interior or design a new home from scratch without breaking the bank or even hiring a professional.
1. Mad About The House
Mad About the House is an interior design blog founded by Kate Watson-Smyth, who has been in the industry for over 20 years. Through her blog, Kate has helped people around the transform their homes into visually appealing spaces. Mad About The House has won several awards such as Best Design Inspiration Blog and Vuelio No 1 UK Interiors Blog".
If you love contemporary design, you will find all the right inspirations here. Katie is also a publisher of 4 books. One of her books, Mad About The House, not only teaches you how to design your home with styles, but it will also make a stylish addition to your coffee table.

2. Elle Decor
Elle Decor is a go-to source of interior design and decor inspiration, especially from professional designers themselves. From sneak peeks into celebrity homes to experts' advice on all things home design. Whether you want to add a contemporary feel to your home or a classic look, you will find inspiration here.
Elle Decor can help you can brush up on your interior design skills, and learn about home renovation, architecture, gardening and travel, and many more. This platform has been a pacesetter for many blogs alike and it reaches more than 2 million readers across the globe.

3. Apartment Therapy
Apartment Therapy is one of the leading interior design blogs that keep you coming back for more. Established in 2004 by Maxwell Ryan. This blog primarily aims to inspire its readers to design healthy, happy and relaxing homes.
In Apartment Therapy, you will find interior design projects' must-see house tours, cleaning and maintenance tips and tricks, and lifestyle content. Apartment Therapy also hosts a peer-pear furniture and decor marketplace. If you're in search of the best deal on unique furniture and accessories, it might be worth checking out for great finds.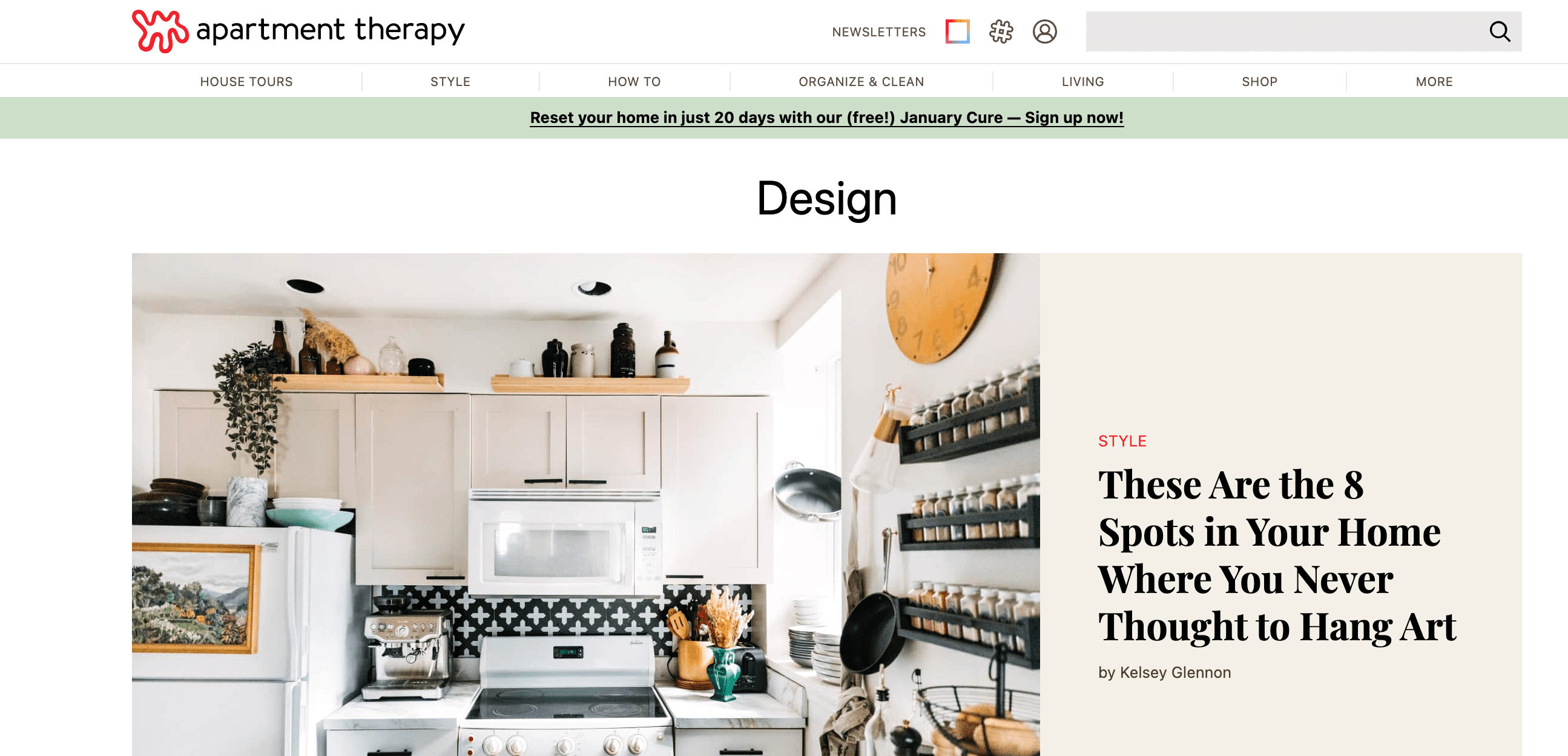 4. Studio McGee
Studio McGee is a brand name that most design enthusiasts have heard about or seen their designs. The story goes back to 2013 when Utah-based married couple, Syed and Shea started sharing their home remodeling and design process on Instagram. Their platform was a source of inspiration for many and studio McGee was birthed.
Their blog and YouTube channel was viral sensation as well. Studio McGee's interior design style is clean modern and highly stylish. Their hit Netflix show "Dream Home Makeover, has given them even more visibility. So get inspired from their blog and let this pair take their home to the next level with their tips and tricks.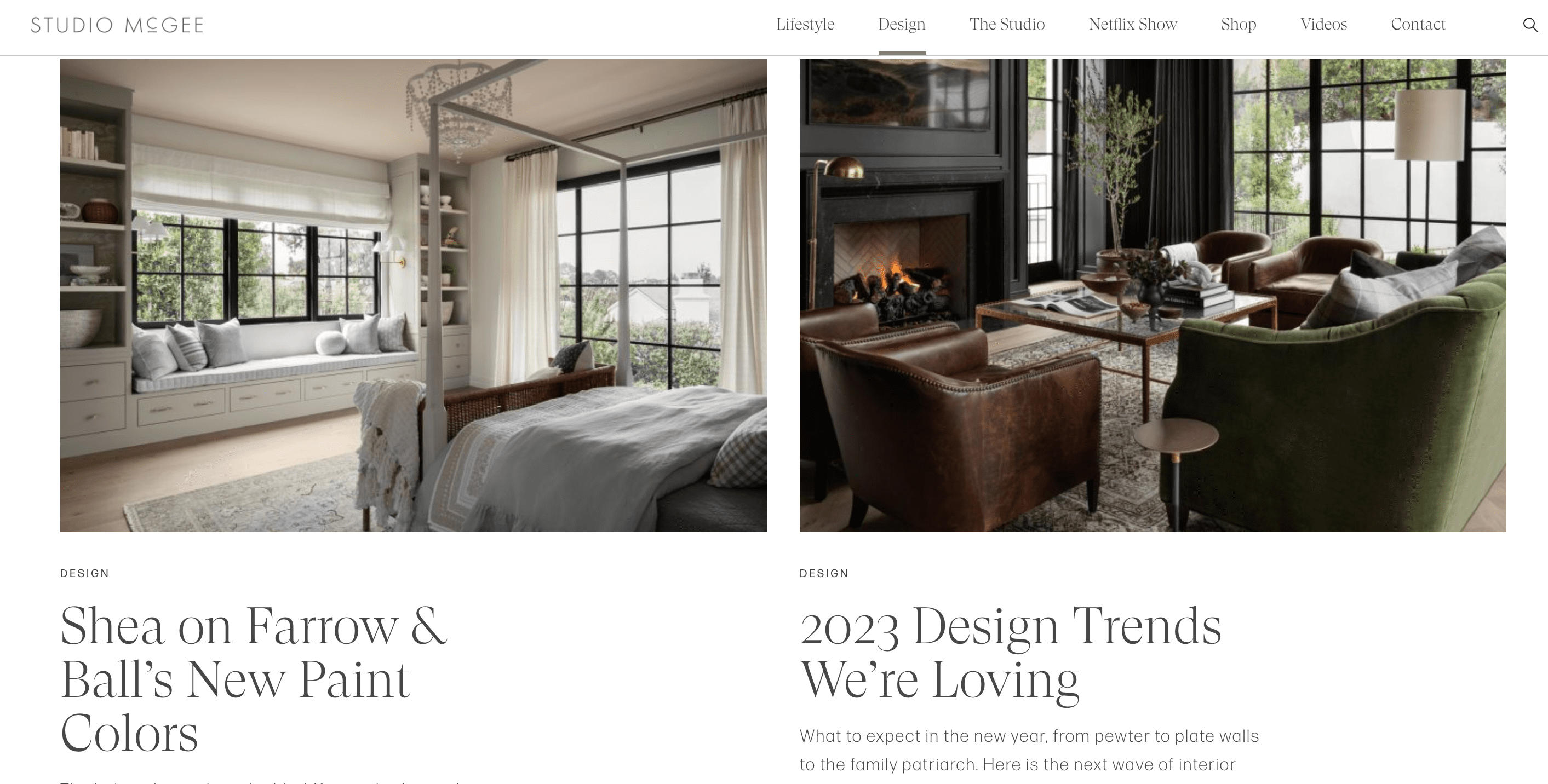 5. Chique Home Living
Chique Home Living is an interior design and lifestyle for all things contemporary homes and lifestyles. The blog was founded in 2019 and our content has gotten better in numbers and quality since then. Of course, WE made the list! Why would you take our list seriously we aren't on it- haha. Our aim for Chique Home living is to be the number one source for modern interior design inspiration and lifestyle.
We share content ranging from interior design, cleaning and organizing, real estate, and lifestyle. Chique Home Living comprises a small team of home enthusiasts and writers. We have thousands of content to keep you inspired and coming back for more.
6. Style by Emily Henderson
Style by Emily Henderson is a great source for trendsetting interior design inspiration and tips. We had no doubt this blog was going to make our list of top 10 interior design blogs in 2023. Emily Henderson created her blog 10 years ago due to her passion for design and style. Since then, she has grown from a small personal blog to a go-to source for daily design style and inspiration.
Here, you can explore her design projects as well, from start to finish.  Style by Emily Henderson's blog features categories such as design rules and trends, design budget mistakes lifestyle, shopping guides, and many more. Her Instagram page (@em-henderson) with almost a million followers also shares amazing interior design inspiration that is worth checking out.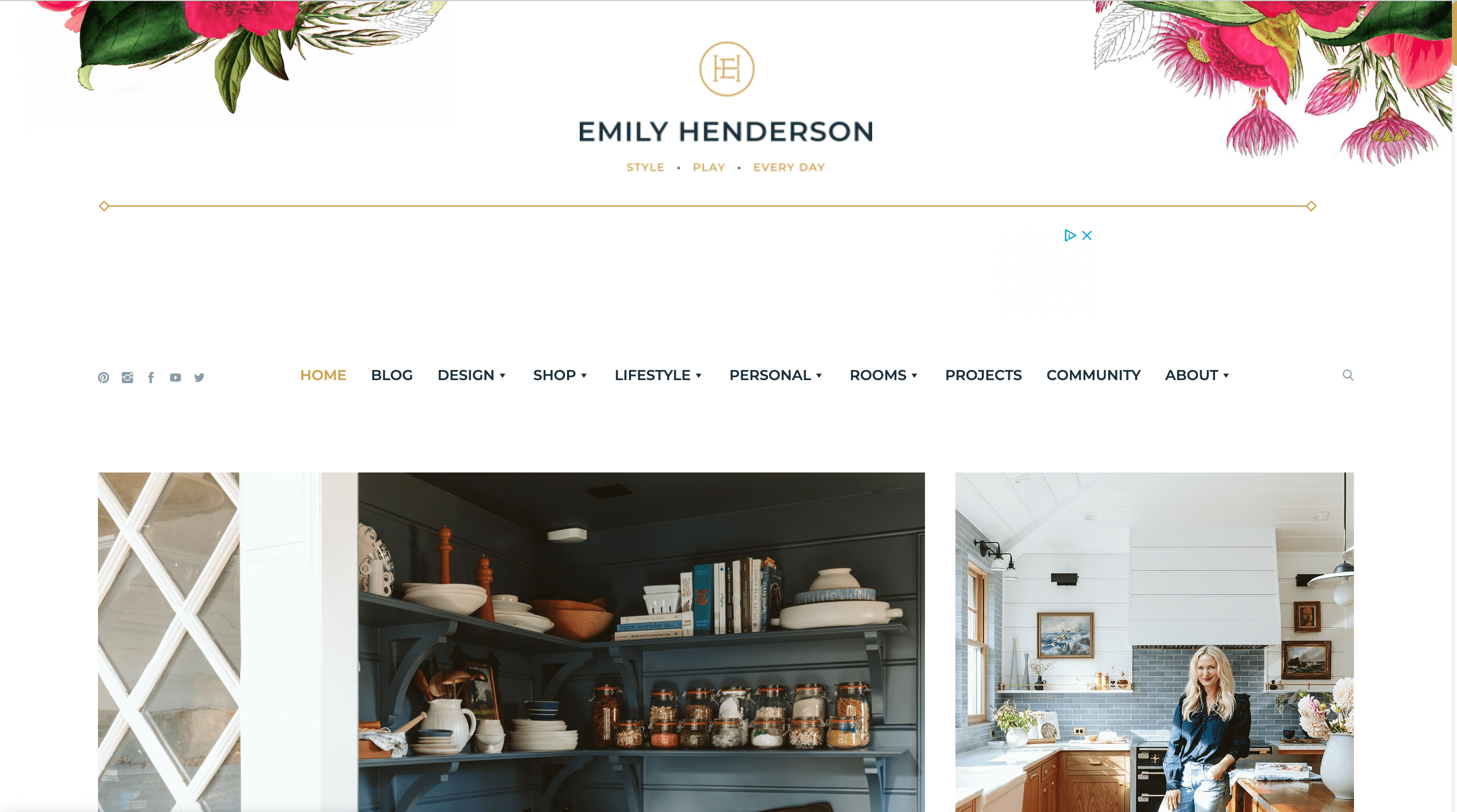 7. COCOCOZY
COCOCOZY was founded by Colette Shelton, also known as Coco in 2008. There are tons of interior design inspiration, tips and tricks, and lifestyle content on this blog. Coco stars in a COCOCOZY Design House, a series on Roku and Amazon Prime and where she showcases her stately California Spanish-style home renovation.
Want to bring your outdated kitchen back to life or add some charm to your bedroom? COCOCODY will inspire you in many ways. Coco is a home furnishing entrepreneur who launched her finishing line Cococozy textiles in 2011 which was described by architectural digest as a "line of chic home accessories".  She was also featured on Forbes Magazine's Top 30 Influencers.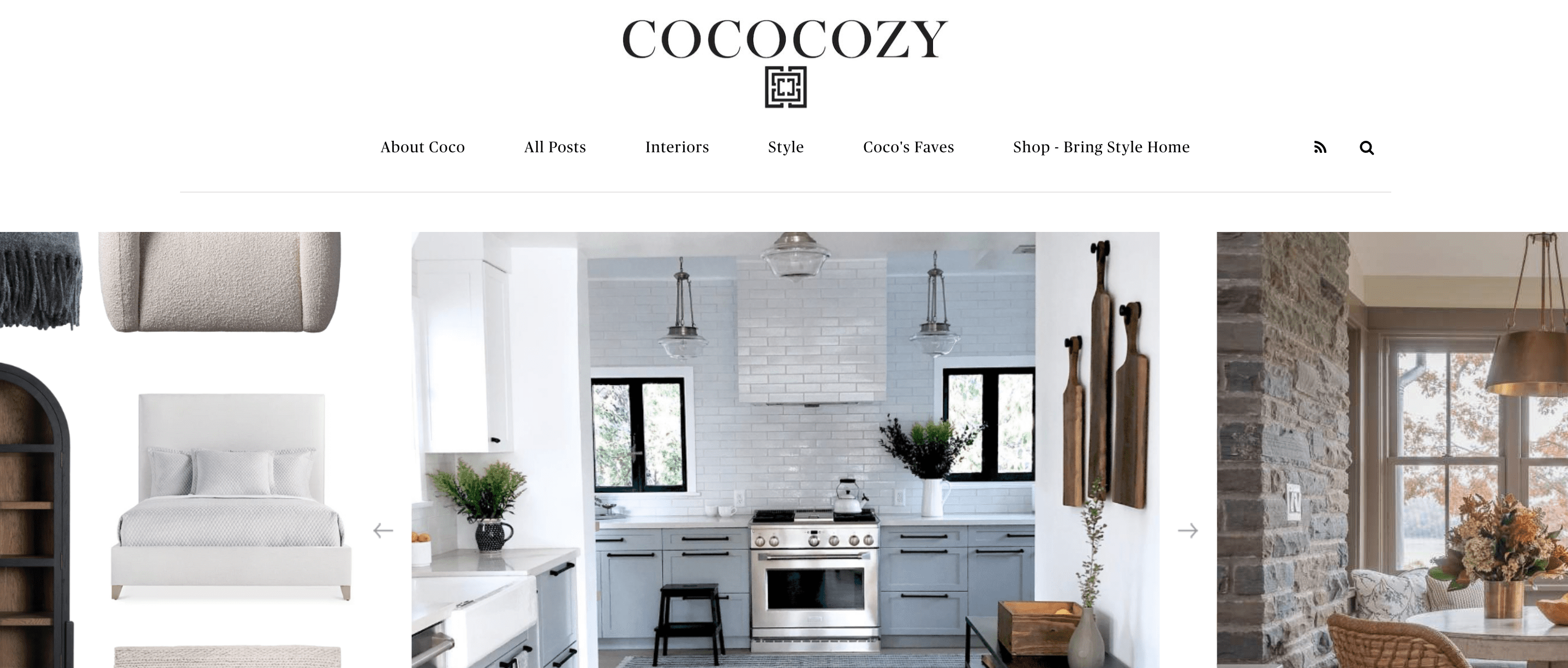 8. The Design Sheppard
The Design Sheppard is an award-winning blog which you draw incredible design inspiration from. The Design Sheppard was founded by Stacey Sheppard, a devon-based interior design enthusiast, and blogger.
Here you can find all things interior design related. From bathroom remodeling ideas to furniture buying guides, you will find great inspiration need here that will leave you coming back for more. The Design Sheppard has been named the "number one interior design blog in the UK" by organizations such as Vuelio and HIBS100.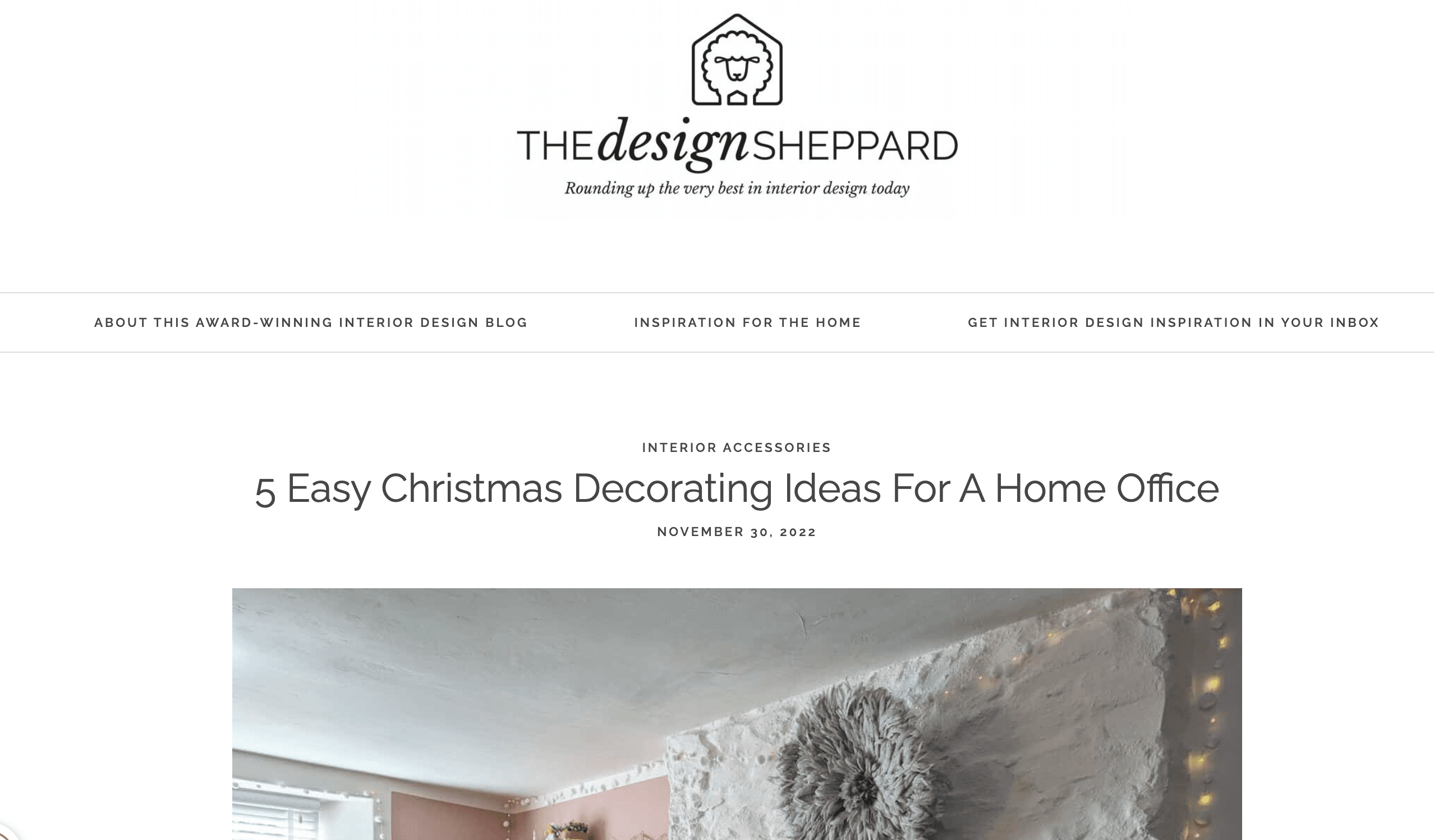 9. Centsational Style
Centsational Style is an interior design and lifestyle blog founded by Katie Riley. On the blog, Katie shares interior decorating ideas, home remodels, and projects of her own on Centsational Style. She is also an avid traveler DIYer as well who she created numerous collections of fabrics and wallpapers.
Looking for chic yet stylish decor inspirations? You will find endless inspiration here. Centsational Style is a blog that true design lovers will appreciate.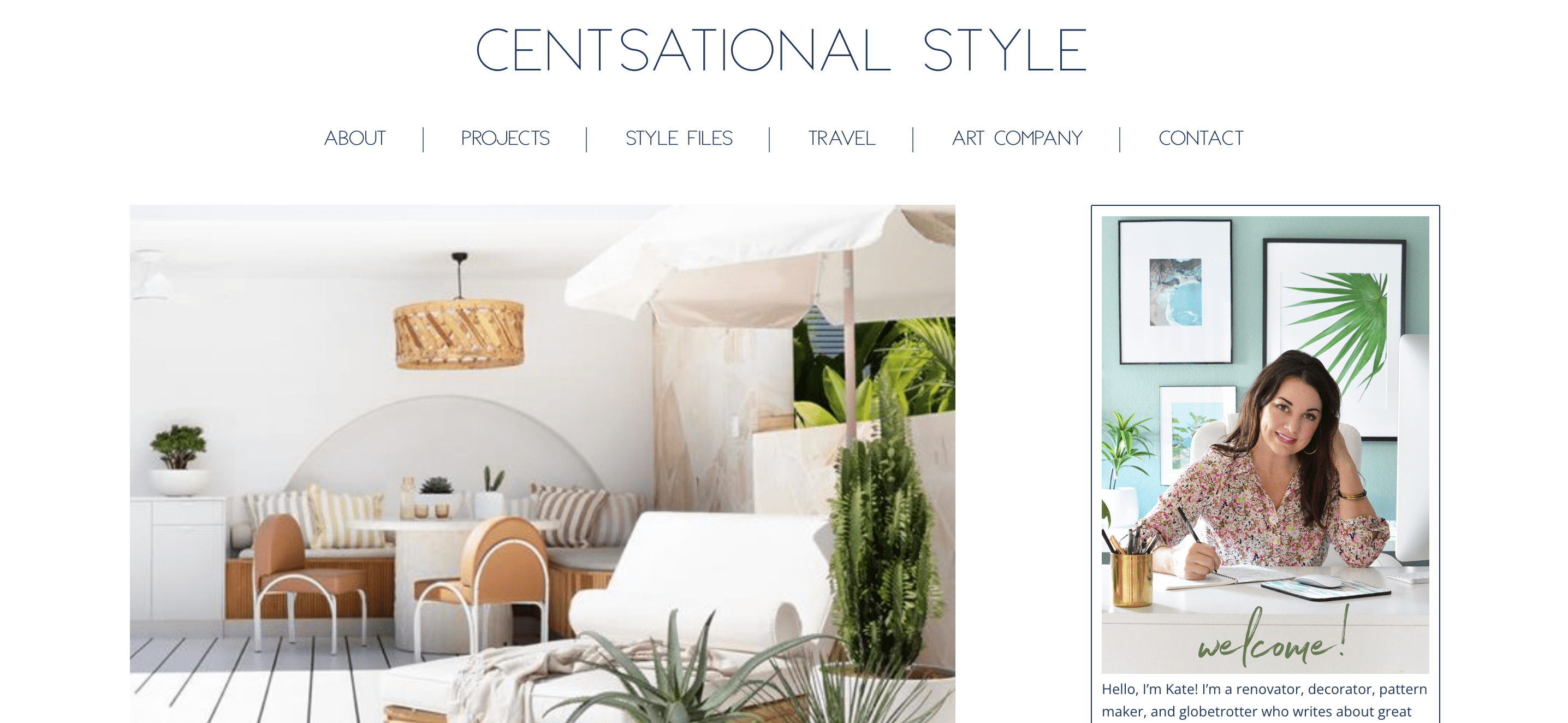 10. Coco Lapine Design
Coco Lapine Design is a Scandinavian blog founded by Belgian designer Sarah van Peteghem in 2011. Since then, the blog has been one of the largest Scandinavian design inspiration catalogs. Her passion for Scandinavian interior design style is unwavering and this is evident in her blog.
Final Note
There you have it! These are our picks for the top 10 interior design blogs in 2023. The design world is continuously growing and we love to see how design trends are evolving and improving. Picking on the brains of interior design geniuses is a great way to brush up on your own design skills and stylish home with minimal effort.
If you enjoyed the article, let us know in the comment section below. Also, read our list of the Top 10 Interior Design Magazines Around the World.