How Backyard Fountains Can Transform Your Landscape
Backyard fountains are a fantastic addition to your outdoor spaces and offer an upgrade for your garden's layout and overall appearance. There are a surprising number of benefits associated with including a fountain in your outdoor landscapes, beyond simple design appeal.
The right fountain will create a relaxing atmosphere and integrate soothing sounds into your space. There are plenty of options when it comes to choosing a traditional or modern fountain, and several things you should be aware of before purchasing one of these decor centerpieces.
Benefits of a Fountain for Garden Landscaping
Garden fountains offer homeowners a number of long-term benefits and can boost the appeal of an entire outdoor area. Most of the time, the fountain design is centered around a pump and pump housing, which recirculates the water upwards or outwards and keeps everything moving.
The basin or basins hold the water before it's again circulated, regardless of the design format. Here are a few reasons why you might want to consider a garden fountain for your space.
An Artistic Centerpiece
Both modern and traditional outdoor fountains offer anyone setting up their backyard landscape an opportunity to integrate an art piece into the design of the garden or patio area. The best fountains carry a luxury appeal and often include ornate stonework, colors, and flow design. Whether your fountain cascades downwards, bubbles, or pours water, it's sure to be a beautiful addition to terms of simple design appeal.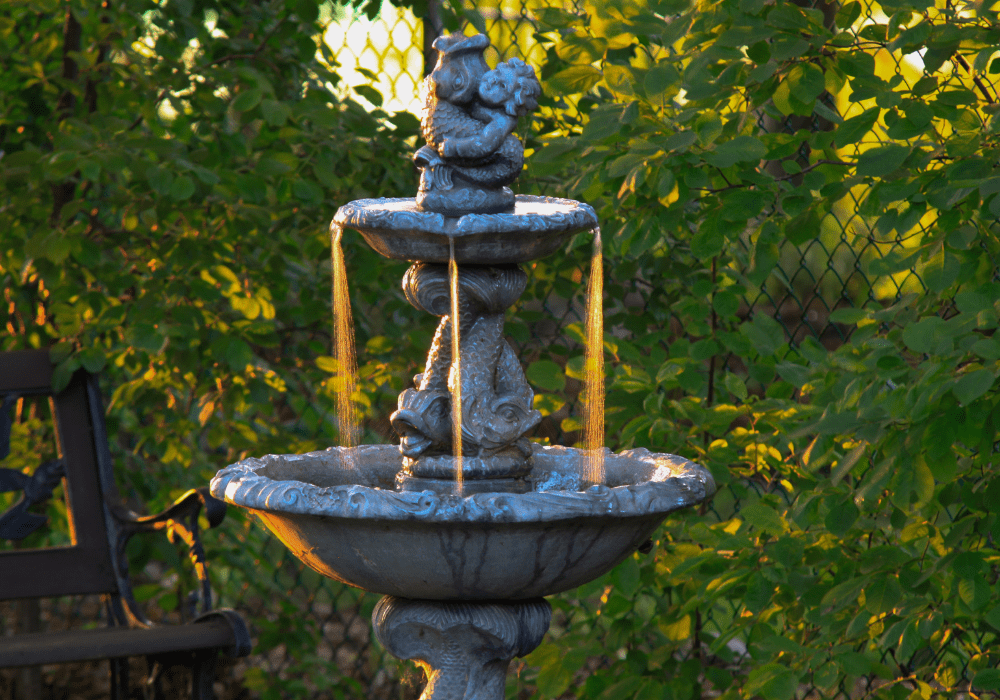 Make Your Space Relaxing
Garden fountains go a long way in making the backyard a more relaxing place. The introduction of water as ambient noise in this space will inspire you to spend more time outside, enjoying the sunshine and smells of your outdoor living space. In fact, many psychology studies have found that simply looking at water creates a soothing effect that increases blood flow to the brain and heart, which in turn generates calm and relaxing feelings.
Attract Birds and Other Wildlife
In many cases, a modern garden fountain carries a similar benefit to a bird feeder or birdbath. You'll attract all types of birds and other wildlife simply by adding a fountain to an area with nearby plants.
However, you'll need to take special care to keep your fountain clean, or you'll attract other less pleasant critters, such as mosquitos.
Reduce Street Noise
Many individuals who are shopping for a fountain are also looking for a way to reduce the volume of a nearby street or highway. Before purchasing a fountain, you may want to consider its volume.
In many cases, the more expensive fountains are the calmest, offering the least noise reduction. Inexpensive fountains from hardware stores like Home Depot are likely cheaper in design but more likely to carry noise reduction benefits.
Increase Property Value
A luxury garden fountain that's fixed in a particular location in your garden can substantially increase your property values if you sell your home. However, the extent of this benefit depends significantly on the quality of the fountain and its artistic appeal relative to other design elements in your home.
Maintaining a Garden Fountain
If you're planning to purchase a garden fountain for your landscaping project, there are a few things you should consider first regarding the maintenance of these installations. A garden fountain is only an upgrade for your outdoor areas if you continue to maintain and care for it.
Installation
The ease of installation for your garden fountain depends on the quality of the product and the energy source required to power the pump system. Low-cost garden fountains often plug directly into an outdoor outlet, requiring little more than an extension cord to get started.
However, for the best garden fountains, you may need to contact an installation service that can lay underground wiring up and water piping into the fountain.
Leaves and Algae
Cleaning out the basin or basins of your garden fountain is an important step in maintaining its visual appearance and value. A build-up of yard waste and other natural debris within the fountain can interfere with the pump system or lower overall water quality.
Winterization
The process for winterizing your garden fountain depends greatly on the type of fountain you have. In any case, you'll need first to empty the basin to avoid water freezing inside the fountain and ruining the pump system.
For freestanding fountains, you can pack up and store the fountain in your garage after cleaning it out. For fixed fountains, you should towel dry or vacuum out the basin and then cover the entire fixture with a tarp or cover of similar material.
Choosing a Fountain Design
Choosing a fountain that fits your space can be a tricky process because there are often too many choices. First, you'll need to choose between a modern or traditional design, with consideration of the color and type of stonework you'd like to see in your garden. Y
ou'll also need to choose between a freestanding fixture and a wall-mounted one. Finally, you'll need to decide what you'd like to see in terms of the water's movement.
Building Around Your Fountain
The appearance and visual appeal of your fountain often depend in part on its surroundings. If you're planning to fill the surrounding area with plants, you might want to consider plants that will directly benefit from the additional humidity.
A garden fountain or breakfast table also makes for a nice addition to this space, as can outdoor lights or lanterns. How you customize this space is up to you!
Conclusion- How Backyard Fountains Can Transform Your Landscape
A traditional or modern garden fountain offers a pleasant upgrade to your outdoor spaces, whether you're looking for a simple improvement to your garden or you're launching into a new landscaping project.
Your space will be more relaxing and welcoming, and the flowing water will create a pleasant ambiance and atmosphere for your backyard.