12 Black Accent Wall Ideas That Will Transform Your Home
Accent walls can transform any room from basic and highly stylish. There are so many accent wall ideas out there today which can make it a bit challenging to pick one. Bland walls are so overused, black is the new COOL! A black accent wall is a statement-making design idea that can be pulled off quite easily.
While black might not be the first thing that comes to mind when picking out your interior colors, they can make a bold impact in any room. Here are twelve amazing black accent wall ideas that will inspire your next home remodeling project.
1. Gold Mirrors
A black accent wall will make most decorative elements stand out especially gold. One of the best ways to style a black accent wall is a making it minimal. Hanging or placing a gold mirror against the wall will help you do just that! Placing mirrors is the oldest trick in the book to reflect light and make any look brighter and bigger.
Hence, a gold mirror will tone down the intensive hue of the black wall and radiate light. From this minimalist dining room, you can see how the space still looks airy and stylish.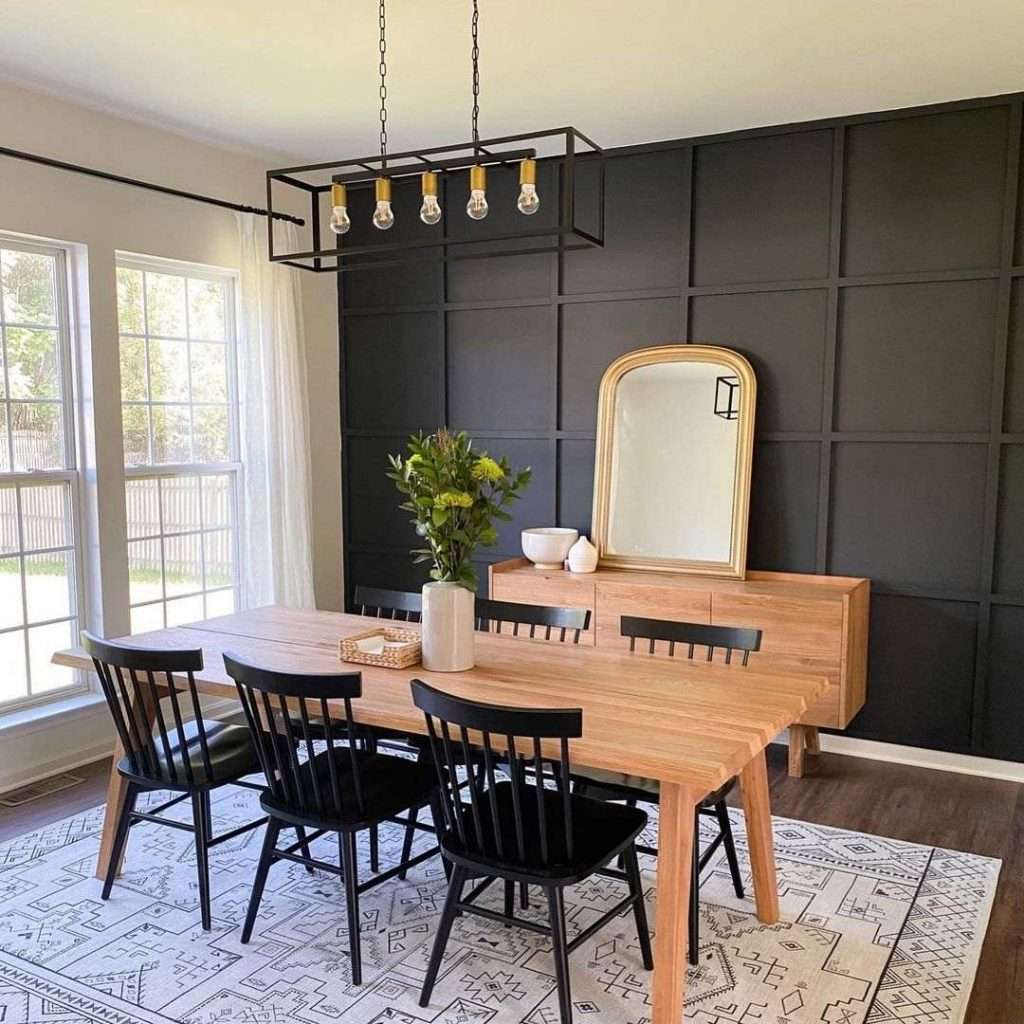 Image source: The Grounded Home
2. Minimal Frames
Black is not the most popular accent wall choice for most owners because they think it's challenging to pull off. On the contrary, it's quite an easy accent wall color to style. Hanging a minimal bright-colored frame will add a touch of style without overpowering the room.
As seen in this bedroom, the textured black wall panels add instant contrast, character, and sophistication to the room, while the wall frame adds some simplicity to it.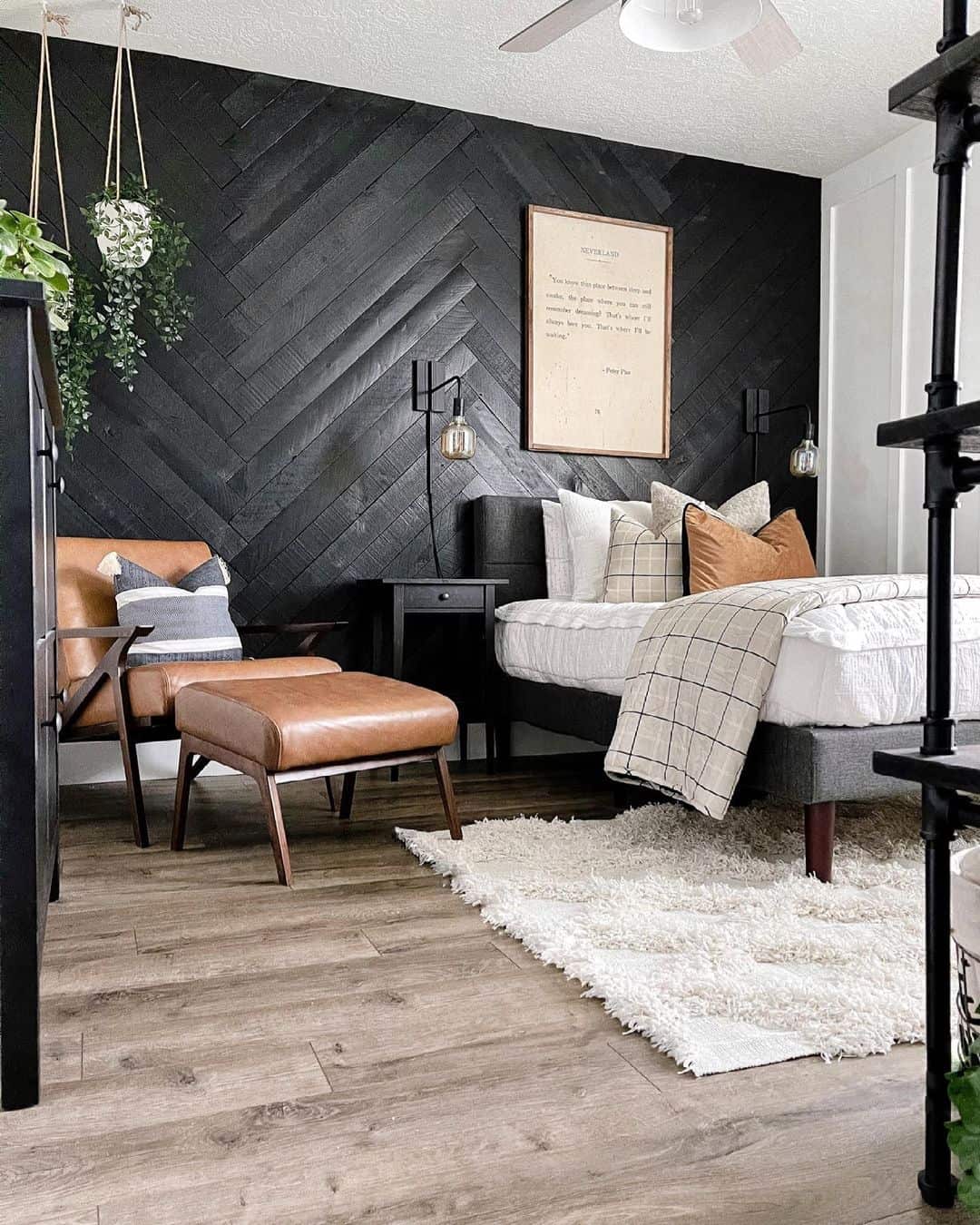 Image source: GREY BIRCH DESIGNS
3. Wine Rack Display
In this dining room a modern take on styling black accent wall. Looking for an idea that stands out and creates visual interest in your room? A wine display wall with innovative usage and design is just the way to do this.
Whether you have a modern, classic, or farmhouse interior design, this accent wall decor style will work exceptionally well. It is a stylish yet functional way to style a black accent wall without overpowering the room.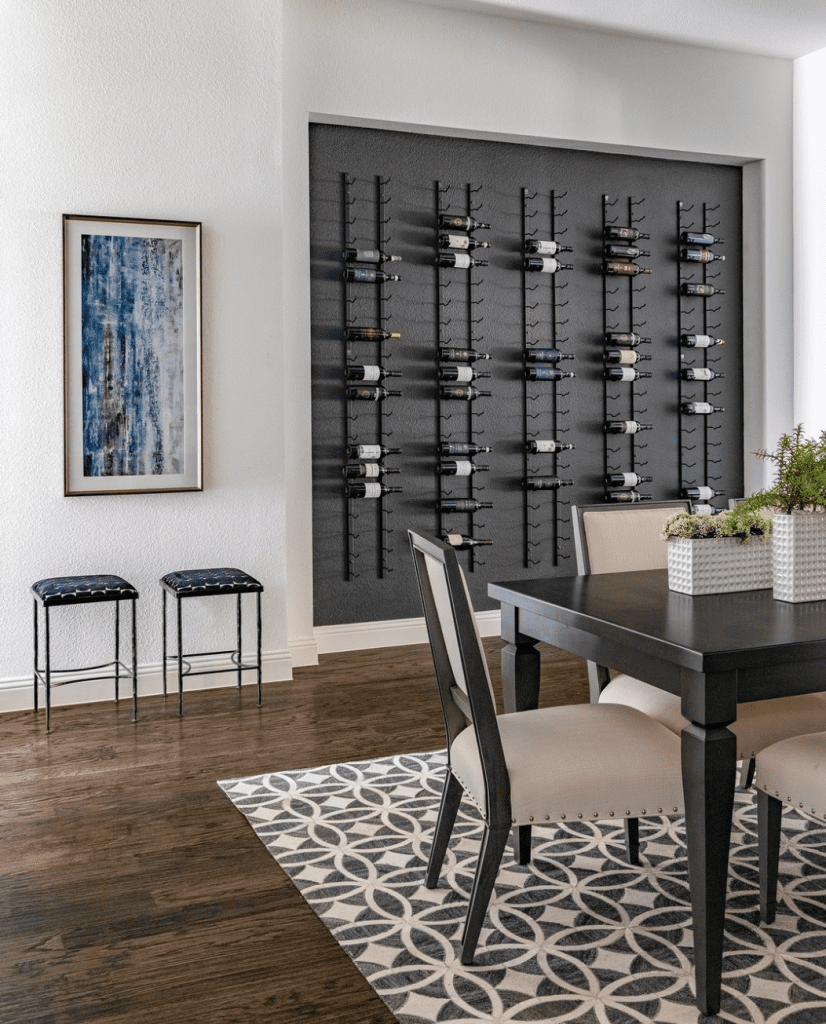 Image source: RI Studios
4. White/Beige Curtains
Black and white are two colors that work well together in the world of interior design. Incorporating white or beige-colored curtains are a great way to style a black accent wall. A dark-colored curtain will make the room look darker while bright colors will reflect natural light.
Just like this living room, to keep things interesting, incorporate a third color to your white and black color scheme to reduce blandness. Decide on a simple interior color palette that works best before painting any part of your wall.
Image source: McGinn Photography
5. Two Sided Walls
Another great way to incorporate a black accent wall in your interior design is not to paint the entire side of the wall. In this living room, we can see how the accent wall is incorporated style and sophistication. The dynamic and crisp look of the fireplace or overall living room is owed to the black panel walls on both sides.
Image source: Valerie Wastcoat
6. In-Built Cabinet
Instead of painting a portion of your wall, you can create a black accent wall by painting your in-built cabinet. This is a less dramatic way of adding visual interest to the room. Then, display bright decor accessories, ornaments, or plants on the shelves to create a beautiful balance.
Image source: Jody Beck Photography
7. High Ceiling Wall Panels
To add character and charm and a big high-ceiling living room, consider a black accent wall. This living room is quite an eye candy and will have less charm without the accent wall. The overall look is simplistic yet sophisticated.
High-ceiling spaces aren't the easiest to style, we hope this one inspires you if you have a high-ceiling home. Nevertheless, this accent wall style would also look great in a low-ceiling space. It's minimalistic and stylish and so why not?
Image source: Roo Country Home
 8. Bathroom Charm
Bathrooms are usually the whitest room in most homes. Black is one of the most unused colors in bathrooms. But boring bathrooms are so outdated. In modern times, many homeowners are embracing black accent walls in bathrooms.
Dark colors make bright colors stand out more. So, a black accent wall can make the whites in the bathroom even whiter. Opt for gold and bronze fixtures to make it even more elegant.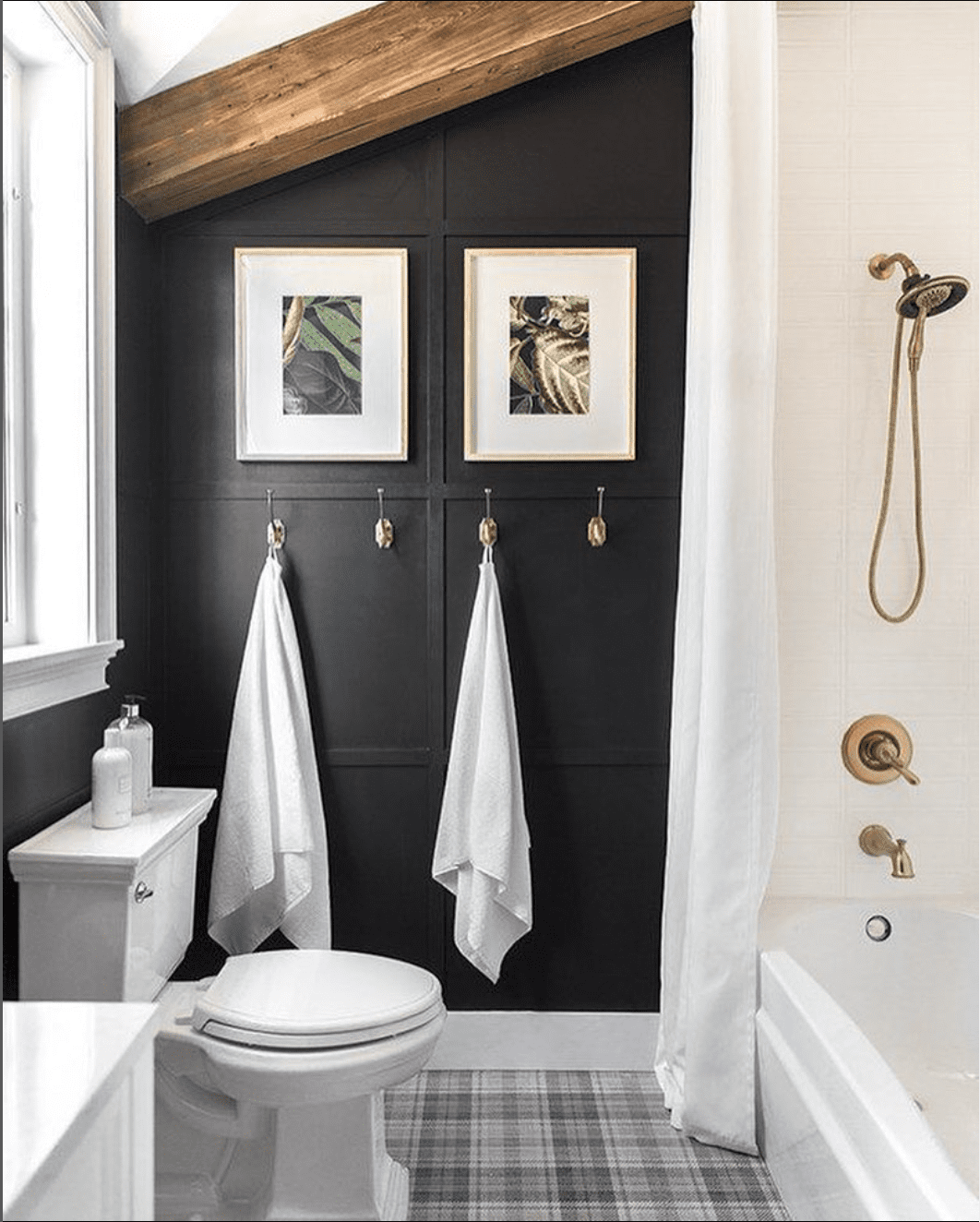 Image source: Jenna Sue Design
9. Metallic Effect
A glossy accent wall with a metallic effect is also a black accent wall idea. For instance, this attention-grabbing hallway looks charming and bright because the glossy effect reflects lights hence making the space vibrant. The plants also add some contrast and style to the space. Just like we mentioned earlier, mirrors are also great for reflecting lights in dark areas.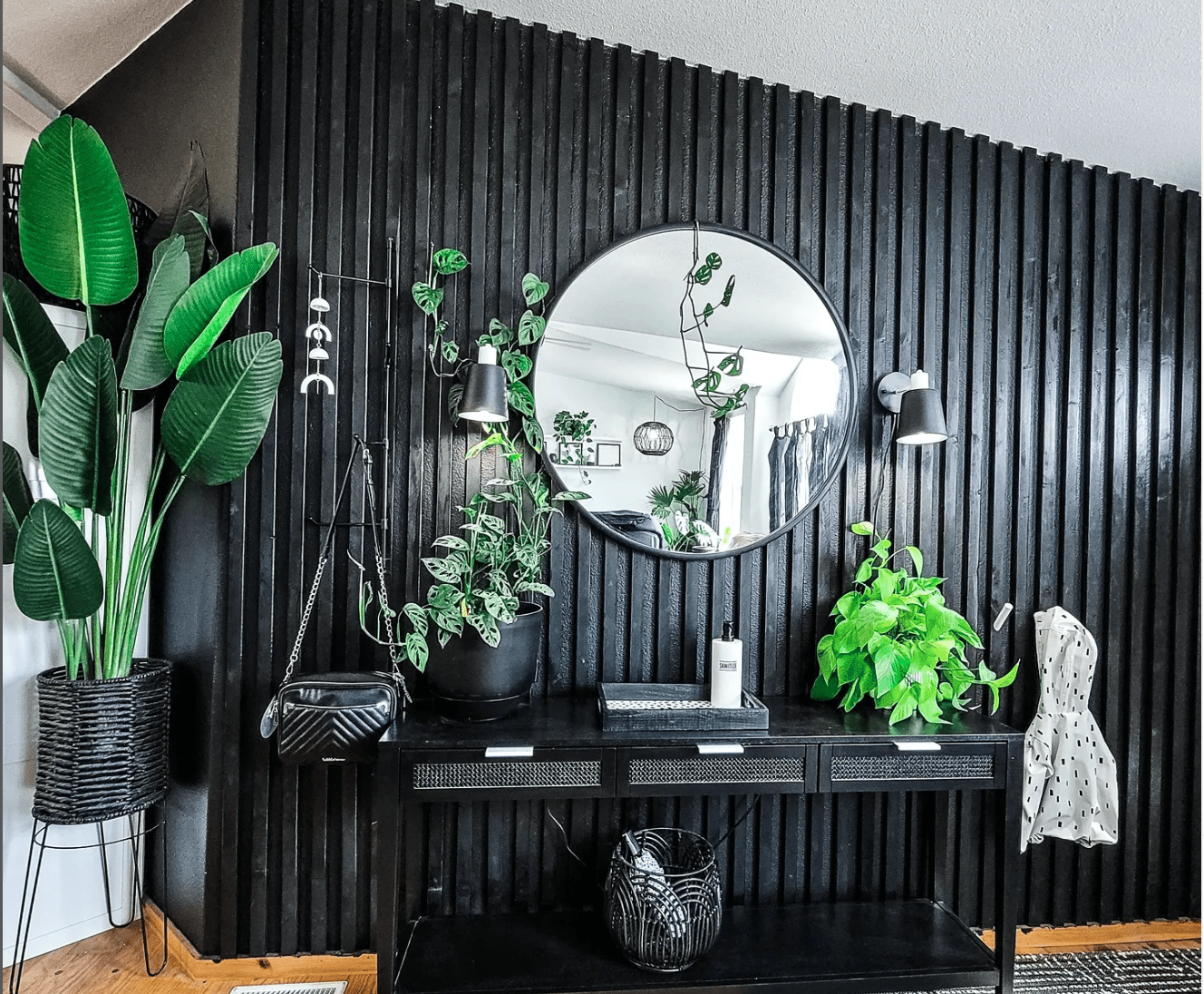 Image source: Laural Mckee
10. Plain Wall Panels
When it comes to black accent walls, it also works great when you leave it plain- without adding any decorative elements. This is because black is already a dramatic color for living spaces. With this, you can focus on making the best of the room aesthetically pleasing and adding charm to the wall by incorporating back in other places as well.
Image source: Beata Rodriguez
11. Maximalist Accent Wall
There are so many contemporary minimalist interior design ideas and so little of maximalist ideas. If you're like many who like things bold and eclectic design, then go all out for your black accent wall.
A great way to make a statement is by adding a decorative element such as bold color wall canvas, mirrors, clocks, and others. Throw in some vibrant colors and Let your creative juices flow!
Image source: Unparalleled Eye Designs
12.

Geometric Twist
To make your black accent wall stand out a bit more, consider geometric-shaped wall panels. This will add a dramatic effect to any room while keeping it stylish and intriguing. This is not an overused idea and this pyramid-shaped design makes it unique on its own. This wall design can also be incorporated in many other colors and still, look great.
Image source: KURATED BY KRIS
Choosing the right colors for your home interior is a big decision that deserves careful consideration. As seen in this article, black accent walls can be incorporated styles in many ways depending on your style and preference. We hope you've found some inspiration here for your home project. For more inspiration, be sure to check out our article on the Top 10 Best Interior Design Blogs in 2023.