16 Drawing Room Partition Design Ideas
Do you want to create a visually intriguing and cozy space for your guests? Check out these drawing room partition design ideas that will add stylish flair to your space! 
A room partition or divider is designed to break up spaces in an open-plan room and to make a space feel more enclosed and private. They also double up decor while creating a warm and cozy atmosphere.
Room partitions allow for a large room to serve as two or more rooms. In addition to this, it creates an illusion of more room square footage.
There are various materials that can be used to create a room partition, such as glass, fabric, wood, steel, and many more.
The primary purpose of a drawing room is to entertain guests. It makes sense to consider style and your privacy needs when designing this space.
Read on to explore 16 incredible drawing room partition designs.

1. Add a touch of glamour with a golden gate partition
Brass and gold are a timeless addition to interior spaces. This drawing room design idea creates a feeling of luxury and glamour.
Gold also adds an understated beauty and warmth to a space. Look no further than a golden gate room divider to add sophistication to your interior scheme.
2. Opt for a plant pattern wrought iron divider
While the primary purpose of a room divider is to create sections, it is also important to make it stylish as it can elevate the look of the entire space. A plant pattern design creates an artistic beauty and a sense of nature.
3. Use a wooden folding screen room divider
Add a rustic feel to your drawing room with a wooden folding screen room divider. This type of drawing room partition design enhances the privacy of the space with its frames.
It helps to create a relaxing cozy atmosphere. The hinges make it easy for it to be folded and put away when not in use.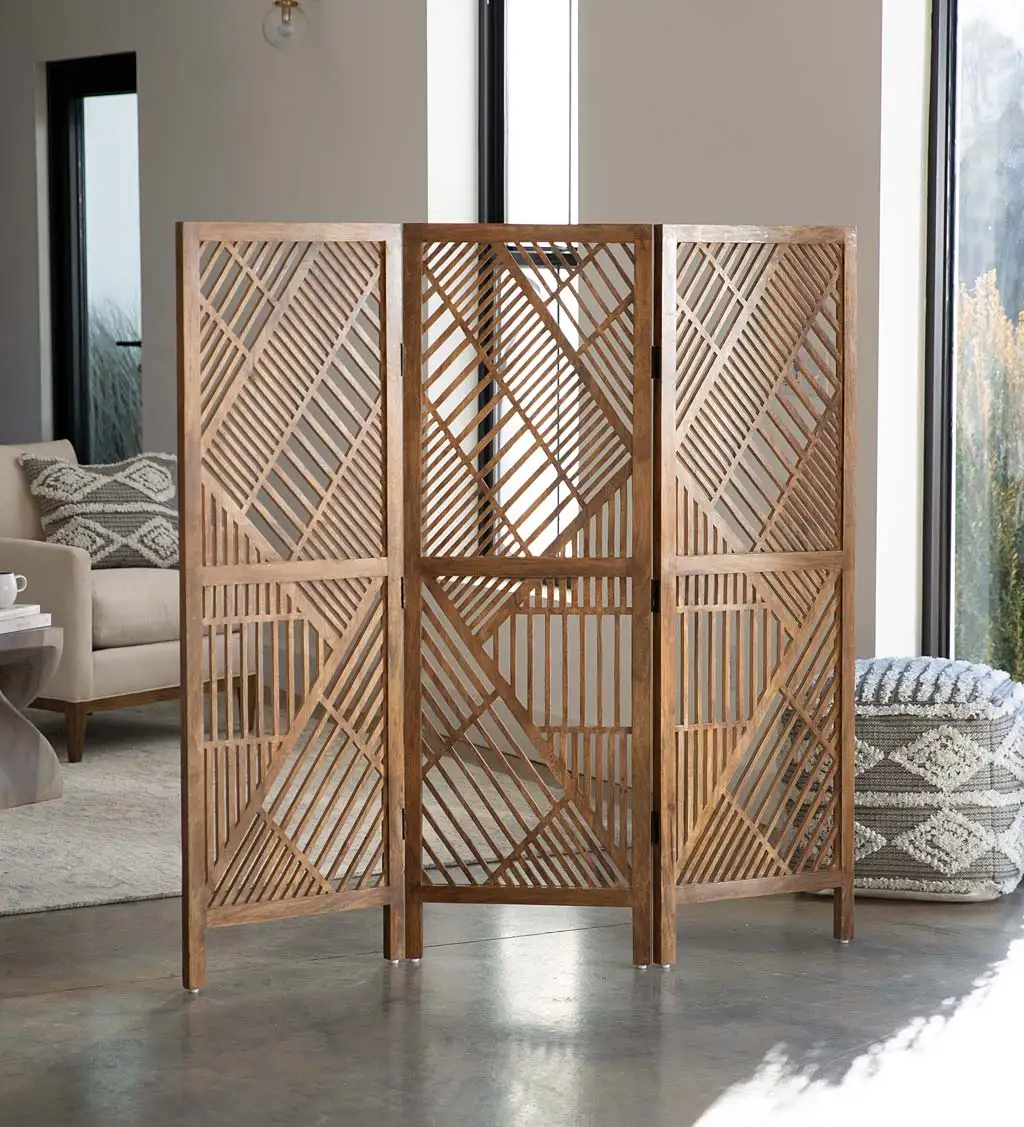 4. Bring nature in with plant boxes
Plants are known to purify the air and liven up a space but they also add a stylish flair and a punch to the color scheme. You can opt for wooden tone vertical panels and plant boxes or simply paint them a different color to serve as an accent wall.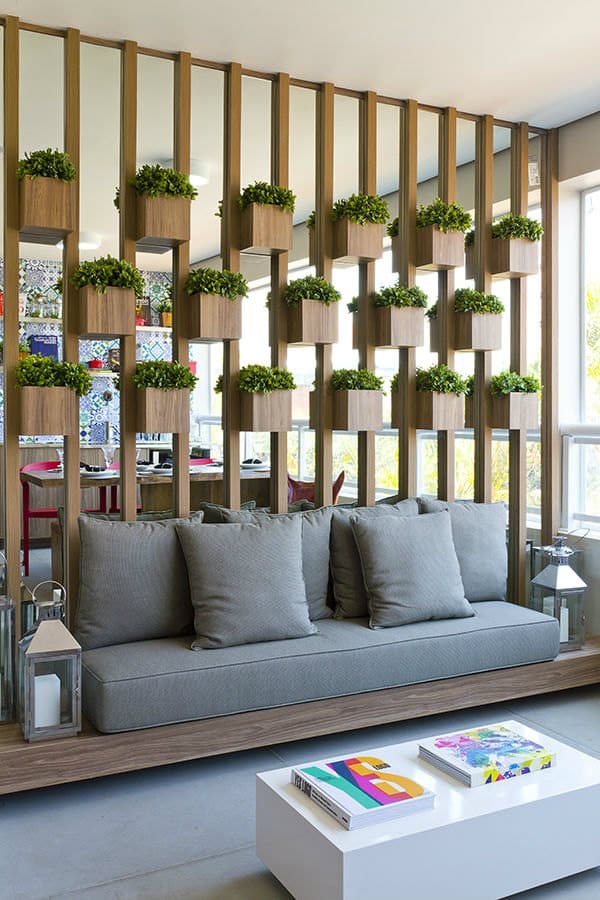 5. Express your aesthetic with a facet hanging divider
For contemporary drawing room partition design ideas, the facet hanging divider should be on your radar. It is practical, sleek, and beautiful.
The facet divider is simple, lightweight, and compact.  It is a sophisticated way to double the use of a room.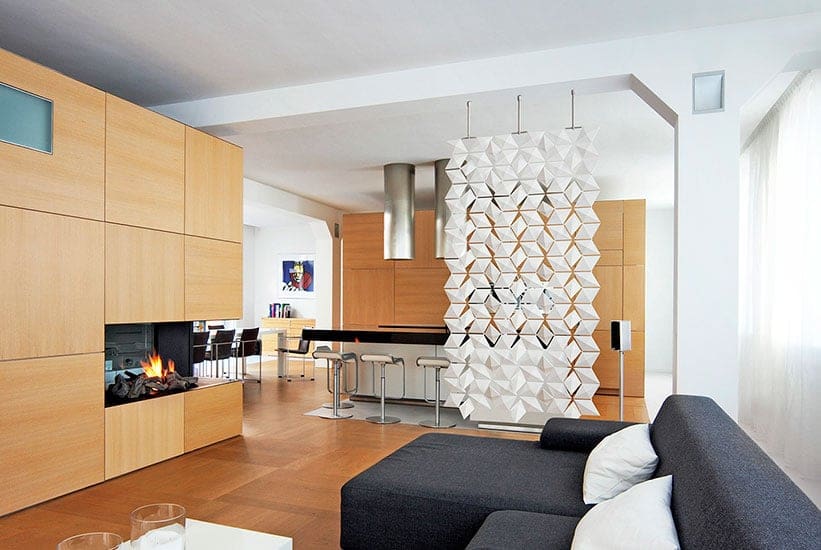 6. Consider a steel shelf partition
Steel has several advantages over most other materials, including stability, durability, and dependability. A steel shelf divider is a great drawing room partition design idea if you want a space that can satisfy multiple levels.
You can also display books and decorative ornaments on this shelf to it more practical and stylish.
7. Use a vertical wood panel divider with plants in between
Plants and wood make a space feel more intuned with nature. They also add beauty and liveliness to a space.
This divider design is great for adding beauty, style, and warmth to your drawing room.
8. Keep it interesting with a twisted rope divider
A twisted rope room divider adds uniqueness and charm to a drawing room. They are also an excellent way to inject color into a space. Plus, it is a real eye-catcher.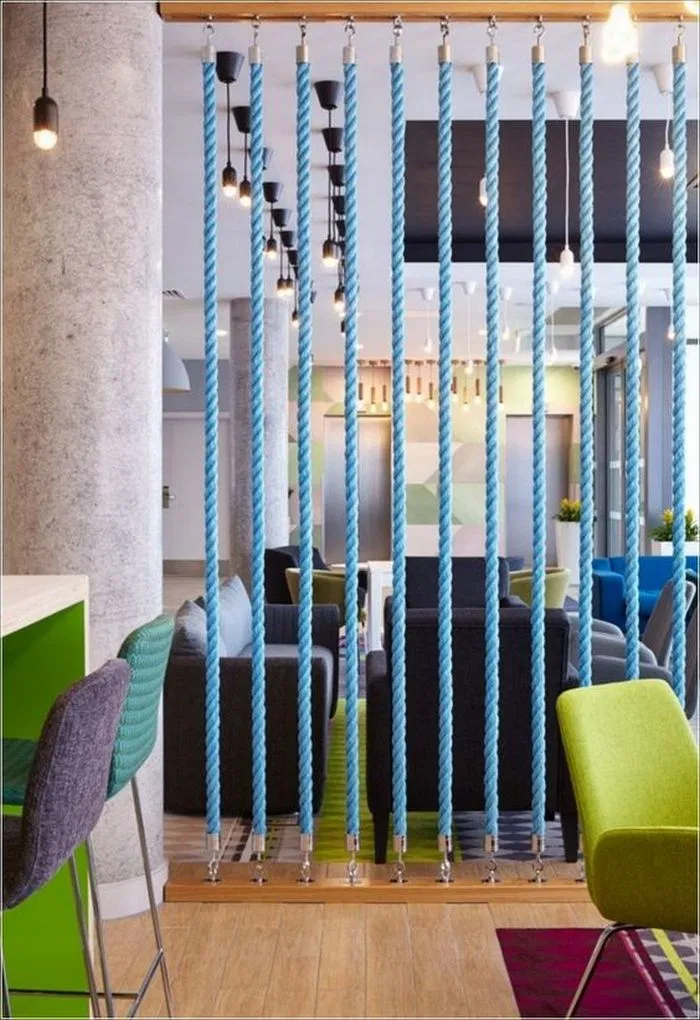 9. Add interest with steal and wood room partition
Using varying materials is a great way to keep the drawing room dazzling. This is a simple way to add warmth and sleekness to the space. The room partition can easily serve as a focus point.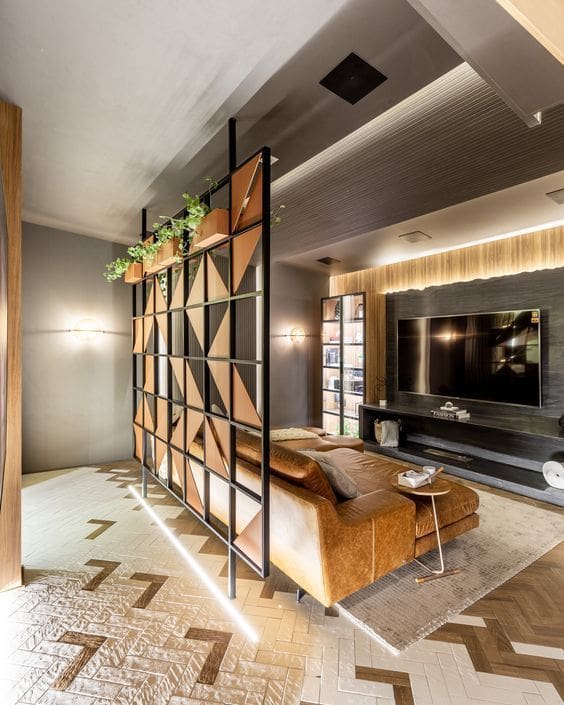 10. Bring in a sense of nature with tree branches
Evoke a sense of nature and rustic touch with tree branches. Not only does it make the space feel more characterful but it adds uniqueness to the space.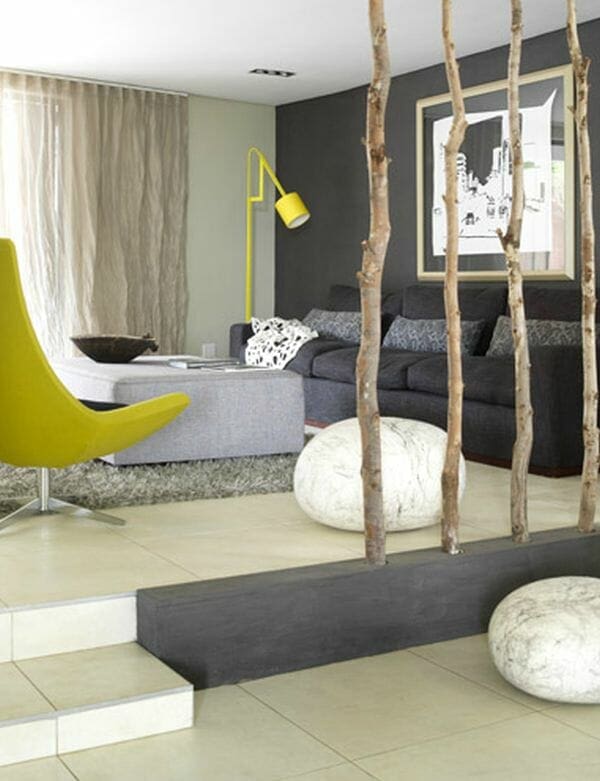 11. Add a rustic touch with tree stump boxes
Wood is a popular material used in creating most room dividers and feature walls to give a room an accent.
A tree stump box divider is extremely sturdy and long-lasting, and it blends in with almost any interior type.
12. Use a bookshelf room divider
A bookshelf can be a multi-functional piece of furniture. This is a popular drawing room partition idea that never fails to please.
However, make sure you opt for a slender and sturdy bookshelf. It is also crucial to ensure that it is mounted properly to minimize the risk of it falling.
13. Add a contemporary feel with a glass divider
A glass partition is great for dividing a room and making the room separate without sacrificing natural light. This idea is great if you want a space that feels bright and airy.
A good flow of natural light makes a room feel more spacious and open. For an extra layer of privacy, consider a frosted glass divider.
14. Add beauty to the space with a white artistic divider
An artistic partition adds that extra instant hit of interest and satisfaction to a space. White or other neutral is a good color choice to consider. There is a cornucopia of options to complement your interior style.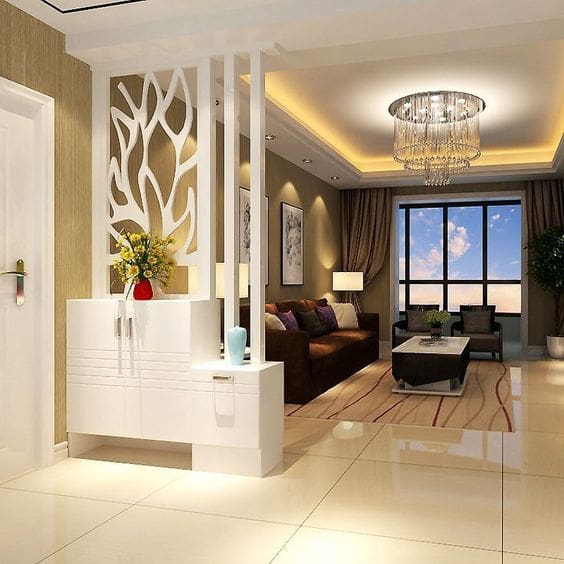 15. Add interest with a hand-carved divider
To add that drama, impact, and of course, privacy to a drawing room, consider a hand-carved design. A room partition is solidly built and hand-carved with lovely designs, significantly adding to the privacy screen's appeal.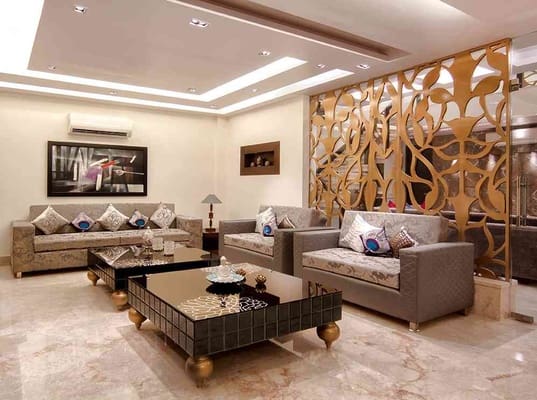 16. Create oversized hardwood partition wall
Hardwood partition walls are a versatile and beautiful way to divide up your drawing room. This type of room divider provide a wealth of advantage, including splitting up huge rooms to create more intimate drawing room room, as well as adding visual appeal and a rustic touch to the space.