5 Tips For An Eclectic Bohemian Design Style
The Bohemian design style, also known as boho style, started making its mark in the design world since the early 21st century. But what is a bohemian style? The word Bohemian means 'a socially unconventional individual, especially those involved in the arts, making it an extraordinary design option for a vibrant and aesthetically pleasing space.
A bohemian decorating style is all about character and maximalism. It features bright, bold, patterned, and a variety of multi-cultural elements that are usually artistic and unique. Bohemian-inspired rooms are often chaotic and cluttered, but it can make a home fun and full of visual interest. This boho decor style might be perfect for you if you like bold, chaotic, eclectic, and unconventional interiors, or if you simply just want to give your home a personal touch.
The bohemian-style decor is also pretty easy to execute, believe me, anyone can pull this off!. When it comes to the bohemian style, more is more! The design rules do not apply. Here, we've put together 5 key elements that you need to pull off an electric bohemian decorating style.
  1. Rich pattern and color
Keep in mind that there are no rules to a bohemian decor, however, one of the key elements in a bohemian-inspired decor is a bold and vibrant color scheme. Although a bright and vibrant color of any shade can complement a bohemian room. Warm earthy colors, such as deep orange, brown, deep purples, as well as jewel and metallic tones, gold, electric blue, pink, are the most common in boho-decor.
Layering and combining colors and patterns is what makes a bohemian style unique. Go for hues that you can keep present with all your elements and can always come back to. Start by choosing a base color, then a few complimentary colors. Make sure your color theme is consistent to avoid a disjointed feel.
Let your creative juice flow! Have fun with mixing and contrasting patterns and textures. Do not be afraid to mix patterns that might not necessarily go together in a conventional way but adds personality and maximum interest to your interior.
Do not pay too much attention to how well they match, if you like it, then go for it! Consider using dyed patterns and textiles from different parts of the world. One way to pull off an eclectic bohemian design style is to use cotton alongside, corduroy, faux fur, and satin to easily create that lush bohemian vibe.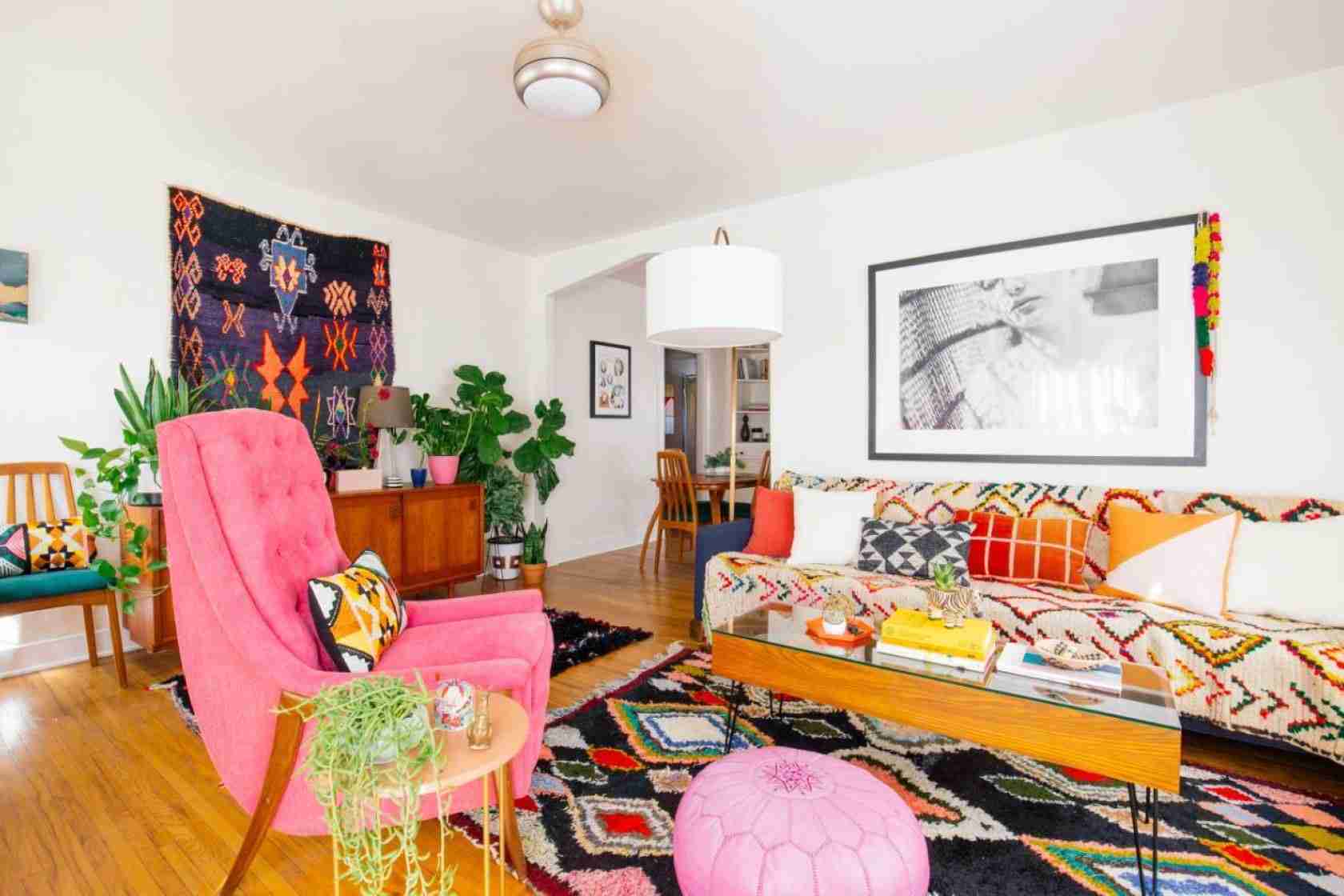 Image Credit: Jungalow
  2. Accessorize Artistically 
Go bold with artistic pieces! Artistic accessories will add maximum interest to your home. Bare walls are contradicting the purpose of bohemian decor, so hang up unique and artistic artworks, vivid tapestries, or wooden wall arts. Don't worry about mismatching and cluttering your walls. The idea of bohemian decor is to allow people to express their artistic side.
It embraces individuality! That's why it is rare to see the same bohemian-inspired room twice. Bohemians were known for being nomads, traveling around the world, and collecting items that tell the story of each culture. If you travel a lot, consider collecting unique pieces and make a collection to display.
Accessories are a great way to tell your story that will intrigue your guests. You could collect items such as vintage bottles, souvenirs,  maps, or mismatched china- whatever suits you fancy and reflects your personality.
Boho style embraces bold and excessive accessories and colorful throw pillows are a great way to add an accent to any room. Consider mismatching colorful patterned pillows. Boho style embraces bold and excessive accessories. Place a colorful bohemian area rug in your room and consider layering the rugs.
  3. Botanicals 
Bohemian decor is hardly complete without the presence of plants. When it comes to plants, the more the merrier! So, add lots of ferns, hanging-plants, or any kind of plants! Don't panic if your room starts looking like the jungle, that's is just how you pull off an eclectic bohemian design style. This is a key element in a bohemian-inspired room.
Embracing the natural world is central to this style, not only do greenery help bring the outside world in, but it can bring any room come to life, add an energetic quality, and improve the air quality in the room.
In addition, consider peace lilies and Philodendron plants as they look great and can survive in a variety of temperatures and light levels. Succulent is another great choice as it is eye-catchy and comes in various textures and colors.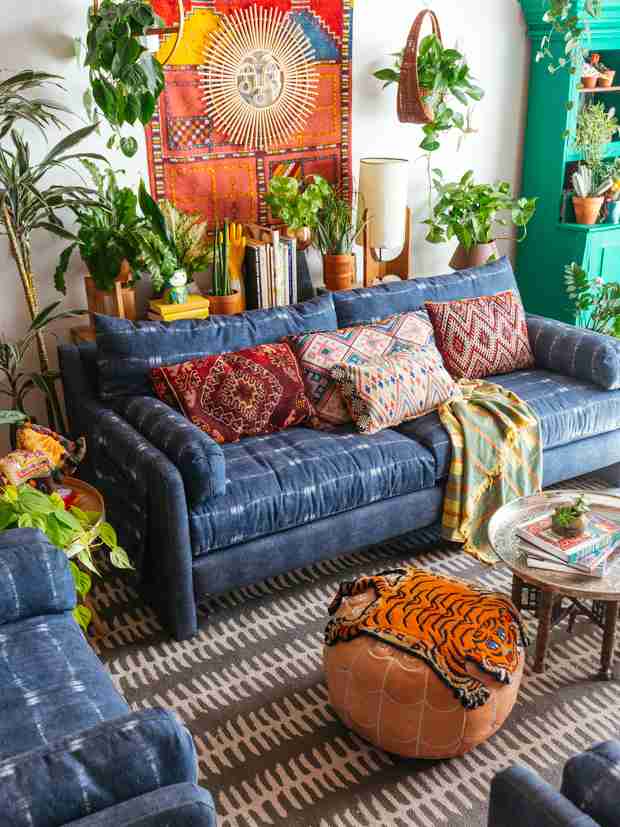 Image Credit: Jungalow
  4. Vintage flair
Vintage items are signature Boho embellishments. Just like combining different colors, patterns, and textures. A great way to execute bohemian-inspired decor is by combining old and new. So display vintage, antique or good condition second-hand pieces to add character and a soulful element to your room. Also, display contemporary pieces at the same time to makes each item pop in an unconventional and interesting way.
Old and extremely uniques pieces can be found in thrift, antique, consignment, or vintage shops. So, consider going to garage sales around your neighborhood or antique auctions for uniques finds.
Antiques furniture and accessories are usually of very good quality since they've been made to last for many years, so you can be assured of its durability. Most of these items are even a lot cheaper than contemporary items, and most times, you can get a good bargain for it.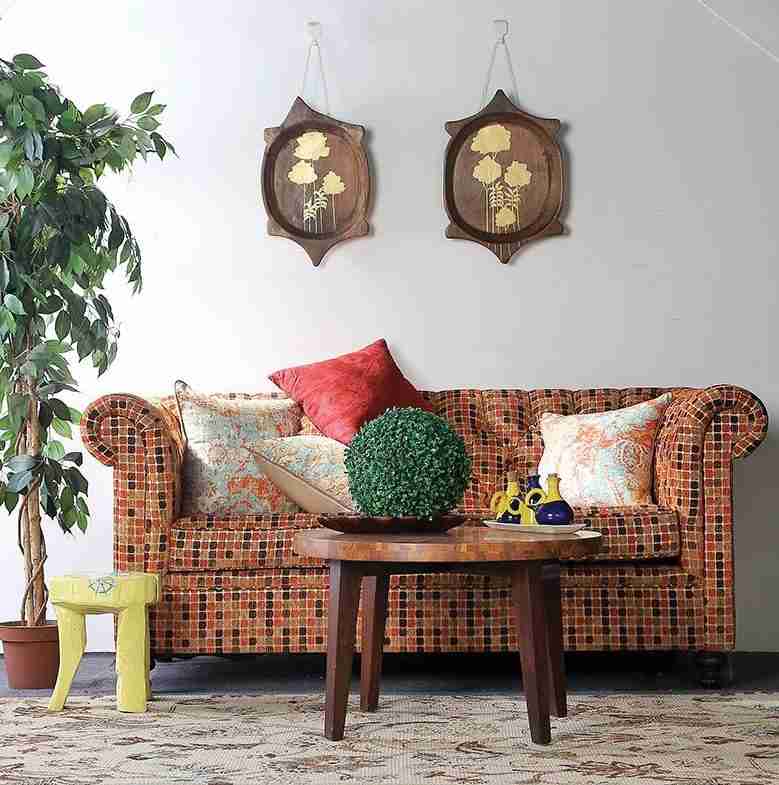 Image Credit: Jungalow
  5.

Mid-Century Modern Lighting
Another important element you need to incorporate to pull off a bohemian design style is mid-century modern lighting. This will not only bring an instant sophistication factor to your interior, but it will turn your room into a true showpiece.
If you are the type to loves retro but at the same time prefer modern-day conveniences, then consider installing plug-in scones- these are inexpensive and you can fix them yourself. Consider layering your lighting as it will unify your bohemian-inspired room.
Try to decorate your room with multiple lights, such as candles, floor lamps, lanterns, table lamps, rather than overhead fixtures. Luckily for you, there are so many lightings today that come in different colors and shapes that will complement your boho home. So, you will always find the right mix-and-match look for your home.
Image Credit: Jungalow