Top 10 Storage Hacks for Small Bedrooms
Small bedroom spaces can be very demanding. It requires great organizational skills to be able to maximize your small space, thus making it comfortable and aesthetically pleasing. It can be tempting to leave your bedroom messy and full of clutters, since you don't entertain visitors there, unlike the living room. But having too many belongings in your bedroom makes it difficult to move around, and it will only get worst if you do not know how to declutter and take advantage of smart storage systems. Well, the good news is that you are here now! We've rounded up ten storage hacks for small bedrooms to help you make the most of your space.
1. Opt for a storage bed
Let's face it, the bed is the biggest piece of furniture in the room and it takes up more floor space than any item. Now, since you want your small bedroom to be well organized, the smartest thing will be to invest in a bed that has a storage space underneath. With a storage bed, you can store bulky bedding, shoes, winter coats, clothes, duvets, etc.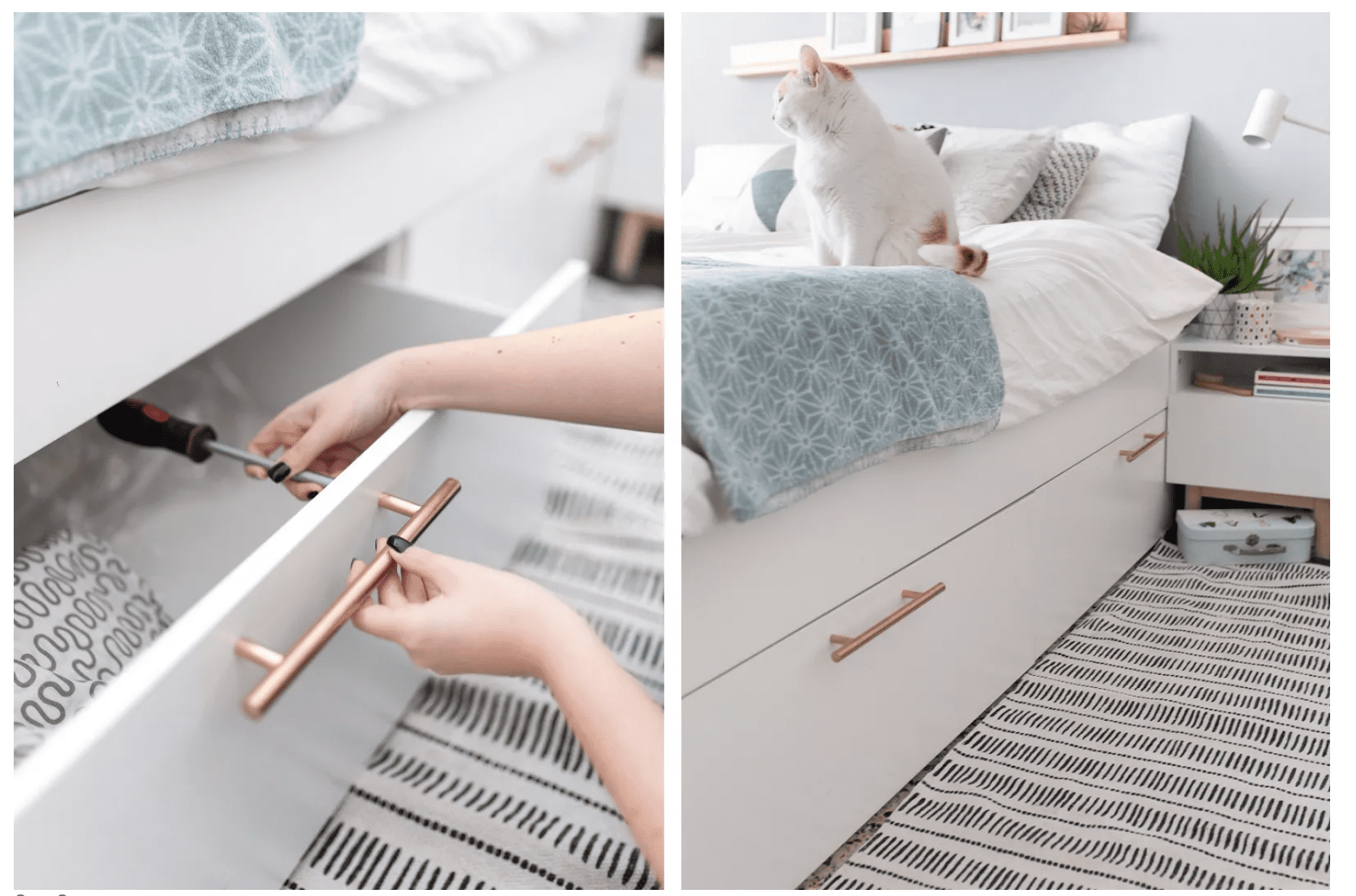 Image credit: Spruce Home
2. Take advantage of the space under your bed
This is the oldest trick in the book. If you already have a standard bed that has some space underneath, don't let that space go to waste! You can make the most out of it by placing crates or storage boxes so you store items in it whilst keeping them free from dust. This is will help keep your room tidy. If you do not have space underneath your bed, consider buying risers that go under each leg of your bed. This will raise your bed further up the floor, giving you some space to store things underneath.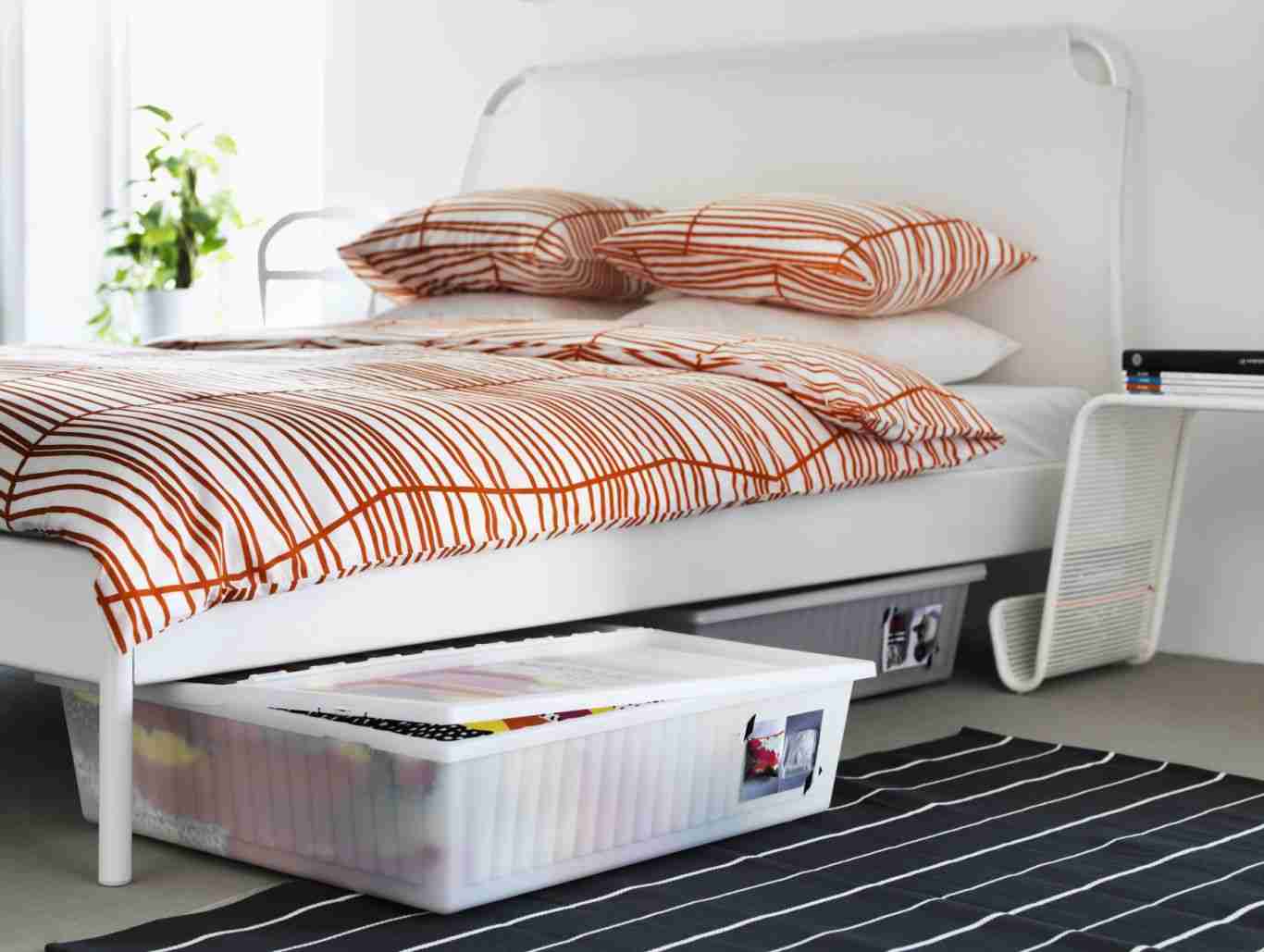 Image credit: Ikea
3. Opt for a bed frame with headboard storage
The less furniture you have in your room, the more organized and attractive it will look. So, take advantage of your bed yet again! There are so many headboards that come with shelving. A single shelf could hold your bedtime books, clock, and even your decorative pieces, but headboards with multiple shelves could accommodate your clothing or other small items.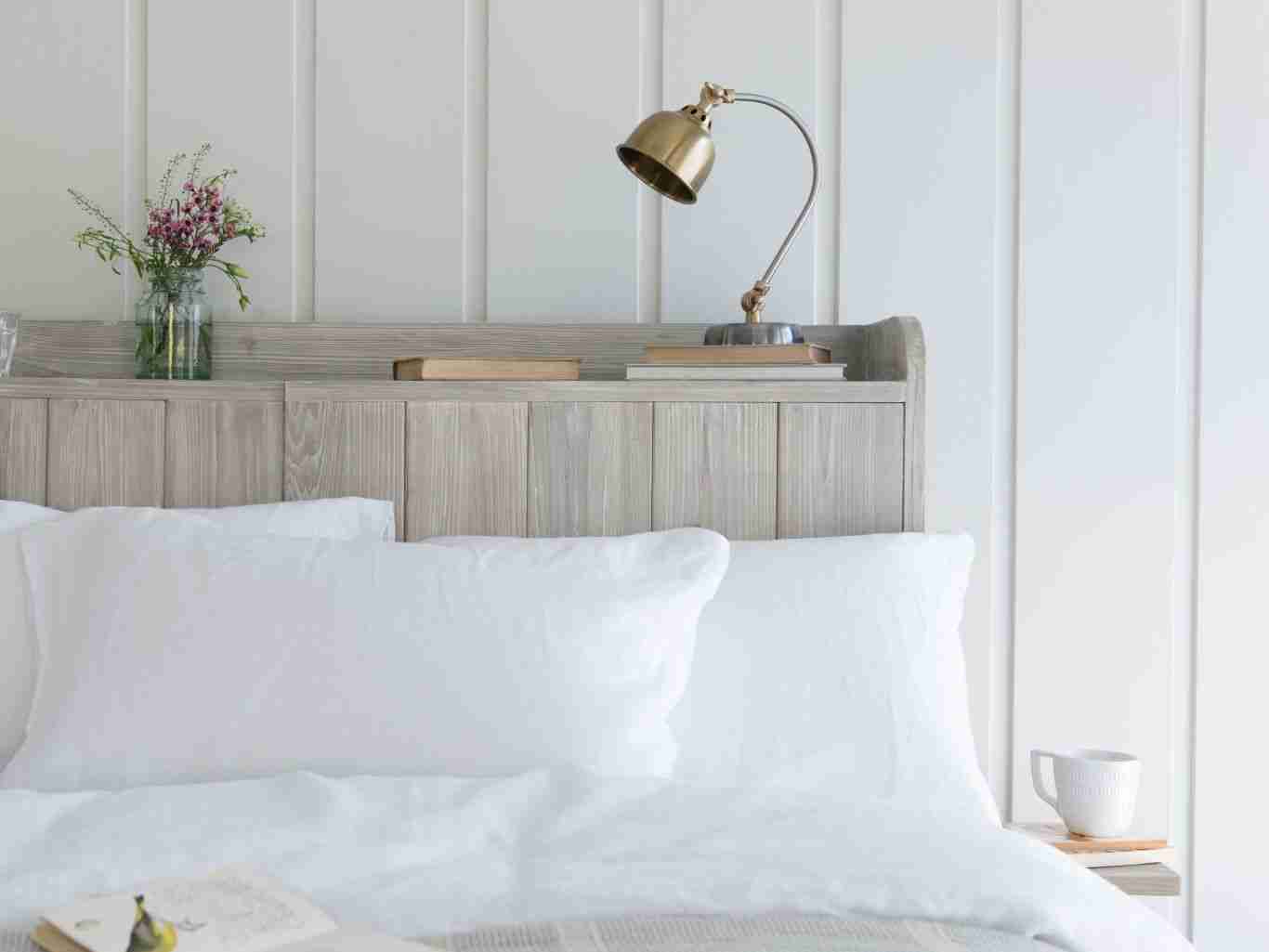 Image credit: Loaf
4. Place a Bench Near the Bed
If you happen to have some floor space, then consider placing a small wooden bench at the front of your bed. You can use this to store items such as books and everyday must-haves. Additionally, you can place decorative pieces on it and a couple of baskets underneath to store spare pillows, linen, and blankets.
Image credit: Ikea/Johan Månsson
5. Create a Ladder Organiser
Not only is this a great organization hack, but it does also add some personality and character to your room. A ladder organization is even more so unique than the standard garment rack. With a ladder organizer, you get many storage options to store different items of clothing. This is also quite easy to make yourself and you can paint the color of the ladder to complement the theme of your bedroom.
Image credit: David Tsay
6. Opt for a headboard that is also a wardrobe
Now, this is not common, but very creative and perfect for small bedrooms. This storage-friendly bed from Argos has a mini wardrobe and well other storage spaces! How clever is that? You'd be surprised how much furniture they are out there that has been designed solely to help you maximize storage.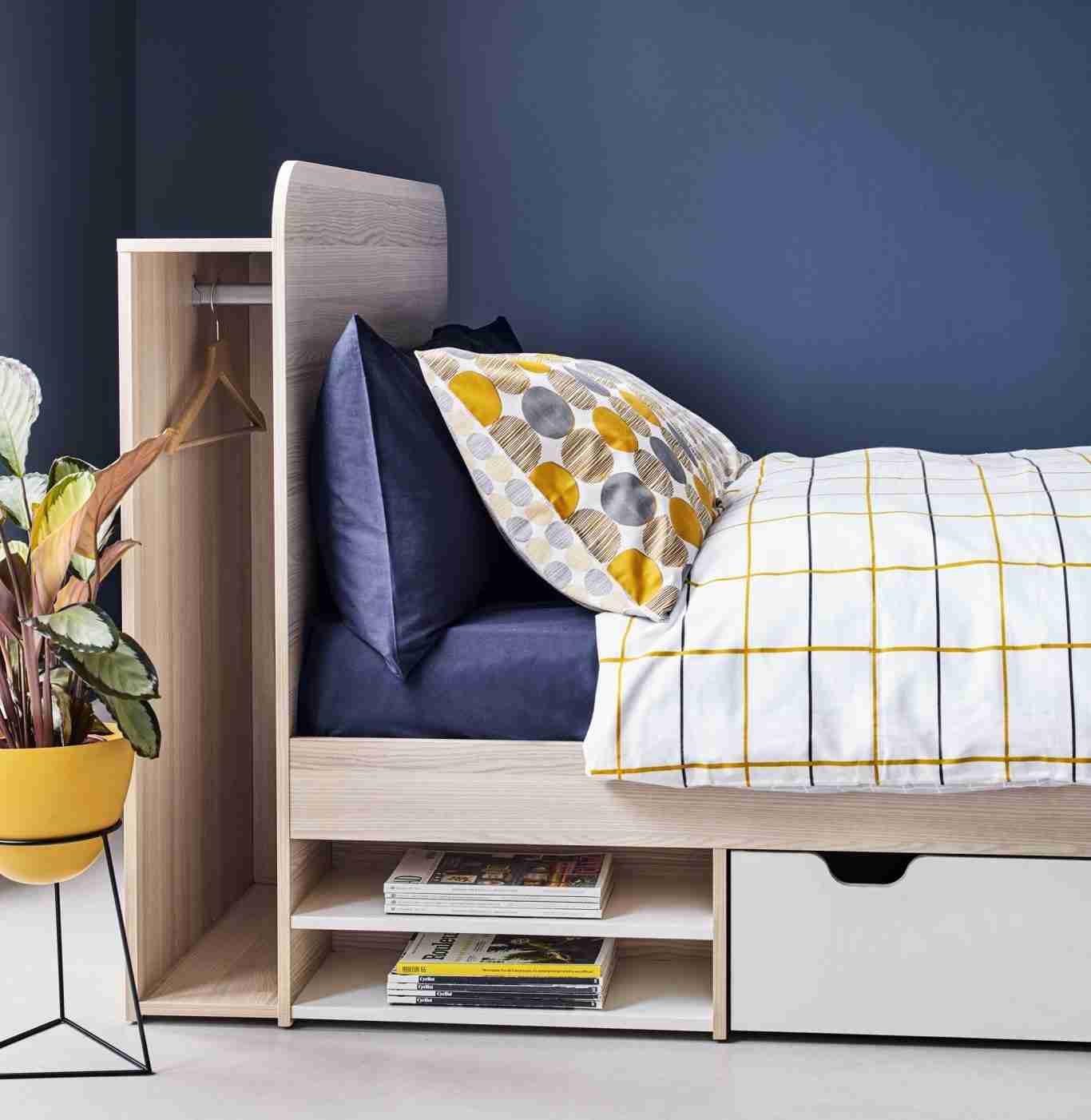 Image credit: Argos
7. Opt for a wall-mounted bedside shelf
This is one of the best storage hacks for small bedrooms. Instead of placing the traditional bedside table in a small bedroom, consider mounting wooden boxes on the wall close to your bed, to serve a table surface and shelves. They can be used to store things just like bedside tables, except they do not take up any floor space. Genius!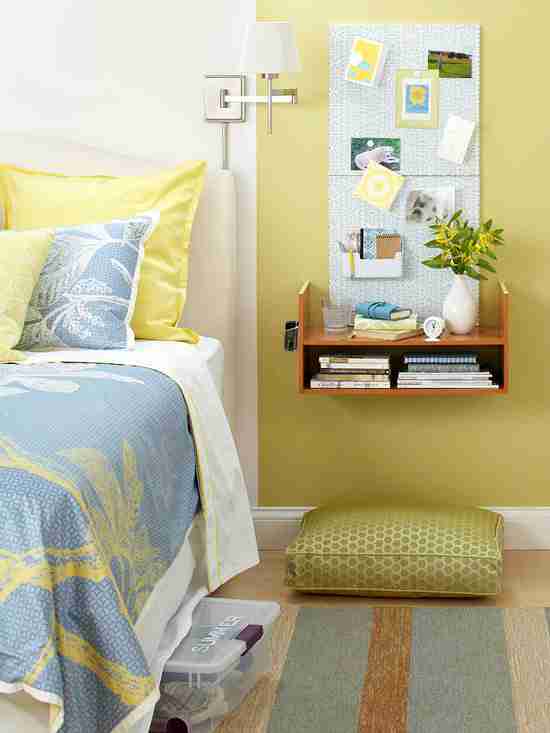 Image credit: Better Homes & Gardens
8. Use a Clothing Rack
This is a great way to store items of clothing in a small bedroom. The best thing about using a clothing rack is that your outfits are on display at all times. To make this visually appealing, color-coordinate your clothes and try to keep them organized.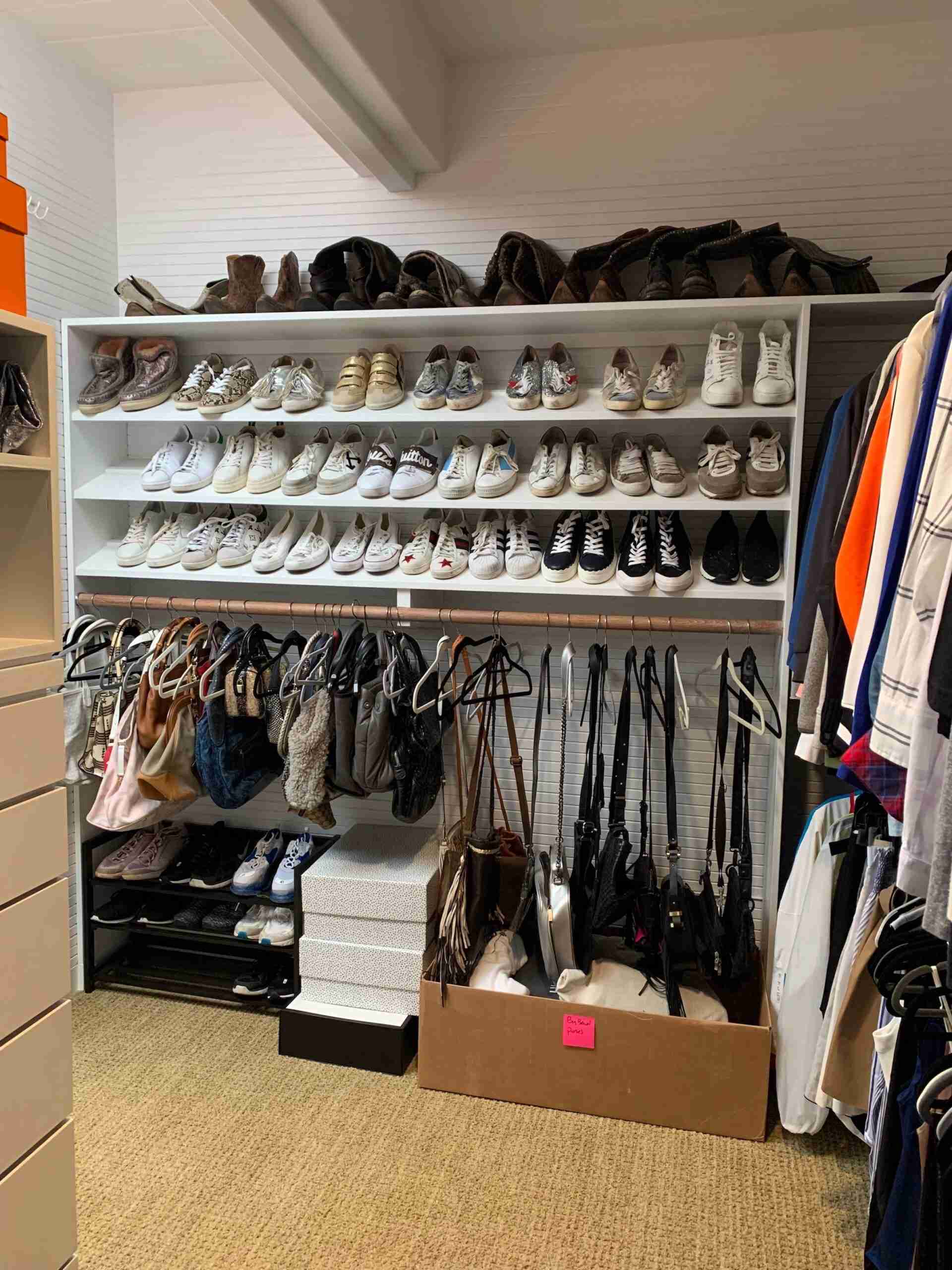 Image credit: Miss Organized San Diego
9. Utilize your walls
This is one of the most common storage hacks for small bedrooms. If you have a small bedroom, do not be in a hurry to buy a wardrobe, make use of the bare walls! Although one of the downsides of open storage is that you have to put in some effort to keep it organized at all times.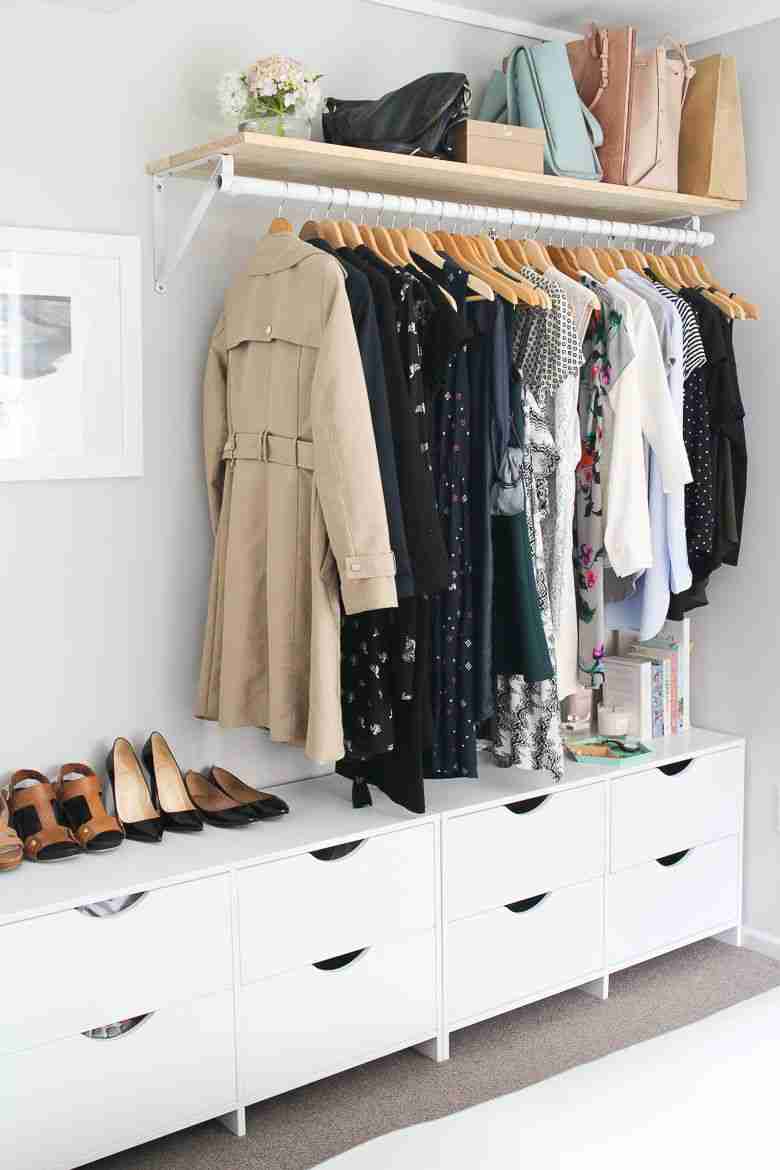 Image credit: House Beautiful
10. Hang things at the back of the door
This a common approach for keeping a small bedroom well organized and clutter-free (Read here for decluttering tips). Consider hanging your shoe racks, scarves, handbags, or even clothes at the back of your bedroom door to maximize your space.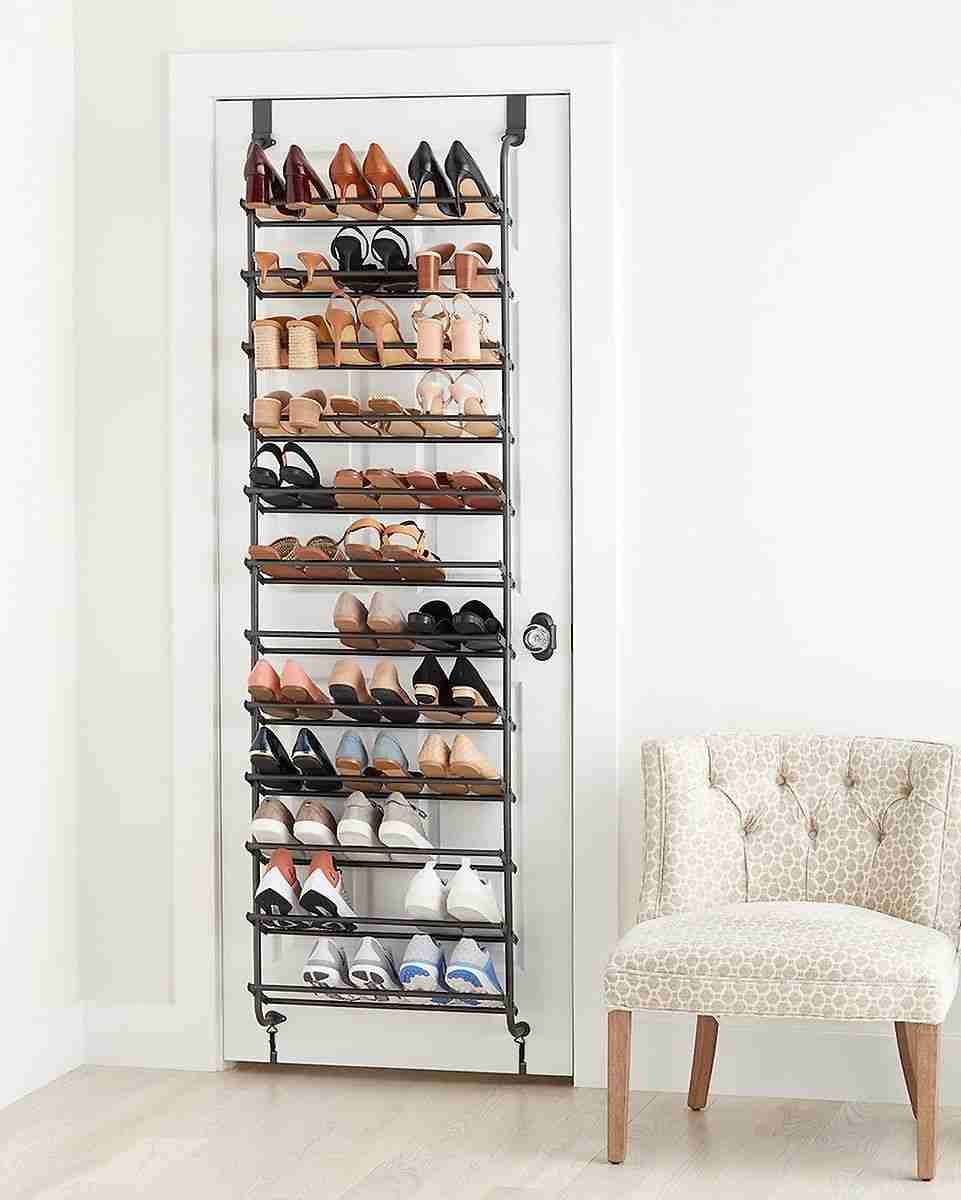 Image credit: The container store