8 Tips To Achieve A Modern Rustic Kitchen Look
Modern design's boldness combined with the rustic element's ruggedness creates an elegant and cozy kitchen that never goes out of style. Bringing small details and aspects from these two contrasting themes can infuse a unique character into your home interior. 
A modern rustic kitchen features a blend of natural and refined elements like wood, metal, concrete, and stone. While a rustic design takes you back in time, adding modern elements gives you the freedom to experiment with today's trends. 
That said, here are eight tips to achieve a modern rustic kitchen look. 
Incorporating stone and brick into your kitchen gives off the classic rustic vibe. It's one way to bring natural elements into your kitchen. 
Stone and brick can be used as a backsplash. Their rough texture creates a contrast that highlights the smoothness of the countertops. Stone's irregular pattern also matches the straight edges of kitchen cabinets. 
You may also install a refractory pizza oven to add a unique feature to your kitchen using stone and brick. 
Hardwood floor is a staple feature of every modern rustic kitchen. It adds warmth and texture to the space. Its neutral brown color easily blends with all the other elements within the area. 
Design-wise, hardwood is an excellent flooring material. However, both natural and engineered wood are not waterproof, so you must be careful not to spill liquid on your hardwood floor. 
To get the same visual appeal without compromising waterproofing and durability, you may install luxury vinyl planks. You'll get the look and feel of hardwood without worrying about liquid spillage since they're waterproof. 
Consider A Concrete Floor 
Alternatively, you may choose concrete for your flooring. Present in most modern interiors, concrete mimics the ambiance of stone flooring, but it's smoother and bolder. 
The cool gray color of concrete provides a nice contrast to the warm neutral tones of wood. These two combined strike the perfect balance between modern and rustic themes. 
To improve a concrete floor's aesthetic appeal, you may have it stained or polished. This finish also enhances its moisture-proofing and overall durability. 
Choose A Butcher Block Countertop 
Butcher block is the go-to rustic countertop option that makes the kitchen homey. It's also one of the top choices in terms of affordability. 
Wood is a natural element you can easily bring into your kitchen. You may choose either a live edge for a more rustic look, a straight edge to look more modern, or a radius edge for a softer look that combines the two. 
While butcher block is a countertop you can cut on, it requires regular maintenance and minor repairs. You also need to be careful with liquids and hot pots since they can cause permanent stains. 
Opt For Quartz Countertop 
An alternative worth considering is quartz, which is one of the best countertop materials because of its varied design options and durability. It's an engineered stone-like top that outperforms marble and granite in terms of heat, cut, and moisture resilience. 
To keep the proportion of modern and rustic details in your kitchen, you may choose black or white quartz countertops. These neutral shades exquisitely match the warmth and texture of wood. 
Unlike butcher block, quartz requires little to no maintenance. It's waterproof, cut, stain, and heat resistant. 
Open shelving can free up more vertical space in your kitchen. A set of floating wooden shelves with black metal hardware on a spacious kitchen undeniably merges the key elements of modern and rustic designs. 
There's no need to replace your enclosed kitchen cabinets with open shelves. You can add this feature on corners and at the bottom of the cupboards for additional storage space. 
Moreover, open shelves are perfect for displaying glasses, mugs, small bowls, and spice jars for easy access. 
Add Metal And Wood Stools 
Combining cool and warm elements is one of the key points to follow to achieve a modern rustic look. You can try this hack by placing metal and wooden bar stools in your kitchen. 
Bar stools with black metal frames and wooden seats are classic furniture that suits modern and rustic interiors. The black metal frame displays straight and strong outlines that sharply define the space, while the wooden seat warms and softens the design. 
You may also choose a stool with a cushion topped with black or dark brown leather for added comfort while maintaining its dark neutral aesthetic. 
Install Pendant Light Fixtures 
Add some pendant light fixtures to keep your kitchen bright and cozy as a finishing touch. This small detail improves the space's ambiance by filling in the room's vertical space with a functional art piece. 
Pendant light fixtures with warm light increase the warmth of your kitchen. In terms of design, you may go from fancy rustic chandeliers to simple hanging lights suspended with black metal rods or chains. 
Furthermore, pendant light fixtures provide a targeted light source essential for kitchen islands to aid food preparation.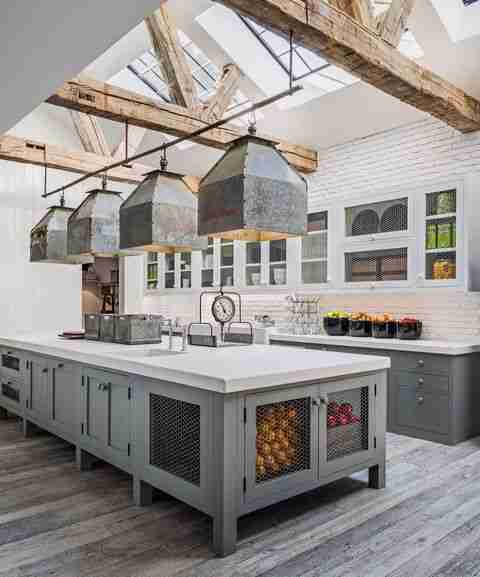 Conclusion 
Designing your kitchen can be a little intimidating. However, choosing a modern rustic theme as your design inspiration can guide you in the process of mixing and matching different elements.