11 Perfect Patio Door Treatments For Sliding Glass
According to interior design and architecture firms, outdoor entertainment spaces are among 2022's most in-demand home improvements. A pleasant space like a patio or deck adds considerable enjoyment to your leisure time. Yet, the patio doors leading from this haven of relaxation can prove to be an interior design challenge. Consider these top 11 patio door window treatments for your sliding glass doors.
1. Vertical Blinds
These are among the most common and versatile types of window treatments for patio doors. That doesn't mean they're boring though.
Vertical blinds are ideal for hard-to-fit windows like sliding glass doors. They also add visual height and sophisticated looks to a room. Nowadays, you can choose perfect-fit patio door blinds available in a wide range of textures, colors, panel styles, and materials to add a little interest to your room.
2. An Eco-Friendly Option
Woven wood shades add an organic feel to any room and blend in with any décor. Made from fast-growing sustainable materials like bamboo, grasses, and reeds, these shades are an eco-friendly as well as a hardy choice.
You can get these types of wood shades in both vertical and horizontal varieties. The best brands resist breaking, fading, bowing, and stretching.
3. Light-Blocking Curtains
If the room leading from your patio gets a little too hot and sunny during warm weather, this window treatment is for you.
Lined curtains help keep out the sun's rays, so your interiors stay cool and comfortable. Likewise, they help keep your room warm on chilly days.
They also help protect your furniture and rugs from fading due to the constant onslaught of the sun.
4. Sophisticated Shutters
The appeal of shutters rests on their energy efficiency, durability, and classic style.
If you live in an area with high humidity and heat, hybrid or other non-wood types of shutters offer the best durability.
These shutters look like finely painted wooden shutters, yet they're guaranteed not to fade, chip, peel, or crack in extreme conditions.
5. Discreet Patio Door Window Treatments
Do you want to keep the view out of your sliding glass doors free from obstructions?
Understated window treatments like roller shades can help you achieve this aim. These shades roll up to blend in with the door's trim, creating a seamless look that won't detract from your view.
6. Formal Sliding Door Window Treatments
To create a formal look, you should consider the whole picture in your design.
For instance, black and white striped drapes with an oversized, black-trimmed white cornice look swish. To complete the picture, have your siding doors trimmed with black frames too.
While black sliding door trim's a little unusual, you can get these door frames from high-end companies.
7. Luxurious Panel-Track Blinds
These are types of vertical blinds that can also add a luxurious feel to your space. They have a contemporary appearance and stack back minimally to maximize your views.
You can choose from over 600 different colors, and a vast array of roller types and opacities when it comes to these sleek, wide blinds.
Sheer panels help maximize light from the outside, while thicker ones add extra privacy to the interior of your room.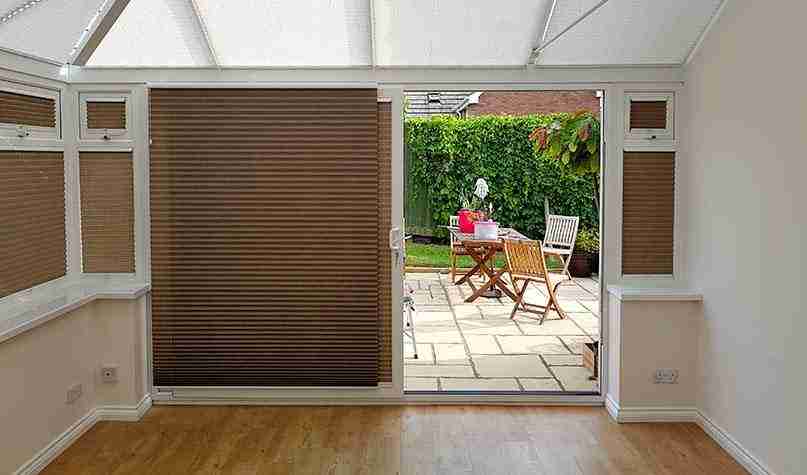 8. Choosing Curtains for Your Patio Doors
Curtains can add a wistful pop of color or eye-catching patterns to neutral color schemes.
They slide back out of the way when not in use, and you can choose materials to match your climate too. Thicker materials suit cold evenings, while soft, thinner fabrics are best for those hot summer nights.
If you have windows on either side of your sliding glass door, you can dress them as one unit for continuity.
Choose a curtain rod that spans the length of both fixtures and use curtains with enough fabric to meet in the middle of the door.
Tie-backs and holdbacks are an attractive addition to any type of curtain. Be sure to choose the ones that suit your overall decor.
9. Built-In Window Treatments
Some patio doors come with an air pocket in between two panes with blinds or shades inside them. You can raise or lower these window treatments using a remote switch.
These window treatments slide up into the top of the window frame out of sight. Also, they'll never get dirty since they're protected inside the glass panes.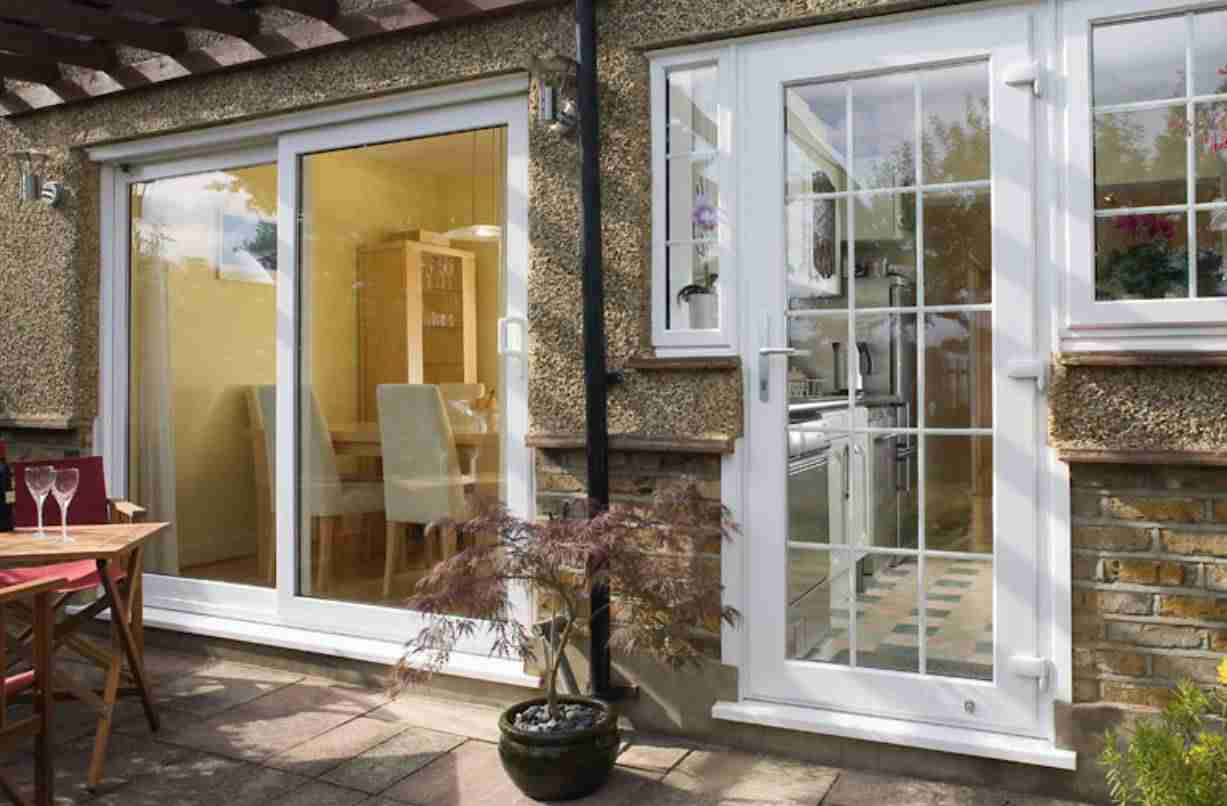 10. Multi-Purpose Window Film
Anti-glare window film is an excellent option to reduce the heat in your room. They also prevent your upholstery and rugs from fading in the sunlight and offer a little privacy from the outside world without affecting your view.
Widow film's another eco-friendly option since you'll use your air conditioner a little less, which helps reduce your home's energy consumption.
The less energy you use, the fewer carbon emissions you create, and the more you'll save on your energy bill.
If you crave even more privacy, you can combine window film with the decorative dressing of your choice.
11. Light-Control and View-Through Blinds
These types of blinds allow you to adjust their angle according to your needs. You can rotate the slats to allow as much light as you want to enter the room or keep them closed to increase privacy.
Bear in mind that you'll need more narrow slats to cover your window than if you opt for wide slats. Smaller slats can make large windows appear too busy.
Thus, wide slats are usually a better choice for patio doors.
Take Control of Your Interior Design
You don't need to rely on the expertise of a top-class interior designer or architect to make your home a better place.
With a little research and creativity, you can find the ideal patio door window treatments for any situation on your own.
DIY home improvements bring a sense of satisfaction and achievement that hiring a pro simply can't match.
For more exciting ideas on how you can make your home a better place, keep browsing our website.