Roll Up Garage Doors: All You Need to Know
We know that there are all kinds of doors for interiors and exteriors; each of them, for different functions and needs. If you think of doors, surely you will imagine those small ones where you enter your home or those that are the entrance to the rooms. When you choose a door, several questions or doubts arise, such as size. We must know what we are going to use it for. Or if you are going to use it for the entrance or a garage. The same questions arise when looking for roll up garage doors.
To have a garage door, it is essential to think about comfort and safety. In this case, we will talk about garage doors, not just any garage door, but sectional doors, which are mainly used for garage doors.
Roll up garage doors have great advantages in terms of the required commissar and security. In this blog, we'll give you insights into the advantages of these doors and how many varieties there are.
Advantages of roll up garage doors
Sectional doors go well with any style of home: minimalistic, modern, country, or for example, rustic. Lighting is an important factor. Just be sure to match this style of door to your front door.
They take up little space
The mechanism behind these roll up garage doors is very simple. As soon as you press the button on your remote control, the door retracts and rests on the roof. Therefore, it will not occupy any square meter of your garage. If there are several parking spaces, it will not subtract space from any of them. Of course, they are perfect in the case of an individual garage that is in a chalet or single-family house.
They have aesthetic designs
Your garage door is often the first visual contact with your home, therefore you should never disdain the aesthetic effect. It is a way to beautify your facade and your surroundings. There are plenty of models, such as faux wood garage doors, black garage doors, and stainless steel or aluminum garage doors.
Thanks to their construction materials, they are very safe doors. They are durable and very resistant. They are made to withstand all kinds of shocks. If you are not the owner of the door, it will be very difficult for other people to open it.
Really comfortable for opening, closing, and maintenance. It is very easy to maintain these roll up garage doors. You will only have to take the precaution of greasing its mechanisms and automatisms from time to time so that they work smoothly.
However, automatic doors are required by law to undergo a series of periodic reviews. The larger the neighborhood is, the more frequent these reviews are.
Our advice is to leave the maintenance of these roll up garage doors in the hands of specialized companies. They help you prevent any breakdown and will tell you if all its components comply with the law.
And in the event of a breakdown, having a specialized company will ensure a quick intervention so that you suffer as little inconvenience as possible.
They are very easy to install. You can do it yourself, indeed. Some companies send the door to your home, so you can surely install it without the need to resort to external labor, which will save you a good deal of money.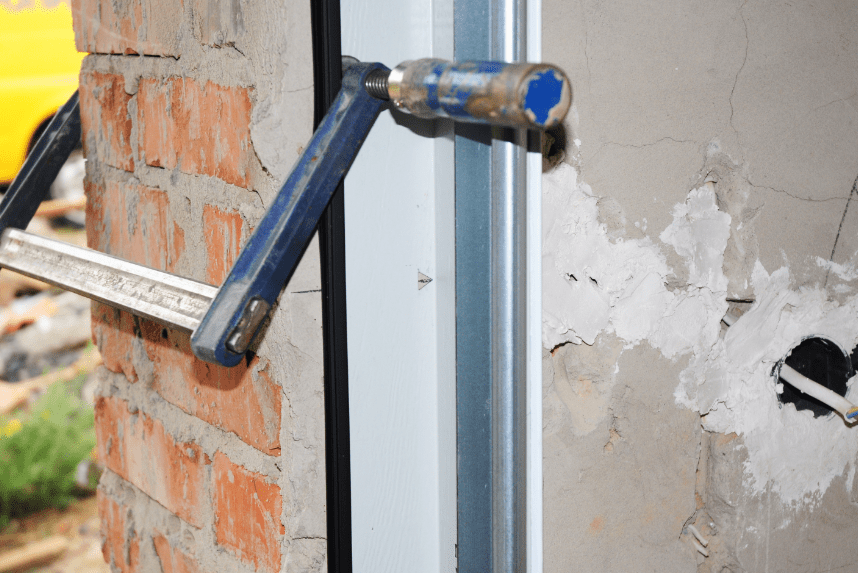 There is no doubt that for everything to work properly, you have to have the right motors for doors. This is easy to find out and you will see this clearly as soon as you search for roll up garage doors on the internet.
You just have to know the weight of the door and the size. With these two parameters, you will be able to know the power you are in need of. It has to be fair. If you have a less powerful motor, the automatic door will be more exposed to breakdowns and will not slide properly. If you buy a motor with more power, the door will work perfectly, but surely you will have spent more money unnecessarily.
Types of garage doors
The main types of roll up garage doors that exist are:
Sliding doors. If there are several gaps that must be covered or the accesses are going to be used a lot, they are ideal because they are very stable in closing and automation. Ample space is required so that the door does not hit or cannot open.
Up-and-over doors. They are sold in various models, although they generally consist of one leaf that rises, remaining in the upper area, or two leaves that fold and remain in the area. They stand out for taking up little space.
Side hinged garage doors. These can be the perfect solution if your garage space is used as a utility room, storage room, or workshop. The original robust design, simplicity, and easy maintenance ensure long life and excellent performance.
Roller shutter doors are like a large metal shutter that has a system in which the door is collected at the top. They are very good for optimizing space.
What about Hormann garage doors?
Hörmann garage doors are characterized by their perfectly aligned rib modulation. The panels are shaped so that, with the door closed, it is practically impossible to see the transitions. To achieve a harmonious general appearance in Hörmann sectional doors, the modulation of the panels is identical in height. This is achieved by panels of identical height over the entire height of the door.
These are some of the types of garage doors according to the opening system. In fact, there are lots of modern garage doors today. So, it is convenient that you know what you need before purchasing.
Roll up garage doors are manufactured in different materials, dimensions, and configuration options. The key is to achieve maximum comfort and safety in the use of the garage, so paying attention to the correct selection of the garage door is essential, as well as proper maintenance and installation.