Two Beds In One Small Room: 16 Styling Ideas
Styling a small room can be a bit challenging but what's even more tasking is styling two beds in one small room. Room sharing is the main reason why people need two beds in a room, also known as a twin room.
In most family homes, the kids share a bedroom due to space limitations and oftentimes, there are never enough guest rooms to accommodate every guest that stays over for family get-togethers.
There are many clever ways to style a small bedroom of this nature and make it aesthetically pleasing without sacrificing comfort. Investing in space-saving furniture and using the right layout for the space can make a noticeable difference.
When planning the layout and design, the purpose of the room should also be taken into consideration. Guest rooms don't require as much storage as a room for family members. Kids' rooms ought to be fun and visually intriguing.
In this article, we'll share 21 incredible ways to style two beds in one small room. No matter the style of your home, you will find some ideas to inspire you here.
Let's get on with it!
1. Keep it Symmetrical
Interior design experts claim that symmetry is important for creating balance and maintaining flow in any room. Symmetry is a design motif that entails mirroring similar objects on both sides of the room axis. This type of placement of furniture and other design elements can create the illusion of enhanced space in a small bedroom.
Embracing symmetry when styling a small twin bedroom can make the bedroom look incredibly stylish and tidy. This can be achieved by matching beds, bedlinen, bedside tables, table lamps, and wall art.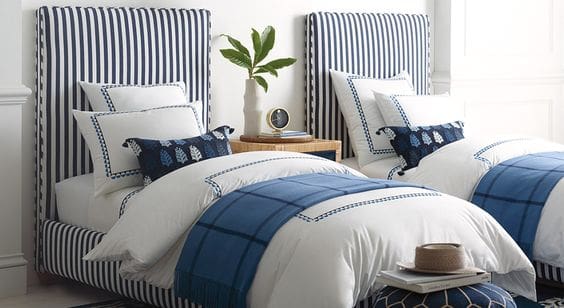 (Image source: SERENA & LILY)
2. Incorporate Patterns and Colors
Welcoming and intriguing patterns and colors can add unstated elegance to a small room with two beds. Patterns and colors are some of the most integral elements in the world of interior design. Rich colors and patterns can add a chic layer of interest and depth to any room.
Patterns and colors can be incorporated into your bedroom interior through wallcoverings, pillows, carpeting, bedframe, and other graphic elements. Mix-matching patterns and prints and using contrasting colors can take your interior from zero to a hundred if done correctly.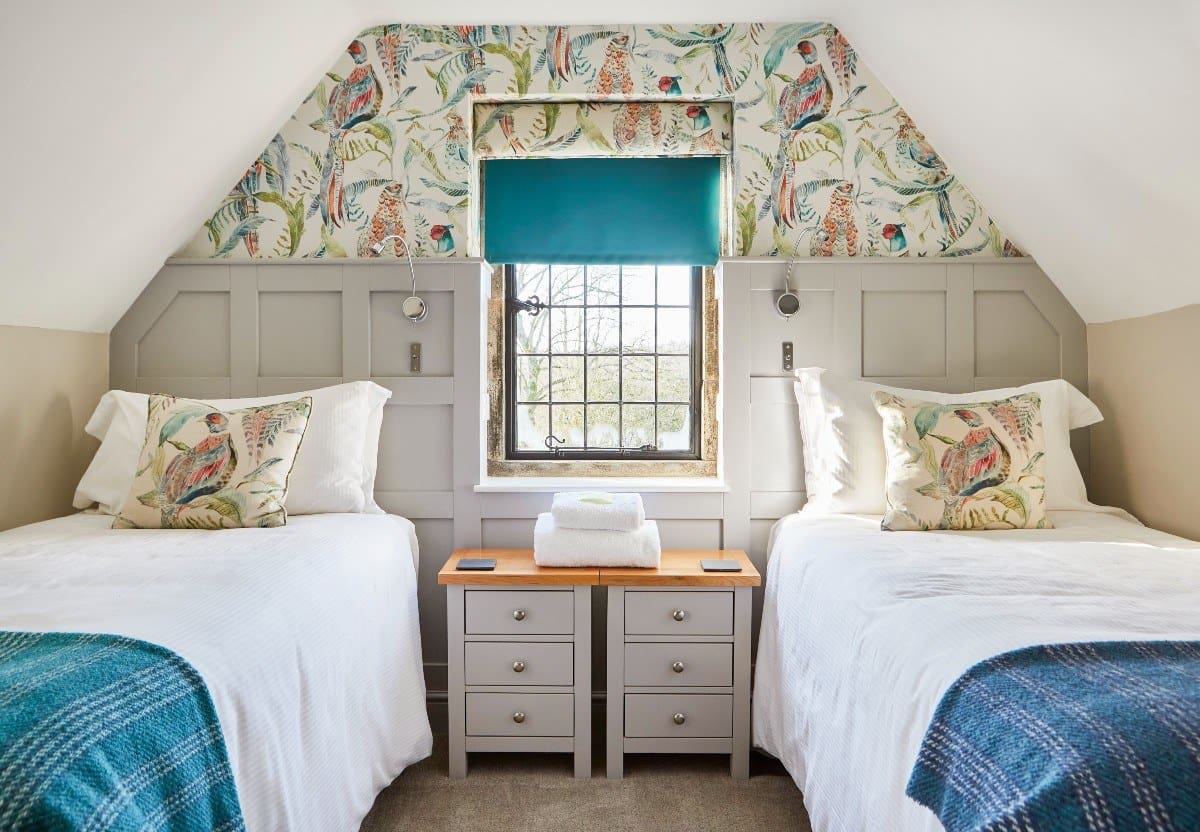 (Image source: The Old New Inn)
3. Opt for a Modern Farmhouse Style
A modern farmhouse is a cozy, stylish, and full-of-charm interior design style that has effortlessly remained timeless over centuries. This interior style focuses on embodying simplicity, functionality, and rustic charm.
This is a great style to consider when styling two beds in one small room because it creates an effortlessly stylish feel and also creates a warm and inviting vibe to any room. If the rest of your home features a modern farmhouse style, then it just makes sense to create a bedroom that complements the rest of your home.
Some of the common design elements that can be seen in a farmhouse-style home are a neutral color palette, reclaimed wood, plants and greenery as accents, wrought iron accents, barnboard details, pine furniture, and vintage or antique accent pieces.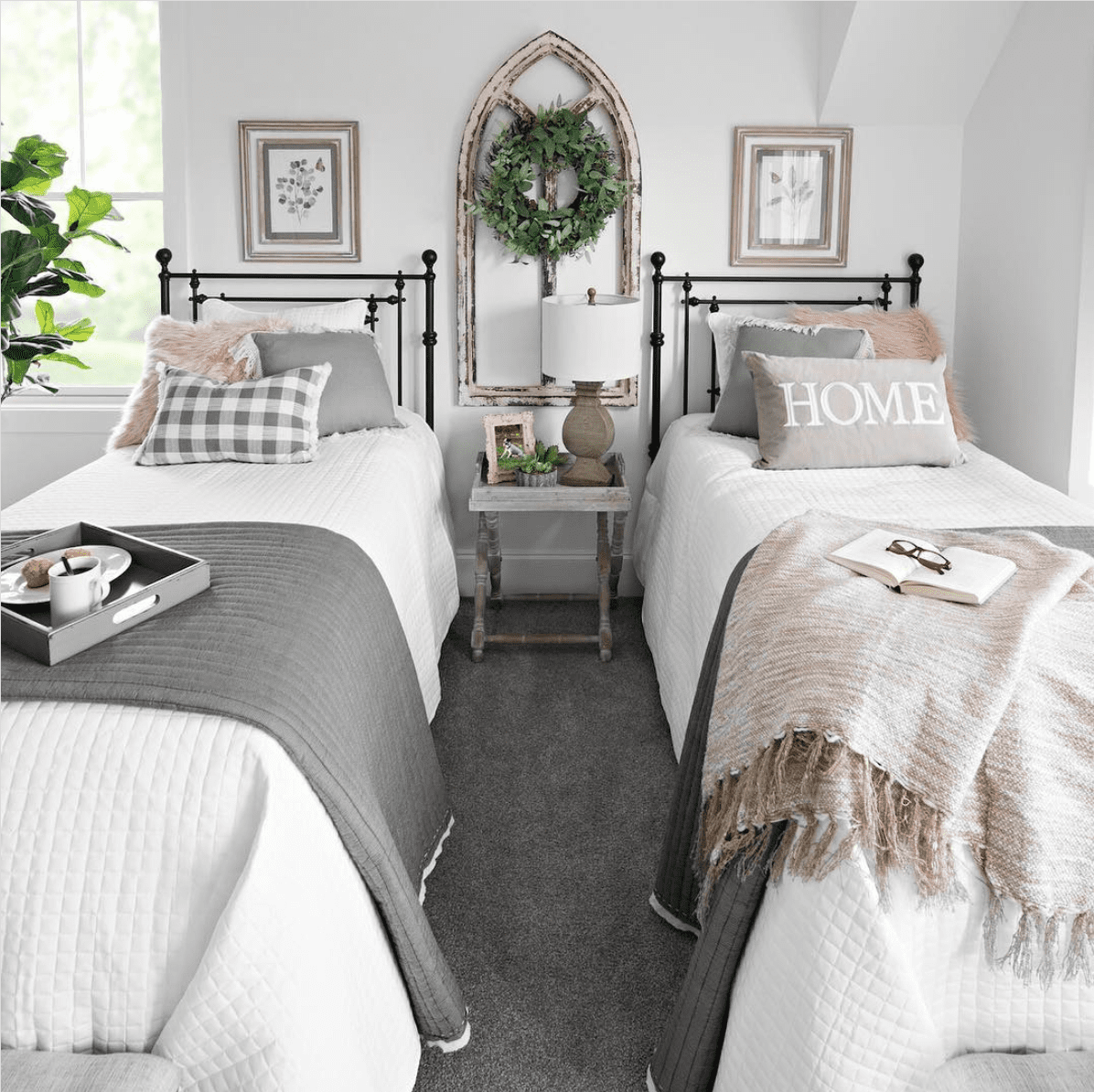 (Image source: Kirkland)
4. Add Irresistible Charm with Coastal Blues
If you have a coastal-style home or have an appreciation for the coast, this may be an ideal style to embrace for your twin bedroom. From nautical to tropical, they are a lot of simple ways to bring the sea right into your bedroom.
This style is well suited for a small bedroom with two beds because it features minimal, fresh, and calming elements. A classic coastal room has a neutral warm and sandy color palette like beige, white, caramel, and tan.
It also includes a spectrum of blues and a bit of green. Coastal style interior features natural elements like wood and stones and also wall art of the sea or beaches. The interior style is bright, subtle, and stylish.
(Image source: Adrienne Brandes)
5. Stick to a Monochromatic Theme
Fundamentally, a monochromatic color scheme is used in interior design to add depth and detail that elevates the room. A monochromatic theme has the ability to satisfy on multiple levels. This color palette is great to evoke character, spirit, and personality in a small bedroom with two beds.
The black and white combo is a tried and tested palette that is timeless. Strong contrasts can be used to draw attention to certain design elements, such as the sculptural frames of these double canopy beds.
(Image source: HomedIt)
6. Effortfortlessly Chic Boho Style
The bohemian interior style is a free-spirited aesthetic known for its colorful, eccentric, and eclectic look that is different artistic expressions and cultures. To spruce up and add character to a twin bedroom, incorporate a bohemian vibe. The lack of structure and freewheeling layers of pattern, texture, and color is what makes the boho style.
Unlike the contemporary and minimalist design styles, there are no set-in-stone rules for the bohemian look. Although, there are some common practices.
(Image source: Nesting with Grace)
7. Use an L-Shaped Layout
Creating an L-shaped layout is a clever way to style two beds in one small room seeing as it only requires two adjacent walls.
This layout makes the room feel a lot more spacious than it is because the beds are set against the wall. An L-shaped bed arrangement also makes it easier to move around, hence, making the room more comfortable.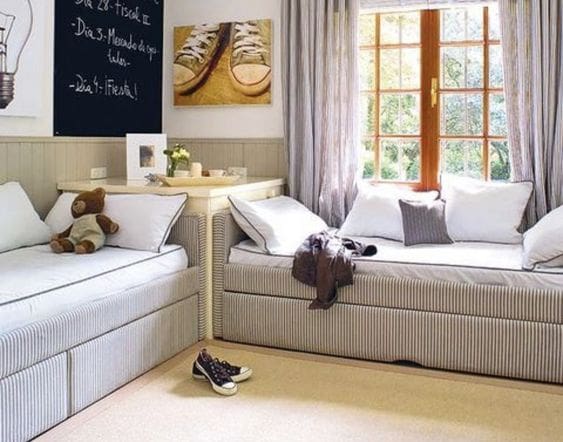 (Image source: Pinterest)
8. Create Visual Interest with a Pop of Color
Add a pop of color to maximize interest in a small bedroom with two beds. An accent color livens up and adds character to a room featuring simplistic designs and or a neutral palette throughout.
Whether it's the bedding, artwork, curtain, or a side chair upholstered in an attention-grabbing fabric, vibrant color is a surefire way to add a stylish flair to any bedroom.
(Image source: HomedIt)
9. Embrace Modern Minimalism
Keep things simple by opting for a neutral palette and minimalistic design elements. A simplistic approach is one of the most ideal for small spaces. Too many colors, textures, and design elements can overwhelm a room with two beds.
Minimalism can be seen a lot in modern interior design. It stems from Japan's Zen Buddhism and also Scandinavian design. Interior spaces that embrace minimalism are deceptively refined. Color schemes used in creating minimalist designs are beige, white, wood tones, black, taupe, and gray.
(Image source: Cottage Company Harbour Springs)
10. Create a Stylish Haven in the Attic
Converting an attic into a spare bedroom can be a long and tiring process but it is worth it in the end. To style two beds in an attic, first, consider your color scheme.
Choose an intriguing color palette like indigo and white, palm green and chartreuse, brown and cream, forest green and mustard yellow, or light brown and muted green for a chic and modern look. Use the right size of furniture and inject some personality into the design of the room.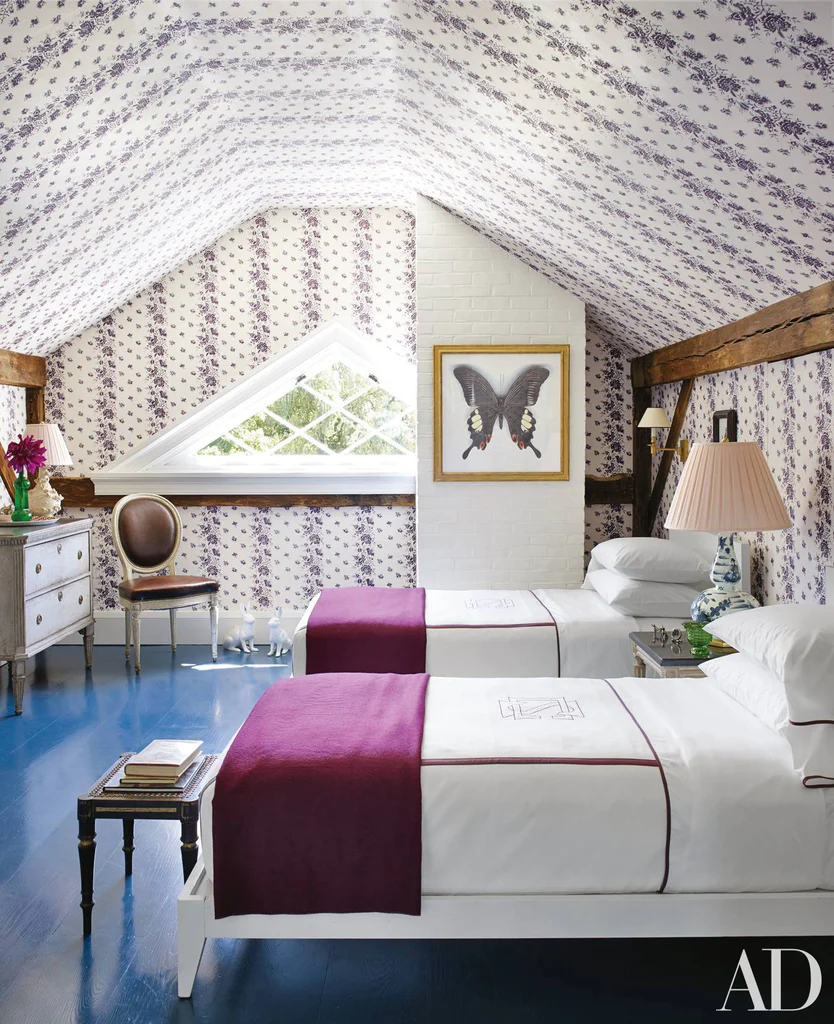 (Image source: Architectural Digest)
11. Opt for a Pastel Pallete 
The color scheme is crucial when styling two beds in one small room. Pastel colors are less saturated versions of primary colors. They have white undertones enough to make them pale and soft. Pastel aesthetics is not a new phenomenon in interior design.
Pastel colors are versatile and can easily elevate the look of any room, giving it a clean spring-like vibe. They are subtle shades and do not overwhelm a space. A pastel palette is also great for conveying emotions in the home interior. A plethora of paste colors is known for conveying strong emotions such as happiness, serenity, love, and many more.
(Image source: J.K. Kling & Associates)
12. Save Up Space with a Bunk Bed
One of the most common ways to place two beds in one small room is to invest in a bunk bed. Bunk beds are so popular for obvious reasons. It is the ultimate space-saving furniture as it can help save up valuable floor space.
A bunk bed is more suitable for kids' rooms as it might be inconvenient for an adult to sleep on. Some bunk bed also comes with stair gates, shelves, storage spaces underneath, bedside trays, and even slides!
This piece of furniture is also customizable to complement the bedroom theme. So, there are bunk beds available to suit any kind of home.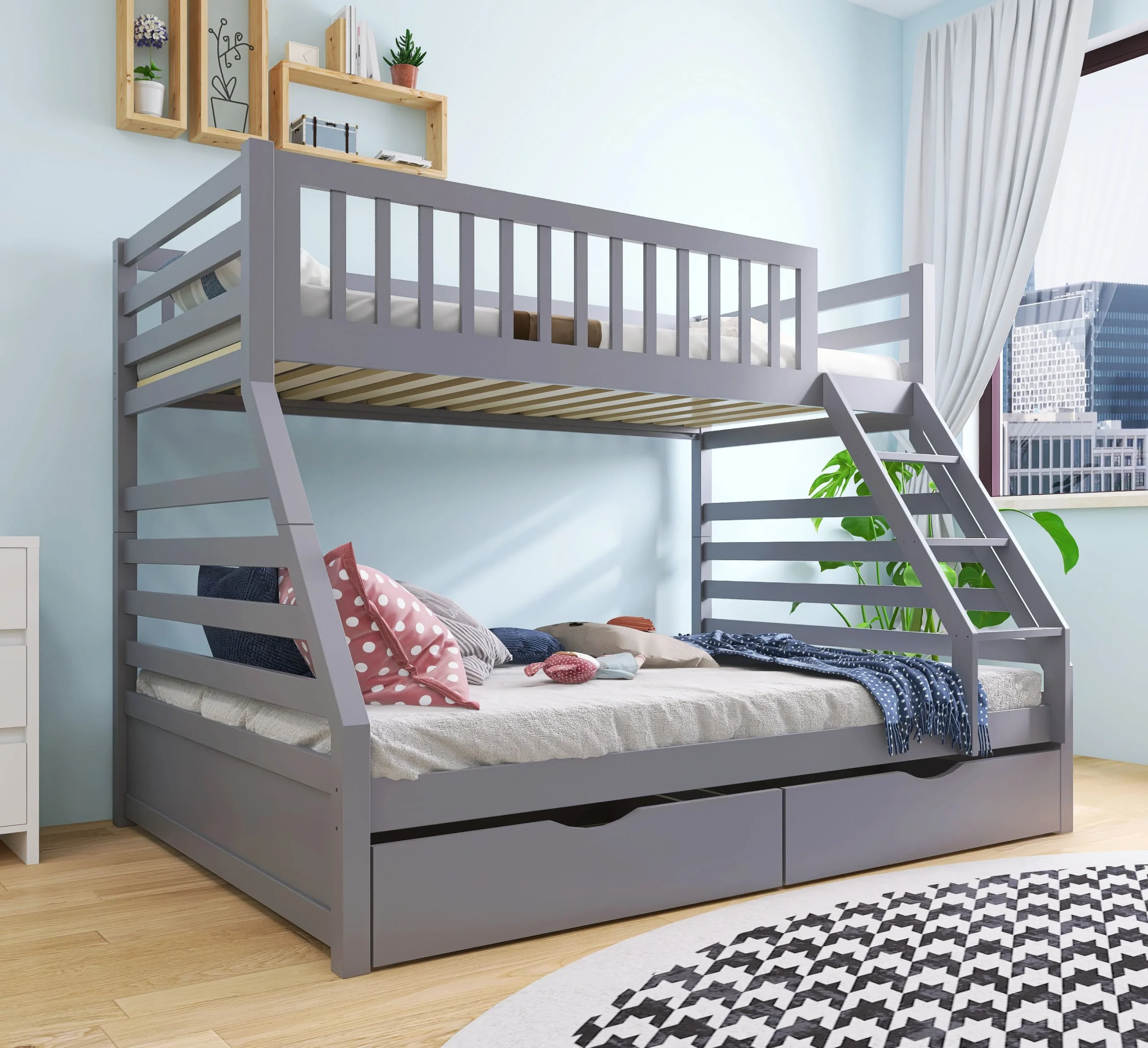 (Image source: Casa Maria Designs)
13. Two Beds Along One Wall
Depending a the room layout, a symmetrical and side-by-side bed placement doesn't just work. If you have a rectangular-shaped room, an alternative space-saving solution is placing the bed along one wall.
In this small bedroom sourced from Brit.co, the placing of the beds is quite unconventional but it works brilliantly for the room. The beds also incorporate under-bed storage drawers that help keep the room tidy and cohesive.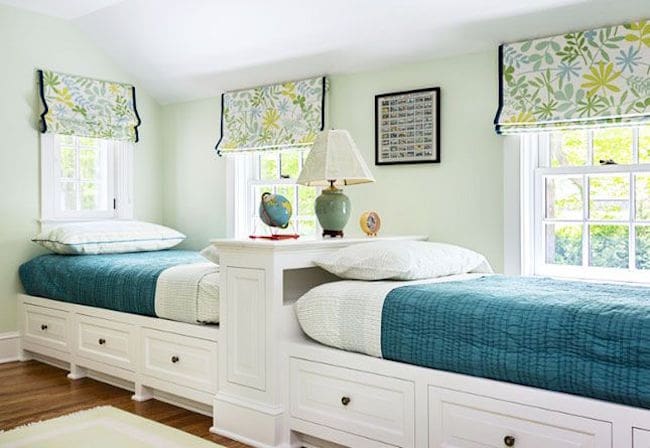 (Image source: Brit.co)
14. Add a Rustic Touch
Rustic style in interior design is a common style that blends comfort with a primitive, natural feel. Incorporating natural elements into a small twin bedroom gives it a rustic touch and a cozy feel. Start by adding natural and inviting earthy tones like brown, tans, beige, and muted blacks.
These are crowd-pleasing palettes that can instantly add a rustic feel to your home. Invest in rustic furniture as they are warm and add a sense of character to a space- making the room feel lived in.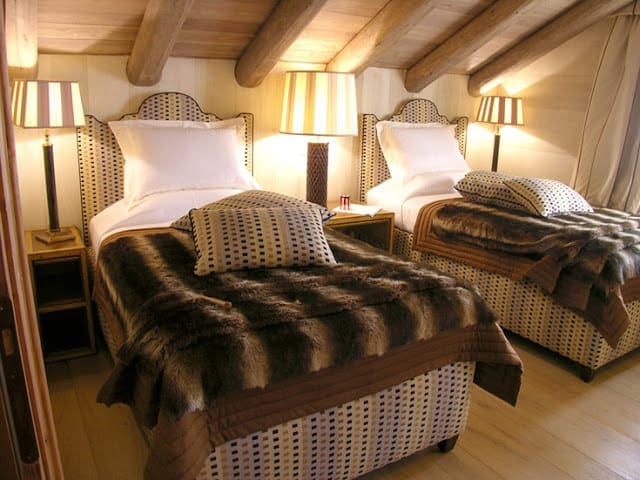 (Image source: Megan Morris Blog)
15. Take Advantage of Natural Light
Lighting is crucial when designing small rooms. Using natural light to your advantage can actually make a small room feel much larger and airy. If you have a small-to-medium-sized window in the middle of one wall, place each bed on the opposing sides of the wall.
This lets the natural light flow in and brighten up the space. Creative use of lighting can make or break the design and stylistic features of any space, especially a small room.
(Image source: House Mix Blog)
16. Two Beds One Headboard
In this bedroom by Studio McGee, the beautifully patterned headboard adds character and style to the overall look of the bedroom. This is a great way to style a small room with two beds as it helps create a unified look without trading space or comfort.
The bedside table placed in between the beds is also a space-saving idea that makes the room look more open and spacious.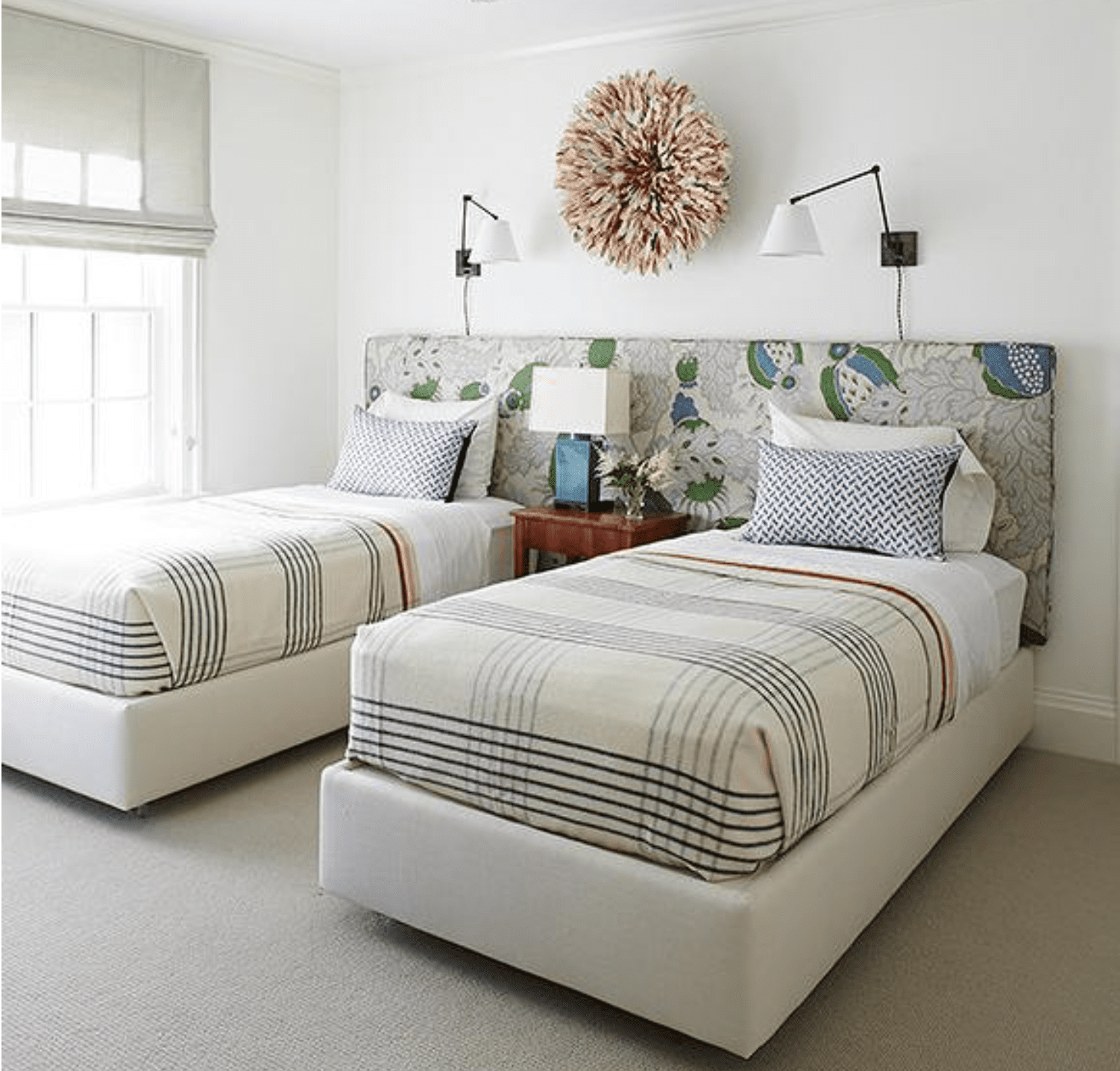 (Image source: Studio Mcgee)
The Takeaway
There are have it! These are the top 16 styling ideas for two beds in one small room. One of the key considerations before choosing a design style for the room is how the room will be used and by whom.
Choose your color scheme wisely as this can make or break the aesthetics of the bedroom. Also, take into account the size of the furniture.
The size of the furniture, especially the bed has a profound influence on space. Consider investing in furniture with smart storage solutions. Use creative lighting techniques to your advantage. When in doubt, keep things simple!
Here are some other interesting articles we think you'll like:
Top 5 Bathroom Accent Wall Ideas for Any Home
21 Kitchen Island Lighting Ideas To Make a Statement