Types of Concrete Roof Tiles
Concrete roof tiles are becoming one of the most popular roofing materials due to the benefits they offer for homes. Concrete roof tiles are used by many homeowners in the United States due to their lower installation and maintenance costs. Additionally, concrete roof tiles are widely manufactured and available in all home building companies.
Cement, sand, and pigments are the components of modern concrete tiles. Roofing contractors show a range of patterns and colors, so their customers choose the design that fits their home roofing. Surveys claim that concrete tiles not only work to keep rainwater from the roof but also certainly increase the curb appeal of the home.
Modern concrete tiles are made from mined concrete, which makes them long-lasting. Mined concrete is subjected to high pressure as it passes through rollers. This will address the trim and process colors. At the tinting stage, a sealer finish protects the cement roof tiles against efflorescence, which is a salty white deposit that forms on concrete products.
Next, we'll explain the pros and the types of concrete roof tiles.
Advantages of concrete roof tiles
Choosing the best concrete roof tiles is an important task. There are many types of concrete roof tiles and all have advantages as follows. Here are 4 advantages.
1-Easy installation
The laying of concrete roof tiles is simple and fast. It is recommended that the installation be carried out by a team of experts. Cement roof tiles are very heavy and their shipment in high areas should be done with care. The tiles can fall and break.
2-Very resistant
Concrete roof tiles are one of the most resistant roof materials. They can withstand high-speed wind currents and precipitation of snow or hail. They are very resistant to breakage and wear. With proper maintenance, they are very durable.
In addition, they are ideal for different types of climates. And areas near beaches as they withstand the breeze and salt deposits very well.
3-Low maintenance
Unlike tiles made from other materials such as wood, concrete ones require little maintenance. Normally, tile maintenance costs a lot of money.
Concrete roof tiles are great at eliminating mold, fungus, and other elements caused by humidity. Concrete roof tiles can last up to 50 years with minimal maintenance.
4-They have little impact on the environment
The CO2 emissions produced by concrete roof tiles are very low. Besides that, they reduce the energy consumption of the home or building considerably.
Despite concrete roof tiles having many positive aspects, they are quite expensive.
Types of concrete roof tiles
With that being said, these are some of the most popular roof tiles in the marketplace.
1. Marley roof tiles
Marley roof tiles are being used in many modern roofs today. Although they look like clay, they are actually made with concrete, which makes them more durable and less slow to wear. These tiles can last up to 60 years, which bespeaks their longevity and resistance to external temperature changes. They won't crack easily. They can even last 100 years with proper maintenance.
Despite they are concrete, they do not harm the environment, according to the Building Research Establishment's Green Guide to Specification. These slabs also help regulate the temperature throughout the year, which cuts down on heating and cooling expenses.
There are many types of Marley modern roof tiles. They are called Marley tiles because they are made by the Marley Company, which also offers tiles that are not precisely made from concrete.
These tiles beautify the exteriors of the home and guarantee protection. As said before, these slates are long-lasting. Marley has been working for a century on this product.
If you were looking for a roof tile that combines with roof detailing, plain Marley tiles can help. They work well for dormers and eyebrows. They come in various textures and colors, most of which look like clay.
These tiles can fit any aesthetic purpose. They have smooth finishes, and on top of that, they are affordable.
2. Double roman roof tiles
Double Roman roof tiles have visible ribs that distinguish them from other roof tile designs. They add a Mediterranean touch, given their Mediterranean origin.
Although double Roman roof tiles are pretty classic, they are perfectly applicable in many contemporary roof designs. They are not extravagant and have a small round roll. Due to this, do not expect to get such a flashing look with these tiles. In fact, they are robust and the two rolls make them different from single Roman tiles.
Unlike other types of tiles, these slabs are not only available in concrete. You can find metal Double Roman roof tiles as well. They are also available in tons of colors, and their price will not scare you away. The installation process is likewise a piece of cake.
During the Roman era, these slates were made from clay, however, concrete is the most used material today. The tiles are ideal for those seeking to add a Mediterranean vibe to their homes.
Since they are made from different materials, colors can vary. Dark is the favorite color of many. Double Roman tiles are affordable and can be combined with terracotta tiles. Because of the low cost, clay Roman tiles have become a good choice.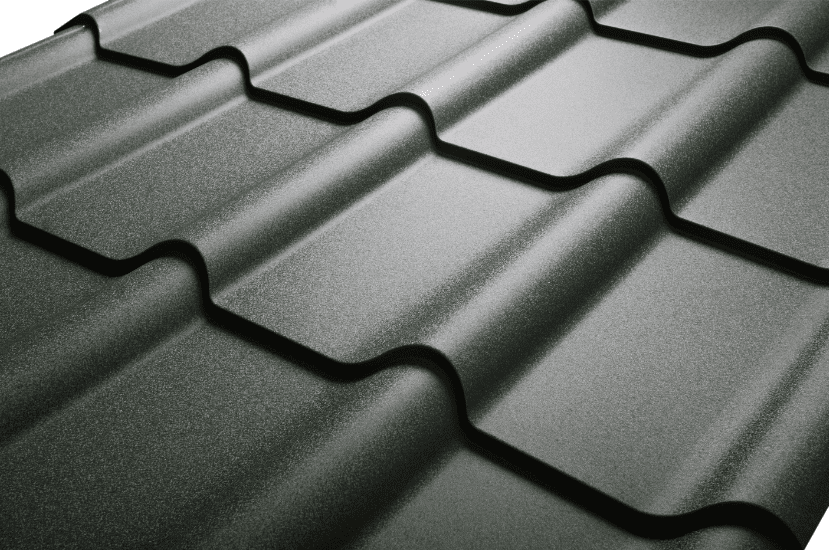 Conclusion
Cement tile roofs are more popular in developed countries. They showcase natural properties that are coupled with technological advances that make concrete tile roofs stronger and give them high-quality coating finishes. Some roofers also provide clients with concrete tiles that have superior color properties to make them vibrant even for years to come.
Concrete tiles are often recommended by many roofing companies because they are fire resistant and do not require constant maintenance to keep their premium look as long as they last. In addition, they improve attic insulation and lower monthly energy bills. Concrete roof tiles help to decrease solar heat trapped in the attic during the summer and insulate heat in winter.
Knowing the advantages of concrete tiles will help you know if they are the best alternative for your roof renovation or construction project.