12 Wall Paint Design Ideas with Tape
How we design our homes says so much about our personality and style. There are so many ways to inject personality and style into interior design. One way is expressing our creativity through our interior walls. If you're bored of simplistic wall paint designs and want to showcase your artistic nature in your home, these 12 wall paint design ideas with tape will inspire you to do just that. Most of these an easy and fun home DIY projects and do not require professional assistance.
1. Modern Geometrics Wall
If you love to incorporate vibrant colors will your home, this modern geometric wall paint design might be ideal for you. This design is less complex than it looks. Geometric shapes have been gaining traction in interior design over the last decade, and we continue to see interior designers embrace this trend in their home projects.
Bright and contrasting wall paint colors can make a bold statement in your home's interior. However, there are so many different color themes that you can opt for in your geometric wall to complement your home's interior.
Image credit: Deny Designs
2. Half-Painted Wall
The half-wall design style can be seen in many homes today. This is because it is stylish, subtle, and quite easy to pull. First, decide on the paint two colors you want. Most people aim for one neutral and then another statement-making color which is usually a vibrant color.
Next, you need to decide on the length and each side. Then use tape to make a partition on one side while painting the other. This is a simple yet brilliant way to update your home interior without changing your furniture or other decorative elements.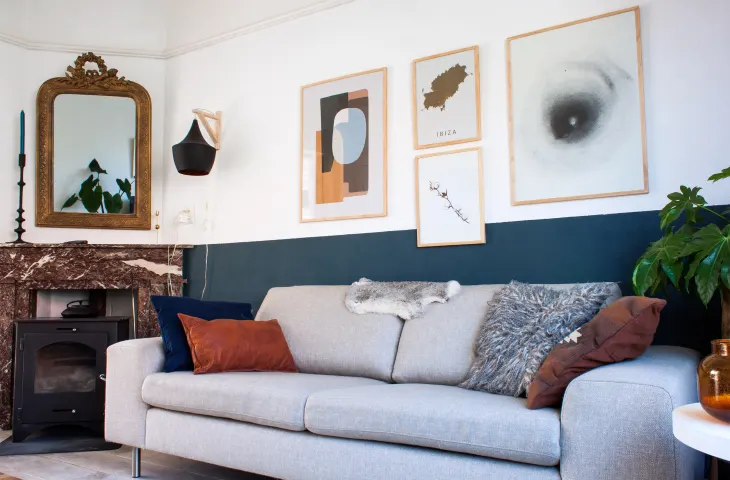 Image credit: Winkie Visser
3. Vertical Stripes Wall
You some add some personality and charm to your interior wall by making vertical strips. This is an easy a less-complex design to achieve. Stripes never go out of date. Whether you decide to make it thick or narrow, this design can transform the look of the room.
To achieve this design with a clean look, on your wall, you will need paints, a painting brush, and frog tape. While most people opt for two tones, you can take it up a notch by using three or four colors. Make sure the colors all go well together.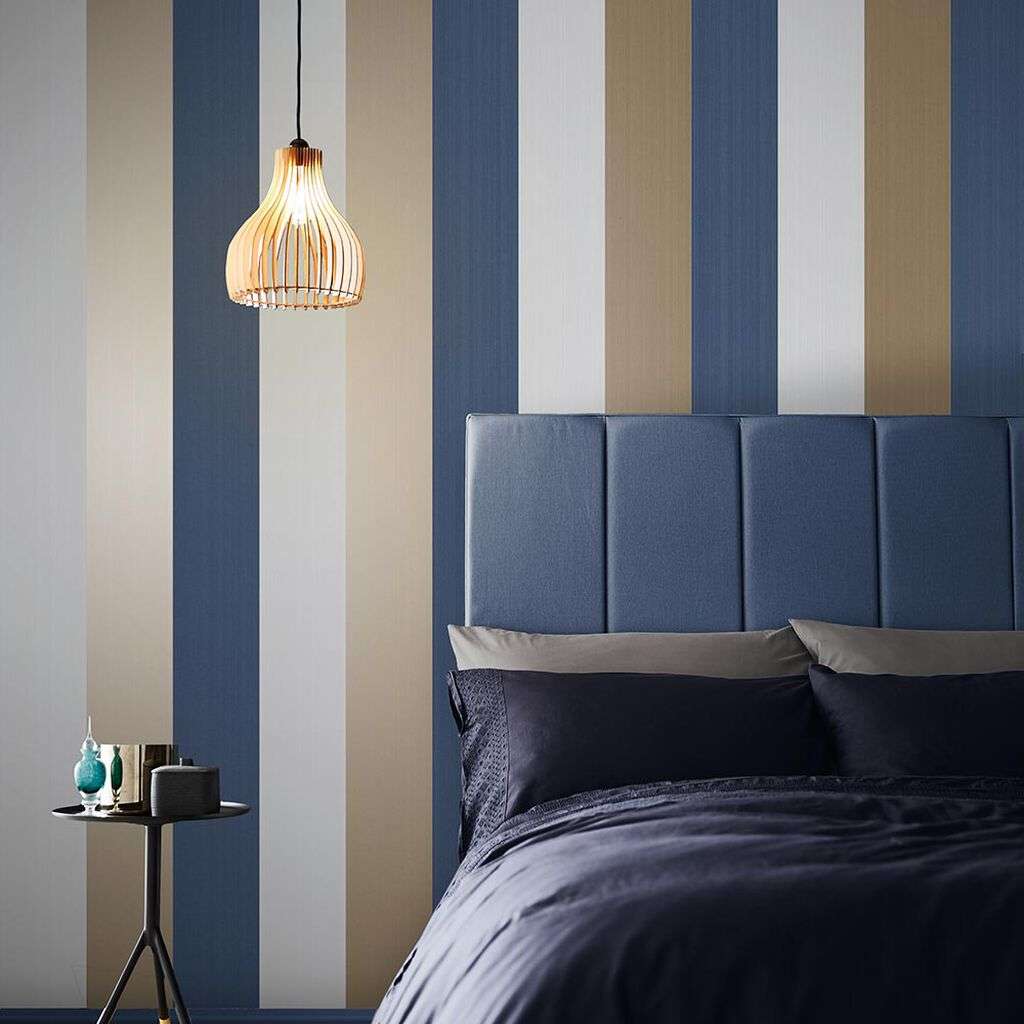 Image credit: Graham Brown
4. Horizontal Stripes Wall
Just like the vertical, horizontal shapes are clever wall paint design ideas you can achieve with tape. There are so many ways to incorporate horizontal stripes into your home's interior. You can opt for two or more colors. Keep in mind that the stripes do need to be of the same size.
You can inject your creativity into it when it comes to color theme and size. This wall style can add personality and glamorous touch to the entire room. This is a fun DIY project you can achieve by yourself without spending a lot of money.
Image credit: Bright Bazaar
5. Shapes on the Wall
Let your wall tell a story. Creating shapes on your wall is a great way to add visual interest and style. This wall design style can be seen a lot in kids' rooms but they make an impact in any room. Implementation is key! They are a variety of shapes that you can opt for, such as circles, squares, semi-circles, ovals, and many more. This approach works great in a minimal or Scandinavian decor style.
You can also get more creative by combining shapes. Other than conventional shapes, you can also opt for shapes of things or even places. These work particularly well in bedrooms, home offices, and kids' rooms.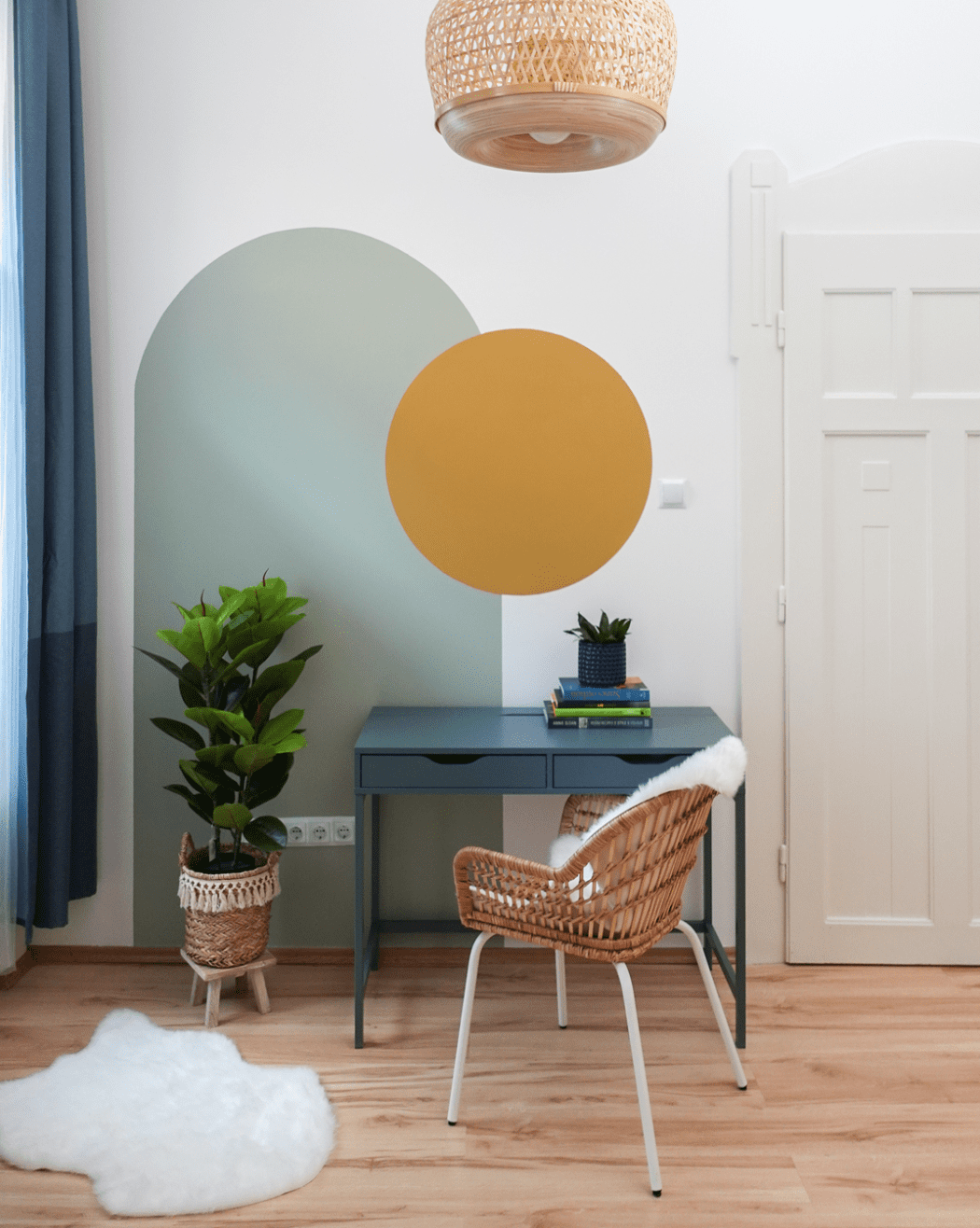 Image credit: Enikő Szendrődi 
6. Artwork Painted Wall
For a more dramatic impact on your wall, you paint artwork on your wall using tape. Start by looking for design inspiration and a color theme that will complement your home. Then draw on your idea of a piece of paper to see how the designs and colors come together. If painting is not your strong suit, consider hiring a professional to get the job done.
This is a fabulous way to make your home appealing and unique. What's great about this idea is that you can keep the rest of your decor minimal, drawing all interest to your irresistible wall. This will also sparkle a conversation with your guests.
Image credit: Jessica Antola
7. Accent Wall
An accent wall is popular in interior design for a good reason. This can transform and add more personality to any room and work well in any design style. The color of your accent wall needs careful consideration and this will be the focal point of your room.
This is a cost-friendly way to add the WOW factor to your space. An accent wall is proof that your home design doesn't have to be expensive to be aesthetically pleasing. Finish this off by hanging a stunning and eye-catchy artwork.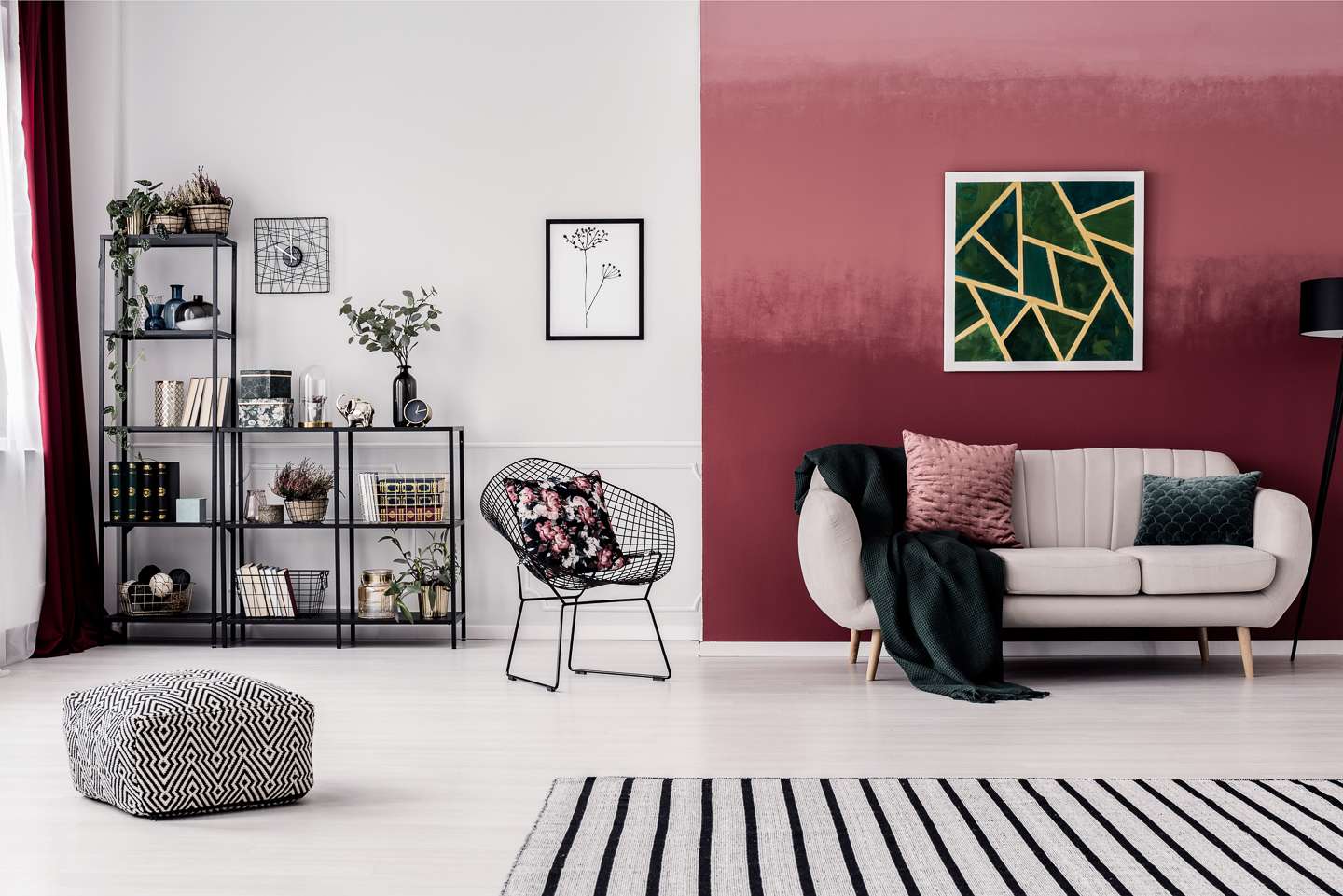 Image credit: ©Photographee.eu – stock.adobe.com
8. Ombre Stripe Wall
If your room wall looks too plain, an effect ombre is a great way to inject color and style into the space. To achieve this, opt for ombre tone colors. To create a fade-in effect when painting, opt for a gradual wash of color and not sharp or straight lines. For a subtler look, use no more than three colors.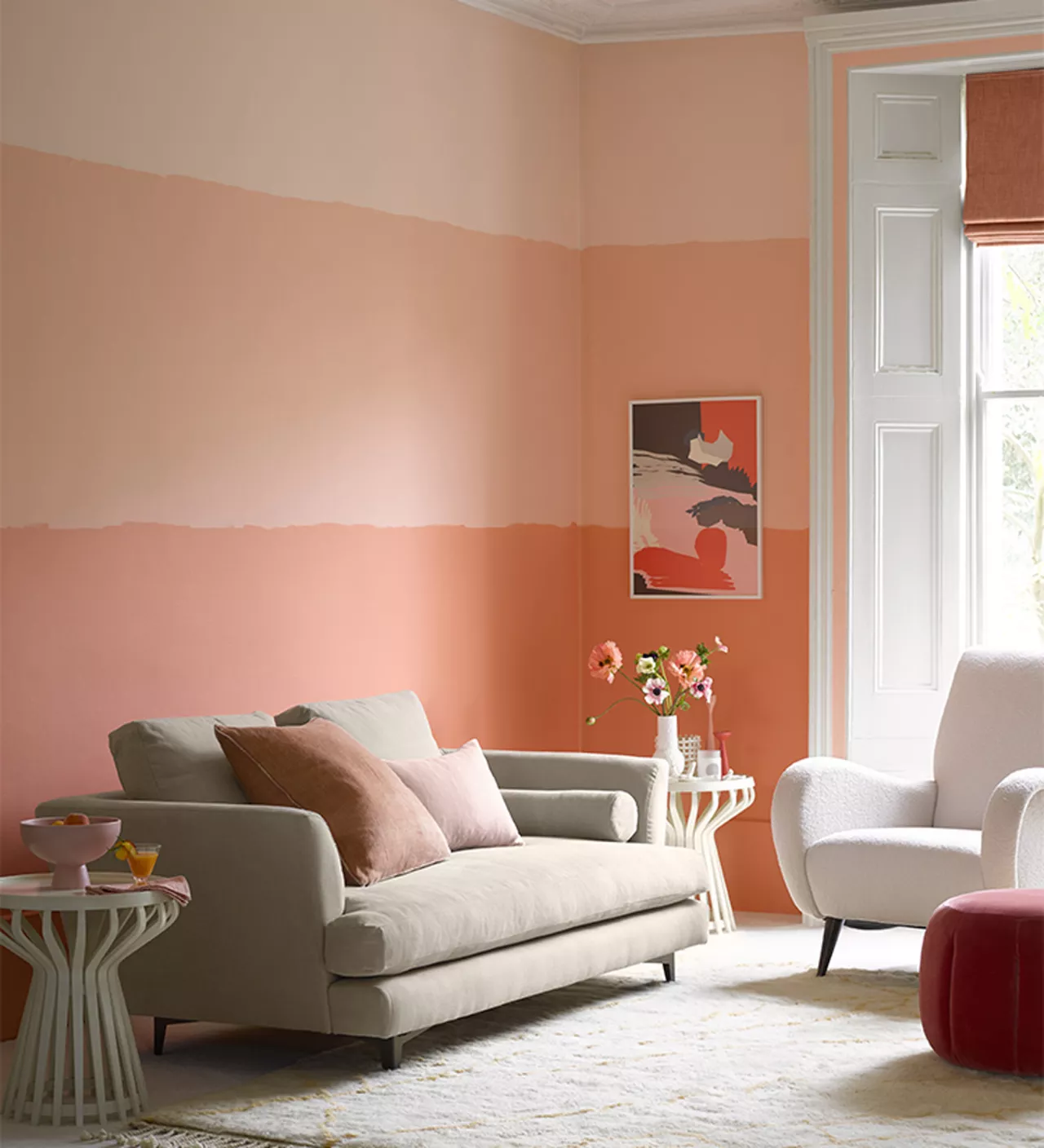 Image credit: Benjamin Moore
9. Diagonal Wall
A bold-colored diagonal wall is an excellent wall paint design idea if you want to create a modern and vibrant space. This will take any room from boring to eye-catchy. Opt for colors that complement your furniture and accessories for a cohesive look.
Keep the rest of the interior simple. Avoid using the color on a diagonal wall on furnishings. You can make the wall pop by using the colors on a few throw pillows, but do not go overboard with it.
Image credit: (Image credit: B&Q)
10. Framed Wall
A minimal way to spruce your wall is that paint the edges of your wall with an accent color to create a frame-like effect. This will accentuate the wall and create subtle visual interest in the room. This is an easy and less time-consuming DIY project for your home.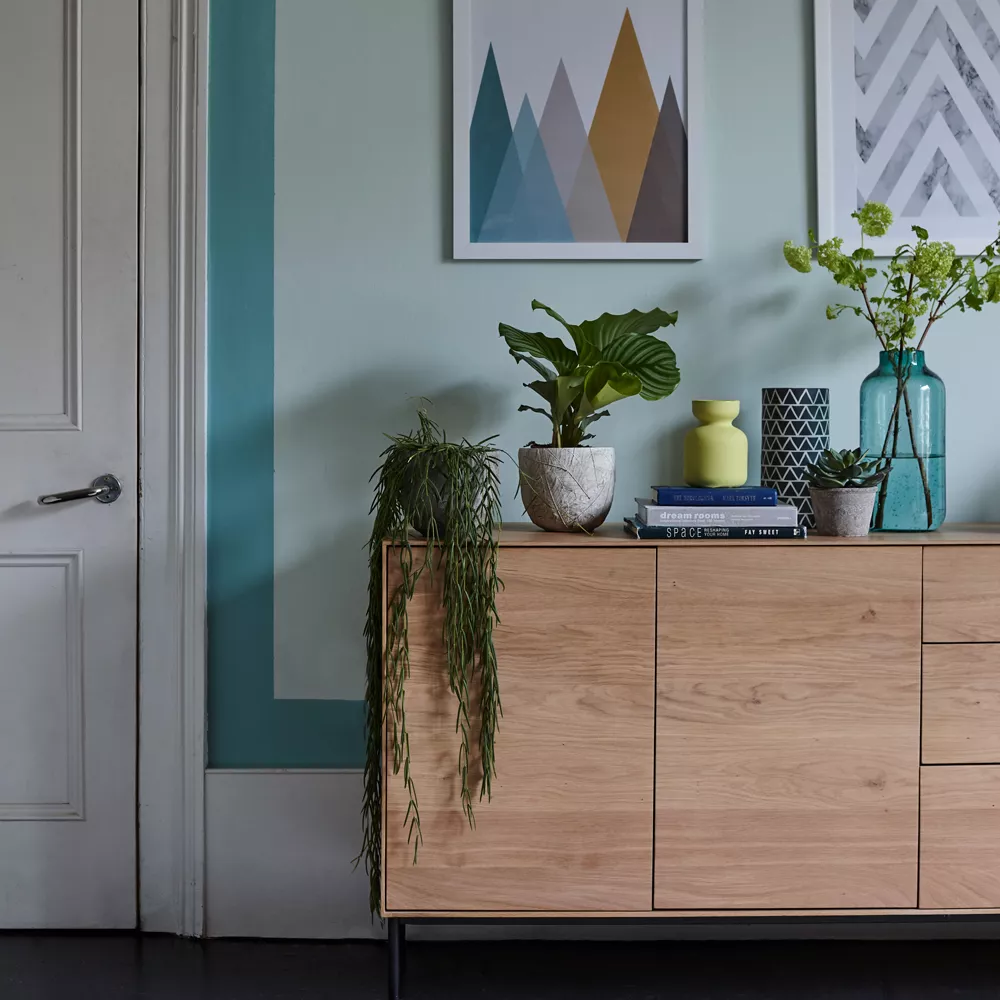 (Image credit: Future PLC/ Jo Henderson)
11. Painted Arch Wall
A painted arch wall is a classic way to add style to your home, especially in your dining and living areas. It is a minimalistic way of making an impact in a room. Do you need to liven up the bare wall? This is a great way to do it. It adds a pop of color to your space, which makes it a whole lot more intriguing.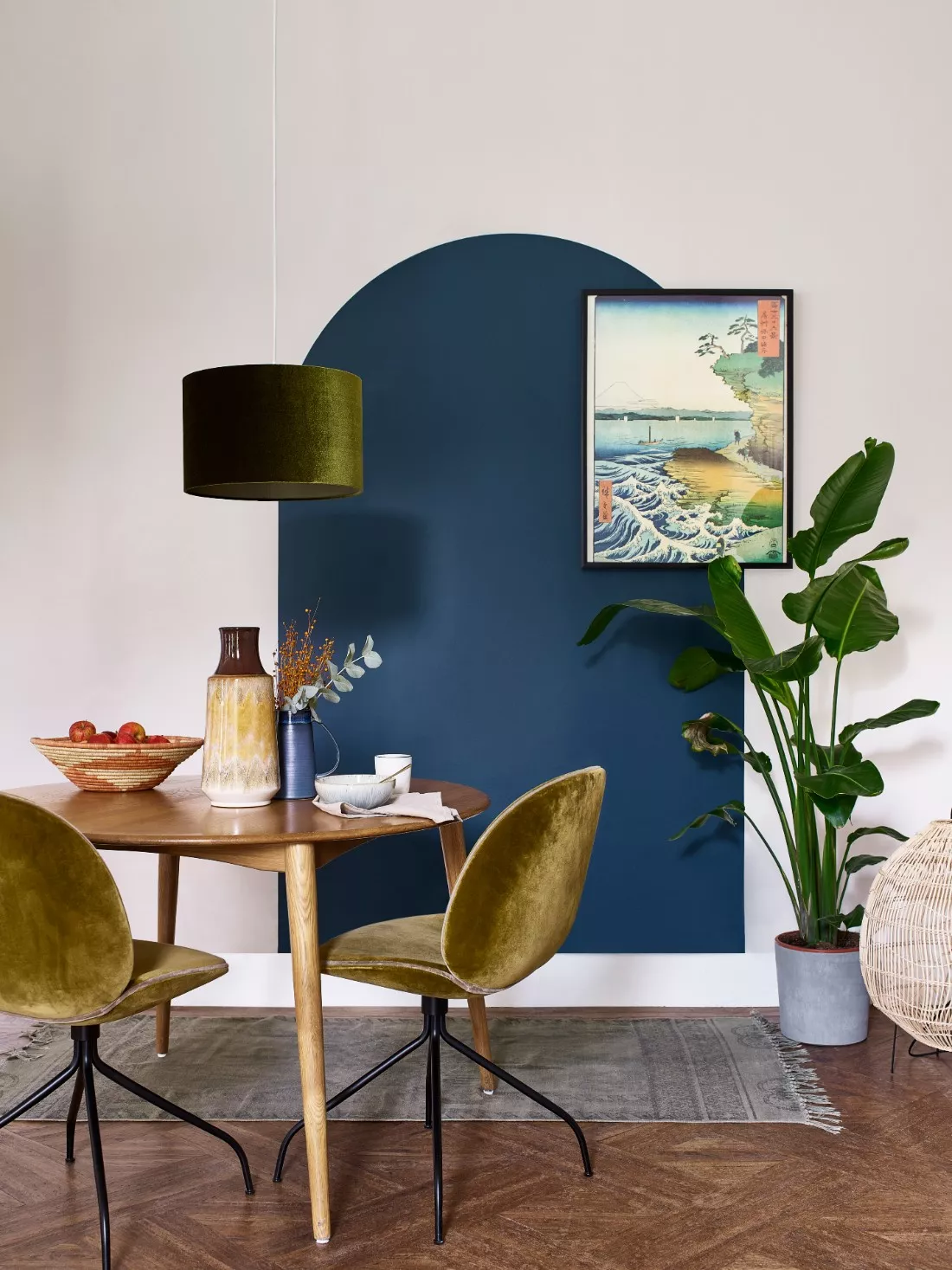 (Image credit: Dulux)
12. Artistic Combo Wall
This is a beautiful and artistic combination of colors and shapes. You can create your dream space with the clever use of color on your wall. This wall paint design idea can work well in the dining area, living room, and home office. There are so many creative ways to implement this.
These days, most homeowners stick to white, beige, or grey walls, hence, a good way to stand out is to throw in colors others are shying away from. If it looks reflects your style and personality, then it should be good enough!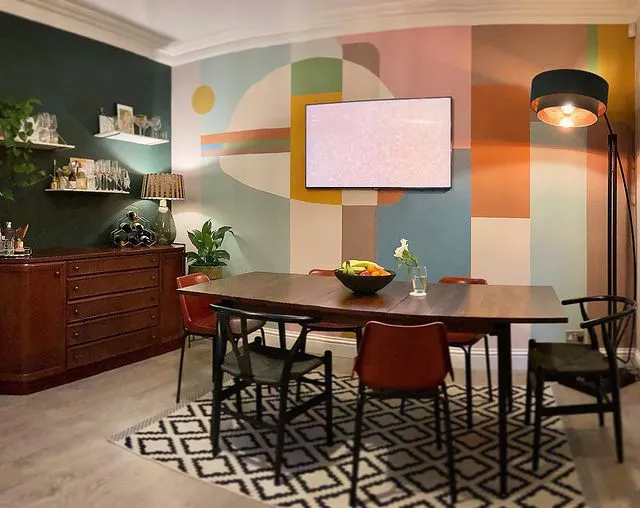 (Image credit: Future PLC/ Jo Henderson)