Aluminium Windows- An Eco-friendly Solution To Turn To
Thinking of making improvements to your property? Aluminium windows are widely used in construction. Using aluminum is an excellent decision if you want, for example, to vamp up doors or install chique windows.
Aluminum is a material you can work on to get the improvements your doors may be in need of. The material is ideal to place doors and windows in large shopping centers and industrial buildings. More and more individuals are opting for aluminium for home use.
This tool is highly recommended for several reasons. First, this metal is low cost, and compared to other construction materials, it requires minimal economic investment to manufacture it compared to other construction materials. In addition, it is very resistant, non-flammable, can be of any color, easily molded, and has a natural rust protector that prolongs its maintenance and conservation.
Keep reading to learn more about the advantages and drawbacks of aluminium for aluminium windows and door frames.
What aluminium door frame and aluminium windows look like
Aluminium is a light material, which makes the structure of the window much lighter, unlike metal and wood.
This is a very resistant metal. On top of that, the glass is held between two aluminium plates and a plastic band, as if the glass were bitten under pressure.
All this makes aluminium windows easy to handle, open, and close. These windows normally feature one rail or two rails that facilitate the movement of the window from one side to the other.
The window closing system is quite simple and very sophisticated and adheres the window to the frame solidly when shut.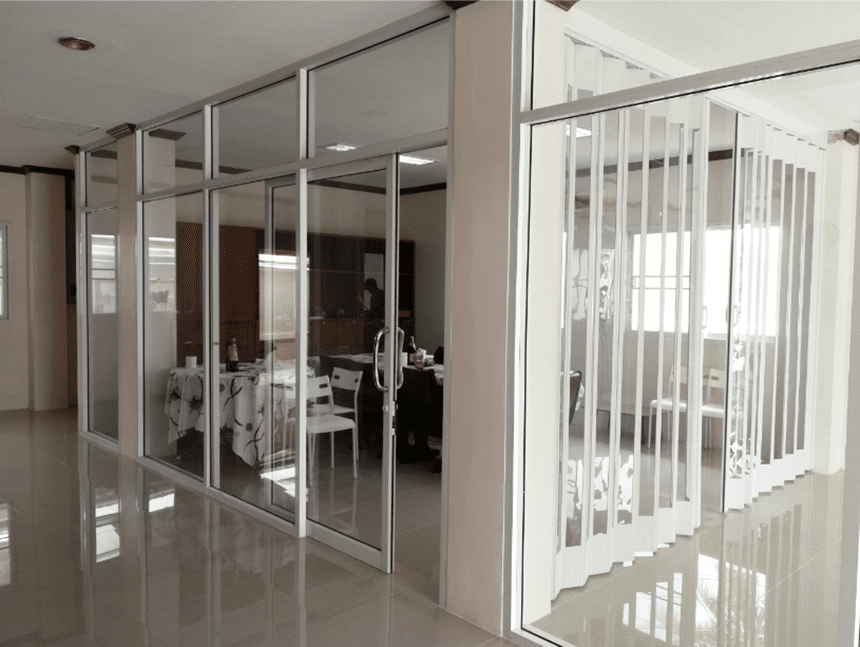 Advantages
Withstands temperature fluctuations
Regardless of the geographical and climatological area where the house is, aluminium windows are an excellent option because they resist changes in temperature and inclement weather.
Shock-resistant
This metal is suited for the manufacture of windows, because they are hard to break and hardly flammable, which significantly improves home safety. Many people have stepped up their home security by installing an aluminium front door.
Protective
Unlike wood, aluminium has a natural rust-protective coating that prevents windows from fading over the years, which at the same time, saves time and money on painting.
In addition, if we compare this tool with other materials used to make windows, it is significantly less expensive. Consequently, it is common in homes.
Moldable
Best of all, aluminum is an easily moldable material that can take on different designs and colors, so users can decide the color and design when installing aluminium doors and windows.
Maintenance
Compared to wood and PVC doors, aluminium windows require very little maintenance.
Aluminum can be kept in tip-top condition just by cleaning with a damp cloth when needed. Regular checking is also necessary to ensure the track remains grit-free, so doors and windows can work smoothly. Aluminum doors and windows do not corrode, rot or warp and are resistant to fading from sunlight. Besides that, they don't need painting in order not to discolor.
In contrast with aluminium windows and doors, wooden doors are more demanding in terms of maintenance, as they can look worn with the passage of time, especially if they are in the sun for long. Wood does need repainting after a few years to maintain its beauty. Wood doors and windows must be sealed to prevent moisture from seeping.
PVC windows and doors are also relatively low maintenance, but they tend to look weathered more quickly than aluminium ones, which keep sleek.
Security
Safety is also one of the fundamental aspects when choosing construction materials and windows for home. In this sense, aluminium stands out among a slew of options as a fireproof and "non-combustible" material that protects against fires.
This metal's hardness and resistance also make it the safest material against theft. Aluminium windows and doors can be installed anywhere in the home.
Eco-friendly
Aluminum is 100% recyclable. Aluminium use and recycling only require 5% of the energy used to make it, which results in a lower carbon footprint and a higher level of adaptability to the environment.
As aluminium can be reused, it is more environmentally friendly than materials like PVC.
Thermal efficiency
The type of glass used for aluminium sliding window installation and the door frame have an impact on thermal efficiency.
Traditionally, aluminium frames have been associated with poor thermal efficiency since metal is a natural conductor rather than an insulator. However, aluminium windows can preserve the RPT (Thermal Bridge Break) for a period of time. This breakage separates the aluminium frame into the interior and exterior pieces and bonds the frame. This breakage acts as a thermal barrier that reduces the flow of thermal energy through aluminum.
On the flip side, wooden doors in cold weather are prone to shrinking and getting seal gaps. This lets drafts in and cools the home interiors. Of all the materials, PVC generally has the lowest level of thermal efficiency, but aluminium does not trail behind.
Disadvantages
Aluminium is very resistant to rust, but high humidity and sudden changes in temperature may cause rust in it. Rust will permeate the aluminium windows if you don't do anything.
In terms of its use, you find that this tool increases your electricity bill for space heating and cooling since it does not maintain the temperature adequately. Besides, the contrast between the outside and inside temperatures can produce condensation. And, finally, it is true that it is a very resistant material, but incorrect maintenance can chip it.
What you need to know before installing aluminum windows
The first thing to keep in mind before choosing this material for aluminum windows is that every aluminium window has different insulating properties. It is important to analyze the characteristics of the house and those that these windows offer. The cost is relevant, given that insufficient insulation could lead to higher energy consumption.
For all these benefits, aluminium windows should conveniently prevail over other alternatives in an industry that increasingly promotes, and supports sustainable and inclusive growth, aiming for a greener future.