Bathroom Cladding: Revamp Your Bathroom
The latest bathroom cladding trends defy the established norms. Unusual colors for this space (the black bathroom boom is a trend), materials that you had thought about (make room for special paper for wet areas), and innovative shapes… But, even if you have already decided on the type of bathroom cladding, or the more classic tiles are for you, we also suggest you give the installation a twist: do you dare zig-zag or aligned tiles in another way? This is what is worn in bathroom coverings to have a modern and up-to-date space.
Marble, porcelain stoneware, mosaic, cement, resin, and even wood are among the most used types of materials for bathroom cladding.
When choosing a coating for the bathroom, the members of the family will have to consider the characteristics of the chosen material, its resistance, durability, installation, and maintenance. Some materials do not get along well with some cleaning chemicals and others require waterproofing so that they do not become slippery.
Keep reading these bathroom cladding ideas to find inspiration.
Switch from white to dark
Until now there were two aesthetic lines: either white tiles -and live by and for grout whitening products- or switch to another color for the sake of discretion and the most harmonious effect. This second proposal is gaining more and more followers, especially in combination with subway-type tiles or the classic ones that came back to stay. These tiles highlight the installation style you choose.
Fish scale tiles
They've become a trend recently. These walls are covered with drop-shaped or scale-shaped ceramic models, most of the time in a gloss finish. They give a lot of dynamism to the walls, especially if they are combined in different colors or different shades within the same range. If you don't dare, how about trying just the shower area?
Wallpaper (especially for wet areas)
Yes, there are some designed for the bathroom: they are ultra-resistant papers with endless decorative options. It is not a typical wallpaper; it is a specific technical coating for humid environments, such as the bathroom, the kitchen, or even gyms and spas. Like the Wet System wallpaper, by Wall & Deco, suitable for applications on plaster, concrete, plasterboard, glass,  and ceramic tile surfaces.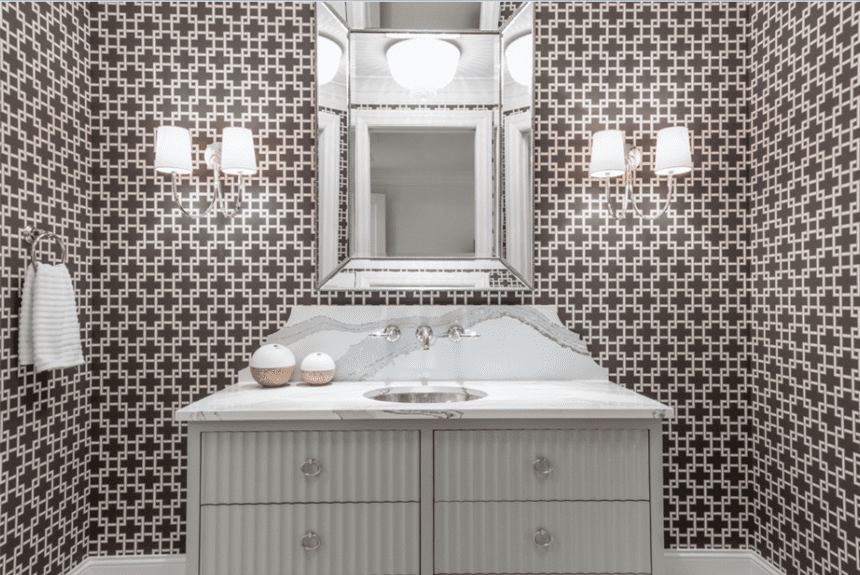 Not covering the walls fully
Placing the ceramic covering only on a skirting board at half height and painting the rest is an option with a sophisticated aesthetic finish and is also cheaper than covering the entire wall. Of course, the paint must be chosen carefully, with specific features to resist humidity.
Bathroom with mosaic walls
Stoneware or glass are good alternatives. Most firms offer very nice standard designs but also give you the option of creating your own mosaic combinations. Your favorite colors, your prints, a word…
Laying tiles in different ways
Try other ways of laying the coverings: zig-zag, diagonally, starting the next row in the middle of the other… what is traditionally known as staggered tile layout.
Give black a try
It seems that thinking about the bathroom, dark tones are the "anticolor". Well, we go further and give black a chance for its brightness. One part, the shower wall… It is elegant.
Combine coatings for best results
A very daring option is to mix different models of tiles or materials, even in different shapes and colors. For example, you can combine Neolith cladding combined with hydraulic tiles in a very special blue tone and with geometric shapes. It is a great bathroom wall cladding idea that works wonders for the vanity area.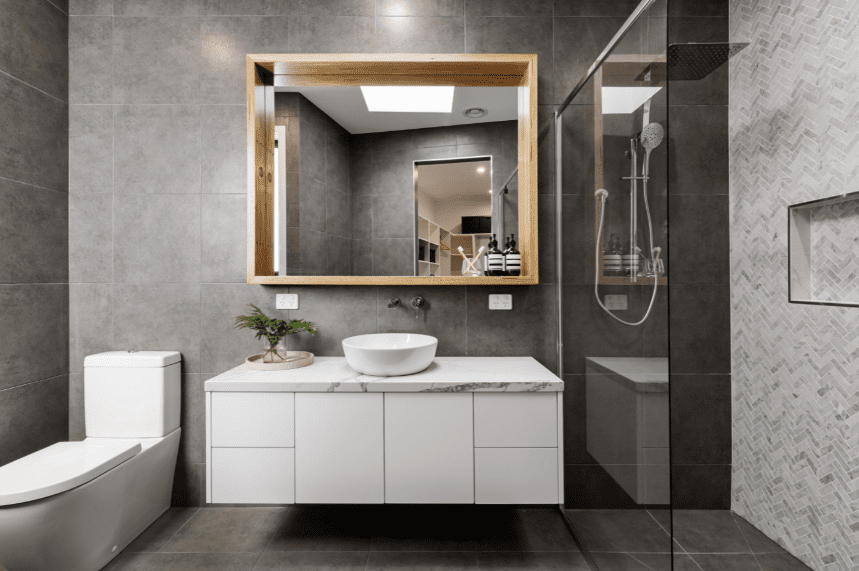 Reclaimed tiles
What if you reclaim materials and bring them to life? For example, the bathroom of the designer Chiara Andreatti's house has Palermo tiles from the early 20th century. You will give a touch of antiquity to your bathroom and create an interesting vintage effect that combines perfectly with a white lacquered wood floor.
Stone walls
It is an option that brings to mind rustic and traditional houses, but it is also perfect if you like that style. If you live in stone construction, this is a perfect option since it is a very aesthetic material and withstands humidity and the passage of time very well.
Zellige clay
Zellige is an artisanal ceramic tile made by hand in Morocco that has a wide variety of shades and transparencies. It works well in combination with a beautiful free-standing bathtub.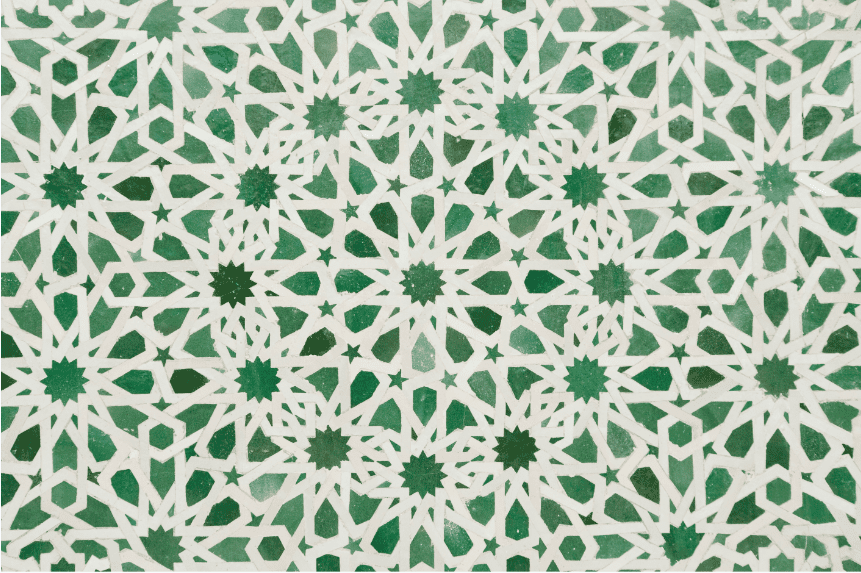 Handmade herringbone wall panels
For a wow effect, you can opt for handmade rectangular herringbone bathroom wall panels. The texture of these tiles makes them perfect to create striking lighting effects and give a traditional neutral air.
Marble for cladding
Marble is considered one of the most elegant and timeless materials for bathroom cladding. This natural stone has been a symbol of wealth and power since ancient times. After years in the background, it has resurfaced with great force, regaining its prominence. Of course, marble countertops in kitchens have always been present.
Marble is a compact and waterproof material, which is suitable for wet areas (bathrooms, kitchens, swimming pools), outdoor spaces, and facades. It also provides light and visual spaciousness to the bathroom.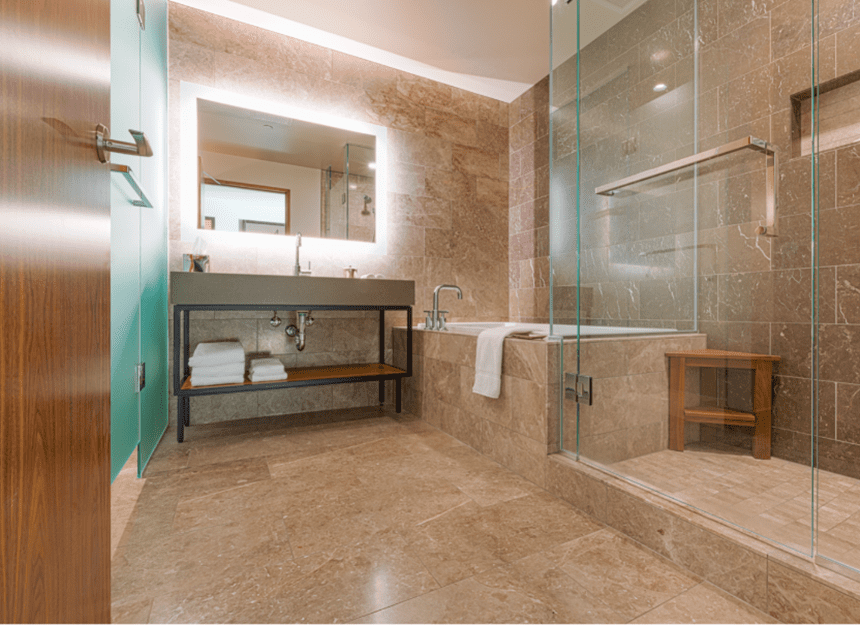 Glass
This handcrafted coating is made of glass using the mosaic technique. Glass is ideal for a single wall since applying it to the entire surface can be overwhelming. At the end of the day, it looks shocking and original. Glass does the trick for bathroom ceiling cladding.
Synthetic grass
This original idea includes a synthetic grass wall, which is cheap and easy to maintain. It is not ruined by the natural humidity of the bathroom since it is made of resistant materials. You can choose different lengths and with color combined in three tones, which give you an idea of ​​greater naturalness, in order to have a green wall at home.
Covering the walls of the shower and bathtub with pebbles is a way to integrate this material and give the bathroom a rustic touch. If you like rustic bathrooms, perhaps stone is the best option for bathroom cladding.