8 Bedside Tables For A Modern Home
A bedroom isn't only a place for sleeping in but is also deemed as a fortress to an individual's sense of privacy. It's where you feel most comfortable and relaxed, whether you sleep alone or with your beloved half. For this reason alone, it makes sense to revamp your modern bedroom into a functional and aesthetic space. While you've already displaced a perfect bed, now you're left with the task of finding the right bedside table to finish off a homey vibe.
Thankfully, there are just too many interior design and furniture ideas to help you find the best bedside table. With some inspiration and thorough research, you'll be able to find a table that's not simply meant to display your alarm clock and remote controls. You need to carefully select the best bedside table because it can impact the overall feel of your modern bedroom.
It's best to read the ultimate bedside table buying guide and consider the following bedside table ideas to get you started on your furniture shopping spree:
Bedside Tables With Shelves 
Bedside storage can be made more accessible when you go for a table that comes with shelves. A central drawer allows miscellaneous items to be neatly organized while upper and lower shelves remain open. They offer enough space to display your souvenir items from your favorite travels, art decor pieces, and some collection worth boasting and showing. 
When choosing which elements to put into the open, make sure their colors complement the room's overall theme. Add a personal touch to your bedside with these pieces, but remember to limit the objects so they won't look cluttered. 
Drum-Shaped Bedside Table 
Try a drum-shaped bedside table if you want to incorporate unique shapes into your bedside furniture. Despite not offering enough open space for your trinkets, these items are a great way to accentuate and highlight the uniqueness of your room.
Choose a drum bedside table where the lid or cover can be lifted so you can store some things inside the drum. These drum tables are usually priced reasonably, enough to buy more pieces for the other rooms in your house.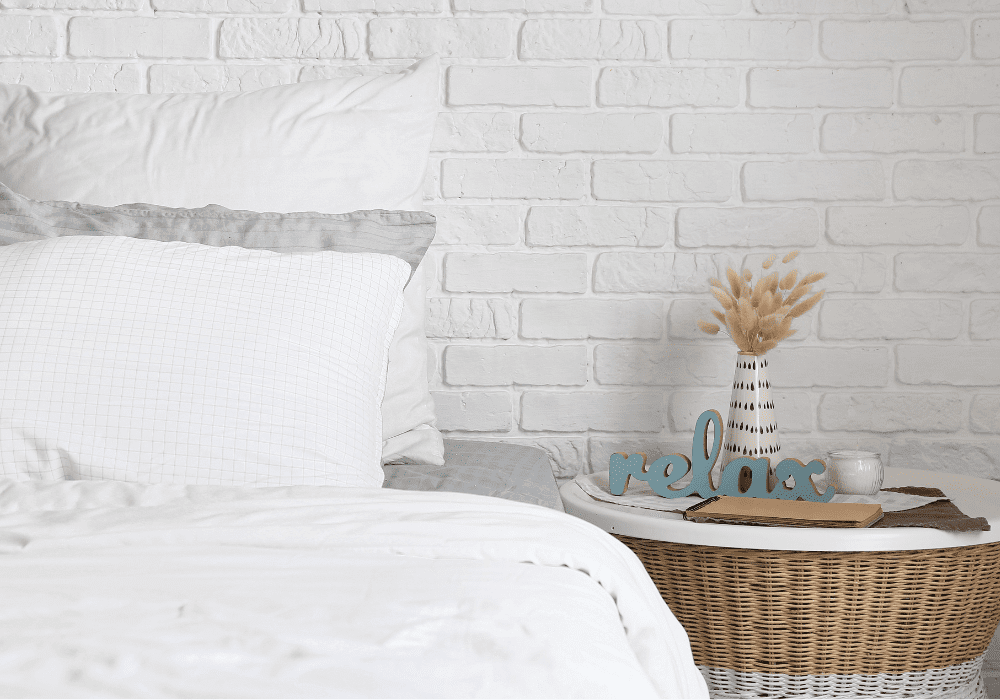 Elegant faux marble top enhances the look of an average bedside table. This mid-century modern cabinet boasts a classic look and sturdy, dependable construction. They don't have to have the real marble top to rev up the cost. 
Some bedside tables come with a top made of other materials but mimic the aesthetics of an elegant and luxurious marble material. They can come in different patterns, textures, and colors, so choose one that's within your color palette in your bedroom. 
Adding natural elements can make your bedroom space cozier and show the real you. If you have the rustic or naturistic vibe for your bedroom, you should go for tree trunk bedside tables. 
Instead of a classic nightstand, try a tree-trunk table to bring nature indoors. This easily highlights your nature-friendly theme in the bedroom. You can add some tall table lamps to give you those warm hues at night.
Bedside Table With Basket Underneath 
If your side table doesn't offer much storage, wringing a basket underneath is a surefire solution to your problem. They won't look cluttered and disorganized since they're placed underneath the table. This a perfect place to hide some extra rugs, magazines, books, and any other bedroom essentials you don't want visible to anyone.
Bedside Table With Drawer 
A smooth oil finish over a wooden surface gives this bedside table a bright and refreshed look. One leather pull tab is included on the drawer, which is enough to provide you with storage space. This is an excellent addition to your modern bedroom. This wooden table can work with any interior design of your choice.  
Dual Purpose Desk And Table 
Desks are ideally suited for serving as bedside tables, serving as two-in-one furniture. You can really spread out on the large surface area, and most desks also have drawers. You don't have to go far when you have quick work to do right before bedtime. You can just pull out a chair and finish your tasks on your bedside table.  
Narrow And Thin Bedside Table 
If you're short on space, you don't have to worry. There are auspicious bedroom layout tips to make the most of your space. Plus, this narrow and thin bedside table can eliminate your need for extra space. Even the smallest rooms can accommodate the slim profile of this bedside table. Easily refinished for better coordination, if necessary, the solid wood top used is made from sturdy material. 
Conclusion 
In the end, good bedside styling is about harmony. You need to find the right one that complements in terms of height, space, color, and design. The bedside table suggestions above can somehow give you a hint on which one would look best with your bedroom. Remember to stick to your theme and color palette.