6 Best Reading Lamps for your Study Room (Guide and Review)
If you are an avid reader, then it is quite possible that you like cuddling with a book under warm blankets before falling asleep after reading many chapters.
Reading after the sun has set, incredibly late at night, can be a very soothing experience. The world falls asleep, the hullabaloo dies down, and you immerse yourself in the pages.
What you need at this point is a good reading lamp. The proper lighting is essential to a pleasurable reading experience and will not strain your eyes.
Best Reading Lamps for your Study Room
Here are some of the best-rated reading lights that bookworms will love.
1.    Industrial Dimmable Desk Lamp with 2 USB Charging Ports AC Outlet
Simple in design and highly functional as a reading lamp and charging port, this is a must-have for book lovers or those who work late into the night. The lamp has a simple, vintage design with a broad touch-sensitive base.
You can touch it anywhere to dim or brighten the light according to your preferences. Moreover, you can use USB ports to charge up to three devices simultaneously.
So, while you are reading, the phone or tablet gets charged, making it the perfect accessory for your office or work table at home.
Image credit: Amazon
2.    WERFACTORY Tiffany Floor Lamp Sea Blue Stained Glass Dragonfly Arched Lamp
If you love everything vintage and delicate, this is the reading lamp for you. The beautiful dragonfly design on the stained glass will add a mystical appeal to the ambiance as you settle down with your book.
The resin-based, bronze-finished makes the lamp stand appear sleek yet ornamental. The base might look delicate, but it ensures that the delicate glass lamp stands firmly.
The LED lights save electricity, yet the lamp is designed in a way that it will create a warm haze no matter where you put it.
Image credit: Amazon
3.    Rechargeable Book Light for Reading in Bed
If you are looking for a portable reading lamp to move about from room to room or even use outdoors when camping, this rechargeable book light is just right for you.
The lamp is very light and comes with a clip function that makes it easy for you to attach it right beside you. You can choose from three kinds of light settings. The adjustable neck allows you to rotate the light to just about any position you want.
The pack of two lamps also comes with rechargeable batteries and cables, making it a great deal.
Image credit: Amazon
4.    LED Neck Reading Light, Book Light for Reading in Bed
This is one of the best reading lamps to possess if you love reading in bed in the dark.
The neck reading lamp fits comfortably around your neck and points the light at the pages held open in front of you. This a great tool to carry when you want to pack light and read at night during camping tours.
The lamp can also be used for various other activities, like walking at night when you want to keep your hands free. There are three color temperatures- white light, warm light, and warm white light.
The 270 degrees of flexibility of the neck allows you to place it on the table and use it as a table lamp.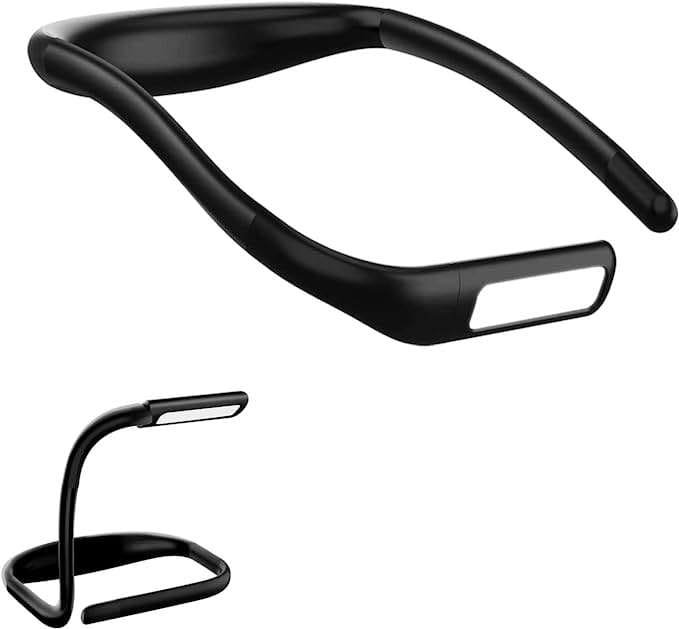 Image credit: Amazon
5.    NXONE Led Floor Lamp, Modern Reading Adjustable Standing
This floor lamp is for you if you prefer sleek and minimalist designs. Keep it on the floor by your work table or beside your bed, which will cast a pleasant glow from the top.
The best thing is the retractable pole that lets you adjust the height according to convenience. You can reduce the light from 100% to 5%, just the brightness you need. You can also control the light color temperature with the remote.
The lamp is easy to assemble and adjust, and the broad base ensures that pets or children do not knock it over.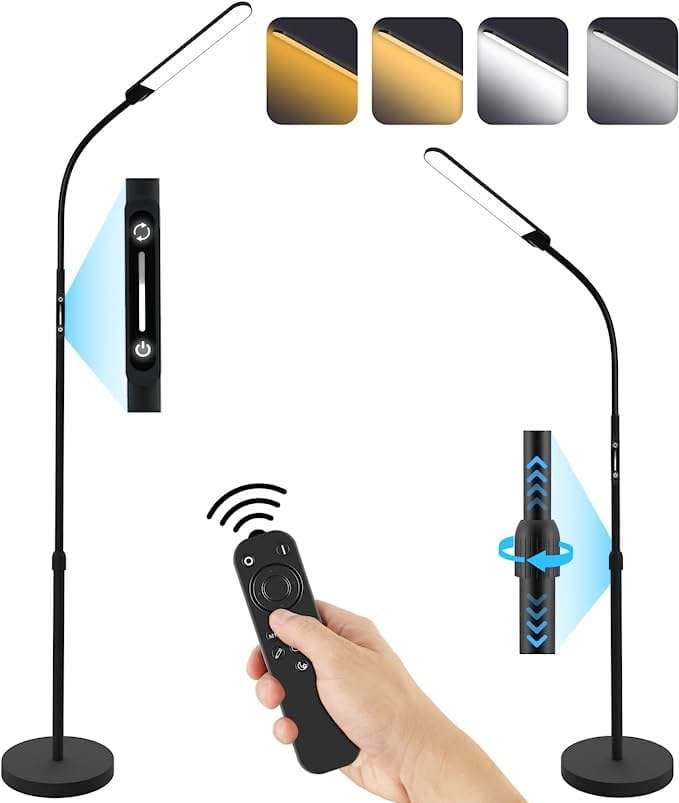 Image credit: Amazon
6.    Vont Clip On Light, Aluminum Reading Lamp
This clip-on reading light is made of aluminum, which makes it an excellent tool for tight places. Even if you have a small table, you can clip the light to the edge and use it without making extra space.
The light is non-flickering, and the soft tone is eye-friendly. You can choose between two light temperatures, and the clamp widen to up to 2.36 inches so that you can even stick it on a thicker table ledge.
The curve of the lamp also adds to its visual appeal.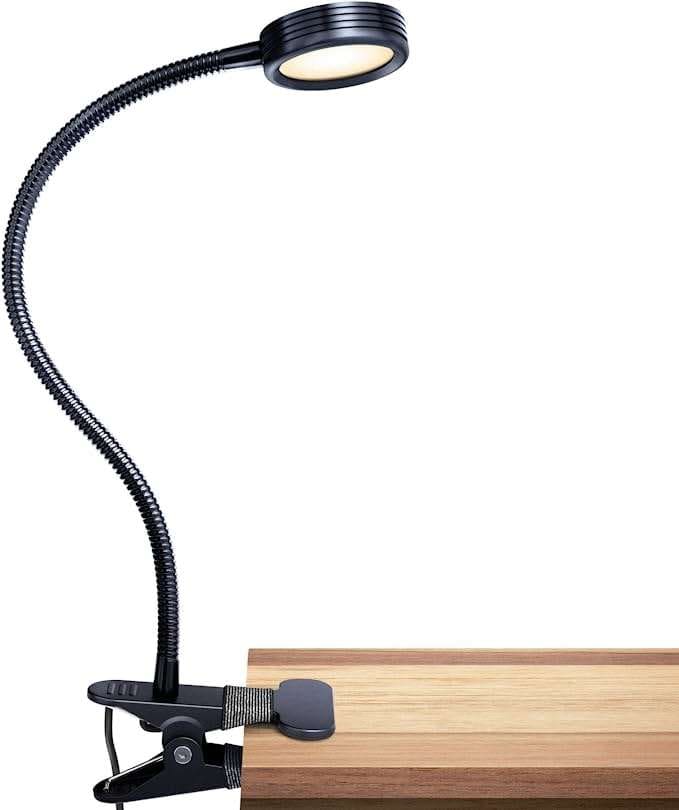 Image credit: Amazon
Conclusion
So if you have been pondering which reading lamps are suitable for you, you can take inspiration from these spectacular specimens. To find more significant varieties of reading lamps and other accessories like reading chairs and accessories, click here.