17 Dining Room Wall Decor Ideas that Will Blow Your Mind!
Many homeowners are looking for dining room wall decor ideas nowadays. While walls have always been an expressive element, 3D proposals are gaining popularity among dining room wall décor ideas. Many people combine wooden slats with other features to create unique dining room designs.
The dining room is often neglected. We spend too much time there. Happily, the internet is awash with dining room wall décor ideas you can copy freely. Are you searching for some dining room wall décor ideas? Check out this article.
Making changes in the living room is also advisable in old properties. The living room is not only for taking meals but also for chilling out with pals. Keep reading to learn more about how to decorate it.
The dining room projects your personality. Whenever you plan to decorate this room, use a décor style that brings all the elements together. You'll love these dining room wall décor ideas, for sure.
1. Tinker with Symmetry
Create a balanced display with frames that can add harmony to the space. Opt for equal or similar frames to achieve this effect, which also improves the appearance of the dining room. These dining room wall décor ideas are compatible with light wooden floors and golden hues.
Credit: Chango & Co.
2. Stick with the style that your dining room already has
It's OK to reuse some materials and items. Tables and armchairs go better with wooden floors. Minimal changes to your existing decor can make difference too. It could be something as simple as replacing the centerpiece or table clothes.
Credit: Studio Mcgee
3. Don't forget about the accent color
Alternatively, paint the dining room walls the same color as your bedroom and ceiling in order to pull the accent color. Place objects that match the setting style. Use the shades of your bedroom in your dining room and decorate the dining room with sconce lights to make it brighter.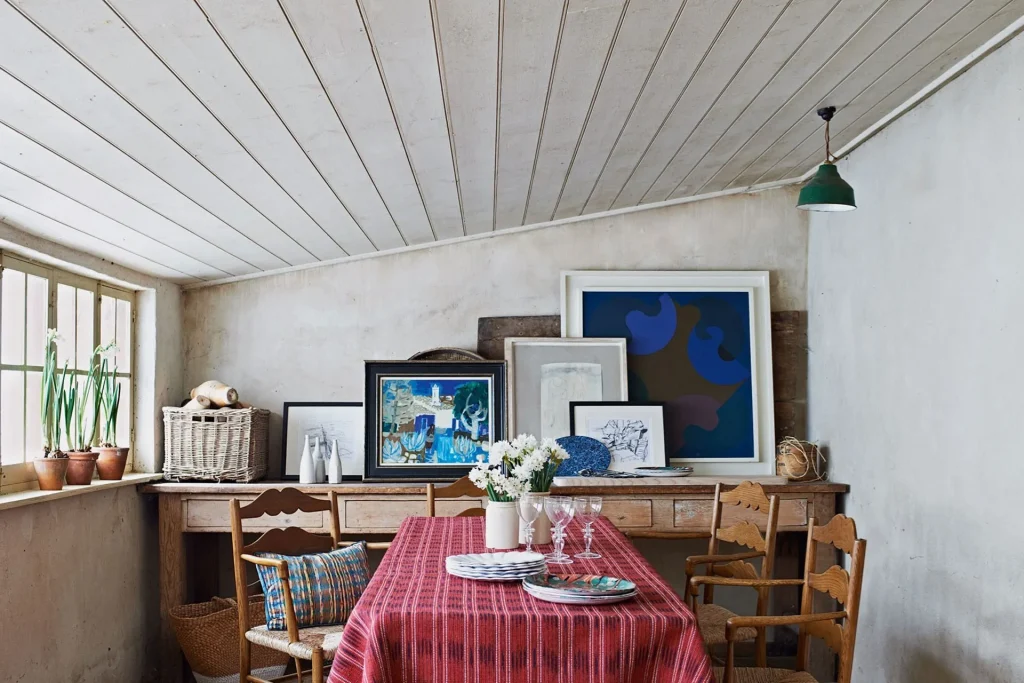 Credit: Adrian Brisco
4. Be creative
Try other dining room wall décor ideas and stay away from the norm. Be creative and add muted green circle shelves and neutral tones. Forget about normal paintings and put a fresh plant centerpiece to add a minimalist touch. For example, check out how this gigantic chalkboard gave some flare to this very minimal dining room.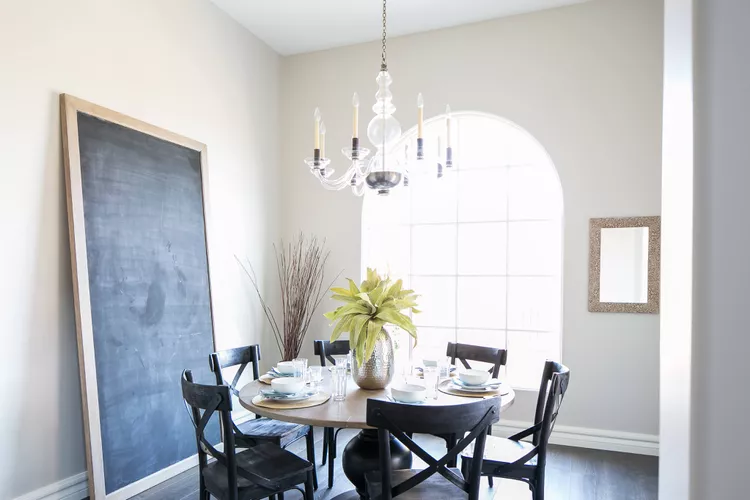 Credit: Luster Custom Homes
5. Geometric chandeliers and wooden tables
Curate a dining room design with some framed family photos on a console table. Use chairs and geometric chandeliers to achieve this decoration style. Wooden tables are better than iron ones.
Credit: Getty Images
6. Create a Focal Point
You can create a focal point by putting an open shelf in the same shade as the wall and filling the wall with artwork. The shelf will not only be for a decorative purpose but will have a function in the dining room. It will work as a storage spot for the cutlery and dishware.
Credit: Nolen Homes
7. Mugs
The major part of dining room wall décor ideas includes mugs. Buy patterned mugs and put them in a visible place. This is one of the dining room wall décor ideas that is not limited to artworks and prints. In this design, the rack is decorated with a garland.
8. Create contrasts of colors
Include a world map wall art in your dining room. This idea considers warm tones and browns to create contrasts against blacks. This is one dining room wall décor idea that catches the most attention with its apparent fall vibe.
Credit: HGTV Canada
9. Mirrors and wood
Mirrors are not so common in dining room wall décor ideas, but they definitely transform a room when they are considered. Mirrors keep the space more illuminated, reflecting artificial and natural light. The mirror, however, should match the style of the other accessories that decorate the room. In other words, you should use a wooden mirror in a living room styled with hardwood and wooden objects.
Credit: Stacy Zarin Goldberg
10. Antique windows
We have talked about artwork, prints, and new color wall combinations, but we haven't mentioned anything about windows yet. Incorporating an antique window adds a crafty touch and improves the lighting of the space. A window will fulfill a decorative purpose at the same time it brightens the space without overpowering the eye.
Credit: Fixer Upper
11. Upholstery and gold abstract colors
If you want an elegant dining room wall décor style, gray upholstered chairs and gold abstract colors are a must-try. These dining room wall décor ideas stand out for their elegance and glamour.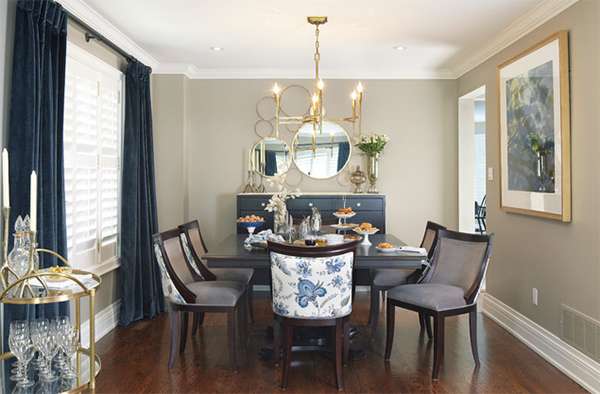 Credit: Sealy Design Inc.
12. Distressed items
This is one dining room wall décor idea that admits distressed objects. Using old baskets and brown wall art gives the place the rustic touch of farmhouses. Framed baskets can work well with ceramic dishes.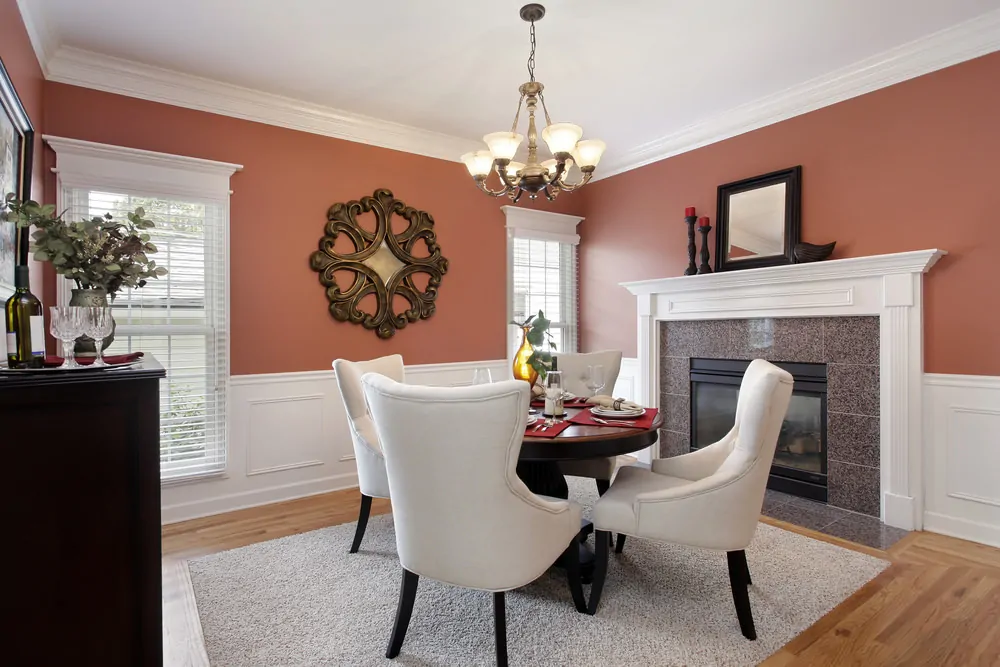 13. Apply a coat of paint
Keep it simple and paint the walls with a cozy coat of paint. Use white and black prints. If possible, leave paintings aside this time, as you don't need them. Hang family pictures on serene green walls.
Credit: Decoist
14. Fill the empty walls
Make a statement by using geometric shapes in signs. In order to decorate an empty wall, hang an oversized leaning artwork to cover it. It will fill up the entire wall and create a big visual impact.
Credit: Home Polish
15. Floating Shelves
Apart from the geometric items, windows, and paintings, add three-dimensional pieces of art and wall shelves to make the dining room larger. Other dining room wall décor ideas involve using potted plants, candlesticks, and pottery. Worn wall shelves are easy to replace when ugly or old.
Credit: Wohomen
16. Baskets
Hanging baskets play an important role in many dining room wall décor ideas today. They should be used wisely and be the same color as the walls and the items in the room. They should have red and yellow undertones. Combine the undertones wisely.
Credit: Wohomen
17. Go Minimal
Neutral colors provide an effect that paintings and prints can't do. Going minimal means using a neutral color palette and white prints that meld into a surrounding wall. Not all paintings fit into this décor style.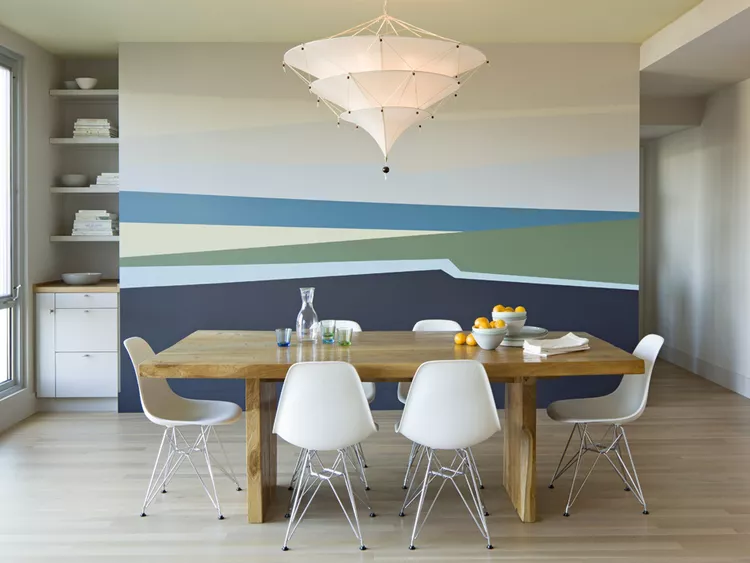 Credit: JH Interior Design
Summary
These are some of the most popular dining room wall décor ideas you can choose from. Other dining room wall décor ideas include triptychs with mirrors and offer a minimalist touch. These dining room wall décor ideas focus on the combination of hues and the variation of shades. Experts recommend putting emphasis on scale, as a single art piece in a contrasting hue can change the appearance of a dining room.