How to Apply and Remove Peel and Stick Wallpapers
Peel and stick wallpapers are a popular choice among homeowners looking to add some style and personality to their homes. These types of wallpapers are easy to apply and remove, making them an ideal option for those who want to experiment with different designs and styles but aren't ready to commit to a permanent installation.
If you're thinking of trying peel and stick wallpapers in your home, here are some practical tips to help you get the most out of this versatile design option.
Plan ahead
Before you begin applying peel and stick wallpapers in any room, take some time to plan out your installation:
Measure the space carefully;
Make a list of all of the materials you will need to complete the job.
There are some wallpaper companies that offer their help designing a room, especially if you choose a design that has a pattern that needs to align perfectly. They might even help you with the measurements and placement scheme for wallpaper, all you need to do is precisely measure your room.
Read and watch a few tutorials
Don't be shy to read more than one tutorial on how to apply peel and stick wallpaper. A good idea would also be to watch some Youtube videos to see people doing it, so you have an easier way of replicating the process. Especially if this is your first time applying peel and stick wallpaper, research on the topic will be useful.
Start with a clean surface
Before applying peel and stick wallpapers make sure that the wall or other surface you are installing these wallpapers on is free of dust, dirt, and debris. Wipe the surface down with a damp cloth to remove any buildup, then allow it to dry completely before applying your wallpaper.
Follow the directions carefully
Peel and stick wallpapers come with detailed instructions on how to apply them, so be sure to read these carefully before starting your installation project. These directions will help you peel the correct amount of material from the backing and avoid air bubbles or wrinkles in your wallpaper.
Work in small sections at a time
Rather than trying to apply peel and stick wallpaper on all walls at once, it's best to work in smaller sections (e.g., depending on your design start applying wallpaper from the left side to the right). This will help you better control the process and prevent mistakes such as over-applying the peel and stick wallpaper material.
Use a scoring tool
Since peel and stick wallpapers are designed to be removable, it can be difficult to get these materials to lay flat in tricky areas like small corners or around windows and doorways. To get the best results in these areas, use a scoring tool to create a small slit where you want the peel and stick wallpaper material to lay.
Use a smooth plastic card or squeegee
To ensure that your peel and stick wallpaper is securely attached, use a flexible plastic card or squeegee to press it down firmly to the wall. This will help eliminate any bubbles or wrinkles that may have formed during installation.
Be patient
Applying peel and stick wallpaper can take some time, especially if you are working on a large area or a surface with a lot of curves and corners. Take your time and be careful to avoid bubbles or other imperfections in your wallpaper as you work.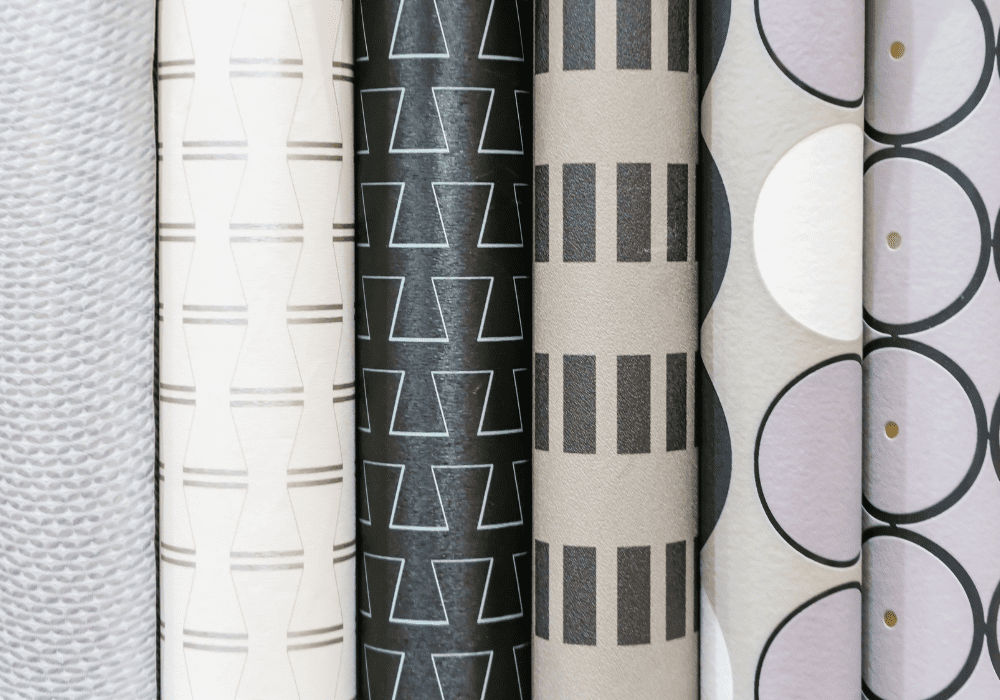 Things to keep in mind
There are some surfaces and places where peel and stick wallpaper will have trouble staying on or it won't be removable.
For example, if you live in a rented apartment with wallpaper already on the walls, most likely another wallpaper won't go well on top. When putting wallpaper on the wallpaper you run into the risk that when removing the stick and peel wallpaper, it might come down with the underlayer (aka previous wallpaper).
Or the stick and peel wallpaper might not stick to the wall at all in the first place if the underneath wallpaper has a texture. Plus, it is harder to clean paper wallpaper with a wet tool without damaging it which is a crucial step to prep the wall for proper stick and peel wallpaper hanging.
And you should be aware that hanging stick and peel wallpaper in the bathroom is tricky. It is doable, but because of the moist conditions, it might peel off quicker. It depends on the ventilation of the room and where you put the wallpaper. Definitely avoid areas that will 100% get wet, for example, the shower or backsplash of the sink.
Remove carefully when it's time for a change
Finally, when you're ready to remove peel and stick wallpapers from a room, make sure that you follow the removal instructions provided by the wallpaper manufacturer. Peel and stick wallpapers are designed to be easy to remove, but this doesn't mean that the process is always simple.
When it comes time to take down your peel and stick wallpaper:
start by gently pulling one corner away from the surface before slowly peeling off the rest of the design.
if you run into any issues or find that your peel and stick wallpaper is difficult to remove, try using a heat gun or hairdryer to loosen the adhesive before continuing.
or try soaking a cloth in warm water and gently rubbing the peel and stick wallpaper material until it peels away from the wall.
With proper care and attention, peel and stick wallpapers can be a fun and stylish way to add some personality to any room in your home!
Where to find peel and stick wallpaper
If you're looking for high-quality peel and stick wallpapers, be sure to check out the selection at Deccoprint.com. With a wide range of styles and designs to choose from, you're sure to find the perfect peel and stick wallpaper for your home.
And another great thing About Deccoprint's peel and stick wallpaper – it is textile based so it won't have the glossy, poster-like finish that some vinyl wallpaper has. On the contrary, it will have a homey fabric feel to it. It is not only a good look but also more sustainable.
Conclusion
Even if applying peel and stick wallpaper at first feels like a daunting task, with patience and the right tools it will be easy and doable. If you are worried about your wallpapering skills, start with smaller areas and move up from there. Practice makes perfect, so start practicing!