Best Book Cover Design Ideas (With 18+ Samples)
 A clever book cover design is a marketing tool that will get the attention of potential readers. So, get your creative juices flowing with these book cover design ideas. 
First impression matters! According to Statista, 500,000 to one million books get published annually. When combined with self-published authors, these numbers can go up to 4 million. Writing a book is a long-winded and tedious process but getting it to make sales is the main struggle for many.
"Do not judge a book by its cover" is a principle we try to live by but books with visually unappealing covers are most likely to stay longer on the bookstore shelf— so yes, books do get judged by their exterior.
No matter the genre of your book, the cover plays an important role in attracting the right audience and can make or break the sale volume. The cover sets the tone and expectation for the book's content.
Think of the bestselling books you know and how the covers stand out on the shelf. Oftentimes, the authorship of the book is what draws readers' interest but how do you stand out in the highly saturated industry filled with an array of prominent authors?
In this post, we'll share the best book cover design ideas that will make your book eye-catchy and hard to resist.
1. Take Advantage of Contrast Colors
The color scheme of a book can be its biggest asset. Before choosing the color palette, think of the mood you want to create and how the colors appeal to your target audience.
The use of contrasting colors is a design technique used to maximize interest and capture the viewer's attention.
Color influences human emotions and each color conveys an array of emotions. For instance, purple and yellow sit opposite to each other on the color wheel and this makes them a contrast pair.
Yellow conveys the feeling of happiness, joy, and optimism while purple brings a sense of power, wisdom, and ambition.
Colors can be injected into the book's cover page through the background, imagery, or typeface.
A good mantra to remember when it comes to design ideas for book covers is that bright and bold and striking colors express bravado while muted and pale colors convey delicacy and nuance.
Book Samples:
1. The Dalai Lama & Howard.C. Cultler-  The Art of Happiness
2. Robert Kiyosaki and Sharon Lechter- Rich Dad Poor Dad
3. Malala Yousafzai & Christina Lamb- I Am Malala
4. Bernardine Evaristo – Girl, Woman, Other
5. Steve Harvey – Act Like a Success, Think Like a Success
2. Use Compelling Imagery
There are no set-in-stone rules for book covers and this gives limitless room to express creatively.
A simple picture can tell a thousand words. Book cover imagery is in no way compulsory but has proven to be effective time and time again. A common and clever way for public figures to market their books is by using their own photo on the cover page.
The genre would be a major determinant of whether using images on the front cover will add value to the book or enhance the marketability prospects.
For instance, is very uncommon to see a romance novel that doesn't feature a couple embracing and getting lost in gaze. Most books of similar genres follow this same convention so that readers can instantly recognize it.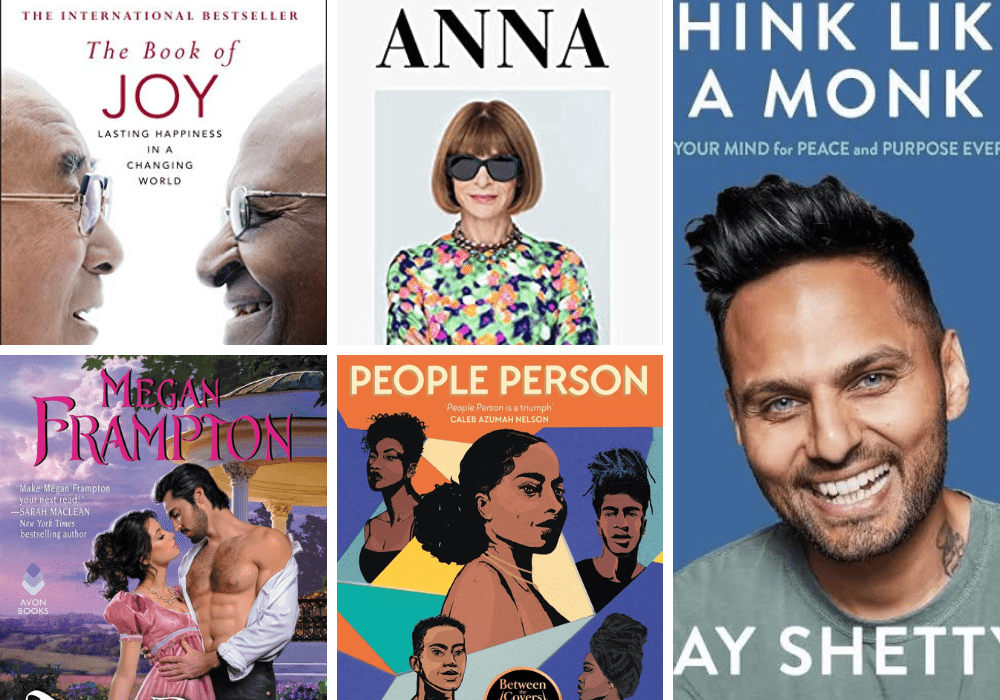 Book Samples:
6. Dalai Lama & Archbishop Desmond Tutu- The Book of Joy
7. Megna Frampton – Tall Duke and Dangerous
8. Amy Odell -ANNA
9. Candice Carty-Williams- People Person
10. Jay Shetty- Think Like a Monk
3. Use Readable Fonts
The typeface for your book cover is an important factor that cannot be overlooked. A good font can enhance readability and also evoke the reader's emotions.
Avoid using complex or highly detailed script typefaces as this can make it difficult and read and comprehend.  A well-designed font will have qualities that are consistent throughout the font set.
The title of the book needs to stand out and be larger than the author's name. All text on the book cover should be legible and appropriately sized. An illegible typeface can feel jarring.
As a rule of thumb when it comes to book cover design ideas, consider using two or three typefaces throughout to cover harmoniously. The tone you aim to set will determine the most appropriate font to use. Check out this article for the best book cover fonts to draw readers in.
Book Samples:
11. Tiffany Haddish- The Last Black Unicorn
12. Nadiya Hussain- Nadiya's British Food Adventure
4. Embrace Minimalism
A minimalist design approach can also make your book stand out from the crowd. Books are increasingly being used as a decorative element in contemporary interior design.
These types of books often have minimal covers that can add a stylish flair to add home. They feature clean lines, neutral colors, and simple serif and sans-serif typefaces, which make them appear effortlessly chic and sophisticated. A minimalist book cover design ideas are especially great for bibliographies, memoirs, decor books, history, and literature.
Book Samples:
13. Joanna Thronhil- Mindful Home
14. Prince Harry The Duke of Sussex- Spare
5. Think Outside the Box
There are a plethora of ideas for a book cover design but it is still quite difficult to stand out from the crowd. Your book content may be spellbinding but your book cover design has to be unique to other steal the attention of potential readers.
Whether funny, mysterious, or artistic, show your creative side and what makes the book worth reading.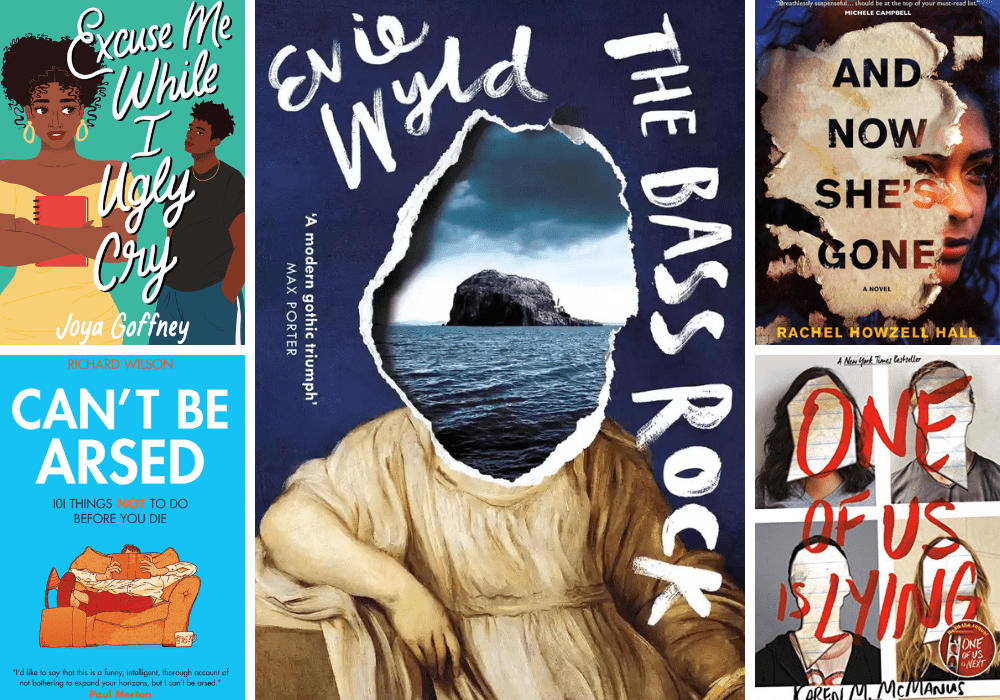 Book Samples:
15. Joya Goffney- Excuse Me While I Cry
16. Richard Wilson- Can't Be Arsed
17. Max Porter- The Brass Rock
18. Rachel Howzel Hall- And Now She's Gone
19. Karen M.Mcmanus- One Of Us Is Lying
Get Started with Your Book Cover Design
You can hire an experienced professional to help you design your book cover but it's absolutely DIYable if you have budget constraints. Do you have a strong design background or creative flair? If so, jump in on this one!
Advancement in technology and free design tools like Canva and Adobe Express has made it easier for self-publishing authors to design their own book covers with ease.
Avoid using anyone's design as this may result in legal troubles and the book will not feel uniquely yours. Instead, gather some inspiration like the ones above and create a book cover design that resonates with your unique style and commands attention.
Pin for Later!