Bunk Beds for Adults: Pros and Cons
When people have certain needs in their home like saving space in a shared room, the first thing they think of is bunk beds because they are the most practical and functional option. Besides, there's a wide variety of bunk beds for adults in today's market.
Buying a bunk bed should be done thoughtfully. You must first think about the layout of the room and the type of bed you want to choose: double bunk bed, wooden bunk bed, bunk bed with desk…
Before considering buying a bunk bed, you have to consider the advantages and disadvantages. If your guest rooms have little space, you may need one or two. These types of beds are not only for kids but also for adults.
Below are the advantages and drawbacks of getting bunk beds for adults. We'll also see the varieties and how they function. Read on.
Advantages of bunk beds for adults
Bunk beds for adults are one of the best options to equip homes, hotels, and trailers since they offer a series of advantages:
Use of space: a bunk bed provides two or more places to sleep in the space of a single size bed. This can be a great advantage, especially for tourist establishments. In addition, this optimization of space leads to greater cleanliness and order in any room.
Resistance: current bunk beds are made of very resistant materials, such as metal. In this way, bunk beds withstand high weights and remain firm for a long time. There are tons of models of sturdy bunk beds for adults today.
Versatility: although bunk beds for children have more stereotyped designs, bunk beds for adults are very versatile since, apart from the traditional ones, there are many other types of bunk beds for adults that can provide alternative solutions to, for example, space problems.
Safety: Bunk beds for adults must meet the same quality and safety standards as children's bunk beds. Although it may seem that adults are less prone to accidents, anyone moves involuntarily while sleeping, regardless of age, so adequate barriers and stairs are essential.
These are some of the disadvantages of bunk beds for adults:
Structure volume
Danger of injury
Inconvenience when wearing, dressing bedding, dusting
They are heavy and difficult to move
The classic version of full over full bunk beds for adults has two floors: The upper and lower floors are full beds connected through a frame. Some models are equipped with other types of furniture, like a wardrobe, a desk, and a sofa. Multi-level beds for adults can provide two, and in some cases up to three spacious beds (if the additional level is extendable). These beds take up a minimum of space, can be equipped with cabinets, drawers for storing things, bedding, and other accessories.
Types
There are many types of bunk beds for adults, among which we can find: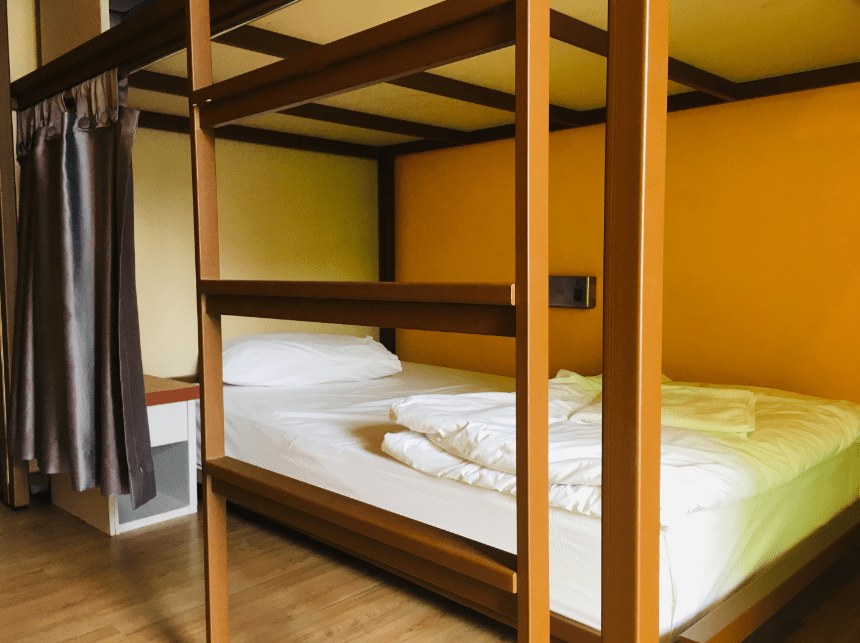 Standard two-tier beds for adults: they differ from their children's counterparts only in the size of the beds. Previously, such furniture was most often used in hostels, hotels, hostels, barracks, because it makes it possible to place a large number of people in a small area. The models were distinguished by functionality, practicality, low cost, but did not have an attractive design.
Folding bunk beds: these types of bunk beds of adults are one of the most functional, especially when it comes to a very small room. They are totally hidden during the day as they fold in on themselves. When we go to sleep, we can unfold them.
 They are in
Full size bunk beds for adults are functional and ergonomic furniture designed to help rationally use the space of a small room. Two-tier beds have become indispensable for many families with more than one child.
They are suitable for boys and girls of different ages. But the scope of these models today is not limited to children's rooms, considering that bunk beds for adults make it easy to solve the problem of saving space and comfortable rest for all family members. This furniture is becoming more and more popular due to its compact size and convenience.
Stores are still far from offering many designs. Consumer demand for this furniture is just growing, and therefore ordering a project of a two-story bed for adults according to your own criteria in the living room is easier than looking for a finished model. Anyway, these beds are an exclusive product that will solve easily the problem of competent organization of space and will provide the owners with comfortable sleeping places.