40+ Elegant Christmas Mantel Decor Ideas
It's time to bring the magic of Christmas to your home yet again. Elevate your decor game this holiday with these stunning Christmas mantel decor ideas.
There's snow place like home. The mantel is the focal point of the living room and this makes it the perfect place to ravish with festive cheer.
There are endless ways to decorate the mantel during the holidays. The most common decoration used for the mantel is a garland, which is often accompanied by pinecones, baubles, ribbons, LED lights, and other ornaments.
One of the best things about decorating for Christmas is that there are no set-in-stone rules. You can decorate a space that feels festive and still reflects your individual style.
Are you planning on going big this year or keeping it simple? All you need is the right inspiration to get your creative juices flowing.
We've scoured the web to curate 40+ eye-catchy and elegant Christmas mantel decor ideas to help kickstart your journey.
Whether you're looking for something bold and dramatic, or muted and minimal, you will find ideas here to fulfill your aesthetic predilections and complement the style of your home.
1. Modern Chic Christmas Mantel
To achieve a lush and contemporary look, skip heavy garlands and excessive decorations. If you cannot find a faux garland with the aesthetics you want, consider creating one.
PHOTO: MAISON DE CINQ
2. Refined Cozy Mantel Decor
Fireplaces add warmth to a space that can feel rejuvenating on cold winter days. Create a warmer ambiance and make it extra cozy for the holidays by adding some candles. Use wool stockings and incorporate wood or wicker in your decor.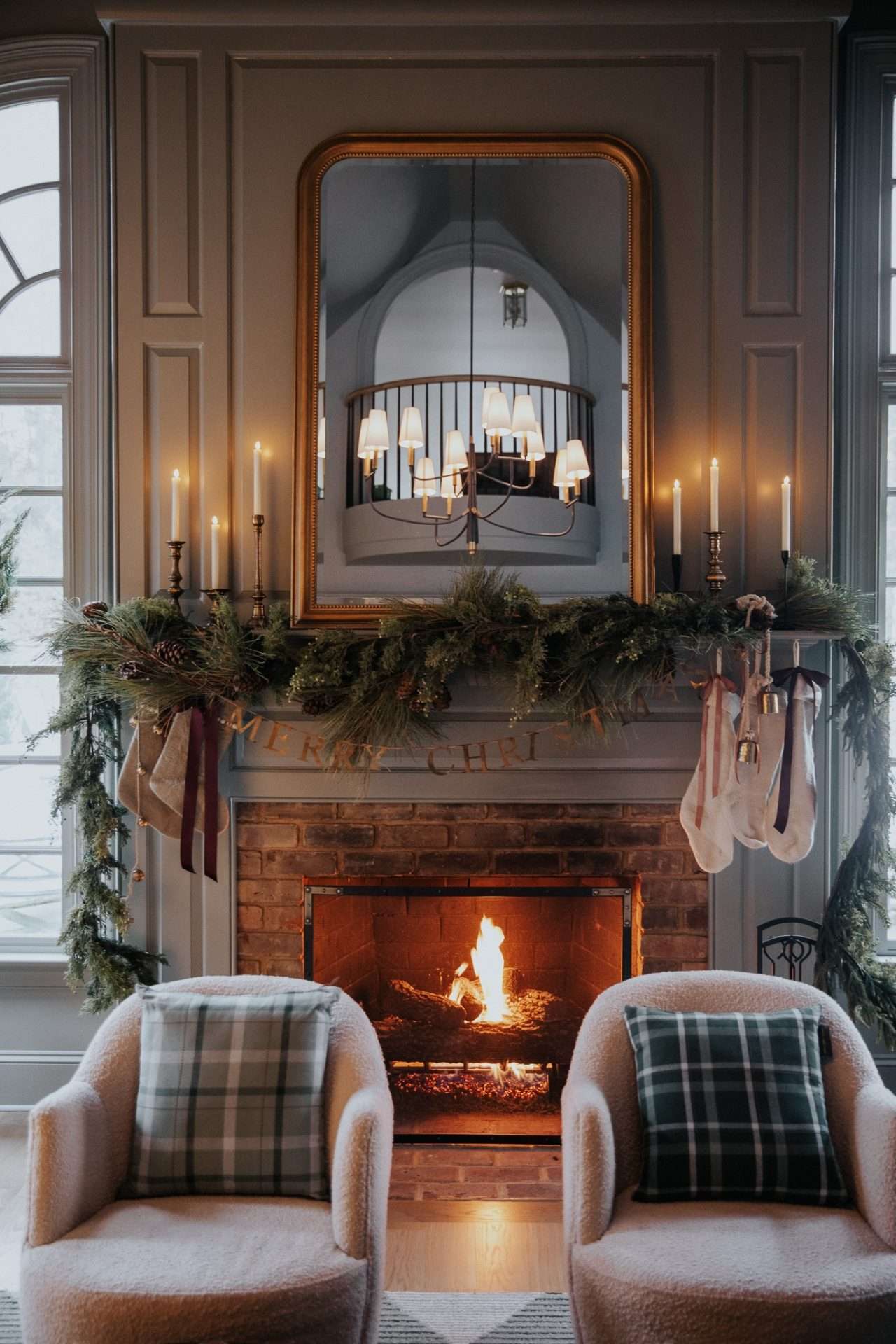 PHOTO:  CHRIS LOVES JULIA
3. Classic Christmas Mantel Decor
Go the classic route with the green and red Christmas color scheme. Use traditional festive mantel decor such as garland, pinecones, ribbon, stockings, and cow bells.
PHOTO: THE TURQUOISE HOME
4. Simple Christmas Mantel Decor
Keep simple and classy! A lush prelit evergreen garland can make quite the statement.
If you have an extravagant Christmas tree or decorations in your living, it may be best to keep the mantel decor minimal to avoid overwhelming the room. Let the attention be drawn towards Christmas.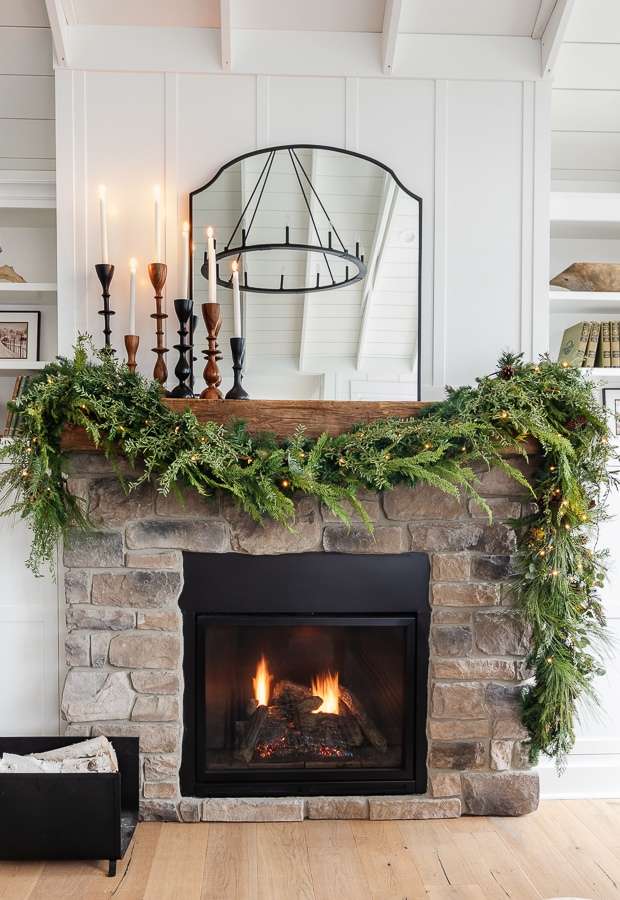 PHOTO: THE LILYPAD COTTAGE
5.  Garland and Fur Stocking
Opt for a textured faux fur Christmas stocking to create a cozy atmosphere. We absolutely love the laid-back look in this Christmas living room inspo!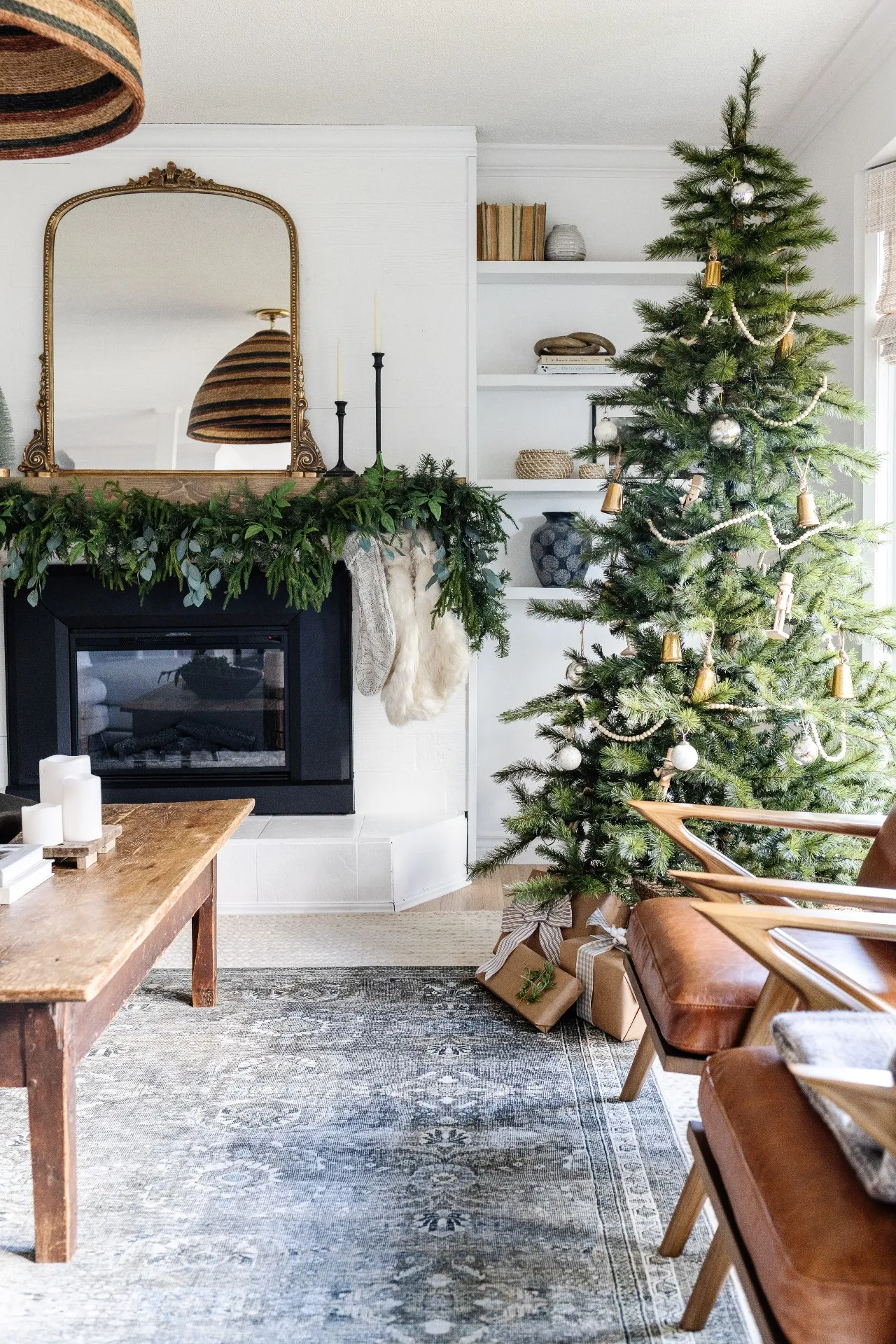 PHOTO: INTERIORS BY SARAH LANGTRY
Read Also: Best Christmas Trees On Amazon Under $100
6. Garland and Cow Bells
Brass-colored steel bells are commonly used for Christmas decorations. You can use these to create eye-catching dynamics in your festive mantel decor.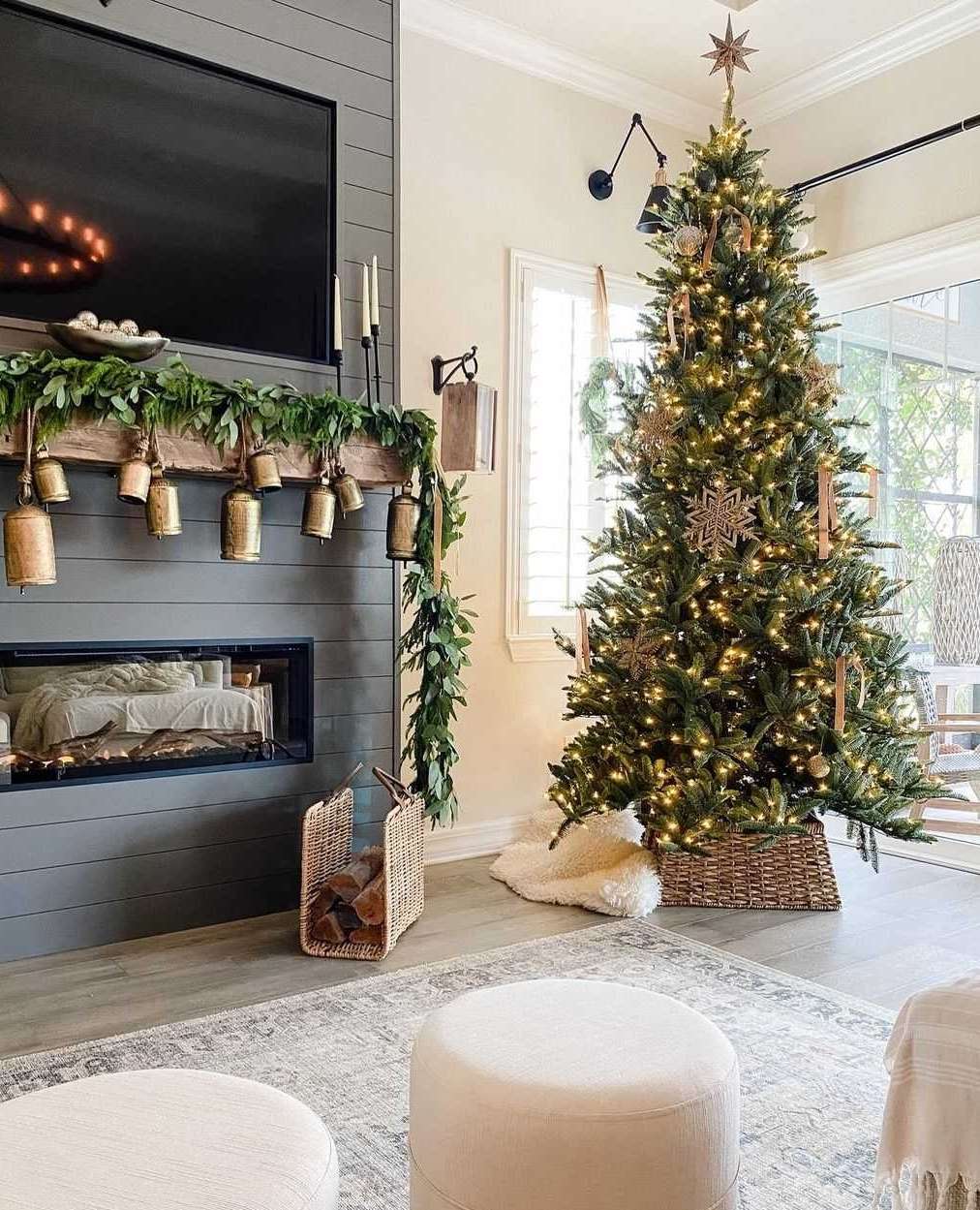 PHOTO: THE DAILY NEST
7. Country-Side Home Holiday Mantel Decor
For a country-style home interior, consider keeping it fresh and elegant. Use natural hues and embrace the less is more approach.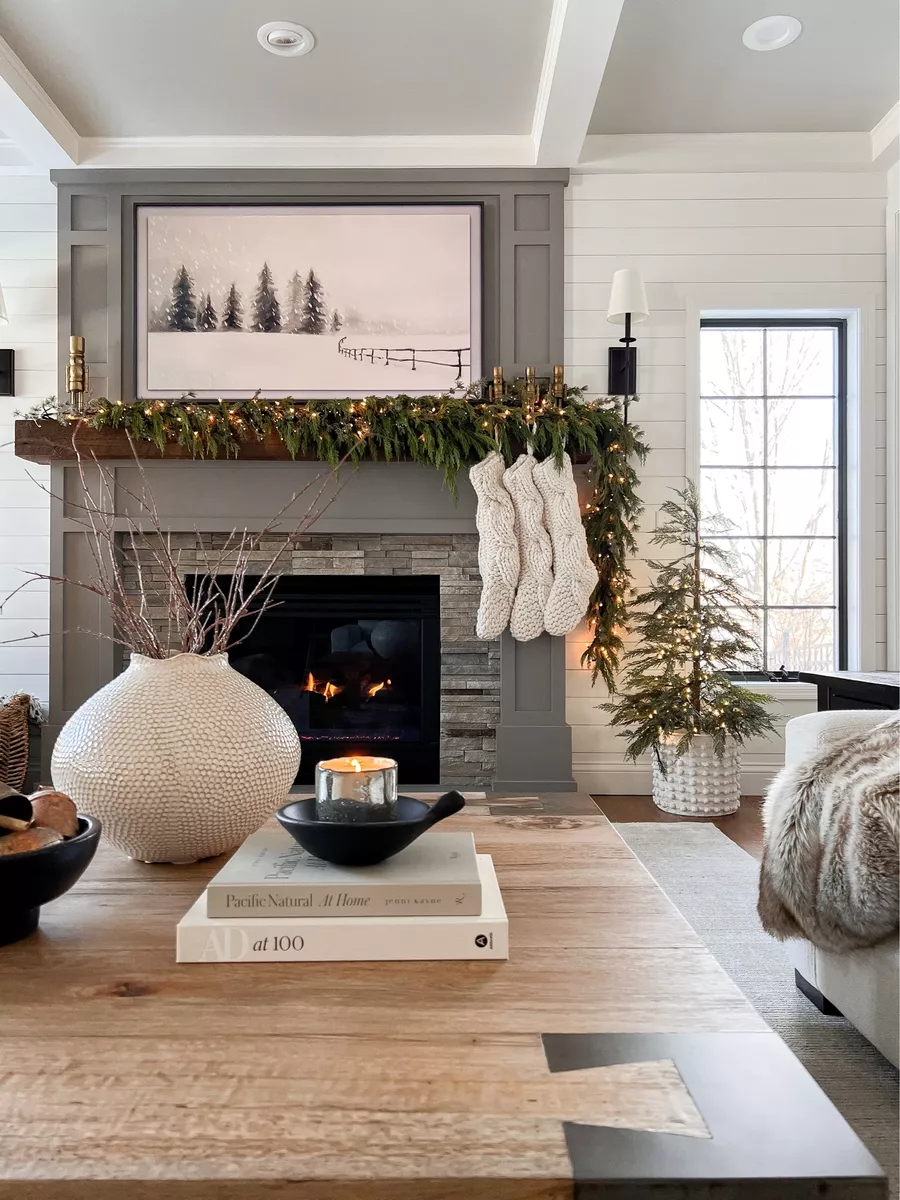 PHOTO: MAKING_HIGH_VIEW_HOME/INSTAGRAM
8. Pre-Lit Frosted Garland and  Mirror-Hunged Wreath
What is better than a garland for your mantel decor? A pre-lit garland with a tinge of frost! There are many ways to make a simple garland appealing. Plus, the wreath above the mantel adds a layer of interest to it.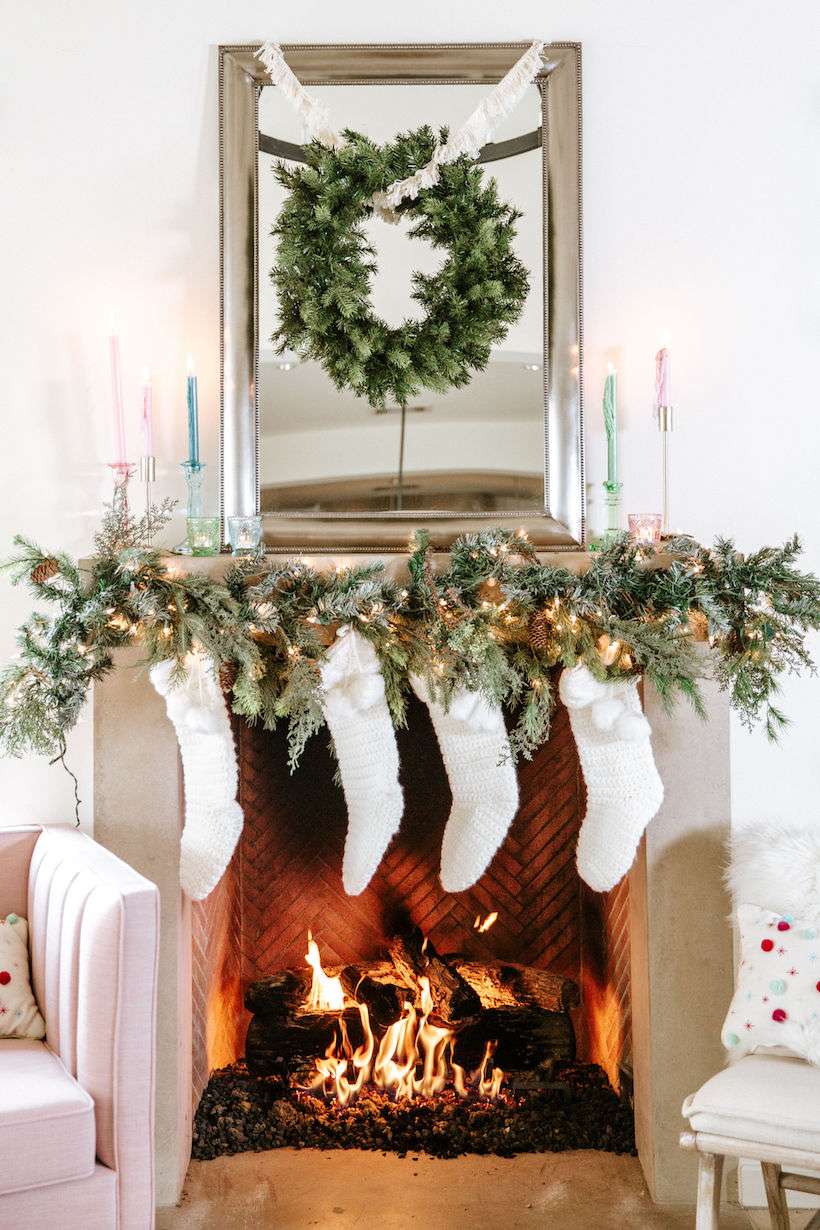 PHOTO: CAMILLE STYLES
9. Modern Farmhouse Festive Mantel
This festive look is perfect for a modern farmhouse living room. Your Christmas decor for this interior style should be cozy, and relaxing. Plus, it should communicate simplicity, modernity, and rusticity to the eyes.
PHOTO: THE LILYPAD COTTAGE
10. Festive Mantel with Gold-Coloured Ornaments
Gold accents add opulence and a luxurious touch to a space. If your existing living room has metallic gold accents, consider using decorations with the same hue.
PHOTO: ANTHROPOLOGIE/ INSTAGRAM
Read Also: 50+ Elegant Christmas Table Decor Ideas
11. Mix-Match Mantel Garland
Combine and layer different styles of garlands to make the room feel expertly tailored.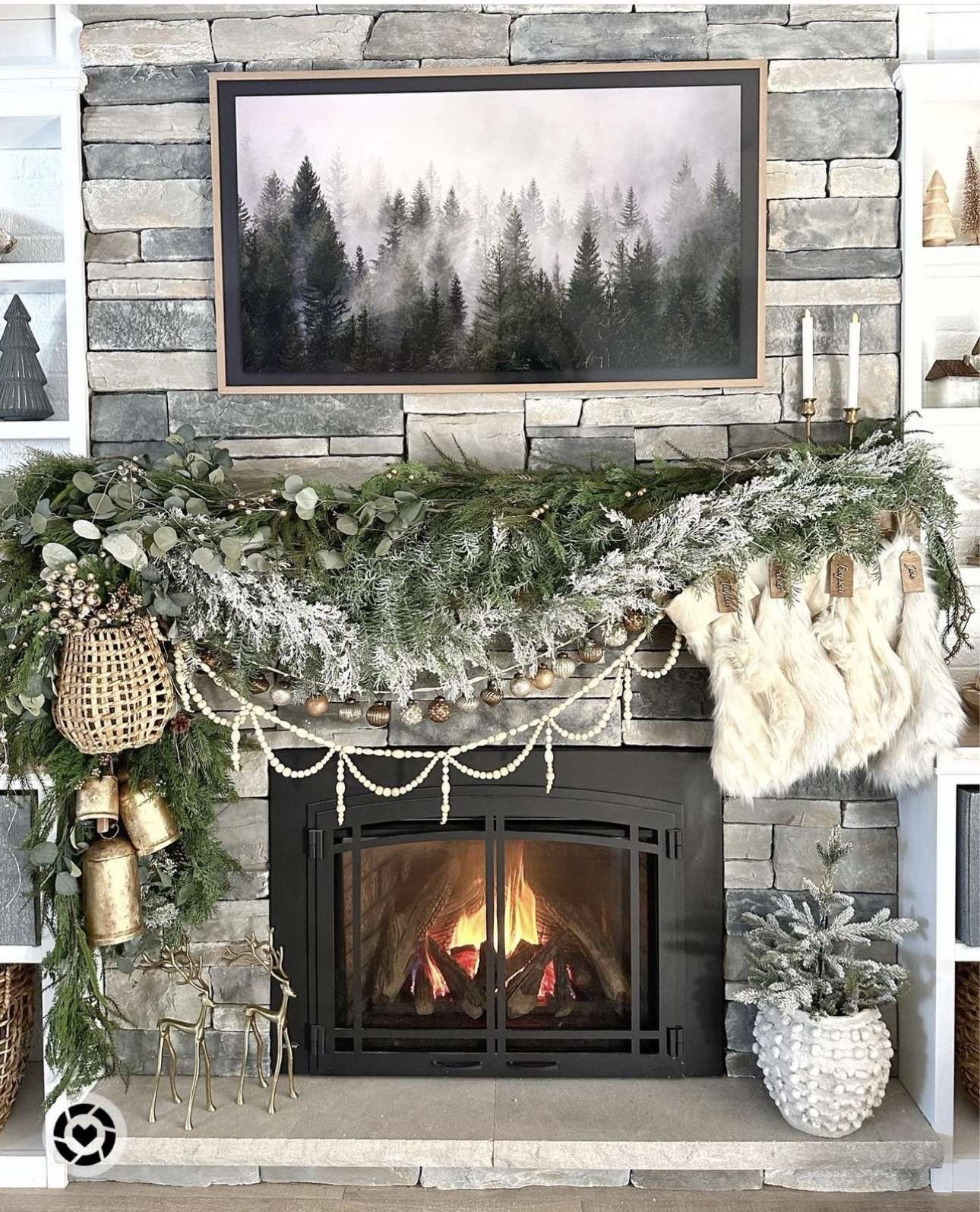 PHOTO: KIRA_TURNER/ INSTAGRAM
12. Christmas Mantel With Flocked Garland
Flocked garlands and Christmas trees give a snowy effect. If you working with a DIY garland, instead of a pre-decorated one, you can purchase a can of snow spray to achieve that snowy appearance.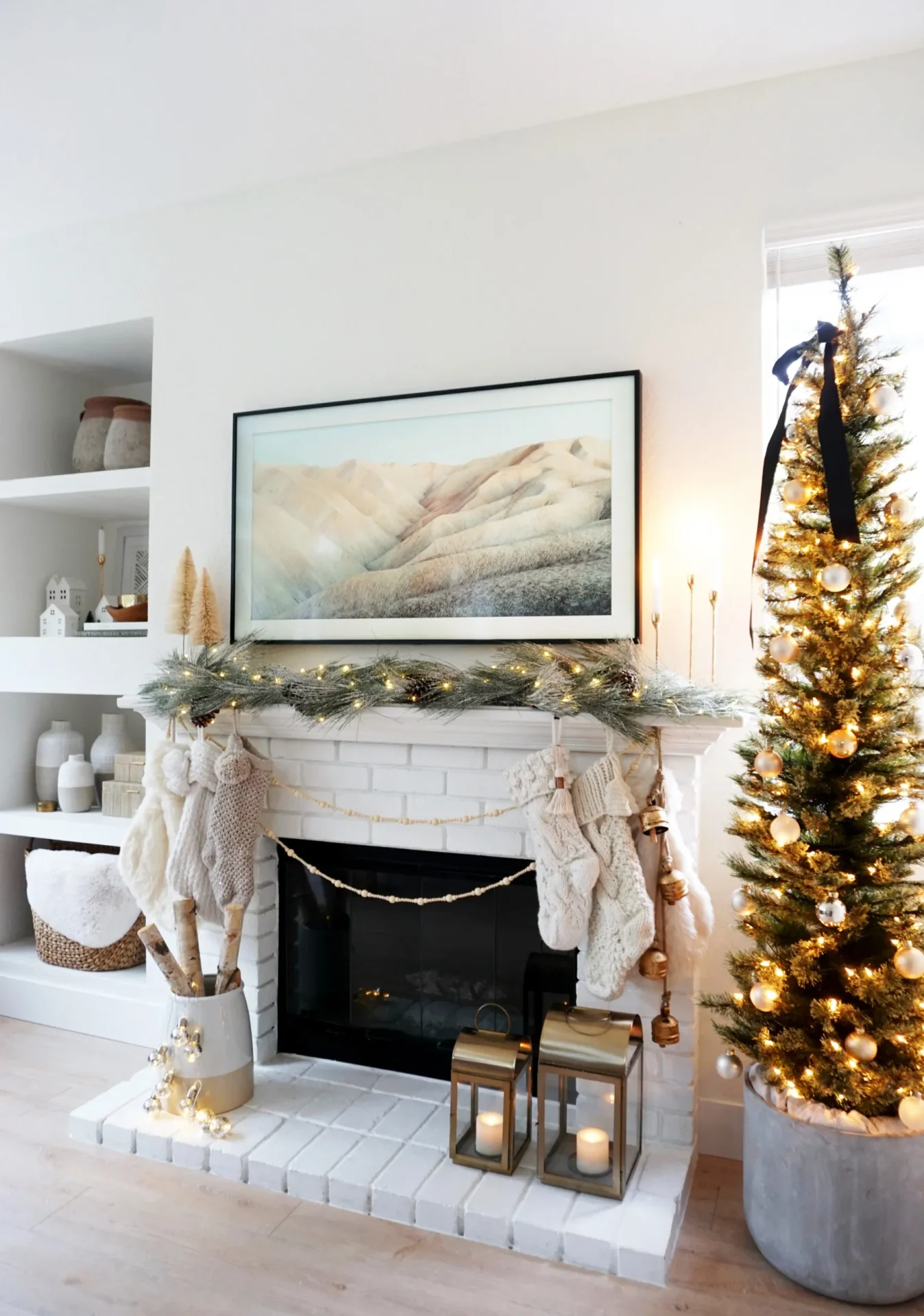 PHOTO: ALMAFIED
13. Nature-Inspired Christmas Mantel
Go with the flow of your home! If you have a rustic-style home, pick out nature-inspired decorations and earthy colors for your Christmas mantel decoration.
Some of these natural ornaments are traditional garland, wooden bead garland, pinecones, and wood.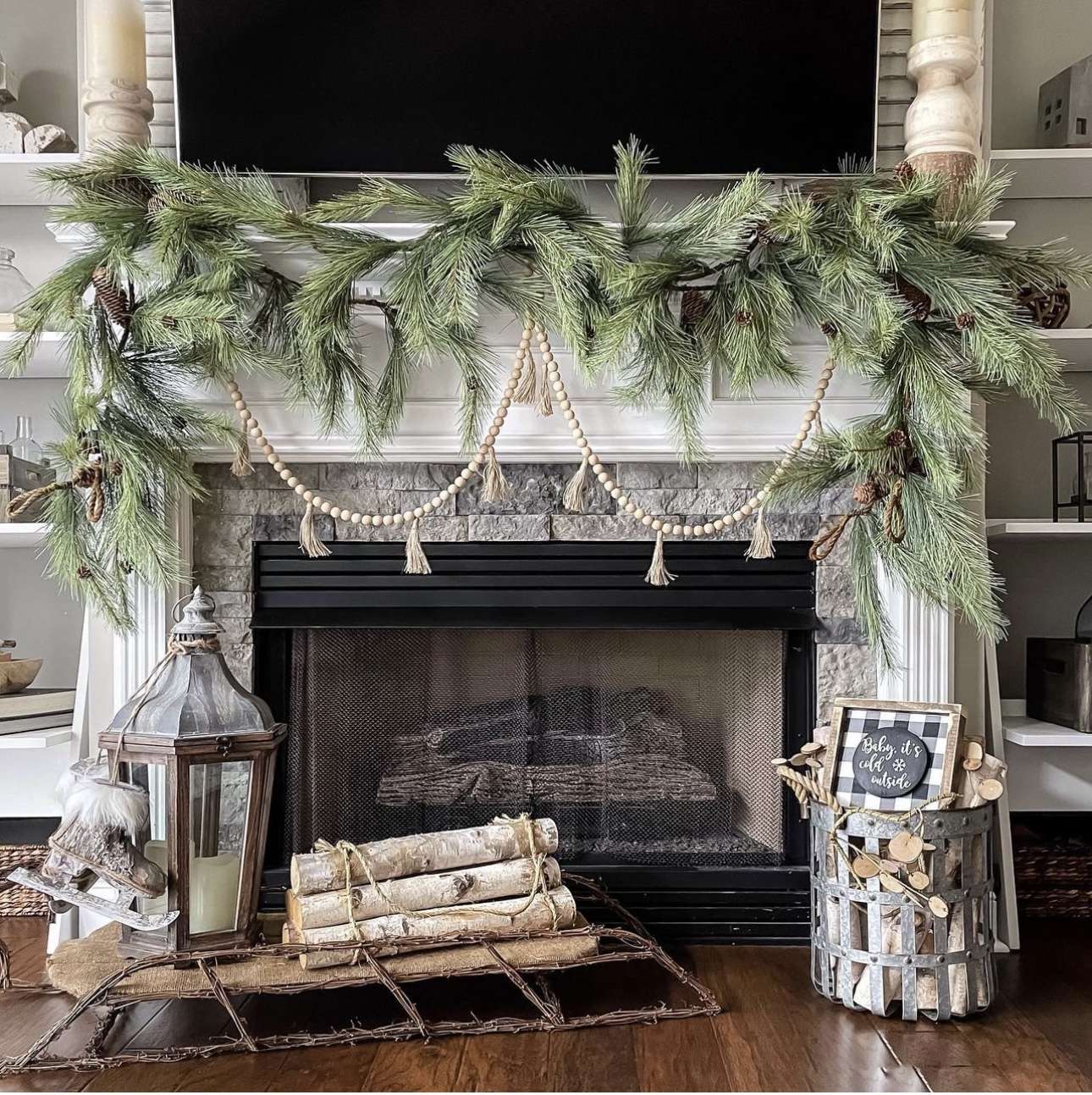 PHOTO: POLLIES_PLACE/ INSTAGRAM
14. Soft Pink Mantel Decor
Do something groovy! Incorporate your personal touches and creativity with an unconventional color scheme.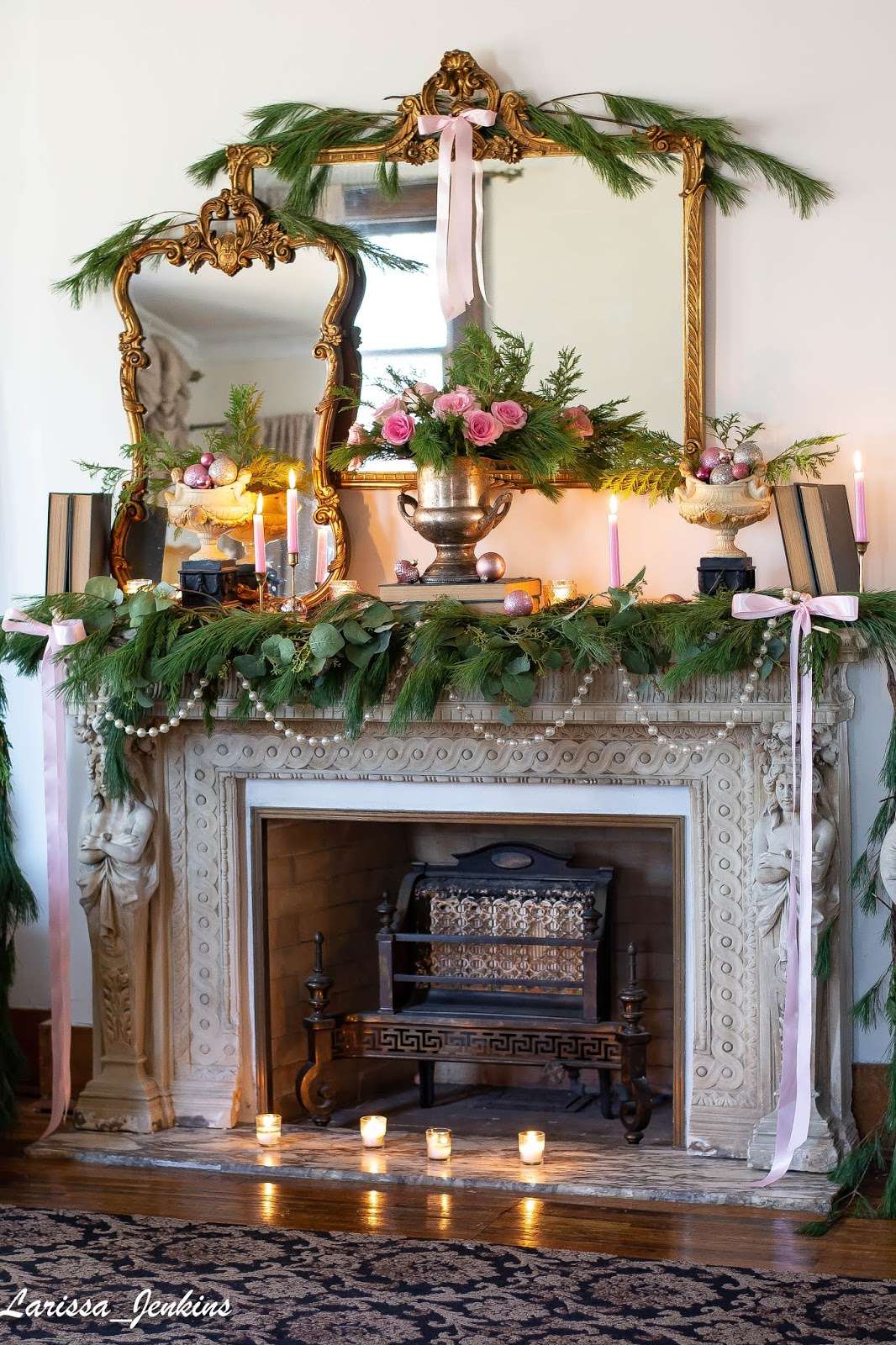 PHOTO: WELCH HOUSE 1900
15. Glamorous Christmas Mantel Decor
Go all the way this Christmas! Minimalism isn't everyone's cup of tea. If you're a maximalist, make a bold and impactful statement on your mantle, but keep it elegant!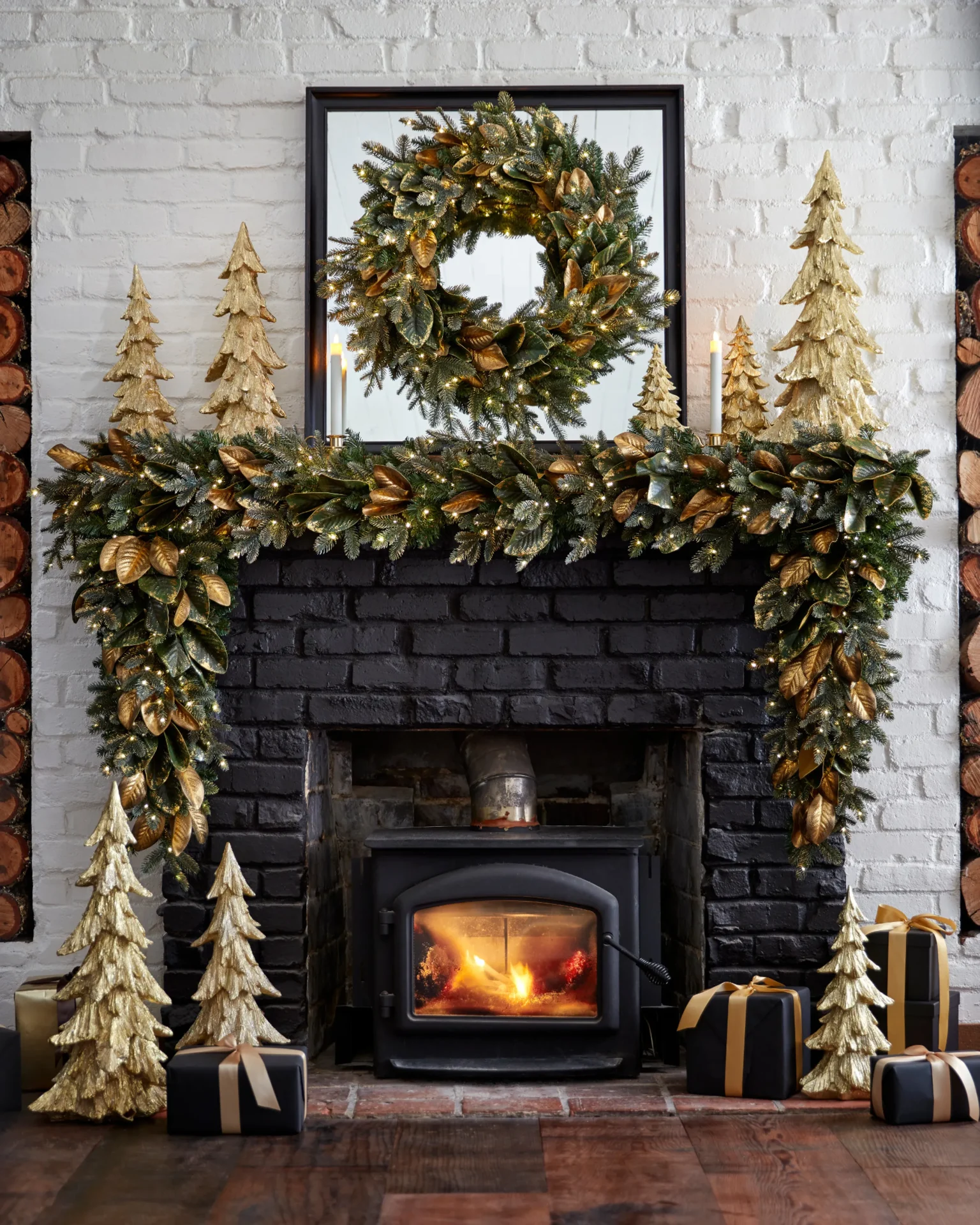 PHOTO: BALSAM HILL
16. Festive Decor on Brick-Style Mantel
If you have a brick-style mantle or TV wall and wondering how you can style it for Christmas, this may be the perfect inspiration for you.
PHOTO: KELLEYNAN
17. Simply White Christmas Mantel Decor
For a bold-coloured mantle or just a simplistic look, consider singing just white ornaments. A generous dose of white decorations adds a new and refreshing quality to a room.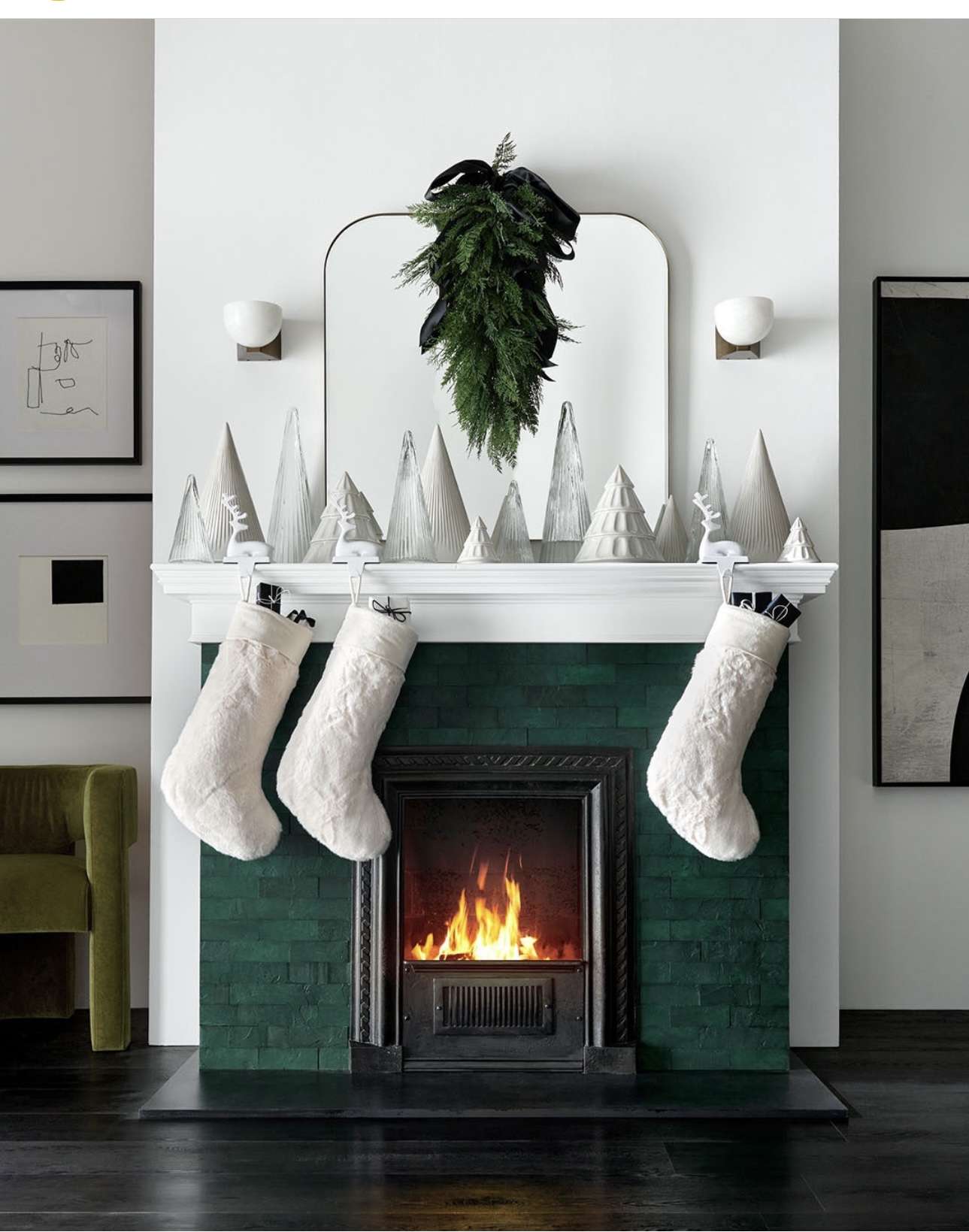 PHOTO: CRATEANDBARREL/ INSTAGRAM
18. Christmas Garland with Red Berries
Red berries add character to a Christmas garland. A bountiful cluster of rich crimson berries even works great as a garland on its own. It is a great home in lend add a splash of festive red hue to your space.
PHOTO: CRATEANDBARREL/ INSTAGRAM
19. Minimalist Christmas Mantel Decor
The minimalist approach may be best for most mantles during Christmas to reduce the risk of decorations getting too close to the fire.
It is also best to keep things simple if the Christmas tree is placed next to it to avoid overwhelming the space. Using just a few decorations doesn't have to be boring, look for clever ways to make the simplicity visually appealing.
PHOTO: STEFANA SILBER
20. Moody and Cozy Christmas Mantel Decor
A moody interior is an intriguing atmosphere that exudes coziness and warmth. If you have or want to create a moody space for winter, this decor inspiration may be just what you need.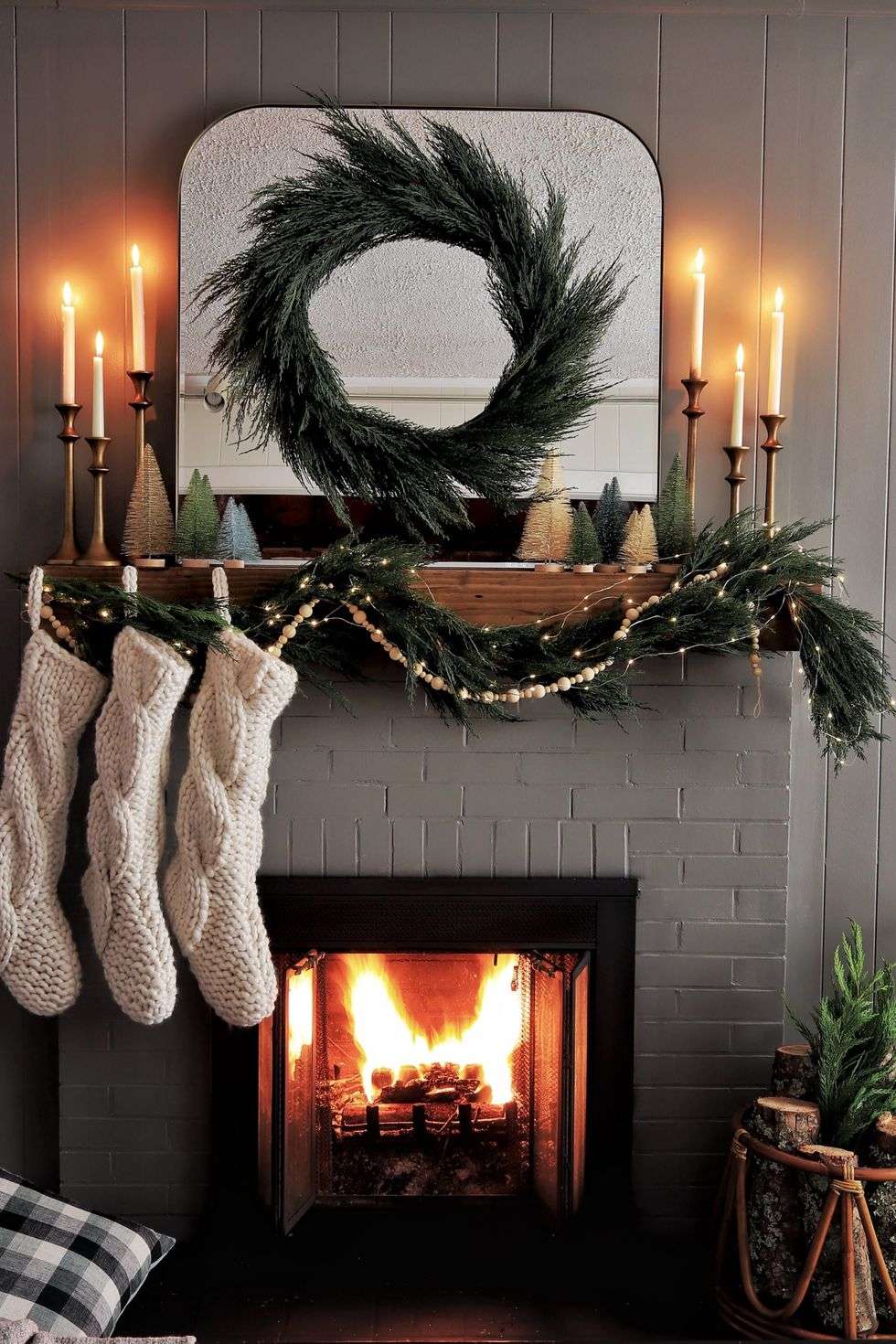 PHOTO: MADE BY CALI
Read Also: 75+ Enchanting Christmas Front Door Decor Ideas
21. Snowy Pine Cone and Cozy Knit Stocking
Add charm a coziness to your living room by using a giant snowy pine cone and some skit stockings. Add candles on top of the mantel for an extra layer of warmth.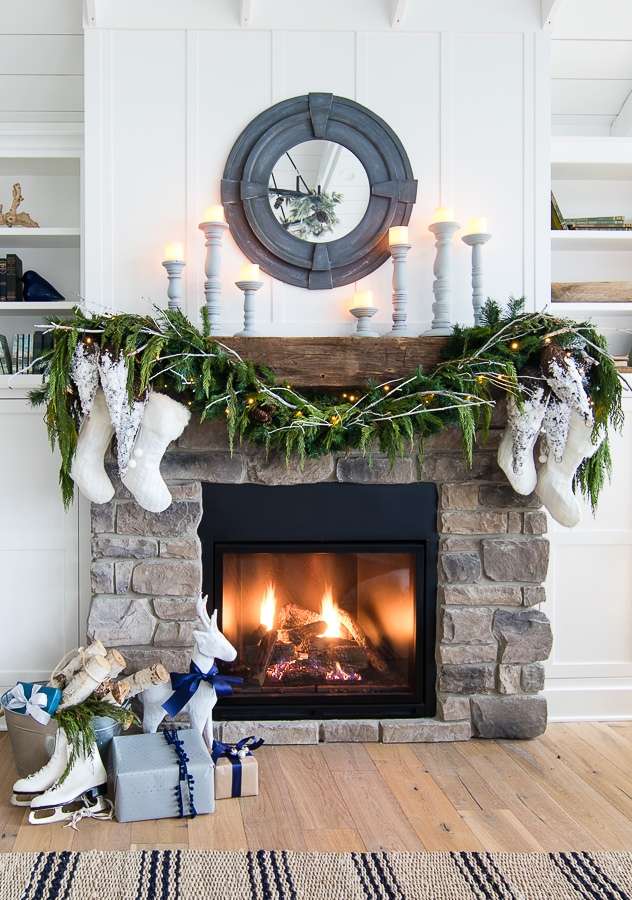 PHOTO: THE LILYPAD COTTAGE
22. Fresh Evergreen Garland
Consider swapping out your faux garland for a fresh one. A fresh evergreen garland is beautiful, versatile, and easy to use. It is a simple way to elevate your home and add some festive cheer to it.
PHOTO: ROOM FOR TUESDAY
23. Holiday Mantel Decor Against Black Wall
If you're looking for an elegant Christmas mantle decor idea that will complement a black mantel or wall, this inspo may be just right for you. A flocked garland and bright white decor will be ideal for brightening up spaces like this.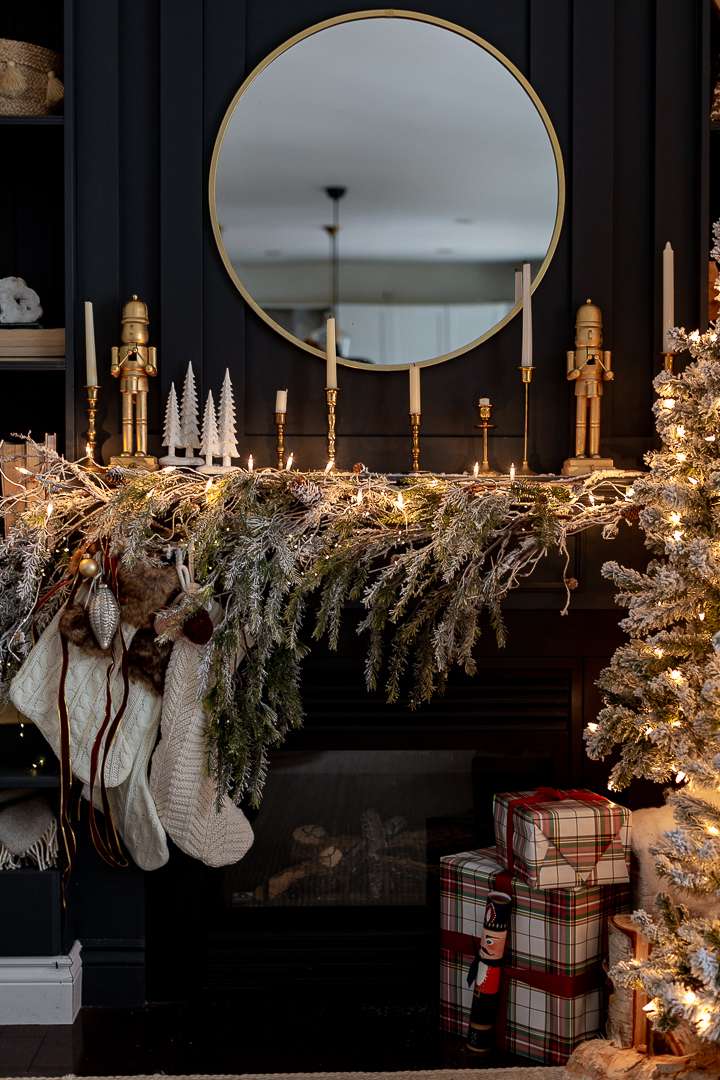 PHOTO: CRAFT BERRY BUSH
24. Antique Christmas Mantel Decor
Investing in antique decor is more sustainable than buying new ones. Antiques also bring character to a space like nothing else.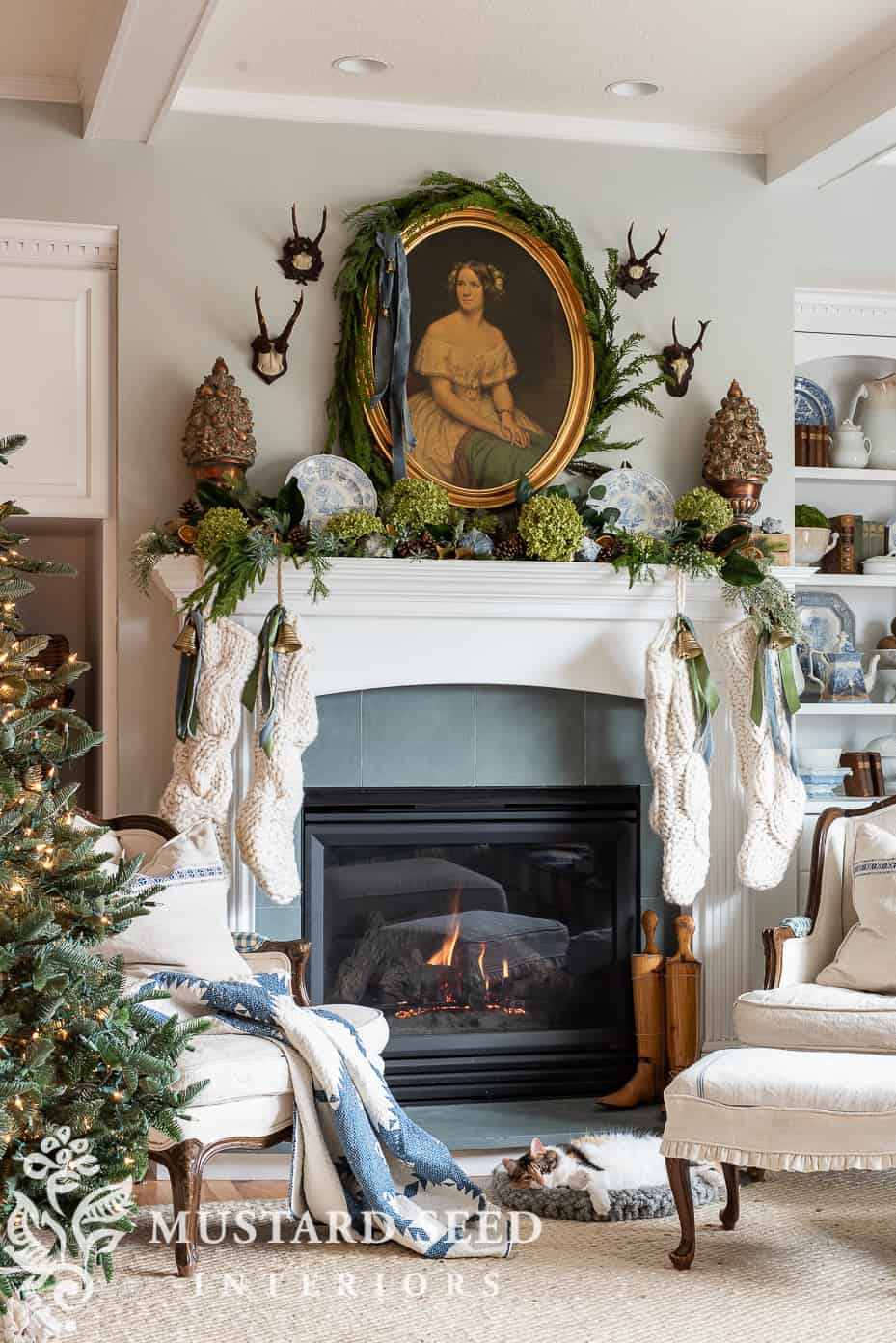 PHOTO: MUSTARD SEED INTERIORS
25. Red Velvet Ribbon Garland Decor
Velvet ribbon is commonly used for decorating, especially during the holiday season. It can be used to add a pop of color to your mantle garland, Christmas tree, and swag.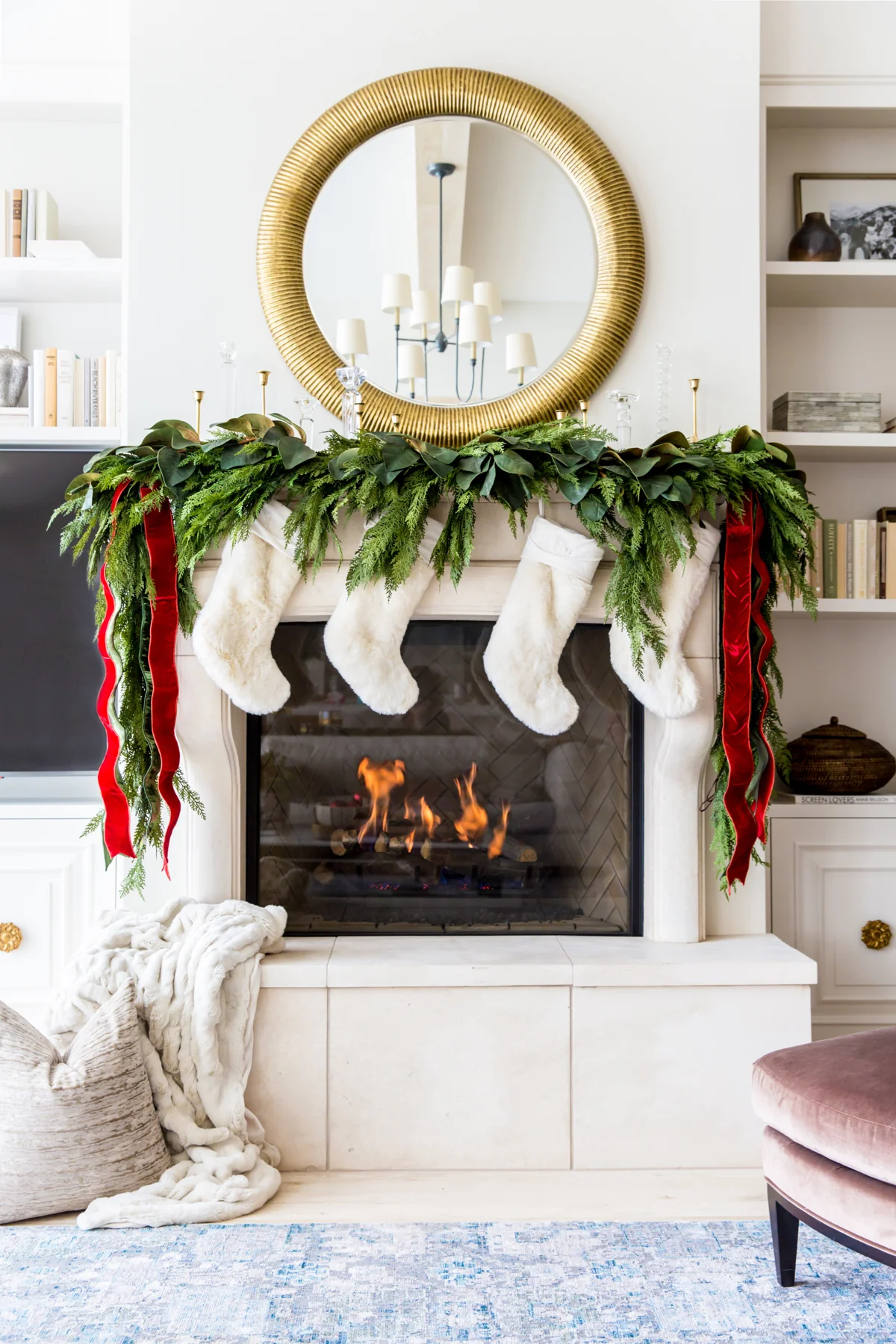 PHOTO: RACHEL PARCELL
26. A Pop of Red and Blue
There are many Christmas color scheme ideas other than the classic gold, green, and red. Consider incorporating a color in your existing scheme into your Christmas mantle decor.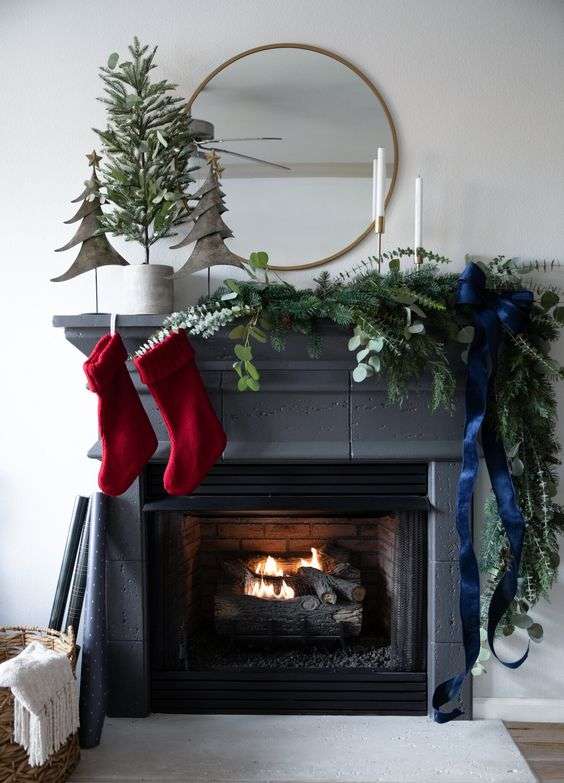 PHOTO: ASHA MAÍA DESIGN
27. Handmade Christmas Garland
There are a wide array of Christmas garlands available online and in your local retail store but it can be difficult to find the perfect one.
Plus, the pre-decorated garlands and wreaths are quite expensive. If you want to save yourself some money and create a one-of-a-kind garland for your mantle, consider making your own.
Here is a step-by-step guide on how to make a Christmas garland for a mantel like a pro.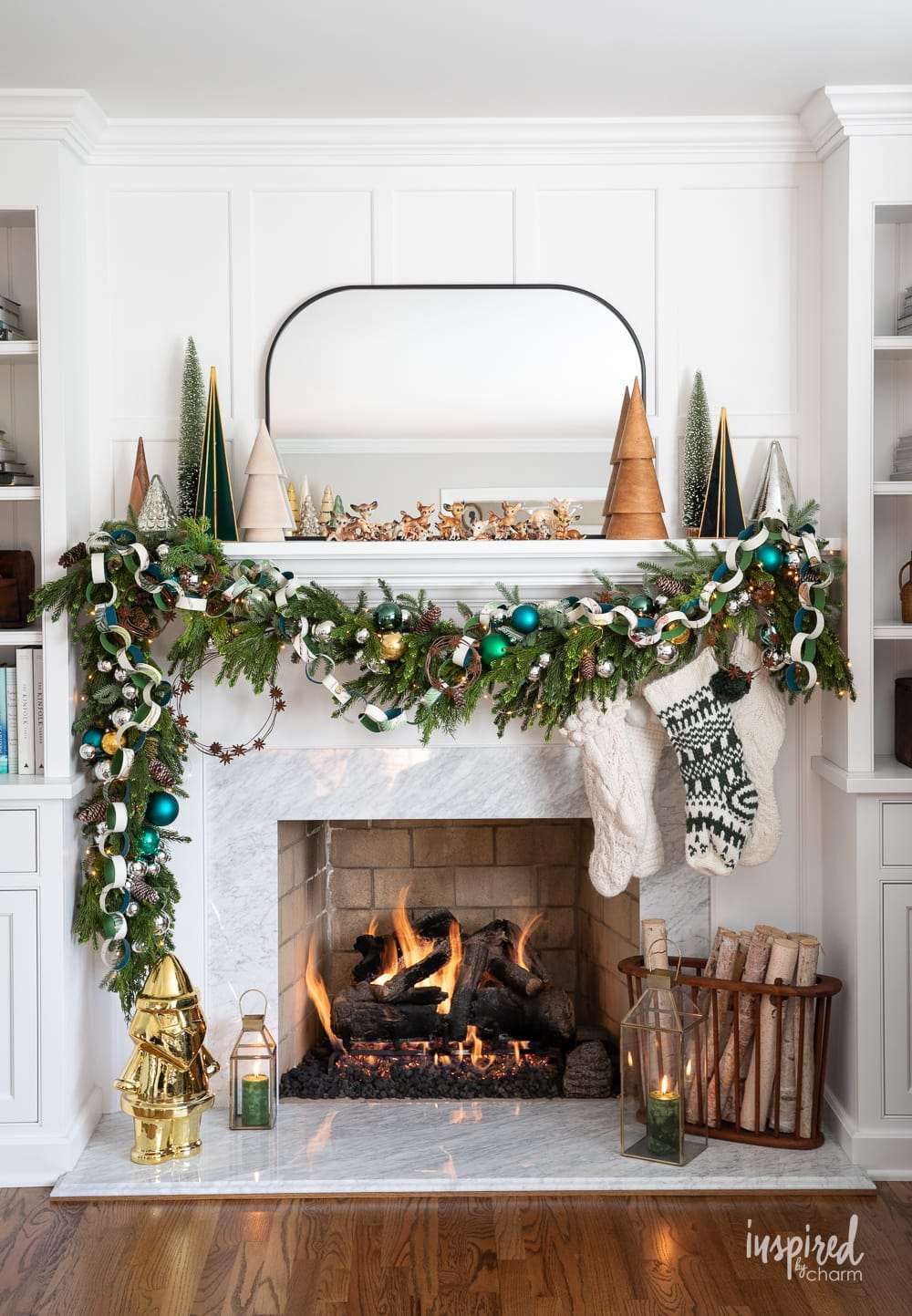 PHOTO: INSPIRED BY CHARM
28. Studio McGee Christmas Mantel Decor
A design firm known for creating elegant and refreshing spaces, the McGee's are exemplary experts to draw inspiration from. Want to learn how to decorate like Studio McGee?  Check out these 52 Best Studio McGee Christmas Decorations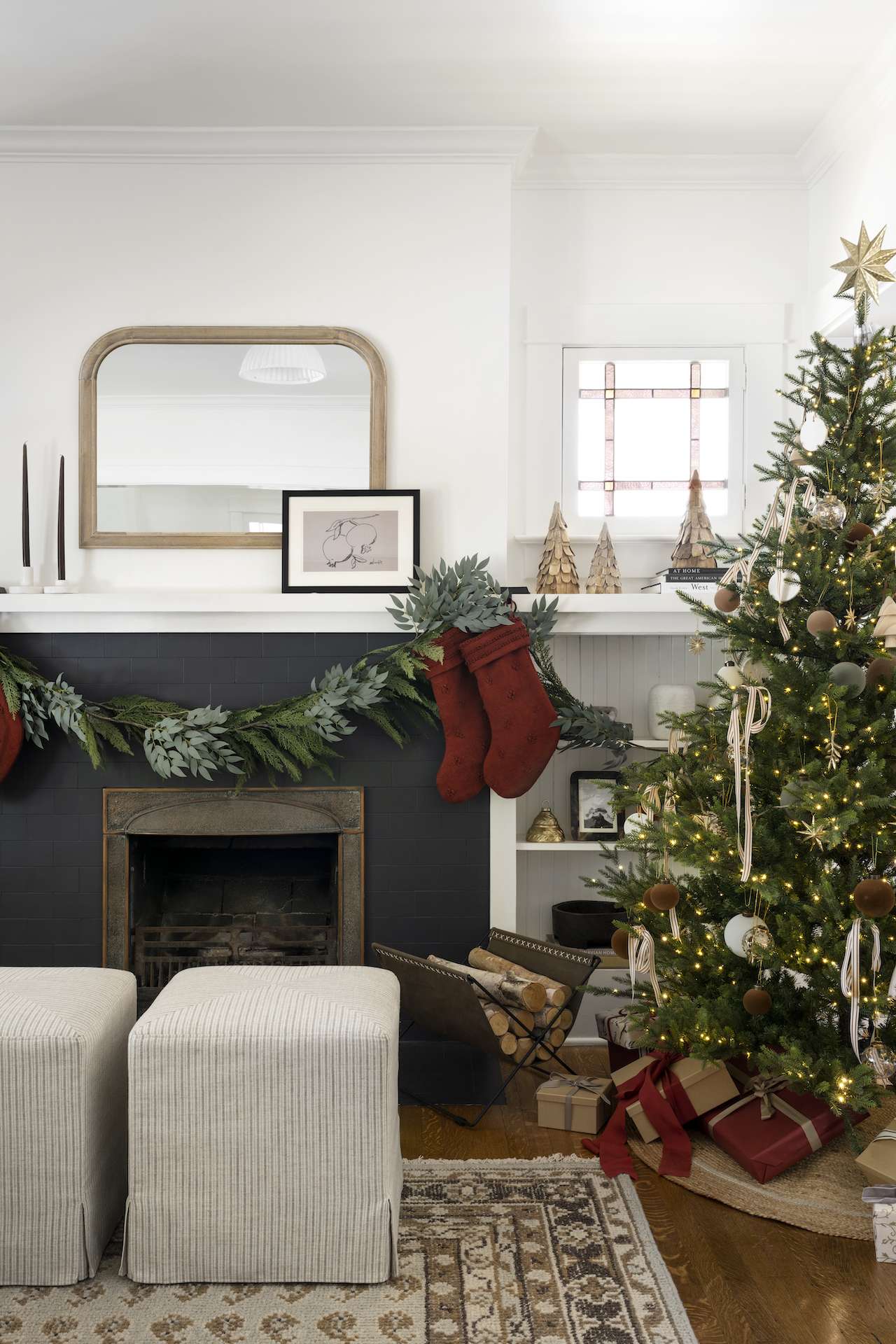 PHOTO: STUDIO MCGEE
29. Oversized Faux Garland and Swag
An easy way to make a big statement is to go for a voluminous garland. Adding some swag to it can make it appear larger. This way, the Christmas mantle decor will easily draw the eye and make a real style statement.
PHOTO: WILD FLOWERS HOME INTERIORS
30. Asymmetric Christmas Mantel
When it comes to home, decor, an asymmetrically arranged mantel decor creates visual interest and a sense of movement. Read here to learn how to create an asymmetrical Christmas mantel.
PHOTO: I SPY DIY
Read Also: 20 Best White and Blue Christmas Tree Ideas
31. Dramatic Two-Toned Christmas Garland
Opt for a garland that radiates elegance and a sense of drama. To make an even bigger statement, consider using a two-toned garland.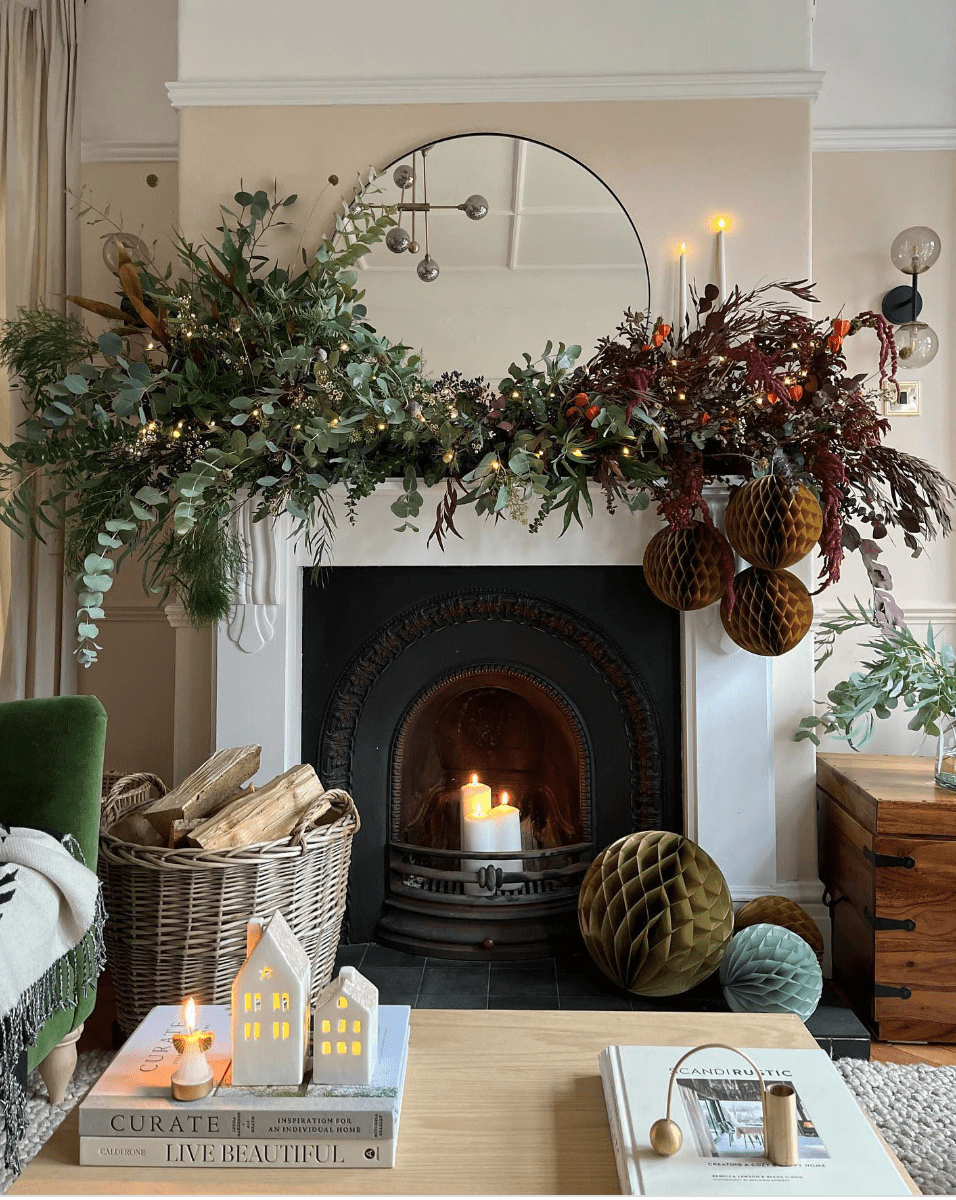 PHOTO: CRACK_THE_SHUTTERS/INSTAGRAM
32. Christmas Wreath Above Garland
Another way to add visual interest and festive cheer to your living room is to hang a wreath above the mantle.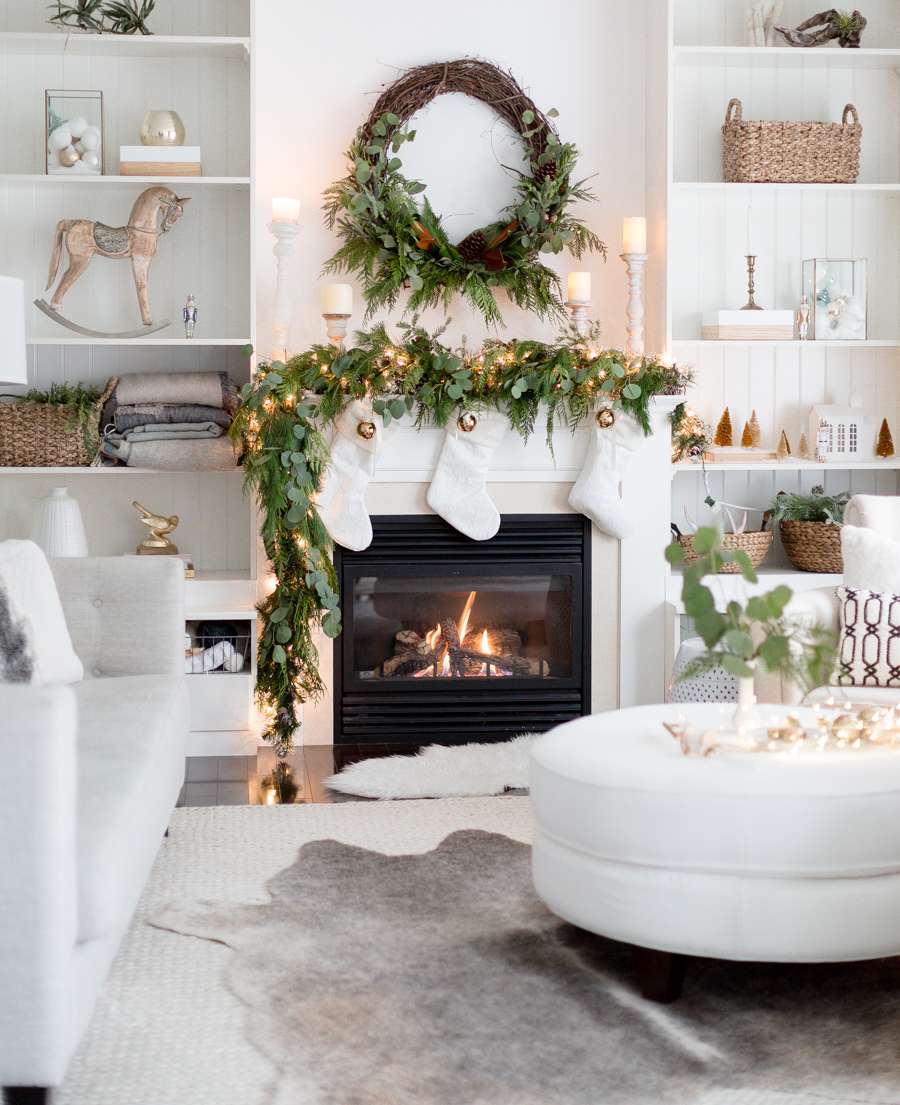 PHOTO: CRAFT BERRY BUSH
32. Dried Orange Christmas Garland
Add personal touches to your Christmas mantle decor by creating something sweet, like a dried orange garland. Plus, holiday-themed DIYs are a creative way to save money on décor.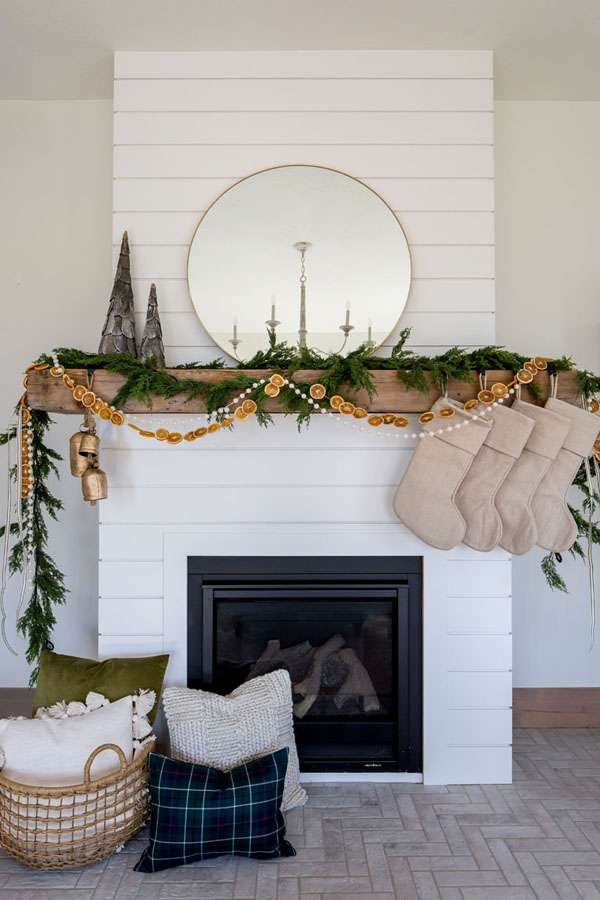 PHOTO: HOUSE OF JADE INTERIORS
34. Mantel Garland with Metallic Baubles
Baubles are common ornaments used for decorating mantle garlands. It looks particularly striking when the garland baubles complement the ones on your Christmas tree. You may also add some baubles to elevate your front door wreath.
PHOTO: RANDI GARRETT DESIGN
35. Garland with Dried Leaves and Pinecones
Dried and preserved plant materials are making a huge comeback in contemporary and rustic home decor. The rusty brown color on this mantle garland makes the space more appealing.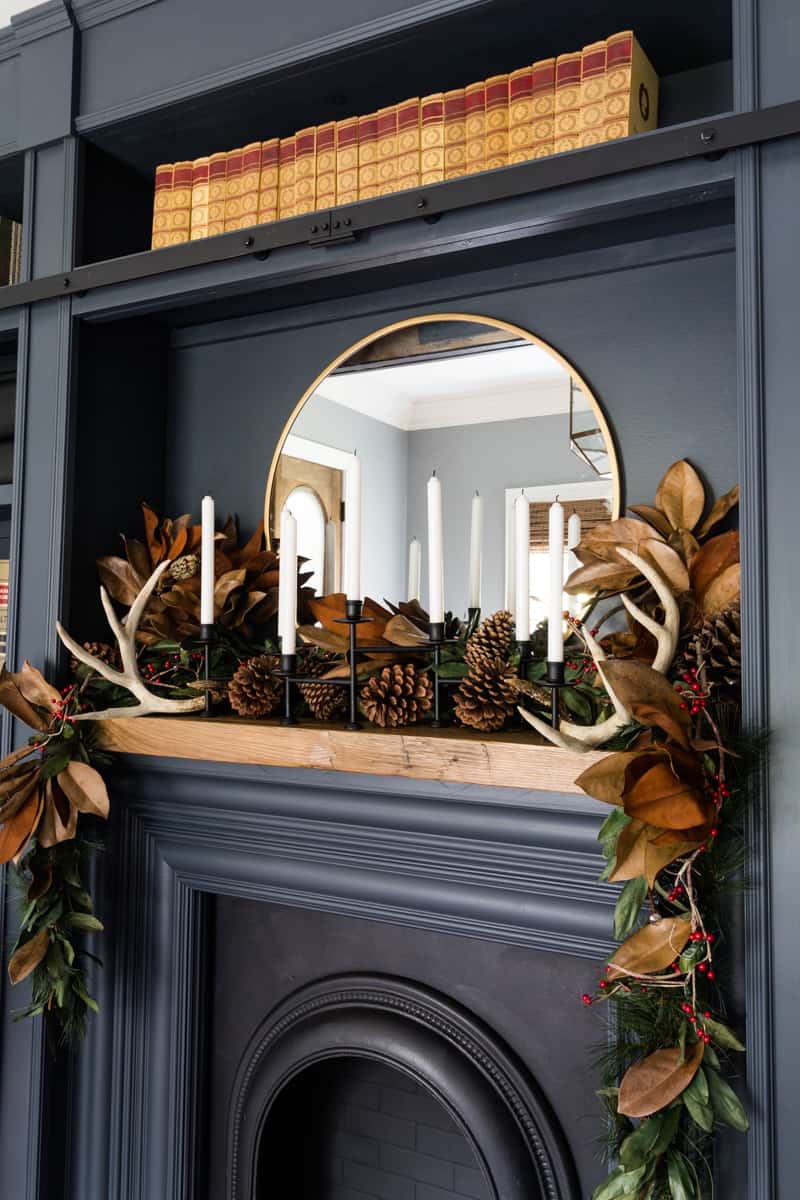 PHOTO: DEEPLY SOUTHERN HOME
36. Garland with Frosted Red Berries
Another way to incorporate berries into your garland is to utilize frosted ones. This adds a delicate and subtly striking touch to your space.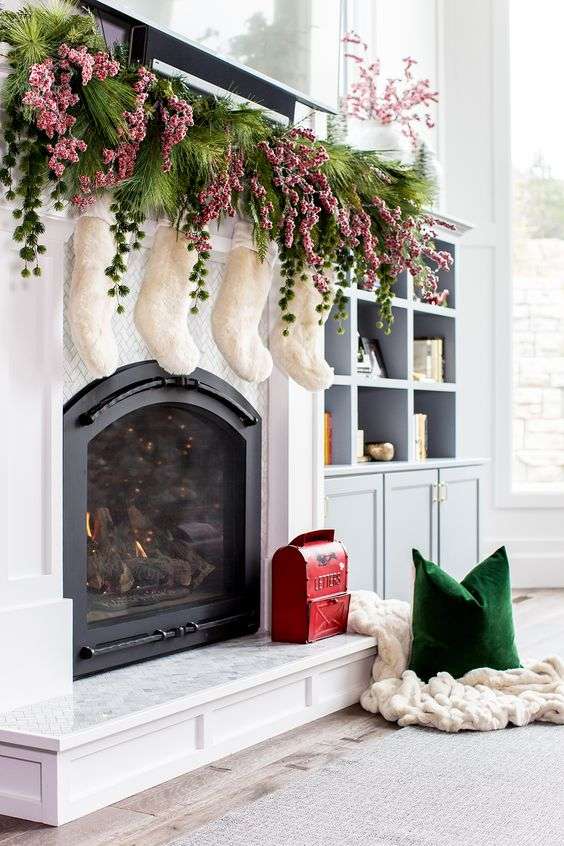 PHOTO: RACHEL PARCELL
37. Christmas Mantel with Beaded Garland
A beaded garland is a fantastic way to add elegance and some textural touches to the Christmas mantel decor.
PHOTO: REMINGTON AVENUE
38. Rustic-Style Christmas Mantel Decor
The rustic design emphasizes raw, natural beauty. It takes materials from nature to add, texture, charm, and visual interest to a space. A festive mantle decor with this type of style makes use of earthly colors and materials like plants, wood, stone, and others.
PHOTO: HANEENS HAVEN
39. Contemporary Christmas Mantel Decor
Clean, streamlined, and refreshing are the characteristics are a contemporary home. To decorate a mantle in this space, incorporating rich materials, neutral hues, and elegant Christmas ornaments.
PHOTO: INSPIRED BY CHARM
40. Christmas Mantel with Classic Scheme
Red, green, and gold is the classic color scheme associated with Christmas. Hence, they are very impactful when used in any Christmas decorating project.
PHOTO: THE INSPIRED WORKSHOP
Read Also: Low-Budget Thanksgiving Decor Finds On Amazon
41. Festive Mantel Decor with Candles
Candles add warmth and coziness to a space. However, they should be used with care and not placed too close to anything flammable. A beautifully designed candle stand can a visual appeal to your mantel.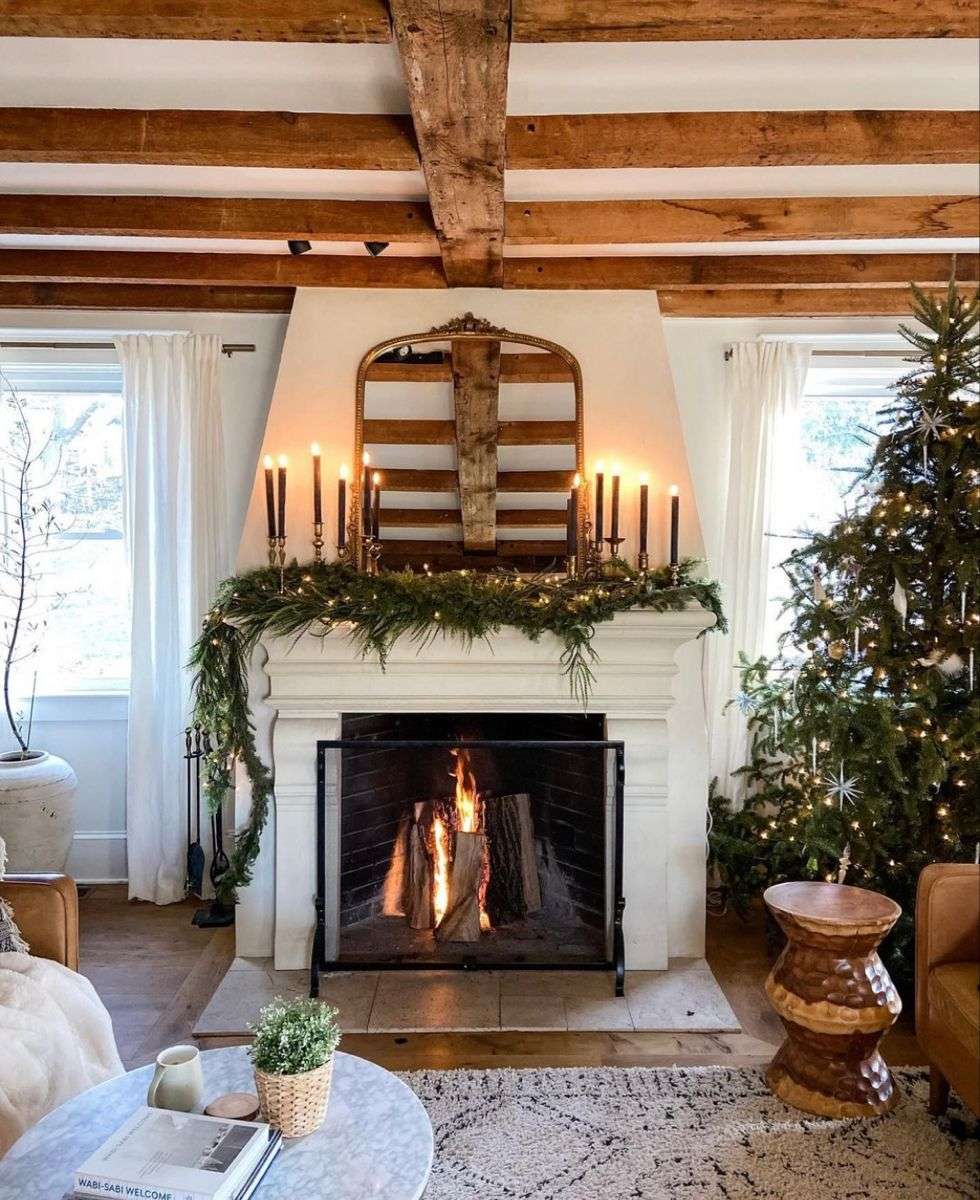 PHOTO: SKIES OF PARCHMENT BLOG
42. Traditional Farmhouse Christmas Mantel Decor
Embrace a classic farmhouse-style mantel decor that is chockful of festive flair. This is a style that's natural, homey, rough, aged, and possibly a little distressed.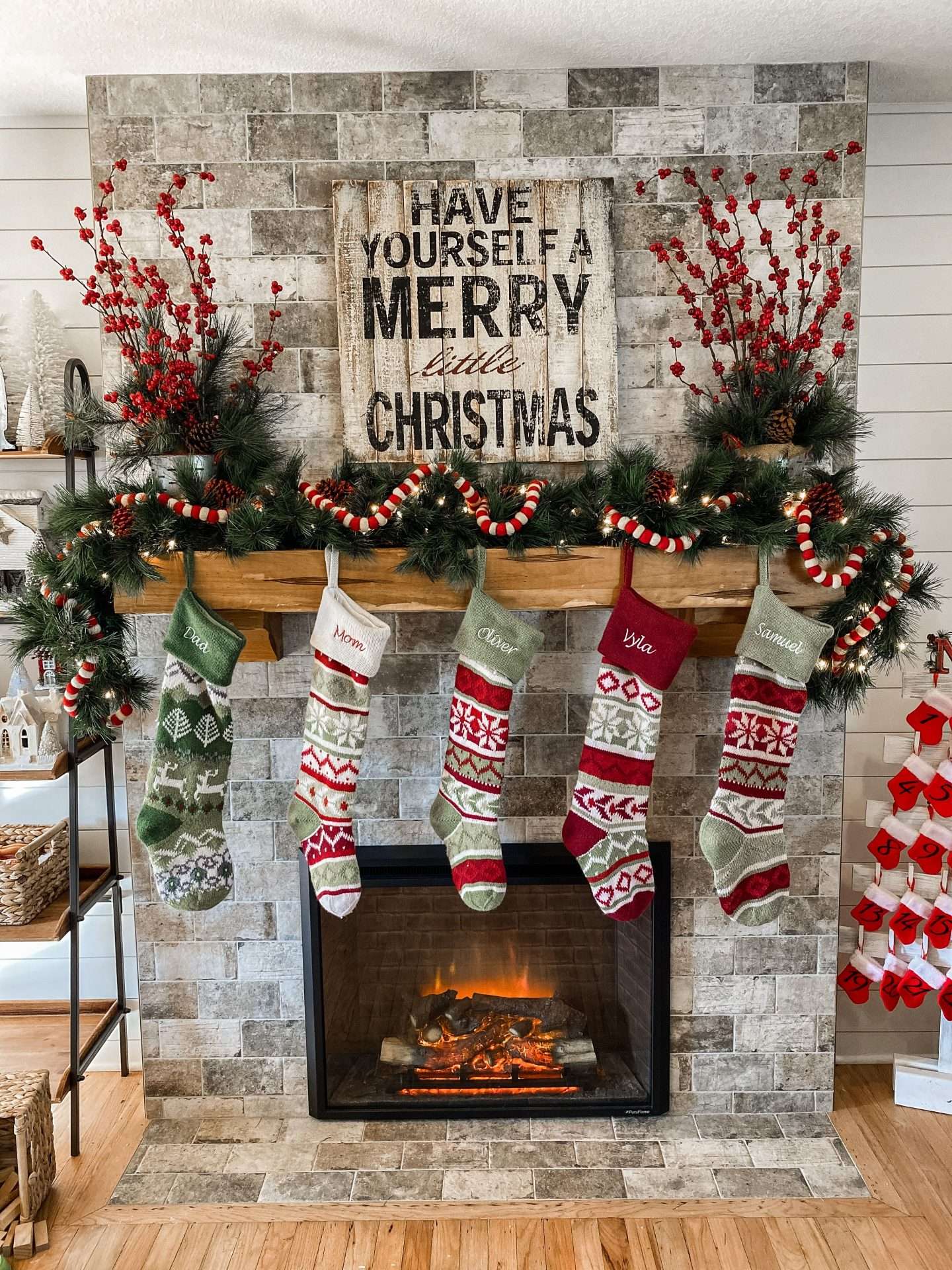 PHOTO: WILD PRAIRIE
You may also enjoy our article on: 50+ Stunning Christmas Staircase Decor Ideas