Best Christmas Trees On Amazon Under $100
Ho ho ho! Christmas is around the corner yet again and budget-savvy shoppers buy early to get the best deals before anyone else. In this blog post, we have curated a collection of our favorite Christmas trees on Amazon under $100 to help you save time and money. 
This post may contain affiliate links and I may earn a small commission when you click on the links at no additional cost to you. As an Amazon Affiliate, I earn from qualifying purchases. You can read my full disclaimer here. 
Christmas trees have traditionally been used to celebrate the festivities for centuries. It helps to create a cozy and cheery ambiance in the home while also giving people the opportunity to unleash their creativity.
Amazon is the number one online store for the best Christmas decorations. Low prices, free shipping, next-day delivery, and convenience are the primary reasons why people shop on Amazon. Plus, there are a wide array of alternatives for every product.
Want a stunning and inexpensive Christmas tree this year but don't know where to start? We've got you bestie! Check out these eye-catching Amazon Christmas trees under $100, specially selected for you.
 Whether you prefer a frosted Christmas tree or a realistic green tree, these low-budget Amazon Christmas ideas will help you elevate your home this Christmas.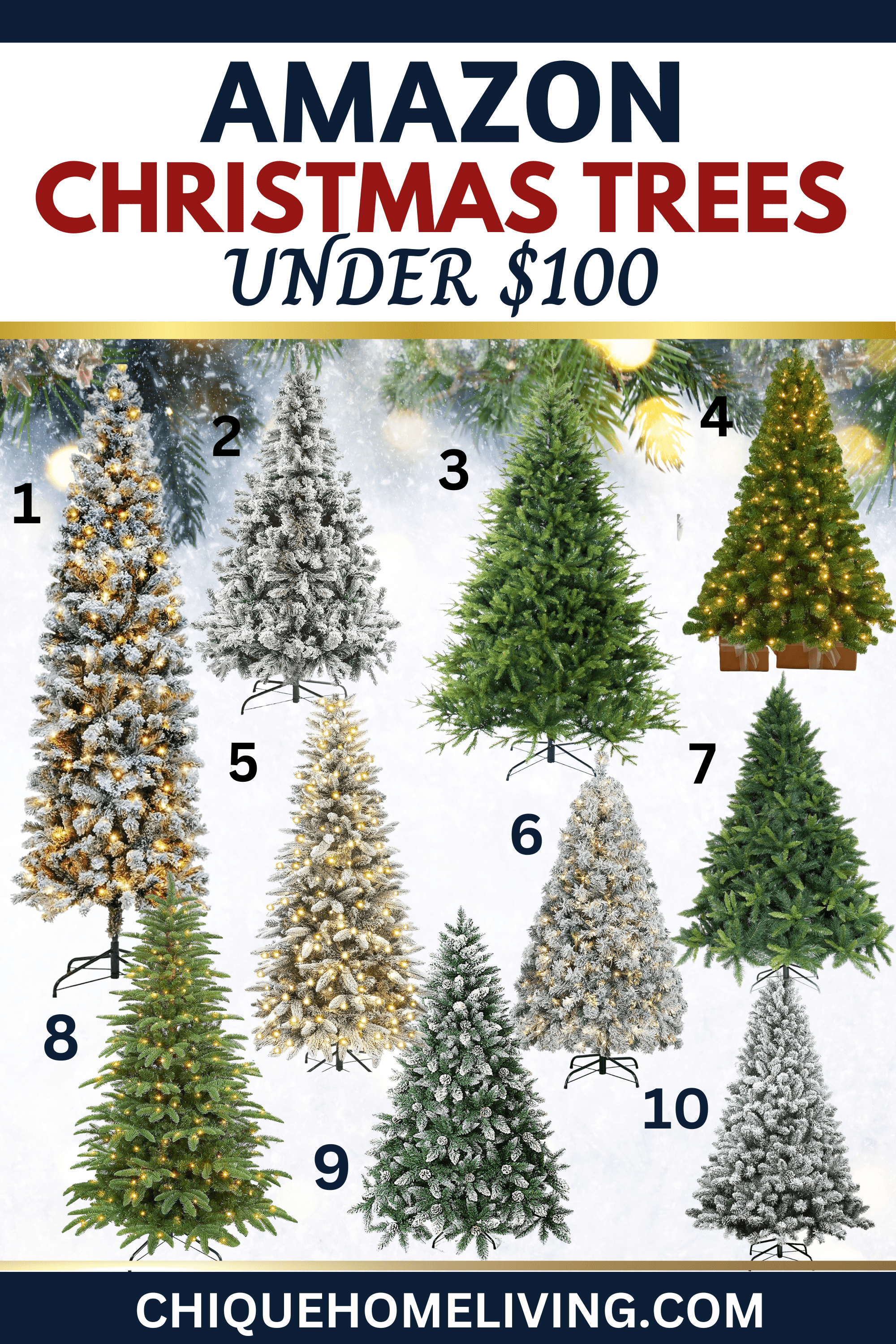 (NOTICE: Please keep in mind that the prices of some of the items linked below may increase from the time of this publication or become out of stock. In the case of any changes, Amazon will suggest similar alternatives so you don't miss out. Feel free to explore similar options!)
These links will take you directly to Amazon where you can shop these Christmas trees. Use the image above to find your preferred Christmas or browse through all the options. 
1. 6 Ft Pre Lit Flocked Pencil Christmas Tree Artificial 
2. 6ft Snow Flocked Artificial Holiday Christmas Tree
3. Artificial Christmas Trees, Real Touch Frasier Grande Tree, 6 FT
4. 6FT Pre-lit Evergreen Artificial Christmas Tree
5. 6FT Pre-Lit Artificial Pencil Christmas Tree with Flocked Snow Pre-Strung Lights
6. 6ft Pre-lit Snow Flocked Artificial Christmas Tree with Incandescent Warm White Lights
7. Artificial Christmas Tree Unlit 4,5,6,7.5 Feet
8. 6ft Prelit Premium Artificial Hinged Full Christmas Tree with Remote Control
9. Artificial Christmas Tree 5/6/7/7.5 Foot Flocked Snow Trees 
10. 5FT Flocked Artificial Christmas Tree
Tips For Buying An Artificial Christmas Tree
Here are some things to consider and watch out for when buying a Christmas tree.
● Shop early
High demand causes scarcity. To avoid your preferred Christmas tree and decorations being sold out or pricey, make the purchase well in advance. Mid-October to November is a good timeframe but if you can get good deals when you shop even earlier than this.
● Check the height and width
A common mistake people often make when buying a Christmas tree is not checking the height and width. You will often find the height and diameter of a tree in the product description when shopping. Measure your space prior to the purchase so that you can determine the appropriate tree for it.
For instance, miniature trees (under 5 ft) are great for bedrooms, tabletops, and small spaces.
Short trees from 5ft to 5½ ft are better suited for small living rooms.
6ft to 6½ are ideal for low-ceiling living room space.
The 7ft-12ft trees are perfect for height ceiling rooms.
Because the bottom branches are the longest, they should be used to determine the diameter.
● Know what you're looking for
Choose a theme for your Christmas decoration and gather inspiration so that you'll know for sure what type of Christmas tree you want for your space.
The most common types of artificial Christmas trees are traditional, flocked, frosted, pre-lit, unlit, and colored.
There are two main materials/needles to choose from: PE (polyethylene) and PVC (polyvinyl chloride). The main difference in materials is in how the trees look.
PVC trees can look beautiful, but if you want the most realistic-looking artificial Christmas tree, PE tips are the way to go. PE is the more costly option.
If you want a realistic tree without spending too much money, consider a Christmas tree that combines both PE and PVC needles. Also, if the PVC tree looks good enough for your needs, go for it!
● Consider the branches
There are two main types of branches used for artificial Christmas trees: hinged and hook-in. The hinged branches are permanently attached to the tree but can still be folded for easy storage.
While the hook-in branches can be detached completely from the trunk.  Pre-lit Christmas trees have hinged branches and are sturdy and easy to set up, hence, cost more than hooked-in branches.
Are you feeling more confident about purchasing Christmas trees on Amazon under $100?
Happy Shopping and Merry Christmas in Advance! Let us know in the comment section what Christmas must-haves we should recommend next. 
You may also enjoy our article on:
20 Best White and Blue Christmas Tree Ideas
75+ Enchanting Christmas Front Door Decor Ideas
52 Best Studio McGee Christmas Decorations