Carat London Jewellery Review
In this article, we will be reviewing the Vianne Round Prong Tennis Bracelet from Carat London. Read to find out if it's worth the hype!
It's no surprise why tennis bracelets have remained in fashion for decades. Tennis bracelets have easily become my go-to accessory for every occasion as they are a versatile fashion statement that can be worn at any time of the day or night.
This type of jewelry is perfect for adding an extra touch of personality to your look, and it can be worn in any weather condition. They can be worn as an accessory or incorporated into an outfit for a more polished look. Not only do they add a touch of elegance to your outfit, but they make a great gift as well.
There are several reasons why this sporty accessory is so popular and has been in fashion for a while now. First of all, tennis bracelets can be personalized with the recipient's name or initials which makes them truly unique. They also come in different colors and styles that make them versatile enough to wear on any occasion.
And, don't forget about the price! Tennis bracelets range in prices from affordable options that come in assorted colors and styles all the way up to more extravagant pieces that have gemstones or precious metals incorporated into their design.
Plus, they're easy to take care of – just wipe them down with a damp cloth if needed! Additionally, tennis bracelets have become popular as engagement gifts because they symbolize love and commitment. Whether you're planning your wedding or just looking for something special to give your loved ones, a tennis bracelet is sure to please!
The packaging
The Vianne Round Prong Tennis Bracelet comes in a beautiful white box wrapped with a blue custom ribbon. The packing screams  'sophistication' from the get-go. I think it would make a great present as packing alone would make anyone very excited to unveil what's inside. Are you looking for a unique and classy gift for that special someone in your life? You just found one!
Vianne Round Prong Tennis Bracelet Review
There are several things I found amusing about this bracelet. Firstly, with the Vianne Round Prong Tennis Bracelet, be prepared to say goodbye to wrist fatigue and hello to enhanced wrist strength. This bracelet is lightweight, beautifully designed, and crafted with the finest materials.
The sterling silver bracelet is made with a simple yet timeless design of round brilliant stones, set in a delicately cut and polished prong setting. The perfect blend of glamour and sophistication, this bracelet is a classic staple piece for every woman's jewelry collection.
Complete with a secure safety clasp, I can wear this timeless piece as an everyday signature piece for that extra touch of sparkle. In simpler words, with the Vianne Round Prong Tennis Bracelet, you get a chic and comfortable piece of jewelry that will add a touch of glitz to your look. What's even better is that it is relatively affordable, so you can add a little bit of extra glamour to your look without breaking the bank!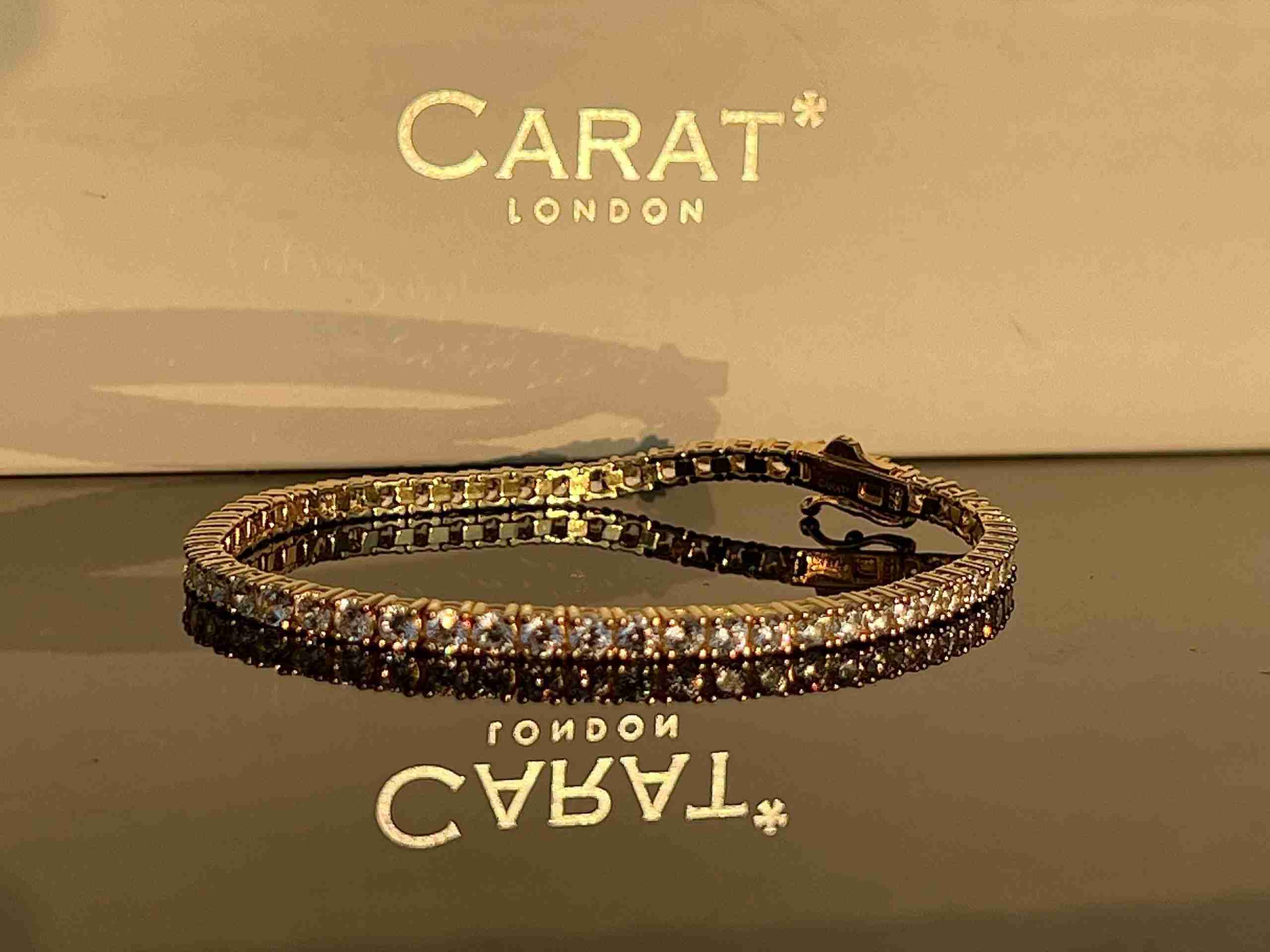 Final words,
Do I think this is worth the hype? Absolutely! Invest in elegance. Crafted from luxurious white gold, the Vianne Round Prong Tennis Bracelet features a unique design that's perfect for showing off your glamourous side. The bracelet's simple but elegant design is enhanced by the intricate round prongs that add an edge of sophistication to your look. Whether you're out on the tennis court or just enjoying some solitary playtime, this bracelet will add an extra layer of luxury to your experience.
The white box and blue ribbon only add to the sophistication of the gift, making it a must-have for any fashion-savvy lady. Whether you're giving it as a present to someone special or just treating yourself, don't miss out on this one-of-a-kind bracelet. Order yours today and make sure to show it off in style!