Top 10 Most Comfortable Chairs for Watching TV
Watching TV is one of the best ways to unwind after a long exhausting day. Like most people, you spend hours in front of your TV screen binge-watching your favorite TV series or the latest movie on Netflix. If you're not sitting properly, you could easily strain your muscles. Comfort is key to relaxation and that's why comfort or furniture should be a priority when shopping.
Most contemporary comfortable chairs are not just functional but they can fit in many home decor schemes and add visual aesthetics to your living room. If you're wondering what chairs feel the most comfortable for an unparalleled TV-watching experience, you're in the right place. Here, we've compiled a list of the top 10 most comfortable chairs for watching TV.
Enjoy the read!
1. Vegan Leather Caramel Modern Lounger
Never undervalue the unique comfort of a beanbag chair, especially for watching tv and lounging in general. The Vegan Leather Caramel Modern Lounger is one of the classiest beanbags we've seen, with an elevated look (with a supporting backrest region). This cube-shaped, ultra-plush lounger strikes the ideal balance between comfort and design.
2. Crate & Barrel Costes Oversized Armchair
Modern and opulently comfy, Costes' chair features a classic European furniture shape. The chair's distinctive shape incorporates pillows into its "folded" arms, an overstuffed seat, and a contoured back cushion, offering an opulent and relaxing stay.
The chair's allure is enhanced by the incredibly velvety yet surprisingly sturdy fabric, which has chenille patterning, a downy hand, and the stylish appearance of knife-edge tailoring. This armchair creams comfort which makes it great for watching TV, reading, or just lounging.
3. Cantata Upholstered Armchair
What is superior to a chair? An ample chair and a half where you can curl up with a good book or watch your favorite tv show This chair have a warm linen color and gently textured weave 100% polyester upholstery that goes great with a French rural look and light color scheme. It is supported on the bottom by turned feet made of engineered wood that have a weathered, light grey finish for a rustic look.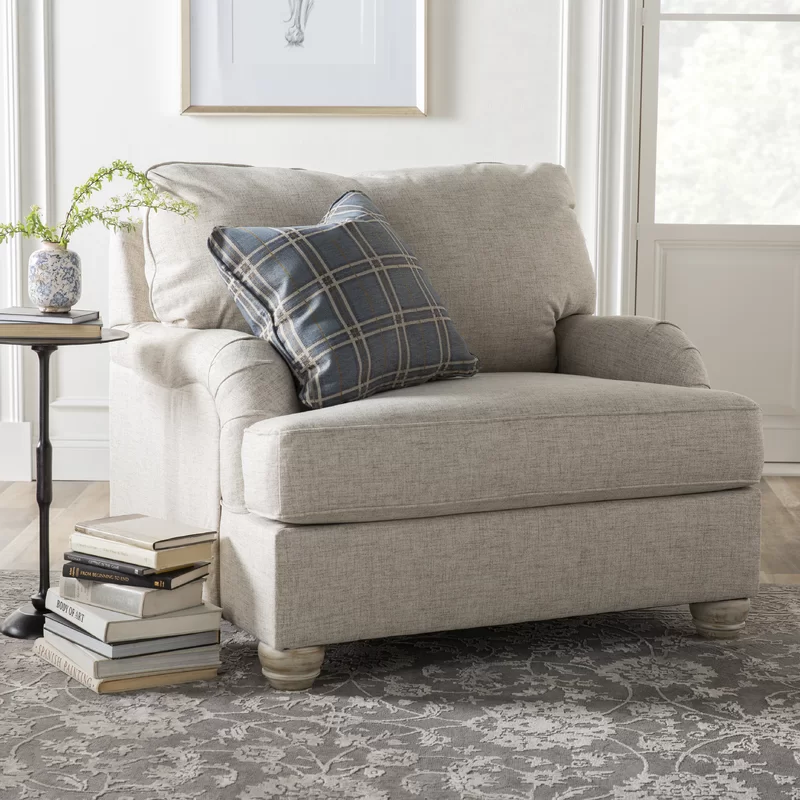 4. George Oliver Mashburn Wide Convertible Chair and Ottoman
After a hard day, the best place to unwind and watch tv is in a chair that is particularly comfortable, like this inviting option from Wayfair. This seat's ergonomic design can fit just about every leisure mood, whether you're meditating, watching TV, or even reading your beloved books. It has an adjustable angle, a complementing ottoman, and body-conforming cushions.
5. Whitham Faux Leather Swivel Chair
What makes the Whitham faux leather swivel chair ideal for watching TV is that it is an exquisitely made self-assembly swivel chair that has a deep-set padded back and padded headrest for maximum comfort. It is upholstered in a beautiful imitation leather fabric.
This recliner chair comes with a complementary footstool and is designed with natural coloration and wooden legs. During a movie night, you can place your legs on the footstool to avoid any ankle sprain.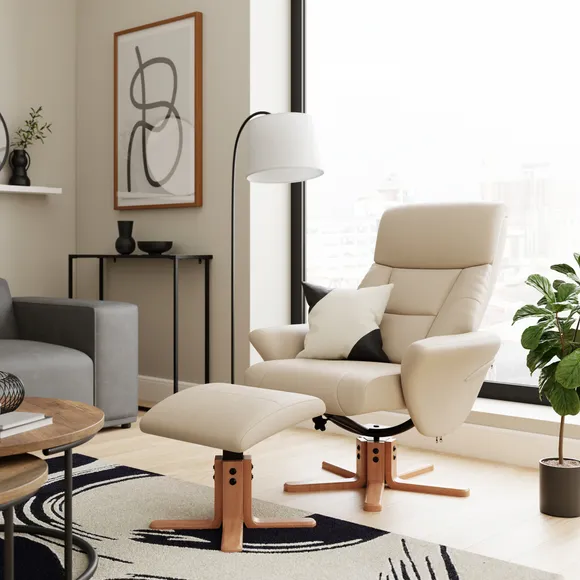 6. West Elm

Cozy Swivel Chair

Why struggle to turn your head or relax your back during TV time when there is a swivel chair available? Additionally, the pebbled fabric and adorable cushions make it even more welcoming. Its shape is inviting, much like its name, and will no doubt make a statement in your living room. With its webbed cushion support, the West Elms Cozy Swivel chair is sure to please.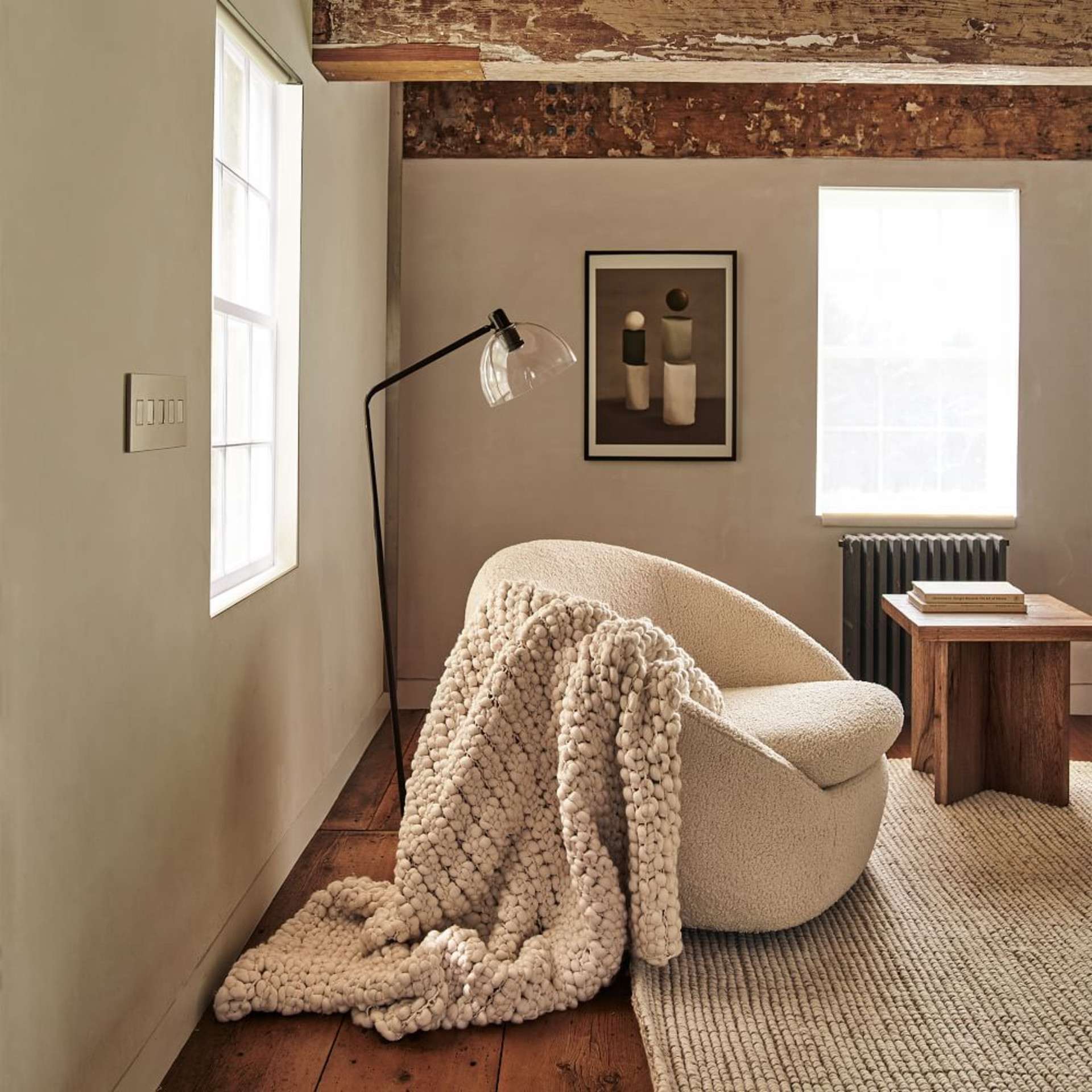 7. Elleise Upholstered Manual Recliner
Elleise Upholstered Manual Recliner is one of the comfiest chairs for a relaxing tv night. With the help of a single motor and a sturdy mechanism, modern style and utility come together to create the best in reclining comfort. You can also lift the chair up and tilt it to stand. Additionally, it has a side pocket for magazines, novels, and remotes, so once you're comfortable, you won't need to get up to get a drink or change the TV channel.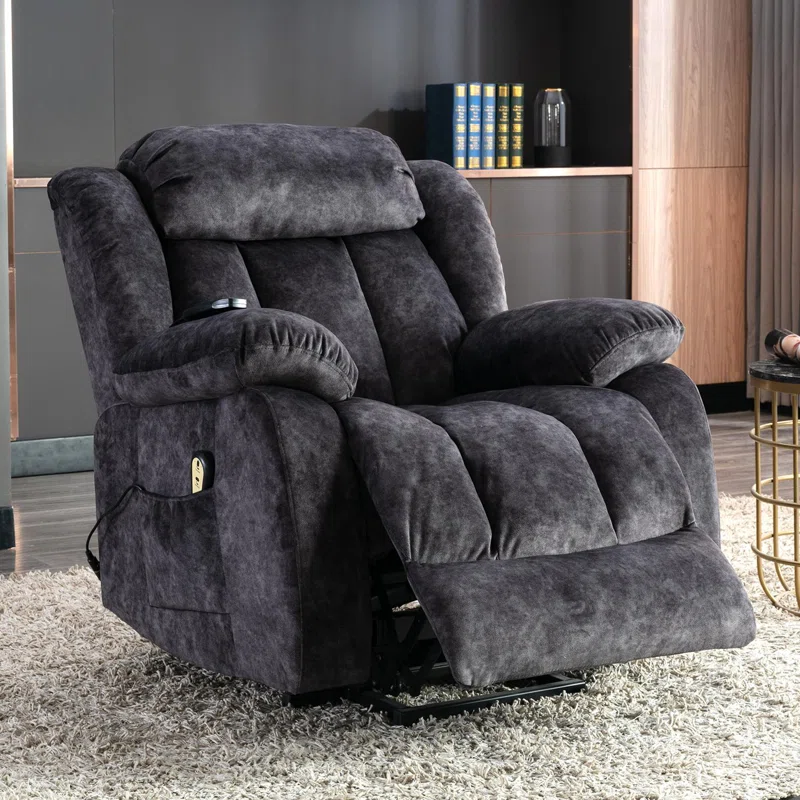 8. Martha Stewart Decker Windowpane Low-Armed Accent Chair
The Martha Steward Decker Windowpane Armchair is no doubt one of the most chairs for watching tv. The armchair gives a nice farmhouse-inspired upgrade for your living room or family room and was made especially for the product that personifies country farmhouse living. This accent chair will complement most home decor theme styles has a simple design with track arms and a detachable seat cushion that offers outstanding comfort.
It is upholstered in soft fabric with a beige color. The wheat-finished solid wood legs go well with the upholstery. Martha Stewart's well-chosen design, which embraces a neutral color scheme that serves as the ideal backdrop to four seasons of color, is evidence of this practical and useful lifestyle. So, get dive into a perfect movie night with the utmost comfort with this chair.
9. Cheatham Upholstered Armchair
With this armchair, you may cross the item off your to-do list to "find the most comfortable chair for watching TV." It is covered in plain upholstery that complements any color scheme. For touch, it has piped cushions matched with nailhead trim along the base and corners.
Turned plastic feet in the bottom corner stylishly finish off this accent chair. in addition to making vacuuming up the inevitable crumbs simple.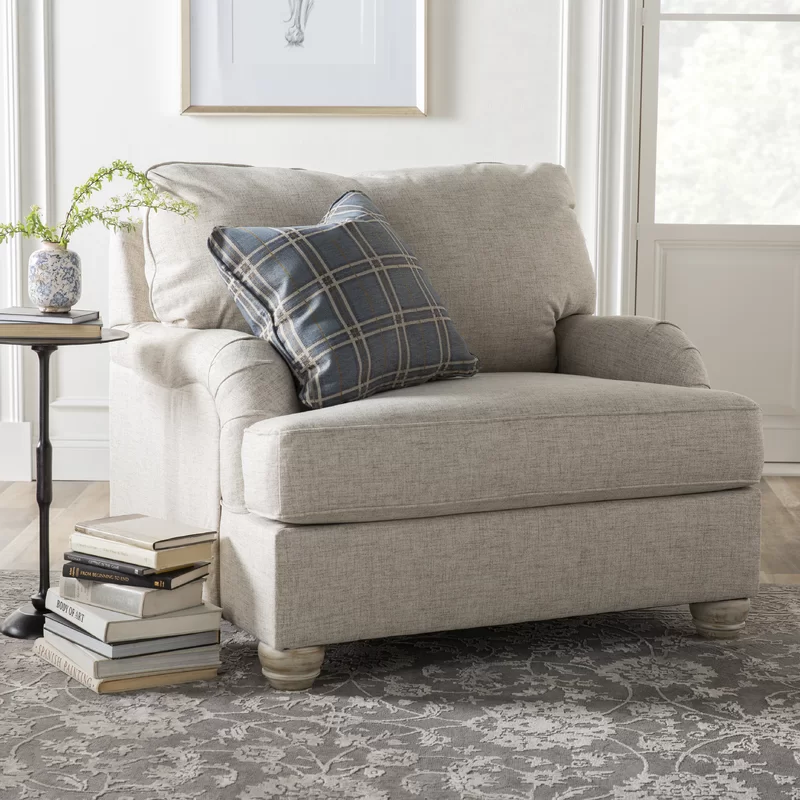 10. Dannesha Upholstered Armchair
This stunning club chair and ottoman combination will help you create a warm seating arrangement that is perfect for watching TV. This modern chair is quite welcoming with its soft, silky upholstery and comfy cushions. A detailed appearance is promised by delicate features including tapered legs, button-accented diamond tufting, and nailhead trim.
This set is attractive and useful thanks to a coordinating ottoman and a traditional silhouette. When you use this lovely and useful set to bind your bedroom, living room, or seating area together, it will be completely transformed.