12 Best Curbless Shower Ideas
No matter the size and style of your bathroom, these incredible curbless shower ideas will inspire your next remodel! 
In a recent report, Fixr.com found that aesthetics and improve functionality were tied as the main reason why people remodel their bathrooms. Many would agree that the bathroom is the most challenging room in the room to remodel. It tends to be one of the most expensive as well. Hence, it requires careful planning and execution.
There are two main types of showers; curb and curbless. A curbed shower has raised barrier that separates the shower floor from the rest of the bathroom. This keeps the water from running toward the bathroom.
A curbless shower, also known as a seamless shower, has no barrier or bump. Essentially, the entrance of the shower is thesame level as the rest of the space.
Curbless showers in seen often in wet rooms, especially in Europe. It is becoming increasingly popular in contemporary bathrooms. Why do people choose a curbless shower? It creates a seamless flow from the rest of the bathroom floor while making the space appear bigger and aesthetically pleasing.
In this blog post, we'll be sharing the 12 best curbless shower ideas that will help your bathroom look and feel like a spa-like retreat.
1. Curbless Shower And Tub Combo
If your space allows it, throw in a bathtub in the curbless shower. This combination makes the ideal master bathroom ideal because you can take both a bath and shower in the same single space.
It is also a clever space-saving solution that creates a feeling of luxury and spa-like relaxation. Consider adding a shower niche the elevate the overall aesthetics.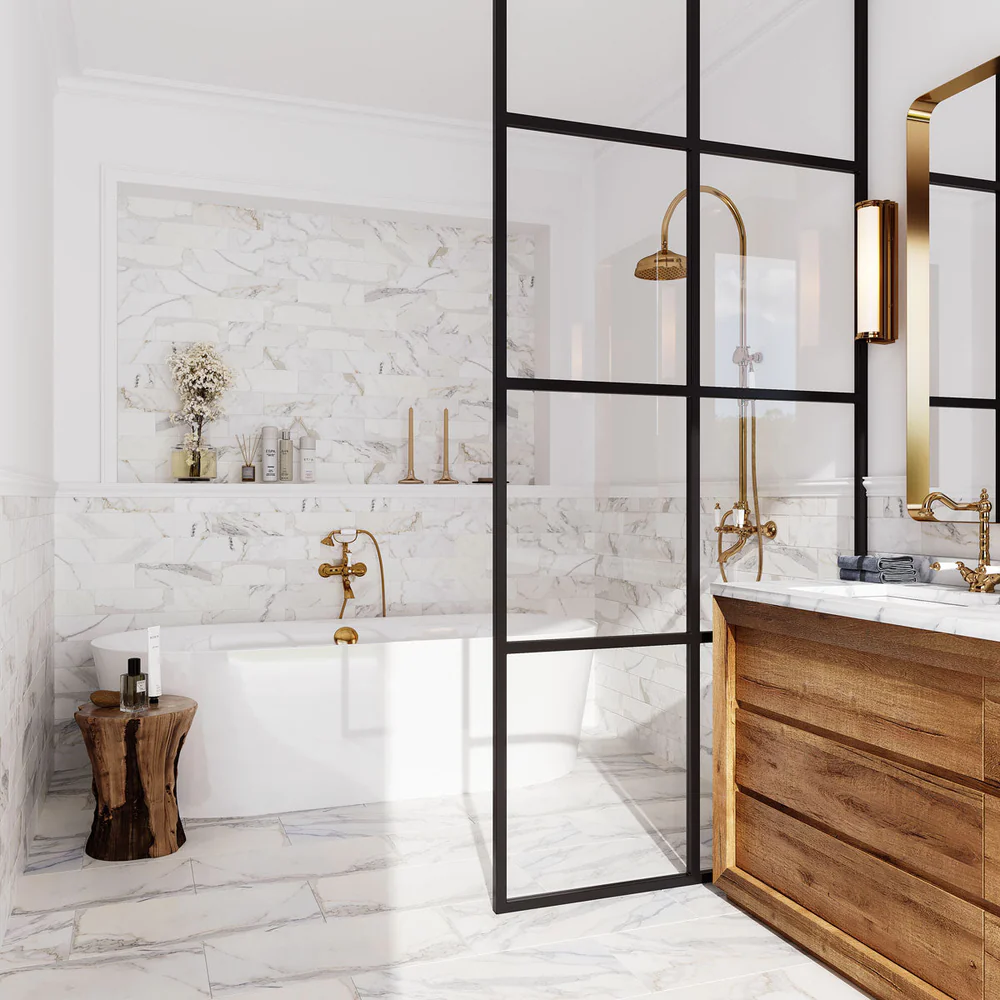 PHOTO:  ANAIS CHAUMIEN 
2. Open Curbless Shower
Most open curbless showers have a clear glass screen to protect against splashes, but this is by no means a must-have.
An open shower is one without glass, panels, or any covering. Since there is no visual obstruction, it makes a space appear more open and bigger than it is.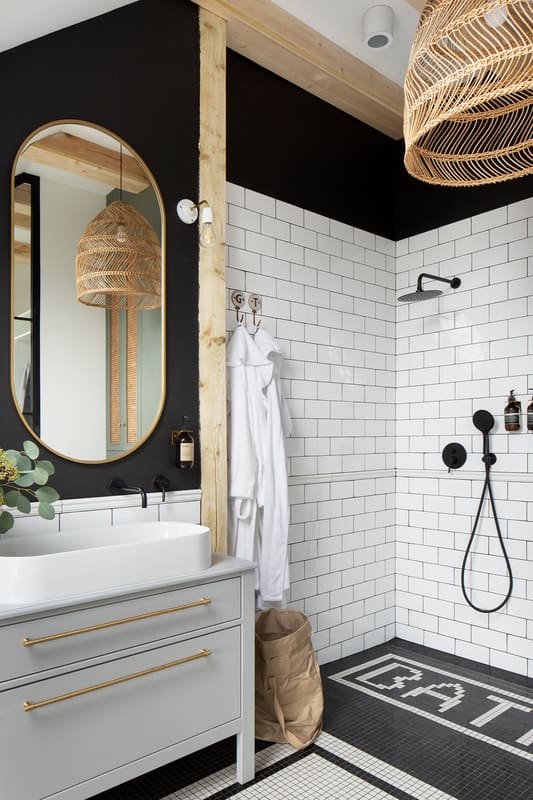 PHOTO: MARIA  MALINOWSKI OF  SHOKO DESIGN
3. Matching Floor Tiles
One of the most common curbless shower ideas that create an even more seamless look is to use the same tiles or flooring throughout the space, including the shower floor.
If you're on a tight budget, using the same floor tiles may help you save money. The main reason why people opt for this design is that it creates a cohesive and balanced finish.
PHOTO: JENNIFER KIZZ
4. Partition Flooring
If you want to make the curbless more defined, use a creative tiling technique to create a partition design. This tile arrangement will complement any bathroom style.
PHOTO: MICHELLE DIRKSE

5. Acrylic Wall Panel
An acrylic wall panel is a stunning wall design idea for your curbless shower. It gives elegance and understated beauty to a space. This can also serve as a bathroom accent wall, which is used to enrich and add a stylish flair to even the most mundane spaces.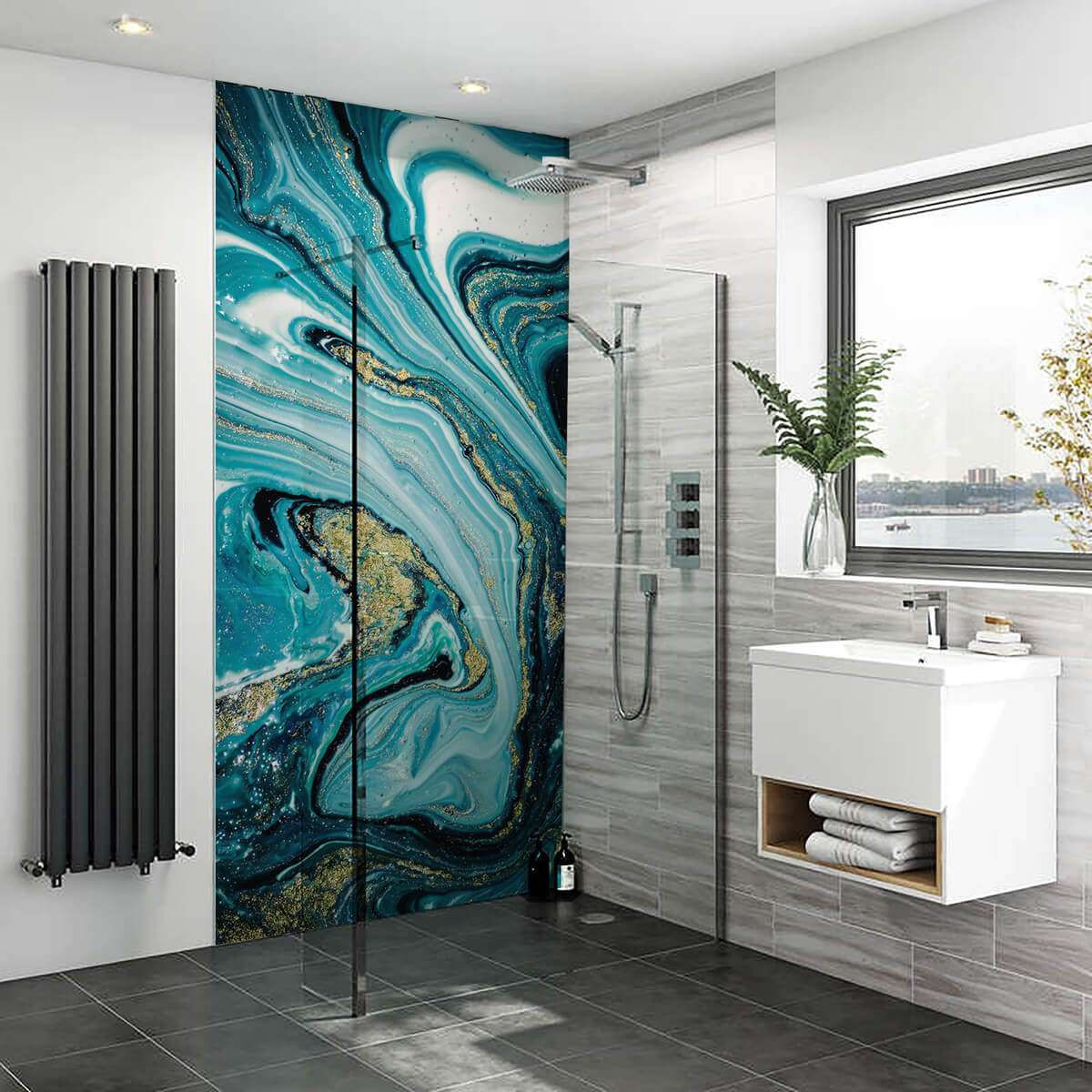 PHOTO: PINTEREST
6. Use a Different Flooring for the Shower
As mentioned earlier, you can use the same floor tiles throughout the space for a cohesive look but if you want your curbless to stand out more, opt for different tile or flooring material.
Some tiles are particularly great for the shower floor because they are non-slip and provide a better grip for bare feet. Some of these include glazed ceramic, glazed porcelain, and natural stones.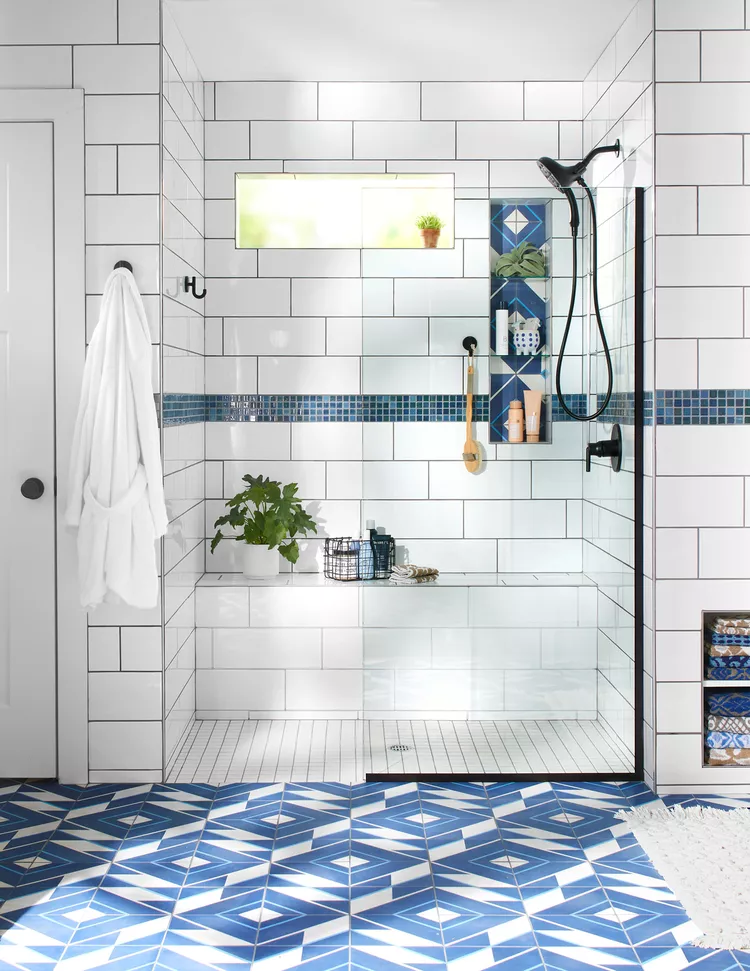 PHOTO: MARTY BALDWIN
7. Buildt-In Master Shower
The bathroom, very its very nature, is a private space. Depending on the layout of your bathroom, you can increase privacy through a built-in walk-in shower.
Just like a built-in closet, this type of shower is embedded in the wall of the bathroom. Use a screen glass door for proper ventilation and to let the natural light flow in.
PHOTO: DAVID CLARK 
8. Create a Spa-Like Oasis With a Shower Bench
Shower benches are highly functional. When we feel exhausted after a long day, standing in the shower doesn't feel like a treat. A shower bench allows you to have better relaxing baths, especially if you don't have the space and budget for a bathtub. It can also serve as a storage space for bathroom essentials.
PHOTO: PINTEREST
9. Consider Double Showers
A double shower, also known as a dual shower system, is ideal for couples' bathrooms. Why take turns to shower when in a hurry when you can both shower at the same time? This curbless shower idea is not only practical and gives a luxurious feeling to a space.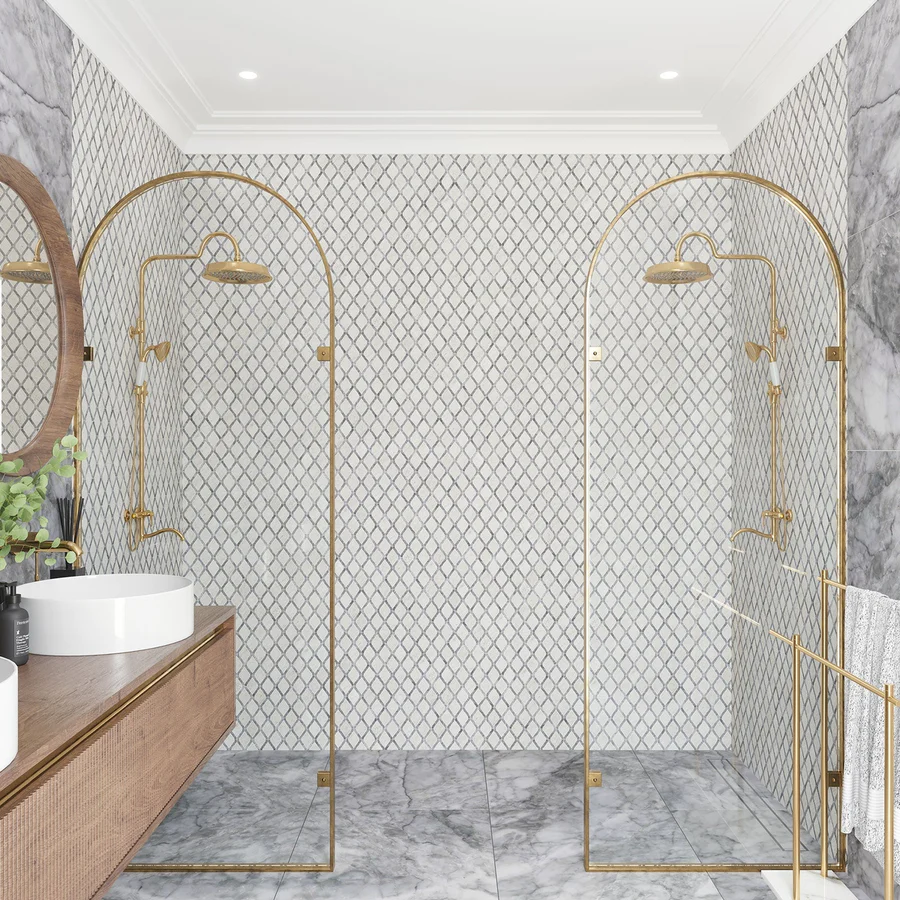 PHOTO: HOUZZ
10. Install a Knee Wall
A knee wall is also commonly known as a half-wall, or partition wall. In a shared bathroom, a half wall can give you much-needed seclusion and visually divide your space. It is a great addition to a curbless shower, especially when combined with glass screens.
PHOTO: KIM MALONEY DESIGN
11. Rich Stained Marble Tile
Most homeowners and interior designers like the warm, gentle, and sophisticated appearance that marble patina offers.
Marble is popularly used on bathroom floors but they also look incredible on bathroom backsplashes, shower walls, and countertops. A rich stained marble provides contrast, and warmth and can give the bathroom an unmatchable aesthetics.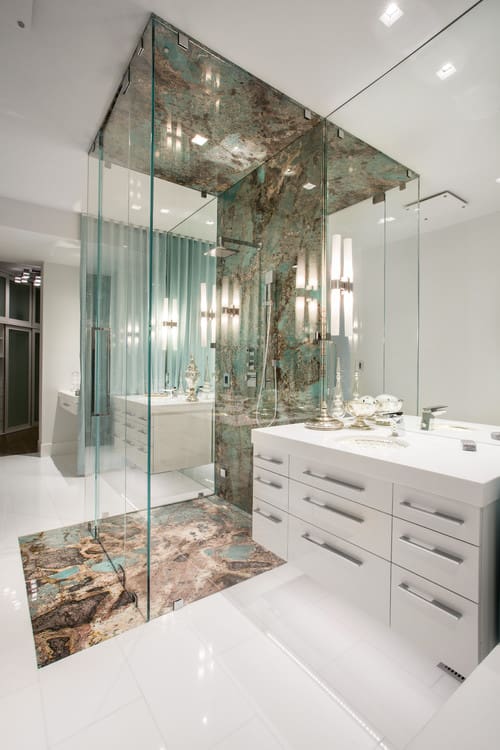 PHOTO: MCQUAY ARCHITECTS
12. White Shower Panel
White bathroom shower panels are ideal for any shower space. Its timeless looks can help brighten up and elevate the aesthetics of a space. This is one of the best curbless shower ideas for creating a sleek, contemporary, and minimalist bathroom design.
PHOTO: KRISTINA LYNNE