How Much Do Patio Doors Cost?
Do you need a new door for your patio? If you do, then you may be in the process of shopping around. Besides knowing the type of patio door that you want, you might also be asking yourself, "How much do patio doors cost"?
Well, there isn't just one answer to that question. There are many factors that contribute to the overall price of a patio door. Details such as the brand, style, and material of the door all contribute to how much you'll pay.
If you're curious to learn more about the patio door installation cost, continue reading the content below.
The Cost of Patio Door Installation
The average cost of installing a patio door is roughly $1,200 to $10,000. But for the most part, the majority of homeowners pay about $2,500 to get a new patio door.
That price also includes labor, which is generally between $70 and $130 an hour. Most technicians need about three to five hours to complete patio door installation.
Since patio doors are made to protect your home from the outside and insulate the interior of your home, the exact price for installation varies. Again, the materials that you select and the door that you choose all factor into the overall cost.
You could potentially DIY patio door installation, but it's not recommended—especially if you don't know what you're doing. You could potentially spend more money out of pocket by doing a DIY project if you mess something up or have to start over.
The benefit of hiring a patio door specialist is that they can get it done quickly and safely.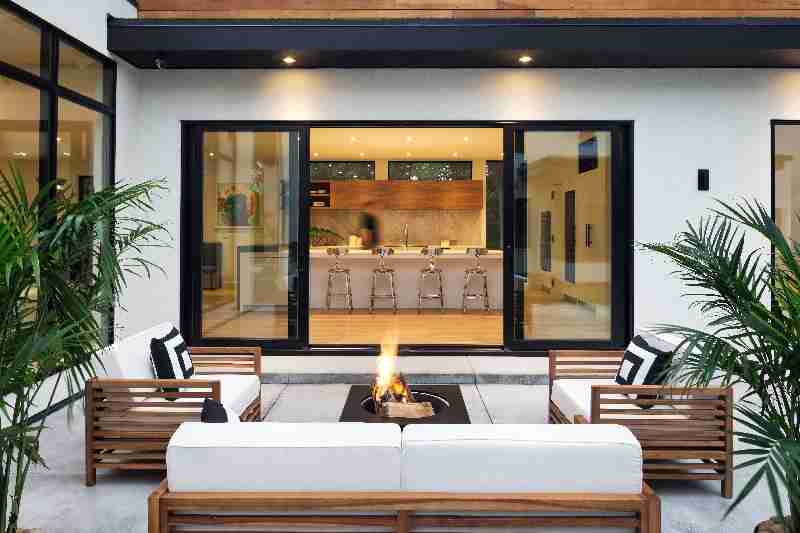 Standard Patio Door Replacement Cost
When you need to install or replace the entrance to your patio, the door itself typically costs between $400 and $6,000. On average, patio doors are about 80 inches tall and 72 inches wide.
Most people prefer large doors that provide more of an open space. Here are some of the different materials that you can choose for patio doors:
Vinyl:$300-$1,300
Wood: $1,500- $6,000
Fiberglass: $700- $3,500
Aluminum: $500-$2,000
In addition to the frame materials for your patio door, the type of glass that you choose also affects the price. If you go for a custom option like weather-resistant glass or decorative glass it'll cost more.
Even if you get built-in blinds for your patio door, you'll pay more money. Generally, adding these extra details will increase the price by 10% to 30%.
The good news is, patio doors are widely available at most home improvement stores. Therefore, you don't have to worry about ordering them online, and you can get someone to help you to select the right option.
However, if you decide to go with a professional patio door company, the price quote should include the cost of materials, the door itself, and the glass. Be sure to ask them if labor is included in the estimated cost.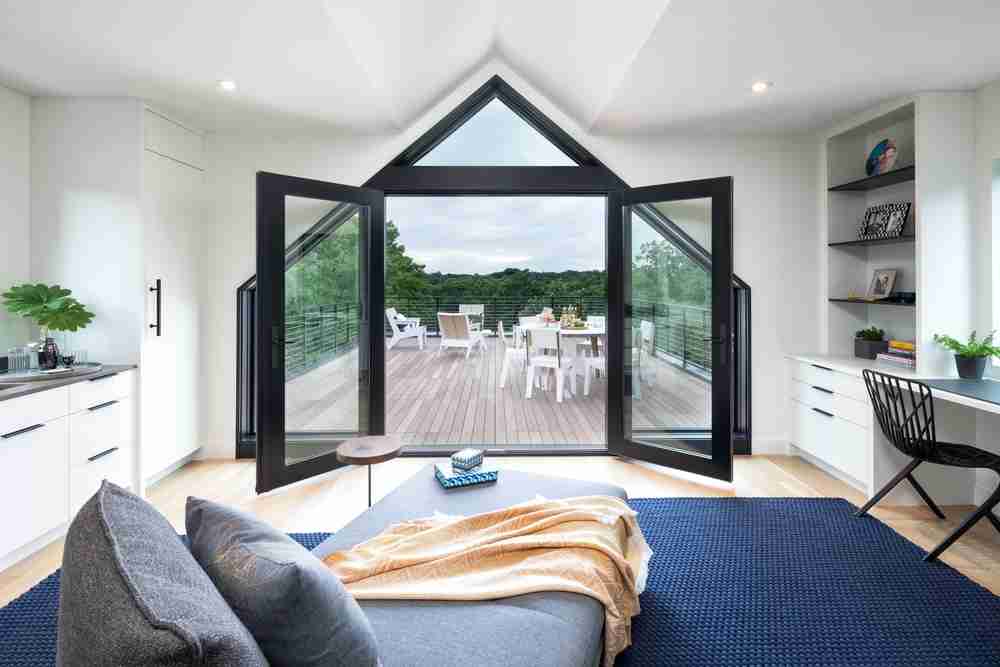 The Cost of Various Patio Doors
You have the option to select the type of patio door that you want. However, they all come with a different price tag. Here are the varying types of patio doors and their average cost:
Sliding Doors
Typically, a sliding patio door costs about $1,000 to $2,700. This type of door moves from left to right or provides multiple sliding options. It's a great choice if you have limited space in the surrounding areas.
Depending on the size of your patio opening, you'll either need two to four glass panels. For two panels, it'll cost between $300 to $1,600. For three panels, you can expect to pay $600 to $3,000.
Lastly, for four panels, the price range is between $2,000 and $6,000.
Telescoping Doors
Telescoping patio doors range between $1,500 and $6,000. They're equipped with three or more panels that slide past one another. They help to widen the opening between the interior and exterior.
The good thing about this option is that it offers more flexibility to open the patio door from either side.
French Doors
You can expect to pay between $500 to $4,000 for wide, pre-designed French doors. They are hinged at the center of the opening and swing inward and outward.
The large models for French doors require extra glass panels in the opening, so that may add to the cost.
Bifold Patio Doors
You also have the option to get a bifold patio door. This option is generally the most expensive, and the price range is between $3,000 to $10,000. They offer the widest opening and fold from wall to wall on one or both sides of the opening.
Since they are so large, you can also expect to pay at least an extra $500 to $1,000 per linear square foot.
Installing a Patio Door
When you get a patio door installed, expect to spend between $400 to $1,500. The overall cost will include the labor that it takes to open, trim, and install the door. Also, you'll pay for the patio door itself. Getting a patio door put in typically costs more than getting the door replaced.
So, as you're calling around for quotes, make sure that the representative that you're speaking with understands that you're getting a new patio door, not just replacing an old one.
If you're looking for a new patio door, follow the highlighted link to locate a provider.
Understanding How Much Patio Doors Cost
As you can see, patio doors vary in price. But hopefully, the information above helps you to better understand how much cash you'll have to spend for a new patio door.
If you enjoyed reading this content about how much patio doors cost, check out more of our website to discover additional articles.