Simple DIY Woodwork Ideas
Wood is one of the most adaptable building materials available. It is quite versatile and adaptable. It can easily be modified into any shape or design by cutting, carving, or boring. It can also be painted, stained, or stripped to attain a more appealing look. Moreover, you can assemble it into a unique structure or disassemble it as you please. You can see how adaptable this material is with these interesting DIY wood craft ideas.
With this being said, there's a woodwork project for almost every room in your house. Tablescape trays are ideal for displaying dining area décor, for instance. Wooden plaques provide a blank canvas for whatever message or image you like. While adding functionality to your house, wooden coat racks also make a great décor addition in the entryway.
While some woodworking creations require experience and great creativity, some are simple enough to be handled by a person without prior exposure to the craft. It doesn't matter if you've done a lot of DIY before or are just getting started. There is something for everyone in these projects. Let's walk together and explore three simple DIY woodwork projects ideas for your home, starting with the crucial aspect of tools.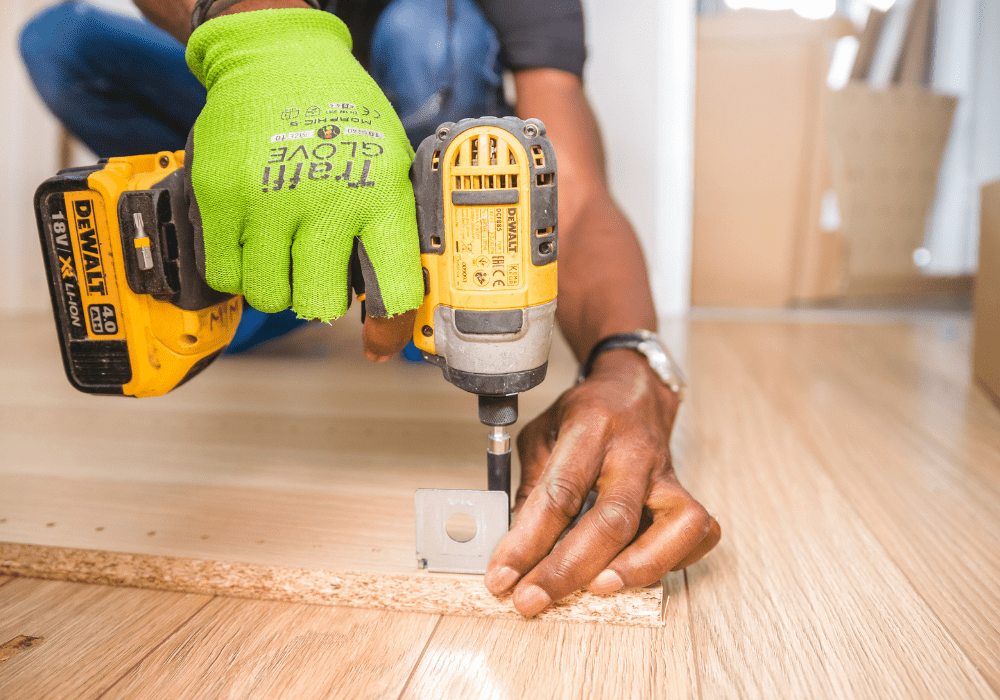 Gather the Appropriate Tools 
The most important aspect of any woodworking project is having the right tools. With the right supplies, work becomes easier, accurate, and more enjoyable. You will need tools for measuring, marking, cutting, sanding, planning, and so forth.
The tools needed often depend on what you want to make and the materials being used. Some projects require using a bandsaw, which allows you to make accurate cuts without breaking a sweat. Sometimes a scroll saw can replace a bandsaw since the two are quite similar. Apart from these two, here are other commonly needed tools for most DIY woodworking projects.
Handsaw

Chisel

Pencil

Ruler and Square

Hammer or nail gun

Power drill

Power screwdriver

Mallet

Clamps (G-clamp, bench vice, table clamp, etc.)

A working bench
With this in mind, let's now look at some simple DIY Woodworking projects you can take up for your home.
1. Wooden Coat Rack 
A wood coat rack is one of those super-easy-to-do-yet-so-stylish DIYs you wish you thought of earlier! As long as you have the right tools at your disposal, you only need a long piece of wood and a few additional items that most woodworkers already have on hand. 
Besides being easy to make, a homemade coat rack can help you avoid a cluttered closet. Moreover, it adds convenience to your home when your guests come over. The space-saving design makes it a great item for small entryways too. There are lots of resources and tutorials online on building a coat rack DIY. Here's a brief guide you may find helpful.
Gather your tools and materials

Create a design

Mark the piece of wood, cutting accurately with a handsaw

Create hooks with a hand chisel

Sanding to smoothen the surfaces

Customize your rack
2. A Plant Pot Holder 
If you love indoor plants, you will appreciate this DIY project idea. It simply involves getting a thick piece of wood and creating a hole in it. The circumference should be wide enough to hold a standard terra cotta plant pot or the specific plant pot you intend to place there. The triangular wooden pot holder can also be mounted on the wall, creating a stunning wall-mounted plant holder.
What's more, it has a natural, organic feel to it because it is made of raw wood. Alternatively, you can get a stunningly grooved, finished piece of wood and install it into the wall using a screw gun. Make sure it is sturdy enough and has attachments to help support your hanging planters.
3. Sofa Arm Caddy
The wooden couch arm caddy is another simple-to-make item you can think about in your next woodworking project. A multi-functional sofa arm caddy ensures that you don't have to worry about lost or out-of-reach objects interfering with your movie marathon or work in the living room.
Attached to the sofa arm, the small-yet-functional wooden structure helps you keep small and often misplaced items organized while at the living area. The best part about making a sofa arm tray is that it is super easy. If you're creative enough, you can have pockets for items like mobile phones, periodicals, pens, or even drinks on the caddy.
The list of home items you can make with wood is literally endless. You just have to think about something that will add convenience and functionality while boosting your home's aesthetic appeal. Feel free to use one of the above ideas for your next woodworking project.