How to Create a Functional Home Office: Work From Home
Now more than ever, working or studying from home has become very essential and even almost mandatory.  If you're going to be working from home do it with style! In order to be successful, the workspace ought to be both functional and efficient. It is difficult to focus if your space is a mess so you must make it as comfortable as possible. Some of the challenges most people face when creating a functional home office are lack of space, lack of privacy, and lack of distance between home and work.
Regardless of the size of your home, you can design a practical and comfortable workspace with the right space, furnishing it, making it attractive and efficient. Here are tips for creating a comfortable and functional home office where you can work, study, AND play.
Find the right space
Choosing a dedicated area is the first and most crucial step when creating a perfect workspace. Ideally, your workspace should be somewhere with good natural light (like near the window), as there's nothing more frustrating than straining to see what you're working on! This should also be a quiet area with some privacy, which is especially important if you have a noisy household with children, pets, or roommates. Even if you live alone, you need a space that can help you create a work-life balance. This is extremely important as research has shown that at-home workers can fall into bad habits if they don't have a proper space to work or a routine to follow.
A stylish understairs office

Image Source –
Neville
Johnson
Try to separate your workspace from the rest of your home. Choose a space where you can minimize distractions, far away from the laundry room, kitchen, and PlayStation noises. Perhaps it is time to utilize that spare room that you never use. If you live in a small home, without an extra room, designate a spare corner where you can use exclusively for work. This is essentially better than working from your bed or sofa.
A workspace that appeals to all your senses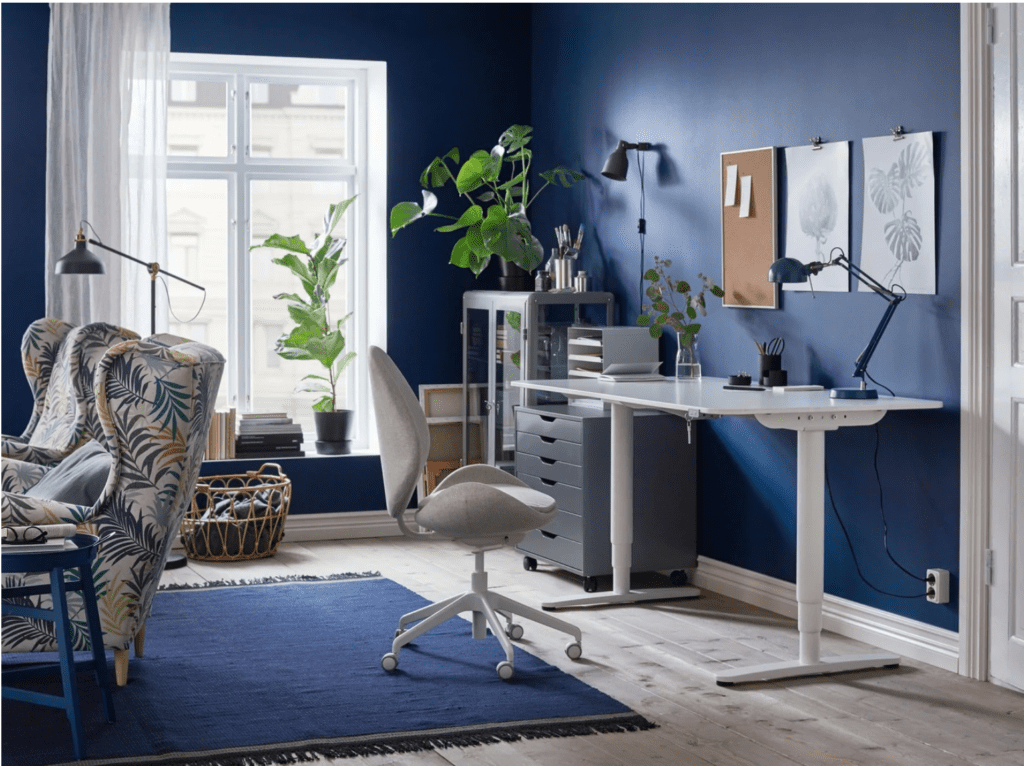 Image Source – Ikea
Furnish your workspace
Invest in the best furniture you can get for your budget. Measure your space before shopping for furniture, so you'll know exactly what will fit. When setting up your desk, consider buying furniture that complements the size of your space. Your desk needs to be high enough to accommodate your computer or laptop while giving you space to sort files or take notes.
Some desks have handy wiring channels to keep your tangle of cables neatly. If your chosen desk doesn't have this, you will need to consider placing the desk strategically for a neat and safe connection to plug sockets.
Urban cool for your workspace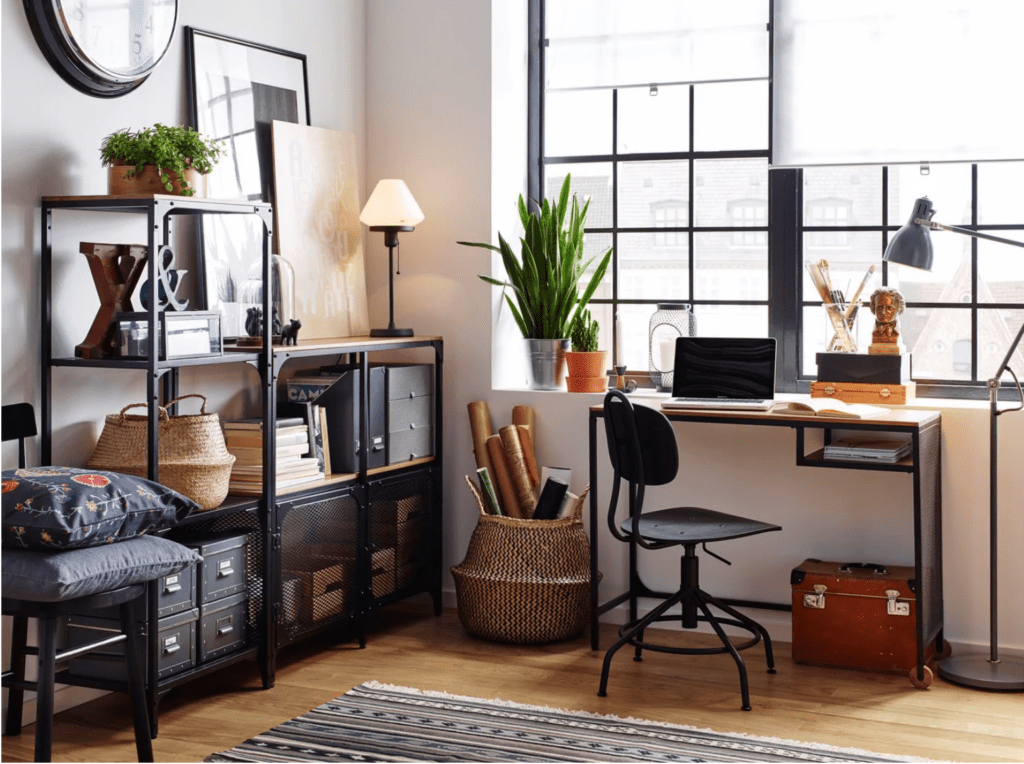 Image Source – Ikea
It is important to get a good ergonomic chair. You will hate working if you are uncomfortable the whole time. Focus on your posture, your back should be straight or relaxed reclined and your shoulders should be relaxed. Three important things to consider when shopping for comfortable chairs are the adjustable armrests, adjustable seating positions, and distance from the seat to the floor. Always try it out first to find the one that feels the most comfortable to you just as you do when shopping for adjustable beds.
If your workspace is part of another room in your home, I suggest you opt for creating desk space out of an armoire. An armoire is a piece of furniture with doors that hide drawers or other storage space and it is created specifically for home office use. Built as work centers, armoires are often equipped with adjustable shelves, file drawers, and crannies for storing supplies.
A two-in-one dining table
Image Source – Ikea
Invest in organizational tools
Clutters at its most distracting in the home workspace, and it important you make it as clutter-free as possible. Installing bookshelves and other storage containers that are stylish and functional will help you utilize your space and to keep clutters at a minimum. Get creative with your storage, if you have a small space, consider buying a small bookshelf that you can hang on the wall. And if you're using a guest bedroom? It probably has a closet. Trick out the closet with a shelving system so you can minimize the need for storage in the main office area.
Use a cup to hold your pens, drawer organizers to keep your paperclips, and file folders to hold your documents. Make room for office accessories such as printers, scanners, and document shredders. It is important to make sure everything you need for working is within reach, you don't want to spend 15 minutes hunting through your drawer every time you need a stapler.
Find a shelf and other storage materials that will fit the materials you need for work. If organization isn't your strongest suit, dedicate at least 20 minutes every week to tidy up your workspace so that they stay organized and clutter-free.
A locker for everyone in the family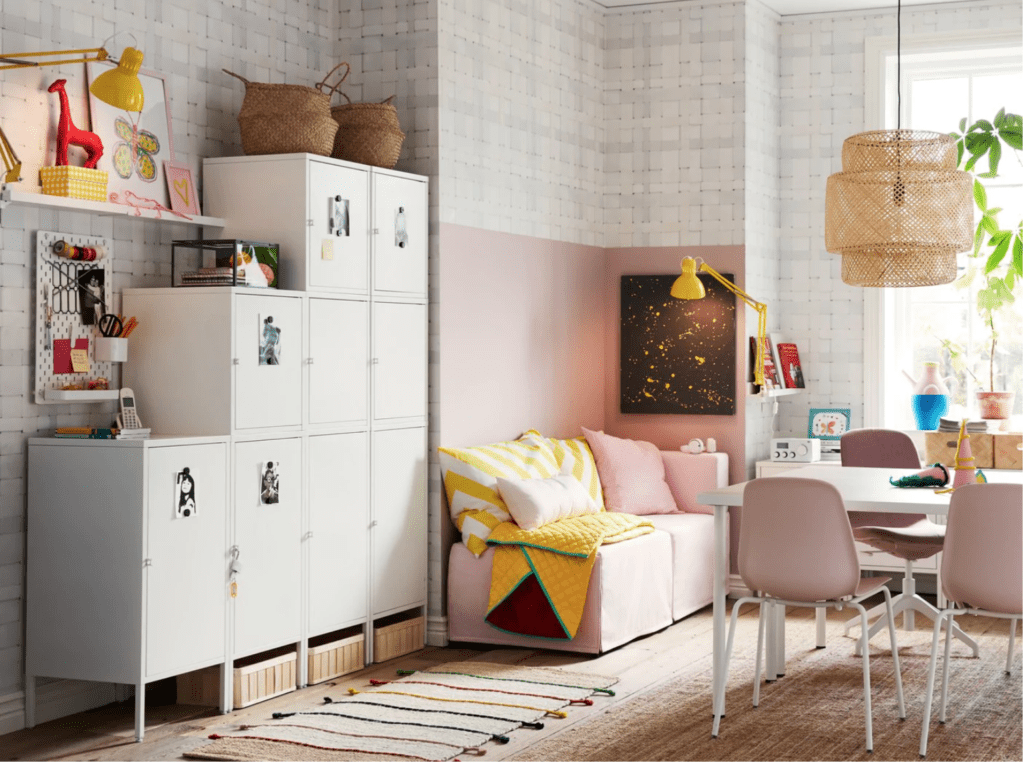 Image Source – Ikea
Decorate your space
Make the most out of the walls in your home office. A bright room always looks clean and fresh. Add a personal touch that that will inspire you without overwhelming your space. Incorporate colors that keep you calm and happy and color coordinate your office supply.
Color goes beyond personal preferences. Orange and green might not be your first choice, but it has been proven to increase productivity and energy levels. Consider bringing in some artwork, tabletop fountain, household plants, or photos that you enjoy and that inspires you, or create inspiration boards related to your work.
Don't forget the lamp! Even with the natural light, you'll still need an additional source of lighting at night. Consider using full-spectrum lighting to get many of the advantages of sunlight if your workspace does not have natural light from a window. Find task lights with dimmers so they can suit any task.
The art of mixing business and pleasure
Image Source – Ikea