6 Inexpensive Ways to Give Your Living Room a Makeover
The living room is the first place in the house visible to guests. As the name suggests, it is where we live hard, relax, entertain, and where family members gather to spend quality time. Hence, you should decorate it in such a way that each person at home finds it enjoyable and peaceful. Whether you are moving into a new home or you simply just want to give your living room a makeover, you're at the right place.
Everyone wants to create not only a comfortable space but a stylish and harmonious environment. But how do you achieve this in a minimum budget? If you have a limited budget, it may seem almost impossible to redecorate your living room.
But don't fret! You can completely transform and personalize your space because there are so many inexpensive living room styling ideas that can help you achieve this without creating a space that looks or feels cheap. Here are some superb budget-friendly ideas we have come up with to help you transform your living room.
1. Consider what you already have
If you do not like the look and feel of your living room and you can't afford to buy new furniture or items to redecorate, a quick and easy way is to transform your space is by simply rearranging what you currently have. Start by clearing out clutter, revamping pieces you already have, and deciding what you no longer need.
Before looking for new furniture to buy, have a look around your room and consider the pieces you have but just need reupholstering, a lick of paint, or even a good clean. Consider reselling the items you don't need and use the money to get something new. Some times buying new items to decorate your home isn't even necessary.
Modern navy blue living room with armchair and wooden sideboard
Image Source- Ideal Home
2. Reorganize your furniture
Sometimes, the rearrangement of furniture can make a lot of difference in your living room. Decide on what furniture you want to keep, and for the pieces, you don't but are in good shape, consider repurposing them for another room.
You can give your living room a stylish makeover just by changing the layout. Consider moving your furniture around, not only can it change lighting and mood, but it can maximize or minimize the appearance of the size of the room. Replace old or out of place hardware (e.g. handles, doorknobs) on your furniture for an updated look.
Modern living room with mustard yellow sofa, round marble coffee table, and abstract artwork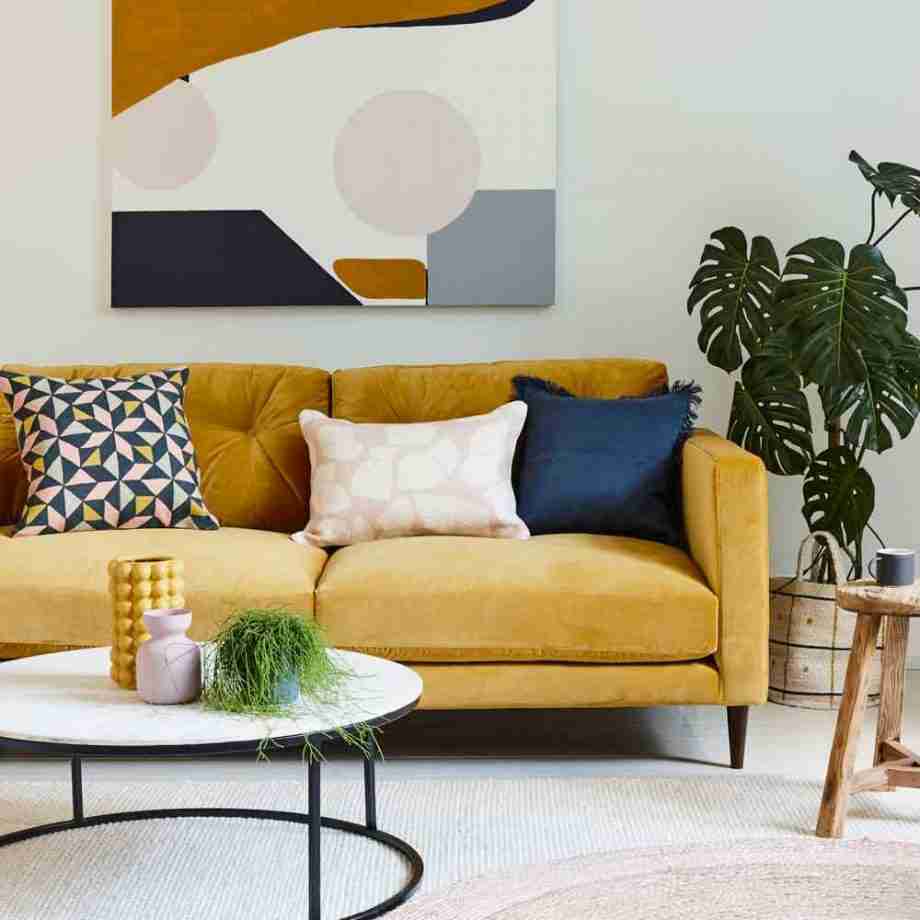 Image Source- Ideal Home
3. DIY what you can't afford
The cheapest way to get things done is by doing it yourself. Digitization has made it possible to learn almost anything over the internet. There are so many Ikea hacks and tutorials on sites like Pinterest, WikiHow, and YouTube, these great resources for finding DIY art projects and furniture that looks store-bought.
Are the walls in your living room in desperate need of a new color palette but you can't afford to hire a painter? Paint it yourself! Want a piece of custom furniture or artwork but can't afford to have it made for you? Make it yourself!
Consider making throw pillows to decorate your sofa. You can choose well-coordinated colors to fit your theme, and the items you need are hot glue gun, woven placemat, and sponge fillings. Remember, DIY gives you a chance to gain new handy skills and showcase your creativeness.
Modern living room with midnight blue color scheme and wooden furniture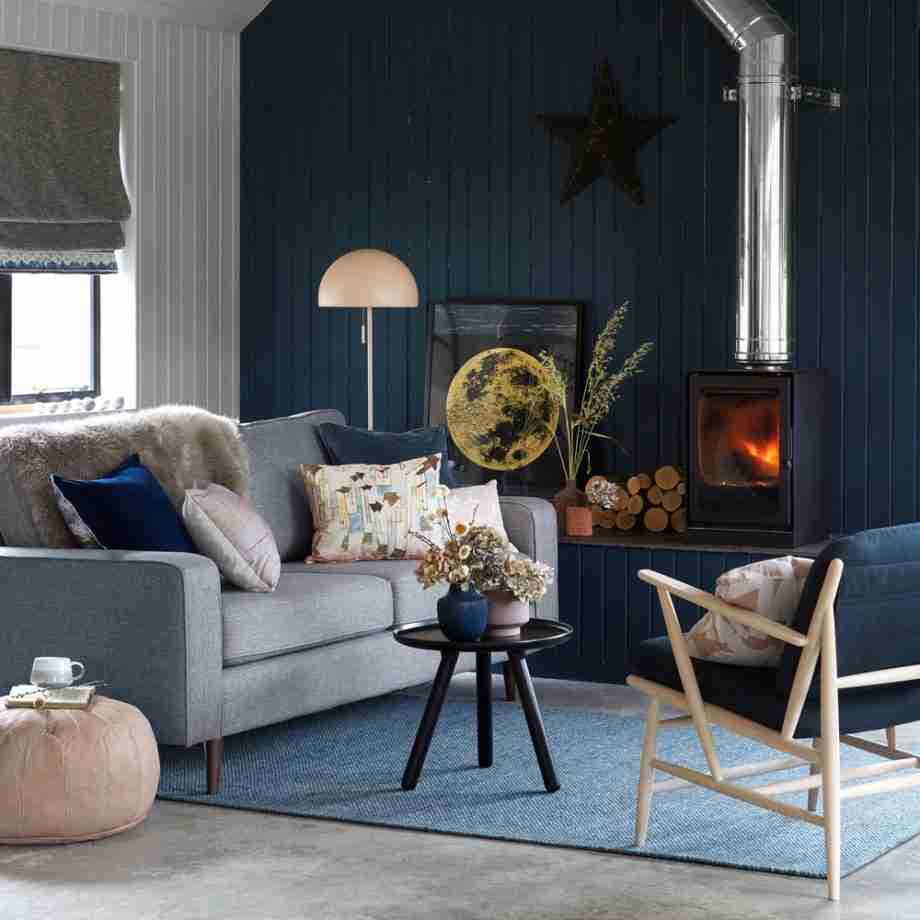 Image Source- Ideal Home
4. Shop from thrift or antique stores
An inexpensive way to give your living room a makeover is by visiting thrift or antique stores to find cheap furniture and home décor. There are great for shopping for inexpensive furniture and unique décor. Find pieces that you like, and you can refinish the furniture to fit the theme of your living room. Usually, you can bargain the prices of items in thrift stores to a lower price. It might surprise you how much they are willing to take off the price. They may be used, but second-hand furniture can help save the environment.
Although antique stores are slightly more expensive than thrift stores, you can get good deals from unique items they currently have on sales. If they aren't many antique or thrift stores near you, you can look online for websites like eBay, Craigslist, Facebook, or download marketplace apps like Nextdoor, LetGo, and OfferUp.
The local newspaper is a great source for upcoming yard sales or auctions where you can purchase furniture and decorative pieces. Handmade crafts sold on the street can be cheap but decorative and appealing. When you travel, purchase them from the local buyers, build up a collection, and they will make your living room culturally diverse and unique. Consider asking your relatives or friends for extra furniture they don't want. Offer to pay them for it, and you might get it for a great price or even free!
Modern living room with bright accents and wooden flooring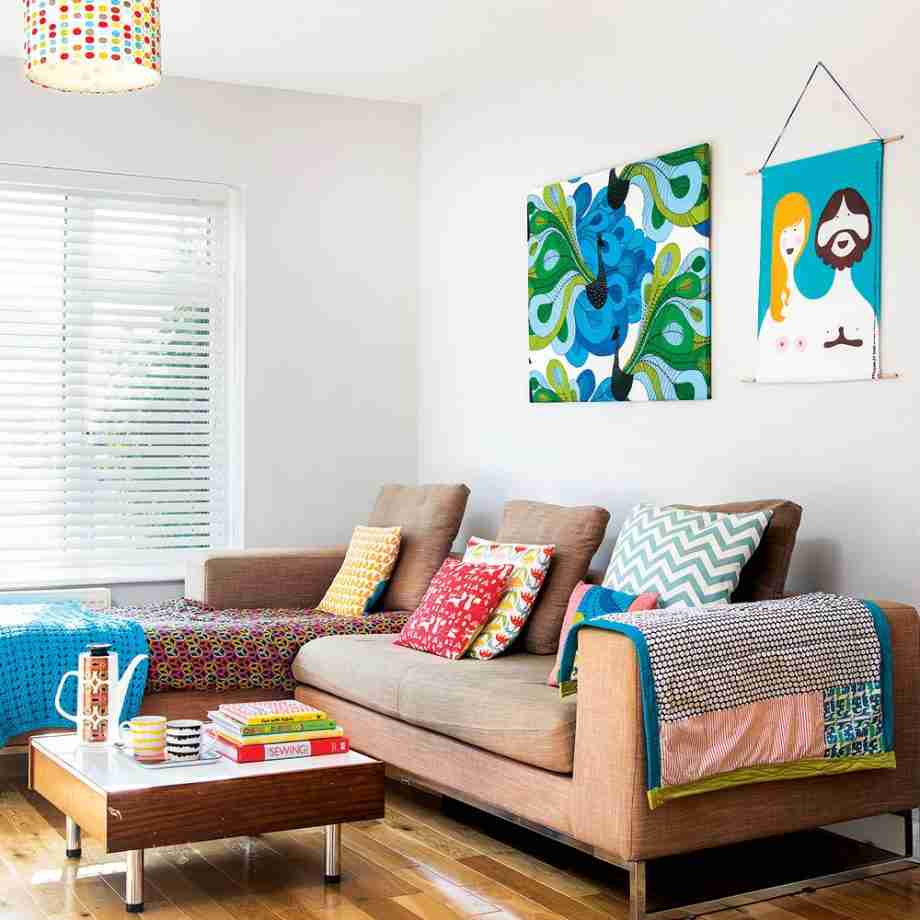 Image Source- Ideal Home
5. Personalize Your Space With An Art Display
A great way to add a focal point, and to bring a room to life is with art, but keep it minimal as your walls can easily get cluttered. Choose only one or two of your favorite pieces to display in your living room. One great way to get good art to display is to purchase an inexpensive frame and get some old magazines.
Tear up the pages you like or print some of your favorite inspirational quotes and position it in the frame. Hang up the frame on the wall just above the eye level and in a grid shape. You can also give your living room a makeover with family portraits. It automatically tells a story to your visitors and gives you the living room a cozy feeling.
Coral blush pink living room with hints of taupe and blue
Image Source- Ideal Home
6. Add some greenery with plants
Plants are a quick and inexpensive way to spruce up any room. Adding it will make your living room feel more airy and comfortable. Consider adding some succulents to purify the air and add earthy tones and textures. A stylish way to add greenery in your living room is by adding some rustic plant wall décor.
White living room with large palm plant
Image Source- Ideal Home